Dallas Colleges:

Bears-Cowboys-102911
July, 22, 2014
Jul 22
9:40
AM CT
The Big 12 media days continue on Tuesday in Dallas, as Oklahoma's Bob Stoops and new Texas coach Charlie Strong each take the stage. Keep this page open throughout the day's proceedings as we bring you the latest from our reporters, who will cover all 10 teams at the event.
October, 29, 2011
10/29/11
8:39
PM CT
STILLWATER, Okla. -- Wednesday afternoon, Oklahoma State safety Markelle Martin and linebacker Shaun Lewis were trying to mind their own business, working out on their own time outside of scheduled team workouts.
They looked up ... and got fired up.
"No D in Stillwater" read the TV report while talking heads laid out the case that Martin and Lewis' unit could be the reason an Oklahoma State national title run ran off the rails.
Martin and Lewis relayed the analysis to their teammates.
"That fire was lit," Martin said. "And we shined."
Said Lewis: "You don't need a pep talk after that."
And for the Cowboys' defensive rebuttal?
"They said everything they needed to say out there on that field," Lewis said.
Just ask Baylor, a team Oklahoma State
beat 59-24
on Saturday at Boone Pickens Stadium. The Bears entered Saturday as the nation's No. 2 team in total offense and a squad scoring 44 points a game.
When the third quarter ended, Baylor trailed 49-3.
Five times in the first half, Baylor reached Oklahoma State territory. It didn't score, thanks to a goal-line stand on the opening drive, two interceptions, a turnover on downs and a missed field goal.
[+] Enlarge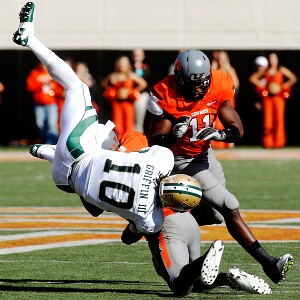 AP Photo/Sue OgrockiMarkelle Martin and Oklahoma State upended Robert Griffin III and Baylor, which trailed 49-3 through three quarters.
Coach Mike Gundy said he's "not sure" why his team is so good on its side of the field, but not all the time. Martin says it boils down to matchups.
"We do a good job of communicating, and at that point, we understand it's not so much space we're worried about, it's just 1-on-1, you versus the guy in front of you," he said. "Our guys have a lot of pride about themselves and we do a good job of staying sound and staying physical at that point."
Oklahoma State forced five turnovers from an offense that had turned it over just 10 times in six games before Saturday. The Cowboys won't cede their national lead in turnover margin at plus-19 after Saturday's win, but don't cry coincidence. It's too common to be crazy.
This same team forced 12 more turnovers than it committed in an 11-win season a year ago, too.
"They harp on it in practice; that's literally all you hear in practice," said quarterback
Brandon Weeden
, who threw for a casual, clean 274 yards and three touchdowns while his running backs rolled for 327 yards and five touchdowns on 27 carries. "Get the ball out! Get the ball out! That or, attack the football! Coach Gundy's done an unbelievable job of training our corners to go up and get it, to play the ball like a receiver. That's where it comes from. It's unbelievable."
Slowing the offensive wrecking ball that is Baylor quarterback
Robert Griffin III
is unbelievable, too. Griffin somehow had never scored a rushing or passing touchdown against the Cowboys until a 72-yard fourth-quarter touchdown pass to
Terrance Williams
against Oklahoma State's second-team defense.
He'd thrown just two interceptions in Baylor's first six games. Oklahoma State picked him off twice Saturday.
"If he'd come out early, we wouldn't have to worry about [stopping him] for one more year," Gundy joked.
That touchdown cut Oklahoma State's lead to 56-17 and came after the Cowboys' third one-play touchdown drive of the game, an 81-yard run from reserve freshman running back
Herschel Sims
.
The touchdown was Griffin's only one of the day, despite entering Saturday's contest with 22 touchdown passes in six games.
Oklahoma State's raw defensive numbers aren't gorgeous. OSU's defense gave up 622 yards, including 446 through the air. But lots of them were late, and turnovers can change a likely win into a blowout in a flash.
"Statistically, on paper, we're not very good," Gundy said. "But productivity, scoring-wise, against teams we play? We're pretty good."
Baylor ran 14 plays inside Oklahoma State's 5-yard line. It didn't score until the very last one, when Oklahoma State led, 59-17.
The Cowboys are the only Big 12 team that hasn't given up 30 points this season, and with arguably the nation's top offense, that's plenty good enough to keep from waking up from this dream season in Stillwater.
"There'll be a day, hopefully not in the near future, when our offense will struggle, and we can't be doing what we're doing defensively," said defensive coordinator Bill Young.
When (if?) that day comes, is Oklahoma State up to the task?
Uh, well, it did come. The Cowboys scored just three points in the first half against Texas A&M this year, a team that averages just fewer than 40 points a game this year.
It didn't give up a second-half point until the Cowboys had already turned a 20-3 deficit into a 30-20 lead with just more than two minutes left in their 30-29 win.
Whether the defense is down big or backed up in its end zone, it's done what's necessary to keep the Cowboys undefeated. Saturday against Baylor was no different.
Doubt the Cowboys if you must, especially their defense. That's easy.
Beating them isn't.
October, 29, 2011
10/29/11
6:13
PM CT
STILLWATER, Okla. -- This was nothing short of domination on the part of Oklahoma State.


Point to the less-than-lopsided yardage numbers all you'd like, but football is about making plays when they count, and Oklahoma State did that. The result was a
59-24
win over Baylor and a move one step closer to a national championship game appearance.
The Cowboys' offense was as advertised, but the defense looked like a bunch of magicians for 60 minutes. Every time it needed a play, the ball magically appeared in an Oklahoma State player's hands, or the defense held on a fourth down.
Amazing performance by this team, and one it'll draw a whole lot of confidence from for sure.
If you don't believe in Oklahoma State yet, well ... I just don't know what to tell you. Maybe this team loses this season, but I don't see anybody but Oklahoma getting the job done in 2011.
Lots more coverage to come from Stillwater. Keep checking back
October, 29, 2011
10/29/11
4:52
PM CT
STILLWATER, Okla.--What a half. Absolutely unbelievable.


Baylor's reached Oklahoma State territory five times and hasn't scored once. The team looked pretty defeated on its walk into the locker room, and understandably so. This team is getting beaten, but it shouldn't be this bad.
Oklahoma State leads,
35-0
.
Time for some analysis.
Turning point:
Baylor drove 69 yards on its opening drive, but was stuffed on the goal line after five runs by
Terrance Ganaway
inside the five-yard line. Oklahoma State marched 99 yards to answer with a score, and that's been the story of the half.
Stat of the half:
Baylor has 248 yards of offense and has reached Oklahoma State territory on five occasions. It's turned the ball over three times on those possessions and hasn't forced a single turnover. OSU wins the turnover battle (+18 on the season now) and that's been the case today.
Best player in the half:
Joseph Randle
, RB, Oklahoma State. He's had a huge day. His eight carries have gone for 111 yards and three scores, including a 62-yard run.
Best call:
Facing a 4th-and-10 and needing a spark, Baylor faked a punt and completed a 21-yard pass from former quarterback-turned-linebacker Brody Trahan to
Jerod Monk
and reached OSU territory. The offense was stuffed on fourth down later that drive, though.
What Baylor needs to do:
The offense has come down with a case of the drops, and the defense hasn't pressured
Brandon Weeden
enough. Fix both of those things and this game might swing in their favor, or at least close. The offense has to find a rhythm and the defense needs big plays.
What Oklahoma State needs to do:
Let Baylor into the OSU red zone as often as possible. Only good things can happen, right?