Dallas Colleges:

Ben McLemore
March, 29, 2013
3/29/13
12:30
PM CT
ARLINGTON, Texas -- Seven-foot Kansas center
Jeff Withey
couldn't help but do a double-take when he spotted Michigan's
Mitch McGary
in the bowels of Cowboys Stadium Friday.
"He's not as tall as I thought," Withey said of the 6-foot-10 McGary. "But he definitely looks strong."
[+] Enlarge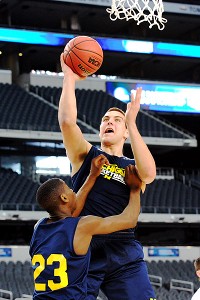 Cal Sport Media via AP ImagesAfter a bruising game against VCU, Michigan freshman Mitch McGary must deal with Jeff Withey next.
Indeed, McGary -- who had started just two games all season before last week -- has been one of the top performers in the NCAA tournament thus far. He averaged 17 points and 11.5 rebounds in victories over South Dakota State and VCU to help Michigan advance to the Sweet 16 for the first time in 19 years.
His matchup against Withey in Friday's Sweet 16 showdown could be one of the more entertaining battles of the evening.
"[McGary] brings intensity to the game," Wolverines point guard
Trey Burke
said. "He's kind of like our X factor. He's the guy that gives us the spark and makes our engine run in the frontcourt."
McGary's biggest test to date will come against Withey, the second-leading shot-blocker in NCAA tournament history. Withey may have a few inches on McGary, but there aren't many players in all of college basketball as thick and strong and agile as the UM freshman, who weighs 250 pounds.
"I guess I kind of have a football mentality," McGary said. "I played it growing up, but that's my mentality. I'm just a hard-nosed, blue-collar guy who likes to do the nitty-gritty stuff."
The attitude is fitting for where McGary plays, as Michigan natives have always adored physical bruisers such as Bill Laimbeer, Dennis Rodman and Rick Mahorn.
McGary certainly commanded Withey's attention during film sessions last week.
"Just how physical he is and how hard he plays," said Withey when asked what impressed him the most about McGary. "He loves to dive after loose balls and he loves to screen people. He likes to hit [people].
"I'm used to getting hit and whatnot. I'm not worried about that."
Michigan coach John Beilein is counting on McGary to do everything he can to neutralize -- or at least limit -- Withey on both ends of the floor. ESPN.com's Big 12 Player of the year, Withey averages 13.8 points, 8.5 rebounds and 3.9 blocks. He had 16 points, 16 rebounds and five swats in Sunday's victory over North Carolina.
"You run a beautiful play," Beilein said, "it couldn't be run better, and he somehow blocks a shot and they're going the other way. It can be very deflating to a team."
WHO TO WATCH
Burke, Michigan's point guard, averages 18.8 points and 6.7 assists per game and leads the nation in assist-to-turnover ratio. "He's the national player of the year," Kansas coach Bill Self said. "He deserves it. He'll get it. I think he's terrific." KU's
Ben McLemore
is a projected top-five pick in this summer's NBA draft, but he's averaging just seven points in his last four games.
WHAT TO WATCH
Michigan, which is making its first Sweet 16 appearance since 1994, was ranked No. 1 in early February but hasn't played as well down the stretch. The Wolverines lost five of their final 10 regular-season games and ended up with the No. 5 seed in the Big Ten tournament. Kansas, which has a huge alumni base in Dallas-Fort Worth, will have the homecourt advantage.
STAT TO WATCH
Kansas ranks first in the nation in field goal percentage defense (35.7 percent) ... Jayhawks coach Bill Self has won 300 games and counting during his 10 seasons in Lawrence for an average of 30 wins per year ... All of Michigan's key players are non-seniors.
February, 15, 2013
2/15/13
6:38
PM CT
By
ESPN Stats & Information
Getty Images/Jamie SquireBen McLemore has soared at home this season.
Let's get you warmed up for the "College GameDay" road show (live Saturday from Allen Fieldhouse at 11 a.m. ET on ESPN) by taking a look at some notes and nuggets from our college hoops advanced-stats research team (a group we call the "Stats in the Paint" team).
Top games
Texas at Kansas , 9 p.m. ET


Kansas Stat to Watch: Points in the Paint
Kansas has not been outscored in the paint during a conference game this season.
The Jayhawks are outscoring their opponents by an average of 12 points per game in the paint in Big 12 play, the best paint differential for any Big Six school in conference games.
One reason why is Kansas averages more blocks per game in the paint than its opponents average assists.
Kansas outscored Texas 28-24 in the paint during its 64-59 win at Texas on Jan. 19. It was Kansas' lowest paint differential in a conference game this season.
Texas Stat to Watch: Halfcourt D
Texas ranks best in the nation at defending opponents in halfcourt. Longhorns opponents are shooting only 33.5 percent from the floor in those situations.
The Longhorns mix in a zone at a rate of about once for every six opponents' possessions. It works. Opponents are shooting only 29 percent against the Longhorns' zone defense.
Star Watch: Ben McLemore, Kansas
Ben McLemore is averaging 18.3 points per game in conference games this season, the most in the Big 12.
McLemore is averaging 24.2 points per game at home in conference and 13.3 points on the road.
One difference has been his jump shot.
He is shooting better than 50 percent on field goals attempted from 10 feet or further at home, and less than 30 percent on the road
(16) Pittsburgh at (18)
Marquette , 1 p.m.
Pittsburgh Stat To Watch: Second-Chance Conversions
Pittsburgh rebounds 42 percent of its missed shots, best in the Big East and fourth best in the nation.
The Panthers are averaging 13.3 second-chance points per game, third-most in the Big East.
Oklahoma at (17) Oklahoma State, 1:30 ET

Oklahoma State Stat to Watch: Transition Points
Oklahoma State scored seven transition points in its 77-68 loss to Oklahoma on Jan. 12, its fewest transition points in any Big 12 game this season.
Since losing to Baylor on Jan. 21, the Cowboys are averaging 15.0 transition points per game, and have improved their transition efficiency.
Question of the Week: Does defense win championships?
Seven of the past eight Men's Basketball Championship winners have ranked in the top six in the nation in offensive efficiency, with Connecticut in 2010-11 being the exception.
Only Kansas in 2007-2008 finished in the top 10 in defensive efficiency.
But the Jayhawks also rated as the second-best offensive team.
Kentucky won the national title last season ranked fourth in the nation in offensive efficiency, 15th in defensive efficiency.
The chart on the right shows the past eight champs, with their offensive and defensive efficiency national ranks.
February, 6, 2013
2/06/13
11:58
PM CT
It left Kansas fans disgusted, TCU fans dumbstruck, and Horned Frogs coach Trent Johnson wandering among court-storming students, offering high-fives and twirling around and looking like a man who had no idea what to do next.
It was the biggest upset of the season. It was also the weirdest.
Wipe your eyes as many times as you like. It happened. The previously 9-12
TCU Horned Frogs
, losers of their previous eight games, owners of the 330th-ranked efficiency offense in the country prior to Wednesday night, really did upset the No. 5-ranked
Kansas Jayhawks
62-55 in Fort Worth
-- the first win over a top-five team in program history.
The obvious question is:
How?
How does a team so good, so routinely effective both at home and on the road, lose to such a dismal outfit like TCU?
Here's where the weirdness comes in: Kansas shot just 29.5 percent from the field -- 18-of-61 -- and just 3-of-22 from beyond the arc.
Ben McLemore
, the man who saved Kansas from a home upset to Iowa State with a 33-point, 10-for-12 night Jan. 9, went just 6-of-16 from the field and 0-of-6 from 3.
Jeff Withey
was effective but rarely touched the ball. Reserve guard
Naadir Tharpe
attempted a borderline-shocking 15 field goals -- Tharpe should
never
shoot the ball 15 times -- and made just two of them. And then there was
Elijah Johnson
, who, already firmly ensconced in Bill Self's doghouse, continued not only his shooting slump but his streak of poor decision-making and ill-timed turnovers.
[+] Enlarge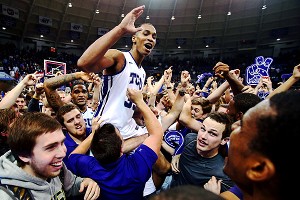 Kevin Jairaj/USA TODAY SportsGarlon Green gets the hero treatment after his game-high 20 points in the upset of Kansas.
It would be unfair to place all the blame for the loss at the Jayhawks' feet, to ignore what TCU did well in its own right. So: The Horned Frogs drew 29 fouls and shot 38 free throws, not all of which were the product of the Jayhawks' last-ditch attempts at a comeback. Johnson's team -- who you don't know, but which includes guys with awesome names like
Nate Butler Lind
,
Connell Crossland
,
Adrick McKinney
,
Garlon Green
and
Kyan Anderson
, and that's just the starters -- made enough of those free throws down the stretch to maintain a lead. It also took care of the ball when it needed to, grabbed timely rebounds, and got stops. Kansas doesn't shoot 30 percent in an empty gym.
Even so, you couldn't watch this game and not come away more willing to indict Kansas than praise TCU. I mean, good for the Horned Frogs -- this is a rare moment in the sun for a program with almost no historical relevance whatsoever, and it should be enjoyed as such. But it was Kansas that failed to pressure the Horned Frogs well enough to generate easy points; it was Kansas that squandered mini-run after mini-run, and flung brick after increasingly forlorn brick into the unforgiving iron.
All the while, TCU fans -- who were possibly out-attended by Kansas fans -- had no idea what to do. At one point, the ESPNU cameras showed the Horned Frogs cheerleaders jumping around and cheering seemingly at random, and while cheer groups do that all the time, I
joked
that it was probably because they hadn't drilled for the possibility of actually, you know, cheering. It felt that way: TCU fans mustered a "T-C-U, T-C-U" midway through the second half, but mostly they just seemed to sit there and do their best to process the weirdness happening in front of them.
Then they stormed the court.
That's when Johnson, in a move reminiscent of the classic clip of NC State coach Jim Valvano, started to walk off the court, then thought better of it, then offered a few high-fives to onrushing fans -- he, like the rest of the arena, looked like he had no idea what to make of anything happened around him.
Understandably so. It was that big -- and that weird -- of an upset.
January, 19, 2013
1/19/13
4:00
PM CT
AUSTIN, Texas -- A few quick thoughts from Kansas'
64-59
rally at Texas …


Overview:
Kansas has rarely been tested this season. And when the Jayhawks have been, much more often than not they have proven to be up to the challenge. Saturday presented another of those challenges as No. 4 Kansas had to rally from 10-points down in the second half to beat lowly Texas at the Frank Erwin Center.
Kansas' win streak has been extended to 15. The Jayhawks are atop the Big 12 with a 3-0 record and are 16-1. Texas (8-9) has started the Big 12 with four straight conference losses for the first time in Rick Barnes' 15 seasons.
Turning point:
For most of the game
Naadir Tharpe
remained silent. But he picked the right time to make some noise. The sophomore guard hit a crucial 3-pointer to pull Kansas within one, 53-52 with 4:35 left in the game. Feeding off that emotion, Kansas picked it up on the defensive end as
Jeff Withey
swatted away
Javan Felix
's next attempt. That led to a dunk by
Ben McLemore
and to a lead for the Jayhawks. Texas briefly regained that lead, but KU proved to have too much momentum and talent down the stretch.
Kansas key player:
As he has done almost all season (save for the Michigan State game) McLemore provided a consistent scoring punch for the Jayhawks. The freshman, who is on pace to become to the highest scoring KU freshman, had 16 points. He averages 16.4 points per game.
Texas key player:
When the Longhorns got on a roll, it was largely because of
Jonathan Holmes
. The sophomore forward was saddled with two early fouls, but he came back in the second half to key an 11-0 run. In that run, Holmes had seven points and created a steal that led to another Texas bucket. Holmes fouled out with 2 minutes to go and finished with 10 points.
Noteworthy number:
Kansas did not climb to better than 40 percent shooting until there was 1:15 remaining in the game. The Jayhawks shot 28 percent in the first half. That's two straight games now for KU that the shooting percentage has been questionable. The Jayhawks shot 38 percent in a win against Baylor.
Etc...:
Kansas game into the game leading the Big 12 in scoring margin at 17.4 per game. The Jayhaws didn't take more than a two-possession lead against Texas until there was 1:16 remaining.
Next up:
The biggest game of the Big 12 season is next for Kansas. The Jayhawks, who have won 15 straight, will head to No. 16 Kansas State on Tuesday. Texas, 0-4 in the conference, will be at Oklahoma on Monday.
January, 18, 2013
1/18/13
4:00
PM CT
Kansas State has moved up a spot in this week's Big 12 power rankings -- and the Wildcats could be even higher by this time next week if they capitalize on two huge opportunities in the coming days. K-State's next two games are against Oklahoma and Kansas -- both at home. The Sooners and Jayhawks are the only schools in the Big 12 besides K-State that have yet to lose a league game. Should be a fun week. Here are the latest rankings.

1. Kansas.
The Jayhawks' offense has sputtered a bit lately, but defensively Bill Self's squad has been stout. The Jayhawks held Baylor to 44 points on 23.2 percent shooting Monday. Leading scorer
Ben McLemore
injured his ankle but is expected to play against Texas on Saturday in Austin.
2. Iowa State.
After nearly upsetting KU in Lawrence nine days ago, Iowa State has defeated Texas by 20 points and staved off a late rally by West Virginia. The Cyclones' next two games are road tilts against the league's worst two teams: TCU and Texas Tech.
3. Kansas State.
No other player in the Big 12 has been as good as
Rodney McGruder
since the beginning of conference play. The senior is averaging 22 points per game against Big 12 opponents and is shooting 54 percent from the field. Center
Jordan Henriquez
has given his team a nice boost off the bench in recent weeks.
4. Baylor.
The Bears can't be as bad as they looked against Kansas on Monday, can they? Baylor is in for a long Big 12 season if it doesn't show more discipline and start taking better shots. Baylor plays a nonconference game against Hardin-Simmons on Saturday before hosting Oklahoma State in a crucial contest Monday night.
5. Oklahoma.
The Sooners hit the jackpot by hiring Lon Kruger. Oklahoma is one of the league's three remaining undefeated teams along with Kansas and K-State.
Romero Osby
leads the team in points (13.7) and rebounds (6.3). Saturday's game at K-State is huge for both teams. Four of OU's next six games are on the road.
6. Oklahoma State.
By the time they take the court for Saturday's game against Texas Tech, the Cowboys will have had a week to think about last weekend's 77-68 loss to rival Oklahoma in Norman.
Marcus Smart
has shown great leadership, but he's shooting just 41.3 percent from the field and 29.7 percent from 3-point range.
7. West Virginia.
The Mountaineers haven't lived up to their expectations, but they certainly appear to be getting better, especially in the toughness department. Bob Huggins' squad erased an 18-point second-half deficit against Iowa State but lost when Cyclones forward
Georges Niang
hit a layup with 2.5 seconds remaining. WVU is a threat to beat anyone in the conference.
8. Texas.
The Longhorns have lost four of their past five games, including two in overtime. With Kansas visiting this weekend, things probably won't get better soon.
Sheldon McClellan
played just one minute in last weekend's 20-point loss to Iowa State as coach Rick Barnes, displeased with McClellan's effort, sent the team's leading scorer a message.
9. Texas Tech.
Chris Walker's squad has lost its past three Big 12 games by an average of 22 points.
Jaye Crockett
leads the team in points (13.8) and rebounds (8.3). Texas Tech's next two games (at Oklahoma State on Saturday and at home against Iowa State on Wednesday) will be tough. But a Jan. 26 tilt at Texas could be interesting.
10. TCU.
The Horned Frogs led Baylor at halftime Saturday before losing 51-40. Trent Johnson's squad simply doesn't have the personnel to compete with major college schools. No one would be surprised if TCU finished 0-18 in league play.
January, 11, 2013
1/11/13
5:00
PM CT
Kansas is still the heavy favorite to win a ninth consecutive Big 12 title. But its path to the championship may be more difficult than Big 12 fans expected. That was evident Wednesday, when Iowa State nearly upset Bill Self's squad at Allen Fieldhouse. Some late-game heroics by
Ben McLemore
sparked a furious comeback that resulted in a 97-89 Kansas victory in overtime. Still, the effort by the unranked Cyclones served as a reminder that there are other capable teams in this league besides the Jayhawks. Here's a look at this week's Big 12 power rankings.

1. Kansas.
The Jayhawks have won 100 of their past 101 games at Allen Fieldhouse. The only home game they've lost there in the last six-plus years came against Texas in 2011, the morning after forward Thomas Robinson's mother passed away unexpectedly. KU plays at Texas Tech on Saturday before hosting Baylor on Monday. McLemore averages a team-high 16.9 points.
2. Iowa State.
It's rare that a team moves up in the polls after a loss, but the poise the Cyclones displayed in Wednesday's setback against KU was remarkable considering the opponent and venue. This team has a lot of nice pieces and will continue to improve as long as Michigan State transfer
Korie Lucious
plays at a high level. Fred Hoiberg is one of the country's more underrated coaches.
3. Baylor.
The Bears opened Big 12 play with an overtime win against Texas and looked scary good in Tuesday's road-thumping of Texas Tech. Baylor won by 34 points but probably could've beaten the Red Raiders by 60. Scott Drew, who returns to the bench this weekend after serving a two-game suspension, has already led his team to a victory at Kentucky's Rupp Arena. Winning against Kansas at Allen Fieldhouse on Monday will be even tougher.
4. Kansas State.
Rodney McGruder
looked like the best player in the league while scoring 26 points in the second half of Saturday's home victory against then-No. 22 Oklahoma State. Winnable road games against West Virginia (Saturday) and TCU (Wednesday) are up next. Reserve forward
Nino Williams
is averaging 16.5 points off the bench in his past two games.
5. Oklahoma State.
The Cowboys snapped a two-game losing streak with an 18-point home win over TCU on Wednesday. OSU needs to get more production out of wing
Le'Bryan Nash
. The potential first-round NBA draft pick ranks third on the team in scoring with 13.7 points per game. But he's shooting just 42.8 percent from the field and 24.1 percent from 3-point range.
6. Oklahoma.
The Sooners are the Big 12's most improved team. Lon Kruger's squad opened conference play with a road victory at West Virginia. Sure, the Mountaineers are struggling. But winning in Morgantown isn't easy no matter what. A victory in Saturday's Bedlam game against Oklahoma State in Norman would give the Sooners a huge jolt of momentum and generate legitimate NCAA tournament buzz.
7. West Virginia.
Bob Huggins' squad showed a ton of resolve by battling back from a double-digit deficit to force overtime against Texas in Austin on Wednesday. WVU went on to win 57-53 for its first league victory as a member of the Big 12. As poorly as things have gone for the Mountaineers thus far, a home win over K-State on Saturday could alter the course of their season. Huggins spent a year as KSU's head coach before taking over at WVU in 2007.
8. Texas.
After two consecutive overtime losses to open Big 12 play, it's tough to envision the Longhorns (8-7, 0-2) extending their streak of 14 straight NCAA tournament berths. Heck, at this point, they might not even make the NIT. Texas' next three games are: on the road against Iowa State, at home against Kansas and on the road against Oklahoma. The Longhorns will be underdogs in each.
9. Texas Tech.
Longtime followers of the Big 12 have opined that TCU might be the worst team in the history of the conference -- and that Texas Tech might be the second-worst. The Red Raiders weren't even close to being competitive in Tuesday's 34-point loss to Baylor. Whoever takes over this program in the spring will have a massive rebuilding job on his hands.
10. TCU.
No one will be surprised if the injury-riddled Horned Frogs finish 0-18 in Big 12 play. Their best chance for a victory game in last week's league opener against Texas Tech, but TCU lost at home by nine points. Saturday's road tilt at Baylor will be followed by back-to-back home games against Kansas State and Iowa State.
October, 18, 2012
10/18/12
4:00
PM CT
Here are five storylines I look forward to following in the Big 12 this season.
What I can't wait to see:
How will Kansas replace Thomas Robinson?

I know the Jayhawks have the goods to make a run at their ninth consecutive Big 12 title.
Jeff Withey
proved his worth in last season's run to the Final Four. He's one of the top interior defenders in America. And he has spent a lot of time working on his mid-range game. He should be a different player this season.
Highly touted recruit
Perry Ellis
joins the fold. I think
Elijah Johnson
can carry the program. And
Ben McLemore
is a projected lottery pick on some boards. Losing Tyshawn Taylor and Thomas Robinson will hurt, but it's not as though Bill Self hasn't replaced top-notch talent in the past.
Robinson, however, was an emotional leader for the team as much as he was its top player a season ago. There were moments in which the Jayhawks appeared to be on the brink of collapse and he simply willed them to a victory. I think that's the one question facing this team. Who's that guy right now? Perhaps it's Withey or Johnson. But someone clearly has to assume that role early, especially with so many young players in the mix. A failure to identify a player in that vital position could prove detrimental in Big 12 play.
What is Oklahoma State's ceiling?
Oklahoma State should challenge Kansas and Baylor for the Big 12 title. "Should" is the key word. But the Cowboys will fulfill their potential only if they find a way to play disciplined basketball, a challenge for the program last season.
It just didn't make sense for a program with this talent (
Le'Bryan Nash
,
Markel Brown
) to struggle the way it did last season (15-18, 7-11 Big 12). Freshman
Marcus Smart
has been listed as one of the top young point guards in America. If he can bring Oklahoma State's talented contributors together and teach them to man up on defense, Travis Ford could have a special year with this program. That, however, is the biggest "if" in the Big 12.
How will Bruce Weber and Bob Huggins fare in the Big 12?
The league welcomes Kansas State's Bruce Weber and West Virginia's Bob Huggins to the mix this season. Both coaches found success in their former leagues (Big Ten and Big East, respectively). And I think they have the talent to make a great first impression (though Huggins coached at Kansas State, so he has been in the Big 12 before) in 2012-13.
Rodney McGruder
and
Jordan Henriquez
give Weber the building blocks for a successful debut. Weber scored solid recruits at Illinois, but he couldn't meet expectations after the program's Final Four run. The expectations at Kansas State should be more modest, which should allow Weber to coach comfortably and challenge for a spot in the top tier of the league.
Huggins might have a sleeper in West Virginia. The Mountaineers are all over the board on preseason projections. But
Deniz Kilicli
and a heap of impact transfers (
Juwan Staten
,
Aaric Murray
and
Matt Humphrey
) form a nucleus that could surprise the conference in 2012-13.
Last place goes to TCU or Texas Tech?
Both teams are hurting. Texas Tech lost Billy Gillispie during a highly publicized offseason mess. And according to players, that's what they wanted. But even with him, Texas Tech's chances of escaping the bottom of the league were slim with only six scholarship players returning from last season's 8-23 squad. Trent Johnson introduces TCU to the league in what could be a very humbling debut. Johnson just doesn't have a lot of talent on the roster. He'll certainly take his lumps early. He already has added some pieces that will be available for the future. But for both TCU and Texas Tech, 2012-13 will be a tough season.
Can Baylor put it all together and upset Kansas?
Baylor is America's "on paper" team. On paper, last season, the Bears looked like national championship contenders with Quincy Miller, Perry Jones and Quincy Acy. They were good. But various challenges throughout the season brought criticism to Waco. Even though they reached the Elite Eight, the Bears didn't seem to come together until March. In 2012-13, Scott Drew has a roster that can challenge Kansas for the Big 12 title. He has one of the best backcourts in America (
Pierre Jackson
,
Brady Heslip
,
Deuce Bello
,
Gary Franklin
and
A.J. Walton
) and he's bringing in one of the top freshmen in the country in
Isaiah Austin
. If he can get this group to play to its strengths, Baylor will be the Jayhawks' toughest challenger for the Big 12 crown. The potential, once again, is very high. But seeing is believing with the Bears.