Dallas Colleges:

Bennie Wylie
August, 13, 2012
8/13/12
3:00
PM CT
AUSTIN, Texas -- Bryan Harsin knows what he faces now -- a tougher schedule, bigger stadiums, louder crowds, better athletes, more expectations and plenty of pressure.
[+] Enlarge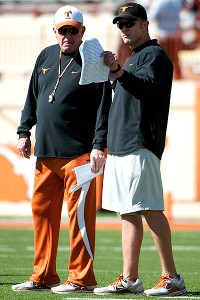 Brendan Maloney/US PresswireHeading into his second season co-coordinating the Texas offense for Mack Brown, Bryan Harsin, right, says he's more comfortable.
Maybe more importantly he knows with whom he faces it -- a coach that understands the pressures of being a quarterback at Texas (Major Applewhite), a coach that delegates and does not dictate (Mack Brown), a head coach who thinks wide receivers should block first, second and third, then think about pass patterns (Darrell Wyatt), and a throwback with more grunts than glad handing (Stacy Searels). And that is just on the offensive side of the ball.
In all, six members of Texas' staff are sophomores now. They have lived the life for a year. And, after being 8-5 together, they have lived to see another.
"Now we understand what we're doing," said Harsin, the co-offensive coordinator along with Applewhite. "We understand the details. We understand how each of us operates. And what the expectations of each positions are."
"Even at our coaches' retreat a couple of weeks ago, the guys were all on the same page and it went so much smoother," Brown said. "Last year they were talking about what are you doing in pregame warmups. They were talking about where we stay the night before the game.
"Now all of those things they know. We are so much further along than we were, and that leads to more excitement as we start the season as well."
That progress is not just owed to those position coaches. Included among those six is strength and conditioning coach Bennie Wylie. The backbone of the program, Wylie is the one who has pushed the players to stand tall, and at the same time, turned the head of Brown as to what expectations a cohesive staff can put on these players.
It's that work that has Brown talking about Texas being a tougher football team. And everybody knows a fist is much tougher to defend against than a slap. A fist is what Texas considers itself now that it has come together.
"Now we all know what is expected of everyone else," junior offensive guard
Mason Walters
said.
That's from the coaches straight on down the line. But, like everything else, it starts at the top. In this case, that means with the coaching staff.
Now that the staff is together, the coaches can be more calculating in their approaches.
"When you have had more time together, you have identified who you are, what you want to do, this is what we can major in and now from a personnel standpoint, whether it is recruiting or on the field, this is how we're going to place people to do these certain things," Harsin said. "Everybody has got that in their minds in the staff now and that makes it easier on all of us as a staff now. Instead of one guy trying to figure out who needs to go where, everybody knows where guys need to go and what's the best group to have on the field."
That means Applewhite and Harsin, who now know each other's strengths and weaknesses, have more efficiently been able to work to find the strengths and weaknesses in the two quarterbacks, fix those problems and find solutions. Similarly, the pair is more comfortable putting their heads together on just how to deploy the three-headed backfield that is
Malcolm Brown
,
Joe Bergeron
and
Johnathan Gray
.
"This time last year we were talking about a Boise offense and Mississippi State defense and what flavor will Georgia have with their offense and what about [co-recruiting coordinator/wide receivers coach] Darrell Wyatt and his travels and how much will that change what we do offensively," Mack Brown said. "And now we have a Texas offense that we are working toward and the players believe in, and the same thing defensively. So very little talk about anything other than Texas and us moving forward.''
That means moving forward as one instead of many.
September, 12, 2011
9/12/11
1:15
PM CT
A look back on the week that was.
Iowa State is once again the Big 12's most endearing program.
The Cyclones trailed five times against in-state rival Iowa at Jake Trice Stadium on Saturday. But with a handful of brand-new faces on offense and some of the league's most underrated defensive talents, it rallied to beat the Hawkeyes in triple overtime. The second-biggest crowd ever at Iowa State showed up, and the Cyclones put on a heck of a show for the brand-new scoreboard towering above the Jacobson Building. Did we see
Steele Jantz
write the first chapter of what could be a legendary legacy at Iowa State? If so, you couldn't ask for a better start,
giving coach Paul Rhoads his third landmark victory
in three years at Iowa State. Shades of Seneca, no doubt. I had Iowa State
last in my power rankings last week.
Expect upward movement this week.
[+] Enlarge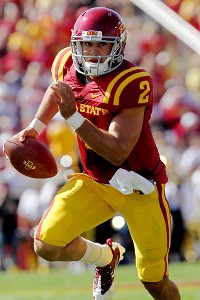 Reese Strickland/US PRESSWIREIowa State quarterback Steele Jantz completed 25 of 37 passes for 279 yards and four touchdowns against Iowa.
Oklahoma State is all kinds of legit.
Brandon Weeden
was even better than he was last year
,
Justin Blackmon
was his usual self and
Joseph Randle
emerged as a big time running back, nearly notching 100 yards rushing and receiving in a single game. The defense, too, looked great. Arizona isn't a great team, and yes, it was missing
Juron Criner
, but the Cowboys are looking the part of Big 12 contender. We'll see how they measure up to Tulsa next week (Oklahoma was up on the Golden Hurricane 44-7 entering the fourth quarter) before a huge game in College Station in Sept. 24 that
is easily one of the most important games of the year in the Big 12.
Missouri might be a victim of its own success.
The stars just haven't quite aligned for the Tigers. Blaine Gabbert absolutely should have left for the NFL, and he'll have success there. But Missouri's most experienced team in a long time is being led by a first-year quarterback in
James Franklin
. Franklin was big time more often than not in Friday night's OT loss to Arizona State, but Missouri is a top 10 team with Gabbert. Without Gabbert, it may tumble out of or toward the bottom of the top 25. Franklin's going to be very good, but Gabbert was already very good. Franklin took huge steps on Friday night, and showed lots of promise, but Missouri has to wonder what could have been. This isn't a rebuilding year. It could have been "The Year" for Missouri, despite obvious struggles at cornerback throughout the night. Missouri's going to be a very good team, but after Friday? It's pretty clear the Tigers are going to have to wait at least another year before being a major factor in the Big 12 title race. As the only Big 12 team with a loss two weeks into the season, I'll leave it up to you all to crack a "You are the weakest link" joke. There's nothing wrong with a flashback to 2003.
Kansas will be able to scare -- if not beat -- some Big 12 teams this year.
Northern Illinois isn't a juggernaut, but last year's Kansas team doesn't win this game. The improvement is there for Turner Gill in Year 2, and it starts at quarterback.
Jordan Webb
had a big night (281 yards, 3 TD), but it doesn't end there. The Jayhawks are much more athletic everywhere, but especially at the skill positions.
Darrian Miller
and
James Sims
combined for 167 yards rushing and three touchdowns. Eight receivers caught passes, led by
D.J. Beshears
with seven catches for 70 yards and two scores, including the game-winner. Kansas is putting together the nuts and bolts of a team that has what it takes to win the Big 12. They've got a long way to go, but the Jayhawks are headed in the right direction.
Texas is ready to slop for wins.
On the field, Texas looked pretty similar to what it had last year. Outside of a freed
D.J. Monroe
,
Malcolm Brown
doing a good job of living up to hype and
Jaxon Shipley
making Big 12 fans groan by catching passes from
Case McCoy
, Texas is a team with a strong defense and unremarkable offense. But something was obviously different on Saturday night, and it's toughness. Mack Brown drew on his team's experience last year against UCLA in a halftime speech players raved about after the game. Early in the season, it trailed 13-3 to a mediocre team. It was blown out, 34-12. Brown doesn't have to wonder if last year's team would have won Saturday's game. He knows it wouldn't. Why the difference? I'm chalking it up to humility from an awful 2010, and new strength and conditioning coach Bennie Wylie. "If you can get everybody to run up those bleachers at the very top, and everybody on the team finishes? That's how it is, man," said running back D.J. Monroe. Monroe compared losing at home last year -- which Texas did five times -- to having somebody take out his mother. Texas wants to "protect this house," which they spent the summer gaining an intimate knowledge of with a souped-up conditioning regimen from Wylie. "That's a shoutout to Coach Wylie," Monroe said of his comments. "After A&M, it was the worst feeling ever, and we don't want to experience that ever again. If we go out and play our hearts out every single night, I feel like that can be a result."
The Big 12 is the home for drama.
And I'm not even talking about the realignment rumpus that dominated the week's headlines. OK, yeah I am. But when Baylor isn't spearheading a litigious standoff that may force Texas A&M's route to the SEC to take a detour through a courtroom, these teams make for some pretty outstanding theater on the field. Texas rallied from a 13-point halftime deficit to beat BYU, 17-16, on a late touchdown. Missouri erased a 14-point, fourth-quarter deficit and missed a game-winning field goal with seconds remaining before losing in overtime to Arizona State. Kansas beat Northern Illinois on a six-yard touchdown pass with nine seconds left that had to be reviewed--and was upheld. But Iowa State topped them all, knocking off rival Iowa in triple overtime, despite trailing on five different occasions throughout the day. Let's do it again next week. College football, we missed you this summer. Never leave us again.