Dallas Colleges:

Big 12 Media Day
July, 23, 2012
7/23/12
3:32
PM CT
The questions begin for Texas at 10:30 a.m. Tuesday.
But the answers are still more than a month away.
Sure Mack Brown and the three Longhorns players representing the team at Big 12 media days in Dallas will have some form of answers for the assembled clamoring horde of clacking typists. But few, if any, of those answers will satisfy.
[+] Enlarge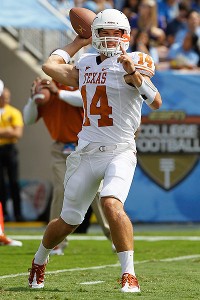 Ric Tapia/Icon SMI David Ash will not be in Dallas for Big 12 media days, but he will certainly be asked about.
That is not to say that the Texas contingent won't be trying to answer to the best of its ability. It's just that, at this point, none of them really have the ability and knowledge required to wholly answer the questions presented. There is still much practice yet to come, after all.
But there is one question, the overriding one at Texas, which the answer is most likely known, at least in whispers, or depending on the crowd, shouts: Who is going to be the Texas quarterback?
Undoubtedly each of the players --
Carrington Byndom
,
Mason Walters
and
Jordan Hicks
-- has more than a gut feeling for who will be under center. They, like all those who follow Texas, witnessed
David Ash
take every snap in the Holiday Bowl. All of them also undoubtedly took note of the two interceptions thrown by
Case McCoy
in the spring game.
Any answer given by the players would be more than just some presumptive guess. But they will not give an answer or even an educated guess when asked that question. That is an edict from on high.
As for Brown, after the last two years of struggles, he better have more than a firm grasp on whom the quarterback is for his Longhorns. The hope would have been that he had his answer back in the spring and let his team know.
He never publicly favored one over the other and sent the signal that neither player had a stranglehold on the situation. Consider that a signal flare of weakness -- within his team and across the conference.
Players are more comfortable and confident when they know their roles. It allows them to see where they are, how they got there, what they have to do to stay in that position or what they have to do to change it. On the flip side, uncertainty is the bane of any program or coach. It undermines confidence and builds doubt.
The hope for all those Texas fans out there would be that Brown steps to the podium and announces he has a quarterback.
Don't stand by your Twitter feeds. That is not going to happen. Not Tuesday. And it probably won't come out until the depth chart is released two weeks to 10 days before the first game.
Of course, that doesn't mean Texas will not get peppered with questions about the quarterback when it steps in front of the media. People will ask because really people know just about everything else there is to know about this team.
But Brown will undoubtedly be unwavering in his message back: Texas is preparing to play two quarterbacks in 2012. And that is an answer of sorts.
Texas likely will play two quarterbacks in 2012. Maybe even three, although Brown has allowed that he would prefer if Conner Brewer redshirted.
It's just that really every school is preparing two quarterbacks at this point. They have to in case one goes down. What Texas fans want to know is who will the Longhorns prepare to be the starter and who will be the just-in-case player?
That answer, in a best-case scenario, is still weeks away.
July, 26, 2011
7/26/11
5:00
PM CT
By
Master Tesfatsion
| ESPNDallas.com
DALLAS -- Oklahoma quarterback Landry Jones has come a long way from his unexpected Sooner debut as a true freshman in 2009. Jones took over as starting quarterback for the injured Heisman Trophy winner Sam Bradford and quickly had to adapt as the man under center for the Sooners, but it wasn't Jones' only battle.

Jones had to break out of his shy personality to become a leader for the Sooners. Jones was timid at first when he took over as the play caller. He's known as a humble guy in the locker room who doesn't like the attention. As Jones gained experience as a starter, his confidence grew in his ability to lead.

"It's definitely hard," Jones said. "It's something that a lot of people overlook and just think as long as you're the quarterback, you're the leader. But you kind of have to earn that respect before you start and once you start playing, you learn some stuff on how to do things and you learn how to become a leader. In my couple of years starting, I've learned how to become a leader and I've learned how to motivate my teammates, kind of become accountable with them, kind of become relatable."

Coach Bob Stoops said Jones' maturation as a leader was a major factor in Oklahoma finishing last season on a five-game winning streak, including three straight wins against top 25 teams Oklahoma State, Nebraska in the Big 12 championship game and Connecticut in the Fiesta Bowl.

"He's just become a really strong leader," Stoops said. "And now he's more comfortable. ... The quarterback needs to be a leader. If he hasn't played and earned the respect by performance and meeting challenges and then doesn't have the confidence yet, it's hard to be that guy. Well, he has all of that now and so he's a true, true leader on this team. And a special one."

Jones' leadership role has also transitioned well off the field. Wide receiver Ryan Broyles said Jones' faith has influenced him the most. Broyles said Jones is well aware that the team looks up to him, which holds him to a higher standard than others.

"I'm so happy to say my quarterback is a believer and I think it trickles down to the way he produces on the field," Broyles said. "He's a great role model. He never says anything negative but at the same time he'll shoot you straight and he'll let you know if you're walking off the path."
July, 26, 2011
7/26/11
4:15
PM CT
By
Master Tesfatsion
| ESPNDallas.com
DALLAS -- No Oklahoma players sit in the chair once occupied by Austin Box. The 22-year-old linebacker died in May, but his legacy lives on in the Sooners locker room.

Box collapsed and died at a friend's house on May 19. An autopsy later revealed he had five prescription painkillers and an anti-anxiety drug in his system, and his death was ruled accidental. Box suffered a number of injuries throughout his career, including a back injury that kept him off the field for the first five games. Box's teammates remember him most for his ability to battle through his injuries to help the Sooners.

"It's still difficult and I don't think we've totally overcome it yet," quarterback Landry Jones said. "I think some people are still dealing with it. I know for me, I'm still trying to figure out what to think about it and getting my mind kind of wrapped around it to be OK with it. You walk around the locker room and you see Box's locker missing. You just wonder why it happened. I think our team is still going through some stuff, but it's definitely motivating knowing you're not just playing for yourself."

"I feel that we've learned a big lesson from that and that is to live life to the fullest," wide receiver Ryan Broyles said. "You never know when your last day is. Box was a great guy. He fought through many surgeries. He happened to almost get addicted to painkillers but when he was in the locker room, when he was on the field, he was going to give it his all. We feel like his perseverance through all of that is helping us persevere through tragedy."

Oklahoma will wear Box's No. 12 on the back of their helmets and the players are thinking of other ways to honor him during the season. Coach Bob Stoops said Box's death united the players to lean on each other, which has helped through the grieving process.

"There's no words that truly can describe how you hurt and how the players hurt," Stoops said. "Austin was a great, great spirit in the locker room. Everybody, he was a friend to everybody, and he's one of those special characters, a young person that everybody loved to see."
July, 26, 2011
7/26/11
12:19
PM CT
By
Master Tesfatsion
| ESPNDallas.com
DALLAS -- Texas Tech head coach Tommy Tuberville stressed speed would be the biggest factor on defense under new defensive coordinator Chad Glasgow, a disciple of TCU coach Gary Patterson.
Tuberville hired Glasgow in January to takeover a unit that was ranked 114th nationally in total defense last year. The defense will now use a 4-2-5 base, utilizing five defensive backs to contain the high-powered offenses in the Big 12, rather than the 3-4 base used last year.
"You don't really have to worry about size," Tuberville said. "You worry about quickness and speed. I've always believed in that anyway. That's the type of defense I've been around."
Glasgow was the defensive backs coach at TCU for 10 years before taking the job in Lubbock. The TCU defense finished No. 1 in the nation in overall defense for three consecutive seasons in which the Frogs played in consecutive BCS games the past two seasons, including winning the Rose Bowl against Wisconsin in January. TCU's defense allowed 228.5 yards a game last season, and was also No. 1 in pass defense, allowing 128.7 yards a game.
Tuberville said Tech used nickel-package defenses about 95 percent of the time last year, but now the defense will be more versatile using the 4-2-5 as its base.
"We'll still run some run some three-man front, but the whole philosophy of defense is getting as many on the field in defense that you can run as much as possible, fast as possible," Tuberville said. "You play Oklahoma, you play Texas A&M last year, they just run you down. And it kind of reminds me of defenses I've been part of when we've had good success. That's how you win championships. It's not with anything else other than the speed on defense."
July, 25, 2011
7/25/11
5:48
PM CT
By
Master Tesfatsion
| ESPNDallas.com

DALLAS – Texas A&M athletic director Bill Byrne Big 12 athletic directors and conference staff will meet to discuss the issues about the Longhorn Network "within the next few weeks."

Byrne returned from vacation in Alaska on Sunday and does not know if the exact date has been planned or who will be attending.

"I don't know if others have been invited but we're having a meeting coming up here very quickly in the next few weeks and we'll talk some more about that," Byrne said. "If I have some things to say after that meeting, I will."

Byrne did not mention what would be talked about during the meeting, but concerns have been raised about the new network giving Texas an unfair advantage in recruiting if it broadcasts high school football games.

The Houston Chronicle reported the NCAA and the University of Texas are discussing the issue but Byrne is surprised a ruling has not been made so far.

"I had anticipated something from the NCAA sooner than this and I don't know what is holding them up," Byrne said. "They've got a new staff there and a new president, so that might be the issue."

Regardless of the result from the meetings about the Longhorn Network, Byrne reiterated his commitment to the Big 12 despite talks the school would leave the conference due to the Longhorn Network and the absence of a written agreement between the conference's remaining 10 schools.

"We want the Big 12 to stay together," he said. "I think it's good for all of us to stay together. We all have natural rivalries. We're all in the same time zone. I think it's really important to stay together. You'll remember about a year ago we worked, really worked, to make sure the conference would stay together. We haven't changed our opinion on that."

July, 25, 2011
7/25/11
5:00
PM CT
By
Master Tesfatison
| ESPNDallas.com
DALLAS -- Despite the conclusion of the NFL lockout Monday, Oklahoma State quarterback Brandon Weeden does not regret his decision.

Weeden had a chance to enter the NFL Draft after his impressive junior season that earned him first-team All-Big 12 status, but the Oklahoma native chose to return for his senior year.

"I was three hours from graduating, the lockout was on the back of my mind, but the real reason I came back because I wanted to play one more year at Oklahoma State," Weeden said. "I felt like it would make me a better player.

"You only get so many opportunities and plus I get to play. There was no doubt about it I was going to play in 2011 where as if I went to the NFL, chances are I'm going to be a backup and just getting mental reps where as I could actually be playing."

Weeden threw for 4,277 yards and 34 touchdowns during the Cowboys 11-2 season, both Oklahoma State single-season records. Weeden also owns four of the top-seven single-game passing totals and his 155.42 career passing efficiency mark ranks fourth in the country among active players.
July, 25, 2011
7/25/11
1:00
PM CT
By
Master Tesfatsion
| ESPNDallas.com
DALLAS -- Oklahoma State head coach Mike Gundy finally got his wish.

Gundy has always wanted a round-robin schedule in the Big 12 to determine who would earn the automatic BCS bid. With Colorado and Nebraska moving to different conferences, the Big 12 decided to do away with the championship game and have all 10 teams play each other during the season.

Gundy feels this new setup will help the league in many ways.

"At the end of the season there won't be any teams that say that a certain team from the north or a certain team from the south didn't play each other and didn't deserve to or didn't deserve to be in a conference championship game," Gundy said. "We all play each other. I'm not so sure it won't help our fan base. I think that each team competing annually against each other will help stimulate some rivalries within our league."
July, 25, 2011
7/25/11
11:55
AM CT
By
Master Tesfatsion
| ESPNDallas.com
DALLAS --Baylor head coach Art Briles isn't concerned about the Longhorn Network.
While others in the Big 12 have openly expressed concerns about the possibility Texas might have a leg up on recruiting with the upcoming school network, Briles said Texas has always been tough to recruit against anyway.
"Maybe I'm different, I don't know," Briles said. "To answer your question, do I worry about it, not a bit.
"They've been good for a while and Mack [Brown] over the last 12 years, average 10 wins a year. I mean that's fact. And when you get in the recruiting world, fact matters. They can do that, if there's a need for it, people are going to pay for it, more power to them. Let them have it. If it helps the Big 12 if we have to recruit harder against Texas, we'll do a better job, work harder and see if we can get a little better."