Dallas Colleges:

Big East
February, 6, 2013
2/06/13
4:15
PM CT
Coming off its school-record fourth consecutive bowl appearance, SMU announced a recruiting class of 19 student-athletes and four January enrollees Wednesday as it heads to the Big East.
Running back
Traylon Shead
, quarterback
Kolney Cassel
, tight end
Jeremiah Gaines
and defensive end
Zelt Minor
are among the highest-rated recruits by Rivals.com
SMU also added three players with NFL bloodlines, including the son of former Dallas Cowboys cornerback Deion Sanders,
Deion Sanders Jr.
, as well as
Spencer Hollie
(Doug Hollie) and
Jesse Montgomery
(Alton Montgomery).
"We think as coaches this is our best-looking class physically, along with our best athletically at all positions, since coming to SMU," coach June Jones said through a release from SMU. "With our move to the Big East, we will be playing a step up in talent and I feel this group will be able to compete as we make our move to our new home. This class will allow us to play the game at the highest level possible."
December, 11, 2012
12/11/12
10:54
AM CT
The Big East
released its home-and-away football schedules for next season
Tuesday, and most notably, the league has departing members Rutgers and Louisville taking trips to Boise State.
The 2013 season will be the first featuring a 12-team Big East format and two divisions, with new members Boise State, San Diego State, UCF, SMU, Houston and Memphis joining.
SMU
Home:
Boise State, UCF, UConn, Temple.
Away:
Houston, Memphis, San Diego State, USF
May, 24, 2012
5/24/12
11:45
AM CT
If two teams play at Madison Square Garden and no one is there to witness it, did the games actually occur?
That will be the quandary the Big East faces in 2014 if the league listens to the pleas of its basketball coaches and allows everyone into the conference tournament.
The Big East is convening this week in Florida and included in its crowded agenda, the conference is trying to hash out its future hoops tourneys. Next season it will actually shrink -- there will be 15 members of the Big East, but UConn, due to its APR punishment won't be able to participate, so that's a manageable 14-team membership.
[+] Enlarge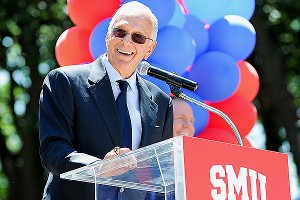 AP Photo/Michael Prengler/Cal Sports MediaWould an 18-team Big East tourney be beneficial for league coaches like SMU's Larry Brown?
But in 2014, the conference swells to 18 and the coaches already are pushing to
continue its all-inclusive tournament.
And so on Monday night, the Garden would swing open its doors to … SMU versus Central Florida and DePaul versus Houston for a play-in game.
Would they sell tickets for that or just give Larry Brown and Oliver Purnell sandwich boards and bells and let them hand out tickets to unsuspecting tourists strolling down 8
th
Avenue?
We're all crying uncle here, so please stop.
Big East basketball already has watered down its product to an unrecognizable glob of mush. Let's not roll the tournament into the sewer, too.
We have endured the Tuesday night warm-up games for a few years now and while fans haven't left putting needles in their eyes, they haven't exactly been disappointed when the buzzer mercifully sounds.
But now we're talking about actual play-in games. Chances are, you'll see teams with abominable records whose only hope at the postseason is a national pandemic that afflicts only the top 100 basketball rosters in the country.
To paraphrase my friend, longtime Associated Press writer Jack Scheuer, it would be guaranteed VVVB hoops (very, very, very bad).
Worse, there is even a worry that the Garden might not be able to extend its commitment to Monday. The current contract does not give the league access until Tuesday and would consequently have to be renegotiated. If it couldn't be, the games would have to be played somewhere in the New York area.
What in heavens' name is the point of that?
A play-in game to make your conference tournament, played at some random outpost that looks like New York but isn't quite New York.
They can call it the Hoboken Opening Round.
Coaches long have argued that teams deserve the right for the "full tournament experience" and that keeping people out of the Big East tournament only gives itchy trigger-fingered administrators cause to fire a coach who can't get his team to New York.
Because finishing 18
th
out of 18 apparently merits a pay raise.
Sorry, this isn't pee-wee rec ball. Not everyone gets a trophy. Not everyone gets to play.
Besides, if you play a Big East tournament game and no one is there to see it, were you really there in the first place?
October, 15, 2011
10/15/11
4:38
PM CT
By
Art Garcia
| ESPNDallas.com
DALLAS -- SMU's ticket to the big time -- BCS automatic-qualifying status -- is on its way via the latest round of conference musical chairs.
The Mustangs, along with four other schools, are expected to be officially invited to join the Big East
in near future.
The proposed move has been met with excitement at SMU, which has made no secret of its desires to move into an AQ conference. Despite the Big East's seemingly shaky standing with Syracuse, Pittsburgh and TCU defecting, the league remains a step up in stature from Conference USA.
"We will continue our efforts to achieve the university's goal of competing at the highest level of college athletics and are evaluating opportunities in the conference landscape," Mustangs athletic director Steve Orsini said in a statement released during halftime of Saturday's SMU-Central Florida game.
The Big East's invitation to the five schools is divided with SMU, UCF and Houston potentially joining in all sports. Air Force and Boise State would be football-only members.
Orsini believes the commitment made to athletics, namely the coaches and facilities for football and men's basketball, has positioned SMU to take a step up. Orsini held talks with the Big 12, while continuing to monitor the ongoing conference realignment.
SMU's chief rival, TCU, had agreed to join the Big East for next year with the same AQ goal in mind before snagging an invite to the Big 12 with Texas A&M's departure. The Big East's losses forced the league to become aggressive in reconstituting its football membership, opening a door for SMU.
February, 18, 2010
2/18/10
9:59
AM CT
By
Jeff Caplan
| ESPNDallas.com
Earlier in the week, I blogged about the
Big 12 coaches standing up
for their little conference as being the best in the nation, right up there with the Big East. There clearly remains a perception among Big 12 coaches that the league doesn't get proper respect, especially from those immersed in East Coast hoops. Later I'll have a column up looking at the Big 12's strengths and which teams are in the NCAA Tournament and which teams are on the bubble.
But, first, Kansas State coach Frank Martin's comments from Monday's coaches teleconference need to be shared. Always intense, always animated and always sincere, Martin laid down the hammer when asked if this is a season in which a Big 12 team with an 8-8 conference record, or even 7-9, deserves a berth in the NCAA Tournament. Enjoy:
"I would hope so. It's the whole body of work, it's what you do in conference and in non-conference, it shouldn't be about the first 10 or the last 10, it should be about what you do the whole year. And our league should not get discredited in any way, shape or form because teams are beating each other up in our league. On the contrary, our league should be applauded because as a whole we had so much success in the non-conference schedule against all the quality teams across the country, not just some, all of them, of every league across the board.
"And now that we're in league play, I'm tired of hearing people say that Texas got issues. Texas don't have issues, it's that our league is good. I'm tired of hearing people say that we're not playing well. We are playing well, it's that our league is good. Our league is good top to bottom, there's not an easy out. There's some big-time coaches in this league. I said this from the word go: Everyone discredited Missouri before the season. How different are they from Villanova? They return all their guards and have substitute front-line guys that are now their starters. It's the same thing Villanova did, but Villanova's in the Big East so everyone says 'Well, they're great.' Well, Missouri's in the Big 12, well Missouri was one game away from being in the Final Four, a couple possessions away from being in the Final Four, and for whatever reason they were viewed differently than Villanova was going into the year.
"But that's our job as coaches in this league, is to keep winning and keep doing what we're doing and get our league to be the best league in the country and the RPI, and if we keep doing that all that takes care of itself."
And exhale.
December, 16, 2009
12/16/09
2:43
PM CT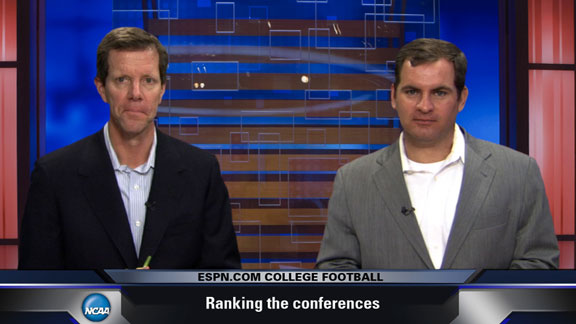 ESPN's Ivan Maisel and Mark Schlabach continue their analysis of the 2009 college football season and rank the conferences. They agree: It was the Pac-10 and SEC followed by a whole bunch of everything else. So where does the Big 12 and the Mountain West rank? Watch and see ...
November, 18, 2009
11/18/09
7:35
AM CT
By
Richard Durrett
| ESPNDallas.com
There are many folks churning out bowl projections these days and TCU can be found nearly anywhere (except the Rose Bowl). But assuming the Frogs win out, here are some of the scenarios and locations where they could end up.

First, a brief look at how all of this works. The bowls that lose their tie-ins get to pick replacements. If the SEC champion is the No. 1 team in the country (very likely), the Sugar Bowl picks first followed by the Fiesta (assuming Texas is the No. 2 team). After that, the Orange selects, followed by the Fiesta and the Sugar. The Rose Bowl gets its traditional Pac-1o-Big Ten matchup.

The Fiesta Bowl will really determine how all of these teams fall because the Sugar Bowl will certainly take the SEC runner-up with the first pick. That leaves the Fiesta to choose from the remaining pool of teams. The decision they have to make is whether to take a No. 4 TCU or go with a more traditional team that is likely to bring a bunch of folks, like Penn State or Iowa, for instance. If they take one of those teams, than the Orange Bowl could take TCU. It's also possible that if the Orange Bowl takes another BCS school, the Fiesta could get TCU with its second pick. One thing does seem clear: It's a longshot for TCU to end up in the Sugar Bowl, assuming the Sugar takes the SEC runner-up with that first pick. It would mean that Orange Bowl passed up on TCU once and the Fiesta Bowl twice.

A few possibilities (Warning: This is me speculating a bit here):

* If Oklahoma State runs the table, which would include a tough Bedlam win in Norman on Nov. 28, that gives the BCS bowls two options for big BCS teams that should travel well. In that case, the Fiesta could take TCU and then take either OSU or Penn State/Iowa, whichever one the Orange Bowl didn't select. Or they could take Penn State/Iowa and then select either TCU or OSU, whichever one the Orange Bowl didn't choose. Remember that one conference can't have more than two teams in BCS bowls.

* Would the Orange Bowl take TCU if Clemson wins the ACC? I can't think they would. That would cause a rematch of an earlier game, won by the Frogs in the rain in Clemson. If OSU does not beat OU, that could mean that Cincinnati or Pittsburgh goes to the Orange instead of TCU if Clemson wins the ACC.

* If Georgia Tech wins the ACC and the Fiesta Bowl decides to go with Penn State or a team like that, the Orange Bowl would probably take TCU and avoid having a Big East team in the game again (they had Cincinnati last year). Many folks have a Georgia Tech-TCU matchup on the assumption that the Fiesta Bowl takes one of those Big Ten at-large teams with its first choice.

* Is there a scenario that sends TCU to the Sugar Bowl? Sure. You never know how these bowls might select. But it's a longshot. To me, that would have to be if Oklahoma State wins out, Pittsburgh beats Cincinnati and Clemson wins the ACC. In that case, I could see the Fiesta taking Penn State (or Iowa), the Orange selecting Pittsburgh and the Fiesta taking Oklahoma State to play one of those Big Ten teams. That leaves the Sugar Bowl to take TCU (and Boise is left out).

* Could TCU and Boise State play each other again? It's possible. And the Fiesta Bowl would be the location. If Oklahoma State loses, there's no good Big 12 at-large option. The Fiesta Bowl could choose TCU with its first pick and, assuming the Orange takes a Big Ten at-large, the Fiesta would have to choose between the Big East champ and Boise. I just don't know if a bowl wants to put two non-AQs together based on how many fans might travel and the fact that Boise State and TCU played each other in a bowl last year.

Have I completely confused you? The bottom line: TCU's chances of going to the Sugar are remote. With two picks so high up, TCU could certainly end up playing someone in the Fiesta Bowl. But if Georgia Tech wins the ACC, it wouldn't surprise me to see TCU play them in the Orange Bowl.

Of course, none of this matters if TCU doesn't win its remaining two games. And I think a BCS bowl will be pleasantly surprised by how many fans from TCU attend. The school has never been to a BCS bowl, which should get fans excited. We should know a lot more after Nov. 28. The bowls select on Dec. 6.

TCU fans: Which BCS bowl would you prefer? What do you think of these scenarios?