Dallas Colleges:

Bill Bedenbaugh
November, 29, 2013
Nov 29
11:00
AM CT
Recruiting season is about to kick into high gear. As soon as Bedlam is over on Dec. 7, Oklahoma will hit the recruiting trails hard looking to secure the future.
[+] Enlarge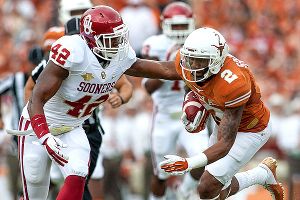 William Purnell/Icon SMIOU didn't offer Dominique Alexander a scholarship until last October. Now he's a starting linebacker.
OU has been superb at finding late hidden gems in recent seasons, with cornerback
Zack Sanchez
, a redshirt freshman from the Class of 2012, and linebacker
Dominique Alexander
, a true freshman from the Class of 2013, already making an impact on the program after getting relatively late offers from the Sooners.
Here are some priority spots for the Sooners to address in their 2014 class during the final two months of this recruiting cycle. Keep in mind, this list has everything to do with the young players on campus at each position, not necessarily the guys who are playing at that position each Saturday in 2013.
Offensive tackle:
Derek Farniok
and
Christian Daimler
are the lone underclassmen at offensive tackle. OU badly needs depth at the position and should be aiming to land at least two offensive tackle prospects in this class. If redshirt freshman tight end
Sam Grant
ends up at tackle, that would help the cause and lessen the urgency, but its a high priority position in this year's class. Worse yet, there doesn't seem to be a lot of hope at the position with top prospects mentioning OU on their lists. Finding a hidden gem in December could be the top priority for offensive line coach Bill Bedenbaugh.
Defensive tackle:
This position looks a lot better right now than it did a year ago with the early play of
Jordan Phillips
, a sophomore, and the emergence of
Jordan Wade
, a redshirt freshman. Nevertheless, there is no such thing as too many quality defensive tackles. The Sooners have one commit in Irving (Texas) Ranchview's
Brandon Glenn
, but that's not enough. OU needs to secure at least one more defensive tackle prospect to join Glenn and redshirting freshmen
Matthew Romar
and
Charles Walker
as the future at the position.
Linebacker:
OU rallied to bring in two quality linebackers late in last year's recruiting cycle with Alexander and
Jordan Evans
. Each committed to OU late in the process and became impact freshmen this fall. The Sooners need to supplement that duo with a least one more playmaker to join Allen (Texas) linebacker
Tay Evans
and Murrieta (Calif.) Vista Murrieta linebacker
Curtis Bolton
on their commit list. Several linebackers could be in play and keep in mind the Sooners did secure Alexander and Evans late in the process.
Running back:
You can never have too many running backs. And OU loses three quality ball carriers in
Brennan Clay
,
Roy Finch
and the recently dismissed Damien Williams. Redshirt freshman
Alex Ross
has a good size/speed ratio, true freshman
Keith Ford
has terrific upside, and commitment
Samaje Perine
(Pflugerville, Texas/Hendrickson) is a member of the ESPN 300. But the Sooners need to add another quality runner into the mix. Oakley (Calif.) Freedom running back
Joe Mixon
, No. 72 in the ESPN300, would be an outstanding addition to this class.
Receiver:
Even though the Sooners seem to have some solid youngsters already on campus, they don't have a proven game-breaking receiver outside of
Sterling Shepard
returning in 2014. But, and this is critical, they can't just use a scholarship to bring in another guy. With Tulsa (Okla.) Union receiver
Jeffery Mead
and La Mirada (Calif.) receiver
Dallis Todd
already committed, receivers coach Jay Norvell should think elite receiver or bust. Norvell should join Mike Stoops in doing whatever it takes to land
Michiah Quick
(Fresno, Calif/Central East), then fight for him to end up on the offensive side of the ball.
March, 28, 2013
Mar 28
11:27
AM CT
Roughly 90 percent of college football programs would be thrilled to win 10 games in a season. Oklahoma is not one of those programs.
Sharing a Big 12 title? That trophy is a whole lot less satisfying when there are seven others waiting in the trophy case since 2000 that weren't shared with anybody.
"Our expectations are different than everybody else. Everybody's not Oklahoma," defensive coordinator Mike Stoops said. "When you have Oklahoma across your chest, you expect to win championships, and that's never going to change here."
He knows firsthand. Stoops helped his brother, coach Bob Stoops, win Oklahoma's seventh national title back in 2000, and the Sooners came up short two more times, once losing in the title game with Mike Stoops in 2003 and again a year later with Stoops coaching at Arizona. Without him coordinating the defense, the Sooners gave up 55 points to USC, more points than any team has ever scored in the BCS National Championship Game.
Arizona fired Mike Stoops six games into the 2011 season, and the Sooners' struggling defense needed an offseason jolt, despite winning 10 games that same season. Mike Stoops returned and brought assistant Tim Kish with him to coach linebackers and help coordinate the defense.
"Sometimes change is good, new ideas are good always, and change is good sometimes," Mike Stoops said. "That happens for whatever reason, and whether it's complacency or just being stagnant, those things occur. Just trying to reinvent ourselves is something we need to do."
In 2012, there were more late-season defensive struggles after a strong start, but yet again, a 10-win season and a shared Big 12 title weren't enough. Losing three games isn't good enough, and nobody wants to hear that all three losses came to teams that spent time in the top five last season. The Sooners want to get back to competing for national titles, and Bob Stoops went the route of coaching changes to help get Oklahoma back there.
Assistant coaches Jackie Shipp and Bruce Kittle were shown the door, along with offensive line coach James Patton. The Sooners scooped up Bill Bedenbaugh from West Virginia to replace Patton and brought in Jerry Montgomery from Michigan to coach the defensive line. Jay Boulware filled Kittle's spot on the staff after coaching tight ends at Auburn. The Sooners' reboot was complete, and they're working toward results in the spring.
"[They bring] a new perspective in some areas, new ideas. They're not drastic changes," Mike Stoops said. "Obviously, the coaches we had in here were involved and knew our systems well, but there's always little changes in technique and little things schematically that can help you, so we're always looking for fresh ideas."
Ten wins tastes bitter when you're used to winning 11 or 12, which can be the difference between proving yourself as a very good team and a great team. Oklahoma won at least 12 games six times since 2000 and 11 games on three more occasions. Ten wins isn't good enough, and a few former players and one famed coach were more than willing to speak up about it, echoing fan concerns.
Barry Switzer started it in September when he told one local paper that the Sooners "just don't have the talent."
"We're not as good as we have been," Switzer said. "We don't have the Tommie Harrises or Gerald McCoys squatting down there in the middle [of the defensive line]."
Offensive lineman Jammal Brown, an All-American who played in Norman from 2000 to '04, said he was "mad as hell" about the Sooners' 28-point Cotton Bowl loss to Texas A&M to cap the 10-win season, calling the Sooners "soft." CBS analyst Spencer Tillman, a Sooners running back in the '80s, said Oklahoma lost concentration on what made the program great in the first place.
Considering the Sooners let Shipp go at the end of the season, it's hard to believe Bob Stoops didn't agree in part with what Switzer had to say. As for the rest of it?
"We may not be as skilled at some of the positions as we want to be, but our toughness and pride is what made Oklahoma what it is, whether it was Bud Wilkinson or Barry Switzer or Bob Stoops, I think that's the common thread that goes to being a great team," Mike Stoops said.
"Some of those, from the outside, may have felt like we didn't have that common thread between us. I never felt that; I always thought our teams played hard and together. They're certainly entitled to their opinions, you know. We've got to look at ourselves, and if it's true, we need to change it. The things we needed to change, we're working on changing, and nobody knows our program like we do.
"There's areas we certainly need to get better at, and we're aware of those. Some of those take time. Some of those take adjustments each day to get better."
The Sooners lose a four-year starter at quarterback in
Landry Jones
from last year's team, along with seven starters from Mike Stoops' defense. The task of winning more than 10 games seems difficult in a Big 12 that's deeper than it has ever been.
"We just need to get better, again, individually and schematically and play better across the board and come up with better ideas and a better scheme. We're not far off when you look at the big picture," Mike Stoops said. "We had a chance to win 12 games, we lost them all late in the game and down the stretch and didn't make the plays we needed to, but again, we're not that far off."
March, 25, 2013
Mar 25
11:00
AM CT
Turnover is an annual tradition in college football, but with that, teams' strengths and weaknesses constantly shift, too. Today, we'll continue our look at the biggest strengths and weaknesses for each Big 12 team.
Next up: Oklahoma.

Strongest position: Offensive line.
Don't discount
Landry Jones
' experience and decision-making, but Oklahoma threw the ball 571 times last year -- more than everyone in the Big 12 but Texas Tech -- and gave up just 15 sacks, third-fewest in the Big 12. The Sooners have good depth at running back but not a true gamebreaker, and the offense still averaged 4.85 yards a carry, third-most in the Big 12. Oklahoma dealt with a ton of injuries on the offensive line and at the end of the season, was basically reduced to five guys who could play and depended on true freshman
Ty Darlington
at times, too. The unit loses tackle
Lane Johnson
, but
Gabe Ikard
is the Big 12's best offensive lineman and returns alongside
Adam Shead
,
Bronson Irwin
and
Tyrus Thompson
. This unit perhaps could have been better than it was in 2011, which is part of the reason you saw position coach James Patton shown the door in favor of WVU's Bill Bedenbaugh, but it should be a big strength yet again in 2013. I'd say it's definitely the Sooners' best overall position. The Sooners fought through the loss of center Ben Habern and guard
Tyler Evans
in preseason camp last year, and Evans is out again after injuring his knee this spring. Here's betting Oklahoma fills the void yet again.
Weakest position: Defensive line
If you watched the Cotton Bowl, you know all you need to know about this position for the Sooners. Texas A&M had arguably the nation's best offensive line, but the Sooners D-line looked like a bunch of high schoolers for much of the game, applying zero pressure to
Johnny Manziel
and letting him get loose for a record-breaking game in a blowout loss. The Sooners lose four seniors along the line, leaving behind just
Chuka Ndulue
,
Jordan Phillips
and
Mike Onuoha
as contributors from last year's D-line that helped Oklahoma rank just 108th nationally in tackles for loss and 94th nationally in run defense. Oklahoma needs a big upgrade at this position to return to prominence, and I'm not sure the answer to the Sooners being as good along the front line of the defense is coming anywhere but on the recruiting trail.
More Weak and Strong
.