Dallas Colleges:

Bill Hancock
May, 3, 2012
5/03/12
9:53
AM CT
Did Iowa State usher in college football's latest seismic change?
The Cyclones weren't the only factor, but they were no doubt a huge one. ISU upset Oklahoma State in a memorable Friday nighter, eventually leading to a snoozer of a title game between two identical SEC teams that had already played earlier in the season.

Now, a four-team playoff is inching closer and closer to imminence. The details between now and then, though? Anything can happen.
BCS guru Brad Edwards
broke down some of the biggest questions

, like how teams would be selected and when the games would be played.
The Who and What may be good enough for many fans, but the road to this four-team playoff is filled with potholes for those left to negotiate the Where, When and How. Examining these questions and their possible answers shows just how much work still lies ahead for those charged with taking this playoff concept and turning it into a product that will be embraced by players, coaches, university presidents, fans and, perhaps most importantly, a TV network that will write a check big enough to make this overhaul worthwhile.
But what about perhaps the biggest question: Where will the games be played? The debate between on-campus games, neutral sites and folding in the bowls is already raging, and Edwards takes a look at all three. You'll need ESPN Insider to see it all, but you don't need it to let your voice be heard.
What do you want to see games in a four-team playoff played?
The Big 12's already found its way into the debate when BCS director Bill Hancock used Kansas State as an example of how playing big-time games on campuses could prove problematic.
"Can Manhattan, Kan., take care of 1,200 media? Where will people stay?" he said.
The hotel question is a little silly. People would just stay in nearby towns. For Manhattan, that means Kansas City or Topeka.
But during the game? Seating in the press box at Bill Snyder Family Stadium is like most college stadiums. Woefully unprepared for the crush of a BCS game. Why? Well, because BCS games have never been played on campuses before. Postgame conferences could be a problem, too. Few schools have the facilities to host that many people in one place.
Media complaining about facilities won't draw much sympathy, but for big bowls, it's obviously something to consider. There's no easy fix there.
The atmosphere would be amazing, but for national semifinals, it's hard to imagine the atmosphere not being just as good at a neutral site.
But where do you stand on the issue?
Vote in the poll.
April, 3, 2011
4/03/11
11:01
PM CT
After the Fiesta Bowl released its report on the abuse of funds within the bowl and fired CEO John Junker, plenty of those who cover college football,
myself included
, turned an eye toward the Cotton Bowl.
The bowl already had BCS aspirations. Comments by BCS director Bill Hancock immediately after the report was released suggested that the Fiesta Bowl's status among the elite was in jeopardy. After that statement, he even added, in an interview with CBS Sports, that he was "dead serious."
However, those holding their breath that the Cotton Bowl will gain a spot in the BCS may be holding it awhile. Shortly after those comments, Hancock softened his stance in
an interview with the Arizona Republic.
Bill Hancock, executive director of the coalition of college football's top bowls, said in an interview that discussion of eliminating the Fiesta Bowl from the BCS was "way premature." He called it "irresponsible" for media to speculate which bowls, if any, would replace the Fiesta Bowl in the four-bowl BCS.
Then, Big 12 commissioner Dan Beebe, who operates out of the Dallas-Fort Worth metroplex where the Cotton Bowl is played, expressed confidence in the Fiesta Bowl reforming its finances in the future and holding on to its BCS slot as the home of the Big 12 champion.
"I feel good about their commitment to do the right thing,"
Beebe said.
"There hasn't been a reluctance or push back [from Fiesta officials] at all."
The commissioner left the door cracked a bit on the league's future relationship with the bowl, saying he was "confident" but "not there yet" in determining whether the Big 12 and Fiesta Bowl's relationship will continue.
"We certainly have the highest stake in this," he said.
Looking for a campaign from the coaches? Don't expect Bob Stoops to carry the banner. Though his Sooners have played in the bowl three times in five years, he refused to inject himself into the debate.
Oklahoma played two Big East teams (UConn, West Virginia) and Boise State in their past three trips to the Fiesta Bowl. But the Cotton Bowl earning a BCS spot would mean the national title game would be played in Dallas once every four years. Oklahoma beat Florida State in Miami to win the 2000 title, but was beaten by Florida in Miami and LSU in New Orleans in front of decidedly partisan crowds. His team has earned eight BCS bids since 2000 and played in the Cotton Bowl just once.
Despite having plenty to gain with the Cotton Bowl earning BCS admission, Stoops is
staying out of it.
"That would not be right for me to get into that debate," Stoops said. "At the end of the day, I trust our administrators, presidents, and all of our commissioners and people running our conference to decide that. I am very aware of my job as the coach and my job is to run our team and their job is to manage the university and what is best for our league and everyone else, so I will leave it to them to determine that."
It's always looked like a bit of an uphill battle for the Cotton Bowl to earn a BCS spot, but currently, it's lacking in public support from people with real decision-making power. Will that have to change for the BCS to become a reality? Perhaps, but there's no doubt it would help.
For now, the Cotton Bowl will have to do without.
December, 16, 2010
12/16/10
4:16
PM CT
By
ESPN.com news services
BCS executive director Bill Hancock doubts "financial inducements," such as the one Dallas Mavericks owner Mark Cuban is considering, will lead to a major college football playoff.
Cuban told ESPNDallas.com on Wednesday that he was "actively interested but in the exploratory stage" of trying to bankroll a 12- or 16-team playoff to replace the controversial Bowl Championship Series.
Hancock responded to Cuban's comments in an e-mail to the AP on Thursday, saying, "Given how much support our current system has among university presidents, athletics directors, coaches and athletes, I don't think any amount of financial inducement will make people abandon" the BCS.
For more on the story,
click here.
July, 28, 2010
7/28/10
12:25
PM CT
By
Jeff Caplan
| ESPNDallas.com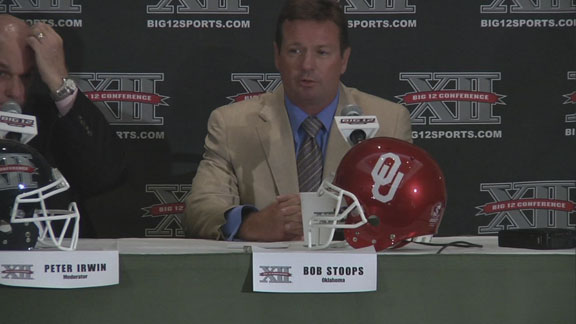 IRVING, Texas -- Soon, the college football annals could subtract a national champion and add an asterisk. If
USC
loses its NCAA appeal stemming from the Reggie Bush violations, it will "vacate" its 2004 national championship.
Hancock said that the 12 school presidents who make up the BCS Oversight Committee will most likely not name a new champion, meaning the 2004 season will likely go down without a No. 1 team.
Bush and the Trojans trounced
Oklahoma
in the title game, 55-19. Watching from the outside was then-Auburn coach Tommy Tuberville, who had guided the
Tigers
to an undefeated season, but finished third in the final regular-season BCS rankings and out of the title game.
Tuberville, now the head coach at
Texas Tech
, believes somebody should be named the champion. He just doesn't know who -- Oklahoma, which played in the title game and lost, or Auburn, which won the Sugar Bowl and finished 13-0 (of course, inconveniently, Utah and Boise State also finished undefeated).
Oklahoma coach Bob Stoops said he wants no part of that discussion.
"That's a long time ago," Stoops said. "And, I'm not much for claiming anything if it didn't happen on the field."
July, 27, 2010
7/27/10
3:29
PM CT
By
Jeff Caplan
| ESPNDallas.com
IRVING, Texas -- Bill Hancock, the executive director of the BCS, defended the system as the best way to match college football's top two teams and said that a playoff system would damage the "unique nature" of college football's regular season.

A few highlights of Hancock's press conference during Day 2 of the Big 12 Media Days:

*Problem with a playoff: "It's so important to remember that we have the most compelling and meaningful regular season of any sports and it's the cornerstone of what happens on college campuses during the fall, and it's just too important to risk. The playoff would end the bowl games as we know them. I always get into discussions with reporters and others about this who say the bowl games would survive, look at the NIT. And my response is, 'Yes, look at the NIT.'

"If we had a playoff, a four-team playoff, team five would be very upset about not being in the field. Team nine, team 17, team 33. And just in summary, this is the best format. Every game counts."

*The Mountain West's progress toward a BCS automatic berth: "We are in the second year of a four-year evaluation period and we're not going to compile the data until the end of the period. So, we have two more seasons to go. The fact is we know intuitively the Mountain West is off to a very good start. Even though we haven't run the data, we know they're off to a good start. They can become the seventh automatic qualifier for the last two years of the cycle."

*The Cotton Bowl's (now played at Cowboys Stadium) hopes of joining the BCS rotation?: "Well, it's [the current BCS sites] certainly locked in for the next four years. What might happen after that is anyone's guess. I do know that our group is quite happy with the four bowls that are a part of the BCS now and the commissioners -- when I say "our group," I'm talking about the 11 commissioners who manage the event -- have tremendous respect for Rick Baker and everyone involved on the Cotton Bowl staff and committee. But, it would take a seismic change to make a change. In two years or so, the commissioners will begin talking about the future and that's when it will come up."

*The chances of a plus-one model to determine the national champion: "There's a couple of problems with the plus-one, one of which is it's a four-team playoff. And so one of the problems is with no bracket has ever stayed the same size it was when the event was created. We call it bracket creed. It might start with a four-team bracket, but there would immediately be demands to increase it by a team. Team 5 would demand it. I would if I was their coach. Team 6 would demand to add more. That's why the basketball bracket increased because teams felt like they were being left out unfairly. And that would happen with a four-team playoff plus one."

*Lack of a Big 12 championship game helps or hurts team in national championship hunt: "I don't see any evidence that a championship game helps or hurts. I hear a lot from people who say you should make every conference do it the same. We don't have the authority to do that. How the conferences produce their representative in the BCS is up to them. But, I just don't see that it's made any difference through the years. I think conferences have been helped by it, and I know conferences have been hurt by it."