Dallas Colleges:

Billy Gillispie
September, 10, 2012
9/10/12
5:16
PM CT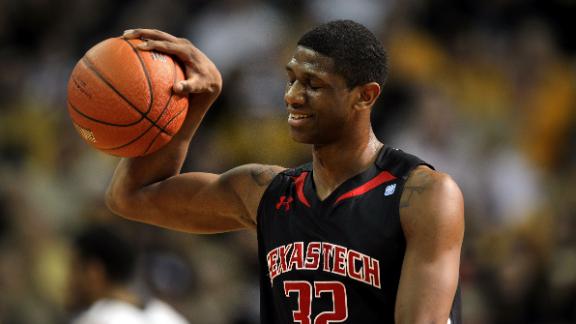 Texas Tech leading scorer Jordan Tolbert said Monday he doesn't want to play for Billy Gillispie if the basketball coach returns from an extended medical leave.
Read more here
.
September, 6, 2012
9/06/12
3:20
PM CT
ESPN.com's Dana O'Neil has a unique perspective on Billy Gillispie. In 2009, during Gillipsie's second year at Kentucky -- the year the Wildcats (gasp) failed to make the NCAA tournament, a failure that cost Gillispie his job -- Dana was granted an all-access pass inside the Kentucky program.
The resulting story painted a picture of a program and a fan base
that together had no idea how to handle the prospect of missing the NCAA tournament -- led by a guy who was in way over his head:
This is a team sinking under the albatross of scrutiny. Players sag under the heavy burden of a state's expectations and a program's glorious history books. In a situation desperate for a practical joke or a silly movie to cut the tension, there is nothing but the seriousness of basketball.

It is the coach's way of operating. A self-described basketball junkie who says he has "no balance" in his life, Billy Gillispie isn't one for small talk or normal social interaction. He sits alone on the team charter plane and bus, reading, sleeping or looking out the window. He is all basketball business, a man who ends each pregame session and film session with a "Let's go to work.''

[...] There is no doubt that Gillispie is a tough nut to crack. He says he has a small circle that he keeps close, rarely letting outsiders in. It's probably not a bad way to be when your every muscle tick is dissected. But while Gillispie's need for privacy is understandable, his standoffish behavior is hard to comprehend. He has been brusque with the media, both local and national, and his rude dismissals of ESPN sideline reporter Jeannine Edwards have been a hot topic in Kentucky.

He is not one to engage in small talk with anyone, brushing into and out of meeting rooms, locker rooms and breakfast rooms with a purposeful stride. This behavior probably didn't register much at his previous head coaching stops in El Paso (UTEP) and College Station (Texas A&M), but it jumps off the Richter scale in a Kentucky mired in a basketball debacle.
At the time, from the outside, it was hard not to look at Gillispie's faults -- the workaholism, the unforgiving intensity, the awkward interactions with players, the inability to understand the UK fan base -- as flaws magnified as much by the environment as by Gillispie himself. Things had gone south in the nation's most highly scrutinized basketball program;
of course
Gillispie looked like he was losing his team. But weren't those same flaws the reason Gillispie was so successful early in his career? Wasn't Kentucky a different beast? If he couldn't turn the thing around, you could at least come away thinking the fit was the problem, that Gillispie could return to coaching at a less scrutinized place and still rekindle his old success. Texas Tech certainly fit the bill.
Now, with the benefit of hindsight, it seems clear Gillispie did as much as anyone -- if not much,
much
more -- to hasten his downfall. It was more than him just not "getting it." It wasn't Kentucky; it was
him
.
And now Texas Tech finds itself in this mess
.
On Thursday,
Dana revisited her time with Gillispie for a retrospective feature
, and needless to say, our intrepid reporter was hardly flabbergasted by the revelations surrounding Gillispie's treatment of players at Texas Tech. From her commentary:
The Gillispie I met was standoffish to the point of being rude, a taciturn drill sergeant with his players who lacked the ability or interest to engage personally with them even for a minute.

I left fully expecting Kentucky to fire him after the NIT -- which happened -- but convinced it wouldn't be because of his below-UK win-loss standards; it would be because of his insular and abrasive personality.

He was coaching in the biggest bubble in college basketball, yet bristled at everyday interaction. He treated people associated with the program with either disinterest or disdain, disenfranchised the fan base that once greeted him with open arms, disenchanted the athletic director that hired him and most important of all, lost his team.

[...] I have logged more than a few hundred hours around basketball coaches and their players. News flash: Coaches aren't always nice. They can be downright mean when they have to be.

But always there is a place for levity -- at the end of a practice, on the bus, the plane, somewhere the other side of the relationship is apparent. There is banter and fun.

Not at Kentucky. In four days, I never saw Gillispie have anything other than basketball-related interactions with his players.

Gillispie ended every conversation, broke every huddle, by saying, "Let's go to work," and that is exactly what it was -- joyless work for the players. In a situation desperate to break the oppression of misery and the stress of losing, there was not even the briefest of respites.
February, 7, 2012
2/07/12
8:06
AM CT
Here are this week's Big 12 power rankings:
1. Missouri:
The Tigers have played the two toughest teams in the league (Kansas and Baylor) and defeated them both. Guard
Marcus Denmon
had made just five of his previous 31 attempts from 3-point range before going 6-for-9 from beyond the arc in Saturday's win against Kansas.

2. Kansas:
The Jayhawks blew an eight-point lead with just more than 2 minutes remaining in Saturday's loss at Missouri, but with Baylor up next on Wednesday, there's no time to mope about the loss. Kansas is 16-2 all-time against the Bears, who it defeated by 18 points last month at Allen Fieldhouse.
3. Baylor:
The Bears' Big 12 title hopes depend largely on what happens this week. Baylor hosts Kansas on Wednesday and travels to Missouri Saturday. Baylor's only two losses are against those two teams. The Bears' offense looked sloppy and disorganized in last week's victories over Texas A&M (63-60) and Oklahoma State (64-60).
4. Iowa State:
The Cyclones won at Oklahoma Saturday despite getting just three points from leading scorer
Royce White
. Fred Hoiberg's squad has won five of its past six games overall and could continue that streak this week against Texas A&M and Oklahoma State.
5. Kansas State:
The Wildcats got back on the winning track by defeating Texas A&M Saturday at home. And the good times should continue when Kansas State hosts Texas Tech on Tuesday. Leading scorer
Rodney McGruder
has made just four of his previous 20 3-point attempts.
6. Texas:
Rick Barnes' squad hasn't caught many breaks in conference play. Texas' six league losses have come by an average of five points. The Longhorns had lost five of their previous six games before defeating Texas Tech on Saturday. Monday's road game against a beat up Texas A&M squad is winnable.
7. Texas A&M:
The Aggies almost defeated Baylor without
Khris Middleton
and
Dash Harris
on Wednesday, and they led Kansas State at halftime before falling 64-53 Saturday in Manhattan. Considering all of the injuries, Texas A&M deserves credit for competing as well as it has.
8. Oklahoma:
The Sooners have dropped four of their previous five games heading into Monday's contest against Missouri. All of a sudden the team that got off to a 9-1 start is 3-7 in league play.
Steven Pledger
and
Andrew Fitzgerald
are averaging a combined 31.1 points.
9. Oklahoma State:
Three weeks after losing to them by 41 points, Oklahoma State nearly upset the Baylor Bears before falling 64-60 Saturday in Stillwater. Freshman
Brian Williams
had 23 points in the loss. On Tuesday, Oklahoma State hosts the same Iowa State squad that it lost to on a buzzer-beater Jan. 18 in Ames.
10. Texas Tech:
Last week's home game against Oklahoma State appeared to be the Red Raiders' best chance of picking up a Big 12 win. Instead, Billy Gillispie's team was throttled 80-63.
Jordan Tolbert
leads Texas Tech in scoring with 11.9 points per contest. But he's averaging just 6.3 points in his past three games.
January, 2, 2012
1/02/12
12:42
PM CT
Not much has changed in this week's Big 12 power rankings. But with each school beginning conference play, next week's list could look quite a bit different. Be sure to check back.
1. Baylor:
The Bears are off to their best start in school history at 13-0, and no one can say they accomplished the feat because of a weak schedule. Baylor touts wins against five top-50 teams, with the most recent triumph coming in a two-point victory Wednesday against Mississippi State. The Bears open Big 12 play Monday against struggling Texas A&M in Waco.
2. Missouri:
The Tigers had to come from behind in the final two minutes Friday to beat an Old Dominion team with a 6-7 record. Still, all road wins are big, and the close win against the Monarchs will help the Tigers down the road. Missouri faces a pesky, well-coached Oklahoma squad in Tuesday's conference opener in Columbia.
3. Kansas State:
The Wildcats have won six in a row since an overtime loss to West Virginia on Dec. 8. But tough times could lie ahead. Kansas State opens Big 12 play at Kansas on Wednesday before hosting Missouri and Baylor. Then comes a tough road game at Oklahoma. Does any school in the country have a tougher league-opening stretch than the Wildcats?
4. Kansas:
An eighth straight Big 12 title isn't out of the question -- especially if forward
Thomas Robinson
continues the dominance he displayed in Saturday's win over North Dakota (30 points, 21 rebounds). But the Jayhawks' bench continues to struggle, as Connor Teahan was the only non-starter to score against the Fighting Sioux.
5. Texas:
J'Covan Brown is averaging 19 points for a team that got back on the winning track Saturday against Rice. The Longhorns could establish a ton of momentum by beating Iowa State on the road in Wednesday's Big 12 opener, especially considering they have what should be two home wins after that against Texas A&M and Oklahoma State. A 3-0 start is definitely possible.
6. Oklahoma:
The Sooners dropped their second game of the season Thursday when they squandered a 12-point lead with six minutes remaining in a 56-55 loss at Cincinnati. Still, with a 10-2 record, Oklahoma has been the league's biggest surprise thus far. Mississippi State transfer
Romero Osby
is averaging 9.1 rebounds for a team that opens Big 12 play Tuesday at Missouri.
7. Iowa State:
The Cyclones survived a scare Saturday before pulling off a two-point home win against Mississippi Valley State. But it should be noted that leading scorer
Royce White
(flu-like symptoms) played just three minutes. Iowa State has been mildly disappointing thus far. The team appears to lack chemistry.
8. Texas A&M:
Highly touted freshman
Jamal Branch
announced last week that he was leaving the team, which certainly wasn't a good thing for an already struggling program. The Aggies had gone nine straight games without breaking the 70-point barrier before Saturday's 76-58 win over Arkansas Tech.
9. Oklahoma State:
This team is bad. The Cowboys needed double overtime to defeat SMU in Dallas last week before suffering a home loss to Virginia Tech on New Year's Eve, their second to the Hokies this season. It will be interesting to see what Oklahoma State's administration decides to do with fourth-year coach Travis Ford if things don't get better.
10. Texas Tech:
The Red Raiders have won four of their past six games and are steadily getting better. They're playing weak competition, sure. But that's just what this rebuilding program needs as new coach Billy Gillispie attempts to instill discipline and confidence in his players. Wednesday's game at Oklahoma State will be interesting.
August, 5, 2011
8/05/11
3:25
PM CT
Billy Gillispie is a basketball coach and a Texan. In other words -- after being fired and arrested and wandering the hoops wilderness for two years --
the man is back in his element
at Texas Tech.
ESPN's Andy Katz caught up with the Red Raiders' coach. Here's a snippet:
Billy Gillispie doesn't appear to have changed one bit.

He's a coach. A basketball coach. That's really all he wants to do. That's who he is. And to define him in any other way is probably a mistake.

And now he's back in the Big 12 at Texas Tech, tucked away in Lubbock, where he can grind away and produce a winner in relative obscurity, much like he did when he left Bill Self's staff at Illinois to head up UTEP and Texas A&M before accepting one of the highest profile jobs in the sport at Kentucky.

"I've been lucky,'' said Gillispie, a native of Abilene, Texas. "We've improved the teams and we've won. I'm proud of where we are and what we can achieve at Texas Tech.''
To read more of the story,
click here.
April, 20, 2011
4/20/11
5:40
PM CT
Villanova assistant Chris Walker will join Billy Gillispie's staff at Texas Tech in a similar capacity, according to a source.

Walker, 41, played for Rollie Massimino at Villanova from 1988-92. He began his second stint as an assistant at his alma mater in June 2009, under Jay Wright.

The Houston native has served on staffs at Pepperdine, New Mexico, Massachusetts and Amherst. He has also served as head coach of the T-Mac All-Stars, a Houston-based amateur unit.

Gillispie agreed to a five-year contract to coach the Red Raiders in March. He has 140-85 record in seven season as a Division I head coach, which include stops at UTEP, Texas A&M and Kentucky.