Dallas Colleges:

Boise State
October, 28, 2011
10/28/11
11:52
PM CT
By
Art Garcia
| ESPNDallas.com
ARLINGTON -- Playing a nonconference game in the middle of the season wasn't an ideal situation for TCU coach Gary Patterson. Now he's past that and ready to jump back into the Mountain West schedule.

The Horned Frogs (6-2) beat BYU 38-28 Friday night and head back into conference at 3-0 with a trip to Wyoming next Saturday.

"We've got to go to Wyoming, always a tough place because of the weather in November," Patterson said. "They're 4-2, they play at San Diego State [on Saturday] and they haven't lost in conference [1-0], so we've got a tough game next week. Every game we've got from now on is that way."

Winning the MWC is a goal for the Frogs in their final year in the league before moving to the Big 12. Should they get past Wyoming, a showdown with No. 5 Boise State awaits on Nov. 12.

"What we said from the beginning is we wanted to be undefeated if possible going into the Boise game and if can win next week we have an opportunity to do that," Patterson said.
August, 4, 2011
8/04/11
10:30
AM CT
By
Jeff Caplan
| ESPNDallas.com


The USA Today Coaches Poll has just been revealed and to no surprise the Oklahoma Sooners are ranked No. 1.

Alabama, Oregon, LSU and Florida State round out the top five. That's good news for Jerry Jones since Cowboys Stadium will feature the Sept. 3 ABC primetime matchup pitting No. 3 Oregon vs. No. 4 LSU.

Oklahoma State starts the season at No. 8 and Texas A&M certainly has plenty to be excited about at No. 9, its highest preseason ranking since 1999. The Aggies return to Cowboys Stadium once again against No. 14 Arkansas on Oct. 1. A&M opens the season on Sunday, Sept. 4 at home against June Jones' SMU Mustangs, a favorite to win Conference USA.

Perhaps a bit of a surprise is the tumble of TCU to No. 15 -- one spot ahead of Ohio State. The Rose Bowl champion Horned Frogs capped last season's 13-0 record with a win over Wisconsin in Pasadena and finished No. 2 in the nation behind national champion Auburn. But, the graduation of quarterback Andy Dalton and some other key starters on both sides of the ball apparently has coaches across the land a bit skeptical that TCU can quickly reboot in its final season in the non-BCS Mountain West Conference. TCU joins the Big East Conference in 2012.

According to the TCU athletic department, the Frogs' streak of being ranked in 42 consecutive polls is the longest in school history and fourth-longest currently in the nation.

Boise State, TCU's new MWC counterpart, starts the season where it ended last season at No. 7. The Frogs play at Boise on Nov. 12, a game originally scheduled to be played at Fort Worth, but moved by the MWC because of TCU's exit.

Texas, one of two teams to crack the top 25 that finished with a losing record last season (Georgia), opens at No. 24. The Bulldogs are No. 22.
January, 7, 2011
1/07/11
7:27
PM CT
By
ESPNDallas.com news services
Seeking to add some punch to an offense that faltered badly last season, Texas coach Mack Brown hired Boise State offensive coordinator Bryan Harsin on Friday to handle the play calling for the Longhorns.
Harsin will share the offensive coordinator title with former Texas quarterback Major Applewhite, who has been on the staff the last three seasons as running backs coach.
For more, click here.
November, 16, 2010
11/16/10
7:29
PM CT
November, 9, 2010
11/09/10
9:46
AM CT

ESPN.com's BCS guru Brad Edwards talked to ESPNDallas.com about TCU's chance and some various scenarios. Here are some highlights of Edwards' BCS thoughts:

Q: Will TCU be able to stay in front of Boise State or will the Broncos leapfrog the Frogs at the end of the season?

BE: I think the odds are heavily in TCU's favor right now. I think it's really because of what happened in the polls. For a few weeks now, it's looked like TCU would finish higher in the computers. It was just a matter of whether Boise was going to be able to hang on to its advantage in the polls and if it did, it was probably going to come down to the wire. But TCU, fortunately for them, didn't just win Saturday. I think if they had won that game by 7 or 10 or somewhere in that range, you wouldn't have seen them vault over Boise State in the polls. We talk about style points and everyone gets sick of that and you don't go into a game like that thinking of style points, but the way it worked out helped TCU.

Q: So moving up in the human element was critical because it means TCU isn't just relying on the computers, right?

BE: That was a huge deal that they moved up in the polls. Boise looked almost as good as TCU against Hawaii, which is an underrated team in my opinion. But if a team doesn't go out there and give you a reason to drop them, most of the time as a voter you're not going to drop them. Looking at TCU's remaining two games, with San Diego State being in Fort Worth and New Mexico being as bad as they are, it's tough to imagine TCU playing a close game and not blowing out these last two teams. Unless they play a close game, I just don't see a lot of voters being willing to even consider moving Boise State ahead. As far as we know, Nevada may be better than Utah. But the general consensus among voters is they aren't as good and they won't be ranked as high and won't be undefeated like Utah was. So I don't think there's anything Boise can do to get that advantage back in the polls. If Virginia Tech wins out and Utah goes out and loses another game, that could impact the computers and they could maybe pull even in the computers despite a big gap right now. But they'd still have to get ahead in the polls because that's two-thirds of the BCS formula and I don't think voters will do that.

Q: Let's play the 'what if' game. Will TCU get in the national title game ahead of a one-loss SEC team?

BE: Auburn because Auburn would be just as good as Boise and TCU in the computers with that one loss if not ranked slightly ahead. They'll still be really strong in the computers. Then the question becomes what do the voters do with them. What degree do the voters put some stock in the fact that the SEC has won the last four national championships. It's a tough call. I think that what TCU did on Saturday plays into this. The fact that they were so dominant, and maybe I'm overstating my own opinion as opposed to what voters might do, helps them. To me there's no question that if Auburn or Oregon loses that one of those team, TCU or Boise, deserves to play for the national championship and right now we're leaning toward TCU in that argument. And I think a lot of voters feel that way. I think voters would look at it that it would not be an injustice to the sport to have them play in the national championship game. They were one second away from doing it last year. So it's not like they came out of nowhere. I think there are some voters that would still have the attitude that wouldn't want a team from the Mountain West to play in the national championship game because they don't think they deserve it because of the schedule and there would be voters that would say a one-loss SEC champion has to be one of the top-2 teams in the country. But others would watch TCU play and say they think they are as good or better than Auburn. If I had to make a prediction, I'd say TCU would be fine as far as getting up there if Auburn loses.

Q: But out of all the one-loss teams at that point, Auburn poses the biggest threat to TCU in terms of trying to oust them from a title game shot?

BE: Yes. The team that doesn't have a loss yet, Auburn, is the biggest threat. I don't think there are any teams lurking behind them. LSU is the only team that has enough schedule strength to be a problem, but the issue is that LSU is not going to be high enough in the polls without winning their division of the SEC. I just think there are too many voters that still have questions about LSU because of what happened earlier in the year. I think there's a sense that LSU has gotten lucky and that Auburn knows how to win. But I like TCU's chances a lot if Auburn or Oregon stumble.

Q: How much would having that extra game for Auburn in the SEC title game help while TCU is sitting at home?

BE: One thing that can't be underestimated is that if Auburn loses the Iron Bowl (at Alabama Thanksgiving week), there will be a full week for everybody to hash this out. Auburn won't be playing a great team. It will be a top-25 team, but not a one-loss team. But there will be a whole week for people to debate it and hear every side of the argument as far as who deserves what if Auburn wins the SEC championship game after losing to Alabama. The other thing that happens that week in the coaches poll is there are a lot of them that haven't had a chance to watch games because their own teams are playing. Now as a voter they have a chance to sit back and look at everything. And they will have a chance to watch Auburn play and some of them may not have seen much of TCU outside of highlights. The last week is different because you do have voters not only paying more attention to the games, but they are better informed by that point. They've done some research and have listened to the arguments all week long.

Other quick points:

* When and how Auburn loses could impact TCU. Auburn's best chance to make the title game with one loss is to lose to Alabama in a close game in Tuscaloosa. It's a rivalry game and if Alabama is a two-loss team, losing to them on the road in a close game would not look that bad in the eyes of voters. If Auburn then turned around and looked good in beating Florida or South Carolina in the SEC title game, they could make it interesting in terms of whether they got ahead of TCU. But if Auburn loses to Georgia or in the SEC title game, they likely would have no shot to get back in front of TCU.

* It is important that TCU keep its foot on the gas pedal. San Diego State only has two losses, but they aren't on any radar screens when it comes to voters. So the pressure is on TCU to look impressive in that game and in New Mexico on Thanksgiving weekend to keep voters impressed.

In summary, TCU is in a great spot. They are waiting for a stumble and with Auburn's remaining schedule, that is certainly possible.
June, 11, 2010
6/11/10
2:10
PM CT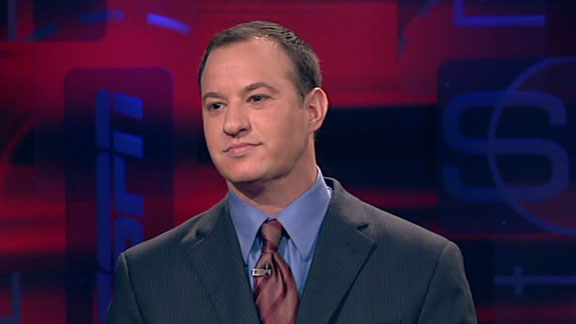 The Mountain West Conference didn't want to wait for all the dominos to fall before acting. So the conference grabbed Boise State to become a 10-team league. And they may not be done yet. Thompson said the league has discussed a 10-, 12- and 16-team model. That includes monitoring the possible changes in the Big 12.
"Depending on what might transpire if something does change in the Big 12 membership in the coming days or weeks, it's something we're going to watch and monitor," Thompson said in a conference call with reporters Friday afternoon. "I don't think there's any given that we're definitely going to 12. There's no given that we'd go to 16. There's no assurance that we'll remain at 10."
Thompson was asked specifically about Kansas and Kansas State and said he had not talked to those schools, but that someone with Mountain West Conference probably has. He said they've discussed things with a "number of institutions" around the country, which would include the Big 12. Should the Pac 10 grab the handful of teams discussed from the Big 12 South, the Mountain West could be in position to try to grab the Big 12 leftovers. Thompson didn't speak to that directly, but said the league is paying close attention to all possibilities.
"Are we best being a 10, 12 or 16 or something in between?" Thompson said. "We may be done, but we anticipate continuing the dialogue that started even yesterday and well into today with ADs and board of directors with institutions. I know we are continuing to look to grow the Mountain West Conference."
Thompson said that one factor was showing current members that the league was proactive and committed to staying strong, knowing that other conferences may try to lure current MWC teams.
"We're trying to build as good a place to land and to stay for those nine," Thompson said. "With the addition of Boise State, we can. That was something discussed. Let's get as strong as we can and become as attractive a conference as we can."
It's not very difficult for member institutions to leave the Mountain West. The league has no penalty for exiting the league. If a member tells the conference by Sept. 1 that it's leaving, they get their full revenue distribution share nine months later.
"We feel why would we force someone's hands or throw a financial impediment at them?" Thompson said. "You want to be a part of this or you don't."
Thompson said his No. 1 priority is getting an automatic BCS bid and that adding Boise State helps his league do that. The Mountain West Conference is halfway through a four-year evaluation period to determine an additional conference berth to the BCS and they are in good shape to earn that spot. Adding Boise State only bolsters their case. It gives the league two teams that have won two BCS games – Utah and Boise State – and three teams that have played in BCS games as at-large candidates (TCU is the other one).
Once all of the conference realignment dust has settled, Thompson said the league will look to renegotiate its TV package. But the conference has five years remaining on its current deal and Thompson said the contract states that there's a renegotiation, but not a termination to the deal. So the full benefit of adding any additional teams in regards to TV revenue remains a few years away.
If the league stays at 10 teams, it has not decided whether each team would play all nine other members. Thompson said he's in favor of doing that, but that would come up for a vote. Nothing will happen on scheduling until the number of institutions in the Mountain West by the 2011-12 academic year is determined.
December, 31, 2009
12/31/09
2:32
PM CT
If bowl games are any indication, TCU has beaten some pretty good competition. Air Force's 47-20 win over Houston -- and can you believe Keenum threw six interceptions? -- means TCU opponents went 6-0.

And most of the win in impressive fashion. BYU beat Oregon State, 44-20. SMU crushed Nevada (a Boise State opponent, by the way), 45-10. Utah beat California, 37-27, in a game that wasn't even that close. There were two close games, with Clemson winning 21-13 over Kentucky and Wyoming needing double-overtime to beat Fresno State (another Boise State opponent).

It certainly makes TCU look even better to see their opponents putting up strong showings in bowl games. Of course, none of that will matter to the Frogs unless they beat Boise State in Monday's Fiesta Bowl.
December, 23, 2009
12/23/09
2:29
PM CT
Ryen Russillo, Trevor Matich and Brad Edwards of ESPN Radio's College GameDay

preview the Fiesta Bowl matchup
between Boise State and TCU.
December, 15, 2009
12/15/09
7:57
AM CT
FORT WORTH -- I was at TCU on Saturday doing a few interviews in preparation for the Fiesta Bowl and the TCU players were busy picking out their gifts.

Every bowl is allowed to spend a certain amount of money on each player and in this case, the Fiesta Bowl had set up a points system where each player could pick an item or two. Think of it like a pre-Christmas shopping trip.

Some of the items included a 26-inch HDTV, a recliner (Jake Kirkpatrick told me he thought about getting that, but didn't have any place to put it), video game systems, personal DVD player and even a cowboy hat.

TCU is going through final exams this week, so they won't practice until Thursday or Friday, depending on when exams are finished, as they prepare to face Boise State in the Fiesta Bowl on Jan. 4.
December, 6, 2009
12/06/09
5:07
PM CT
By
Jeff Caplan
| ESPNDallas.com
TCU fans are calling the Horned Frogs' berth in a BCS bowl game a once-in-a-lifetime event and purple-clad backers are already filing into Daniel Meyer Coliseum where coaches and players will watch with fans as BCS bowl matchups are revealed starting at 7 p.m.

There is some apprehension among Frog faithful regarding the notion of a TCU-Boise State matchup in the Fiesta Bowl. It would be the third such bowl meeting between the two teams and second in a row. TCU beat Boise last December in San Diego in the Poinsettia Bowl and Boise won the first battle, ironically enough, at TCU's home stadium in Fort Worth in the 2003 Fort Worth Bowl.

Both Boise and TCU fought to get into the BCS to do battle and prove their worth against a BCS-conference school. Iowa could be ahead for TCU, but what if the Fiesta pairs TCU and Boise? Will that excite either fan base? Will it excite a national television audience (will TCU vs. Iowa?).

It is strange that TCU and Boise fight all season to be considered one of the big boys, yet when it comes to facing off against each other, neither might consider the other the opponent they'd most like to face.