Dallas Colleges:

Brandon Allen
December, 30, 2014
12/30/14
2:20
AM CT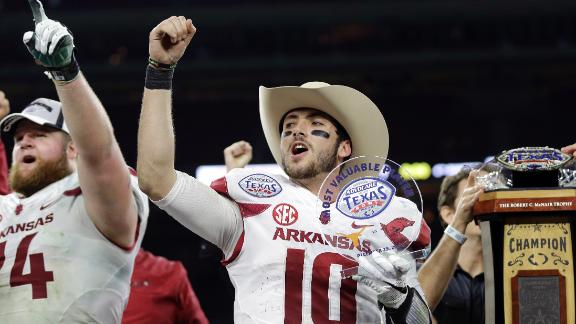 HOUSTON -- The postgame handshake was brief. No small-talk chatter or back-slapping. No horns-down twitches, either.
Charlie Strong walked up, gave Bret Bielema a firm handshake, turned and walked off.
"I got beat," Strong said soon after, "so what are you going to do, go talk and tell jokes?"
Bielema stared at the exiting
Texas
coach for a moment. He looked a bit startled by their two-second meeting, but what should he have expected? The two head coaches were heading in different directions.
[+] Enlarge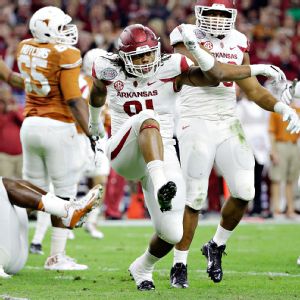 AP Photo/David J. PhillipArkansas' stomping of Texas on Monday will send the Razorbacks into next season with lofty expectations, while the Longhorns are left to pick up the pieces.
Arkansas
' head man made his way over to the midfield stage to accept the Advocare V100 Texas Bowl trophy, his prize for a purely dominant
31-7 victory
and a seven-win season that should have Razorbacks fans fired up about the future.
Strong went over to a news conference room inside NRG Stadium and let loose with seven losses worth of anger and frustration before conceding Texas has "a long ways to go" after a rough first year of rebuilding.
Surely Bielema can sympathize, right? Until Nov. 15, the second-year coach had played 13 SEC games and lost them all. Suddenly, thanks to two upsets and the Monday night destruction of the Longhorns, Arkansas will start being hyped as hot for 2015.
"We have a lot of guys coming back that, if they continue to have the growth they did a year ago, we're gonna be able to do some special things," Bielema said.
His Razorbacks defense already had shutouts of
Ole Miss
and
LSU
on its résumé, yet found a way to top that. Arkansas held Texas to the least productive offensive performance of the entire 2014 college football season: an FBS-worst 59 total yards and 2 rushing yards on 43 plays.
The Hogs' control of the game was absolute. They pounded away up front, controlling the ball for more than 41 minutes and never giving Texas a hint of a real chance. Body blows early and often -- tough runs, easy passes, easier defensive stops -- was all it took.
When it was over, Bielema heaped praise on his seniors, on his players' leadership and focus. He touted his junior quarterback and bowl MVP winner,
Brandon Allen
. He pointed to just how exciting the future looks now.
The roughest days appear to be over at Arkansas. The elusive moment every rebuilding coach chases -- that over-the-hump victory, the high-profile display of dominance and promise -- heck, Bielema has had three of them in the past 60 days.
For Strong, the hill to climb is steeper. A brutal offseason is about to begin in Austin, Texas, and it's completely necessary.
"At some point, we've got to develop and get the pride back into this program," Strong said. "Texas has got to mean something. Right now, it doesn't mean much. You have to play with passion, play with energy and have to have an edge to you. We don't have that right now."
When Strong's most vocal player, senior corner
Quandre Diggs
, says Texas still has players who don't deserve their spot in the locker room, you know this team is tired of messing around. A fifth loss of 20-plus points -- the most in one season in school history -- raises the pressure.
Strong doesn't have a senior-to-be to hype up at quarterback. He has sophomore
Tyrone Swoopes
, who accounted for 25 total yards of offense (and minus-21 yards if you include his fourth-quarter interception return yardage); he has an offseason-long controversy that will require wide-open competition; and he has departing seniors, a patchwork offensive line, a dearth of playmakers. A lot more questions than answers.
Given that context, it's easy to see why Strong had no time to blather with Bielema. Texas badly wanted this season to end. And Arkansas just can't wait for the next one to begin.
September, 24, 2014
9/24/14
2:00
PM CT
Arkansas' offensive philosophy is no secret. The Razorbacks want to run the ball -- a lot.
Using that power-football identity, the Hogs are showing themselves to be a much-improved team in Bret Bielema's second season in Fayetteville. After the Razorbacks'
obliterated Texas Tech
in Lubbock earlier this month to the tune of 438 rushing yards and 49 points, Bielema described his team thusly:
"This is Arkansas football, hog-ball, hog-strong, whatever you want to say it, this is what we are," Bielema told reporters afterward. "I know at times it ain't that pretty, but it's a heck of a lot of fun."
The Razorbacks are hoping to have more fun at 3:30 p.m. ET Saturday when they meet No. 6 Texas A&M at AT&T Stadium in Arlington, Texas. It will serve as the season's first true test for the Aggies' run defense.
[+] Enlarge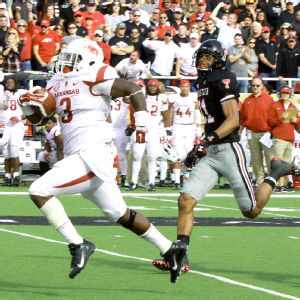 Michael C. Johnson/USA TODAY SportsAlex Collins and the high-powered Arkansas ground game will provide A&M's run defense with its stiffest challenge yet this season.
Yes, Texas A&M played a talented South Carolina team -- one that is known for running the ball well in its own right -- in its season opener. But the Aggies raced out of the gate so quickly that the Gamecocks, whose star running back
Mike Davis
was limited by an injury, were left to play catchup and eventually abandon their running game. South Carolina ran the ball 22 times in the Aug. 28 opener and the Aggies held them to a mere 67 yards.
Arkansas averages 45 rushes per game. Against the Red Raiders, the Razorbacks ran the ball a whopping 68 times. Even in their season-opening loss to Auburn, they averaged 5.3 yards per carry. The Aggies, while having performed admirably in Columbia, South Carolina, still must to prove they can stop what the Razorbacks, who have the No. 1 rushing offense in the SEC (324.5 yards per game), want to do.
"They're going to make you defend the run and try to go over the top and get behind you with the deep balls and keep the chains moving with the intermediate passing game," Texas A&M defensive coordinator Mark Snyder said. "It's no secret what we're going to see Saturday."
When the teams met last season, the Razorbacks ran the ball quite well. They compiled 201 rushing yards on 30 carries, a healthy 6.7 yards-per-carry average. The Aggies were young and thin on defense then, and while they are still relatively young, the difference in their depth and experience on defense this season is night and day thanks to the baptism many of those players received a year ago and the addition of a
top-five nationally ranked 2014 recruiting class
that brought in a host of immediate-impact defensive players.
But in 2013, circumstances led to a disastrous season on defense for A&M, especially against the run. The Aggies were last in the SEC in rushing yards allowed per game (222.3) and 110th in the nation. This season, they're better (124.7 yards per game, sixth in the SEC and 42nd nationally).
Snyder knows what lies ahead. That's why an emphasis was placed on defending this style long ago.
"We've been working on this for quite a while," Snyder said. "We worked on it during spring, through fall camp, obviously we had a couple weeks getting ready for South Carolina. Obviously, some of that recall is going to have to come back for some of our guys. This won't be the first offense we've faced that likes to run the ball. We thought we'd get a good dose of that in the first game this year. But they're awfully good."
Bielema, whose offense returns virtually all of its production from a season ago, expects an improved Texas A&M outfit on defense.
"They're better and they're a more disciplined group," Bielema said Monday. "They're still a multiple front. ... Mark Snyder is a tremendous X's-and-O's guy. Really good football coach. ... Now it's another year with him and that program, doing what he likes to do, and you can definitely see the rewards of it."
The Razorbacks boast a large offensive line: At an average of 328.4 pounds per player, their starting offensive line is bigger than any starting NFL offensive line was in Week 1 of pro football. That group is paired with a two-headed monster at running back in
Alex Collins
(490 rushing yards, 7.5 yards per carry, five touchdowns) and
Jonathan Williams
(391 rushing yards, 8.1 yards per carry, seven scores).
Those two, combined with the play of the Razorbacks' offensive front, have been the core of the Razorbacks' success. The improvement of quarterback
Brandon Allen
has helped the Razorbacks take the next step offensively, and the elevated play helps loosen things up for the running game.
"They don't abandon their run game at all," Texas A&M junior defensive end
Julien Obioha
said. "If they have two straight losses on the run game and it's third-and-18, they might still run the ball. They don't abandon their run game. They have a big, physical offensive line and I know their head coach used to be at Wisconsin. They would run the ball all the way up there; he has a Big Ten mentality, old-school football, 'I might put eight offensive linemen on the line of scrimmage this play.' It's just kind of crazy stuff and they just love their run game."
How Texas A&M handles both of those elements Saturday will determine whether the Aggies truly are an improved defense this season or if there is still much work to be done as the schedule toughens.
"Bret knows what he's doing," Snyder said. "I spent 10 years in the Big Ten going against Coach [Barry] Alvarez, that's where he got it from. So we have to build a wall and stop the run and have great eyes on the back end."
The Aggies sound like they're ready for the test.
"I'm really looking forward to it," sophomore linebacker
Jordan Mastrogiovanni
said. "[Against] South Carolina we were preparing for that kind of a game and they did run it, but we got ahead so we kind of forced them to throw. I don't think we've really seen our fill of running game to this point in the season. I think we're really ready for it."
September, 12, 2014
9/12/14
2:00
PM CT
I won't sit here and claim that I can predict the future, but if Arkansas is going to make a bowl game this season, the Razorbacks have to beat Texas Tech Saturday.
It's that simple.
Given the nation's toughest schedule (there are currently six ranked teams on Arkansas' schedule, including four top-10 opponents), the Hogs have to sweep the nonconference slate and pull at least two upsets in SEC games. It certainly isn't impossible, and there is no doubt this Arkansas team is better than last season's, but finding three conference wins on this slate isn't exactly easy.
[+] Enlarge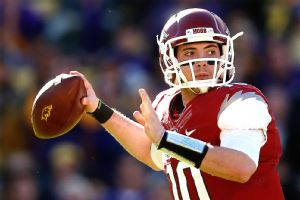 Chris Graythen/Getty ImagesBrandon Allen and the Razorbacks know a win at Texas Tech could really boost their confidence.
That means the Red Raiders have to fall by the sound of calling the Hogs.
Though Arkansas coach Bret Bielema and his players aren't ready to call this a make-or-break game, they all understand how important it is for the confidence and psyche of this team going forward.
"I'm excited to see exactly where we can go with this chance," Bielema said. "It's an opportunity for your guys to gather confidence, and that's something this program needs really needs a lot of."
Added senior defensive end
Trey Flowers
: "Getting a win over a pretty good team will put us up there and help us move forward for the rest of the season."
Yes, it would.
The thing about this Arkansas team is we didn't know if it could be physical enough to survive this season. Last season, the Hogs were continuously pushed around during their 0-8 SEC journey, and little was done on the surface to tell us anything would be different in 2014.
Well, look at the tape from the first two games, because change has come. Yes, Arkansas lost steam in the second half of its opening loss to Auburn (45-21), but the Hogs kept it very tight in the first two quarters and actually erased a 21-7 deficit.
Last week's 73-7 drubbing of Nicholls State might be scoffed at by some, but it was a chance for this team to get better and iron out some of the deficiencies it saw in the second half against Auburn.
"This year, we go into every game knowing we can win every game -- we can play with the best of them out there," quarterback
Brandon Allen
said. "It all comes down to us executing and playing clean football. We've shown that when we do that we can play with anyone, we can beat anyone on any day."
That game also stood as a very important notch on the win belt.
The truth is that we still don't know a ton about this team. Though it might be better -- and Bielema said he sees more talent and development in his locker room now -- it's still an enigma.
With the coaching turnover this program has dealt with in recent years, it's only natural for Arkansas to still be behind the rest of the SEC West. But improvements have been made in the first two weeks.
The offensive and defensive lines have played with a tougher demeanor. The running game went from a two-headed monster with
Alex Collins
and
Jonathan Williams
to adding a third weapon in speedster
Korliss Marshall
. And Allen looks more confident and comfortable in Arkansas' offense, something this team desperately needs.
So can this team survive a schedule that includes consecutive games in the middle of the season against Texas A&M, Alabama and Georgia -- all current top-seven teams -- and make it to the postseason? What about with a November that houses Mississippi State, LSU, Ole Miss and Missouri?
Those are legitimate questions for a program that still has a lot of building to do in all areas.
Allen wouldn't say that a Texas Tech win holds the key to Arkansas' postseason, but he knows it would go a long way toward empowering the Hogs before the teeth of conference season approaches.
"I think it's going to be huge, especially when you go into SEC play where you're going to play a tough opponent every week," he said. "Anytime you can have the momentum and the swagger on our side, it's only going to help us play better and compete with some of the best teams in the country."
That is the kind of confidence this team didn't have last season, and as the loses piled up, players' spirits disappeared. However, in the months since last year's dismal showing, attitudes have changed, and Arkansas players feel they can -- and will -- surprise a lot of people this fall, starting Saturday.
"We're capable of doing something special," Flowers said. "A lot of people are looking down on us. Our backs are pretty much against the wall and they gave us the toughest schedule. Those are the cards we were dealt, but we're capable of doing some big things around our league, shock a few people and get some big wins."
April, 4, 2014
4/04/14
10:00
AM CT
Brandon Allen
.
Nick Marshall
.
Bo Wallace
.
That's it. That's the list.
Only three quarterbacks who started double-digit games last season return to the SEC this fall, and one of them isn't even guaranteed to be a starter.
[+] Enlarge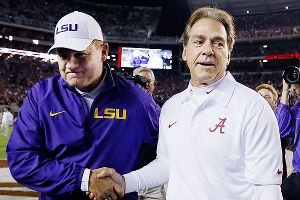 Kevin C. Cox/Getty ImagesLes Miles and Nick Saban are in no hurry to name their starting QBs for the fall.
Everywhere you turn in this league, there's a quarterback competition underway, from Alabama to Georgia, Arkansas to Kentucky, LSU to Texas A&M.
Maty Mauk
is surely the presumptive starter at Missouri, but even he's not a sure thing. Gary Pinkel says he wants competition, never mind that there were times when Mauk looked better than former starter
James Franklin
.
But not every coach in the SEC approaches the quarterback position the same way. A quick glance across the league shows a variety of opinions about how to pick a starter.
Mark Stoops is the most urgent-minded coach of the bunch, and given the inconsistency Kentucky had at quarterback last season, it's easy to understand why. Entering his second season, Stoops said: "I'd love to come out of spring with a clear-cut starter." That means everyone is in the mix.
Maxwell Smith
can't practice while he recovers from shoulder surgery, but
Jalen Whitlow
,
Reese Phillips
,
Patrick Towles
and even true freshman
Drew Barker
are in the hunt.
Barker, a four-star prospect according to ESPN, "has a very good opportunity to take control of it," Stoops said, praising his maturity for such a young quarterback.
"He's a guy [who] has high expectations [for] himself, and he's OK with the pressure that comes along with playing that position," Stoops said. "He's excited about the opportunity, and I'm excited to see what he can do."
Bret Bielema isn't outwardly putting a timetable on anything at Arkansas, but he's encouraging everyone to compete. Allen started 11 games last season but was up and down, with 13 touchdowns and 10 interceptions.
Bielema was about as no-nonsense as any coach gets about the situation.
"In theory, the first time we yell out for the [first string, Allen is] going to step out there," Bielema said before the start of spring practice. "But really, in our program, the competition brings the best out of people.
"So B.A. is going to be the first guy in with the ones, but there will be other guys who get opportunity," he continued. "Who is able to produce and run the offense effectively and who gives us the best chance to win next year's opener against Auburn will be at that position."
Similar to the case at Kentucky, Bielema isn't counting out his true freshman.
Rafe Peavey
, another highly-regarded four-star prospect, is going to be allowed to sink or swim. Bielema loves his talent and praised him as a "football junkie." But he's not pampering the rookie.
"It's no different between the right tackle or the quarterback or the safety," Bielema said. "It's all about what a freshman can handle, how they adjust to adversity and how they enjoy success.
"The quarterback gets a lot of attention. They're usually really pretty, really smart, and everybody likes them. But in reality, they're like everybody else. Those that play well will play and those that don't will sit."
While Bielema and Stoops are anxious for a battle, other coaches around the league are more inclined to sit back and wait.
[+] Enlarge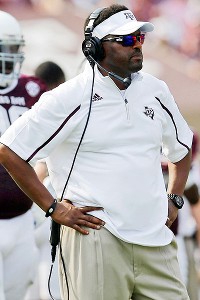 AP Photo/David J. PhillipWho will replace Johnny Manziel as Texas A&M's QB? Kevin Sumlin isn't saying anything right now.
LSU coach Les Miles said he has a good sense of the competition between
Anthony Jennings
and
Brandon Harris
. "But it always plays out," he said, harkening back to when Matt Flynn and JaMarcus Russell duked it out eight years ago. It looked like Flynn had the job in hand after winning a bowl game and watching Russell come into camp out of shape in 2006. But Flynn's body faltered down the stretch and Russell kept going, eventually winning the job.
"I want all the quarterbacks to know that it's going to be given to no one," Miles said. "[It's] earned by the one that plays."
Texas A&M and Alabama are taking similar approaches to replacing
Johnny Manziel
and
AJ McCarron
. In fact, both Kevin Sumlin and Nick Saban are somewhat defiant about holding the cards close to the vest.
Sumlin has gloated before that when people assumed
Jameill Showers
would beat out Manziel in 2013, "I didn't name a starter [after spring]; y'all did."
So while we watch
Matt Joeckel
,
Kenny Hill
and
Kyle Allen
jockey for position, don't expect a starter to be named until close to the season.
Saban, for his part, doesn't want to hear anything about it. His quarterback competition is essentially on hold until the fall, when Florida State transfer
Jacob Coker
arrives. Before the start of spring practice, Saban laid out his plan, saying, "Let me be very clear about this: We're not going to be in a hurry to decide who the quarterback is."
"You guys are going to ask me at least 1,000 times between now and the first game who's the first-team quarterback," he added, "and I'm telling you right now you're probably going to get a 1,000 'We're going to wait and see.' "
The only place in the SEC that doesn't have to be patient in the matter is South Carolina. Coach Steve Spurrier named
Dylan Thompson
the starter well before spring practice ever began.
Replacing
Connor Shaw
won't be easy, but Spurrier said that Thompson was the guy for the job, no question. A fifth-year senior with plenty of in-game experience, Spurrier didn't have a doubt in his mind.
"I didn't know there was any question about it," he said. "Someone said, 'You're just naming him the starting quarterback?' Well, I just said, 'Of course I am. Why wouldn't we?' "
Spurrier did it his way. Saban and Sumlin are doing it theirs. Stoops is anxious, and Bielema and Pinkel are only interested in the competition.
Recruiting a quarterback is the furthest thing from an exact science. Finding out who's ready to start is even more inexact.
This might be the season of new quarterbacks in the SEC, but everywhere there's a different sense of which way the wind blows.
October, 7, 2013
10/07/13
9:00
AM CT

Things are getting very interesting in the SEC and we have a little more movement in our Power Rankings this week:
1. Alabama (5-0, 2-0 SEC; last week: 1):
Alabama did everything it was supposed to do in its tuneup against a very overmatched Georgia State team. Nick Saban wanted to get a chunk of his youngsters into the game and 70 players saw action. After its most complete game of the season, Alabama travels to Kentucky for another chance to work on execution.
2. Georgia (4-1, 3-0 SEC; LW: 2):
The Bulldogs won a wild one against Tennessee Saturday, but they lost three key players on offense. Running back
Keith Marshall
and wide receiver
Justin Scott-Wesley
are both out for the year with season-ending knee injuries, and receiver
Michael Bennett
will miss Saturday's game with a knee injury.
Aaron Murray
has been superb, but now it's time for this defense to step up and make crucial improvements if Georgia is going to make it back to Atlanta.
3. Texas A&M (4-1, 1-1 SEC; LW: 3):
The Aggies were off over the weekend, which gave this team a chance to rest and work on everything concerning its defense. Texas A&M still owns the SEC's worst defense (476.8 yards allowed per game), but when you have
Johnny Manziel
making play after play, it takes some pressure off everyone else. Still, this defense will have to be on point against Ole Miss' high-powered offense in Oxford.
4. LSU (5-1, 2-1 SEC; LW: 4):
Well, the Tigers offense just looks terrific right now. Quarterback
Zach Mettenberger
, running back
Jeremy Hill
and receiver
Odell Beckham Jr.
should all be in contention for the title of "best at their position" in the SEC. The Tigers have churned out more than 400 yards in every game and more than 500 in two. The defense still has its issues, especially stopping the run, but this offense is deadly.
5. Florida (4-1, 3-0 SEC; LW: 6):
Believe it or not, the Gators are looking more and more like the most balanced team in the SEC East. Florida owns the SEC's best defense (217 yards allowed per game) and the offense has amassed 400 yards of offense three times this season. In Florida's blowout win over Arkansas on Saturday, new quarterback
Tyler Murphy
threw for 240 yards and three touchdowns. With this defense and an improving offense, are the Gators turning into a legit contender in the SEC?
6. South Carolina (4-1, 2-1 SEC; LW: 5):
No, the Gamecocks didn't lose to Kentucky over the weekend, but this team just doesn't look focused right now, especially on defense. In their past three games, the Gamecocks have blown a 28-point lead to Vanderbilt, an 18-point lead to UCF and a 21-point lead to Kentucky. The good news is that South Carolina has gone 3-0 during that span, but that sort of sloppy play will catch up to you in this league.
7. Missouri (5-0, 1-0 SEC; LW: 8):
Don't look now, but here come the midwestern Tigers! Mizzou is turning into quite the unit, especially on offense, after blowing out Vanderbilt in Nashville. With its trail mix of offensive talent, the Tigers dropped 51 on the Commodores and found themselves back in the Top 25. Mizzou is second to only Texas A&M in offense in the SEC and has registered more than 500 yards three times, including against Vandy.
8. Auburn (4-1, 2-1 SEC; LW: 9):
These Tigers tried to give away a 27-9 lead in the third quarter against Ole Miss, but held on for a huge 30-22 win. One thing that really helped out Auburn was the play of its defensive line, as the Rebels only had 124 rushing yards Saturday. On offense, Auburn knows it's going to have to rely heavily on its running game, which churned out 282 yards and three touchdowns Saturday.
9. Ole Miss (3-2, 1-2 SEC; LW: 7):
This team has now lost two in a row after such a hot start. The offense was shut out against Alabama and then couldn't run on Auburn's defense. Quarterback
Bo Wallace
made some bad decisions in Saturday's loss and this team just became way too one-dimensional on the Plains. Who's next? Oh, that would be Johnny Football.
10. Vanderbilt (3-3, 0-3 SEC; LW: 10):
The Commodores need a lot of help on defense. It's clear that there are holes all over and if Vandy is going to continue its upward progression, the defense has to improve. Vandy's defense has given up more than 500 yards twice and more than 360 yards four times.
11. Arkansas (3-3, 0-2 SEC; LW: 11):
When Florida forced Arkansas to throw the ball, the Razorbacks just couldn't get anything going.
Brandon Allen
completed only 17 of his 41 pass attempts, threw an interception that was returned for a touchdown and registered a QBR of 9.8. For the second time this season, the Hogs had no spark on offense when the running game got stuffed.
12. Tennessee (3-3, 0-2 SEC; LW: 13):
What a fight by Tennessee in that heartbreaking loss to Georgia. The Bulldogs did sustain some serious injuries, but
Justin Worley
delivered some big-time throws and wide receiver
Pig Howard
is turning into a real playmaker, except for that goal-line fumble. This defense still has a long way to go, but Saturday showed that this team truly has heart.
13. Mississippi State (2-3, 0-2 SEC; LW: 12):
This defense was impressive in the Bulldogs' two victories over lesser competition, but in three losses, Mississippi State has given up more than 400 yards each time. LSU racked up 59 points and more than 500 yards of offense Saturday. The Bulldogs kept things close for most of the night against the Tigers, but were totally overmatched in the fourth quarter, getting outscored 28-0.
14. Kentucky (1-4, 0-2 SEC; LW: 14):
The Wildcats put up quite the fight against South Carolina and almost pulled off a huge upset at home. You could see some improvement and development on the offensive side against the Gamecocks, and it's important that it carry over going forward. This team just doesn't have the horses right now to really compete in the SEC.
September, 30, 2013
9/30/13
2:30
PM CT
Well, the top team in our Power Rankings certainly made sure everyone knew exactly why it was No. 1:

1. Alabama (4-0, 2-0 SEC; last week: 1):
The Crimson Tide defense was tired of hearing how good it wasn't. It didn't like hearing that Ole Miss was going to score on it. So it shut the Rebels out and held them to just 205 yards of offense and 11 first downs. The Alabama offense rolled up 434 yards of offense as well, quieting a lot of doubters in the process.
2. Georgia (3-1, 2-0 SEC; LW: 4):
Well, it's pretty clear that the SEC Eastern Division is now Georgia's to lose. After a thrilling 44-41 win over LSU, the Bulldogs showed that no matter how bad their defense plays, the offense will be there to rescue it. The only real defensive test remaining for this unit is Florida. But can Florida's offense keep up with the Dawgs if they score?
3. Texas A&M (4-1, 1-1 SEC; LW: 3):
Like Georgia, the Aggies are equipped with an offense that can bail out its struggling defense. The Razorbacks gave A&M quite the scare in Fayetteville over the weekend, but
Johnny Manziel
and Co. didn't have much trouble piling on points against a struggling Arkansas defense. Still, that rushing defense has to improve with SEC play heating up.
4. LSU (4-1, 1-1 SEC; LW: 2):
The Tigers' defense showed its youthful age against Georgia on Saturday, especially in the secondary. Georgia churned out nearly 500 yards and averaged 7 yards per play. It didn't help that the front seven didn't generate enough pressure on Georgia quarterback
Aaron Murray
, who threw four touchdowns. But we learned that LSU quarterback
Zach Mettenberger
is the real deal. He delivered some NFL throws and might have outplayed Murray between the hedges.
5. South Carolina (3-1, 1-1 SEC; LW: 5):
I don't know what it is with this South Carolina team. It overcame the loss of starting quarterback
Connor Shaw
by scoring 28 straight points on UCF Saturday, but then turned around and let the Knights end the game on a 15-0 run. The good news for the Gamecocks is they might have one of the most underrated players in the SEC in running back
Mike Davis
, who leads the SEC in rushing yards per game (127).
6. Florida (3-1, 2-0 SEC; LW: 7):
This is officially
Tyler Murphy
's team, and he's been solid since replacing
Jeff Driskel
at quarterback. No one really expects much from the passing game going forward, so the running game has to carry this team (again). It did just that with its 246 yards in the win over Kentucky. That defense might be missing
Dominique Easley
, but it was fantastic against the Wildcats.
7. Ole Miss (3-1, 1-1 SEC; LW: 6):
Quarterback
Bo Wallace
took some heat for saying the Rebels' offense would score some points on Alabama. Well, he ended up scoring for the Crimson Tide with his safety in the fourth quarter. The high-flying offense we saw in the first three games didn't make it to Tuscaloosa, and now the Rebels are gearing up for a crucial conference game at Auburn this weekend.
8. Missouri (4-0, 0-0 SEC; LW: 8):
We still don't know a ton about this team, but the Tigers scored at will against their nonconference foes, averaging 45.5 points and 549 yards through the first four games. But SEC play starts now with a trip to Vanderbilt this weekend. We'll find out very soon if there was any substance to the Tigers' fast start to the season.
9. Auburn (3-1, 1-1 SEC; LW: 9):
The Tigers had the week off after their loss to LSU. That gave this team time to rest and try to get the passing game in better shape for the Rebels. What Gus Malzahn and his running backs had to be excited about was seeing Ole Miss' defense give up 254 rushing yards and rushing touchdowns of 68 and 50 yards to the Tide.
10. Vanderbilt (3-2, 0-2 SEC; LW: 10):
The offense is only getting better, and wide receiver
Jordan Matthews
is getting closer and closer to breaking SEC records for career receiving yards and career receptions. With eight catches for 115 yards and touchdown in Vandy's 52-24 win over UAB, Matthews has had 100-plus yards or a touchdown in four of Vandy's five games.
11. Arkansas (3-2, 0-1 SEC; LW: 11):
After a rough loss at Rutgers, the Hogs made things interesting in their 45-33 loss to the Aggies. This running game bounced back against A&M with 201 yards, while
Brandon Allen
's return at quarterback led to 282 passing yards. Still, this team has to clean things up on defense. The Aggies averaged 7 yards per play.
12. Mississippi State (2-2, 0-1 SEC; LW 12):
The Bulldogs were off after their 62-7 win over Troy. It was an impressive win for a team looking for more of an offensive spark at the beginning of the season. The way quarterback
Dak Prescott
is playing, this offense has to feel confident going into this weekend's matchup with LSU. But do the Bulldogs have the horses to keep up with an LSU team that has to be frustrated after its loss to Georgia?
13. Tennessee (3-2, 0-1 SEC; LW: 13):
Somehow, the Volunteers tried to give it all away late against South Alabama on Saturday. Tennessee was outscored 17-7 in the second half of its 31-24 win and even blocked its own field goal. A win is a win, especially for a program with a new head coach, but the Vols now have to regroup and face a Georgia team capable of scoring 50 in Knoxville this weekend.
14. Kentucky (1-3, 0-1 SEC; LW: 14):
The Wildcats' only real positive from Saturday's 24-7 loss to Florida was that their touchdown came on a fake field goal. Other than that, the Gators dominated Mark Stoops' team. When your kicker is your leading rusher in a game (25 yards), you know you have major problems in the playmaking department.
September, 26, 2013
9/26/13
3:15
PM CT
And just like that, The Kid has a nice two-game lead. For two straight weeks, I tried to help Chris out. I tried to feed him the goods, but he just wouldn't listen.

When he seemed so confident about Texas rebounding against the Rebels, I told him to have some faith in Ole Miss. But Chris put too much faith in a wounded Bevo.
Last week, I distinctly remember when I submitted my picks that Chris said, "Just send them in when you get a chance. There's no way we have anything different." Naturally, I assumed he was thinking like me and had Rutgers winning at home over Arkansas. Alas, Chris was blinded by all those rushing yards the Hogs churned out during the first three weeks of the season.
Chris was too busy hollerin' Pig Sooie when I tried to tell him about
Brandon Allen
's health and Rutgers' run defense. I heard rumblings from Baton Rouge, La., that Chris was trying to get media members to call the hogs with him in the press box when Arkansas went up 24-7 in the third quarter.
What's the old saying about counting your chickens?
It's just good to be The Kid.
After going 9-0 last week (yes, that makes two straight perfect weeks), I own a 40-3 (.930) record, while Chris is 38-5 (.884) after going 8-1.
Here's to our picks and me taking a three-game lead:
ARKANSAS STATE at MISSOURI
Chris Low:
Missouri is putting up a ton of points and rolling right along. The Tigers return home after winning at Indiana a week ago and won't have any problem with Arkansas State to go to 4-0 on the season. …
Missouri 48, Arkansas State 21
Edward Aschoff:
The Tigers have looked great on offense thus far, and I don't anticipate that stopping this week with Arkansas State in town. …
Missouri 45, Arkansas State 17
SOUTH ALABAMA at TENNESSEE
Low:
Justin Worley
is back as Tennessee's starting quarterback, and the important thing for the Vols is everybody playing better around him on offense. After two straight losses, they'll take out a little frustration this week at home against South Alabama. …
Tennessee 34, South Alabama 17
Aschoff:
There's no question that Tennessee has a lot to work on on both sides of the ball, but this game will give Worley a chance to get some of the rhythm back that he lost in the Swamp. …
Tennessee 38, South Alabama 13
UAB at VANDERBILT
Low:
It was anything but a rousing performance last week by Vanderbilt at UMass. The Commodores played well enough to win, but that's about it. Look for James Franklin's bunch to turn up the volume this week at home. …
Vanderbilt 37, UAB 14
Aschoff:
The Commodores didn't exactly excite anyone with their win over UMass last week, but something tells me we'll see a much more explosive offensive performance this week. …
Vanderbilt 38, UAB 17
SOUTH CAROLINA at UCF
Low:
Talk about a game that has danger written all over it. The Gamecocks had better clean up their mistakes and take their A-game to UCF, or they're going to be in trouble. They've had an extra week to prepare, and
Connor Shaw
and the offense are clicking right now. …
South Carolina 31, UCF 21
Aschoff:
This isn't an easy road trip for the Gamecocks. UCF is undefeated and averaging more than 30 points a game. The bye week gave South Carolina time to rest, but this one will be closer than Steve Spurrier will like. …
South Carolina 31, UCF 24
FLORIDA at KENTUCKY
Low:
One of these days, Kentucky is going to beat Florida again, but it won't be this Saturday at Commonwealth Stadium. The Gators will make it 27 in a row over the Wildcats. …
Florida 24, Kentucky 7
Aschoff:
The Gators lost two of their top players for the season in less than seven days and have to go on the road with a first-time starter at quarterback. Still, the defense has too many weapons not to get the Gators to 2-0 in SEC play. …
Florida 27, Kentucky 7
TEXAS A&M at ARKANSAS
Low:
It sounds like Arkansas will be without starting quarterback Allen for the second straight week, and when you're playing
Johnny Manziel
& Co., you better be ready to score points in bunches. The Hogs won't be able to keep up Saturday. …
Texas A&M 41, Arkansas 21
Aschoff:
The Aggies offense is running on all cylinders, while the Razorbacks will likely be without their starting quarterback again. Not a good sign for the Hogs. …
Texas A&M 45, Arkansas 20
OLE MISS at ALABAMA
Low:
Ole Miss is healthy and bubbling with confidence. The Rebels also have the playmakers on offense to give Alabama problems. The Crimson Tide have sort of turned it off and on this season, which drives Nick Saban crazy, but they know what's at stake Saturday. …
Alabama 35, Ole Miss 21
Aschoff:
This was actually a closer game than the score indicated last season. The Rebels have the offense to top the Tide, but you have to think that Alabama's defense is tired of hearing about its shortcomings. This one will come down to the fourth quarter, and Alabama will have just a little more in the tank. …
Alabama 31, Ole Miss 23
LSU at GEORGIA
Low:
It's the
Zach Mettenberger
Bowl. Well, not really, but Mettenberger's return to Sanford Stadium has certainly dominated the headlines this week. The difference in this top-10 matchup, though, will be
Aaron Murray
and a Georgia offense that will produce enough big plays to keep the Bulldogs unbeaten in the SEC. …
Georgia 38, LSU 31
Aschoff:
It sounds cliché, but whichever team wins the battle up front is going to win this game. Both teams want to establish the run, and both teams have monster running games. The
Todd Gurley
-
Jeremy Hill
matchup might be one for the ages, too. Georgia survived a similar game against South Carolina, but something tells me LSU's defense is going to make a play or two late to seal this one. …
LSU 35, Georgia 31
February, 26, 2013
2/26/13
10:30
AM CT
Here are a few storylines to watch this spring in the Western Division. Edward took a look at the Eastern Division on Monday.
ALABAMA CRIMSON TIDE

Start date:
March 16
Spring game:
April 20
What to watch:
Battling complacency: Alabama is gearing up for yet another title defense. Will complacency finally rear its ugly head? Not if Nick Saban has anything to do with it. The head coach will no doubt remind players of the targets on their backs and what little they've accomplished as presently constituted.
Opening up the passing game: The return of AJ McCarron, coupled with a talented, deep crop of receivers, could mean a more wide-open passing game in Tuscaloosa. If true freshman tight end O.J. Howard develops as some expect, the offense could become even more dynamic.
Offensive line makeover: Barrett Jones, Chance Warmack and D.J. Fluker are gone. And with them the best offensive line in college football has vanished. Veterans Cyrus Kouandjio and Anthony Steen return, but few experienced players are waiting in the wings for Alabama.
-- Alex Scarborough, TideNation
ARKANSAS RAZORBACKS

Start date:
March 10
Spring game:
April 20
What to watch:
Bielema's stamp: They won't remember 2012 very fondly in Arkansas. It started with Bobby Petrino's embarrassing ouster last spring and ended with a forgettable 4-8 season. The Hogs are starting all over with Bret Bielema, who led Wisconsin to three straight Rose Bowl appearances. This spring will be Bielema's first real chance to put his stamp on the program and introduce the Hogs to his brand of power football.
Offensive overhaul: Bielema was known at Wisconsin for running the football behind big, physical offensive lines. His offensive coordinator, Jim Chaney, has more of a passing pedigree. It will be interesting to see how it all comes together offensively for the Hogs, who are losing their top passer, top two rushers and top three receivers from last season. Brandon Allen and Brandon Mitchell will vie for the starting quarterback job.
Defense takes the lead: The Hogs won under Petrino thanks to their high-scoring offense, and at times, in spite of their defense. But in 2013, the defense may have to carry a lot more of the load. First-year coordinator Chris Ash inherits a veteran front, some young talent at linebacker and a secondary that also should be much improved. It's a unit that will need to mesh quickly, and that starts this spring.
AUBURN TIGERS

Start date:
March 27
Spring game:
April 20
What to watch:
Malzahn's back: Gus Malzahn returns to the Plains as head coach, which means this spring will be critical in re-installing his hurry-up, no-huddle offense. The first task will be finding a quarterback. Kiehl Frazier struggled last season, but was handpicked by Malzahn when Malzahn was at Auburn the first time. The Tigers need to rediscover their passing game after finishing with eight touchdown passes and 15 interceptions a year ago.
Power running game: Tre Mason was a pleasant surprise last season for the Tigers and rushed for 1,002 yards. With heralded junior college newcomer Cameron Artis-Payne on campus and set to go through spring practice, Auburn would like to establish him as that power back with size and speed to serve as a complement to Mason.
Getting defensive: Veteran defensive coordinator Ellis Johnson looks to revive an Auburn defense that has fallen on hard times each of the past two seasons and will put in his 4-2-5 scheme this spring. The key will be finding players who fit. The Tigers will have 18 defensive linemen on the roster in the fall and aren't lacking for talent. Kris Frost could be a fit for that hybrid linebacker/safety spot in Johnson's defense.
LSU TIGERS

Start date:
March 14
Spring game:
April 20
What to watch:
Cam's influence: When you think of LSU, you think of defense, special teams, defense, a quirky coach and defense. Never offense. Cam Cameron, most recently of the Baltimore Ravens, has been brought in as the new offensive coordinator to try to jump-start an offense that sometimes sputters, especially in big games. We won't really have any answers until this fall, but will we see signs of offensive progress in the spring?
Rebuilding the front: LSU lost all four starters from its vaunted defensive line, plus middle linebacker Kevin Minter. Can defensive coordinator John Chavis find playmakers up front ... or a new leader at middle linebacker?
Anchoring the line: Some were surprised to see left tackle Chris Faulk leave for the NFL after missing all but one game with a knee injury. It happened, and LSU has a question mark in what was otherwise a solid returning offensive line and offense in general. Who will fill the void? It could be left guard La'el Collins. If so, who plays left guard? The offensive line will be an interesting puzzle for Cameron.
-- Gary Laney, GeauxTigerNation
MISSISSIPPI STATE BULLDOGS

Start date:
March 21
Spring game:
April 20
What to watch:
Catching on: Quarterback Tyler Russell made tremendous strides last season and set school records with 2,897 passing yards and 24 touchdowns, but all of his top receiving targets are gone. This is a big spring for sophomore Joe Morrow, who was impressive last spring, but didn't do much during the season. Junior Robert Johnson and junior college newcomer Jeremey Chappelle will also figure prominently in the rotation.
More pressure: Mississippi State didn't get much pressure on the quarterback last season and also finished 11th in the SEC against the run. Tackle Josh Boyd is gone, which means the door is wide open for sophomores Quay Evans and Nick James to make moves after playing as true freshmen a year ago. The Bulldogs also need more production from senior end Denico Autry.
Secondary makeover: The Bulldogs are losing three starters in their secondary, including Jim Thorpe Award winner Johnthan Banks at cornerback. There will be some serious competition for spots this spring. Somebody to watch is junior college newcomer Justin Cox, who may be an immediate starter at cornerback. He's one of the fastest players on the team.
OLE MISS REBELS

Start date:
March 17
Spring game:
April 13
What to watch:
Brunetti's chance: Starting quarterback Bo Wallace will miss the spring while recovering from clavicle surgery. That means Barry Brunetti will get most of the first-team reps. He needs to become a better quarterback and give the coaches confidence that he can be the guy if something should happen to Wallace. Right now, he's more of a runner playing quarterback. He's a good enough athlete that he could play elsewhere on offense in the fall.
Lining up: The Rebels' defensive line has big-time potential, especially with the arrival of coveted defensive end signee Robert Nkemdiche this summer. But this spring, sophomore end Channing Ward and sophomore tackle Issac Gross will be under the spotlight. Gross is trying to beef up, and the Rebels would like to see him around 285 pounds after he played at 265 last season. Also, junior college newcomer Lavon Hooks will get a chance to show what he can do at tackle.
Shackelford's return: D.T. Shackelford hasn't played in two seasons after undergoing multiple surgeries on his right knee, but he's raring to go this spring and should be 100 percent healthy. Not only does Shackelford give the Rebels another experienced linebacker, but he's one of the strongest leaders on the team. Just having him back on the practice field should do wonders for the Ole Miss defense.
TEXAS A&M AGGIES

Start date:
March 2
Spring game:
April 13
What to watch:
Who's Manziel throwing to?: Three of the four starters at receiver from the Aggies' 2012 team were seniors, so they're gone now, including Ryan Swope. Mike Evans, who had a sensational redshirt freshman season, is back, but who is going to surround him as targets for Johnny Football?
Thunder and lightning: Two running backs -- Brandon Williams (transfer from Oklahoma) and Tra Carson (transfer from Oregon) will join starter Ben Malena and young Trey Williams in the backfield after sitting out last season per transfer rules. Carson brings heft (230-240 pounds), while Williams, who is nicknamed "Slim," could be a game-breaker.
New coaches: Running backs coach Clarence McKinney has been promoted to offensive coordinator and will call the plays, succeeding Kliff Kingsbury in that role. The Aggies also welcome a new quarterbacks coach (Jake Spavital from West Virginia), linebackers coach (Mark Hagen from Indiana) and special-teams coordinator (Jeff Banks from UTEP).
-- Sam Khan Jr., GigEmNation