Dallas Colleges:

Brandon Harris
October, 4, 2014
Oct 4
8:00
AM CT
A look ahead to Saturday's games in the Southeastern Conference. All times Eastern:
Noon
No. 6 Texas A&M at No. 12 Mississippi State, ESPN:
The biggest football day in the history of the Magnolia State kicks off early with a dandy matchup between unbeaten teams that should go a long way in defining the SEC West race. This one features a delicious quarterback clash with two of the best the SEC has to offer. The Bulldogs'
Dak Prescott
is a dual-threat surgeon who has scored through the air and on the ground in each of MSU's past three games. The Aggies'
Kenny Hill
operates mostly via air assault. His 17 touchdown passes are tied for second in the FBS. Both teams have too many offensive weapons to list here.
Florida at Tennessee, SEC Network:
What used to be one of the SEC's glamour games has been reduced to a desperate struggle between two programs that appear to be headed in different directions. Florida could turn around that perception and stop some of the bleeding with a comfortable victory, while Tennessee is hungry for respect and needs something more nourishing than moral victories. It all comes down to quarterback play, as usual, and these two starters also appear to be headed in opposite directions. Florida's
Jeff Driskel
has been under siege after struggling against
Kentucky
and
Alabama
.
Justin Worley
, on the other hand, has been impressive despite the Vols' 2-2 record.
[+] Enlarge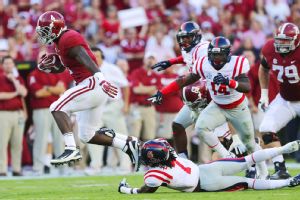 AP Photo/Dave MartinT.J. Yeldon will try to extend Alabama's winning streak against Ole Miss to 11.
3:30 p.m.
No. 3 Alabama at No. 11 Ole Miss, CBS:
The unbeaten Rebels take on the unbeaten empire. If you'll pardon the "Star Wars" reference, this game has everyone's attention, including ESPN's "College GameDay," which will be at The Grove for the first time. Ole Miss has a huge opportunity to make a statement of its own against the West division's biggest bully. Let's call this the battle of the Kiffins, because the best matchup here is older brother Lane Kiffin's Alabama offense against the Ole Miss defense, for which Chris Kiffin is the defensive line coach. The Tide have racked up 2,377 yards, breaking the school record through the first four games of a season. The Rebs have the No. 1 defense in the SEC, allowing 248 yards a game. They've yielded just two red zone TDs in 10 opponents' chances, second best in the FBS this season. Something's got to give.
4 p.m.
Vanderbilt at No. 13 Georgia, SEC Network:
The Commodores have been improving steadily since the Derek Mason era got off to a nightmarish start. Vandy's 3-4 defense has grown especially toothy, but do the Commodores have enough to slow the Heisman Trophy campaign of Georgia tailback
Todd Gurley
? Probably not. Gurley is coming off a career-high 208-yard effort last week in Georgia's win over Tennessee. History certainly isn't on Vanderbilt's side here. The Bulldogs have beaten the Commodores in 17 of their past 19 meetings.
7 p.m.
No. 15 LSU at No. 5 Auburn, ESPN:
The annual clash of SEC West Tigers features a decided contrast at the all-important quarterback position. Auburn has the veteran
Nick Marshall
, while LSU is giving true freshman
Brandon Harris
his first career start. Harris has won LSU's QB derby (for now), and if scoring is the best factor in determining such things (as it should be), then LSU coach Les Miles didn't have a very difficult decision.
Anthony Jennings
, the previous starter, led LSU to scores on 13 of his 51 possessions, while Harris has put points on the board in 13 of 19 drives. LSU was the last SEC team to beat Auburn, but success on the Plains could be another story altogether.
7:30 p.m.
South Carolina at Kentucky, SEC Network:
The Wildcats took care of business last week, breaking their 17-game SEC losing streak with a win over Vanderbilt. Next on the to-do list for Kentucky is to win consecutive SEC games for the first time since 2009. The Gamecocks have lost just one of their past 14 games to the Cats, but this Kentucky team is starting to change perceptions in Mark Stoops' second season. They could be getting South Carolina at just the right time. The Gamecocks are out of the top 25 for the first time since the 2010 preseason and they have the worst defense in the SEC, giving up 440 yards a game. An upset might not shock UK fans, but it would turn the SEC East upside down.
October, 1, 2014
Oct 1
11:00
AM CT
All week, we're discussing Saturday's terrific slate of games in the SEC West. We looked at which games we'd
pay the most to see
. We debated which team
has the most to prove
. Now it's time to talk about the quarterbacks.
The question is simple. With the game on the line, which quarterback would you want leading your team? The answer? Not so easy, but our SEC writers take a stab at it anyway.
[+] Enlarge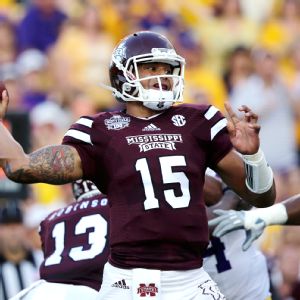 AP Photo/Gerald HerbertIf the Bulldogs were to find themselves behind in a game, QB Dak Prescott is the player many would prefer to see leading the charge.
Edward Aschoff:
I'm taking Mississippi State's
Dak Prescott
. If I need plays made late in the game, I'm going with someone who can not only fire the ball around but can take off and get plenty of yards with his feet. I'm so new-school in that respect. Give me a mobile quarterback any day over a statue pocket passer. Look at what Prescott did against LSU, in Baton Rouge no less. You're telling me I can have someone who strutted into the intimidating confines of Tiger Stadium and got a win with 373 total yards and three touchdowns? Yeah, sure. Sign me up.
David Ching:
There are some good choices here, but I'll take Mississippi State's Prescott.
Kenny Hill
is an impressive talent with a bunch of weapons at his disposal at Texas A&M.
Nick Marshall
makes some incredible plays while leading Auburn's prolific offense.
Blake Sims
and
Bo Wallace
aren't bad, either. Give me Prescott. I had a front-row seat to watch his improvisational skills occasionally embarrass LSU's defense two weekends ago and came away impressed. He's got his work cut out on Saturday to keep up with Hill and Texas A&M's high-scoring offense, but I'll take my chances with Prescott any time.
Alex Scarborough:
What if I say Sims and have him throw screen after screen to
Amari Cooper
-- the equivalent of an extended handoff? No? That's cheating, you say? OK, fine. If I'm forced to choose, give me Prescott. Something about his intangibles tells me he can win a close game for me. He's a better pure passer than Marshall, he's a more explosive and physical runner than Hill, and he's less Dr. Jekyll and Mr. Hyde than Wallace when it comes to turning over the football. Sims, on the other hand, has never played a meaningful snap on the road, and that gives me pause.
Jeff Barlis:
Hands down, Auburn's Marshall is the best clutch quarterback in the SEC. Coach Gus Malzahn said it himself last week: "If you compare him to all the other quarterbacks around the country when the game's on the line, we've got the best guy." Marshall proved it time and time again during the Tigers' miracle run last season, but that was done mostly with his legs. This season, he's shown improvement as a passer as evidenced by the Tigers'
huge road win
at Kansas State when he started 5-of-13 passing for 56 yards and closed out the game by going 12-of-18 for 175. Marshall will have to come through one more time for Auburn to beat LSU.
Greg Ostendorf:
Don't sleep on Wallace. He's much better at home. I was at the LSU game last season when he went 8-of-11 for 71 yards on the final drive to set up Ole Miss for the game-winning field goal. With that said, I'm going to have side with Jeff on this one. Marshall isn't the best quarterback in the SEC. He might not even be in the top three. But when the game is on the line, nobody is better. He orchestrated game-winning drives against both Mississippi State and Texas A&M last season; he threw the touchdown to
Sammie Coates
that made the kick-six possible in the Iron Bowl; and more recently, he made the clutch third-down throw to put away Kansas State on the road. The kid is as cool as the other side of the pillow.
Sam Khan:
I don't think there are very many wrong choices here. I like Prescott and Marshall a lot. Heck, I even like LSU freshman
Brandon Harris
, though he'll need some more experience before I can fully trust him in that situation. Today, give me Hill. He's as cool a customer as they come and that's what you need with the game on the line -- someone who is poised. Hill showed those characteristics last week, with his team down by 14 points in the fourth quarter. After struggling through three quarters, Hill made every throw he had to make and compiled 204 passing yards and three touchdowns in the fourth quarter and overtime, including a perfectly-thrown dart for the game-winner to
Malcome Kennedy
in OT. He has come up big in A&M's two biggest games so far. You have to be darn good to earn the tag of "Trill" in Texas.
October, 1, 2014
Oct 1
9:30
AM CT
October has arrived and most teams have played a third of their regular-season schedule. One team has fallen off our playoff tracker (South Carolina) but the rest remain from last week. Let's dive in and see where the College Football Playoff contenders from the SEC stand as of today:
Alabama Crimson Tide
Record:
4-0
AP rank:
No. 3
Next big obstacle:
Oct. 4 at Ole Miss
Reason for optimism:
The bye week came at the right time for Alabama. It needed
Blake Sims
,
Jarrick Williams
and
DeAndrew White
healthy for Ole Miss on Saturday. And if it needed any extra motivation, Rebs safety
Cody Prewitt
delivered, telling reporters that, "We don't think Bama has really been as good as they have been."
Cause for concern:
Survive Ole Miss and things don't get any easier. You thought that Oct. 11 trip to Arkansas would be a cake walk? Ha! You thought Texas A&M would be an easier out without
Johnny Manziel
? That's a good one. That schedule you thought was littered with SEC cupcakes like Tennessee now looks more like a minefield.
Who they'll be rooting for this week:
Mississippi State over Texas A&M. If the Bulldogs can upset Texas A&M and Auburn the next two weeks, the West might loosen up some.
--Alex Scarborough
Auburn Tigers
Record:
4-0
AP rank:
No. 5
Next big obstacle:
Oct. 4 vs. LSU
Reason for optimism:
Nick Marshall
continues to look more and more like his old self. On Saturday, he passed for 166 yards and three touchdowns, and he also rushed for 105 yards. His new favorite target? OK, it's still
D'haquille Williams
, but fellow wide receiver
Quan Bray
has emerged as a playmaker on both offense and special teams for the Tigers.
Cause for concern:
There are a lot of question marks as to who's going to play this Saturday against LSU. Linebackers
Cassanova McKinzy
and
Kris Frost
are day-to-day with injuries, and starting right tackle
Patrick Miller
is questionable with an ankle injury. It also looks like Auburn will be without safety
Jermaine Whitehead
for the third straight game.
Who they'll be rooting for this week:
Ole Miss over Alabama
--Greg Ostendorf
Texas A&M Aggies
Record:
5-0
AP rank:
No. 6
Next big obstacle:
Oct. 4 at Mississippi State
Reason for optimism:
The Aggies passed a big test by showing that their run defense -- while still having a lot of room for improvement -- can do just enough to help them win after being tested thoroughly against Arkansas, the best rushing team in the SEC. The offense also showed it can win when it's not at its best and
Kenny Hill
responded to adversity emphatically, showing poise in fourth quarter and overtime. Health-wise, the Aggies are in relatively good shape, which is critical considering what lies ahead.
Cause for concern:
The schedule gets only tougher in the next few weeks. This weekend it's a trip to Starkville to meet undefeated Mississippi State. They return home the following week to host Ole Miss. Then on Oct. 18 they go to Tuscaloosa for a showdown with Alabama. These are all teams and places the Aggies have won before, but now they're doing it with a team that has a lot of young players in key positions, like quarterback, free safety, defensive end and receiver. This three-week stretch is a monumental test for Texas A&M.
Who they'll be rooting for this week:
LSU over Auburn. (This would help the Aggies jump Auburn in the national rankings and gain an advantage in the standings)
--Sam Khan Jr.
Ole Miss Rebels
Record:
4-0
AP rank:
No. 11
Next big obstacle:
Oct. 4 vs. Alabama
Reason for optimism:
The defense ranks first in the SEC and fourth nationally, allowing 248 yards per game and has 11 takeaways on the season. QB
Bo Wallace
is also spreading his passes around very nicely. Even with depth an issue at receiver, the Rebels already have five players with double-digit receptions.
Cause for concern:
The West is easily the toughest division in college football. There really isn't a major weak link when it comes to teams on this side of the division, and Ole Miss still has to go through everyone. We'll find out if Ole Miss has the depth needed to make a real SEC run.
Who they're rooting for this week:
LSU over Auburn
--Edward Aschoff
Mississippi State Bulldogs
Record:
4-0
AP rank:
12
Next big obstacle:
Oct. 4 vs. Texas A&M
Reason for optimism:
With an open date between their dismantling of LSU and this Saturday's showdown with Texas A&M, the Bulldogs have had time to rest and scheme to face perhaps the best opponent they've played to date. It had to help their confidence to see A&M struggle against Arkansas the way it did, too.
Cause for concern:
Mississippi State's secondary has been one of the team's few weaknesses, and that's a bad weakness to have against a high-flying offense like Texas A&M's. It also doesn't help that veteran center
Dillon Day
will miss the A&M game while serving a one-game suspension for unsportsmanlike play against LSU.
Who they'll be rooting for this week:
Alabama over Ole Miss (because why not?) --
David Ching
Georgia Bulldogs
Record:
3-1
AP rank:
No. 13
Next big obstacle:
Oct. 11 vs. Missouri
Reason for optimism:
The SEC East is still a mess, and South Carolina's loss to Missouri means the Bulldogs once again control their own destiny in the division. Just win, baby, and the Dawgs are headed back to Atlanta. Also,
Todd Gurley
seems like he's getting better and better with each week.
Cause for concern:
Passing, whether it's by the Bulldogs or against them.
Hutson Mason
admitted Saturday that the chemistry between himself and his receivers isn't where it should be, especially when it comes to throwing the deep ball. Right now, Georgia's defense can't stop any sort of passing over the middle of the field.
Who they're rooting for this week:
Tennessee over Florida
--Edward Aschoff
LSU Tigers
Record:
4-1
AP rank:
15
Next big obstacle:
Oct. 4 at Auburn
Reason for optimism:
It seems unlikely that anyone in the SEC West will finish undefeated, so the Tigers can stick around in this race if they start winning. A win in Saturday's game at Auburn could potentially jump-start LSU's chances, especially if
Brandon Harris
goes off as the new starting quarterback.
Cause for concern:
Auburn's running game has to scare LSU defensive coordinator John Chavis a bit after Mississippi State had so much success against the Tigers two Saturdays ago. LSU might be able to stick around in the SEC West race with two division losses, but a playoff bid would almost be out of the question if the Tigers fall again.
Who they'll be rooting for this week:
Texas A&M over Mississippi State --
David Ching
September, 29, 2014
Sep 29
8:00
AM CT
1. Fresh off its win over Memphis on Saturday, Ole Miss was
already taking shots at Alabama
. Safety
Cody Prewitt
said he doesn't believe the Crimson Tide are as good as they have been in recent years. It might be a little early to say that; after all, just last year, Prewitt's Rebels were shut out in Tuscaloosa, 25-0. A lot has changed since that game, though. The Ole Miss defense, which has allowed just two touchdowns through the first four games, is much improved, and quarterback
Bo Wallace
is a year older. At Alabama, the offense looks more balanced under new coordinator Lane Kiffin, and they're even using
their own version of the no-huddle offense
. It's one of many intriguing matchups in the SEC this weekend.
[+] Enlarge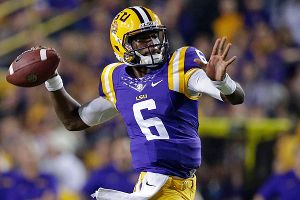 AP Photo/Gerald HerbertWill LSU turn to Brandon Harris in hostile territory at Auburn?
2. Speaking of intriguing matchups, how about LSU traveling to Auburn on Saturday? Les Miles' team has won six of the last seven against Auburn, but his Tigers opened up as 7.5-point underdogs on the road. A big reason for that is the uncertainty at quarterback. Miles has yet to name a starter, but after Saturday's victory over New Mexico State,
it was pretty clear who played better
. The question will be whether Miles wants to give freshman
Brandon Harris
his first start on the road, in a hostile environment. The Auburn defense isn't worried as much about the opposing quarterback; it's worried about
getting healthy
after three starters were banged up in a 45-17 victory over Louisiana Tech on Saturday.
3. What happened to South Carolina on Saturday? It looked like the Gamecocks were well on their way to beating Missouri and grabbing hold of the SEC East. Then, all of a sudden, it all slipped away. A day later, Steve Spurrier saw his team's streak of 69 consecutive weeks in the AP Top 25 come to an end. The good news is that despite the loss to Missouri and despite dropping out of the polls, South Carolina is
still not out of the SEC race
. The bad news is that they have to travel to Lexington this weekend to face much-improved Kentucky team, and the local beat writers are already saying that
Spurrier's team looks beatable
again this week. We'll know a lot more about both teams following Saturday's game.
Around the SEC
Tweet of the Weekend
That was fun #12thMan #ARKvsTAMU pic.twitter.com/3m4Ulb8Cb7

— Texas A&M Football (@AggieFootball) September 28, 2014
September, 6, 2014
Sep 6
8:00
AM CT
Noon ET
Florida Atlantic at No. 2 Alabama, SEC Network
This one could get ugly, as the Crimson Tide defense -- the secondary, in particular -- looks to bounce back and earn some trust from coach Nick Saban after last week's too-close-for-comfort 33-23 win over West Virginia. The Owls, who lost 55-7 in their season opener at Nebraska last week, should be just what Alabama needs in its home opener. All eyes will be on Bama's quarterbacks after Saban said he would "probably" play ballyhooed backup
Jake Coker
along with
Blake Sims
, the starter. Sims was solid as a game-manager type in Week 1, but if he slips at all, Coker could make a bid for the starting job.
No. 24 Missouri at Toledo, ESPN
Gary Pinkel was the coach at Toledo from 1991 to 2000 before taking the same position at Missouri, so he's doing his old school a solid by playing on the road this week. Toledo played at Mizzou last season and lost a competitive game 38-23, but this version of the Rockets is improved. Quarterback
Phillip Ely
, an Alabama transfer, threw for 337 yards and four touchdowns in the Rockets' season-opening 54-20 win against New Hampshire. The Tigers are just a five-point favorite in this game, according to Bovada. Missouri QB
Maty Mauk
and Co. will look to continue their big-play ways, but Toledo is one of just two teams that hasn't allowed a touchdown of 40 yards or more since the start of the 2013 season.
Arkansas State at Tennessee, SEC Network
The Vols opened some eyes with a convincing 38-7 victory in their opener against Utah State. Particularly impressive was their defense, which held Utah State and dangerous dual-threat quarterback
Chuckie Keeton
to 244 yards of total offense. The Volunteers will need a repeat performance against an Arkansas State offense that should not be overlooked. The Red Wolves have been to bowl games in each of their past three seasons and added the formidable offensive mind of coach Blake Anderson, formerly the offensive coordinator at North Carolina.
2 p.m. ET
[+] Enlarge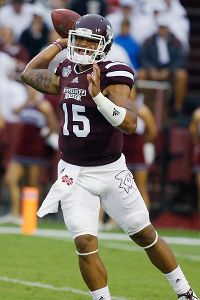 Rogelio V. Solis/Associated PressDak Prescott and Mississippi State were clicking in last week's rout of Southern Miss.
UAB at Mississippi State, ESPN3.com
MSU had a terrific opening week. We knew the defense was one of the best in the SEC, but quarterback
Dak Prescott
and the Bulldogs' offense showed a lot of bite in a 49-0 rout of Southern Miss. Prescott threw for a career-high 284 yards, and two of his four passing touchdowns went to electric athlete
De'Runnya Wilson
. Mississippi State faces another Conference USA foe this week in the Blazers, who could provide more of a test for MSU's run defense. UAB rushed for 338 yards in a 48-10 Week 1 win against Troy, including
Jordan Howard
's standout effort (179 yards and two TDs).
3:30 p.m. ET
Ohio at Kentucky, ESPNU
The Wildcats kicked the basketball offseason to the back burner last week when their fast-breaking offense captured everyone's attention in a 59-14 feel-good win against Tennessee-Martin. The 59 points were especially crowd-pleasing after Kentucky averaged just 20.5 last season. Sure, Tennessee-Martin offered little resistance, but UK quarterback
Patrick Towles
showed a command of the offense in his first start, racking up 377 yards passing. The only downer for the Cats is that former Nebraksa transfer RB
Braylon Heard
, who dazzled last week with touchdown runs of 73 and 43 yards, is doubtful with an ankle injury.
4 p.m. ET
Eastern Michigan at Florida, SEC Network
The Gators are chomping at the bit to play after last week's deluge wiped away their season opener against Idaho. And guess what? There's a 50 percent chance of thunderstorms on Saturday as well. Because this will be Florida's first game of the season, it's worth noting that UF has the nation's second-longest winning streak in season openers with 24 (behind Nebraska's 29). The Gators' defense should feast on EMU's run-heavy offense. On the other side of the ball, Florida is debuting a no-huddle spread offense that should better suit athletic dual-threat quarterback
Jeff Driskel
.
Nicholls State at Arkansas, SEC Network
The Razorbacks are riding a losing streak of epic proportions -- a school-record 10 games, dating to last season. They haven't won since Sept. 14, coach Bret Bielema's third game. Almost a year later, Arkansas has a plum chance to get off the schneid against an FCS team that will be facing an SEC foe for the first time in its history. Arkansas might have gained a measure of pride from their first-half performance at Auburn last week, but the offense generated just 61 second-half yards after piling up 267 in the first half. The defense showed it still has a long way to go, giving up 595 yards to the Tigers' offense.
4:30 p.m. ET
No. 15 Ole Miss at Vanderbilt, ESPN
Finally, a competitive game to discuss. This week's sole conference matchup pits permanent interdivision rivals who have been separated by a total of five points in their past two meetings. Ole Miss won last season but is just 1-9 in its past 10 conference openers. These teams have something in common. Vanderbilt would like to forget last week's embarrassing 37-7 loss to a Temple team that won just two games in 2013. Ole Miss would like to forget the first 3½ quarters its offense needed to get back on track against Boise State. Rebels QB
Bo Wallace
had 387 yards and four touchdowns passing last week but raised some eyebrows with three first-half interceptions.
7 p.m. ET
San Jose State at No. 5 Auburn, ESPN2
Nick Marshall
makes his first start of the season at quarterback for the Tigers. He sat the first half last week as punishment for being cited for marijuana possession in July. His understudy,
Jeremy Johnson
, impressed in Auburn's season-opening win against Arkansas and will surely see time in this one, even if it's just garbage time. The Spartans are an improving Mountain West program, but their SEC history has been flat-out ugly. They have played SEC teams four times and lost all four, giving up 113 points (while scoring just six) in their past two meetings with SEC foes.
East Carolina at No. 21 South Carolina, ESPNU
The Gamecocks heard all offseason about what a dangerous and underrated opponent they've got in Week 2. But South Carolina was humbled last week in the first national spotlight game of the young season and should have every motivation to rebound in a big way against the Pirates. After getting torched for 680 yards and 52 points by Texas A&M's offense, South Carolina has to shore up its pass defense against ECU quarterback
Shane Carden
, who threw for a school-record 4,139 yards last season and led the Pirates to 10 wins. Gamecocks QB
Dylan Thompson
and his offensive line performed well in Week 1. This one's all on the defense.
7:30 p.m. ET
Lamar at No. 9 Texas A&M, SEC Network
Who's this Lamar fella and how is he going to keep up with
Kenny Hill
? In all seriousness, the
Lamar Cardinals
are a middling FCS program based in Beaumont, Texas. This game promises to be a lopsided affair, but at least Hill likely won't have to play all four quarters. Before his record-breaking coming-out party against the Gamecocks, Hill supposedly was in a close competition for the starting job with talented true freshman
Kyle Allen
, the No. 1 rated quarterback coming out of high school last year. If Hill plays anywhere close to the level of his debut, Allen should get some quality time with A&M's voluminous weapons.
Sam Houston State at No. 12 LSU, SEC Network
Coming off a dramatic comeback win against then-No. 14 Wisconsin last week, it just doesn't seem fair for the Tigers to face an FCS opponent in Death Valley. The Bearkats are averaging more than 600 yards of offense in their first two games. But LSU has played FCS opponents six times in Les Miles' nine years and outscored them by a combined 232-64. The real intrigue here is the Tigers' QB situation. Sophomore starter
Anthony Jennings
completed less than half of his attempts last week, but freshman
Brandon Harris
looked worse in his only series.
Top Week 2 stories:
September, 3, 2014
Sep 3
9:00
AM CT
Week 1 is in the books, and the big storyline in the SEC was quarterback play. There were some who took the starting job and ran with it, and there were others who struggled at times, opening the door for the backup. As the second weekend approaches, here's the latest on all the SEC quarterback battles and where each team stands.
Alabama
Starter:
Blake Sims
Backup:
Jake Coker
How Sims performed:
Nick Saban couldn't have asked for more from Sims, who stayed out of trouble and got the ball to his playmakers in space. Completing 72.7 percent of his passes was better than anyone expected, but he did turn the ball over once on an interception and missed a handful of open receivers. He'll need to work on that and getting the ball downfield more effectively, but for a first start he played quite well.
What it means:
If it wasn't before, it's now Sims' job to lose. Though he might not be an electric passer that strikes fear into a defense, he does bring some nice tools to the table, especially his escapability. But until we see Coker actually attempt a pass, nothing is settled. We'll get that chance on Saturday when Alabama hosts Florida Atlantic in Tuscaloosa. If Sims continues to play well, he shouldn't be in trouble. If he struggles some and Coker looks solid, we could be in for a race.
– Alex Scarborough
Sims' hold on position:
6.5
Auburn
Starter:
Nick Marshall
Backup:
Jeremy Johnson
How Johnson performed:
Marshall's suspension stemming from an incident this offseason gave Johnson an opportunity to start the season opener, and he took full advantage of it. The sophomore, listed No. 2 on the depth chart, played the first half and went 12 of 16 for 243 yards and two touchdowns. Marshall returned in the second half and re-energized the Tigers, but statistically, it was clear that Johnson had the better day.
What it means:
Maybe nothing. Maybe a whole lot. After the game, Gus Malzahn said that while Johnson will certainly have a role this season, Marshall is still the team's quarterback. So expect Marshall to return to the starting lineup this weekend against San Jose State and for the foreseeable future. Don't be surprised if fans start calling for Johnson if Marshall slips up down the road against a Kansas State or an LSU, though. It's not a bad problem to have, but the last thing the coaches want is a controversy.
– Greg Ostendorf
Marshall's hold on position:
9
Kentucky
Starter:
Patrick Towles
Backup:
Drew Barker
or
Reese Phillips
How Towles performed:
After winning the job during preseason practice, Towles got off to an outstanding start against overmatched UT-Martin. He completed 15 of 22 passes for 263 yards and a touchdown in the first half as the Wildcats went up 35-0. Towles turned it over to Phillips in the fourth quarter, finishing the day with a line of 20-for-29 for 377 yards and one TD, plus a 23-yard TD run.
What it means:
It's just one game against a mid-level FCS program, but Towles didn't do anything in the opener to lose ground to Barker or Phillips. He gave a composed performance and the Wildcats' offense looked great in the 59-14 rout. Kentucky hosts Ohio this weekend before facing a huge test in its Sept. 13 SEC opener at Florida. That will provide the first legitimate litmus test for Towles and the revamped Wildcats offense.
– David Ching
Towles' hold on position:
8
LSU
Starter:
Anthony Jennings
Backup:
Brandon Harris
How Jennings performed:
Jennings and LSU's offense looked awful in the first half against Wisconsin, but the sophomore performed a bit better down the stretch. He was 4-for-6 for 119 yards and a touchdown in the second half after his improvised 80-yard touchdown pass to
Travin Dural
in the first quarter provided nearly all of the Tigers' offensive production in the opening half. Jennings played every possession but one, while Harris underwhelmed in his single series under center.
What it means:
LSU has a couple of easier non-conference games ahead -- Saturday against Sam Houston State and the following week against Louisiana-Monroe -- so Harris should get some much-needed work against live competition. Likewise, Jennings will benefit from some more game reps before the Tigers host Mississippi State on Sept. 20. He looks like the clear leader for now.
– David Ching
Jennings' hold on position:
6
Tennessee
Starter:
Justin Worley
Backup:
Joshua Dobbs
and
Nathan Peterman
How Worley performed:
Tennessee clearly made the right decision in going with Worley as its starting quarterback. The senior looked like a completely different player than last year as he went 27 of 38 for 273 yards and three touchdowns against Utah State. The most impressive part was his decision-making. He didn't try and force any balls. He took what the defense gave him and simply picked it apart.
What it means:
For starters, it means that barring injury, Dobbs and Peterman will have to wait until next year before they see the field. Worley is the guy. Even if he struggles in two weeks against Oklahoma, he showed enough improvement in the first game that Butch Jones will likely ride it out. However, before the Volunteers head to Norman, Worley has a chance to put up big numbers again this Saturday against Arkansas State.
– Greg Ostendorf
Worley's hold on position:
9
Texas A&M
Starter:
Kenny Hill
Backup:
Kyle Allen
How Hill performed:
The sophomore, who was making his starting debut, was nearly flawless. Considering the circumstances (on the road against a ranked opponent in a hostile environment), you couldn't ask more of Hill, who broke
Johnny Manziel
's single-game school records for passing yards (511) and completions (44). He was poised and productive against South Carolina.
What it means:
Life after Manziel won't be so rough. If this is what the Aggies can expect from Hill moving forward, the ceiling on their season changes drastically. Most assumed there would be growing pains, but Hill seems to be a natural fit for the Aggies' Air Raid-inspired offense. He has numerous talented weapons to throw to and an excellent offensive line protecting him. Allen made it a close battle in camp and continues to compete, but the Aggies made the right decision as Hill was ready to take the reins. Sumlin's not the type to shuffle quarterbacks, so this looks like Hill's job for the forseeable future.
– Sam Khan
Hill's hold on position:
10
Vanderbilt
Starter:
Patton Robinette
Backup:
Stephen Rivers
Other:
Johnny McCrary
How Robinette performed:
Robinette's numbers weren't bad (4-for-6 passing, 38 yards) but the offense was unable to generate much while he was in, punting four times and turning it over in five drives. Unfortunately for Robinette, he was yanked before having a real chance to develop a rhythm in favor of Rivers, who went 12-for-25 for 186 yards and an interception.
What it means:
The Commodores don't have a starting quarterback. The musical chairs that played out in the 37-7 loss to Temple (redshirt freshman McCrary appeared briefly that night, too), means Vanderbilt is searching for an answer. Derek Mason told reporters this week that the quarterbacks know who will start Saturday vs. Ole Miss but he won't announce who it is publicly. The Vanderbilt quarterback depth chart for the Ole Miss game reads: Stephen Rivers "OR" Patton Robinette "OR" Johnny McCrary.
– Sam Khan
Robinette's hold on the position:
0
August, 8, 2014
Aug 8
11:30
AM CT
Last week, we all saw Peyton Manning dancing to "Rocky Top" during practice. Now we know that he's taken care of when he returns to Tennessee.
If you need me I'll just be hanging out in Peyton Manning's mancave at the Tennessee athletic facility. pic.twitter.com/Arz24L4qTc

— Travis Haney (@TravHaneyESPN) August 8, 2014
Now to the lunch links. Enjoy.
May, 1, 2014
May 1
10:30
AM CT
Earlier today, we examined those newcomers in the SEC East who made big splashes this spring.
Again, these are players on campus and practicing for the first time, junior college transfers or true freshmen who enrolled early. We didn't include redshirt freshmen.
[+] Enlarge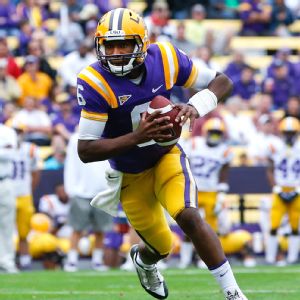 Derick E. Hingle/USA TODAY SportsFreshman Brandon Harris is giving Anthony Jennings all he can handle in LSU's quarterback competition.
We'll turn our attention now to the West and some of the new faces who look like they're going to be able to help their teams in the fall.
Kyle Allen, QB, Texas A&M:
With Matt Joeckel transferring to TCU, the Texas A&M quarterback race is down to
Kenny Hill
, a sophomore, and Allen, a true freshman. Hill got himself suspended toward the end of spring, opening the door even wider for Allen, who has a big arm and can really sling it.
Tony Brown, CB, Alabama:
The Crimson Tide dipped some at cornerback last season and took their lumps in a few games. Brown, a true freshman, has the skill set and confidence to be the kind of corner Alabama has become accustomed to under Nick Saban and will factor in somewhere in the rotation next season.
C.J. Hampton, S, Ole Miss:
The Rebels were determined to get even faster on defense. Enter Hampton, who showed great speed and instincts this spring. Even though he's a true freshman, Hampton was good enough that Ole Miss could move All-American
Cody Prewitt
from safety to linebacker.
Brandon Harris, QB, LSU:
Turn on the tape from LSU's spring game, and it's easy to see why the Tigers are having a hard time settling on their starting quarterback. Harris certainly didn't look like a true freshman and is giving sophomore
Anthony Jennings
everything he wants in the battle for the starting job.
Jocquell Johnson, OT, Mississippi State:
The Bulldogs lost their right tackle from a year ago,
Charles Siddoway
, who came to Mississippi State from the junior college ranks. Johnson, a freakish athlete for such a big man, could end up following that same path if he picks up where he left off in the spring.
Derrick Moncrief, S, Auburn:
Defensive coordinator Ellis Johnson was pleasantly surprised with how quickly Moncrief picked up the scheme this spring after coming over from junior college. The 6-2, 218-pound junior has a great chance to be the Tigers' starter at the boundary safety position, meaning
Josh Holsey
could move to cornerback.
Speedy Noil, WR, Texas A&M:
It doesn't take long to figure out how Noil got his nickname. He's electric with the ball in his hands and a blur in the open field. The Aggies will be looking for more playmakers on offense now that
Mike Evans
is gone, and even though Noil is a true freshman, he was one of Texas A&M's best this spring.
Jarran Reed, DE, Alabama:
If Saban goes out and gets a junior college player on defense, you can bet Saban's convinced that player can be a factor right away. The 6-4, 310-pound Reed was just that this spring and will line up at end in the Tide's base 3-4 look and at tackle when they go to a four-man front.
Cameron Robinson, OT, Alabama:
It wouldn't be the first time Alabama has started a true freshman at left tackle, but it's still rare. Robinson, a 6-6, 325-pound specimen, started with the first team in the spring game and looks to have a firm hold on the position heading into preseason camp.
D'haquille Williams, WR, Auburn:
The 6-2, 216-pound Williams should be a perfect complement to
Sammie Coates
. One of the top junior college prospects in the country, Williams is physical enough to catch the ball in traffic and also hold up well when he's blocking. What's more, he has the speed to catch the deep ball.
April, 4, 2014
Apr 4
10:00
AM CT
Brandon Allen
.
Nick Marshall
.
Bo Wallace
.
That's it. That's the list.
Only three quarterbacks who started double-digit games last season return to the SEC this fall, and one of them isn't even guaranteed to be a starter.
[+] Enlarge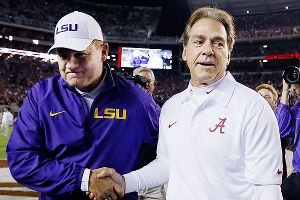 Kevin C. Cox/Getty ImagesLes Miles and Nick Saban are in no hurry to name their starting QBs for the fall.
Everywhere you turn in this league, there's a quarterback competition underway, from Alabama to Georgia, Arkansas to Kentucky, LSU to Texas A&M.
Maty Mauk
is surely the presumptive starter at Missouri, but even he's not a sure thing. Gary Pinkel says he wants competition, never mind that there were times when Mauk looked better than former starter
James Franklin
.
But not every coach in the SEC approaches the quarterback position the same way. A quick glance across the league shows a variety of opinions about how to pick a starter.
Mark Stoops is the most urgent-minded coach of the bunch, and given the inconsistency Kentucky had at quarterback last season, it's easy to understand why. Entering his second season, Stoops said: "I'd love to come out of spring with a clear-cut starter." That means everyone is in the mix.
Maxwell Smith
can't practice while he recovers from shoulder surgery, but
Jalen Whitlow
,
Reese Phillips
,
Patrick Towles
and even true freshman
Drew Barker
are in the hunt.
Barker, a four-star prospect according to ESPN, "has a very good opportunity to take control of it," Stoops said, praising his maturity for such a young quarterback.
"He's a guy [who] has high expectations [for] himself, and he's OK with the pressure that comes along with playing that position," Stoops said. "He's excited about the opportunity, and I'm excited to see what he can do."
Bret Bielema isn't outwardly putting a timetable on anything at Arkansas, but he's encouraging everyone to compete. Allen started 11 games last season but was up and down, with 13 touchdowns and 10 interceptions.
Bielema was about as no-nonsense as any coach gets about the situation.
"In theory, the first time we yell out for the [first string, Allen is] going to step out there," Bielema said before the start of spring practice. "But really, in our program, the competition brings the best out of people.
"So B.A. is going to be the first guy in with the ones, but there will be other guys who get opportunity," he continued. "Who is able to produce and run the offense effectively and who gives us the best chance to win next year's opener against Auburn will be at that position."
Similar to the case at Kentucky, Bielema isn't counting out his true freshman.
Rafe Peavey
, another highly-regarded four-star prospect, is going to be allowed to sink or swim. Bielema loves his talent and praised him as a "football junkie." But he's not pampering the rookie.
"It's no different between the right tackle or the quarterback or the safety," Bielema said. "It's all about what a freshman can handle, how they adjust to adversity and how they enjoy success.
"The quarterback gets a lot of attention. They're usually really pretty, really smart, and everybody likes them. But in reality, they're like everybody else. Those that play well will play and those that don't will sit."
While Bielema and Stoops are anxious for a battle, other coaches around the league are more inclined to sit back and wait.
[+] Enlarge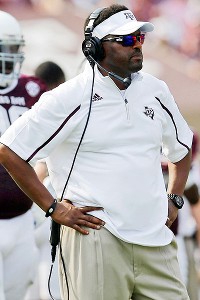 AP Photo/David J. PhillipWho will replace Johnny Manziel as Texas A&M's QB? Kevin Sumlin isn't saying anything right now.
LSU coach Les Miles said he has a good sense of the competition between
Anthony Jennings
and
Brandon Harris
. "But it always plays out," he said, harkening back to when Matt Flynn and JaMarcus Russell duked it out eight years ago. It looked like Flynn had the job in hand after winning a bowl game and watching Russell come into camp out of shape in 2006. But Flynn's body faltered down the stretch and Russell kept going, eventually winning the job.
"I want all the quarterbacks to know that it's going to be given to no one," Miles said. "[It's] earned by the one that plays."
Texas A&M and Alabama are taking similar approaches to replacing
Johnny Manziel
and
AJ McCarron
. In fact, both Kevin Sumlin and Nick Saban are somewhat defiant about holding the cards close to the vest.
Sumlin has gloated before that when people assumed
Jameill Showers
would beat out Manziel in 2013, "I didn't name a starter [after spring]; y'all did."
So while we watch
Matt Joeckel
,
Kenny Hill
and
Kyle Allen
jockey for position, don't expect a starter to be named until close to the season.
Saban, for his part, doesn't want to hear anything about it. His quarterback competition is essentially on hold until the fall, when Florida State transfer
Jacob Coker
arrives. Before the start of spring practice, Saban laid out his plan, saying, "Let me be very clear about this: We're not going to be in a hurry to decide who the quarterback is."
"You guys are going to ask me at least 1,000 times between now and the first game who's the first-team quarterback," he added, "and I'm telling you right now you're probably going to get a 1,000 'We're going to wait and see.' "
The only place in the SEC that doesn't have to be patient in the matter is South Carolina. Coach Steve Spurrier named
Dylan Thompson
the starter well before spring practice ever began.
Replacing
Connor Shaw
won't be easy, but Spurrier said that Thompson was the guy for the job, no question. A fifth-year senior with plenty of in-game experience, Spurrier didn't have a doubt in his mind.
"I didn't know there was any question about it," he said. "Someone said, 'You're just naming him the starting quarterback?' Well, I just said, 'Of course I am. Why wouldn't we?' "
Spurrier did it his way. Saban and Sumlin are doing it theirs. Stoops is anxious, and Bielema and Pinkel are only interested in the competition.
Recruiting a quarterback is the furthest thing from an exact science. Finding out who's ready to start is even more inexact.
This might be the season of new quarterbacks in the SEC, but everywhere there's a different sense of which way the wind blows.
March, 4, 2014
Mar 4
9:05
AM CT
Setting up the spring in the SEC West:

ALABAMA
Spring start:
March 15
Spring game:
April 19
What to watch:
Succeeding McCarron: The Crimson Tide must find the person who will step into AJ McCarron's shoes. There are several quarterbacks on campus: Blake Sims, Alec Morris, Parker McLeod and Cooper Bateman. The person most have pegged as the favorite, however, won't be on campus until the summer: Jacob Coker. A transfer from Florida State, Coker is finishing his degree before enrolling at Alabama. But new offensive coordinator Lane Kiffin will get a chance for a long look at the others this spring.
What's next for Henry?: Running back Derrick Henry has the fans excited after his Allstate Sugar Bowl performance (eight carries, 100 yards), and he brings great size to the position (6-foot-3, 238 pounds). T.J. Yeldon is a returning starter who is more experienced and battle-tested, and there are still other talented backs on the roster, such as Kenyan Drake. But plenty of eyes will be on the sophomore-to-be Henry.
Replacing Mosley: Linebacker C.J. Mosley was a decorated star and leader, so his presence will be missed. Alabama has plenty of talent in the pipeline; it's just not tremendously experienced. Watch for Reuben Foster and Reggie Ragland.

ARKANSAS
Spring start:
March 16
Spring game:
April 26
What to watch:
Keeping it positive: It's been rough around Fayetteville, Ark. The Razorbacks closed their season with nine losses in a row; coach Bret Bielema is a focal point in the unpopular NCAA proposal designed to slow down hurry-up offenses; and leading running back Alex Collins served a weeklong suspension last month for unspecified reasons. The Hogs could use some positivity.
A new DC: The Razorbacks will be working in a new defensive coordinator, Robb Smith. He came over from the NFL's Tampa Bay Buccaneers, where he was the linebackers coach. Smith made a significant impact at his last college stop, Rutgers, where he led the Scarlet Knights' defense to a No. 10 ranking in total defense in 2012.
Year 2 progress: Making a drastic change in scheme isn't easy to do, which is what the Razorbacks tried to accomplish in Bielema's debut season. In the second spring in Fayetteville for Bielema, things should come a little more easily as the Razorbacks continue to institute Bielema's brand of power football.

AUBURN
Spring start:
March 18
Spring game:
April 19
What to watch:
Picking up where they left off: The Tigers put together a memorable, magical 2013, and with eight starters returning on offense, keeping that momentum going is key. Replacing running back Tre Mason and O-lineman Greg Robinson won't be easy, but there is still plenty of talent on offense to aid quarterback Nick Marshall.
Marshall's progress: Marshall's ascent last year was impressive, but can he continue it? He's great with his feet and made some big-time throws last year. As he continues to progress as a passer, it should add another facet to the Tigers' explosive, up-tempo, multifaceted attack.
Improving the defense: The Tigers lost five starters from a group that was suspect at times last season. But defensive coordinator Ellis Johnson has a history of improving defenses from Year 1 to Year 2, and it should be interesting to see if he can do that at Auburn.

LSU
Spring start:
March 7
Spring game:
April 5
What to watch:
Jennings next at QB?: Anthony Jennings engineered a memorable, game-winning drive in the regular-season finale against Arkansas, leading the Tigers 99 yards downfield, capped by a 49-yard touchdown pass. His performance in the Outback Bowl was far from impressive, though, as he went 7-for-19 passing for 82 yards and an interception in the Tigers' win over Iowa. Still, he is considered the favorite to replace Zach Mettenberger. Competing with Jennings is Penn State transfer Rob Bolden and freshmen Hayden Rettig and Brandon Harris.
Starting over at WR: LSU loses two 1,000-yard receivers in Jarvis Landry and Odell Beckham, plus a senior (Kadron Boone). That's a lot of production to replace. Travin Dural, who made the game-winning catch against Arkansas, is back, as is Quantavius Leslie and Armand Williams. The Tigers have a host of redshirt freshmen joining the mix (John Diarse, Avery Peterson and Kevin Spears) and bring in several freshmen (Malachi Dupre, Trey Quinn, D.J. Chark) to compete for playing time. But replacing 72 percent of the 2013 receiving yardage will be challenging.
Finding safeties: Craig Loston has moved on, and the Tigers don't have a returning starter at safety. But they do have Jalen Mills, who slid from his cornerback spot to safety to start in the Outback Bowl. Corey Thompson, Ronald Martin and Rickey Jefferson all return, and ESPN 300 recruit Edward Paris Jr. is already on campus and will participate in spring practice.

MISSISSIPPI STATE
Spring start:
March 18
Spring game:
April 12
What to watch:
All eyes on Prescott: With some strong performances to close out the season in the Egg Bowl and in the AutoZone Liberty Bowl, quarterback Dak Prescott certainly played the part of an elite SEC quarterback. He'll enter the season with more national attention after putting together some gutsy performances while pushing through some personal adversity last season after the death of his mother.
Malone stepping in: Justin Malone was on pace to start at right guard last season, but was lost for the year with a Lisfranc injury in his foot in the season opener against Oklahoma State. With Gabe Jackson gone, the Bulldogs need another solid interior lineman to step up, and a healthy 6-foot-7, 320-pound Malone could be that guy.
Offensive staff shuffle: The Bulldogs added some new blood on the offensive coaching staff, bringing in young quarterbacks coach Brian Johnson, a former Utah quarterback. Billy Gonzales and John Hevesy were promoted to co-offensive coordinators, though head coach Dan Mullen will continue as the playcaller in games.

OLE MISS
Spring start:
March 5
Spring game:
April 5
What to watch:
Wallace's development: Coach Hugh Freeze believes quarterback Bo Wallace will be helped by having more practice this time around; last year, January shoulder surgery had Wallace rehabilitating most of the offseason, and Freeze believes it affected Wallace's arm strength later in the season. A fresh Wallace going into the spring can only help, and as he's heading into his senior season, the coaching staff will look for more consistency.
Status of Nkemdiche and Bryant: Linebackers Denzel Nkemdiche and Serderius Bryant were arrested last month and suspended. Ole Miss is investigating the situation, but their status remains undecided.
A healthy Aaron Morris: During the season opener against Vanderbilt, Morris tore his ACL and missed the rest of the season. The offensive guard was recently granted a medical hardship waiver to restore that season of eligibility. Getting Morris back healthy for 2014 is important for the Rebels as he is a key piece to their offensive line.

TEXAS A&M
Spring start:
Feb. 28
Spring game:
None (final practice is April 5)
What to watch:
Life after Johnny Manziel: Texas A&M says goodbye to one of the best quarterbacks in college football history and must find his successor. Spring (and fall) practice will be the stage for a three-way battle between senior Matt Joeckel, sophomore Kenny Hill and freshman Kyle Allen. Only one of those three has started a college game (Joeckel), and he played in just one half last August. Whoever wins the competition will be green, but all three have the ability to run the Aggies' offense.
Retooling the defense: The Aggies were pretty awful on defense last season, ranking among the bottom 25 nationally in most defensive statistical categories. They have to get much better on that side of the football if they want to be a real factor in the SEC West race, and that starts in the spring by developing the young front seven and trying to find some answers in the secondary, particularly at the safety positions.
New left tackle: This spring, the Aggies will have their third different left tackle in as many seasons. Luke Joeckel rode a stellar 2012 season to the No. 2 overall pick in the NFL draft. Senior Jake Matthews made himself a projected top-10 pick for this year's draft while protecting Manziel last season. This season, Cedric Ogbuehi gets his turn. Ogbuehi has excelled throughout his Texas A&M career on the right side of the offensive line (first at right guard, then at right tackle last season) and is looking to follow in the footsteps of Joeckel and Matthews.
February, 24, 2014
Feb 24
9:00
AM CT
Over the span of their careers they threw for 48,824 passing yards. There were a total 403 touchdown passes among them, and they won 184 games in which they appeared, including 11 bowls and two national championships. They were, arguably, the most talented and productive class of quarterbacks ever to play in the SEC at one time. And now they're all gone.
[+] Enlarge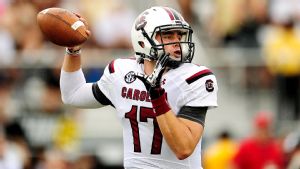 Stacy Revere/Getty ImagesDylan Thompson saw a lot of playing time last season when Connor Shaw went out.
The SEC had to say goodbye to
James Franklin
,
Johnny Manziel
,
AJ McCarron
,
Zach Mettenberger
,
Aaron Murray
and
Connor Shaw
in January. The void they leave behind is enormous, and while some programs already have an idea of who will take their place next season, not all are so lucky.
We're counting down the five most pressing questions facing the SEC this spring, in no particular order of importance. First, how do you replace all the veteran quarterbacks the league enjoyed in 2013?
When spring camps open over the next few weeks -- the first being Texas A&M on Friday -- that question will begin to be answered. With each snap and each team meeting, leaders will emerge. Some staffs will look for a winner heading into the summer so they can avoid a quarterback controversy come fall, while others will have to sweat it out through the offseason.
Texas A&M:
Surprises will undoubtedly occur, as we saw only a few years ago when a scrappy freshman from Kerrville, Texas, beat out the presumptive favorite to land the starting job at Texas A&M. The Aggies stumbled upon Manziel, and
Jameill Showers
was quickly forgotten.
Kenny Hill
and
Matt Joeckel
are this year's frontrunners, but they'll have competition in another freshman nipping at their heels in
Kyle Allen
. The Arizona native is more of a pure passer than a running quarterback, but he has the tools to sling the ball around in Kevin Sumlin's offense.
South Carolina:
Steve Spurrier didn't mince words when he said
Dylan Thompson
is "without question going to be our quarterback." He even asked, "Why open it up when he's the only one who's played?" Thompson, a rising senior, doesn't have the athleticism to break containment quite like Shaw, but Thompson can still move the chains with his feet when necessary. The 6-foot-3, 218-pound South Carolina native doesn't lack for arm strength and might even have more pure throwing ability than Shaw. But where Thompson must match Shaw is intangibles. There wasn't a more dynamic leader in the SEC than Shaw last year, and the Gamecocks will miss that kind of will power under center in 2014. While the starting job is Thompson's to lose, don't sleep on redshirt freshman
Connor Mitch
. The former four-star recruit could push Thompson this spring.
Missouri:
The race to replace Franklin comes down to one quarterback and one quarterback alone:
Maty Mauk
. The rising redshirt sophomore showed last season that he can control the offense, starting four games in which he averaged 227.5 yards, 2.5 touchdowns and 0.5 interceptions per game. More importantly, he won three of the four games with the only loss coming in double overtime against South Carolina. He'll learn from that experience and take over a team that will be moving on from the loss of big-time playmakers
Henry Josey
,
L'Damian Washington
and
Marcus Lucas
. Having the ultra-talented
Dorial Green-Beckham
back will help, but an arrest on drug charges in January has clouded his future.
[+] Enlarge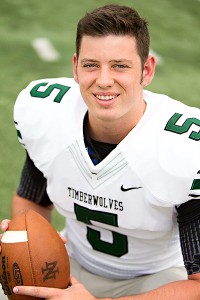 Courtesy of Cornwell familyEarly enrollee and former four-star recruit David Cornwell will get his shot at Alabama's starting QB job this spring.
LSU:
The Tigers faithful got a sneak peek at their next quarterback,
Anthony Jennings
, after Mettenberger tore his ACL and was forced to miss LSU's bowl game. The rising sophomore didn't drop anyone's jaw against Iowa, but he did just enough, throwing for 82 yards on 7 of 19 passing, while letting his supporting cast do the heavy lifting. At 6-2 and 205 pounds, Jennings has the look of a starting quarterback in the SEC. The former four-star recruit played sparingly in 2013, though, attempting just 10 passes prior to the Outback Bowl. He'll have to contend with
Brandon Harris
, ESPN's No. 37 overall prospect and No. 2 dual-threat passer in the 2014 class, along with rising senior
Rob Bolden
and rising sophomore
Hayden Rettig
.
Georgia:
Despite what wasn't a great performance to end last season -- 21-of-39 for 320 yards, a touchdown and an interception against Nebraska --
Hutson Mason
is still the overwhelming favorite to replace Murray. Why? Because Mark Richt and the coaching staff have essentially been grooming Mason to take over for years now, redshirting him in 2012 so he would have a year left to play in 2014. Mason was once a three-star quarterback who put up huge numbers running the spread at Lassiter High School in nearby Marietta, and with
Todd Gurley
behind him, he won't be asked to do too much his first year starting. While he might be a year away, don't write off
Faton Bauta
just yet. The 6-3, 216-pound redshirt sophomore has impressed the staff with his work ethic and could find his way into some playing time.
Alabama:
Oddly enough, the quarterback many presume will take over for McCarron won't actually arrive until the summer.
Jacob Coker
, the heralded transfer from Florida State, will be a little late finishing his degree in Tallahassee, which leaves a big opportunity for the rest of Alabama's quarterbacks to make a first impression. New offensive coordinator Lane Kiffin will instead have his focus on
Blake Sims
,
Alec Morris
,
Parker McLeod
and
Cooper Bateman
this spring. Sims, who best fits the mold of a run-first quarterback, has a lot of work ahead of him to prove he can play from the pocket. Morris, meanwhile, didn't get much time as a redshirt freshman last season and needs to improve his decision-making from the last time we saw him at A-Day. Bateman and McLeod are relative unknowns after redshirting last season, but Bateman, a four-star recruit, does come with a lofty pedigree. The wild card is
David Cornwell
, the four-star recruit who enrolled in January and will benefit from the fresh start all of the quarterbacks will get under Kiffin.
February, 7, 2013
2/07/13
8:07
AM CT
Signing day has come and gone, but we'll have plenty of coverage looking at each Big 12 team's class. This morning, we'll look at how each team filled its needs.

BAYLOR
Needs filled:
Prerogative No. 1 for Baylor is fixing its defense, and the Bears are getting some help at linebacker in prep transfer
Brian Nance
,
Raaquan Davis
(No. 28 outside linebacker) and
Travon Blanchard
(No. 37 OLB). Future defensive tackle
Andrew Billings
was a home-grown talent who should compliment
Javonte Magee
well up front in the years to come. The Bears also need to keep the offensive machine humming. They seem to have done that with their two top signees,
Robbie Rhodes
, the nation's No. 3 receiver, and
Chris Johnson
, the nation's No. 5 dual-threat passer who coach Art Briles raved about in his signing day presser.
Holes remaining:
Debate their quality all you'd like, but the Bears lost players in the secondary like Chance Casey and Mike Hicks, and cornerback Joe Williams will be a senior. There's not a lot of strength at defensive back in this class, unless
Taion Sells
(No. 46 safety) and
Alfred Pullom
(No. 67 safety) can blossom in Waco.

IOWA STATE
Needs filled:
Rodney Coe
comes to Ames via junior college and will try and replace some losses along the defensive line, but the biggest need for the Cyclones has been offensive playmakers.
Aaron Wimberly
checks in via the juco ranks at running back, but can ISU develop Texas receivers
Brandon Harris
and
Bryan Ajumobi
into major weapons at the Big 12 level?
Holes remaining:
The Cyclones lost a pair of starters at linebacker and signed just one linebacker in this class, Florida native
Brian Mills
. Besides that, Iowa State did a nice job of bringing in big bodies along the defensive line and filling some offensive line holes, too, headlined by in-state prospect
Jake Campos
, who Iowa State swiped from Mizzou.

KANSAS
Needs filled:
I'll be honest here, KU could use a big talent upgrade at pretty much every position on the field, other than running back. It's all about the jucos for the Jayhawks.
Marquel Combs
could be a major player up front to help KU stop the run and collapse pockets, but KU got a pair of big-time playmakers at receiver, too, in
Ishmael Hyman
and
Rodriguez Coleman
.
Chris Martin
offers another solid option as a pass-rusher. The Jayhawks also added a pair of quarterbacks in
Montell Cozart
and
Jordan Darling
.
Holes remaining:
Did KU get enough high-quality linemen to replace its three lost starters?
Ahongalu Fusimalohi
is a juco transfer and
Joey Bloomfield
is the nation's No. 118 offensive tackle, but replacing solid starters like Tanner Hawkinson and Trevor Marrongelli is no easy task.

KANSAS STATE
Needs filled:
K-State basically lost its entire defense from last year, so any defenders will be greatly appreciated. Four of the classes' top five signees are defenders, highlighted by inside linebacker
Nick Ramirez
and juco corner
Nate Jackson
. Inside linebacker
Tanner Wood
and juco defensive end
Devon Nash
will also help fill the Wildcats' big losses defensively.
Holes remaining:
The Wildcats are solid at running back this year, but it could be looking a bit thin in the future. John Hubert will be a senior this year and Bryce Brown didn't pan out, so K-State might have used a running back in this class. It didn't happen. K-State was shut out at the position.

OKLAHOMA
Needs filled:
Defensive line was the biggest one, and the Sooners grabbed two pass-rushers in the ESPN 300,
D.J. Ward
and
Matt Dimon
. Those two should pay off big, and Ward has enrolled early.
Hatari Byrd
also gives the Sooners an answer in the secondary while the nation's No. 3 running back,
Keith Ford
, helps provide solid depth at running back.
Holes remaining:
Oklahoma lost Tom Wort to the NFL draft and Corey Nelson will be a senior next year, but Oklahoma didn't stock this class with a single linebacker. The Sooners don't put many traditional linebackers on the field and has converted a lot of safeties into outside linebackers, but still.