Dallas Colleges:

Brent Venables
December, 16, 2014
Dec 16
1:00
PM CT
By
Jake Trotter
and
Brandon Chatmon and Max Olson
| ESPNDallas.com
In this week's Big 12 roundtable, we examine the most intriguing bowls, which team has the most to gain in the bowl season and the players we'll be focused on the most during the bowls:
[+] Enlarge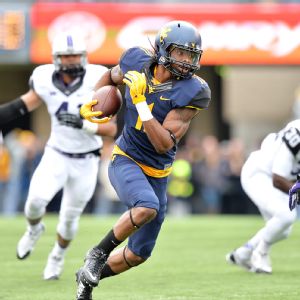 Scott Clarke/ESPN ImagesMountaineers receiver Kevin White finished his senior regular season with 1,318 yards and nine TDs.
Other than the Goodyear Cotton and Chick-Fil-A Peach bowls, which Big 12 bowl are you most intrigued by?
Chatmon:
It has to be the AutoZone Liberty Bowl, when West Virginia and Texas A&M battle on Dec. 29. Lots of points, lots of fun, lots of Red Bull. Mentor Dana Holgorsen against understudy Jake Spavital in a battle of offensive gurus. And considering this is a meaningless bowl game, I'm not interested in seeing much defense. I'm also looking forward to seeing what
Kevin White
has in store for his final game in a West Virginia uniform, after his breakout senior season.
Olson:
There will be points in the Liberty Bowl, and I'm excited to see what a healthier West Virginia team is capable of against Texas A&M. But for me, the choice is the Valero Alamo Bowl. The Big 12 vs. Pac-12 matchup is typically a nice one in terms of style, and K-State taking on a UCLA team that Texas almost defeated in September, in the final starts for both
Brett Hundley
and
Jake Waters
, will be a lot of fun to watch.
Trotter:
I'm intrigued by the Russell Athletic Bowl, and the matchup of Clemson defensive coordinator Brent Venables going up against his former boss at Oklahoma in Bob Stoops. Remember, Stoops brought in his brother to coach the defense in 2011, which ultimately prompted Venables to leave Oklahoma for Clemson. If Venables' Tigers shut down the Sooners, and Clemson runs the score up on Mike Stoops, it will serve as an indictment of where Oklahoma is as a program three years after that move was made.
With no one playing for a national championship, which Big 12 team has the most to gain in bowl season?
Chatmon:
It has to be Baylor against Michigan State in the Goodyear Cotton Bowl. As good as the Bears have been during the past two seasons, some people still point to their Fiesta Bowl loss to Central Florida as a reason to doubt what Art Briles has built in Waco. Add the intrigue of proving the committee wrong and BU has plenty of motivation. It's also a chance for an impressive win against a quality Big Ten team in the race for conference bragging rights.
Olson:
I agree with Brandon here. Some Baylor coaches I talked to before the season say their Fiesta Bowl loss to UCF was arguably the most frustrating of their time in Waco. A 12th win and ending a dream season with a BCS bowl win would've meant an awful lot to this program. They get a meaningful chance for a redo against a much better opponent in Michigan State.
Trotter:
Baylor and TCU have the most to gain, because they have the chance to show they deserved to be in the playoff. But I'll throw another team into the discussion here in Texas. After finishing the season with a
48-10 home loss
to TCU on Thanksgiving night, the Longhorns really need to bounce back against Arkansas in the Advocare V100 Texas Bowl to set the tone for 2015. Next season is going to be a critical one for Charlie Strong and the Texas program. A win over a former rival like Arkansas would give the Longhorns the momentum they'll need heading into next season.
Who is the one Big 12 player you'll be focused during the bowls?
Chatmon:
I can't wait to see what
Trevone Boykin
has in store for an Ole Miss defense full of playmakers in the Chick-Fil-A Peach Bowl. Boykin creates all kinds of problems for every defense with his ability to slither through open lanes like a running back yet frustrate defensive backs with his deep throws. The Rebels have held opposing quarterbacks to a 17.3 Adjusted QBR, ranking No. 2 among FBS teams behind Louisville, making this the best matchup of individual brilliance against team strength during the bowl season.
Olson:
Giving
Mason Rudolph
a month of extra practice and all that post-Bedlam momentum is going to make for a fascinating performance in the TicketCity Cactus Bowl. Oklahoma State's rookie quarterback takes on Washington and a pass defense that ranked last in the Pac-12. I'll be a little surprised if he doesn't pick apart the Huskies on Jan. 2 and continue to build up hype for 2015. The confidence boost this team got from beating Oklahoma can't get squandered.
Trotter:
Boykin and Rudolph are definitely players to watch. But I think I'll be most focused on
Bryce Petty
in his Baylor swan song facing one of the best defenses in the country in Michigan State. Quarterbacks the caliber of Petty -- on and off the field -- don't come along very often. I'll be curious to see how he goes out in a tough matchup in his final college game for the Bears.
January, 5, 2013
1/05/13
1:34
AM CT
ARLINGTON, Texas -- After yet another
Johnny Manziel
touchdown, Mike Stoops didn't hop and scream. Didn't track down the defender who missed the assignment. Oklahoma's otherwise fiery defensive coordinator simply took his headset off and hung it at his side. He didn't say a word. There was nothing to say.
Friday night, it was Johnny Football's turn to sock it to this punching bag of an Oklahoma defense as Texas A&M rolled to a
41-13 pasting
in the AT&T Cotton Bowl.
The Aggies set a Cotton Bowl record with 599 yards of offense, even after letting off the gas pedal long before the fourth quarter mercifully came to an end. Manziel broke the individual yardage record, too, making the Sooners look even more ridiculous than they did against West Virginia's
Tavon Austin
.
"Best player I've ever seen," said Stoops, who also said the same of Austin after he rushed for 344 yards facing the Sooners.
During the offseason, head coach Bob Stoops brought his brother back to resuscitate a defense that had been on the mat the previous two seasons.
Like they had been for decades, the Sooners were dominant defensively through Mike Stoops' first stint in Norman. SEC dominant. Championship dominant. Even against Heisman winners. Ask Florida State's Chris Weinke.
But it has been five years now since the Sooners were serious national title contenders past October, and hope-for-the-best defense is a major reason why. Yet even with the regime change from Brent Venables to Mike Stoops, the defense continued its decline in 2012.
For Jake Trotter's full column, click
here
.
December, 10, 2012
12/10/12
9:59
AM CT
Tommy Tuberville is out at Texas Tech, booking his flight to Cincinnati and the Big East after three seasons in Lubbock. Who will replace him? Here are the possibilities.
(Two guys you won't see on this list: West Virginia coach Dana Holgorsen, who spent nearly a decade under Mike Leach in Lubbock, and Cal coach Sonny Dykes, the son of legendary Tech coach Spike Dykes, who won more games at Texas Tech than everyone but Leach.
Texas Tech sideline reporter Chris Level reported on Sunday
that neither would be coming to Lubbock.)
Tech athletic director Kirby Hocutt will be conducting the search himself, rather than using a search firm.
The candidates:
Kliff Kingsbury, OC, Texas A&M:
Kingsbury is certainly on the top of Texas Tech fans' list, but will he be atop Hocutt's list, too? Kingsbury's biggest plus came this season. He coached
Johnny Manziel
to a Heisman Trophy and Texas A&M was one of the nation's biggest surprises. He's one of the hottest names in the field, but the 33-year-old has also only been an assistant for five years. Is that enough experience to be handed an entire program?
Chad Morris, OC, Clemson:
Michael Brewer
is all but locked in as the Red Raiders' starting quarterback for the next three seasons. Morris was Brewer's high school coach at Lake Travis in Austin, Texas. He's helped
Tajh Boyd
and
Sammy Watkins
headline the nation's No. 9 offense and knows the Texas recruiting landscape well. He's only been a college assistant for three seasons, but he's already parlayed it into a seven-figure contract as a coordinator at Clemson, something very few others in college football can boast. He'd almost surely take the job if Tech offered it.
Neal Brown, OC, Texas Tech:
Brown spent the weekend interviewing for a pair of other gigs, and could be in play for the head coaching jobs at Southern Miss and Louisiana Tech. At times this season, Tech fans weren't his biggest supporters, but Tuberville made him one of the youngest coordinators in the country in 2010, bringing him on board from Troy. The promotion might get Brown to stay, and he has a great shot to be successful, but could Hocutt sell the hire to fans?
Todd Monken, OC, Oklahoma State:
Monken stepped in for Holgorsen at Oklahoma State and the Pokes' offense hasn't missed a beat. Monken helped Oklahoma State win a Big 12 title in 2011, and despite losing a pair of first-round picks from last year's team and dealing with injuries to his top two quarterbacks, had OSU at No. 5 nationally in total offense. His college experience is limited, and you'd have to question whether he could run an entire program, but he's been outstanding at his latest stop, and fits the carefree mold Tech fostered under Mike Leach.
Brent Venables, DC, Clemson:
Venables' name comes up for jobs a lot, but he's still waiting on his first head coaching gig. He and Hocutt played together at Kansas State and have maintained a relationship. Perhaps nobody knows Big 12 offenses like Venables, though he had a rough time stopping them late in his tenure at Oklahoma. He seems overdue for his first head gig, but does Tech need to have an offensive mind running its program?
Ruffin McNeil, head coach, East Carolina:
McNeil was the defensive coordinator under Leach and won the approval of the team through his efforts. He's built ECU since taking over in 2010 and went 8-4 this season, winning a share of the division title in Conference USA. He's carried a spread offense to ECU, but would return to Lubbock after spending a decade as a defensive assistant under Leach.
Art Briles, head coach, Baylor:
I don't buy any realistic possibility that Briles would leave Baylor, but there were multiple reports over the weekend that Texas Tech would pursue him. Briles already turned down Texas Tech when it eventually hired Tuberville, and after signing a new contract extension last week and the Bears' breaking ground on a new stadium set to open in 2014, Briles leaving seems like a near impossibility, even though he has a degree from Texas Tech.
Will Texas Tech's new coach be one of these seven candidates? Or will Hocutt go off the grid for an unexpected hire, like Bret Bielema at Arkansas?
April, 30, 2012
4/30/12
11:36
AM CT
NORMAN, Okla. -- Oklahoma linebacker
Joseph Ibiloye
kept hearing his coach scream his name.
"Joe! Joe!"
He turned around, heard his coach's demands and applied them to the next play. The problem? At least a few times, it would put him out of position or ruin a defensive rep.
That's what happens when he takes direction meant for cornerback
Joe Powell
.
Mike Stoops is back coordinating Oklahoma's defense, a job he held in 2000 during Oklahoma's last national title run, and there are bound to be a few mixups as he gets used to his new surroundings.
"He's calling me Ibi now, so we've got everything squared away," Ibiloye said.
Stoops' arrival, after eight seasons as Arizona's head coach, was cause for Sooner-fan celebrations. Last year's defense had high-profile struggles in the secondary in losses to Texas Tech, Baylor and Oklahoma State.
[+] Enlarge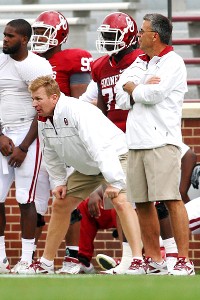 J.P. Wilson/Icon SMI The return of Mike Stoops, bending, as coordinator has brought Oklahoma's defense a simplified scheme.
Stoops' specialty? Defensive backs.
Safety
Javon Harris
didn't know much about Stoops when he met his new position coach and coordinator, but he knew that much.
"The one thing I knew is when he was here, he put out a lot of All-American DBs and guys who went on to the next level," said Harris, who endured the toughest struggle of anyone in the loss to Baylor, but re-earned a starting position this spring. "I was really excited to know he was coming in here."
The word of the spring for Stoops' new troops was simplification. Brent Venables fielded a whole lot of good defenses before leaving for Clemson this offseason, but the change was welcomed, especially by the Sooners' most scrutinized unit of 2011.
"In talking to some of my other teammates, I think everybody is liking the new defense and knowing exactly what they need to do. One of the things we were lacking last year was just not knowing exactly what's going on," Harris said. "Now we're learning those things and we feel one step ahead."
Step one in fixing what ailed the Sooners in 2011? Prevent the big play.
"We're just trying to get our players in the right positions to be more efficient and more effective players. That's the consensus of what we saw a year ago. How much we can simplify things, that's hard to say," Stoops said. "We're going to do what we need to do to be successful."
Stoops installed most of his defense this spring; the fall will be dedicated to perfecting it. The spring was about finding what the defense did well, establishing an identity, and putting everyone where he needs to be.
"The way he approaches things is easier to learn," Ibiloye said.
The biggest position move?
Tony Jefferson
is headed to traditional safety after holding down Oklahoma's nickel-back spot the past two seasons, including 2010, when he shared Big 12 Defensive Freshman of the Year honors.
"We're going to have flexibility. Our linebackers give us a lot of flexibility to do some things, and I think we have some secondary guys that give us some flexibility to get our best players on the field," Stoops said. "That's ultimately, that's what we're trying to do, is find the best 11, 12, 13 players and then take it from there."
Said Harris: "He wants to get players to know the defense and know their position and be able to play loose and not think as much."
That'll come with time, but Stoops made one thing clear when he met each of his new defenders.
"I'm not going to put you in those positions where, if I'm not sure you can do something, I'm not going to make you do them," Harris said Stoops told him. "That's one thing I appreciated from him, that I'll have that chance to come out here and do what I do best."
Players, particularly experienced seniors, had their doubts about the new coordinator, but the comfort level is high as doubts have receded. One place there's no lack of confidence? The top, where Stoops' brother, Bob Stoops, holds down the head job.
"I've got great confidence in him of course and what he sees. It's been great to have him back," Stoops said. "It gives me a strong sense of security that we're doing things the best way we can."
March, 5, 2012
3/05/12
10:40
AM CT
Oklahoma will be the fourth Big 12 team (TCU, Texas, Texas Tech) to open spring camp when practice begins later Monday.
Here's a closer look and an idea of what to watch for.

Schedule:
Oklahoma kicks off the first of its NCAA-allowed 15 practices Monday, leading up to the spring game on April 14. Practices are closed to fans and media.
What's new:
The Sooners made the biggest Big 12 offseason acquisition when they brought back Mike Stoops as co-defensive coordinator. He dropped the "co-" after longtime coordinator Brent Venables took the DC job at Clemson after 13 years on Bob Stoops' staff in Norman. The Sooners will miss his presence, but hopes are high that Stoops can revitalize an Oklahoma defense that paved the way for the Sooners' last national title back in 2000, coordinated by none other than Stoops. He was fired by Arizona in the middle of the 2011 season, his eighth at Arizona.
New faces:
Stoops is obvious, but Oklahoma is also welcoming six freshman or junior college transfers this spring to get practice time in before the 2012 season. Tight end Taylor McNamara and 2011 signee
Trey Metoyer
highlight the group. McNamara was the nation's No. 2 tight end and Metoyer was the nation's No. 8 receiver and No. 51 overall prospect in the 2011 class. He enrolled in military school after failing to qualify last fall, and could help boost a receiving corps in need of reinforcements. Junior college transfers Kass (pronounced "KAHss") Everett, Brannon Green and Chaz Nelson join 2011 signee Jordan Wade on campus this spring, too. Tight ends McNamara and Green should have some impact. Oklahoma returns no tight ends from its 2011 team, thanks to injuries and player exits.
Big shoes to fill:
Kenny Stills
.
Ryan Broyles
tore his ACL late last season, and the Sooners' receivers disappointed in the absence of the FBS all-time leader for receptions. The offense was punchless in an embarrassing blowout loss to Oklahoma State with the Big 12 title on the line. Especially without Jaz Reynolds (kidney) this spring, Stills need to prove he can be a reliable, top-tier receiver for Oklahoma's Big 12 title dreams to come true in 2012.
On the move:
Safety
Tony Jefferson
. How will Jefferson be used in Stoops' defensive scheme? It's a big question for the Sooners. Jefferson's one of the team's most talented players, but he moved around a lot in 2011, seeing time at nickel back and moving to traditional safety after
Javon Harris
had some high-profile struggles in the loss to Baylor. Jefferson can play and excel at both spots. What the rest of OU's defense looks like depends on where he plays.
Question marks:
What does OU's running back spot look like?
Dominique Whaley
is still rehabbing after breaking his ankle midseason, an injury that birthed the Belldozer formation. Backup quarterback
Blake Bell
rushed for 13 touchdowns in the second half of the season, but look for Oklahoma to try and find a way to run between the tackles more traditionally this spring. Who can be the man?
Brennan Clay
,
Roy Finch
and
Danzel Williams
are the only healthy scholarship running backs for the Sooners. Will we see fullback
Trey Millard
get some run, too?
All eyes on:
The defense. Quarterback
Landry Jones
actually played well in a loss to Baylor, but Oklahoma's defense was clearly the weak link in losses to Texas Tech, Baylor and Oklahoma State that turned a year with national title aspirations into an average 10-3 season that finished in the Insight Bowl. The defense played well in the bowl win over Iowa, but Iowa's offense is nothing like what awaits the Sooners in the always-dangerous Big 12. Mike Stoops' work is cut out for him.
February, 21, 2012
2/21/12
11:36
AM CT
Spring football is already under way at Texas Tech, but in the coming weeks, the Big 12's other nine programs will join the Red Raiders in taking the field as a team for the first time since January, December, or November for some.
Here's a preview of what to expect:

BAYLOR BEARS
Spring practice start date:
March 19
Spring game:
April 14
What to watch:
Nick Florence: It's not official, but the Baylor quarterback job is Florence's to lose. That means he inherits the unenviable task of replacing the school's first Heisman winner. He replaced RG3 in 2009 with mixed results, but showed some major potential in a win over Texas Tech when RG3 took a shot to the head and sat out the second half. Can he keep the bowl streak alive at Baylor? We'll get an idea this spring.
The defense's progression: You didn't need to see much more than the 67-56 Alamo Bowl win over Washington to know the Bears needed some work on defense. In the month of November, Baylor became the first team in FBS history to win four consecutive games in a single season while also giving up at least 30 points in each of those games. The defense can't make Florence pick up the slack to that level. Year 2 under Phil Bennett must be better. Baylor has no excuses. They have the athletes on campus necessary to be at least a decent defense.
The team's attitude/motivation: Baylor played with a lot of purpose the past two seasons, and made history in both, cracking a 16-year bowl drought and winning 10 games this year. Is that fire still there? Baylor has to prove it is without RG3 (and Kendall Wright) carrying the team on the field, emotionally and mentally.

IOWA STATE CYCLONES
Spring practice start date:
March 20
Spring game:
April 14
What to watch:
The quarterback battle: Or is it? Jared Barnett looked like the man of the future in Ames late in the season, leading the Cyclones to a historic upset of No. 2 Oklahoma State. But in the ugly Pinstripe Bowl loss to a mediocre Rutgers team, Barnett's inaccuracy posed big questions. He was benched and Steele Jantz stepped in, though he didn't play much better than Barnett. Turnovers were an issue for Jantz early on, but Barnett has to bounce back in the spring to make sure the job doesn't come open.
The receivers: Darius Reynolds was the big-play man for the Cyclones, but he's gone. It's going to be tough to replace him. Slot receivers Aaron Horne and Josh Lenz were productive, but did little to stretch defenses like the Reynolds did. Can ISU find someone to fill the void?
The new man at left tackle: Iowa State had the luxury of having a future pro at left tackle, Kelechi Osemele, for the past three seasons. He earned All-Big 12 nods in each of those seasons, but he's gone now. Junior Carter Bykowski was behind Osemele on the depth chart, but will the converted tight end be the new man at tackle for the Cyclones?

KANSAS JAYHAWKS
Spring practice start date:
March 27
Spring game:
April 28
What to watch:
Uh, everything?: I mean, what's not to watch at KU? Charlie Weis steps in for the fired Turner Gill and tries to build KU up from nothing. The Jayhawks were one of the worst teams in Big 12 history last season, losing six games by at least 30 points. Weis will speak his mind and watching him rebuilding the Jayhawks is going to be fun. It all starts next month -- on the field, at least.
KU's new pass-catch combo: Dayne Crist is on campus, and so is Oklahoma transfer Justin McCay, a former blue-chip recruit who didn't quite catch on in Norman. Quarterback and receiver were arguably the two biggest positions of need for KU last year, and we'll get a preview of what could be a productive combo next season. McCay isn't officially eligible for the 2012 season yet -- he needs the NCAA to waive its mandated redshirt year after a transfer -- but the coaching staff is confident he'll have it granted.
The uncertainty on the depth chart: When a new staff comes in, you never know what to expect. Kansas' leading rusher in its final season under Mark Mangino, Toben Opurum, is now one of its best defensive linemen. Look for Weis to shake things up, too. Where? Who knows?

KANSAS STATE WILDCATS
Spring practice start date:
April 4
Spring game:
April 28
What to watch:
Collin Klein's maturation: Kansas State's quarterback could be fun to watch this spring and next fall. His throwing motion isn't pretty, but his accuracy improved in a big way throughout the season. If that continues at a pace anything close to what we saw last year, K-State's going to be a load for everyone. Look out.
Developing depth at running back: John Hubert is back, and so is seldom-used Angelo Pease. Bryce Brown is gone, though. Klein handles a lot of the heavy lifting in the running game, but it'd be some nice insurance if K-State could establish some more depth in the backfield. Making Klein carry the ball 300 times again is tempting fate.
Stars becoming superstars: Kansas State brings back more starters than all but seven teams in college football, so this team is going to look remarkably similar in 2012 to the way it did last year. However, it should get better. And its two transfers could look dominant this spring. Cornerback Nigel Malone and linebacker Arthur Brown emerged as stars last year, but we could see the duo emerge as true game-changers this spring. Look out, Big 12 offenses.

OKLAHOMA SOONERS
Spring practice start date:
March 8
Spring game:
April 14
What to watch:
New faces on, off the field: Mike Stoops' arrival as the defensive coordinator was the biggest news this offseason in the Big 12, and Brent Venables, who had been at OU for all of Bob Stoops' tenure, left for Clemson rather than become co-defensive coordinator. Hopes are high that Stoops can revitalize Oklahoma's defense. He was in charge when the Sooners rode a dominant D to the 2000 national title, and the Sooners have the talent to win it all in 2012. Receiver Trey Metoyer joins the team this spring, and could be a major contributor immediately. Two of the team's four new tight ends are also enrolled early.
QB Blake Bell's role: The Belldozer is back ... but so is full-time quarterback Landry Jones. How will the balance between the duo look this spring? And what new wrinkles will we see in Oklahoma's simple, yet near-unstoppable short-yardage formation that saw 13 touchdowns in the second half of 2011?
The battle at defensive end: Oklahoma must fill two huge holes at defensive end. Big 12 Defensive Player of the Year Frank Alexander is gone, as is possible first-round pick Ronnell Lewis. R.J. Washington contributed late and has potential, but David King filled in for Lewis in the final three games of the season. The duo could be great, but it could also be pretty pedestrian. We'll get an idea this spring, but Lewis and Alexander set a high, high bar.

OKLAHOMA STATE COWBOYS
Spring practice start date:
March 12
Spring game:
April 21
What to watch:
The quarterback battle: This will easily be the highest-profile, highest-quality quarterback battle in the Big 12. It won't be at the level of Texas Tech in 2010, but it won't be too far off. Clint Chelf, J.W. Walsh and Wes Lunt will go head to head. All have plenty of potential, though Lunt may have the most. The big-armed true freshman also has the least experience. Anything could happen here.
Which receivers rise: Justin Blackmon and Josh Cooper leave huge holes behind. It's not every day a two-time Biletnikoff Award winner walks on campus. Hubert Anyiam is gone, too. Michael Harrison is unlikely to play for the 2012 season, but the school has offered no confirmation on his status. He had the most potential, but OSU is deep at the position. Who emerges as the top target? Isaiah Anderson? Tracy Moore? Josh Stewart? Anything could happen there, too.
Defense needs a leader: Safety Markelle Martin has been the heart of the defense the past two seasons, but his big-hitting days are over. Who becomes the new voice of the defense? It needs to find leadership this spring heading into summer voluntary workouts.

TEXAS LONGHORNS
Spring practice start date:
Feb. 23
Spring game:
April 1
What to watch:
The quarterback competition: I still think having a competition at the spot, which Texas says it will, isn't the best option, but David Ash and Case McCoy will go at it alongside early-enrolling freshman Connor Brewer. If Ash secures the job, expect an announcement heading into summer officially anointing the sophomore.
More sophistication on both sides of the ball: The progression is natural and likely. Offensive coordinator Bryan Harsin and defensive coordinator Manny Diaz had good first years in Austin, but this is Year 2. The spring won't be devoted to learning the playbook. It's time to master it. Both units could look markedly different, and much more refined next fall. Deny it all you like: Texas is back on its way to the top after a rough two years.
Maturing offensive weapons: Last season, the Longhorns relied on two true freshman running backs (Malcolm Brown/Joe Bergeron), a freshman/sophomore rotation at quarterback and its top receiver (Jaxon Shipley) was a true freshman. No. 2 (Mike Davis) was a sophomore. I hope I don't have to tell you what freshmen and sophomores do in college football. Look. Out.

TCU HORNED FROGS
Spring practice start date:
Feb. 25
Spring end date:
April 5
What to watch:
Can TCU shut out the scandal? Four team members were arrested in a recent drug sting and kicked off the team. How much of a distraction will that be for a program undergoing the most monumental change in its history? Quantifying the effects of the scandal will be pretty impossible, and we've got no idea how they'll handle the change, but will it be on players' minds?
The offense tightens up: The Horned Frogs' offense is absolutely loaded and ready to go for 2012. Quarterback Casey Pachall returns and brings his top three weapons (Josh Boyce, Skye Dawson and Brandon Carter) with him. Running backs Waymon James, Ed Wesley and Matthew Tucker each topped 700 yards rushing in 2011 and all return. The spring will be all about fine-tuning an already stellar offense, and it'll be fun to watch.
Replacing departed starters: All-America linebacker Tanner Brock was among the four football players arrested and booted from the team, as was all-conference defensive tackle D.J. Yendrey and likely starting safety Devin Johnson. Those were unforeseen losses, but TCU can't feel sorry for itself. Gary Patterson has no choice but to find new faces to fill those holes.

TEXAS TECH RED RAIDERS
Spring practice start date:
Feb. 17
Spring game:
March 24
What to watch:
Once again, a new defense: Texas Tech sounds like a broken record these days when it comes to defensive coordinators. This time, Art Kaufman will be stepping to the microphone as the fourth defensive coordinator in Lubbock in four years. He's bringing a 4-3, a shift back to what Ruffin McNeil ran in 2009. Chad Glasgow's 4-2-5 and James Willis' 3-4 failed miserably in 2011 and 2010, respectively, the first two years under Tommy Tuberville.
The battle at running back: No one knows yet if Eric Stephens will be back next season. There's still a long way to go in his rehab from a dislocated knee he suffered last season in a loss to Texas A&M. DeAndre Washington is also out this spring after tearing his ACL against Missouri. Harrison Jeffers hung up his cleats. Who will prove to be reliable this spring? Look for the Red Raiders to try to use sophomore Bradley Marquez, freshman Javares McRoy and junior SaDale Foster in a manner similar to the way Oregon uses scatback De'Anthony Thomas, with lots of short passes and bubble screens to get them the ball in space, where they can use their speed and shiftiness to make plays.
Team health: Tuberville said earlier this month that the team is missing 15 players this spring. It can't afford any more injuries. It's already going to be tough to get enough done this spring, but Tech can't start getting banged up.

WEST VIRGINIA MOUNTAINEERS
Spring practice start date:
March 11
Spring game:
April 21
What to watch:
Dana Holgorsen's offense in Year 2: Holgorsen didn't get a chance to coach his talented offense at Oklahoma State in its second year. The results could have been crazy. They might be at West Virginia in 2012, and the beginning steps will be taken this spring as Geno Smith & Co. get more and more comfortable with the system and Holgorsen adds more wrinkles.
The battle at running back: Sophomore Dustin Garrison hurt his knee in practices leading up to the Mountaineers' 70-33 Orange Bowl win over Clemson, and won't be there for the spring. What does senior Shawne Alston have in store for the spring? Garrison was the featured back last season, but a big spring could help Alston earn a few carries next year.
Defense needs help: Najee Goode leaves a big hole at linebacker, and defensive back Eain Smith's exit means the Mountaineers enter the season without two of their top three tacklers from a year ago. Bruce Irvin and Julian Miller's talents on the defensive line will be tough to replace, and in a league that requires a great pass rush, Irvin, Goode and Miller's 19 combined sacks must be replaced somehow.
February, 6, 2012
2/06/12
2:59
PM CT
Signing day has come and gone.
NFL decisions have been made.
Coaching staffs -- the major moves, at least -- have been settled.
The league membership looks close to being settled.
With all that stuff behind us, it's time to update our Big 12 Power Rankings with
spring football quickly approaching.
I mentioned this in our last update, but I'll reiterate just how wide open the Big 12 is going to be in 2012. That won't change for awhile. In 2011, the league only had three teams that could realistically win the Big 12: Oklahoma, Oklahoma State and Texas A&M.

This year, I could see each of the top six teams winning the league. Oklahoma's the favorite, but nowhere near as heavy a favorite as it was in 2011. The preseason voting should be interesting.
Here's how I slate it:
1. Oklahoma:
The Sooners brought in old defensive coordinator Mike Stoops but lost Brent Venables to Clemson. Stoops' biggest task will be fixing a secondary susceptible to big plays by big offenses in 2011, but Oklahoma will need its strong recruiting class of receivers to contribute immediately.
2. Kansas State:
K-State, in accordance with the founding principle of Bill Snyder's coaching method, should be a much-improved team by the fall. Snyder will keep his squad close to the vest this spring, but there won't be nearly as many new faces on the field in 2012. This 10-game winner will be a Big 12 title contender in 2012.
3. West Virginia:
The Mountaineers are still fighting the Big East to leave for the Big 12 in 2012 instead of 2014, and it may cost them more than the $5 million exit fee they originally planned to pay. On the field, though, the Mountaineers have tons of returning offensive talent, a play-making QB and an innovative mind running it. Even if your defense is awful, Baylor proved that offense will get you a long way in this league.
4. Oklahoma State:
The Cowboys' program has stabilized, and even while breaking in a new quarterback and new top receivers, the defense should be improved and the running backs are capable of carrying the offense. The Cowboys won't throw the ball 595 times this year like they did in 2011, but this is probably an eight- or nine-win team that has some upside.
5. TCU
: TCU's definitely a Big 12 title contender, but in a deep league, there's no telling how it'll handle the jump from the Mountain West to the Big 12. The offense is loaded. The defense should be better. But the transition will be a bit easier for West Virginia. We'll see how TCU handles the week-to-week grind.
6. Texas:
The Longhorns must develop some offensive consistency, but I'm banking on UT having the best defense in the Big 12 once again. Texas' D was dominant at times in 2011, which is difficult in a league with the kind of offenses the Big 12 has. The running game will be great, but the QB spot must be settled and excellent for UT to have any chance to actually win the league.
7. Baylor:
Baylor has the athletes on defense, and it should be better in Year 2 under defensive coordinator Phil Bennett, but without Robert Griffin III elevating the team and making plays, it'll be tough for the Bears to win more than 10 games like they did in 2011. Nick Florence has experience and should be a good replacement, but he's no Heisman winner.
8. Texas Tech:
Tech has a lot of upside, and should get back to a bowl game in 2012, but it'll have to prove it for now. Injuries have hounded this team for two years, but the Red Raiders have more returning starters than any team in the Big 12 and all but one team in college football. They'll be missing 15 players in the spring, but Tech's time at the bottom of the Big 12 would seem to be ending.
9. Iowa State:
Iowa State's trying to build, and it slid in another good building block in 2011 with six wins, a bowl berth and two benchmark wins over Iowa and Oklahoma State. The Cyclones will return a solid team, but in a deep Big 12, its athletes will be tested.
10. Kansas:
The Jayhawks' road back up begins now. Is Charlie Weis the man to make it happen? Plenty of folks don't think so, but that doesn't matter all that much. For now, he's already provided an instant talent upgrade at important positions like QB and receiver. KU needs a lot more after losing six games by more than 30 points in 2011's 2-10 campaign.
January, 19, 2012
1/19/12
11:10
AM CT
NORMAN, Okla. – When Bob Stoops brought his brother back to Norman, he envisioned recapturing the magic that generated some of the best defenses in Oklahoma history.
Instead, Stoops will now have to hire a linebacker coach.
Wednesday night, co-defensive coordinator Brent Venables
announced that he has left Oklahoma
to become the defensive coordinator at Clemson, leaving the Sooners with another coaching vacancy.
In
hiring Mike Stoops
last week, Bob Stoops believed he was getting the band back together.
With Mike Stoops calling the defense and Venables co-coordinating, the Sooners ranked third nationally in fewest yards allowed in 2003. In 2001, Oklahoma ranked fourth.
[+] Enlarge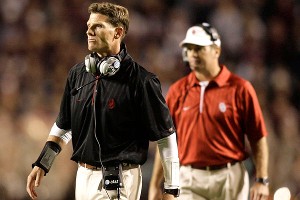 Brett Davis/US PresswireBrent Venables has been on the Oklahoma staff since Bob Stoops took the job in 1999.
And in the 2000 national championship game, the Stoops brothers and Venables devised a defensive game plan for the ages as the Sooners kept Florida State's high-powered offense from scoring.
Too much time, however, had passed. And Bob Stoops' hopes proved to be short-lived. After Venables and Mike Stoops took a recruiting trip together to Florida, Venables and his wife flew to Clemson. And the allure of a new challenge, a massive pay raise and the chance to call his own defense again won out.
Because of the success the Sooners endured while Mike Stoops was the senior partner in the relationship, Venables was never fully appreciated by the Oklahoma fan base. Moreover, the explosion of Big 12 offenses after Mike Stoops left made it virtually impossible to produce top five defenses.
But Venables still coordinated some gems that helped catapult the Sooners to Big 12 championships in '06, '08 and '10.
In 2008, the Sooners wiped out second-ranked Texas Tech by holding one of the nation's top offenses to a single touchdown in the first half. OU went on to play for a national championship that season.
But perhaps his most memorable coaching job came in the final game of the '10 regular season against Oklahoma State. Faced with the task of slowing down the high-powered Cowboys, Bob Stoops and Venables elected to revamp the entire defense, going to a 3-4 scheme. The shift stunned the Cowboys, and Oklahoma State managed only three offensive touchdowns as Oklahoma prevailed.
But as much as the Sooners will miss Venables as a coordinator and linebackers coach, they will miss him just as much as an ace recruiter.
Ronnell Lewis
,
Demontre Hurst
,
Tom Wort
,
Corey Nelson
, Austin Box,
Jamell Fleming
and DeMarco Murray are just a few of the standouts Venables had a hand in recruiting to Norman in recent years.
He also was the assistant who secured two of OU's top verbal commitments in this recruiting class: safety
Eric Striker
and running back
Daniel Brooks
. Venables also was the primary assistant recruiting California cornerback
Brandon Beaver
, who is scheduled to visit OU this weekend.
Bob Stoops tried to get the band back together. With his brother and Venables blazing the recruiting trail as a tandem, then forging those ferocious defenses again on the field.
Instead, the Stoopses will be on their own. Turned out, the band didn't get back together.
December, 1, 2011
12/01/11
12:30
AM CT
Oklahoma will see a different
Justin Blackmon
on Saturday.
The Oklahoma State receiver was slowed by a ankle injury during last year's meeting but still finished the game with eight catches for 105 yards and a touchdown. This season, the Cowboys wideout is healthy heading into the Bedlam matchup.
"I'm excited," Blackmon said. "You don't want to go into any game hurt. I'm healed up, ready to go."
A healthy Blackmon should be the biggest test for the Sooners secondary. Fortunately for OU, they have two of the Big 12's best cornerbacks in Demontre Hurst and Jamell Fleming.
"It's going to be a challenge for myself and Jamell," Hurst said. "He competes in everything he does."
Blackmon brings terrific size (6-foot-1, 215 pounds) and athleticism to the table. He is in line to win the Biletnikoff Award for the second time as the nation's most outstanding receiver.
"He's very physical," Hurst said. "The main thing for me and our defense is to match what he does. We just have to match his physicalness."
And Consider Oklahoma defensive coordinator Brent Venables thrilled that Saturday will be the final time he'll have to deal with Justin Blackmon.
"He's got great strength and he's a great competitor, too," Venables said. "He likes when the game is on the line and wants to be the guy.
"Whether you double team him, triple him, single him, it doesn't matter. It's usually the same results. He's a fabulous player."
Blackmon, a redshirt junior, will be honored during senior day activities Saturday.
July, 3, 2011
7/03/11
11:00
AM CT
We'll move on to the safeties today in our position rankings across the Big 12.
Here's what we've covered so far:
The group of safeties across the Big 12 isn't fantastic, without any truly elite groups, but it's decent. There aren't any teams that look really hopeless at the position in the immediate future.
I haven't given it real close examination so far on the positions we haven't covered yet, but this is by far the closest gap between 1-10 of any position so far.
Here's how I ranked them. (Remember, I lumped in nickel backs with linebackers, so Ahmad Dixon and Tony Jefferson won't be found anywhere in this post.)
[+] Enlarge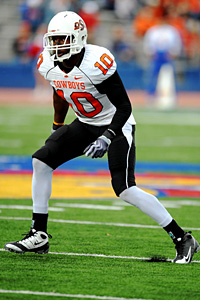 John Rieger/US PRESSWIREOklahoma State's Markelle Martin is the Big 12's best overall safety.
1. Oklahoma State
-- The Cowboys have Markelle Martin, the Big 12's best overall safety who's a big talent but a much better hitter than he is a cover man. Johnny Thomas is solid and both safeties got a lot better as the 2010 season progressed. OSU's depth lands them here, though. Daytawion Lowe could start for a few Big 12 teams and is slightly better than A&M and Texas' reserves, the other two teams with the deepest group of safeties.
2. Texas
-- Blake Gideon takes his share of criticism, a good deal of it fair, but there's a reason he's starting for Texas for a fourth season this fall. He knows what he's doing. Kenny Vaccaro will challenge OSU's Martin, among others, for the title of the Big 12's biggest hitter and Nolan Brewster and Christian Scott are strong reserves at the position. The Longhorns lose a lot at corner, but all the safeties are back from a defense that allowed just over 170 yards a game through the air in conference play last season.
3. Texas A&M
-- The Aggies' Steven Terrell and Trent Hunter are solid, and Hunter is a big playmaker who made 62 stops and picked off two passes last year. Toney Hurd Jr. is the backup and was one of the most impressive freshmen in fall camp last year, joined by Steven Campbell in the rotation.
4. Kansas State
-- Tysyn Hartman has loads of experience and is one of the Wildcats that Bill Snyder loves to rave about. Ty Zimmerman was one of the Big 12's best freshman last year, and picked off three passes. They should be solid again next year, and for as much criticism as K-State's defense faced last year, they were fifth in the Big 12 in pass defense. Logan Dold should be in the rotation, too.
5. Oklahoma
-- Reserve Sam Proctor has starting experience, but Javon Harris and Aaron Colvin enter fall camp as starters. That says plenty about how Bob Stoops and Brent Venables feel about them. In a word: confident. Colvin has the most potential in the group, but the two starters will have to learn on the go. Proctor, a senior, should be able to help. James Haynes will also be in the rotation.
6. Missouri
-- Jasper Simmons is gone, but Missouri's safeties might be a bit underrated in this spot. Kenji Jackson has loads of experience and should be solid, and Tavon Bolden and Matt White are a pair of promising sophomores who should compete at free safety. Kenronte Walker should be in the rotation, too.
7. Texas Tech
-- Injuries were a problem last year for the Tech secondary, but Cody Davis and D.J. Johnson will hold down the traditional safety spots away from the line of scrimmage in new coordinator Chad Glasgow's 4-2-5. The unit gave up lots of big plays in 2010 (151 over 10 yards, 46 over 20, and 25 over 30, all the most in the Big 12), but I'd expect that number to drop under Glasgow if the secondary stays healthy. Davis is the team's leading returning tackler, with 87 stops. Brett Dewhurst and Giorgio Durham should be in the rotation.
8. Kansas
-- Keeston Terry and Bradley McDougald give Kansas a lot of speed and athletic ability at the position, but both of the team's safeties from 2010 graduated and Terry and McDougald are short on experience. Lubbock Smith should add some solid depth to the position.
9. Iowa State
-- Iowa State loses their top playmaker at the position, David Sims, but returns starter Ter'Ran Benton. He'll be helped out by some combination of Jacques Washington, Earl Brooks and Deon Broomfield once the season starts. Iowa State's biggest weakness is on the defensive line, so it's hard to get a good read on how good the safeties really are with such a poor pass rush up front.
10. Baylor
-- This group might move up the list during the year under Phil Bennett, but the two best raw athletes (Ahmad Dixon, Prince Kent) at the position moved to nickel back and linebacker, respectively. The team's leading tackler, Byron Landor, graduated, and that left Mike Hicks as the other starter. He'll be helped out at safety by Sam Holl, Josh Wilson and K.J. Morton. Last year, the Bears ranked last in the Big 12 in pass defense in conference play, giving up over 300 yards a game. That'll have to change or Baylor won't get past seven wins.
May, 20, 2011
5/20/11
8:46
AM CT
There's still lots of uncertainty, and that will continue until the results of Austin Box's autopsy are released, but more details surrounding the Oklahoma linebacker's death emerged in the 24 hours since it happened.
The Tulsa World, The Oklahoman and The Associated Press all brought new information to light.
El Reno Police Chief Ken Brown said officers and medics responded to a call at a house in the town about 30 miles west of Oklahoma City at about 9:25 a.m. concerning an unresponsive male "with unknown medical issues." Brown identified the man as Box and said he first was taken to an El Reno hospital, then transferred by air ambulance to Mercy Hospital in Oklahoma City.
You can
hear the 911 call on the Tulsa World's website
. The
police report
is also available.
Police are investigating whether drugs were involved in Box's death, based on comments made to police.
According to the police report, El Reno police officer Todd Ward said that upon arriving at the house, he made contact with John Cobble III, who had identified himself to an emergency dispatcher as J.T. Cobble, who is the son of Tom Cobble, who was Box's high school football coach in Enid.

Ward said in the report Cobble III was performing CPR on Box and that "Cobble told me when I entered the room Box was in he believed he had overdosed." On the police report, under the offense category "controlled dangerous substance" is listed, and Ward checked the "drugs" box under a category listing possible/probable motivation.
Oklahoma defensive coordinator Brent Venables
made a statement and spoke to media briefly
on Thursday night. The emotional
video can be found on Oklahoma's website
.
Sooners coach Bob Stoops is out of the country. Venables said on Thursday night that grief counseling is being made available 24/7.
"You can't plan for this," he said. "There's no blueprint for it. We just know that a young man was tragically taken from us today."
The Box family also released a statement through Mercy Health Center on Thursday afternoon.
"The Box family wishes to express their appreciation for the outpouring of sympathy from across the state," the family said. "We particularly want to thank the University of Oklahoma, the coaching staff and players for their kindness and support. Austin loved everything about Oklahoma -- the people, his hometown of Enid and his many close friends. Most of all, Austin loved his family and we loved him. We invite you to join us in celebrating his life."
May, 20, 2011
5/20/11
8:45
AM CT
Oklahoma defensive coordinator Brent Venables said linebacker Austin Box, who died on Thursday, "exemplified everything you want in a player."
Venables, the first Oklahoma official to publicly answer questions,
made a brief statement before answering questions
for several minutes on Thursday evening.
[+] Enlarge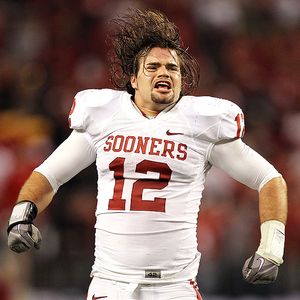 Ronald Martinez/Getty ImagesAustin Box was expected to be the Sooners' starting middle linebacker this fall as a senior.
"Every parent's worst nightmare is to get that call," he said. "We're numb, heartbroken."
Venables said the team had all been notified of Box's death.
"News travels fast, but you want to inform people the right way, the appropriate way," he said. "Guys got together rather quickly and did it the right way."
Box was found unresponsive at a home outside Oklahoma City on Thursday morning. Paramedics arrived, and he was eventually airlifted to a hospital in Oklahoma City, where he died.
An official at the Medical Examiner's office in Oklahoma City told ESPN.com that the cause of death would likely remain unknown until Friday at the earliest.
The 911 call was released on Thursday afternoon, in which Box's friend, J.T. Cobble, attempted to perform CPR.
"There's a guy who stayed with me last night and he's not responding to me," Cobble said when asked what was happening. "He takes pain pills and he's not responding to me."
Asked whether Box was breathing, he said, "I don't think so."
Venables said he "wouldn't be surprised" to see Oklahoma dedicate its season next fall to their former teammate.
"You talk about adversity, but he faced a lot," he said. "He fought his way out of it and got himself back in a place to contribute. That meant a lot to him, to not let his teammates down."
Box injured his elbow before coming to Oklahoma, injured his knee in 2008 and missed five games in 2010 after back surgery before the season began.
"He had a profound impact on the success we had," said Venables.
Oklahoma won its final five games in 2010 to win the Big 12 and the Fiesta Bowl.
"He stands for everything that's right about this program. He's made a ton of big plays, and was instrumental in what we did to finish the way we did," he said. "Without him, I'm not sure we would have finished the same way."
Box finished spring practice atop the depth chart at middle linebacker.
"He was one of the most selfless guys I've ever been around, a great leader for us," Venables said. "His greatest fear was to let down great coaches and great players … He wanted to live up to that in some way."
April, 14, 2011
4/14/11
9:26
AM CT
NORMAN, Okla. -- Texas' spring game was televised nationally by ESPN, one of a handful of teams invited to put their annual scrimmage on the air.
Oklahoma, the defending Big 12 champion, isn't among them. Don't expect that to change any time soon.
[+] Enlarge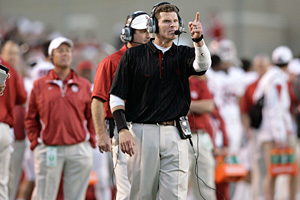 Brett Davis/US PresswireOklahoma defensive coordinator Brent Venables says he'll watch news conferences and coaches shows to see if opposing coaches give away any helpful information about their teams.
"I don't see the benefit," Oklahoma defensive coordinator Brent Venables said. "When it's all said and done, I think we're on TV as much if not more than anybody, and get plenty of exposure. I don't' think we need the added exposure. This is a time for our guys to continue to go out and improve on the little things."
Nebraska apparently shares a similar sentiment. The Big Ten Network wanted to air the Huskers' spring game, but Nebraska declined.
Venables doesn't like the idea of playing a dumbed-down defense or offense for the sake of not giving teams a summer to break down any new wrinkles, and the idea of being mic'd up live for the course of a game isn't too appealing, either.
"They're going to ask you questions and you try to give a little insight, but you try to be guarded," he said. "Guys will be listening, so why do you want to give somebody a competitive advantage?"
Think he's paranoid? Venables is only watching out for what he does himself.
"I'm lookin'. I'm lookin," he said. "There isn't anything that's earth-shattering, but it's like, in their own house, what's their perceived weakness? You know what I mean?"
He'll watch coaches' news conferences before games. He'll read a bit of what's going on around the league.
And teams with open practices?
"It's feast time," he said. "It's foolish not to look."
He won't watch tape of those practices, but he'll read practice reports and blogger observations looking for an edge.
"This guy's doing a lot of pre-snap motion and shifts? Oh? Well that's nice," he said. "Oh, they continued on third down and got it to 87? Oh…OOOOK. Just stuff like that. The backup center is having a hard time snapping the ball?"
Any of that sound familiar?
Maybe the pre-snap motion
or backup
centers having trouble snapping
the ball? It should.
By now, you're probably curious, but the only schools left in the Big 12 who leave spring and/or fall practices open to media and/or fans are Baylor, Missouri, Texas A&M and Texas Tech.
Texas, for all its spring game openness, rarely lets media into practice and kept it out for all but 30 minutes of their 15 spring workouts. Did Venables watch the Longhorns' spring game?
"I don't know if I did or not," he quipped.
Oklahoma, at most, opens up the first hour of one or two practices in the fall for fans and media. Those sessions will rarely include 11-on-11 work. During the season, no team allows media into more than warm-ups or stretching in the very early periods of practice. Some don't allow any access at all during the season.
"I'll watch coaches shows myself," Venables said. "There's time. That's what you do the last 20 minutes you're here before you turn the light out, for example. You're just looking for something extra that might help you."
It was a fascinating look inside Venables' mind, and something I, and I'm guessing most people, didn't know occurred. But for coaches like Venables, it could be tougher to be guarded in the future. Texas plans to launch its own 24-hour network in conjunction with ESPN in August. Oklahoma hopes to have its own network as well, but is still in the planning stages of making it a reality.
What happens if they're forced to host in-depth coaches' shows to fill 24 hours of programming?
"There's a lot to sell in our program, so it's a good opportunity to sell your program in a very positive way. Coaches shows, we do them now, whether it's on TV or not. So that's something to think about. We do a coach's show every day on
SoonerSports.com
, and that's a fabulous site in terms of interviews and coaching and teaching. That's as good as there is," he said. "If they want us to do them [on the new network], we'll do them. If they're not asking us to do them, we're not asking to do them."
Venables says there are "absolutely" coaches who give too much away about their teams in interviews, but balancing the line between insight and providing opponents too much access is a must.
"It's important," he said. "There is a delicate balance and it's our job to manage it the right way. You want to give insight, but don't make things easy for your opponents."