Dallas Colleges:

Brian Norwood
December, 31, 2013
12/31/13
1:00
PM CT
Thirteen years ago,
Levi Norwood
was the 8-year-old kid running around at Texas Tech football practice, the one hanging out with the other coaches' kids.
His father, Brian Norwood, was the first-year defensive backs coach on Mike Leach's first staff in Lubbock. Norwood had moved his family down to Texas after five years of coaching at Navy.
And Art Briles, well, he was the cool guy.
"All the kids loved Coach Briles because he had all the current music and he listened to a lot of R&B," Brian Norwood said. "He just got in his big truck and would blast R&B. The old-school stuff, Motown, a little bit of everything."
[+] Enlarge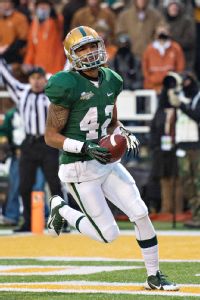 Jerome Miron/USA TODAY SportsLevi Norwood has six receiving touchdowns in his last five games for the Bears.
Levi was too young to remember much about Briles back then. All he knows is he's glad he plays for him today, as the breakout slot receiver in Baylor's No. 1 ranked offense.
He wouldn't be here today, a key cog in the Bears' dream 11-1 season, Big 12 championship and Tostitos Fiesta Bowl berth, if not for the bond his father formed with Briles back in 2000.
It took a serious leap of faith, too, to get the Norwoods to Waco, Texas.
Brian and his family had found plenty of happiness in Happy Valley. They spent seven years at Penn State after that one season at Texas Tech. They loved the community. He loved working for Joe Paterno. And his older son, Jordan Norwood, was one of the Nittany Lions' leading receivers. All in all, the Norwoods were thriving.
So why in the world would they give it up to go to Baylor? Why, in 2008, would Brian give up a good thing to join a program that hadn't surpassed five wins since 1995?
"When you talk about faith, it was literally what I call a God move," Brian said. "At Baylor, Coach Briles had given me this opportunity to be defensive coordinator and we really sat down and talked about teaming up and building something. That was really exciting."
Added Levi: "It was a leap of faith for anyone coming here. But if you know my dad, he's going to put all his faith into what he's doing. I don't think it was a very hard decision for him."
Mostly, Brian Norwood believed in Briles. They forged a strong bond in Lubbock, both on the practice field and the recruiting trail. And especially in the weight room, where they often lifted together.
"It was sort of competitive, because Briles is competitive at everything," Brian said. "I mean, I never did power cleans since I probably finished college. Art is doing all these other lifts and I'm thinking, 'What in the world?'"
When Briles was head coach at Houston, he tried to hire Norwood. The timing didn't work out. He tried again when he arrived in Waco, landing his old friend to serve as defensive coordinator for three years before bringing in Phil Bennett.
Briles sold Norwood on his vision. Briles earnestly and honestly believed he could bring a winning mentality to the Bears. He was passionate about the opportunity to change a woebegone program into a winner. Norwood bought in.
"It ended up being a great move for me and my family," Brian said. "We did have challenges with it, but definitely a good move."
And Levi eventually bought in, too. He wasn't thrilled about moving to Waco and originally signed with Penn State out of high school in 2010. He changed his mind three months later and went to Baylor.
After starting seven games for Baylor as a sophomore, Norwood has enjoyed his big break this season. He has accounted for 1,134 all-purpose yards as a receiver and returner, is No. 2 on the team in receptions with 43 for 670 yards and has scored nine touchdowns, including two on punt returns.
When speedster
Tevin Reese
went down, Norwood stepped up and kept the Bears' offense rolling. Norwood is proud of that, but more proud of the milestones this program achieved.
"It's awesome to see the change that's happening from where it was, even from last year," he said. "It's all exciting and really gets you motivated."
He's looking forward to visiting Penn State again and already has a trip planned for after the bowl game. He still calls the college town home. But he's glad his family found a new home in Waco.
"It was a huge blessing," he said. "I wasn't looking forward to it really at all. Looking back at where I am today, it's definitely been a blessing and a decision I appreciate."
November, 19, 2013
11/19/13
10:00
AM CT
WACO, Texas -- While
Levi Norwood
outran Texas Tech defenders on Saturday, his proud father sat back and, when he wasn't busy doing his job, made sure to savor the scene.
Brian Norwood watched from the coaches' box at AT&T Stadium. The night was all too perfect for the Baylor associate head coach, like one of those sunsets from back home.
"It's like you're looking at the ocean in Hawaii," he said. "Sometimes, you just sit back and take it all in."
[+] Enlarge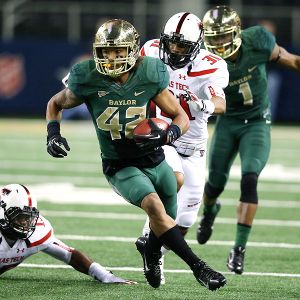 Matthew Emmons/USA TODAY SportsBaylor's Levi Norwood has always made big plays as a punt returner, but now he's also making them as a wide receiver for the Bears.
The message he delivered to his son after Baylor's 63-34 win over the Red Raiders was simple as usual: "Good job. Good game. That was a lot of fun."
For Levi, the fun might be just beginning. The fourth-year junior receiver and returner has quietly emerged as one of the Bears' biggest weapons. And like his punt returns, Norwood's journey to that big night against Tech has had twists and turns. You get used to that as a coach's kid.
He grew up in a household of wall-to-wall competition, and his older brothers held Levi to a high standard from the start. Gabe Norwood was on George Mason's 2005-06 Final Four team and plays pro basketball in the Philippines.
Jordan Norwood
finished as the No. 3 receiver in Penn State history and played in the NFL. Levi always wanted to beat them.
"Oh yeah, goodness yeah, it was always a little brother thing," Brian Norwood said.
And now Levi is making a name for himself for No. 4 Baylor, in an offense that needed someone to step up after losing
Tevin Reese
for the season. He had a career day against Texas Tech, with seven catches for 156 yards, touchdowns of 40 and 58 yards and a 48-yard punt return for a score that swung the game early.
"It feels really good," Levi said. "For the receivers, really we wanted to all step up and be able to do something special for Tevin."
In the locker room, his father reminded him to call his nana and granddaddy, the relatives and everyone else they consider family. They're spread out over Hawaii, Maryland, Virginia, Pennsylvania and plenty other places.
Growing up, Levi got used to moving. Brian, a native of Honolulu, had coaching stints at Arizona, Richmond, Navy and Texas Tech before spending seven years at Penn State. His son wasn't caught by surprise when, after the 2007 season, Brian agreed to become Baylor's defensive coordinator and reunite with Art Briles, whom he'd coached with at Tech and trusted.
Levi wasn't thrilled about uprooting and leaving his high school in State College, but he does remember being excited about the opportunity at first. Then he arrived in Waco.
"I got down here and the food was different, the people were different, the weather was different, the landscape -- there's no mountains or hills here," he said. "Everything was different. It took a couple years for me to adjust."
He didn't particularly want to stay. Norwood signed with Penn State in Feb. 2010 after his senior season at Waco Midway. Three months later, he had a change of heart. Penn State agreed to release Norwood from his scholarship so he could stay home and attend Baylor.
"I really just had a peace about staying here," he said. "The chaplain here, Wes Yeary, he didn't ever really say much but he had an influence on me, just talking to him and knowing how I could grow my faith here at Baylor. That was bigger than football, bigger than family. That was more important to me than going up to Penn State."
"

Levi is slippery. Extremely slippery. Its fun watching him because he can do so many things after he gets the ball.

"

-- Baylor QB Bryce Petty
If that meant sitting behind future NFL receivers
Kendall Wright
,
Terrance Williams
, Lanear Sampson and Reese, so be it. Norwood did catch 40 passes in 2012, but he's known more for the niche he carved out returning kicks.
"I think his versatility is the key word, without question," Baylor coach Art Briles said. "Here's a guy who returns kicks and punts, and returning punts is one of the hardest jobs on the field. It takes a special person to be able to do that on a consistent level."
Until this season, though, he'd never returned one for a score. He's done so twice as a junior, against Iowa State and Tech, and both runbacks have been eerily similar. Norwood gets trapped by oncoming defenders, stops, makes one miss, finds his crease and he's off to the races.
"Levi is slippery. Extremely slippery," quarterback
Bryce Petty
said. "It's fun watching him because he can do so many things after he gets the ball."
And after he gets to the end zone, Norwood likes to throw up a jump shot with the football. That's a tribute to the 2010-11 season he spent as a reserve on the Bears' basketball team. Basketball was always his first love.
As a coach and as a father, Brian Norwood loved every minute of his son's big game on Saturday, and he admits he did a fist pump or two in the box before shifting his focus back to the safeties he oversees. In fact, at one point he lost count of how many times Levi had scored. He was too caught up in the game.
In the days since, Brian has watched the 48-yard punt return touchdown more than few times. His son can't explain what made that run look so easy.
"I guess it's just instinct," Levi Norwood said. "I don't know how or why I'm good at doing that."
After years of playing a supporting role for Baylor, Norwood's experience with changing directions is finally paying off.