Dallas Colleges:

Bud Wilkinson
September, 26, 2013
9/26/13
11:30
AM CT
Oklahoma has never shied away from playing college football's preeminent programs. And against every one of those programs, the Sooners have held their own.
Every program but the one the Sooners will face Saturday.
All-time, Oklahoma owns more wins than losses against Texas since the 1940s; is 45-38-3 against Nebraska; and holds a winning or even mark against the likes of Alabama, Florida State, LSU, Michigan, Ohio State, Oregon, Penn State and Tennessee.
No program, however, has gotten the better of the Sooners like Notre Dame, which is 9-1 in the series.
Not only did the Fighting Irish end Oklahoma's famed 47-game winning streak in 1957, they were the last to defeat the Sooners before the streak began.
[+] Enlarge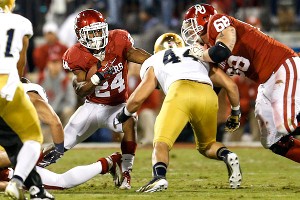 Cal Sport Media via AP ImagesLast season's 30-13 loss was the latest for Oklahoma against Notre Dame in what has been one of the few one-sided rivalries for the Sooners.
And not only did Notre Dame beat Bob Stoops in his first season with the Sooners, the Irish knocked Oklahoma out of the national title conversation for good last season with a 30-13 win in Norman.
Luck of the Irish or something else?
"It's pretty simple to me," said legendary Sooners head coach Barry Switzer, who only faced Notre Dame as an offensive coordinator.
"We've always caught them at the wrong time."
Timing has rarely favored the Sooners when it's come to beating Notre Dame.
Oklahoma faced the Irish four times in the '60s, just between the Bud Wilkinson and Switzer eras. Notre Dame also caught the Sooners twice before the Wilkinson dynasty had fully formed.
Then again, timing hasn't always been the issue.
Oklahoma was a heavy favorite last season.
And an even heavier favorite in 1957.
The impetus for the series dates back to Wilkinson's friendship with Notre Dame coach Frank Leahy. Under Leahy, the Irish had won four national championships during the 1940s to solidify their status as college football's predominant program.
Wilkinson, who took over in 1947, wanted a benchmark for his program. So he scheduled Leahy and the Irish.
In 1952, the budding Sooners played the Irish tough in their first ever meeting, falling 27-21 in South Bend. Oklahoma gave Notre Dame another scare the following year, but lost again 28-21 in Norman.
By then, however, Wilkinson had built the Sooners into a powerhouse on equal footing with the Irish. And that would be the last game Oklahoma would lose to anyone for a long time. In 1956, the Sooners routed Heisman winner Paul Hornung and Notre Dame 40-0 in South Bend on the way to a third national title.
That, however, remains Oklahoma's lone victory in the series.
The following year, the Sooners ran their winning streak up to 47 games heading into a rematch with the unranked Irish, who had gone 2-8 the previous season.
"We had been winning handily, had a great team," said Bill Krisher, an All-American guard for the Sooners in 1957. "When you win that many in a row, you can become a little complacent. And we were the team they really wanted to beat, no matter what."
The Sooners did come out complacent. And in the final minutes, Notre Dame halfback Dick Lynch took a pitch, followed fullback Nick Pietrosante's block and on fourth-and-goal from the Oklahoma 3-yard line broke a scoreless tie with the game-winning touchdown.
The Irish have been dominating the series ever since.
"They really have been the spoiler for us," Krisher said. "Those are just the facts."
The Irish spoiled the Sooners' season in 1966, as well. In Switzer's first year as Oklahoma's offensive coordinator, the Sooners were unbeaten and coming off their first win over Texas in eight years.
But Notre Dame, ranked No. 1, crushed Oklahoma in Norman 38-0 -- a beating the Sooners never recovered from, as they fell into a tailspin the rest of the season.
"We weren't as talented," Switzer said. "They were the better team."
Two years later in South Bend, Notre Dame again dominated the Sooners, who were still in rebuilding mode.
"Most of the time, they've had great teams when we've played them," said Ken Mendenhall, an All-American center for the Sooners in the late 1960s. "And when we've had great teams, we haven't played them."
Indeed, Switzer led the Sooners to national titles in 1974, '75 and '85 but never once faced the Irish as a head coach.
The series was renewed in 1999. But again, Oklahoma was rebuilding in Stoops' first year. The Sooners actually led in South Bend in the second half, but Notre Dame rallied and won 34-30.
"If they had played two years later, you think Notre Dame would have still won?" Mendenhall said. "Look at Switzer's great teams. Had Notre Dame been scheduled during those years, OU would have hung half a hundred on them."
The timing, however, seemed to be right last year. The Sooners, buoyed by a stomping of Texas, soared into their ESPN "College GameDay" showdown in Norman with Notre Dame as better-than-touchdown favorites.
Instead, Notre Dame controlled the line of scrimmage, then once again won the fourth quarter to win the game.
"I thought for sure we'd get that one," said Krisher, who was in the stands. "But we didn't. The luck of the Irish beat us again."
The Sooners have another chance this weekend to conquer the luck of the Irish. And overcome the one program they haven't been able to yet.
March, 28, 2013
3/28/13
11:27
AM CT
Roughly 90 percent of college football programs would be thrilled to win 10 games in a season. Oklahoma is not one of those programs.
Sharing a Big 12 title? That trophy is a whole lot less satisfying when there are seven others waiting in the trophy case since 2000 that weren't shared with anybody.
"Our expectations are different than everybody else. Everybody's not Oklahoma," defensive coordinator Mike Stoops said. "When you have Oklahoma across your chest, you expect to win championships, and that's never going to change here."
He knows firsthand. Stoops helped his brother, coach Bob Stoops, win Oklahoma's seventh national title back in 2000, and the Sooners came up short two more times, once losing in the title game with Mike Stoops in 2003 and again a year later with Stoops coaching at Arizona. Without him coordinating the defense, the Sooners gave up 55 points to USC, more points than any team has ever scored in the BCS National Championship Game.
Arizona fired Mike Stoops six games into the 2011 season, and the Sooners' struggling defense needed an offseason jolt, despite winning 10 games that same season. Mike Stoops returned and brought assistant Tim Kish with him to coach linebackers and help coordinate the defense.
"Sometimes change is good, new ideas are good always, and change is good sometimes," Mike Stoops said. "That happens for whatever reason, and whether it's complacency or just being stagnant, those things occur. Just trying to reinvent ourselves is something we need to do."
In 2012, there were more late-season defensive struggles after a strong start, but yet again, a 10-win season and a shared Big 12 title weren't enough. Losing three games isn't good enough, and nobody wants to hear that all three losses came to teams that spent time in the top five last season. The Sooners want to get back to competing for national titles, and Bob Stoops went the route of coaching changes to help get Oklahoma back there.
Assistant coaches Jackie Shipp and Bruce Kittle were shown the door, along with offensive line coach James Patton. The Sooners scooped up Bill Bedenbaugh from West Virginia to replace Patton and brought in Jerry Montgomery from Michigan to coach the defensive line. Jay Boulware filled Kittle's spot on the staff after coaching tight ends at Auburn. The Sooners' reboot was complete, and they're working toward results in the spring.
"[They bring] a new perspective in some areas, new ideas. They're not drastic changes," Mike Stoops said. "Obviously, the coaches we had in here were involved and knew our systems well, but there's always little changes in technique and little things schematically that can help you, so we're always looking for fresh ideas."
Ten wins tastes bitter when you're used to winning 11 or 12, which can be the difference between proving yourself as a very good team and a great team. Oklahoma won at least 12 games six times since 2000 and 11 games on three more occasions. Ten wins isn't good enough, and a few former players and one famed coach were more than willing to speak up about it, echoing fan concerns.
Barry Switzer started it in September when he told one local paper that the Sooners "just don't have the talent."
"We're not as good as we have been," Switzer said. "We don't have the Tommie Harrises or Gerald McCoys squatting down there in the middle [of the defensive line]."
Offensive lineman Jammal Brown, an All-American who played in Norman from 2000 to '04, said he was "mad as hell" about the Sooners' 28-point Cotton Bowl loss to Texas A&M to cap the 10-win season, calling the Sooners "soft." CBS analyst Spencer Tillman, a Sooners running back in the '80s, said Oklahoma lost concentration on what made the program great in the first place.
Considering the Sooners let Shipp go at the end of the season, it's hard to believe Bob Stoops didn't agree in part with what Switzer had to say. As for the rest of it?
"We may not be as skilled at some of the positions as we want to be, but our toughness and pride is what made Oklahoma what it is, whether it was Bud Wilkinson or Barry Switzer or Bob Stoops, I think that's the common thread that goes to being a great team," Mike Stoops said.
"Some of those, from the outside, may have felt like we didn't have that common thread between us. I never felt that; I always thought our teams played hard and together. They're certainly entitled to their opinions, you know. We've got to look at ourselves, and if it's true, we need to change it. The things we needed to change, we're working on changing, and nobody knows our program like we do.
"There's areas we certainly need to get better at, and we're aware of those. Some of those take time. Some of those take adjustments each day to get better."
The Sooners lose a four-year starter at quarterback in
Landry Jones
from last year's team, along with seven starters from Mike Stoops' defense. The task of winning more than 10 games seems difficult in a Big 12 that's deeper than it has ever been.
"We just need to get better, again, individually and schematically and play better across the board and come up with better ideas and a better scheme. We're not far off when you look at the big picture," Mike Stoops said. "We had a chance to win 12 games, we lost them all late in the game and down the stretch and didn't make the plays we needed to, but again, we're not that far off."
November, 9, 2012
11/09/12
10:28
AM CT
Time for another round of fun facts and tidbits about this weekend's games. As always, these come courtesy of our fantastic Stats & Information crew at ESPN, as well as various sports information departments across the Big 12.
We love you. You make your readers the smartest folks at their tailgates. Let's get to the facts!
Did you know...
Kansas State now officially ranks first or tied for first in FBS in penalties per game, turnover margin, points off turnovers and average starting field position.
The Wildcats have scored 111 points off turnovers and surrendered zero.
TCU ranks second nationally in average starting position. Its drives start at an average of its own 38-yard line.
Kansas State ranks in the top three in FBS in both kick-return average (30.0 yards per return) and punt-return average (24.9).
TCU quarterback Trevone Boykin is 11-of-33 on throws longer than 20 yards since becoming the team's starter.
Boykin hasn't completed more than 50 percent of those throws in any game this season.
Kansas State quarterback Collin Klein has completed more than 50 percent of his throws longer than 20 yards in four consecutive games this season, and six overall.
Before leaving the team, TCU quarterback Casey Pachall was 9-of-14 on throws longer than 20 yards.
Klein averaged 24.4 carries a game last year. This year, he's down to 15.4 carries a game.
Klein is averaging more than a full yard more per carry than he did last year. He's averaging 5.0 yards a carry this year, vs. 3.6 in 2011.
Klein has accounted for 65.1 percent of Kansas State's offense this season.
Klein has run the ball 66 times the past season and a half in goal-to-go situations. He's scored touchdowns on 33 of those carries, the best mark in the FBS.
Baylor receiver Terrance Williams leads the nation with 24 catches longer than 20 yards this season, and 10 catches longer than 40 yards.
Baylor WR Tevin Reese is fourth nationally with seven catches of at least 40 yards.
Against Iowa State, Oklahoma quarterback Landry Jones completed six passes longer than 20 yards, and four for touchdowns. Both of those were career highs.
Before that game, Jones had just 10 such completions for two touchdowns all season.
In the past two seasons, Jones has ranked in the FBS top five in completions longer than 30 yards.
This season, Jones has 12 completions longer than 30 yards -- 49th in the FBS.
Texas has scored 46 touchdowns on offense in nine games this year. It scored 40 in 2011.
Texas' 91 missed tackles are now 18 more than any other Big 12 team.
Kansas has 13 drives this season with at least 10 plays that did not result in points. No other FBS team has more.
Texas Tech has 1,537 yards after catch, third most among AQ schools.
Seth Doege has 21 touchdowns inside the red zone, the most in FBS.
Oklahoma State has a touchdown drive of 2 minutes or less in 35 consecutive games.
The Big 12's cumulative averages for punt returns (12.95) and kick returns (22.94) lead the nation.
35.8 percent of the Big 12's touchdown drives this season have taken five plays or fewer and covered at least 50 yards.
Iowa State has only lost three games under Paul Rhoads when it wins the turnover battle. Oklahoma has two of those wins.
Chris Canty against Akron in 1995 was the last K-State cornerback with three interceptions in a single game until Allen Chapman duplicated the feat against Oklahoma State last week.
Bob Stoops can pass Bud Wilkinson on the all-time wins list this week. He's 12 wins short of tying Barry Switzer for the school record.
Since 2004, Oklahoma is 20-0 following a loss.
Oklahoma State receiver Charlie Moore has caught a touchdown in four consecutive games.
TCU cornerback Jason Verrett already has five interceptions this season. No TCU player has done that since 2005.
Texas Tech has played five consecutive ranked opponents. This week, it gets Kansas.
West Virginia's last overtime game before last week came against Connecticut on Oct. 29, 2010. It lost, 16-13.
May, 17, 2011
5/17/11
11:15
AM CT
Clendon Thomas was part of the longest winning streak in college football history.

Now, he's a part of the College Football Hall of Fame.

Thomas, a halfback, led Oklahoma in scoring in the 1956 and 1957 seasons, part of legendary Sooners coach Bud Wilkinson's 47-game winning streak.

He was an all-conference selection in 1956 and 1957, and as a senior, was a consensus All-American who finished ninth in the Heisman Trophy voting.

As part of Wilkinson's teams' winning streak, Thomas helped the Sooners win two national titles.

He was selected in the second round of the 1958 NFL draft and played for 11 years as a member of the Los Angeles Rams and Pittsburgh Steelers.

He scored nine touchdowns in 1957 and set the three-year scoring record for the Sooners.

At Oklahoma, he also played defensive back and intercepted a Paul Hornung pass, returning it for a touchdown.

Thomas, 75, is also a member of the Steelers Legends team.