Dallas Colleges:

Cam Cameron
September, 8, 2013
9/08/13
2:43
PM CT
Here are five things we learned on another crazy Saturday in the SEC:
East should be wild:
Just as we all expected, Georgia, Florida and South Carolina each have a loss after all of two weeks. Georgia jumped into the division lead with its 41-30 win against South Carolina on Saturday, but the division's power trio all figure to hang around throughout the fall. They all have demonstrated glaring weaknesses that make a second loss possible for each of them -- and even if Georgia has the lead now, it also faces perhaps the most difficult league schedule of the three expected front-runners. It should be yet another memorable race in the East.
Pay attention, Tide:
Johnny Manziel
certainly looked like a Heisman Trophy contender in passing for 403 yards and three touchdowns and rushing for another in Texas A&M's 65-28 thrashing of FCS squad Sam Houston State. But the Aggies' porous defense has to be a major concern for Kevin Sumlin, with Alabama's stable of running backs on tap next week. Sam Houston's
Timothy Flanders
rushed for 170 yards and scored three touchdowns against A&M's depleted defense. Several Aggies defenders should be back from suspensions next week against Alabama, which should help. But after allowing 450 yards per game in the first two games, the Aggies will have to get a lot better in a week's time.
[+] Enlarge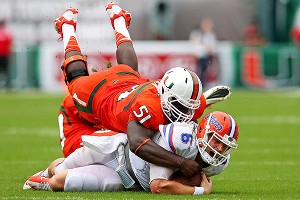 Mike Ehrmann/Getty ImagesJeff Driskel and the Gators offense struggled in a 21-16 loss to Miami on Saturday.
More of the same at Florida:
Jeff Driskel
and Florida's offense still appear to be the middling bunch they were in 2012. In Saturday's 21-16 loss at Miami, Driskel passed for a career-high 291 yards, but the Gators turned it over four times inside the Miami 20 in another bumbling performance. Florida's defense surrendered just 212 yards and 10 first downs, but the offense still hasn't found consistent playmakers, and that was clearly evident Saturday.
Mettenberger for Heisman:
It looks like the offseason talk about LSU making better use of
Zach Mettenberger
's powerful right arm under new offensive coordinator Cam Cameron was no joke. Mettenberger set a new school record with five touchdown passes in Saturday's 56-17 win against UAB. After passing for 282 yards against UAB -- with
Odell Beckham Jr.
grabbing five balls for 136 yards and three scores -- and 251 last week against TCU, Mettenberger has eclipsed the 250-yard mark in both of the first two games. He did so only three times last season.
Welcome back:
Through two weeks, seven SEC programs are off to a 2-0 start. Included in that bunch are four of the five teams that failed to reach a bowl game last season: Auburn, Missouri, Tennessee and Arkansas. Enjoy it while it lasts, though, guys. Tennessee faces Oregon and Florida in the next two games. Auburn gets Mississippi State and LSU in the next two weeks. Arkansas draws Texas A&M, Florida, South Carolina and Alabama in a four-week stretch before long. And Missouri faces Vanderbilt, Georgia, Florida and South Carolina in October alone. In other words, the road's going to get bumpy soon once they jump into conference play, and they can't feast on the Samfords, Arkansas States and Toledos of the college football world.
June, 22, 2013
6/22/13
12:30
PM CT
In keeping with the theme of peering into our crystal balls to see what's in store for the future of college football, it's time to look at how all 14 SEC teams will do over the next few years.
To come up with our future rankings, we looked at coaching, current players, depth, recruiting and the current state of each program.
It was a very tough process, but someone had to do it. This shouldn't cause much of a stir at all:

1. Alabama:
So Alabama is equipped with the sport's best coach, has some of the best facilities in the country and is still recruiting better than anyone else? Yeah, I think Alabama will be just fine over the next few years and will continue to look down at the rest of the SEC. It'll be interesting to see what happens when
AJ McCarron
leaves, but Nick Saban might have his quarterback of the future in David Cornwell and appears to have plenty to work with on both sides of the ball for years to come.

2. LSU:
The Tigers will always be able to recruit with the best of them. Les Miles has a strong group of younger players, and many will get some valuable time this fall, especially on defense. With John Chavis around, LSU's defense will be fine. It's the offense that people wonder about. But the addition of Cam Cameron as offensive coordinator should definitely help. The plan is to become more explosive in the passing game, and a good start in 2013 would go a long way toward securing more passing deep threats.

3. Florida:
Will Muschamp has seen both the good and bad during his two years with the Gators, but he's building his program the right way. Florida could miss out on another trip to the SEC championship game this year, but the Gators are built for the long run with the recruiting job Muschamp has done. He has a handful of young offensive players already on campus to build around and appears to have his quarterback of the future -- 2014 recruit Will Grier. Florida's future on defense looks extremely bright as well with the foundation being built up front.

4. Texas A&M:
Johnny Manziel
will soon be gone, but Kevin Sumlin has done a great job of recruiting since his arrival in College Station. As long he's around, the Aggies should be fine. Last year, he brought in highly touted pass-catchers Ricky Seals-Jones and Sebastian LaRue. Both could see good time this year and will eventually help Manziel's replacement, who could be 2014 commit Kyle Allen. There are some holes to fill this year, but the good news is that a lot of younger players will get valuable experience, which will only make this team stronger in the years to come.

5. Georgia:
Like the top SEC teams, Georgia won't have any trouble recruiting over the next few years. It's all about development and breaking through in the big games. Mark Richt doesn't always get the credit he deserves, but he's made back-to-back SEC championships. The Bulldogs are young on defense, but that won't matter over the next couple of years, as those players get all those game reps. The future of the offense looks bright with the players signed this year and how the 2014 class is shaping up.

6. South Carolina:
As long as Steve Spurrier is around, the Gamecocks will compete for an SEC East title. South Carolina has held its own in the recruiting world since Spurrier arrived, and while it's going to get tougher with schools like Kentucky, Tennessee and Vanderbilt recruiting at a much higher level these days, don't expect Spurrier to miss much of a beat. It helps that the Gamecocks have a good base of young players to work with now.

7. Ole Miss:
Hugh Freeze has totally changed the perception of this program, and he's recruiting like no other Rebels coach in recent history has. Ole Miss has depth issues, but that historic 2013 recruiting class will be the foundation of Freeze's first few years in Oxford. If it lives up to the hype, watch out. Ole Miss surprised many with its play last year, and expect that to improve as the talent continues to roll in thanks to Freeze's recruiting efforts.

8. Auburn:
Gus Malzahn hopes to have the right recipe for turning Auburn around. He was around when the Tigers won the national championship in 2010, and the hope is that his spread offense rejuvenates a team that took too many steps backward last year. He has his type of players on his roster now, and after closing strong on the recruiting front with his first class, Malzahn isn't missing a beat this year. He'll make sure the Tigers are more competitive in the SEC West.

9. Vanderbilt:
James Franklin has done a tremendous job transforming pretty much everything at Vandy, and he doesn't look like he's going to stop any time soon. The Commodores are recruiting at a very high level, and this team is looking for more than just bowl victories. The Commodores want an SEC title, and Franklin believes he can get his team there. If that attitude remains and the recruiting momentum keeps chugging along, the Commodores will stay around the eight- or nine-win mark.

10. Tennessee:
There's no question that Butch Jones has brought much more excitement to Knoxville since his arrival -- and he hasn't even coached a game yet. The Vols aren't built to win the SEC East right now, but if Jones can keep his current 2014 class intact, Tennessee will have a great foundation to work with. But we've seen that before with the Vols. This new staff has to make sure it's developing all that talent the right way as well.

11. Arkansas:
The success that Bret Bielema had at Wisconsin has Arkansas' fan base extremely excited about the future. Right now, he just doesn't have the players he needs to compete at the high level that he wants to. Bielema did a good job of closing his first class with the types of players he wants in order to have the big, physical team he wants. It'll be tough enough competing in the West, which will only get stronger, so Bielema has to make sure that his recruiting efforts improve and that he builds more evenly on both sides of the ball.

12. Mississippi State:
There's no question that Dan Mullen has done a great job during his time at Mississippi State, but the emergence of Ole Miss could hold the Bulldogs back when it comes to recruiting. The best players in and around Mississippi are now more interested in the Rebels, which certainly doesn't help. The Bulldogs also have to play much better in big games. Last year, Mississippi State waltzed through a very soft nonconference slate before ending the season with a 1-5 record, including four losses to ranked teams.

13. Kentucky:
Mark Stoops has one of the country's best recruiting classes, which bodes well for the future of this program. But can this staff develop this talent once it arrives? That's yet to be seen, as Stoops hasn't even coached a game at his new school. The good news is that the Wildcats will be built on a more defensive foundation. We know how important that is, but Kentucky is behind most of its conference counterparts when it comes to immediate talent as a whole.

14. Missouri:
We learned last year that the Tigers just weren't properly built to immediately compete in the SEC. Sure, injuries really hurt this team, but Mizzou has to get tougher all around and bigger up front if it wants to really compete in the SEC. It also has to start recruiting at a much higher level. With Kentucky, Tennessee and Vanderbilt currently outpacing Mizzou on the recruiting trail, the Tigers have a lot of ground to make up. And they have to start getting more SEC-ready players or they'll dig themselves into a deeper hole.
February, 26, 2013
2/26/13
10:30
AM CT
Here are a few storylines to watch this spring in the Western Division. Edward took a look at the Eastern Division on Monday.
ALABAMA CRIMSON TIDE

Start date:
March 16
Spring game:
April 20
What to watch:
Battling complacency: Alabama is gearing up for yet another title defense. Will complacency finally rear its ugly head? Not if Nick Saban has anything to do with it. The head coach will no doubt remind players of the targets on their backs and what little they've accomplished as presently constituted.
Opening up the passing game: The return of AJ McCarron, coupled with a talented, deep crop of receivers, could mean a more wide-open passing game in Tuscaloosa. If true freshman tight end O.J. Howard develops as some expect, the offense could become even more dynamic.
Offensive line makeover: Barrett Jones, Chance Warmack and D.J. Fluker are gone. And with them the best offensive line in college football has vanished. Veterans Cyrus Kouandjio and Anthony Steen return, but few experienced players are waiting in the wings for Alabama.
-- Alex Scarborough, TideNation
ARKANSAS RAZORBACKS

Start date:
March 10
Spring game:
April 20
What to watch:
Bielema's stamp: They won't remember 2012 very fondly in Arkansas. It started with Bobby Petrino's embarrassing ouster last spring and ended with a forgettable 4-8 season. The Hogs are starting all over with Bret Bielema, who led Wisconsin to three straight Rose Bowl appearances. This spring will be Bielema's first real chance to put his stamp on the program and introduce the Hogs to his brand of power football.
Offensive overhaul: Bielema was known at Wisconsin for running the football behind big, physical offensive lines. His offensive coordinator, Jim Chaney, has more of a passing pedigree. It will be interesting to see how it all comes together offensively for the Hogs, who are losing their top passer, top two rushers and top three receivers from last season. Brandon Allen and Brandon Mitchell will vie for the starting quarterback job.
Defense takes the lead: The Hogs won under Petrino thanks to their high-scoring offense, and at times, in spite of their defense. But in 2013, the defense may have to carry a lot more of the load. First-year coordinator Chris Ash inherits a veteran front, some young talent at linebacker and a secondary that also should be much improved. It's a unit that will need to mesh quickly, and that starts this spring.
AUBURN TIGERS

Start date:
March 27
Spring game:
April 20
What to watch:
Malzahn's back: Gus Malzahn returns to the Plains as head coach, which means this spring will be critical in re-installing his hurry-up, no-huddle offense. The first task will be finding a quarterback. Kiehl Frazier struggled last season, but was handpicked by Malzahn when Malzahn was at Auburn the first time. The Tigers need to rediscover their passing game after finishing with eight touchdown passes and 15 interceptions a year ago.
Power running game: Tre Mason was a pleasant surprise last season for the Tigers and rushed for 1,002 yards. With heralded junior college newcomer Cameron Artis-Payne on campus and set to go through spring practice, Auburn would like to establish him as that power back with size and speed to serve as a complement to Mason.
Getting defensive: Veteran defensive coordinator Ellis Johnson looks to revive an Auburn defense that has fallen on hard times each of the past two seasons and will put in his 4-2-5 scheme this spring. The key will be finding players who fit. The Tigers will have 18 defensive linemen on the roster in the fall and aren't lacking for talent. Kris Frost could be a fit for that hybrid linebacker/safety spot in Johnson's defense.
LSU TIGERS

Start date:
March 14
Spring game:
April 20
What to watch:
Cam's influence: When you think of LSU, you think of defense, special teams, defense, a quirky coach and defense. Never offense. Cam Cameron, most recently of the Baltimore Ravens, has been brought in as the new offensive coordinator to try to jump-start an offense that sometimes sputters, especially in big games. We won't really have any answers until this fall, but will we see signs of offensive progress in the spring?
Rebuilding the front: LSU lost all four starters from its vaunted defensive line, plus middle linebacker Kevin Minter. Can defensive coordinator John Chavis find playmakers up front ... or a new leader at middle linebacker?
Anchoring the line: Some were surprised to see left tackle Chris Faulk leave for the NFL after missing all but one game with a knee injury. It happened, and LSU has a question mark in what was otherwise a solid returning offensive line and offense in general. Who will fill the void? It could be left guard La'el Collins. If so, who plays left guard? The offensive line will be an interesting puzzle for Cameron.
-- Gary Laney, GeauxTigerNation
MISSISSIPPI STATE BULLDOGS

Start date:
March 21
Spring game:
April 20
What to watch:
Catching on: Quarterback Tyler Russell made tremendous strides last season and set school records with 2,897 passing yards and 24 touchdowns, but all of his top receiving targets are gone. This is a big spring for sophomore Joe Morrow, who was impressive last spring, but didn't do much during the season. Junior Robert Johnson and junior college newcomer Jeremey Chappelle will also figure prominently in the rotation.
More pressure: Mississippi State didn't get much pressure on the quarterback last season and also finished 11th in the SEC against the run. Tackle Josh Boyd is gone, which means the door is wide open for sophomores Quay Evans and Nick James to make moves after playing as true freshmen a year ago. The Bulldogs also need more production from senior end Denico Autry.
Secondary makeover: The Bulldogs are losing three starters in their secondary, including Jim Thorpe Award winner Johnthan Banks at cornerback. There will be some serious competition for spots this spring. Somebody to watch is junior college newcomer Justin Cox, who may be an immediate starter at cornerback. He's one of the fastest players on the team.
OLE MISS REBELS

Start date:
March 17
Spring game:
April 13
What to watch:
Brunetti's chance: Starting quarterback Bo Wallace will miss the spring while recovering from clavicle surgery. That means Barry Brunetti will get most of the first-team reps. He needs to become a better quarterback and give the coaches confidence that he can be the guy if something should happen to Wallace. Right now, he's more of a runner playing quarterback. He's a good enough athlete that he could play elsewhere on offense in the fall.
Lining up: The Rebels' defensive line has big-time potential, especially with the arrival of coveted defensive end signee Robert Nkemdiche this summer. But this spring, sophomore end Channing Ward and sophomore tackle Issac Gross will be under the spotlight. Gross is trying to beef up, and the Rebels would like to see him around 285 pounds after he played at 265 last season. Also, junior college newcomer Lavon Hooks will get a chance to show what he can do at tackle.
Shackelford's return: D.T. Shackelford hasn't played in two seasons after undergoing multiple surgeries on his right knee, but he's raring to go this spring and should be 100 percent healthy. Not only does Shackelford give the Rebels another experienced linebacker, but he's one of the strongest leaders on the team. Just having him back on the practice field should do wonders for the Ole Miss defense.
TEXAS A&M AGGIES

Start date:
March 2
Spring game:
April 13
What to watch:
Who's Manziel throwing to?: Three of the four starters at receiver from the Aggies' 2012 team were seniors, so they're gone now, including Ryan Swope. Mike Evans, who had a sensational redshirt freshman season, is back, but who is going to surround him as targets for Johnny Football?
Thunder and lightning: Two running backs -- Brandon Williams (transfer from Oklahoma) and Tra Carson (transfer from Oregon) will join starter Ben Malena and young Trey Williams in the backfield after sitting out last season per transfer rules. Carson brings heft (230-240 pounds), while Williams, who is nicknamed "Slim," could be a game-breaker.
New coaches: Running backs coach Clarence McKinney has been promoted to offensive coordinator and will call the plays, succeeding Kliff Kingsbury in that role. The Aggies also welcome a new quarterbacks coach (Jake Spavital from West Virginia), linebackers coach (Mark Hagen from Indiana) and special-teams coordinator (Jeff Banks from UTEP).
-- Sam Khan Jr., GigEmNation