Dallas Colleges:

Charles Omenihu
February, 9, 2015
Feb 9
10:00
AM CT
The National Letter of Intent that more than 2,000 recruits signed last week is in no way a contract between player and coach. The paperwork offers no guarantee the coach will stick around even one more day.
That's the tough truth Texas'
Charles Omenihu
and countless other new signees have learned in the past few days. Two days after signing with the Longhorns, the defensive end's position coach and lead recruiter, Chris Rumph, made an abrupt exit to Florida. He is certainly not alone.
In the few days since National Signing Day, coaches from Ohio State, LSU, UCLA, Notre Dame, Miami, Arkansas, and Florida have bolted for the NFL. The Irish, in fact, have already parted with three assistants since Wednesday. A defensive coordinator at North Carolina was fired, and the one at TCU retired.
The cycle goes on and on. Rumph left because Terrell Williams landed a job with the Miami Dolphins one month into his stint at Florida. So Texas will have to replace him with some other coach who has most likely made promises to other players.
"That's the nature of the business," Omenihu said. "When you look at it and take the emotions out of it, all of this is really a business."
Omenihu, a 6-foot-5 defensive end out of Rowlett, Texas, had heard whispers Florida was interested in Rumph when new Florida head coach Jim McElwain was hired in December. But Rumph stayed put and Williams took the gig.
Crisis averted, right? Omenihu had only taken one other official visit (Arizona State) and didn't exactly have a backup plan in case his position coach bailed. He was all-in on Rumph, fired up to play for the man who had developed a combined 14 NFL draft picks at Clemson and Alabama.
Rumph proved himself to be a fiery teacher, a sage mentor and a relentless recruiter at Texas. He also had a four-year deal. Omenihu and his fellow future Longhorns had no reason to worry.
Then the reports leaked on Thursday morning. Williams to Miami. Rumph to Florida. Almost a done deal. Omenihu reached out to Rumph. No answer. So he got in touch with defensive coordinator Vance Bedford and, soon after, Charlie Strong.
Strong's words were reassuring. He had spoken with Rumph about the opening on Wednesday. Rumph had said he wasn't taking it. By Friday afternoon, Rumph was gone. Omenihu, of course, found out from his Twitter feed.
"I was shocked, to be honest," he said.
Du'Vonta Lampkin
was angry. The Texas defensive tackle signee logged onto Twitter and vented when he heard the news.
Guess i was lied to in my face

— Call Me Deebs< (@DeeChilllin) February 6, 2015
Considering he had flirted with flipping to Oklahoma late in his recruiting process, Lampkin's frustration was understandable. The kid must have felt tricked.
These newly signed recruits have no reasonable recourse, either. Even if Lampkin wanted to go to Oklahoma, he would have to sit out 2015 and forfeit a year of eligibility. The NLI locks him and all his peers into a brutally one-sided deal.
That's why elite recruits like CeCe Jefferson and Roquan Smith have every right to hold out. On signing day, Jefferson picked Florida and Smith chose UCLA on ESPN. Neither have made it official. Jefferson found out Williams was leaving Florida. Smith didn't fax after learning Bruins defensive coordinator Jeff Ulbrich was leaving for the Atlanta Falcons.
"They expect us to stay loyal to the school," Omenihu said, "but they don't."
Rumph's reason for leaving isn't typical. He would have made more money by staying. The native of South Carolina moved on for family reasons. At Texas, he was 20 hours from family. At Florida, he'll only be four and a half hours away.
Had Rumph moved on in December, Omenihu says he would have decommitted and faced "a much harder decision" while waiting to see who took Rumph's place. Now that he's signed, all he and Lampkin can do is hope for the best.
"I'm comfortable with the rest of the staff, and I'm pretty sure they'll bring in a good defensive line coach," Omenihu said. "I'll make sure to ask all my questions."
The one question that isn't getting asked: What happens next year?
If the recommended early signing date of Dec. 16 gains approval this summer, this frustrating and increasingly accepted trend of post-NSD departures promises to worsen. The majority of coaching changes do occur after that date.
Coaches will compel recruits to sign as soon as possible. It's their job. Until it's not.
"If we leave, we're questioned to the highest regard," Omenihu said. "If they leave, it's just the business."
Business is once again booming, just in time for everyone but the signees to get what they want.
May, 2, 2014
5/02/14
10:00
AM CT
Editor's note: This week we're taking a closer look at five key takeaways from Texas' spring practices and what they mean for the summer and beyond.
AUSTIN, Texas -- High school kids like new. In hindsight, we really shouldn't have underestimated that.
New uniforms, new helmets, new stadiums. All critical assets in recruiting. Just ask Kevin Sumlin, who, seemingly overnight, changed the perception of Texas A&M.
[+] Enlarge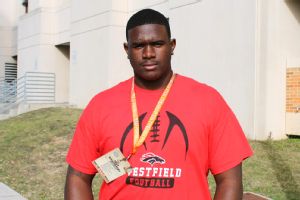 Max Olson/ESPNLSU's 10th-ranked recruiting class by ESPN includes standout offensive lineman Toby Weathersby.
Texas isn't changing its uniform or its helmets this year. Its stadium isn't expanding just yet. But the Longhorns have a brand new coach, and that has made a world of difference on the trail this spring.
For all the disadvantages Charlie Strong and his staff faced when they first arrived, it's hard to call the early results anything other than impressive. Texas' staff has assembled the No. 11 recruiting class in the nation and is well on its way to transforming the way recruits look at the Longhorns.
Defensive end
Charles Omenihu
, one of nine verbal commits in the class, was hooked from the very beginning of his junior day visit. New Texas defensive coordinator Vance Bedford's pitch was simple and compelling: "Why not Texas?"
"He was right. Why would you not want to go to Texas if you live in the state of Texas?" Omenihu said. "Why wouldn't you want to play big ball at a place with a tradition for winning? That really stayed in my mind."
The three-star defensive end from Rowlett, Texas, committed two days later and has become one of the leaders of the class, constantly staying in touch with his fellow commits and countless blue-chip targets.
He didn't think much of Texas in recent years. The new staff got his attention, however, and convinced him that the Longhorns' glory days are coming again, and soon.
"I remember visibly when they won it all in 2006 and them guys were flying around and looked good doing it, too," Omenihu said. "They looked good, played hard and beat people up. You could see that in practice this spring. You could just tell."
For the new staff, that rebranding of Texas football in the spring helped make up for a lot of lost time. Keep in mind, Strong, Bedford and several other assistants hardly recruited the Lone Star State at Louisville and they risked falling behind with the 2015 class with all the time they expended to secure the glass that inked in Februarby.
While Texas scrambled to close out that group, Texas A&M and other in-state foes were already hosting early junior days. Everyone else had a head start.
But the Longhorn staff had their house and their recruiting board in order by the time they hosted that first junior day on Feb. 23. The event led to commitments from Omenihu,
Ronnie Major
and
DeShon Elliott
, and also ensured
Patrick Vahe
would stay on board. That's when the #letsride momentum starting rolling.
Since that first event, Texas has secured eight new verbal commitments and completed a major overhaul of the class Strong inherited. Only two of the nine verbal commitments Mack Brown landed for 2015 are still on the commit list.
Five of those early pledges elected to decommit. The other two, defensive backs
Jalen Campbell
and
Johnny Shaw
, will continue to be evaluated by the new staff this spring and summer.
As it stands today, the revamped class has pledges from five ESPN 300 prospects. Offensive tackle
Toby Weathersby
, the nation's No. 138 recruit, bought in one month after his junior day trip.
"It's just the way they go about doing things," Weathersby said. "They get to the point. Real demanding. Coach Strong wants them to get back to a winning tradition and he's doing everything the way he wants it to go. Let's get it done."
The intensity was just what he was looking for, he said, because he plays on a tight ship at Houston Westfield. And how did Strong take it when Weathersby declared he was ready to commit?
"Well, I had to catch him," Weathersby said. "He jumped in my arms."
Like Omenihu, Weathersby had his own beliefs about what was wrong with the Longhorns. He felt that in terms of intensity, Texas was "like a golf club" in Brown's final years. Strong drastically flipped his perspective on the program's future.
"I can't really go into detail, because it would take me months and months," Weathersby said with a laugh. "But the way he changed everything, I think it's a more strict football program and, with his way of doing things, it's for the better."
Omenihu's wish list for this Texas class is ambitious, and includes ESPN 300 recruits
Malik Jefferson
,
Chris Warren III
,
Holton Hill
,
Kris Boyd
,
Ryan Newsome
and
Cameron Townsend
. And he doesn't intend to give up on five-star Texas A&M commit
Daylon Mack
.
"I wonder why great defensive players would choose to go to A&M," Omenihu said. "It boggles my mind. They don't really play defense. If I'm wrong, someone please tell me."
Worse things were being said about the Longhorns before Strong showed up, that's for sure. This is a game of perception, and so far, Texas' head coach is already changing the game.
April, 15, 2014
4/15/14
12:30
PM CT
Even though almost 10 months remain until the next national singing day, teams across the Big 12 have jumped off to fast starts in putting together their 2015 classes.
To catch you up on all the recruiting storylines that have developed so far, we checked in with ESPN.com senior national recruiting writer Jeremy Crabtree and Big 12 recruiting reporter Damon Sayles for their takes:
Which team has impressed you the most with its 2015 recruiting?

Crabtree:
With all of the questions West Virginia faced in the offseason and the product the Mountaineers put on the field in 2013, you would think they would be struggling out of the gate with the 2015 class. But it has been the exact opposite. WVU has 10 commitments, including from one of the best receivers in the country,
Jovon Durante
. West Virginia is selling kids on an opportunity to play early and make a big difference in getting the program back on track. Plus, it has gone back to its roots and mined the very familiar recruiting territory of Florida for some of its best pledges.
Sayles:
As much as I like what Texas Tech and TCU have done so far, I have to tip my hat to what West Virginia has accomplished. The Mountaineers have a pair of ESPN Junior 300 players in safety
Kendrell McFadden
and Durante. The Mountaineers are recruiting the state of Florida well; five of the 10 pledges are from the Sunshine State. West Virginia is off to a fast start, and with the program fresh off a successful spring game, more big-time commits could be coming soon.
Who has disappointed?