Dallas Colleges:

Chase Daniel
May, 14, 2013
5/14/13
5:30
PM CT
AUSTIN, Texas -- When it came to David Ash, Malcolm Brown's answer was no different than any other Texas player has given over the past several years when the quarterback question has come up.
"Like Mike Davis said, he has a swagger about him now," the running back said of the quarterback.
Only now it might be time to believe in the rising junior. Not because of some huge personality shift in Ash, but because this time –-- the junior season following a multiyear starter's sophomore season -- is typically when said actions start to speak louder than words.
Looking back at eight Big 12 multiyear starting quarterbacks -- Texas' Colt McCoy, Texas' Vince Young, Missouri's Chase Daniel, Texas Tech's Graham Harrell, Oklahoma's Landry Jones, Oklahoma State's Brandon Weeden, Baylor's Robert Griffin III and Kansas' Todd Reesing -- all but one had a dramatic leap in every statistical category from their sophomore to junior years. (Jones was the exception. In the six categories measured, he only increased his stats in one category, average yards per game.)
So the odds are Ash, who started 12 games in 2012, should follow suit. Maybe not to the extreme of Young, who topped the other seven aforementioned quarterbacks when it came to overall production increase. But there should at least be a measure of improvement to Ash's stats. How much is up for debate for the next several months.
But if he follows the statistical average presented by those eight quarterbacks who have gone before him, Ash could see his passing efficiency rating rise by 17.10 points, completion percentage by 5 percent, touchdowns by 5.8, interceptions shrink by a nominal 0.25, overall yards move up 581.8 and yards per game to increase by 45.6.
Of course, there are mitigating factors that could shape whether or not Ash has a rise or fall in his stats in 2013.
One of which is that Ash already experienced a dramatic rise in his stats from 2011 to 2012. In his sophomore season, Ash finished in the top 25 in passer efficiency rating and increased that rating 45.9 points. He had 15 more touchdown passes as a sophomore, threw for 1,620 yards and completed 10.4 percent more of his passes. (He also had 144 more attempts as a sophomore than as a freshman.) The point being that quite possibly a ceiling, if not already hit, is at least within arm's length.
A counterargument could be that a shift in offensive philosophy, from traditional sets to spread, should serve to bolster his stats. In addition, the Big 12's defenses -- at least that of top teams Oklahoma and Kansas State -- have experienced huge losses on their side of the ball. Add that fact to the unavoidable truth that the Big 12 is not exactly chock full of top defenses -- only TCU and Texas Tech finished in the top 40 in total defense in 2012 -- and it sets up for Ash to have at least a nominal rise in his statistical production in his junior season.
If all that is not enough to make a decision, there are still the words of Ash's teammates to go by as well:
"Now that he has it down, he's a lot more comfortable," Brown said. "He's loosened up with us and he talks more now because he knows what he's doing."
Given that this is Ash's junior year and that history is on his side, it might just be time to believe those words.
June, 5, 2012
6/05/12
10:26
AM CT
Yesterday, I
unveiled my list of the best Big 12 seasons of all-time
, but there were plenty of seasons that got left out.
In no particular order, here are the best of the rest:
Colt McCoy, QB, Texas, 2008:
McCoy carried the Longhorns to a BCS bowl win and a win over national title participant and Big 12 champion Oklahoma while throwing for 3,859 yards, 34 touchdowns and just eight interceptions. Most impressive? He completed just under 77 percent of his passes. Crazy.
Jason White, QB, Oklahoma, 2003:
White racked up 3,846 yards passing with 40 touchdowns to just 10 interceptions, and won the Heisman Trophy and Davey O'Brien Award. The Sooners went undefeated in the regular season, but lost in the Big 12 Championship and national title games.
Robert Griffin III, QB, Baylor, 2011:
Griffin did the unthinkable and brought a Heisman Trophy to Baylor, as well as a 10-win season. He threw for 4,293 yards, 37 touchdowns and just six interceptions. He also ran for 699 yards and completed 72.4 percent of his passes.
Darren Sproles, RB, Kansas State, 2003:
Sproles led the nation with 1,986 yards and 16 touchdowns, leading K-State to its only Big 12 title with an upset of No. 1 Oklahoma, soundly beating the unbeatable Sooners, 35-7. Sproles ran for an eye-popping 235 yards and caught three passes for 88 yards, including a 60-yard touchdown.
Justin Blackmon, WR, Oklahoma State, 2010:
Blackmon caught a touchdown pass and topped 100 yards in every game he played all season, winning the Biletnikoff Award (he'd do it again in 2011) and putting together the league's best individual season of 2010. He finished with 1,782 receiving yards, 111 catches and 20 touchdowns.
Graham Harrell, QB, Texas Tech, 2007:
Harrell threw for a country mile and then some, topping 5,700 yards in Texas Tech's pass-happy offense (713 attempts in 2007) under Mike Leach and throwing 48 touchdowns to just 14 interceptions.
Michael Crabtree, WR, Texas Tech, 2007:
Tech had a more memorable season as a team in 2008, but Crabtree's first of two Biletnikoff-winning seasons was better. He finished with a Big 12-record 1,962 receiving yards and 22 touchdowns on 134 catches.
Eric Crouch, QB, Nebraska, 2001:
Crouch carried the Huskers to the national title game in 2001 despite a Big 12 Championship Game loss, throwing for 18 touchdowns and running for 19 more. He rushed for 1,178 yards and threw for 1,115 to win the Heisman Trophy and Davey O'Brien Award.
Troy Davis, RB, Iowa State, 1996:
Davis finished second in the Heisman voting after carrying the ball 402 times for 2,185 yards and winning Big 12 Offensive Player of the Year honors in the league's inaugural season. That's not enough for you? It was his second consecutive 2,000-yard rushing season.
Roy Williams, S, Oklahoma, 2001:
Williams is best known for his "Superman" play that sealed a Red River victory over Texas, but he had 12 tackles for losses and five interceptions that season. He also recovered two fumbles, returning one for a touchdown. Williams revitalized the safety position in the Big 12, bringing some bulk to the position and playing closer to the line of scrimmage. He earned the Nagurski Trophy and Thorpe Award that season.
Chase Daniel, QB, Missouri, 2007:
Daniel took Missouri to the No. 1 ranking entering the Big 12 Championship Game and put Missouri football on the map. He finished with 4,306 yards, 33 touchdowns and 11 interceptions in the best season ever under Gary Pinkel. He also completed 68 percent of his passes and rushed for four scores.
Michael Bishop, QB, Kansas State, 1998:
Bishop carried Kansas State to an undefeated regular season before losses in the Big 12 title game and Alamo Bowl. He threw for 2,844 yards, 23 touchdowns and four interceptions, while also running for 748 yards and 14 touchdowns.
December, 27, 2011
12/27/11
12:11
PM CT
One quarterback's leaving the Big 12 and isn't going elsewhere in the league.
Another is coming back closer to home.
Texas Tech's Jacob Karam -- last seen
executing the sneakiest trick play of the season
-- announced his transfer on Nov. 30 and started shopping around. He's a redshirt sophomore but already completed his undergraduate requirements, meaning he'll be eligible immediately at his new home with two years left to play. Rumors swirled that he could land at Texas, but he says he's not considering any Big 12 teams.
"I am focusing on Houston, Memphis and UTEP because those three schools are focusing on me," Karam
told Fox 28 in Houston
.
Karam said he also heard from LSU, San Diego State, Ole Miss, UNLV and Texas State.
Meanwhile, Oklahoma State is adding a quarterback. Daxx Garman, Arizona third-stringer and native of QB factory Southlake, Texas, is heading to Stillwater to play for Todd Monken and Mike Gundy.
Former Missouri quarterback Chase Daniel and Alabama quarterback Greg McElroy both hail from Southlake and both are now NFL backups.
"I'm getting the opportunity to move closer to home," Garman
told the Arizona Republic
. "My family can be more involved in the situation, and I felt like it's a better opportunity for me. Oklahoma State, they have a great football environment. The fans are great people there, and they support the Oklahoma State football program completely. I'm very excited to be a part of that."
By way of his transfer, Garman will almost certainly be
receiving a spot on next year's All-Name Team
, if only as a backup.
November, 9, 2011
11/09/11
10:57
AM CT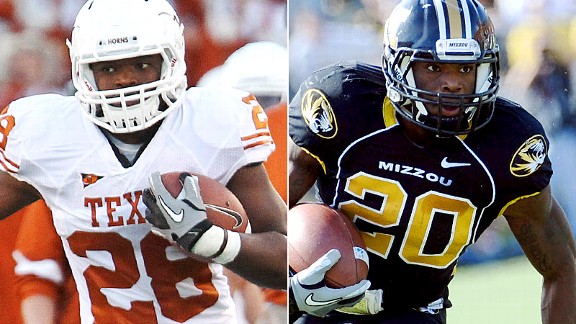 US PresswireTexas' Malcolm Brown and Missouri's Henry Josey have revitalized rushing attacks.
Missouri and Texas made their living with NFL quarterbacks behind center over the last half decade. Vince Young and Colt McCoy at Texas and Chase Daniel and Blaine Gabbert at Missouri took the program to new heights and did so with thousands of pass attempts.
This season? Both programs are grounded.
"There's a little bit of a contrast there with all the wide-open offenses and the quarterbacks and the passing yards we've had this year and traditionally in this league the last few years," said Missouri coach Gary Pinkel. "Both of us run the ball here pretty good."
A bit of an understatement, perhaps.
While a pair of wide-eyed, first-year starters in
David Ash
and
James Franklin
take snaps, Missouri and Texas have developed the Big 12's top two running games.
"We can throw it well, but we'd like to be at least 50-50 or 60-40 run to pass," Texas coach Mack Brown said. "And if you can run the ball and and stop the run in college football, you've got a chance."
PODCAST
Ted Emrich, Carter Strickland, and William Wilkerson discuss Texas' dominant win over Texas Tech. Can UT pound Missouri like it did Kansas and Texas Tech? Longhorn commitment Johnathan Gray was in attendance Saturday. What did the Aledo RB think of the running game?

Listen

Texas has averaged better than 246 yards a game on the ground this year, enjoying the fruits of consecutive 400-yard weeks on the ground for the first time since 1977.
Missouri, meanwhile, averages just fewer than 245 yards a game this year. The Big 12's next best, Kansas State, averages just 217 yards a game.
Both teams, best known for slinging it this decade, rank outside the Big 12's top half in passing offense.
"We didn't need the passing game much the last two weeks. We threw it some and threw it downfield," Brown said. "But we do feel like over the next four weeks here, we're going to have to be more balanced. We'll still be physical. We'll still run the ball, because that's what we're doing best right now, but we also feel like when people are stacking the box, it'll alleviate some of the pressure in the passing game."
Both have the advantage of running quarterbacks. Ash ripped off runs of 47 and 18 yards against Texas Tech and Missouri's Franklin is 11th in the Big 12 with 599 rushing yards, second among quarterbacks behind Kansas State's
Collin Klein
.
Franklin also leads the team with 10 touchdowns, third in the Big 12. The Tigers'
Henry Josey
leads the Big 12 in rushing with 1,149 yards, fifth nationally and 234 more yards than any Big 12 back.
The Longhorns are led by freshman
Malcolm Brown
and his 635 yards, but even though he was sidelined in Saturday's game, fellow freshman
Joe Bergeron
exploded for 191 yards and three touchdowns on 29 carries.
"We're doing a pretty consistent job of running the football, but I don't think our offense is very consistent," Pinkel said of his 4-5 team. "We're very hot and cold. We're having to work through that, and we're not working through it fast enough."
For both coaches, the aim is balance. Brown cited his Rose Bowl champion team in 2004 that was outside the top 100 in passing and second nationally in rushing. With McCoy at the helm, those numbers were reversed.
Texas has shown the ability to do both with its offense, just rarely in the same season.
"We'd like to get back to where we do both really well," Brown said.
The Longhorns finally have the physical running game they looked for last year, but outside of handing it over to offensive coordinator Bryan Harsin and offensive line coach Stacy Searels, Brown couldn't venture a guess as to why it's worked this year and didn't in 2010, when the Longhorns won just five games.
But expect this game to look markedly different than the Big 12 matchups the league has become known for.
"It will be a great test," Brown said, "a real physical game and a fun game to watch."
September, 4, 2011
9/04/11
10:41
AM CT
[+] Enlarge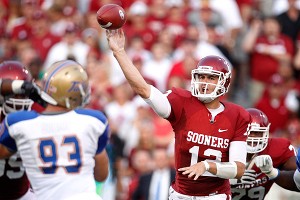 AP Photo/Sue OgrockiLandry Jones and Oklahoma opened the season with a strong performance against Tulsa.
1. Oklahoma is clicking, and deserves the No. 1 spot for now.
Oklahoma was good everywhere and great in a few spots before racing to a 44-7 lead entering the fourth quarter against a 10-win team from a year ago. Bob Stoops is happy with all three phases of his team. Outside of Travis Lewis, the Sooners are pretty healthy and have two weeks to prepare for a showdown in Tallahassee with Florida State on Sept. 17. Life is good in Norman.
2. Baylor is going to be tough to beat. Much tougher than in 2010.
What part do you want to be most impressed by? Baylor's rapid-fire offense that racked up a 47-23 lead in the fourth quarter against TCU? Or the gutsiness it showed after a pair of three-and-outs and a fumble cost them that lead, and the Bears rallied? Harp on that rough fourth quarter if y0u must, but the real Baylor is a lot closer to what we saw the rest of the game, and the Bears answered a huge test. Impressive. I picked the Bears to finish fifth in the Big 12 and called them a sleeper to win 10 games. I'm still feeling good about that, and Baylor is on my top 25 ballot for Week 2.
3. James Franklin is a work in progress.
Franklin doesn't have the raw skill that Chase Daniel or Blaine Gabbert had, but he's a smart player that will have to figure out what works for him as he goes along. His mechanics aren't pretty, which is a bit jarring at Missouri after watching Blaine Gabbert for two seasons, but he's got the ability to win a lot of games. For now, his decision-making and accuracy need a lot of work, but as long as he can avoid big mistakes, Missouri is good enough to go a long way with him running the show.
4. The bottom of the Big 12? Well, it's not very good. At least not yet.
Goodness, Big 12 North. For facing an uncertain conference future, you're sure not playing like it. Kansas took care of business and looked good, but the Jayhawks have a historic hoops program that should keep them afloat if the Big 12 breaks up. But Iowa State and Kansas State both needed late-game heroics to beat FCS opponents. I don't know if anyone's told them yet, but it's going to get a lot tougher very quickly. All three have to be better.
5. There is hope for Texas' offense.
The Longhorns racked up 506 yards of offense, including 277 through the air and 239 on the ground. Here's guessing Texas leans on more of a running identity this season, but I loved what
Malcolm Brown
was able to do. He might never win a Heisman, but he's heading for a solid career in Austin. Additionally,
Jaxon Shipley
is the real deal. The best news, though? This offense looks like it at least has a direction and knows what it wants to be, which last season's team couldn't claim at any point.
August, 12, 2011
8/12/11
1:55
PM CT
Today, we're taking a look at the tease teams across the Big 12, and the past three seasons, we've seen a good number of cases in the Big 12.
These three programs find themselves in the top 10 again this year, but here's what's happened lately. Is one of these squads simply a tease in 2011?

2010: Texas A&M
The Aggies, coming off a 6-7 season in 2009, weren't convincing enough to earn preseason top 25 honors, but the potential for a big year was there, and anyone paying attention knew it. The offense was loaded, led by the league's preseason offensive player of the year,
Jerrod Johnson
. Johnson, however, struggled early, throwing four interceptions in consecutive games against Florida International and Oklahoma State, turning the ball over five times in a loss to the Cowboys. The Aggies were embarrassed on their home field by Missouri to fall to 3-3, and despite a late-season rally, couldn't qualify for the Big 12 championship game.

2009: Oklahoma State
The offseason crescendo built to a pressure-packed season opener against SEC foe Georgia, but Dez Bryant and the Cowboys knocked off the Bulldogs to land in the top 5 and on the cover of Sports Illustrated. A week later, however,
Case Keenum
(and Dana Holgorsen, by the way) waltzed into Stillwater and gave the Cowboys a nasty buzzkill in the form of a 45-35 upset, officially derailing a championship season. OSU also suffered a pair of embarrassing 27-point losses to Big 12 South rivals Oklahoma and Texas, including a 27-0 shutout loss to Oklahoma. Kendall Hunter (ankle), Zac Robinson (shoulder) and Dez Bryant (NCAA suspension) were all forced off the field at times, but there's no doubt: That team was a tease.

2008: Missouri
The Tigers reached No. 1 heading into the Big 12 championship game in 2007, but a loss sent them to the Cotton Bowl and hoping for better luck next year. Chase Daniel and Co. opened the season at No. 6 and ran off a 5-0 start, including a 52-17 obliteration of Nebraska in Lincoln, the first win for the Tigers there since 1978. A week later, though? A program-defining win for Oklahoma State on Missouri's field, followed by an absolute undressing by Colt McCoy and Texas in Austin a week later, featuring a 35-3 halftime deficit. The Tigers were upset by Kansas before being rolled over 62-21 by Oklahoma and settling for an appearance in the Alamo Bowl. Quite the tease, Tigers.
So, which of the Big 12 teams ranked this year looks like a tease?