Dallas Colleges:

Chip Kelly
January, 3, 2013
1/03/13
11:16
AM CT
Oregon (11-1, 8-1 Pac-12) vs. Kansas State (11-1, 8-1 Big 12)


Who to watch:
The Fiesta Bowl features two of the nation's best quarterbacks, Kansas State's Heisman Trophy finalist
Collin Klein
and Oregon's
Marcus Mariota
, who was first-team All-Pac-12 as a redshirt freshman. They are the QBs for high-powered, though very different, offenses. Klein carries far more of the load for the Wildcats than Mariota does for the Ducks, but if one of them turns in an uncharacteristically mediocre or sloppy game, it probably will cost his team the win. And that's not too far out of the realm of possibility. While both teams protect the ball well, both also rank among the nation's leaders in forcing turnovers. It will be interesting to see what happens if things are still in doubt in the fourth quarter, as most expect. Mariota played only one close game this season, and the Ducks lost that one to Stanford.
What to watch:
Tackling. Klein is the Wildcats' best runner, and he thrives at getting yards after contact, especially when he smells the end zone. He has 40 rushing touchdowns over the past two seasons and is one of four Football Bowl Subdivision players with more than 200 rushing yards in the red zone this season. He gained 35.7 percent of his red zone yards after contact. Running back
John Hubert
isn't big but runs hard, so the Ducks need to make their first hit count. Oregon is all about speed. If Mariota,
Kenjon Barner
,
Josh Huff
or
De'Anthony Thomas
make the first defender miss, the odds are good they'll go yard, or at least gain a big chunk of yards. Tackling will be interesting to watch early and late. Early because both teams are dealing with a long layoff (just over a month), and late because that's when fatigue -- and pressure -- sets in.
Why watch:
This is the only bowl game that matches top-five teams other than the national title game between Alabama and Notre Dame. It features well-coached teams with plenty of star power and sets up to be highly competitive. It's a nice Pac-12 versus Big 12 showdown, a conference pairing the Big 12 has dominated this bowl season. And it could be Chip Kelly's final game as the Ducks coach before he takes an NFL job.
Predictions:
Ted Miller says Oregon 33, Kansas State 24. Kevin Gemmell says Oregon 49, Kansas State 38. David Ubben says Oregon 38, Kansas State 31. For full predictions from the Pac-12's Miller and Gemmell,
click here
. For Ubben's full prediction on the Big 12 blog,
click here
.
January, 2, 2013
1/02/13
11:00
AM CT
Time for another round of fun facts and tidbits about the AT&T Cotton Bowl.
As always, these come courtesy of our crack team at ESPN Stats & Information and sports information departments across the Big 12. Let's get started:
Did you know ...
Texas A&M QB Johnny Manziel has 784 of his 1,181 rushing yards on scrambles, averaging 9.7 yards a carry on those plays.
Manziel has been forced out of the pocket on 27.6 percent of drop backs this season.
Over the last three games, Oklahoma quarterback Landry Jones is completing 77.7 percent of his passes for four touchdowns and no interceptions when he's blitzed.
On the season, he has eight touchdowns and one pick when blitzed.
Jones has thrown just 12.2 percent of his career passes from outside the pocket, but thrown 25.5 percent of his career interceptions from outside the pocket.
In Oklahoma's first 10 games, Jones attempted 41 passes from outside the pocket. In the last two games, he's attempted just three such passes.
Texas A&M is 4-8 in its 12 Cotton Bowl appearances.
Oklahoma is 1-0 in its only appearance in the bowl, back in 2002.
If Oklahoma wins, it will have its first four-game bowl winning streak since 1978-81.
West Virginia's Pat White is the only player to ever go 4-0 in bowl games. Landry Jones could join him with a win.
A&M hasn't won consecutive bowl games since 1985.
A win would give Stoops 150 wins at Oklahoma, seven short of Barry Switzer's school record.
A win would give Texas A&M its first 11-win season since 1998.
December, 26, 2012
12/26/12
9:00
AM CT
By
Kevin Gemmell, David Ubben
and
Ted Miller
| ESPNDallas.com
The Pac-12 and Big 12 have three bowl games coming up -- including a BCS showdown in the Fiesta Bowl between a pair of top-five teams. David Ubben of the Big 12 blog and Ted Miller and Kevin Gemmell of the Pac-12 blog break down which of the three they are most looking forward to.


Ted Miller
: It's not just that the Tostitos Fiesta Bowl matches top-five teams. And it's not just Oregon's and Kansas State's star power, with Wildcats QB
Collin Klein
, a Heisman Trophy finalist, and All American LB
Arthur Brown
on one side, and Ducks All-American RB
Kenjon Barner
and QB
Marcus Mariota
, a future Heisman finalist, on the other. Nor is it just the two coaches, old school Bill Snyder and new old school Chip Kelly, who many feel is headed to the NFL after this game.
Nor is it only that Pac-12 vs. Big 12 bragging rights hang heavily in the balance.
It's that you've got to love a game that has karmic significance.
Oregon and Kansas State were supposed to play this year. They had a home-and-home game contract. But then Oregon had a chance to play LSU to open the 2011 season and, well, then folks go all interpretive. Oregon fans see Kansas State as the Fraidy Cats, who took an opportunity to run away from a series instead of re-working it. Kansas State folks see logistical complications that forced their hand and, heck, it was the Ducks that first asked for an adjustment anyway.
Oregon is more than a touchdown favorite. You look at the two rosters, and it's not difficult to see a Ducks victory. And yet … who does karma favor?
Will the trash talk -- who me? -- between the fan bases come back to haunt Oregon? Will the Wildcats be vindicated? Let's just say the winner will provide more than the usual raspberries toward the other after the game.
And that is great fun.


David Ubben:
I don't know how you boys do it on the West Coast, but here in Big 12 country, we love offense. I didn't put West Virginia 70, Baylor 63 on my best games of the year on accident. The last time Baylor got together with a Pac-12 team, I seem to remember
all kinds of awesome stuff happening
.
When Baylor and UCLA tangle in the Holiday Bowl, we can expect some similar fireworks, and some of them will even come courtesy of a player Pac-12 folks are surely familiar with:
Lache Seastrunk
. Baylor committed to him as its featured back down the stretch and he looked the part of the Big 12's best back over the last month of the season, rushing for 693 yards and five touchdowns in his last five games. Everybody knows about
Nick Florence
(the nation's leader in total offense) and
Terrance Williams
(the nation's leading receiver), but this game may very well be about Seastrunk breaking out on a national scale. I'd like to see that. With apologies to offensive lineman
Cyril Richardson
, Seastrunk's probably going to beat out receiver
Tevin Reese
as the best returning piece of this powerful offense.
Baylor doesn't have a Heisman winner like RG3 who joined Terrance Ganaway in running away with that memorable Alamo Bowl win over Washington, but Seastrunk says he's going to win it in 2013. I'm not going to be the one who says he can't. UCLA's
Johnathan Franklin
and
Brett Hundley
will be pretty fantastic foes for the Bears, but I can't wait to see this showcase of offense.


Kevin Gemmell
: Yes, David, we love our offense too. In fact, so much so that one of the most prominent offenses in football is named after the West Coast (which several Pac-12 teams run). But we can also play defense. And that is going to be the difference when Oregon State and Texas square off in the Valero Alamo Bowl.
The "Who's Going to Play Quarterback Bowl" finally has its starters --
Cody Vaz
for the Beavers and
David Ash
for the Longhorns. But despite the fact that Oregon State has one of the most explosive wide receiver duos in the country in
Markus Wheaton
and
Brandin Cooks
-- I believe it's going to be the defense that carries the day for the Beavers. We know that Ash has had his troubles. And a struggling quarterback against an Oregon State secondary that ranks sixth nationally in interceptions doesn't bode well. Cornerback
Jordan Poyer
leads the way with seven picks this year -- that's second nationally.
Only two teams allowed more tackles for a loss this year than Texas and Oregon State is allowing opponents to convert third downs at just 29 percent. Say bonjour to
Scott Crichton
and
Michael Doctor
.
Yes, these two other games will be very offensive-centric. And that's going to make for a heck of a lot of holiday fun. This game will likely lack the offensive sizzle of the other two. There are no Heisman Trophy finalists (
or players declaring they are going to win the Heisman next year
). And that's OK, because there are those of us on the West Coast who still enjoy and appreciate a little bit of defense. And Oregon State's is nasty.
January, 9, 2012
1/09/12
10:30
AM CT
Finally, these two lovebirds made it official.
Really, though, it was a matter of time.
Flirtations with A&M
? An eventual breakup?
Please.
Mike Gundy loves Oklahoma State. Oklahoma State loves Mike Gundy.
They'll be together for eight years and Gundy
will be paid among college football's top 10 coaches
after agreeing to a contract extension and a big raise. As it should be.
That's what happens when one pays for the other's education and hires him as a 23-year-old assistant coach and 27-year-old offensive coordinator.
And that's what happens when a 44-year-old head coach (yes, he's a man) guides his alma mater to the two best seasons in school history in consecutive years.
These two belong together. Gundy, who hired agent Jimmy Sexton, grew uncomfortable as the process dragged on during his team's preparations for its Fiesta Bowl date with Stanford.
The Cowboys won to cap the first 12-win season in school history, which coincided with the school's first BCS appearance ever.
Uncomfortable or not, it shouldn't have come to this. "This," though is in the past and Gundy's gotten what's coming to him.
How many coaches have held the same job for seven years and had an equal or better record every season?
Not many, and Gundy's being paid like one. His deal reportedly averages out to about $3.75 million per year, up from $2.1 million this past season.
Kansas' Turner Gill and Texas A&M's Mike Sherman were paid more in 2011. They were both fired after the season. Now, only Texas' Mack Brown and Oklahoma's Bob Stoops are paid more in the Big 12.
Gundy was the 29th-highest paid coach nationally this season,
according to USA Today's coaching salary study
. His new raise puts him at sixth, ahead of guys like Bobby Petrino at Arkansas, Chip Kelly at Oregon and Bret Bielema at Wisconsin.
Gundy kicked off his career with a four-win season and two seven-win seasons. For some who saw those years, its hard to see Gundy, who first burst on the scene with his polarizing rant, as a coach who has ascended to the coaching elite.
But consider also: Gundy has as many BCS wins now as Petrino and Kelly, who both have earned reputations as offensive virtuosos. He has one more than Bielema, who is 0-2 in two Rose Bowl appearances.
He's developed offensive talent with the best of anyone in the country, sending stars like Dez Bryant, Kendall Hunter, Zac Robinson, Russell Okung and soon to be Brandon Weeden and Justin Blackmon to the NFL. On the way, he collected bushels-full of wins that Oklahoma State has never seen before.
This has been the best four-year period in
the history of Oklahoma State football
. Gundy is the biggest reason why.
This took too long. Why Oklahoma State wouldn't want to pay up for as long as possible, especially
with more Big 12 money on the way
, I have no idea.
But it's done now.
Oklahoma State paid up. Gundy is paid like one of college football's best coaches.
With a résumé like he's put together, with 41 wins, a Big 12 title, a BCS bowl win and a share of the Big 12 South all in the past four years, how else should he be paid?
August, 29, 2011
8/29/11
3:32
PM CT
Nobody likes sounding relentlessly redundant, but if the story doesn't change the story doesn't change.
For all that Oregon has accomplished in two years under Chip Kelly, it has flopped against highly rated nonconference foes who have had extra time to prepare for the Ducks high-tempo, spread-option attack.
In 2009, the Ducks opened at Boise State. While that game is most remembered for LaGarrette Blount's post-game meltdown in Kelly's debut, Boise State fans will be glad to remind you the Broncos held the Ducks to 31 yards rushing in a 19-8 victory.

The Ducks righted themselves dramatically in 2009 and earned a berth opposite Ohio State in the Rose Bowl. But the Buckeyes held the Ducks to 260 yards in a 26-17 victory

And, finally, in the national title game against Auburn, the Ducks only scored 19 points. They gained 449 yards but only 75 on the ground.
[+] Enlarge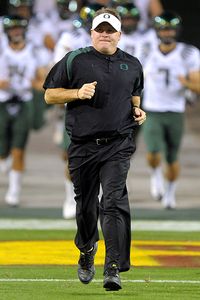 Kirby Lee/Image of Sport/US PresswireOregon coach Chip Kelly and the Ducks would score a big win for the Pac-12 with a defeat of LSU on Saturday.
Those three games, against which there is little counter argument, other than the Ducks Pac-10 success, have inspired this sort of analysis:
Oregon needs to get more physical
.
If you have ever played football, you surely understand that when a football player has his physicality doubted, well, that's pretty galling.
Before all you Ducks get bent over this, keep in mind that Kelly has been a stand-up guy about this very point. In all three instances, he admitted the Ducks got beat at the point of attack. Further, during preseason camp, I asked running back
LaMichael James
about what went wrong against Auburn.
"Their defensive line was overpowering our offensive line," he said. "That was just the way it was."
How do you think this goes over with a Ducks offensive lineman? Department of "Truth Hurts."
Here's the good news: Oregon can end such talk on Saturday. All it has to do is take it to No. 4 LSU, a program as physically talented in terms of future NFL potential as any in the nation.
That's the micro-economic level of the super-cool-awesomeness of this marquee season-0pener in Cowboys Stadium.
Any one else curious to see what Kelly's got up his sleeve to counter LSU's extra prep time to school itself on the Ducks misdirection?
The macro-economic level is this: Pac-12 versus SEC. One game for a regular-season's worth of trash talking.
You might have heard the SEC has experienced some football success of late. On occasion, SEC fans will take a moment to remind you of it. There is a rumor, in fact, that five consecutive seasons have ended with a happy ending in some SEC outpost, the latest against the Pac-12's newest top-dog.
That would be Oregon.
To be honest, last January, I though Oregon was going to pound Auburn. I didn't think a two-player team -- no matter how good those two players were -- could beat the Kelly and the Ducks. The last time I had such a strong hunch about a game and was so completely wrong was when Washington pushed Miami around in 2000. (This is not to say I've had a long run of correct strong hunches about games before January. They just don't come by very often before marquee matchups).
Even if you throw out the stakes specific to Oregon and the Pac-12, this game has huge meaning nationally. The winner could -- should, in my mind -- rise to No. 1 in both major polls. Voters should reward the winner for showing the courage to play this game, which is great for college football at a time college football needs something great to distract fans from a stunning onslaught of scandals. A couple of which, rumor has it, might involve these two teams, territory we're choosing not to explore at this moment.
So if Oregon wins, it could rise to No. 1. If LSU has a successful season in the rugged SEC West, that win will grow in value. But even if LSU falters, the Ducks will be in position to play again for the national title if they keep winning.
Further, the odds aren't terrible that Oregon could arrive at Stanford on Nov. 12 and we find ourselves eyeballing two unbeaten teams. It could be a One-Two matchup even. At the worst, if the Ducks and Cardinal face each other without a blemish on either slate, it will be the biggest Pac-12 game in years (last year's game also matched unbeaten teams but was much earlier -- Oct. 2 -- in the season). If Stanford prevailed, it also could crow about beating the team that beat LSU and likely would play for the national title if it finished 12-0.
If Oregon loses to LSU, the Ducks could still have a great season. They could rally and perhaps get back into the national title hunt. And there's always the Rose Bowl, hardly a terrible destination. One nonconference game can't completely make or break a season.
But an Oregon victory would give the program a level of early-season gravitas it has never had. It would silence any remaining doubters, both of the Ducks and the Pac-12.
So, yes, you have heard correctly: This game is very, very big.
December, 21, 2010
12/21/10
2:29
PM CT
TCU's Gary Patterson, last year's AP coach of the year, finished tied for fourth in the 2010 voting. Oregon's Chip Kelly was the winner.
For more, click here.