Dallas Colleges:

Chris Petersen
July, 13, 2012
7/13/12
8:00
AM CT
The Big 12
isn't stocked with many fresh-faced coaches
, but the league's biggest rising star just finished his first season on the sideline.

It ended with a league title and a BCS bowl win -- rather emphatically, I might add -- but he just didn't do it in the Big 12. What did he do in the Big 12? Groom one of the game's best offensive minds underneath Mike Leach before helping revitalize offenses at Houston and Oklahoma State.
That earned Dana Holgorsen a heck of a first job -- West Virginia -- and earns him my pick as the Big 12's biggest rising star in the coaching profession.
It's really not even close. Holgorsen earned a strong reputation at Texas Tech, but he wasn't the man calling the plays. That changed with record-breaking quarterback Case Keenum at Houston. His prolific offenses persuaded Mike Gundy to reluctantly cede the play-calling duties at Oklahoma State.
That may have been the best decision of Gundy's career. Oklahoma State blossomed into a force in 2010 and kept an almost exact replica of Holgorsen's offense to win the Big 12 in 2011. Anybody else know the last time one coach's offense won two league titles in a single season?
Now West Virginia is reaping the benefits of Holgorsen's offensive expertise. At 41, he is the Big 12's youngest head coach (31 years younger than its oldest, Bill Snyder) and three years younger than anyone else in the league (Mike Gundy is 44).
West Virginia has proved that it may not be one of college football's ultimate destination jobs (Hi, RichRod!), but it's a place you can stay for a long time and win. Every indication is that is exactly what Holgorsen will do, and now he'll get a chance to do it in familiar territory in the Big 12.
Want a few other rising stars in the coaching game? They're roaming the sidelines as Mack Brown's right-hand men.
Manny Diaz is my No. 1 on the list. He has had the athletes, sure, but in one season, he turned Texas from a very good defense into the meanest in the Big 12 by far -- and one of the nation's best.
Despite losing tons of NFL talent at linebacker, the Longhorns are back this year and fit to lead the Big 12 in total defense for a fifth consecutive season. Diaz has helped turn his secondary into the league's best, built on toughness. Last season, Texas was the nation's last team to give up a touchdown pass longer than 20 yards, holding out until the season finale against Heisman winner Robert Griffin III. In today's Big 12, that's unbelievable.
Diaz has risen faster than anybody in coaching recently. Ten years ago, he was preparing for his first position coach job after serving as a graduate assistant at NC State. Now, he has a case as one of the nation's best coordinators. Two years ago, he was the coordinator at Middle Tennessee State, and now he has replaced Will Muschamp, who left the Texas DC spot to take the head-coaching job at Florida. Don't be surprised if a big boy job comes calling for Diaz, even with his inexperience, very soon.
Keep an eye on Oklahoma OC Josh Heupel, but my other coach to watch is Texas offensive coordinator Bryan Harsin. He has more experience as a playcaller and groomed his skills under one of the game's best coaches, Chris Petersen at Boise State. He spent five seasons calling plays at Boise, which calculates to approximately 464,126 pre-snap shifts from the time he was promoted after three seasons as tight ends coach to offensive coordinator and quarterbacks coach.
That's the title he holds in Austin, but it might not be for long if he can help usher in the balanced, power-running attack Texas has wanted since Colt McCoy left after the 2009 season. There is no more visible place to do it, and if Harsin succeeds, he'll be adjusting to the title of head coach at some place nice very soon.
January, 5, 2010
1/05/10
1:17
AM CT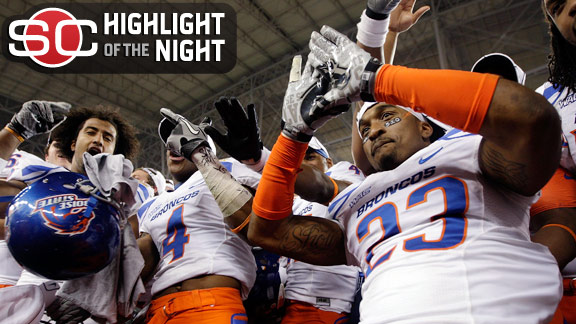 GLENDALE, Ariz. -- TCU quarterback
Andy Dalton
's first pass in Monday's Fiesta Bowl missed wide receiver
Jeremy Kerley
by 10 yards and was nearly intercepted. His third was caught by Boise State cornerback Brandyn Thompson and returned 51 yards to the end zone.
"They were just in man coverage and we had a slant called," Dalton said. "The receiver kind of slowed down and gave him a chance to undercut it. It was a little miscommunication on our part, but the guy made a good play."
It was the beginning of what became a frustrating game for Dalton and an offense that struggled to figure out Boise State's defense in a 17-10 loss.
"They were moving around a lot," Dalton said. "They would be lined up in one thing and then shift their front. I think early on we just didn't really know what exactly they were doing out there."
With a month to prepare, Boise State pulled out coverages and schemes TCU had never seen. They went from a four-man front to a three-man front and lined up in a 3-2-6 formation. They moved all-conference cornerback
Kyle Wilson
to safety, and the senior disrupted many Dalton passes. They faked blitzes and then dropped back in coverage, confusing TCU's offense.
The Broncos also committed to stopping TCU's rushing attack and did so, limiting the Frogs to 36 yards. Even the zone read, a play that Dalton used to gash Clemson, BYU and Utah didn't work on Monday.
"There were definitely a couple of new blitzes," Boise State coach Chris Petersen said.
They used them at good times, making Dalton rush throws on third down. In fact, TCU was just 1-for-12 on third down conversions in the game, by far their worst showing of the season.
Dalton did manage to lead his team on a scoring drive at the end of the first half. The offense marched 62 yards on five plays in 1:11 to make it a 10-7 game. But the brief rhythmic drive didn't last.
Dalton and the offense couldn't get any sustained drives going. Receivers dropped passes, and linemen had false starts. Dalton himself couldn't handle a snap from the shotgun -- it went right through his hands -- and another drive stalled.
TCU still had an opportunity to tie the score with less than three minutes left. Dalton lofted one of his better passes toward the corner of the end zone, only to have it dropped by
Antoine Hicks
.
The Horned Frogs got the ball back -- after a Boise State punt bounced to the 1-yard line -- and had just over a minute to try to go 99 yards. TCU got inside Boise State territory, but Dalton tried to force a throw down the sidelines and it was tipped and intercepted to end the game.
It was Dalton's third interception in the game. A huge number considering he'd thrown just five all season.
Dalton was disappointed in his performance after the game but vowed that he and the team would use it as motivation for next season.
"We're going to work really hard this offseason and hopefully get back here," Dalton said.
January, 4, 2010
1/04/10
1:00
PM CT
SCOTTSDALE, Ariz. -- Boise State coach Chris Petersen doesn't think so. He was asked if it was an advantage for Boise State to have played in a BCS bowl, while TCU is competing in its first.

"Oklahoma had been to how many tremendously huge bowl games and we hadn't been to any big bowl games," Petersen said. "Every team's different. It is a big game and they will be excited. There will be nothing like that first quarter with the energy and the electricity that will be in that stadium.

"I know how Gary coaches his guys, they keep things in perspective. It is just time to go play."

Patterson clearly isn't concerned about it. TCU decided not to do a walk-through at University of Phoenix Stadium in Glendale on Sunday. Patterson said his team has played in big stadiums and he didn't want to get them up early on Sunday to work out (because that was the only time available because of Cardinals home game).
January, 4, 2010
1/04/10
10:55
AM CT
SCOTTSDALE, Ariz. -- Boise State coach Chris Petersen said his team must match TCU's physical play in tonight's Fiesta Bowl.

"I know TCU is a power team," Petersen said. "There is no question about it. I think every football coach in America would like to think of themselves as a power team, a physical football team and I think we are. We are going up against one of the more powerful and physical teams in the country, no doubt about it. For us to be able to do what we want to do with these guys, we will have to play physical football."

TCU coach Gary Patterson said he thinks both teams are very physical.

"I think they win because they play hard," Patterson said. "Anytime you can get two teams that play hard and believe that they can win, you will have a chance to do it. So for us, the team that wants it more, I think, is the team that wins this ballgame.

"I think both of them will crowd the line of scrimmage. Both of them will try to stop the run. Both will try to make plays in special teams."
January, 3, 2010
1/03/10
3:30
PM CT
SCOTTSDALE, Ariz. -- Both TCU coach Gary Patterson and Boise State coach Chris Petersen were asked about a visit that Boise State's coaching staff made to TCU in Fort Worth during the off-season. Could it be an advantage?

"I think if we knew we were going to play each other, we probably wouldn't have had that meeting," Petersen said. "I really believe this, it wasn't on how to attack each other or how to attack their defense. It was more of a conversation between our defensive guys talking very specific technique, detail-type work that, you know, doesn't really have a whole lot to do with the influence of the outcome of this game."

Patterson doesn't believe the meeting has any impact on the game.

"I think we're both helped by it because that's what we do," Patterson said. "Most people think we're crazy anyway about how we do it. The only way I can help this profession is to go out and help people. Obviously, Boise and TCU didn't think they were going to play each other. Most of the time when yo ugo in and study somebody, as a general rule, you come out with about one idea because you know they have won, they have done what they needed to do. You are looking for about one idea that will make you better."

Patterson said it was probably his fault. He said Petersen called and asked for one coach to come down and Patterson told him to brin ghis whole staff.

"I believe that's how you do it so everybody gets on the same page," Patterson said. "That's what we ask when we go somewhere else to study what other people do. I think it is what makes the profession grow. It is going to help us maybe in this ballgame? Maybe not. But down the road, I think it does."
January, 3, 2010
1/03/10
12:35
PM CT
SCOTTSDALE, Ariz. -- Add yet another coach of the year award to TCU Gary Patterson's trophy case. He was named the winner of the Eddie Robinson Award, given to the coach of the year by the Football Writers Association of America.

Patterson just completed his portion of the Fiesta Bowl coaches press conference and is talking with Boise State coach Chris Petersen.

He talked about a variety of issues and we'll get to those leading up to the game.
January, 2, 2010
1/02/10
8:50
AM CT
SCOTTSDALE, Ariz. -- One advantage of the additional preparation time for a bowl game is the opportunity to watch a gaggle of games on film.

"I have been watching film for the last five years of Boise State," Patterson said Friday. "When you play Boise State, you better look back at all the guidance, all the formations, how they attack. We know we probably won't see anything we saw a year ago from Boise State. So we are trying to prepare for all the rest of it."

That's all part of the chess game that coaches play. They want to run plays and schemes they know, but with a month to prepare, you've got time to throw some wrinkles into the playbook that haven't been in there all year. That's where watching as much film from previous years can help. Boise is doing the same thing.

Patterson was asked the proper way to prepare for the challenge of playing Boise State in the regular season.

"If I was in the WAC, I would tream them the same way I treat Air Force," Patterson said. "I would work on them in the spring, the last three or four practices in spring ball. You work on them in two-a-days."

TCU will practice this afternoon and then a walk-through tomorrow morning.
January, 1, 2010
1/01/10
4:59
PM CT
SCOTTSDALE, Ariz. -- Happy New Year, everyone. For those TCU fans (and Boise State, for that matter) getting ready to head out to Arizona, you can expect beautiful weather. I just got here and it's quite nice.

Temperatures are in the high 60s now with blue skies. It's certainly good weather to practice outside and get ready for Monday's Fiesta Bowl.

I'll be here blogging as much as I possibly can the next four days leading up to the Fiesta Bowl. Both teams will practice tomorrow and then the two coaches talk to the media one final time on Sunday before Monday's big game.

A few quick notes:

* Defensive back Rafael Priest has a sprained foot. TCU coach Gary Patterson said it was "possible" Priest could play, but I wouldn't bet on it. Patterson is confident Greg McCoy can handle things.

"Through the season we have had guys step up," Patterson said. "Robert Hanson last year wasn't able to play in the Poinsettia Bowl and Daryl Washington had to start. He ended up having a great season for us this year. That's what good programs do. You've got to move forward."

* Boise State formally announced a contract extension for coach Chris Petersen. It's a five-year deal that takes him through 2014. And well-deserved, I might add.

* Boise State will probably play Brenel Myers at right tackle in place of the injured Garrett Pendergast, who has a broken ankle. Myers' job won't be an easy one: Contain TCU All-American defensive end Jerry Hughes.

* Boise State WR Austin Pettis, nephew of Rangers first-base coach Gary Pettis, remains questionable with an ankle injury. But he could still end up holding on kicks. Hunter White, though, is ready.

* TCU will practice tomorrow afternoon and it's closed to the public and the media. Patterson indicated today that he's getting his team to take off the shoulder pads and allowing them to get a break from some of the physical stuff. This is something TCU has done in the middle of game week all season and something Patterson feels has helped his team's stamina.