Dallas Colleges:

Cole Beasley
January, 6, 2012
1/06/12
3:00
PM CT
You saw the preview and prediction. Now here are three keys for Pitt and SMU in the BBVA Compass Bowl:

Pitt
1. Focus.
The same question has to be asked again this year heading into the BBVA Compass Bowl: What will be the motivation for the Panthers, who are playing in this game for the second straight season under an interim head coach? There is no doubt these players and this program were rocked hard by the way former coach Todd Graham left. They must put those negative emotions behind them and play for themselves and each other. This is a team that has been maddeningly inconsistent, which led to a disappointing season. Can they pull it together one final time to win their third straight bowl game?
2. Run.
Pitt has experienced the most success this season when running the ball. That task got more difficult when
Ray Graham
was lost for the season. It will be even harder now that backup
Zach Brown
is questionable for the game with a bruised sternum. True freshman
Isaac Bennett
and
Corey Davis
will be relied upon to shoulder the load, so the game doesn't rest on the arm of quarterback
Tino Sunseri
.
3. Get after J.J. McDermott.
Pitt has been terrific with its pass rush all season, tied for fourth nationally in sacks with an average of 3.25 per game. The Panthers have 39 total sacks on the season. The Mustangs have given up 27 sacks on the year, so there should be plenty of opportunity for Aaron Donald and Brandon Lindsey to get after McDermott. That obviously is a huge key if the Panthers want to disrupt their passing game -- the strength of the team.

SMU
1. Limit the mistakes.
SMU ranks last in the nation in turnover margin (minus-17) and has at least one interception in 11 of its 12 games this season. Only East Carolina has thrown more interceptions than SMU's 19 in 2011, according to ESPN Stats & Information. On the bright side, Pitt only has eight interceptions this year. On the down side, Pitt did force six turnovers the last time out against Syracuse.
2. Make Sunseri win it.
SMU has some pretty talented players up front. Defensive end Taylor Thompson, who has seven sacks and six forced fumbles on the season, is going to need a big game to slow down the Pitt running attack and to take Sunseri down. Ja'Gared Davis is also an important player for the Mustangs on defense -- he has 4.5 sacks and 11 tackles for loss.
Taylor Reed
is a tackling machine and will be key to slowing down the Pitt run.
3. Pass game must get going.
There is no escaping this -- SMU has to pass the ball in order to win. The Mustangs went 2-4 in their last six games largely for this reason: Scoring an average of 17.7 points during the stretch, SMU averaged just 223.7 yards through the air and threw six touchdowns and 11 interceptions. The Panthers have been much better on pass defense in the second half of the season but will be challenged by
Cole Beasley
and
Darius Johnson
-- each has over 900 yards receiving and the duo has combined for nine of the team's 16 touchdowns this season. If SMU can protect McDermott and connect on big pass plays early to take a quick lead, Pitt could find itself in serious trouble. The Panthers are not equipped to play from behind.
October, 3, 2011
10/03/11
12:09
PM CT
By
Jeff Caplan
| ESPNDallas.com
If there were doubts about the direction of the
SMU
offense prior to Saturday's showdown with
TCU
, senior quarterback
J.J. McDermott
and co., might have eased any concerns.
The Mustangs seem to be finding their stride and although McDermott has critics as not being the most accurate of passers, he now ranks 16th in the nation in passing yards a game at 296.4. He has completed 109 of 189 attempts for 1,482 yards, eighth-most in the nation. Coach June Jones would like to see his 57.7-percent completion rate rise, but remember McDermott was the backup starting the season.
In the 40-33 overtime win at TCU, McDermott was 23-of-45 for 349 yards. Many of his incompletions came on multiple attempts to beat TCU on deep routes. He had one interception, a poorly thrown ball, but he hit for four touchdowns, including a strike for the game-winner in overtime.
"If you ever want to be a great team," Jones said, "you'd better be able to execute, throw the ball deep and make plays in these kinds of games."
It was the third consecutive game the Ponies scored at least 40 points. The first two against Northwestern State and Memphis could be looked at with some measure of wait-and-see, but to do it against TCU, even with its struggling defense, lends a different level of credibility.
McDermott certainly seems capable of improving his throwing percentage as he gets to know a talented corps of receivers better. Even missing top target
Cole Beasley
Saturday, the Ponies had three receivers with 69 yards or more, led by exciting junior
Darius Johnson
, who put up his third consecutive 100-yard game with 12 catches for 152 yards and two touchdowns. On Monday, he was named the Conference USA Player of the Week.
Sophomore
Jeremy Johnson
, playing in place of Beasley, had six receptions for 69 yards and the touchdown grab in overtime.
Terrance Wilkerson
had three catches for 97 yards and a TD, showing his speed on a deep route for a 71-yard touchdown in the first quarter.
Darius Johnson is tied for 18th nationally in receiving yards per game at 110.0. He's 13th in receptions with 39 for 550 yards, and Beasley, in just four games, is 14th with 31 catches for 376 yards.
The SMU offense, which was being overshadowed by the an improving defense, ranks 29th in total offense (449.4 yards a game) and 15th in passing offense (326.8). Jones' run-and-shoot offense gets exactly what it needs on the ground from tough tailback
Zach Line
, who rushed for 120 yards against TCU and is averaging 116.6 yards a game with 11 touchdowns in five games.
September, 29, 2011
9/29/11
4:50
PM CT
If there is one area of the TCU defense that has struggled more than the rest, it has been against the pass.
There were glaring problems in the season opener against Baylor, in which the Bears had five touchdown passes of 25 yards or more. A lot of those came against one-on-one coverage, as the Horned Frogs seemed helpless to stop balls that were simply being thrown over their heads.
PODCAST
SMU head coach June Jones talks about the upcoming game against TCU, conference realignment, and much more with Ian Fitzsimmons.

Listen

Since then, TCU has not faced as big a test through the air. But that changes Saturday against SMU in the Battle for the Iron Skillet. The Mustangs are No. 15 in the nation in passing under June Jones, the run 'n' shoot master.
They have not really lost a beat with
J.J. McDermott
at quarterback, either. McDermott relieved an ineffective
Kyle Padron
in the season opener against Texas A&M and has thrown for 1,133 yards with four touchdowns and three interceptions.
Coach Gary Patterson knows what to expect out of this offense. So does his defense. He says his players are doing better against the pass.
"We gave up one long pass against Monroe; last week didn't give one up," he said. "We just have to keep getting better."
Indeed, of the nine passing touchdowns TCU has given up this season, eight have been of 20-plus yards. Consider TCU allowed just five passing touchdowns of 20-plus yards in all of 2011. There are new faces starting in the secondary, so they have needed time to get adjusted.
[+] Enlarge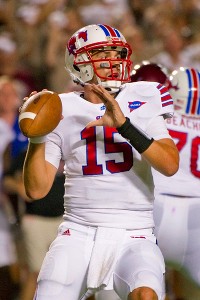 AP Photo/Dave EinselIn four games, J.J. McDermott has thrown for 1,133 yards and four touchdowns.
Also, Patterson said last week veteran cornerback Greg McCoy was not playing to the level he played at in the Rose Bowl, having given up three touchdown passes already this season. He wanted his team to get into sync, and play with confidence.
How does does a win over FCS Portland State do that? That remains to be seen. SMU gave TCU a challenge in the first half last season, taking a 14-10 lead into halftime.
Zach Line
had a monster game with 139 yards and one touchdown and an average of 8.2 yards a run.
Line is back, and already has 11 touchdown runs this season -- second in the nation behind
Bernard Pierce
of Temple. Though the Mustangs love to throw, Line has been a huge presence in the run game the last two seasons. He ranks No. 14 in the nation in rushing.
But what could hurt SMU is the potential loss of top receiver
Cole Beasley
, who has an injured right knee. Jones hasn't said whether Beasley will play. If he can't go, that would be a big blow for an SMU offense that is doing a better job of getting big plays in the pass game.
Beasley leads the team with 31 receptions for 376 yards. He and
Darius Johnson
have been the top two targets, combining for 58 of the team's 95 receptions.
On throwing the ball deep, Jones said, "I think we're better than we were last year at this point. We're making more throws up top and down the field. We still missed a few in the first three games, but last week we made a couple good throws so we'll just hope that we keep getting better each week."
Given what Baylor did to TCU, you can bet SMU will try to follow the same game plan.
September, 28, 2011
9/28/11
11:22
AM CT
By
Jeff Caplan
| ESPNDallas.com
During the first half of last week's SMU blowout of Memphis, Mustangs wide receiver
Cole Beasley
was all over the field, catching and running and slipping by defenders as SMU jumped out to a quick start.
After three catches for 50 yards, the speedy and dependable Beasley went down in the second quarter with a knee injury. He hasn't practiced this week and on Tuesday he was dragging around a right leg encased in a big blue brace. Coach June Jones was waiting on MRI results and didn't pronounce the team's leading receiver (31 catches, 376 yards) out for Saturday's Battle of the Iron Skillet at No. 20 TCU, but it certainly doesn't look good.
An SMU team that is monitoring several injuries and with quarterback
J.J. McDermott
's leading target on the sideline does not bode well against a Horned Frogs defense that has been dinged some, especially in the secondary, but has shown improvement since the 50-48 loss at Baylor in the season-opener.
How will the Mustangs cope?
"Next pony up," running back
Zach Line
said.
That's the hope.
Darius Johnson
is the second-leading receiver with 27 catches for a team-high 398 yards. He has half of SMU's four receiving touchdowns on the season, a low total for a Jones-coached offense.
Terrance Wilkerson
is next and he is the only other receiver with double-digit receptions. He has 13 catches for 183 yards. Sophomore
Jeremy Johnson
(four catches, 33 yards) and
Bradley Haynes
(one catch, 2 yards), would be next ponies up, so to speak.
It could mean more reliance on Line, the punishing, 230-pound junior tailback that is averaging 115.8 yards a game and went for 139 on 8.2 yards a carry a year ago against the Frogs.
"We better player our best game this week. This is the best defense that we'll play this season," Jones said. "Baylor made a lot of plays, a lot of one-on-one just big play. We're going to have to make our plays when we can and just be efficient offensively because they do a great job on defense."
December, 24, 2009
12/24/09
10:45
PM CT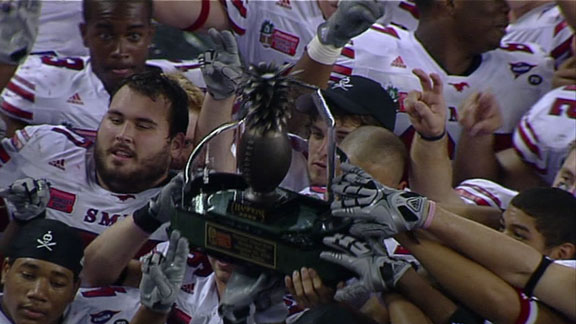 June Jones finally broke a smile at the end of SMU's sweet return to postseason play. The Mustangs just wrapped up a 45-10 throttling of shorthanded Nevada from Aloha Stadium in Honolulu. It was the school's first bowl victory and first bowl appearance since 1984.
Let the luau begin. And may the 1986 death penalty finally RIP.
"I think they're starting to realize it," Jones said earlier this week of his players understanding the depth of the death penalty, a punishment handed down by the NCAA before these players were even born. "And they'll really realize it probably 10 years from now."
Jones' run-and-shoot offense kicked into high gear virtually instantaneously with a 71-yard Kyle Padron bomb to receiver Cole Beasley on the second play of the game. One play later it was 7-0 and the rout was on. The Mustangs racked up 534 yards of total offense with Padron, a true freshman from Southlake Carroll, throwing all over the Wolf Pack to the tune of 460 yards. Padron completed 32-of-41 passes including a pair of touchdowns with no interceptions.
The SMU defense laid down its best peformance of the season, keeping Nevada without a touchown until its final possession of the game. The Wolf Pack was missing its two star, 1,000-yard running backs, so clearly this wasn't the Nevada team that came in as the nation's most potent rushing attack. The Mustangs held the Pack to 137 rushing yards. Quarterback Colin Kaepernick, also a 1,000-yard rusher, legged out just 23 yards without his usual backfield mates to support him.
He racked up some late passing yardage, but this game was all about the Ponies' remarkable turnaround from a 1-11 season last year and 25 years of futility.
And what a day for SMU's receiving corps. Junior speedster Aldrick Robinson was indefensible on deep routes. He hauled in nine catches for a team-high 176 yards. Senior Emmanuel Sanders, who leaves SMU with a handful of school receiving records, finished his career with seven catches for 124 yards and a touchdown. Beasley had three catches for 88 yards and tailback Shawnbrey McNeal caught seven balls for 53 yards and rushed for 63 yards and three touchdowns on 12 carries.
SMU finished the year 8-5, its most victories since going 10-2 in 1984 when they defeated Notre Dame, 27-20, in the now-defunct Aloha Bowl.
Perhaps on the long flight home, Jones will allow himself time to bask in the success of the 2009 season, one that will go down as a monumental triumph and will for once signal boundless optimism heading into 2010.
"I think when we get the recruiting class signed up in February, we'll come up for air and realize that when we have those 24, 25 players," Jones said, "that we're all of a sudden a whole lot better athletically than we've been to add to this young group here."