Dallas Colleges:

Conner McQueen
November, 5, 2014
Nov 5
2:00
PM CT
COLLEGE STATION, Texas -- Within hours of the announcement that Texas A&M would opt for sophomore
Kenny Hill
as its starting quarterback for the team's season opener against South Carolina, true freshman quarterback
Kyle Allen
did what many kids do these days: take to social media.
Allen opened his Twitter account and fired off a five-word tweet, a note to the world that he was down, but not out.
[+] Enlarge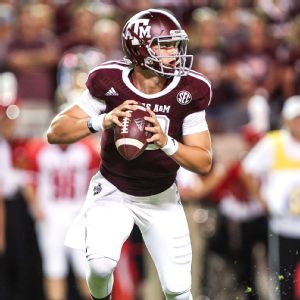 Troy Taormina/USA TODAY SportsTrue freshman QB Kyle Allen will guide Texas A&M on Saturday as the Aggies take on No. 3 Auburn.
"Don't count me out yet,"
the post read on Allen's Twitter account the night of Aug. 16.
The message was clear: Allen would keep fighting, competing for a chance to start even as the backup. Though it seemed unlikely after Hill's record-setting
debut on Aug. 28
that Allen would see the field this season for anything other than marginal playing time, the youngster's time has come.
After making his starting debut Saturday vs. Louisiana-Monroe, Allen will make his second consecutive start this weekend when the Aggies travel to Auburn. Allen will trade the friendly confines of Kyle Field and a Sun Belt Conference opponent for the hostile atmosphere of Jordan-Hare Stadium and the No. 3 team in the nation.
"That's a lot of pressure for an 18-year-old kid to get thrown into," Aggies offensive coordinator Jake Spavital said.
That's an understatement.
The Aggies hope Allen can handle it, because there are precious few alternatives. Hill will be serving the second of a two-game suspension and won't make the trip. The only other quarterback on the two-deep depth chart is
Conner McQueen
, a former walk-on who was awarded a scholarship fewer than three months ago.
Texas A&M can only work with what it has, which is Allen, an ESPN 300 recruit and the No. 1-rated pocket passer in the 2014 class.
"I think he can handle it and it's up to us to get him calmed down," Spavital said. "He's going to have nerves, it's going to be a hostile environment, there's going to be a lot of things happening in between plays and he's just got to calm down, relax, communicate it clearly and just go out there and compete and do what he's always done.
"I always tell him 'Cut it loose. Who cares what happens? Go out there, have fun and play to the best of your ability.'"
When Allen enrolled at Texas A&M in January, there were many outside the program that assumed the Scottsdale, Arizona, product could be starting from Day 1, given his lofty status as a recruit.
Johnny Manziel
's shoes were left to fill and only unproven quarterbacks resided on the Aggies' roster to fill them.
With a season of experience and a knowledge of the Aggies' style of offense that dated back to his high school days on his side, Hill won the job during an offseason and training camp competition. Upon breaking Manziel's single-game passing yardage record in his starting debut vs. South Carolina, virtually no one questioned coach Kevin Sumlin and Spavital's decision to start the sophomore.
After a 5-0 start, Hill faltered as did the Aggies' offense in a three-game losing streak. During an off week that followed that stretch, Spavital said Allen beat out Hill during practice for the right to start against Louisiana-Monroe. Before kickoff, the team announced Hill would be suspended for the following two games for a violation of team rules and athletic department policies.
Allen led the Aggies to a touchdown drive to start the game and a 21-10 halftime lead Saturday but had his
fair share of struggles
, too, finishing 13-of-28 passing for 106 yards with a touchdown, an interception and taking three sacks with a scaled-down playbook to ease him into his first start.
"We had a lot of thoughts of max protecting him, keeping it down and keeping the game plan simple, not making him think as much," Spavital said. "There's a lot of nerves that every kid goes through in his first start. I thought he handled it pretty well."
How the 6-foot-3, 205-pound quarterback has handled himself since arriving in Aggieland is one of the strengths in his short career. During training camp, McQueen mentioned how impressed he was with the youngster's maturity.
"He came in here at 17 years old, can't even buy a lottery ticket yet and he's more professional about the quarterback position than anybody I've ever met in my entire life," McQueen said in August. "He came here with a goal and he's trying to attain it right now."
Physically, Allen is gifted. His arm talent, stature, intelligence and confidence were among the things that attracted Spavital -- and dozens of other colleges -- to Allen during the recruiting process. After his first start, teammates lauded him, even though the offensive production left much to be desired.
"Kyle is young but he controls that huddle," offensive lineman
Ben Compton
said. "He knows that he is the guy and he worked all week and whenever his name was called he was ready."
Spavital praised Allen's approach, which he said hasn't changed from the moment he arrived. The Aggies are hopeful he can make significant improvement in a short amount of time as they hit the road as heavy underdogs. The job is his to take, Spavital said, so Saturday becomes a golden opportunity for the golden-armed Allen.
"A lot of times, when you announce that starter at the beginning of the year, they'll be set back from that," Spavital said. "Kyle wasn't that way. He came in and kept working and I think he worked even harder. That's just the ambition that he has to get the starting job.
"He's getting better each week. He's probably his hardest critic, and it's good to see him coming in here and take the effort to keep getting better."
September, 4, 2014
Sep 4
10:00
AM CT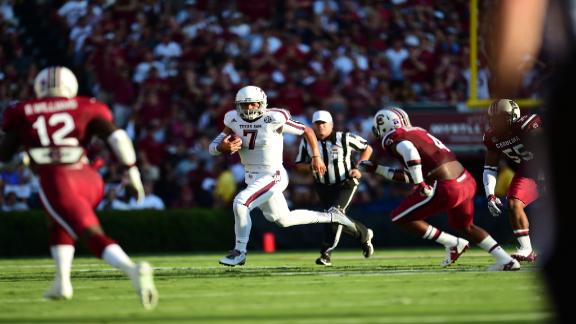 COLLEGE STATION, Texas -- When fall classes began Monday at Texas A&M,
Kenny Hill
found himself in an unexpected position.
He had been a firsthand witness as his predecessor,
Johnny Manziel
, became the center of attention in College Station and throughout college football. Hill remembers walking around with Manziel as people flocked toward him requesting pictures, autographs, a piece of his time.
"I was just walking with Johnny [last year] and he got that," Hill said Tuesday. "I thought, 'That won't happen to me.'"
Guess again.
The 19-year-old Aggies quarterback is the new big man on campus in Aggieland following his historic starting debut, a record-breaking 511-yard performance in the Aggies' 52-28 season-opening win over South Carolina.
Now Hill is the one Aggies want to talk to, want a picture with and are bestowing nicknames upon. ("Kenny Trill" is the one that has been currently settled on.)
"It's been nuts walking around with everyone looking at me and all that stuff," Hill said. "It's been crazy. It's kind of fun. I'm just trying to live my life like I always had."
While Hill manages his sudden surge in popularity, the Aggies are managing expectations after their eye-opening debut. A team that much of the college football world assumed would take a step back post-Manziel (and
Mike Evans
and
Jake Matthews
) suddenly looks like a team to be reckoned with in the SEC West.
[+] Enlarge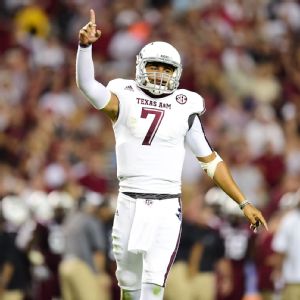 Phil Ellsworth/ESPN Images"It's been nuts walking around with everyone looking at me and all that stuff," said Texas A&M quarterback Kenny Hill, who completed 44 of 60 passes for 511 yards and three touchdowns in the season opener against South Carolina.
How good the Aggies can be will be determined by several factors, including a defense that showed signs of improvement from last year but still has plenty of work to do after allowing 366 passing yards and seven yards per play to the Gamecocks.
But make no mistake, the Aggies are about scoring points, and Hill will be the linchpin to that objective. After a 44-for-60 passing performance that included three touchdowns and zero interceptions, the bar is set high. Can he replicate it?
"I can shoot for it," Hill said. "I'm just going to do as much as it takes to help our team win, whether it's 511 yards or 11 yards, that's what I'm going to do."
Hill wasn't perfect, but he was awfully close. Offensive coordinator and quarterbacks coach Jake Spavital said that of the 99 plays the Aggies ran, he graded Hill negatively on 12 of them while reviewing game tape.
Spavital is comfortable with Hill running everything in the offense, and it will continue to evolve as Hill improves. As a natural fit for the Air Raid-inspired attack, Spavital is now interested in how Hill reacts when things go wrong.
"I'm curious to see how Kenny handles adversity, because there's going to be times like that," Spavital said. "It could be this week vs. Lamar. If we go three-and-out or he throws an interception, that's naturally going to happen in a game. I just want to see how he can overcome that and how he handles that situation."
Hill's teammates weren't surprised. They became accustomed to his poise and demeanor.
"Extremely high football IQ, always asking good questions, asking if there's a better way to do things," third-string quarterback
Conner McQueen
said of Hill. "Coach Spav does a good job of giving us options going into the game, and I really think Kenny used that to his advantage and not checking to the same thing, exploring the offense and doing things that really outdates the time that he's been here in two years."
While he continues to evolve as a player, dealing with the spotlight that accompanies his play might be as important as his on-field play. Hill is already showing maturity in that regard.
When asked if he stops to pose for pictures with students on campus, he told reporters, "Coach [Kevin] Sumlin won't let me take pictures. ... Johnny got himself in so much trouble with pictures. He doesn't want me to get in trouble with pictures."
Sumlin was somewhat surprised to learn that, because he claims he didn't tell Hill that. What he did say is if Hill wants to say no, blame Sumlin, a service Sumlin offers to all his players if they feel the need.
Hill has seen the negative side of the spotlight. This spring, when he was arrested on a public intoxication charge, the incident made national headlines and he received immense criticism. He said he deserved the criticism and that it was embarrassing.
"I can't take any day for granted," Hill said. "I have to come out every day and work hard. I can't take days off, plays off, or for that instance, a night off. I have to be smart, always."
There was evidence of that Tuesday. After a media swarm that saw reporters peppering him with nearly 50 questions in a roughly 15-minute span (all of which he handled as smoothly as he did South Carolina's defense), Hill retreated afterward to the third-floor coaches' offices in the Bright Football Complex to watch more video on Lamar, the Aggies' next opponent. As the world around him changes rapidly -- he wasn't even named the starting quarterback until Aug. 16 -- Hill is trying to carry the same demeanor he always has.
"It's unreal how fast it happened," Hill said. "I honestly did not expect it to happen like that. Like I said, it's something I've got to deal with. I can't think about it too much. I just have to keep working every day."
May, 1, 2014
May 1
2:00
PM CT
Texas A&M coach Kevin Sumlin has overseen a few quarterback competitions in his head coaching career and is doing so again this season. Going into the spring, the Aggies had three players vying for the starting quarterback job. That number is down to two now after senior Matt Joeckel transferred to TCU earlier this month.
The candidates left standing are young, but promising, prospects: sophomore
Kenny Hill
and true freshman
Kyle Allen
. On Wednesday Sumlin discussed how the number of repetitions and outlook has changed -- if at all -- with the competition narrowed to just two players.
"I don't know that it changes the dynamic very much," Sumlin said. "Yeah, they're going to get more turns at this point … just from a sheer numbers standpoint you're going to raise the number of reps [for Allen and Hill] but you also have to be careful that the number of reps is not too high because those guys still have young arms and aren't used to throwing that many balls.
"So we'll keep track of that and work them through this summer with reps and try to increase their strength but also their knowledge so that when we get to fall that they'll both have an opportunity to compete to see who's going to run out on that field the first snap against South Carolina."
Hill has the benefit of game experience, having played in a backup role last season as a true freshman. Allen, the nation's No. 1-ranked pocket passer in the 2014 recruiting class, had to learn quickly after enrolling in January. The Aggies threw the playbook at the young prospect out of Scottsdale, Ariz., but he handled it well.
"I think that with the [offensive] installation we were able to move along a little bit quicker with him [Allen] than we have in the past," Sumlin said. "We changed some things in how we did things from a meeting schedule standpoint early this spring and really were able to get quite a bit of the installation in and meeting with players before we actually started the practice process because of the number of guys offensively and defensively that are going to have to play for us. I think he's handled it. The thing now is he's got the tools, he's got the basis of the offense, he's got the progressions and what we expect out of him."
The summer will be important for both quarterbacks as they are tabbed with leading summer workouts.
"I said before, the summertime is a great time for our quarterbacks to continue to improve, to continue to lead because they run the 7-on-7s, they run the offseason program and we've had success doing it that way," Sumlin said. "With the new rule and with us being able to meet with the players too [in the summer], I think that's going to accelerate a lot of young players' growth through the summer. I think both of those young guys, both Kenny Hill and Kyle Allen, are going to continue to compete through two-a-day practices."
April, 17, 2014
Apr 17
9:00
AM CT
It would be easy to assume that 15 spring football practices would bring some clarity to the Texas A&M quarterback race.
Instead, there were seemingly as many questions coming out of spring as there were when it began.
The arrest and subsequent suspension of sophomore quarterback
Kenny Hill
, one of three Aggies who entered spring competing for the right to succeed
Johnny Manziel
, complicated matters in the final week of spring practice as senior
Matt Joeckel
and true freshman
Kyle Allen
spent the final week of spring drills splitting reps.
The
announcement Wednesday of Joeckel's decision to transfer
cleared things up somewhat, but it's still a marathon until the Aggies pick a starter.
Hill, who was suspended on March 28 following an arrest for public intoxication, has since been reinstated to the team and will have to stay out of trouble moving forward. He has experience on his side, having appeared in five games last season and having plenty of experience in a no-huddle, up-tempo spread-style offense like the Aggies run.
Allen, who went through customary true freshman growing pains in the early portions of spring practice while working to grasp the offense, came along nicely toward the end of spring drills, throwing a quality deep ball and handling the entire menu of plays that offensive coordinator Jake Spavital threw at him.
Joeckel's departure thins out the quarterback depth, leaving the Aggies with just two scholarship players at the position (look for walk-on
Conner McQueen
to be the third-string quarterback). Joeckel was still in the race when he made his decision, and the Aggies would have liked to have his veteran presence around, but he clearly felt his chance to start in 2014 was better somewhere else than Aggieland. And keep in mind, the Aggies continue to look for a quarterback in the 2015 recruiting class, with the focus currently set on ESPN 300 prospect and two-time Texas Class 5A Division I state champion
Kyler Murray
, son of former Aggies quarterback Kevin Murray.
With Joeckel out, it's a two-man race between Allen and Hill until mid-August, but it's too early to call a winner just yet. That's not the way A&M coach Kevin Sumlin works. He prefers to wait until approximately two weeks before the season opener before calling the quarterback competition, something he stayed true to in 2008 (his first year at Houston) and in 2012 (his first year at Texas A&M).
So Hill and Allen will continue to battle it out this summer and when preseason training camp begins in late July or early August. Speculation will run rampant as it did in 2012 (when many observers felt
Jameill Showers
led Manziel coming out of spring ball, though Manziel ultimately won the job), but the bottom line is we won't truly know who's trotting out into the offensive huddle first on Aug. 28 against South Carolina until Sumlin says so in about four months.