Dallas Colleges:

Cotton Bowl-2012
January, 5, 2013
1/05/13
12:44
AM CT
ARLINGTON, Texas -- Oklahoma's defense had heard the legends about Johnny Football. They'd seen the highlight reels and trophy acceptance speeches.
Until Friday, though, they had never stepped on the same field with the first freshman to win a Heisman Trophy. After Texas A&M's 20-year-old superstar rolled over the Sooners for 516 total yards (229 rushing, 287 throwing) and four touchdowns in a
41-13 Cotton Bowl victory
, Oklahoma couldn't help but be glad his college years will be spent on fields across the SEC and not the Big 12 -- where the Aggies would have been if not for some conference upheaval over the past two years.
"
Johnny Manziel
is everything he was billed to be," Oklahoma coach Bob Stoops said. "He makes everybody miss him. He was what you've seen on tape the whole year."
Sooners defensive coordinator Mike Stoops called Manziel the best player he'd ever played, which carries a special significance considering Stoops' defense gave up 344 rushing yards and 572 all-purpose yards to a shifty, speedy receiver named
Tavon Austin
from West Virginia barely six weeks ago, the second-most all-purpose yards in a game in FBS history.
[+] Enlarge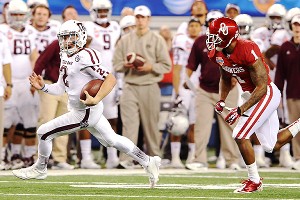 Kevin Jairaj/USA TODAY SportsJohnny Manziel sprints away from Oklahoma's Tony Jefferson during a second-half run.
"He's not a Heisman winner for no reason," said Oklahoma safety
Javon Harris
, who scooped up an interception off Manziel when receiver
Malcome Kennedy
bobbled what likely should have been Manziel's fifth touchdown of the night. "You saw what he did to the SEC all year. We knew exactly what we were going to get into."
Stoops' defense refused to blitz Manziel for most of the night, but the Aggies' strong offensive line -- led by bookends and future NFL first-round picks
Luke Joeckel
and
Jake Matthews
-- hardly allowed Oklahoma's defensive linemen to make Manziel notice they were even trying to chase him down. For much of the game, Oklahoma's secondary would cover the Aggies' receivers, but Manziel would find a crease and turn a broken play into a big gain.
"It's hard if you've got an angle on him," Bob Stoops said. "He stops, goes the other way. If you don't he outruns you."
Despite spending the past month making a post-Heisman nationwide media circuit and losing his offensive coordinator, Kliff Kingsbury, Manziel strung together one of the best highlight reels in bowl history, which was set to a soundtrack of "Johnny B. Goode" from Chuck Berry on the big screen at Cowboys Stadium as the final minutes of the game ticked away and Texas A&M fans serenaded the exiting Oklahomans with an "S-E-C" chant.
More like Johnny B. Great.
"There wasn't anything holding us back. No rust. There was no nothing," Manziel said.
He energized the crowd as few have ever had the ability to do, the volume level in Cowboys Stadium rising quickly any time he fled the pocket. Oklahoma's defense could do little to stop him or to quiet the Aggies-friendly crowd of 87,025, the biggest Cotton Bowl crowd ever at the venue.
A media flock hounding him while he did required postgame TV and
radio interviews

couldn't catch him either after he sprinted from midfield to the corner of the stadium to finish the last few bars of the "Aggie War Hymn" with his teammates in front of the Fightin' Texas Aggie Band.
"This is kind of a game that turned the page again," Manziel said. "People asked me earlier in the year about what game made it all click. There was the Arkansas game, and this game tonight made me flash back to that."
That's a scary thought for the rest of the SEC, which could spend the next three years chasing a quarterback nobody can seem to catch, inside or outside the pocket. He helped Texas A&M become the first offense in SEC history to amass 7,000 total yards, and there's no reason he won't do it again. With Manziel taking snaps and breaking tackles, there will be plenty of national title talk in Aggieland over the next few months, with a blowout victory over the Sooners serving as springboard. Texas A&M proved it was better than national title game favorite Alabama on a November afternoon in Tuscaloosa. Can it be better than everyone in the nation for three months next fall?
"For everybody next year, this is the first game of the new year," A&M coach Kevin Sumlin said. "It sets the bar."
Manziel will be around to help us all find out if the Aggies will clear it.
January, 4, 2013
1/04/13
10:46
PM CT
ARLINGTON, Texas -- Another Cotton Bowl, another bad loss for the Big 12. Excluding current SEC member Missouri's win back in 2008, the Big 12 has lost the Cotton Bowl to an SEC opponent in eight consecutive seasons. Johnny Football put on a show after a month away and showed zero signs of rust and a zillion signs of being an endless source of frustration for Oklahoma's defense.
The Big 12 finished 4-5 in its nine bowl games, and the SEC improved to 4-3 in its bowl games. Let's take a look at some instant analysis for Texas A&M's
41-13
blowout win over the Sooners.


It was over when:
Facing a fourth-and-5 late in the third quarter, Manziel hit
Ryan Swope
over the middle on a short slant. Swope shed a tackler and raced 33 yards to put the Aggies up, 34-13. That capped a run of three Oklahoma three-and-outs to begin the second half and spelled doom for the Sooners.
Game ball goes to:
Johnny Manziel
. I mean, who else? He broke the Cotton Bowl record for total yards with 516 and accounted for four touchdowns. It could have even been five, too, if not for
Malcome Kennedy
's bobbling a pass in the end zone that was eventually intercepted by Oklahoma's
Javon Harris
.
Stat of the game:
Oklahoma averaged 4.8 yards per play. Texas A&M averaged 9.6 yards per play. It was really that simple in this one. Johnny Football made the Aggies dangerous on what seemed like every snap. Oklahoma's offense played well in the first half, but it rarely looked easy, and Texas A&M prevented the Sooners from breaking big plays. It also clamped down in the red zone.
Unsung hero of the game:
Texas A&M's offensive line. Get a good, long look at
Luke Joeckel
and
Jake Matthews
serving as bookends on this line. They might be gone soon, cashing big-time checks as NFL first-round picks. Mike Sherman had well-chronicled struggles, but the offensive line guru left some big beef for Manziel and the Aggies offense to operate behind. It showed tonight. Oklahoma rarely blitzed, for fear of Manziel running loose in the second level, but he had all day to throw and little pressure on most snaps.
What Texas A&M learned:
Heisman jinx, December distractions, coaching changes, whatever. It all seemed pretty irrelevant in this game. Johnny Football looked like his usual self, if not better. He broke loose for 47 rushing yards on Texas A&M's opening drive and didn't slow down from there. Kliff Kingsbury checked out as Texas A&M's offensive coordinator, but Clarence McKinney had a solid performance in his debut as play-caller. Manziel insisted he wasn't distracted and that the whirlwind of awards and television appearances after winning the Heisman hadn't changed him. His performance validated those claims.
What Oklahoma learned:
Just like Kansas State and Notre Dame, the Sooners were incapable of beating the elite teams in college football this year. A 10-3 season isn't bad, but it's not good enough at Oklahoma. The Sooners might not have even been happy going 1-2 in those losses, but 0-3 will leave a very bitter taste in their mouths thinking back on a season that was very average by the Sooners' sky-high standards. Any notion that it had a formula for stopping or even slowing down the Johnny Football train went out the window. He had his way with the Sooner defense, which tackled poorly, too.
January, 4, 2013
1/04/13
5:35
PM CT
ARLINGTON, Texas -- Bob Stoops earned the name in his first few years as the head Sooner, when it seemed like Oklahoma kept racking up wins when they truly mattered.


In recent years, that name has taken a hit, but tonight, we might see another chapter written. Oklahoma is certainly good enough to win this game, but Stoops' biggest complaint over the years is that when he wins "big" games, they're suddenly not so big in retrospect.
He's got a point, but that won't be a problem tonight. He's got a huge stage and a packed house and two teams in the top 11. He's facing one of the nation's hottest teams with the uncontested hottest player in the country. With a win, he would earn a whole lot of respect from his Big 12 brethren for knocking Big 12 expat Texas A&M off its perch after a strong first season in the SEC.
Stoops is 11-2 against the Aggies, and defensive coordinator Mike Stoops has had a month (and a lot of great athletes) to prepare to try and stop Heisman Trophy winner
Johnny Manziel
.
There's no debating this one: Tonight is a
big
game. Texas and Oklahoma State are rivalry games, but they combined for just 15 regular-season wins. Oklahoma's other truly big games this year came at home, and the Sooners lost them both.
If Stoops' Sooners can break that trend tonight, you can expect a very different attitude surrounding the program heading into 2013.
Stay tuned.
I'll be tweeting along in-game commentary once kickoff nears
alongside SoonerNation's Jake Trotter and ESPN Dallas' Richard Durrett, so follow along. Enjoy the game, and we'll have plenty of coverage on the blog and on Twitter throughout the night.
January, 4, 2013
1/04/13
1:42
PM CT
Kickoff is only a few hours away, and I'll be there in person shortly, but here's who I'm taking in the Big 12's season finale in Cowboys Stadium.
My pick: Texas A&M 41, Oklahoma 37
I really just don't buy that Oklahoma's defense can slow
Johnny Manziel
enough to win this. I do think there are a ton of outside factors that might influence how well he plays or doesn't play. He's a young guy, and who knows how he truly handled the time away on the awards circuit? The coaches have had only good things to say, but will he look rusty, and will Mike Stoops have a solid plan to slow him down and keep him contained?
Additionally, how will the loss of Kliff Kingsbury affect him? I do think this game comes down to exactly how "Johnny Football" plays, but I like his chances to overcome that stuff and play well. Oklahoma's defense plays well, too. The Sooners lock down on
Sean Porter
and
Damontre Moore
and keep them out of
Landry Jones
' face, and Jones plays well in his final start, just not quite well enough to win.
Texas A&M's backs,
Ben Malena
and
Christine Michael
, are criminally underrated and overshadowed by Manziel, and they'll be the X factors in this one and help the Aggies control the game down the stretch. This offensive line is battle-tested in an SEC full of defensive lines much tougher than the Sooners'.
Luke Joeckel
and
Jake Matthews
will prove why they're both projected to be NFL draft first-rounders and will ultimately win this game for the Aggies with a bruising running game in the final quarter.
January, 4, 2013
1/04/13
12:45
PM CT

David Ubben talks with Texas A&M linebacker Sean Porter about the difference in Big 12 and SEC defenses, meeting a familiar opponent in the Cotton Bowl and what it's like to be teammates with a Heisman winner.
January, 4, 2013
1/04/13
11:58
AM CT
Here's a look at three keys for No. 9 Texas A&M's matchup with No. 11 Oklahoma in the AT&T Cotton Bowl:


1. Don't change the script:
Offensive coordinator Kliff Kingsbury might be gone, but all those athletes who made the Aggies' offense so potent in 2012 will still be lining up inside Jerry's World. And that includes Heisman Trophy winner
Johnny Manziel
, who made just about every defense he faced look silly. Kingsbury and Manziel had a special in-game relationship, but Kingsbury is now at Texas Tech, so Manziel won't have the luxury of Kingsbury's guidance on the sideline. But the Aggies can't divert from the plan that got them to 10 wins in their first year in the SEC. Trying anything new or restricting parts of the offense probably isn't the way to go at this point in the season. The athletes are there to stay the course, and with Oklahoma's high-powered offense, the Aggies can't afford to get too far behind the Sooners. Keeping the run game going will be key as well, as Oklahoma ranks 79th nationally in rush defense and gave up 200-plus rushing yards six times during the regular season.
2. Force Landry out of the pocket:
Oklahoma quarterback
Landry Jones
completed 65.5 percent of his passes for 3,989 yards and 29 touchdowns this season and had two 500-yard passing games during the regular season. The man can throw the pigskin around, and it helps that he has four players to throw to who have more than 40 receptions on the year. That means the Aggies have to make him as uncomfortable as possible tonight. While Jones has done well against the blitz this season, he struggles when he's forced out of the pocket. According to ESPN Stats & Information, Jones has attempted 12.2 percent of his passes from outside the pocket in his career and has thrown 25.5 percent of his career interceptions from outside the pocket. Defensive end
Damontre Moore
was a terror in opposing backfields this season and if he can consistently get into Landry's face, he should make it tough for Landry to make a lot of plays on the Aggies' defense.
3. Contain Oklahoma's returners:
The Sooners rank fourth nationally in kickoff return average, registering 26.5 yards per return. The Sooners have returned 32 kicks for 849 yards and a touchdown.
Roy Finch
recorded the Sooners' lone touchdown, but
Brennan Clay
has done the most damage on kickoffs, averaging 26 yards on 18 returns. The Aggies will also have to deal with punt returner
Justin Brown
, who averages 13.6 yards per return and has a touchdown. Texas A&M allowed just 18.7 yards per kickoff return during the regular season and 5.9 yards per punt return. The Aggies didn't allow any return touchdowns in 2012.
January, 4, 2013
1/04/13
11:09
AM CT
Three keys for Oklahoma in tonight's
AT&T Cotton Bowl
against Texas A&M:


1. Protect Landry Jones, and the ball:
When the Sooners have kept Jones upright, he's been lethal throwing the ball to a quartet of playmaking receivers. But the few times that opposing defenses have gotten pressure, Jones has been subject to major mistakes, notably in a loss to Kansas State earlier this season. This will be OU's toughest protection test yet, as the Aggies feature one of the top sack artists in the country in
Damontre Moore
. But if OU can keep Moore and his cohorts out of Jones' face, the Sooners should be able to move the ball through the air against what's been an inconsistent Texas A&M secondary.
2. Contain Johnny Football:
OU defensive coordinator Mike Stoops said this week that you can't stop
Johnny Manziel
. But you can contain him. That's obviously easier said than done. Just ask Alabama. But if the Sooners can keep Manziel in the pocket and prevent him from reeling off big plays on the move, they should be in good shape.
3. Win the special teams battle:
The Sooners have their best special teams units in years, especially in the return game.
Jalen Saunders
' punt return touchdown against Oklahoma State helped sparked the Sooners in a come-from-behind Bedlam win.
Brennan Clay
and
Roy Finch
have also been very good returning kicks, and punter
Tress Way
can swing field position with his leg. One way to counter Manziel is to make plays when he's not on the field. The Sooners could use some big plays on special teams.
January, 4, 2013
1/04/13
10:30
AM CT
No. 9 Texas A&M (10-2, 6-2 SEC) vs. No. 11 Oklahoma (10-2, 8-1 Big 12)
On ESPN Dallas 103.3 FM:
Coverage begins at 6:30 p.m. CT.


Who to watch:
Who else? Texas A&M quarterback
Johnny Manziel
will attempt to put the finishing touches on his freshman season. "Johnny Football" broke Cam Newton's SEC record for offensive yardage and accounted for 43 touchdowns while becoming the first freshman to capture the Heisman Trophy. Manziel, however, will be facing one of the better defensive backfields he's seen all season, led by free safety
Tony Jefferson
and cornerback
Aaron Colvin
-- both All-Big 12 performers. Manziel will also have to overcome the distractions of a whirlwind month in which he not only won the Heisman but hung out with actress Megan Fox and played golf with the Jonas Brothers.
What to watch:
The Aggies boast Manziel, but the Sooners counter with one of the top wide receiving corps in the country.
Kenny Stills
,
Justin Brown
,
Jalen Saunders
and
Sterling Shepard
all have more than 500 yards receiving this season. Texas A&M is stout up front, but the Aggies have been vulnerable at times defending the pass, ranking 82nd nationally in pass defense despite competing in the run-oriented SEC. If OU quarterback
Landry Jones
gets rolling with his talented pass-catchers, this game could tumble into a shootout.
Why to watch:
Outside the BCS National Championship, this is as good a matchup as any out there. This Cotton Bowl also features two of the top quarterbacks in the country, with the hotshot freshman in Manziel facing off against the elder statesman in Jones, who will be making his 50th career start on the same field in which his career began four years ago. There should be plenty of energy inside Cowboys Stadium, too, as the Cotton Bowl is expecting a record crowd of 90,000. This will be a BCS-caliber bowl in every way except in name.
Prediction: Texas A&M 34, Oklahoma 31.
Coach Bob Stoops has a dominating
11-2 record against Texas A&M
, including an average victory margin of three touchdowns. These, however, are not the same Aggies the Sooners faced in the Big 12. Manziel and coach Kevin Sumlin have brought a new attitude to Texas A&M, and the Aggies will be motivated to prove this on the field against their former conference foe.
January, 4, 2013
1/04/13
9:21
AM CT
IRVING, Texas -- Predictions aside, one thing tonight is guaranteed.
Both teams will be showered in a deafening chant as the final seconds tick off the clock. What's not guaranteed? Which chant it will be.
The original "S-E-C! S-E-C! S-E-C!" that would accompany the far-from-original member of the SEC, Texas A&M fans?
Or the "Big 12! Big 12! Big 12!" chant that was born after another Texas A&M loss, at home against Oklahoma State in 2011?
[+] Enlarge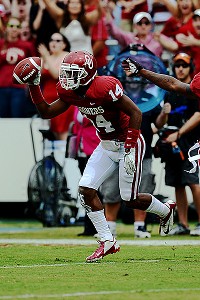 Matthew Emmons/USA TODAY SportsAaron Colvin said that Big 12 Conference pride will be fueling Oklahoma against SEC foe Texas A&M in the Cotton Bowl.
Deny the conference significance if you want, but this is one of just two matchups between the Big 12 and SEC all season, and the Sooners have certainly taken notice of how the league has done in the bowl season thus far.
"Especially since it's the SEC, everybody says we're two of the top conferences, and we want to be considered the top, so that's definitely going to add meaning to this game," Sooners cornerback
Aaron Colvin
said.
Safety
Tony Jefferson
, a San Diego native, attended last week's Holiday Bowl, where Baylor routed No. 17 UCLA as an underdog.
He's not the only one rooting on his conference mates.
"There's so much talk about how the SEC is the best conference and nobody else can play with them, so I feel like if other teams represent the conference well and we can go out and represent, maybe we can change a few minds," receiver
Kenny Stills
said.
It's a small sample size, sure. Texas beat Ole Miss in Oxford in the only other matchup of the two leagues this season, but Oklahoma doesn't seem to mind that this SEC opponent bears the same name of the squad it beat easily in Norman a season ago, even if the coaching staff and win-loss record is a whole lot different.
"We've played essentially everyone on their defense personnel-wise," offensive lineman
Gabe Ikard
said. "They play a new scheme, but we've played all those guys, so I don't think we're using that as motivation, but trying to represent the Big 12 well."
The bowl season has already exposed a few cracks in the SEC's foundation. None of the SEC's bottom eight teams managed a win against one in the top six of the standings, but Clemson already knocked off LSU in the Chick-Fil-A Bowl and Louisville dominated Florida in the Sugar Bowl.
Can Oklahoma issue another blow to the SEC's spot atop the conference rankings with a win over Texas A&M, days before Alabama plays Notre Dame and tries to win the league's seventh national title?
It'll be the Big 12's final game of the season, and beating one of the nation's hottest teams, led by Heisman Trophy winner
Johnny Manziel
, could leave a lasting imprint for the offseason and leave more than a few wondering just how secure the SEC's spot is as the top conference entering 2013.
"It's a big statement game, especially for our defense," Jefferson said. "The No. 1 offense in the SEC, it's just a huge opportunity for us to showcase our ability."
Texas A&M turned heads in its old conference for walking into the SEC, known for stingy defenses that would
obviously
dominate any spread offense, and shaking it up with offensive playmakers and creative play calling, buoyed by a player who only gets better as the play becomes more broken.
"I've always been an advocate for the Big 12. I love the way we play football here, and there's conference pride here with the SEC and Big 12 going against each other," Oklahoma linebacker
Tom Wort
said. "I was just proud of the way Texas A&M went into the SEC and did well. It shows that it doesn't matter what conference you're in -- you can still play good football. I'm proud of the way Texas A&M played."
He's not alone, though conference pride takes a backseat in game preparation, even if some players don't buy the idea that league pride is even on the line.
"People are trying to convince us that it's an SEC versus Big 12 matchup, but when it comes down to it, it's Oklahoma versus Texas A&M," Ikard said.
It may look that way on the scoreboard, but the postgame chants that will reign down on Cowboys Stadium will absolutely tell a different story.
Will the Big 12 like that story? Well, that's up to the Sooners.
January, 2, 2013
1/02/13
9:00
AM CT
IRVING, Texas -- For each of the past two seasons,
Landry Jones
began the season on the short list for the Heisman Trophy with a team ranked in the top 10, including a nod as the nation's preseason No. 1 team in 2011.
Each season, Jones piled up bushels of yardage but never more than 10 wins -- and, most importantly, no national titles or national championship game appearances.
[+] Enlarge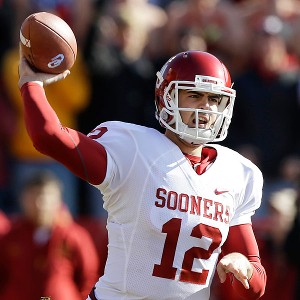 AP Photo/Charlie NeibergallLandry Jones leaves Oklahoma as the latest in a line of great quarterbacks at the school.
"Everybody wants to have that chance to play in that championship game. Everybody wants to be an All-American. Everyone wants to win the Heisman, but there's only a select few that actually get to do it, and those things were definitely left on the table for me," Jones said. "I wish I'd been able to accomplish them, but sometimes it doesn't work out like that. I've always wanted to be in New York and do all those things, but sometimes it doesn't work out that way."
Thing is, for Oklahoma quarterbacks it very often does work out like that. Jones' offensive coordinator, Josh Heupel, won a national title in 2000. Predecessor Jason White won a Heisman and played in national title games in 2003 and '04. Even the man Jones replaced in 2009, Sam Bradford, has a Heisman statue outside Owen Field and played in the BCS National Championship Game to cap the 2008 season.
Jones didn't do any of those things, but he'll leave Norman as the No. 3 passer in FBS history and will log his 50th start on Friday night at Cowboys Stadium. It's the same place his career began, when Bradford's essentially ended with a shoulder injury in the 2009 season-opening loss to BYU.
"I'm just really thankful. Not too many people get to play 50 games in their college career," Jones said. "I'm just really thankful for what I've been able to do and the position God's put me in to be on this team and play as much as I have."
Jones acknowledged the high standards of Oklahoma fans, which have often led to criticism when he fell short of the sky-high expectations established by the quarterbacks before him under Bob Stoops, and legendary coaches and players before Stoops who won the program's first six national titles.
Jones was very, very good, but made the fatal mistake of not being quite as good as Bradford, the man who left Oklahoma as the No. 1 pick in the NFL draft, despite that shoulder injury that provided the opportunity for Jones to play 50 games.
After No. 50 is done, Jones will be gone, handing the torch to the man behind him, likely
Blake Bell
. This week, Jones certainly sounded like a man who's enjoyed his opportunities and is ready for the next step of his life.
"At this place, you know what Monday's going to look like, you know what Tuesday's going to look like, but I don't know what the next chapter of my life's going to look like. You could be first round, first pick, or you could go as a free agent," Jones said. "You just never know, and never know what teams are going to do and who they're going to pick up and what your future's going to look like. It's exciting to walk out and see where you end up, and what God has in store for you."