Dallas Colleges:

D.J. Fluker
August, 21, 2013
Aug 21
2:30
PM CT
Nearly everyone who watched Johnny Manziel run circles around opposing defenses last season agreed that the Texas A&M star was the nation's top quarterback in 2012.
A new statistical measure that ESPN will introduce to college football this season -- Total QBR (Quarterback Rating), which it brought to the NFL a couple of years ago -- confirms that Manziel's 2012 performance did more than just pass the eye test.
Of the 122 qualified quarterbacks, the Heisman Trophy winner led the nation with a 90.5 Total QBR.
Here is a primer on the similar NFL QBR
, which explains how the metric attempts to explain everything a quarterback does: running, passing, sacks, fumbles and penalties. It measures a player on a 1-100 scale, where 50 is average.
Sharon Katz of ESPN Stats and Information recently explained how Total QBR is an important measuring stick for teams harboring BCS championship hopes. Four of the last five quarterbacks who helped their teams win the BCS title ranked in the nation's top eight in QBR.
That might be
an important statistic to watch for the six SEC teams who are ranked in the top 12
in the Associated Press preseason poll: No. 1 Alabama (AJ McCarron was eighth nationally last season with an 81.1 QBR), No. 5 Georgia (Aaron Murray, 13
th
with 78.4), No. 6 South Carolina (Connor Shaw, 38
th
with 64.6), No. 7 Texas A&M (Manziel), No. 10 Florida (Jeff Driskel, 51
st
with 59.1) and No. 12 LSU (Zach Mettenberger, 80th with 47.0).
If the annual QBR trends hold true, some of those players must considerably improve their consistency if their team is to snatch a spot in the championship game in Pasadena.
McCarron, however, might simply need to hold steady in order to lead the defending champion Crimson Tide to yet another spot in the title game. That could prove trickier than one might expect for Alabama's senior star, who has a wealth of skill talent at his disposal, but will line up behind a rebuilt offensive line this fall.
In a recent blog post,
ESPN.com's Tobin Petipas examined the Tide's o-line from 2012
-- a group that featured the same starting five in all 14 games and ranked among the most dominant offensive fronts in recent memory. Three starters -- D.J. Fluker, Chance Warmack and Barrett Jones -- became 2013 NFL draft picks, leaving behind only elite NFL prospect Cyrus Kouandijo at left tackle and right guard Anthony Steen, who was actually the only member of the group who did not commit a penalty or allow a sack last season.
Nonetheless, it will be difficult for Alabama's rebuilt offensive line to provide the same dominant effort that allowed McCarron and the Tide's running backs to perform so effectively in 2012. Alabama's running backs averaged an SEC-high 4.1 yards per carry before first contact and were not touched until five yards past the line of scrimmage on a whopping 34.6 percent of their carries thanks in large part to the big holes the offensive line created.
Further, McCarron passed for 13 touchdowns and no interceptions off play-action fakes last season, largely because of the fear that Alabama's rushing attack struck into opponents' hearts.
New offensive line coach Mario Cristobal has no shortage of talent at his disposal, but his two returning starters are the only players in his meeting room who have started a game.
The Tide's rushing production and McCarron's Total QBR numbers could slide if Cristobal's line struggles to adjust, but we should learn quickly how much of a concern the line will be for Nick Saban's club. Alabama opens against a typically stout Virginia Tech defense, which ranked in the top six in FBS in negative plays forced and quarterback pressures (hurries and knockdowns) last fall.
February, 22, 2013
Feb 22
2:00
PM CT
Players are gathering in Indianapolis, so that means this year's NFL combine is officially underway. The first two days are all about the interviews and eye tests, while the on-field workouts begin Saturday.
But before any of them stepped foot in Indy, ESPN draft guru Mel Kiper Jr. released his
pre-Combine Big Board

. Naturally, it's loaded with SEC players. Twelve of the 25 players on Kiper's Big Board are from the SEC, including six of the top 10 players.
Georgia linebacker
Jarvis Jones
kept his place in the No. 1 spot, while Texas A&M offensive tackle
Luke Joeckel
jumped in front of teammate
Damontre Moore
to move from No. 3 to No. 2.
Florida defensive tackle
Sharrif Floyd
made a major move up Kiper's rankings, moving from No. 15 to No. 8.
Here's where all 12 SEC players ranked on Kiper's Big Board heading into the Combine:
1. Jarvis Jones, LB, Georgia
2. Luke Joeckel, OT, Texas A&M
3. Damontre Moore, DE, Texas A&M
6. Dee Milliner, CB, Alabama
8. Sharrif Floyd, DT, Florida
10. Chance Warmack, OG, Alabama
12. Barkevious Mingo, DE, LSU
15. Sheldon Richardson, DT, Missouri
16. D.J. Fluker, OT, Alabama
18. Alec Ogletree, LB, Georgia
21. Cordarrelle Patterson, WR, Tennessee
25. Matt Elam, S, Florida
Kiper also
updated his position rankings

this week. Twenty-eight SEC players made Kiper's position rankings, and the league was represented by at least one player at every position, except fullback.
Here's where Kiper put SEC players in his position rankings:
Quarterbacks
4.
Tyler Wilson
, Arkansas
Running backs
1.
Eddie Lacy
, Alabama
5.
Marcus Lattimore
, South Carolina
Fullbacks
None
Wide receivers
1. Cordarrelle Patterson, Tennessee
Tight ends
3.
Jordan Reed
, Florida
Offensive tackles
1. Luke Joeckel, Texas A&M
3. D.J. Fluker, Alabama
Offensive guards
1. Chance Warmack, Alabama
3.
Larry Warford
, Kentucky
4.
Dallas Thomas
, Tennessee
Centers
2.
Barrett Jones
, Alabama
Defensive ends
1. Damontre Moore, Texas A&M
4. Barkevious Mingo, LSU
Defensive tackles
2. Sharrif Floyd, Florida
3. Sheldon Richardson, Missouri
Inside linebackers
1. Alec Ogletree, Georgia
3.
Kevin Minter
, LSU
5. Jon Bostic, Florida
Outside linebackers
1. Jarvis Jones, Georgia
4.
Zaviar Gooden
, Missouri
5.
Cornelius Washington
, Georgia
Cornerbacks
1. Dee Milliner, Alabama
3.
Johnthan Banks
, Mississippi State
Safeties
2. Matt Elam, Florida
4.
Eric Reid
, LSU
5.
D.J. Swearinger
, South Carolina
Kickers
2.
Caleb Sturgis
, Florida
Punters
2.
Brad Wing
, LSU
November, 16, 2012
11/16/12
12:00
PM CT
With the season winding down, we figured we'd start looking to the future. Like, beyond bowl games future.
We are looking into our crystal ball to check out some of the SEC best who could declare for April's NFL draft early. We've talked to people around the league, those in the know at ESPN when it comes to the NFL draft, and came up with the Texas A&M underclassmen we feel are the best bets to come out and go the highest in next spring's draft.
PODCAST
What's up with Ben Rogers' Fighting Texas A&M Aggies? The guys take a look at Ben's favorite college football team.

Listen

Draft guru Mel Kiper Jr. updated his
Big Board

this week and featured 12 SEC players in his top 25. Ten were juniors.
We're going in alphabetical order, so here are Texas A&M underclassmen we feel have the highest draft stock:
Luke Joeckel, OT, Texas A&M:
It's hard to find a better left tackle out there. Joeckel entered the season as a surefire first-round pick and has only helped his draft stock with an excellent junior season. He hasn't been rattled by the speed of opposing SEC ends, and has provided very good protection in the pass game. It sounds like he could be the first tackle off the board if he declares early.
Jake Matthews, OT, Texas A&M:
The Aggies are really getting greedy with their tackles. Matthews has been excellent all season, and could play either right or left tackle in the NFL. He's very powerful and moves well up front. He could be a late first-round pick if he decides to come out.
Damontre Moore, DE, Texas A&M:
Talk about really breaking out onto the national stage. He was excellent as an outside linebacker last season, but has been an absolute monster at defensive end in his first (and probably only) year in the SEC. He really adjusted to the new 4-3 scheme, and might have played himself into a top-10 pick. He has a team-high 74 tackles, leads the nation with 20 tackles for loss and is tied for first with 12.5 sacks.
November, 7, 2012
11/07/12
3:15
PM CT
Quick: Name the SEC's leader in sacks and tackles for loss.
Jarvis Jones
? Obvious choice after he led the SEC with 13.5 sacks and 19.5 tackles for loss last year, but no.
How about
Jadeveon Clowney
? He's a freak, but think again.
Time's up!
Both were solid guesses, but both are staring up at the new kid on the SEC block -- Texas A&M defensive end
Damontre Moore
.
[+] Enlarge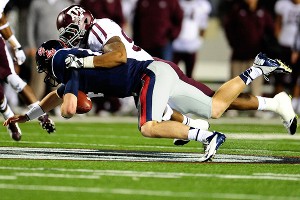 Stacy Revere/Getty ImagesDamontre Moore has spent a lot of time in the offensive backfield this season.
The former outside linebacker has taken to his new position and run with it … right over opposing quarterbacks. He's tied for first in the nation with 11.5 sacks and stands alone nationally with 19 tackles for loss.
Jones' impressive 2011 debut might be a blip on the radar compared to what Moore could do in the next month.
"He's definitely come a long way," defensive line coach Terry Price said.
"He's really turned his game up and accepted the challenges that are put in front of him to be the hardest playing defensive end in the country."
He was a star in the Big 12 last year with his 8.5 sacks and 17.5 tackles for loss, but his numbers masked a glaring issue that his new coaches immediately noticed on film.
They saw a primo athlete who was also very sluggish at times. When he was on, he was dominant, but he was only registering around 30 or 40 plays a game. When Kevin Sumlin took over at A&M, he realized that if Moore was going to succeed in the line-driven SEC, he had to get into better shape.
Sumlin's extra workout sessions with strength coach Larry Jackson pushed spring practice back two weeks. It was something that irked Moore, who was antsy without his pads this spring, but as he prepares for his 10th game of the season, he looks back at the grueling punishment his body took and is thankful for the extra work.
"Those two weeks helped me build up my conditioning," Moore said.
"I'm able to run a lot longer than most big men my size. That was the advantage on my end and I'm able to work at a high level consistently and go 60, 80 plays down the line. When other people are dying off, I'm building up or staying consistent where I'm at."
Moore is basically a new man. He's physically and mentally tougher and his endurance has cranked his motor up to a level he didn't have in 2011. He's gone from taking himself out of games to taking wide receivers down from behind -- in a dead sprint.
That extra conditioning has also helped him adapted better up front. Having to constantly throw one's body into someone with more than 60 pounds on him each play can take a toll on someone's stamina, especially when you aren't used to so much contact.
But with Moore's one-track mind, he's too obsessed with hammering quarterbacks to worry about being out-muscled. Quarterbacks have something he wants -- the football – and he's willing to do whatever it takes to either get it, or make them feel sorry for ever deciding to take it.
"It's like a horse when you put on their blinders when they're about to race," Moore said. "They only see that one thing in front of them and that's how I feel. I see that one thing in front of me and I lock in on it and I hone in on it and I go get it."
Moore might be regularly terrorizing opposing backfields, but he's still managed to stay in the shadows of Jones and Clowney. League seniority will do that, but it doesn't bother Moore.
He isn't offended. He's motivated.
Moore understands he still has a lot to prove and he knows he has a great opportunity to earn more respect against the nation's top offensive this weekend in Tuscaloosa. Alabama features two future first-rounders in
Cyrus Kouandjio
and
D.J. Fluker
who will make Moore work for everything, and try to wear him out of 60 or 80 plays.
Moore relishes the opportunity. He's bested most who have stood before him, and while he isn't favored Saturday, he likes his odds.
"I don't mind being the underdog," he said. "I love proving people wrong.
"I like it when people say, 'You can't do that.' That way, when I go in there I have that motivation, that drive, that will and that want-to just to prove that I can do whatever I put my mind to.
"If you tell me I can't do it, then I'm going to go do it."