Dallas Colleges:

Darrell Royal
November, 12, 2012
11/12/12
11:35
AM CT
Time to hand out some superlatives from the week that was around the Big 12:
Best offensive performance: David Ash, QB, Texas.
Ash took care of business against Iowa State, bouncing back after some struggles earlier in conference play. He completed a 47-yard pass to start the game on a trick play out of the wishbone formation. More on that in a bit. His day only got better. He completed his first 11 passes and finished with 364 yards and two touchdowns on 25-of-31 passing.
[+] Enlarge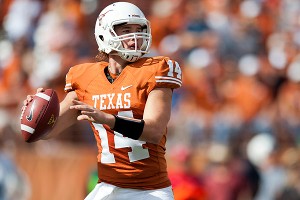 Cooper Neill/Getty ImagesTexas' David Ash threw for 364 yards and two touchdowns in Saturday's win over Iowa State.
Best defensive performance: Meshak Williams, DE, Kansas State.
Williams was everywhere for Kansas State in the Big 12's most dominant defensive performance of the weekend, a 23-10 win over TCU in Fort Worth. He had a pair of sacks and three tackles for loss among his seven stops. Those three TFLs accounted for a loss of 28 yards, too. Williams also batted down a pass.
Honorable mention: Lyndell Johnson, LB, Oklahoma State.
Best game: Texas Tech 41, Kansas 34, 2OT.
Another week, another OT thriller. This one, though, lacked the presence of TCU. All three Big 12 overtime games have gone multiple extra periods, but Tech's game-winning score came on a cheeky halfback jump pass from
Eric Stephens
to
Darrin Moore
. The Jayhawks erased a double-digit, fourth-quarter deficit to send the game into overtime, but once again, the Jayhawks came up just short from ending their painful Big 12 losing streak.
Best quote: Gary Patterson
, to Bill Snyder after K-State, Patterson's alma mater, knocked off TCU in Fort Worth to go 10-0. "Go win it all," he said.
Best team performance: Texas
. It started with a fantastic tribute to Darrell Royal, but the Longhorns' evisceration of Iowa State was as complete a beating as you'll see in a Big 12 game not involving Kansas. Texas' defensive woes looked like a distant memory as the offense outgained the Cyclones by more than 300 yards and won the turnover battle 2-0. The Longhorns had the ball almost twice as long as ISU, ran the ball well and played amazingly efficient offense. Add it up, and you get the worst beating Iowa State's received all year. No small feat.
Honorable mention: Kansas State
Worst overall performance:
West Virginia's special teams. What a nightmare for this unit. Two different kicks took odd bounces, hit WVU players and were recovered by Oklahoma State to account for both of WVU's turnovers. Another play resulted in a touchback when four different WVU special-teamers got greedy and decided to let a punt bounce one more time. That's a 20-yard mistake, and eight plays later, OSU capitalized with a touchdown to go ahead 48-34. Does that happen if OSU is pinned inside its 5-yard line? It's worth asking.
Worst explanation: Tommy Tuberville.
Hey, only Tuberville knows exactly what he was trying to do when he aggressively swiped the headset off a graduate assistant on the sideline in the middle of giving him an earful. His explanation, though, that he was trying to get him off the field and meant to grab his shirt simply doesn't line up with what the video clearly shows. There was no urgency on the part of Tuberville to get the assistant off the field, and he missed his shirt by a long, long way with the swipe. I don't believe Tuberville deserves any truly serious punishment for an incident that looked worse than it actually was, but his explanation was an insult to viewers' vision and intelligence.
Best play: Jaxon Shipley/David Ash/Greg Daniels, Texas
. The Longhorns announced to the world what formation they would open up in, and gained 47 yards anyway. Ash pitched it to Shipley out of the wishbone, a three-back formation popularized by legendary Texas coach Darrell Royal, who died last week. The Longhorns made the move as a tribute to Royal. Shipley threw the ball back to Ash in the backfield, who found Daniels for a 47-yard gain. There was irony in doing so in honor of a coach who said that only three things can happen when you pass the ball, and two of 'em are bad, but this one was very, very good for the Horns.
Most deserving of a thank-you card: Texas A&M.
Kansas State looked likely to get squeezed out of the title game by Alabama and Oregon if the Tide, Ducks and Cats all went undefeated. Then the Big 12 expats knocked off the No. 1 team in the country on its home field. Snyder owes you one, Kevin Sumlin and Johnny Football.
November, 7, 2012
11/07/12
3:24
PM CT
IRVING, Texas –
Derrick Dockery
did not know Darrell K Royal personally, but hearing about the death of the legendary University of Texas football coach was still tough.
PODCAST
Former Oklahoma head coach Barry Switzer talks about the passing of Darrell K. Royal, the legacy he leaves behind and more.

Listen

Dockery remembers feeling Royal's presence when the coach would visit practice.
"He's somebody everybody looked up to and admired," said Dockery, who started 31 games in three seasons for the Longhorns. "I know coach (Mack) Brown had a lot of respect for him and what he accomplished at the University of Texas and he always aspired to achieve the accolades that Coach Royal did in his tenure."
Royal was 88. He had been living with Alzheimer's and recently suffered a fall at an assisted living center. In 23 years with the Longhorns Royal had a 167-47-5 record and won three national championships, 11 Southwest Conference titles and 10 Cotton Bowl titles.
"He's the man down there, and he'll be truly missed," Dockery said.
November, 7, 2012
11/07/12
9:12
AM CT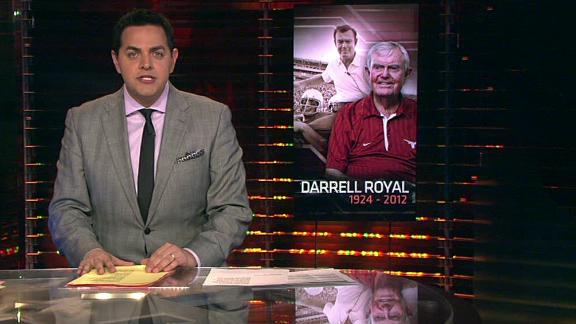 A Texas legend has died.
From our news story
:
AUSTIN, Texas -- Darrell K Royal, the former Texas football coach known as much for his folksy, simplistic approach to life as for his creative wishbone offenses and two outright national championships, has died. He was 88.

University of Texas spokesman Nick Voinis on Wednesday confirmed Royal's death. Royal had suffered from Alzheimer's disease and recently fell at an assisted living center where he was receiving care.
Royal will certainly be missed in the world of college football and in the Texas community.
July, 9, 2012
7/09/12
10:30
AM CT
We're looking at coaches this week on ESPN.com. It's a big subject, sure. In our blog network, we'll be breaking it down each day to smaller topics.
Today, a simple question: What would a program look like without the winningest coach in program history? Which coaches had the biggest impact?
Here's how it breaks down for each program in the Big 12 (all-time record in parentheses):
[+] Enlarge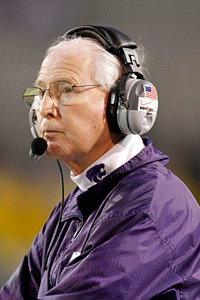 Brett Davis/US PresswireKansas State's winning percentage plummets without Bill Snyder.
BAYLOR: 524-530-44 (.497)
Winningest coach: Grant Teaff: 128-105-6

Wins without winningest coach: 396
IOWA STATE: 500-594-24 (.458)
Winningest coach: Dan McCarney: 56-85

Wins without winningest coach: 444
KANSAS: 572-560-58 (.505)
Winningest coach: A.R. Kennedy: 52-9-4

Wins without winningest coach: 520
KANSAS STATE: 475-612-41 (.439)
Winningest coach: Bill Snyder: 159-83-1

Wins without winningest coach: 316
OKLAHOMA: 821-307-44 (.718)
Winningest coach: Barry Switzer: 157-29-4

Wins without winningest coach: 664
OKLAHOMA STATE: 530-523-47 (.503)
Winningest coach: Pat Jones: 62-60-3 (Mike Gundy needs three wins to tie Jones)

Wins without winningest coach: 468
TEXAS: 858-330-33 (.716)
Winningest coach: Darrell Royal: 167-47-5

Wins without winningest coach: 691
TCU: 593-514-57 (.534)
Winningest coach: Dutch Meyer: 109-79-13 (Gary Patterson is tied at 109-30.)

Wins without winningest coach: 484
TEXAS TECH: 524-405-32 (.562)
Winningest coach: Mike Leach: 84-43

Wins without winningest coach: 440
WEST VIRGINIA: 701-457-45 (.601)
Winningest coach: Don Nehlen: 149-93-4

Wins without winningest coach: 552
That's a wide variance of wins. It's clear that no man means more to his school than Bill Snyder does to Kansas State. The program has a rather depressing .358 winning percentage if you remove Snyder's win from the equation. He took two seasons to get Kansas State from a perennial doormat to a team above .500. Snyder then went on a historic run that included a Big 12 title in 2003 and two BCS bowl bids.
Don't ever doubt why some consider what Snyder has done in Manhattan as the single greatest coaching job in the history of the game. Snyder's career win percentage at Kansas State is .656, almost double what the program's overall win percentage is. No other coach comes close to those numbers. There's a reason why many of the nation's coaches are often in awe of Snyder and why he is so respected.
The biggest surprise for me was the relative dominance of West Virginia compared to the rest of the Big 12. That .601 win percentage is behind only Texas and Oklahoma over the course of the program's history. And you wonder why folks are so excited about their entrance into the league?
Looking elsewhere, Texas Tech's decision to fire Mike Leach looks worse and worse while the Mike Gundy hire at Oklahoma State looks better and better. Gundy is three wins from passing Pat Jones as the school's biggest all-time winner. He did so in just 89 games while Jones needed 125 matches to reach 62 victories.
Conversely, how about the job Gary Patterson has done at TCU? Sure, the schedule is different, but he's suffered the same amount of losses as Gundy with 50 more wins. He's also reached 109 wins in 62 fewer games than Dutch Meyer.
We're living in the age of some great, great coaches in this league. History shows us that.
March, 22, 2012
3/22/12
9:06
AM CT
AUSTIN, Texas -- Despite having the support of her administration and two years left on her contract, Texas women's basketball coach Gail Goestenkors resigned on Monday, and by Monday night, had a text waiting from Longhorns football coach Mack Brown.
He thanked her for her work, and told her he appreciated her.
"Who in the world knows how somebody feels?" Brown said.

Brown
Brown doesn't know exactly, but when Goestenkors says things like "My heart's telling me it's time to take a break," Brown knew he had some idea of what she was going through.
It came from a conversation with legendary Longhorns coach Darrell Royal back in 2003, when Brown felt similar to Goestenkors.
"I asked him, 'Why did you quit?'" Brown said. "And there were reasons. But he said that when the losses became devastating and the wins became relief and it wasn't fun to even win, because you were supposed to, then I needed to get out."
Brown, then in his sixth season and third of what would be nine consecutive 10-win seasons, said he just needed to "wake up."
Two years later, he won a national championship and his second consecutive Rose Bowl.
That feeling crept back in during the Longhorns' trying 5-7 season in 2010. Even Texas' signature victory of that campaign didn't offer the same kind of pleasure such a win used to, Brown said.
"I remember beating Nebraska, walking off the field and I was worried about [Brown's wife] Sally because she lost her brother," Brown said. "I didn't have any joy in that win and that was stupid because it was a huge win for Texas and these kids. I didn't feel it walking off the field because of her loss and I felt a little guilty I was there without her and her brother being buried."
He saw the same in Goestenkors, Brown said. He needed another wakeup call after 2010, and may have got it in a new staff with two new, young coordinators, Manny Diaz (defense) and Bryan Harsin (offense). Bouncing back for eight wins may have helped, too, but Texas has bigger things in mind for 2012 and beyond: Namely, a return to the excellence Brown established in his first decade at the helm in Austin.
"If you're going to walk around and pout when you lose, act like a baby, and when you win act arrogant, not feel good about a win because Texas is supposed to win -- we don't anoint ourselves supposed to win -- then you're in some trouble and you need to have fun," Brown said. "You need to have joy."
January, 22, 2012
1/22/12
6:05
PM CT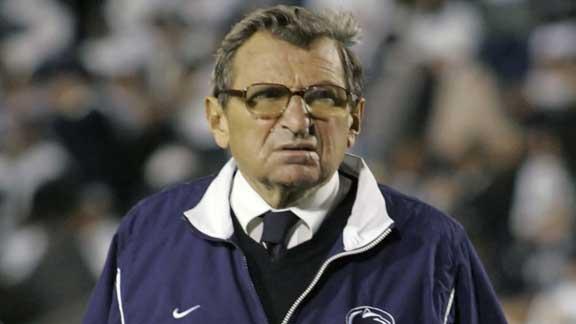 Former Texas football coach and athletic director Darrell Royal on the passing of former Penn State coach Joe Paterno, who died Sunday:
"What I remember about our days when we were both coaching is that Joe was very honest, he was a heckuva a coach, and he was one of the outstanding coaches of all time. You can't say that about every coach, but you darn sure can say that about Joe Paterno. He meant a lot to the game, and he meant a lot to me. He was a solid person, and a solid friend."
Royal and Paterno faced each other only once, 41 years ago, after the 1971 season in the 1972 Cotton Bowl Classic. Penn State won, 30-6.