Dallas Colleges:

Darrell Wyatt
January, 12, 2014
Jan 12
8:15
PM CT
Former Louisville offensive coordinator Shawn Watson will serve as quarterbacks coach at Texas, a source told ESPN.com.
Watson was introduced as Texas' new quarterbacks coach during a Sunday night team meeting, the program's first since Charlie Strong was named head coach on Jan. 5.
The source said no offensive coordinator or wide receivers coach was named or introduced during the team meeting. Those appear to be the two remaining vacancies on Strong's first coaching staff at Texas. Co-offensive coordinator and receivers coach Darrell Wyatt is not expected to be retained.
Watson served as offensive coordinator and quarterbacks coach in three of his four years at Louisville under Strong and is credited with developing
Teddy Bridgewater
, the Cardinals' potential No. 1 overall draft pick. Watson was previously offensive coordinator at Nebraska.
His name was one of several that has reportedly been considered for Texas' vacant offensive coordinator post. Though it's possible Watson could still be named offensive coordinator, the team was told he will coach quarterbacks.
January, 6, 2014
Jan 6
5:30
AM CT
The Early Offer is RecruitingNation's regular feature, giving you a daily dose of recruiting in the mornings. Today's offerings: Texas' hire of Charlie Strong could help the Longhorns open up new recruiting territories, but it will also be important for him to hire assistants who have ties to the Lone Star State. Louisville's top 25 class is very much in flux after Strong's departure.

December, 19, 2012
12/19/12
3:00
PM CT
The silly season can get dizzying at times. We'll update this if necessary, but here's where the Big 12 coaching carousel has currently landed after a few big spins.
BAYLOR
No changes.
Head coach Art Briles was reportedly contacted by Arkansas and Texas Tech, but signed a new extension with Baylor and hasn't expressed interest in any jobs or admitted to any interviews.
IOWA STATE
No changes.
Head coach Paul Rhoads reportedly drew interest from Wisconsin, but Rhoads went on the record this week to say he has no interest in replacing Bret Bielema in Madison.
KANSAS
KANSAS STATE
OKLAHOMA
Co-offensive coordinator Josh Heupel was a candidate for the Louisiana Tech opening last week, but reportedly turned down the job. The Bulldogs eventually hired Skip Holtz to replace Sonny Dykes.
Co-offensive coordinator Jay Norvell has also reportedly drawn interest from other schools, but it sounds like he's staying at Oklahoma.
OKLAHOMA STATE
Offensive coordinator Todd Monken left to become the head coach at Southern Miss.
Head coach Mike Gundy reportedly interviewed with both Tennessee and Arkansas and some local reports even indicated that he had accepted the Arkansas job, but they ultimately proved to be false. Gundy has since gone on record saying there's "no question" he'll be the Cowboys' head coach in 2013.
Defensive coordinator Bill Young on if he'll return next season or retire: "I don't know, I don't know," Young told The Oklahoman. "I'm going to think about it."
TEXAS
Co-offensive coordinator Bryan Harsin left to become the head coach at Arkansas State.
Co-offensive coordinator Major Applewhite replaces Harsin as the playcaller and will coach quarterbacks now. Texas plans to replace him as running backs coach after the season ends.
Receivers coach Darrell Wyatt was promoted to co-offensive coordinator.
Defensive coordinator Manny Diaz reportedly interviewed with Florida International, but removed himself from consideration and will stay at Texas.
TCU
No changes.
Head coach Gary Patterson was reportedly a leading candidate to replace John L. Smith at Arkansas, but there were no reports of interviews or significant contact between the two parties.
TEXAS TECH
Head coach Tommy Tuberville left to become the head coach at Cincinnati.
Offensive coordinator Neal Brown left to become the offensive coordinator at Kentucky on Mark Stoops' staff.
Texas A&M offensive coordinator Kliff Kingsbury accepted an offer to replace Tuberville as Tech's head coach.
Ex-Red Raiders Kevin Curtis and Eric Morris will join Kingsbury's staff. Curtis told reporters he will likely coach the cornerbacks. Morris' role on the staff is still undetermined. He previously coached inside receivers for Mike Leach at Washington State.
WEST VIRGINIA
Dana Holgorsen relieved cornerbacks coach Daron Roberts of his duties and moved co-defensive coordinator Keith Patterson to defensive playcaller, replacing co-defensive coordinator Joe DeForest as playcaller. DeForest is still on staff.
Graduate assistant Andrew McGee (who led the Big 12 in interceptions at Oklahoma State in 2010, with five) will coach cornerbacks heading into the bowl game, but WVU will find a permanent replacement after the season.
August, 13, 2012
8/13/12
3:00
PM CT
AUSTIN, Texas -- Bryan Harsin knows what he faces now -- a tougher schedule, bigger stadiums, louder crowds, better athletes, more expectations and plenty of pressure.
[+] Enlarge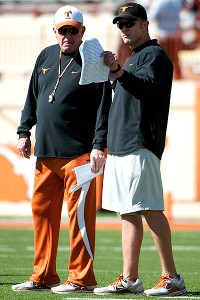 Brendan Maloney/US PresswireHeading into his second season co-coordinating the Texas offense for Mack Brown, Bryan Harsin, right, says he's more comfortable.
Maybe more importantly he knows with whom he faces it -- a coach that understands the pressures of being a quarterback at Texas (Major Applewhite), a coach that delegates and does not dictate (Mack Brown), a head coach who thinks wide receivers should block first, second and third, then think about pass patterns (Darrell Wyatt), and a throwback with more grunts than glad handing (Stacy Searels). And that is just on the offensive side of the ball.
In all, six members of Texas' staff are sophomores now. They have lived the life for a year. And, after being 8-5 together, they have lived to see another.
"Now we understand what we're doing," said Harsin, the co-offensive coordinator along with Applewhite. "We understand the details. We understand how each of us operates. And what the expectations of each positions are."
"Even at our coaches' retreat a couple of weeks ago, the guys were all on the same page and it went so much smoother," Brown said. "Last year they were talking about what are you doing in pregame warmups. They were talking about where we stay the night before the game.
"Now all of those things they know. We are so much further along than we were, and that leads to more excitement as we start the season as well."
That progress is not just owed to those position coaches. Included among those six is strength and conditioning coach Bennie Wylie. The backbone of the program, Wylie is the one who has pushed the players to stand tall, and at the same time, turned the head of Brown as to what expectations a cohesive staff can put on these players.
It's that work that has Brown talking about Texas being a tougher football team. And everybody knows a fist is much tougher to defend against than a slap. A fist is what Texas considers itself now that it has come together.
"Now we all know what is expected of everyone else," junior offensive guard
Mason Walters
said.
That's from the coaches straight on down the line. But, like everything else, it starts at the top. In this case, that means with the coaching staff.
Now that the staff is together, the coaches can be more calculating in their approaches.
"When you have had more time together, you have identified who you are, what you want to do, this is what we can major in and now from a personnel standpoint, whether it is recruiting or on the field, this is how we're going to place people to do these certain things," Harsin said. "Everybody has got that in their minds in the staff now and that makes it easier on all of us as a staff now. Instead of one guy trying to figure out who needs to go where, everybody knows where guys need to go and what's the best group to have on the field."
That means Applewhite and Harsin, who now know each other's strengths and weaknesses, have more efficiently been able to work to find the strengths and weaknesses in the two quarterbacks, fix those problems and find solutions. Similarly, the pair is more comfortable putting their heads together on just how to deploy the three-headed backfield that is
Malcolm Brown
,
Joe Bergeron
and
Johnathan Gray
.
"This time last year we were talking about a Boise offense and Mississippi State defense and what flavor will Georgia have with their offense and what about [co-recruiting coordinator/wide receivers coach] Darrell Wyatt and his travels and how much will that change what we do offensively," Mack Brown said. "And now we have a Texas offense that we are working toward and the players believe in, and the same thing defensively. So very little talk about anything other than Texas and us moving forward.''
That means moving forward as one instead of many.
March, 22, 2012
3/22/12
1:50
PM CT
AUSTIN, Texas --
D.J. Monroe
has shown flashes, but to this point, they've been little more.
The most memorable? An 80-yard scamper in Red River in 2010 to jolt the Longhorns awake from an early 14-0 deficit.

Monroe's role in the offense has been minimal, but his gamebreaking potential is enormous. That's clear to everyone, including Texas' coaching staff.
Monroe, despite his speed, would likely be little more than Texas' fourth-string running back next fall after
Joe Bergeron
and
Malcolm Brown
established themselves as top runners in 2011 and the nation's No. 1 high school running back -- Johnathan Gray -- en route to Austin this summer.
Texas' response? Helping Monroe get on the field by working him at receiver, where the Longhorns are much thinner.
"The best play D.J. has for us is the speed sweep, and he is a wide receiver when he does that," Texas coach
Mack Brown
said. "He will work more with (receivers coach) Darrell Wyatt the latter part of practice so we can try to get him in the game without giving it away that he's in there only for a play that he runs."
That could mean
a bigger role for the bubble screen in Monroe's arsenal
, too.
For Texas, though, it's a great move and a necessary one.
Monroe's a running back at heart. Brown made that clear.
"He can do things in space. So we've been trying to force tailback on him when our tailbacks are now 205 to 240, and that's not his game," Brown said. "He's 165 pounds, 170 pounds, and he needs to be a space player. And I think we've got something that can help him if he can grow in that area."
Giving Monroe the ball on bubbles like Oklahoma did with
Ryan Broyles
could birth big results next season. Monroe's a gamebreaker waiting to happen, but with his limited package, his touches have been minimal.
If Monroe can prove the slant route or a quick out are legitimate options defenses must respect, the whole team should be better off. It sounds small, but keep an eye out for big results.
And though Texas wants balance, don't expect the Longhorns to lose sight of what this move is really about.
"He needs to be outside," Brown said. "That's who he is."
January, 2, 2011
1/02/11
7:40
PM CT
Texas announced Sunday that it has hired Darrell Wyatt as wide receivers coach/co-recruiting coordinator.

Wyatt had been the co-offensive coordinator/wide receivers coach at Kansas.

"Darrell's someone who has coached in the NFL and has been recognized as one of the nation's top recruiters," Texas coach Mack Brown said in a news release. "He has extensive experience working in the Big 12 and recruiting in all parts of Texas. He is a great addition to our staff."

Wyatt replaces Bobby Kennedy, who left Texas to become the receivers coach at Colorado.

"Texas is the type of place where the sky's the limit on what you can accomplish," Wyatt said in the release. "They have great resources, a tremendous fan base and compete for championships. The level of expectations are extremely high and that's something I definitely will embrace."

Wyatt was the receivers coach for the Minnesota Vikings in 2006. He was at Southern Mississippi for two seasons before he went to Kansas last year.

He also has coached at Trinity Valley CC in Athens, Texas, Sam Houston State, Wyoming, Baylor, Oklahoma State, Oklahoma and Arizona.

The Killeen, Texas, native played collegiately at Trinity Valley and Kansas State.