Dallas Colleges:

Darren Sproles
January, 13, 2014
1/13/14
2:00
PM CT
After 16 years, the BCS era is finally over. Next season, college football will have a playoff instead.
With the BCS done, we've come up with our Big 12 all-BCS era team (1998-2013) below:
Offense
[+] Enlarge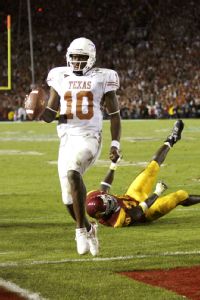 Scott Clarke/Getty ImagesWith Vince Young at the helm, Texas won a national title and Rose Bowl.
QB: Vince Young, Texas (2003-05) --
Young led Texas to its first national title in 35 years with an unforgettable performance in the Rose Bowl against USC. The Heisman runner-up also became the first QB in college football history to throw for 3,000 yards and run for 1,000 in the same season.
RB: Ricky Williams, Texas (1998) --
Williams was part of the BCS era for only one season, but what a season it was. He rushed for 2,327 yards and won the Heisman Trophy going away. Only Wisconsin's
Ron Dayne
has more career rushing yards than Williams (6,279).
RB: Adrian Peterson, Oklahoma (2004-06) --
Despite battling injuries throughout his career, Peterson still was a beast in college. After rushing for 1,925 yards while leading the Sooners to the national title game, he finished second in the '04 Heisman voting, even though there was still a stigma then in voting for a freshman.
WR: Michael Crabtree, Texas Tech (2007-08) --
Crabtree became the first two-time winner of the Biletnikoff Award, given to the nation's top receiver. In '08, he and QB
Graham Harrell
led the Red Raiders to an upset of Texas and a No. 2 ranking in the polls.
WR: Justin Blackmon, Oklahoma State (2009-11) --
Blackmon became the second and only other two-time winner of the Biletnikoff. In his final two seasons, he finished with 233 receptions, 3,304 receiving yards and 38 touchdowns, and he helped propel the Cowboys to their first Big 12 title in '11.
TE: Chase Coffman, Missouri (2005-08) --
Coffman had a monster statistical college career for a tight end with 247 catches for 2,659 receiving yards and 30 touchdowns. He won the '08 Mackey Award, given to the nation's top tight end. Missouri won 37 games during the four years Coffman was in the lineup.
OT: Jammal Brown, Oklahoma (2001-04) --
Brown was a unanimous All-American and a three-time All-Big 12 selection. He became the fifth Sooner to win the Outland Trophy, awarded to the nation's top interior lineman.
OT: Russell Okung, Oklahoma State (2007-09) --
In Okung's final two seasons, Oklahoma State led the Big 12 in rushing yards. The Cowboys were also third in the country in '07 in fewest sacks allowed with Okung at left tackle. He was a unanimous All-American and Outland finalist in '09 and became the sixth overall pick in the '10 NFL draft.
OG: Cyril Richardson, Baylor (2010-13) --
Richardson became Baylor's seventh all-time unanimous All-American. The Outland finalist was also a key piece on the nation's highest-scoring offense this season.
OG: Justin Blalock, Texas (2003-06) --
Though a guard in the NFL, Blalock actually started 50 games for Texas, most coming at right tackle. He was a three-time, first-team All-Big 12 selection and a consensus All-American in 2006.
C: Dominic Raiola, Nebraska (1998-2000) --
Raiola was the inaugural winner of the Rimington Award, named after former Nebraska center Dave Rimington, which recognizes the best center in college football. He was an Outland finalist and a consensus All-American.
APB: Darren Sproles, Kansas State (2001-04) --
One of the most prolific all-purpose performers in college football history, Sproles finished his career with 6,812 all-purpose yards. Among his 39 consecutive starts, his most memorable performance came in the '03 Big 12 championship, when he had 235 yards rushing and 88 receiving, as K-State upset top-ranked Oklahoma 35-7.
Defense
DE: Brian Orakpo, Texas (2005-08) --
Orakpo captured the '08 Nagurski Award as the most outstanding defensive player in the country, and the Lombardi Award, given to the best college lineman or linebacker. He also was the Big 12 Defensive Player of the Year and a consensus All-American while piling up 11 sacks his senior year.
DE: Von Miller, Texas A&M (2007-10) --
Out of a hybrid defensive end/linebacker role, Miller led the nation with 17 sacks in '09. He was a two-time All-American and won the Butkus Award in '10 as the nation's top linebacker.
DT: Ndamukong Suh, Nebraska (2005-09) --
There was no more dominant defensive player in college football during the BCS era. Suh finished fourth in the Heisman voting in '09 and won several national awards, including the Outland, Lombardi, Nagurski (most outstanding defensive player)and Bednarik (defensive player of the year). He was also a unanimous All-American and the Big 12 Defensive Player of the Year.
DT: Tommie Harris, Oklahoma (2001-03) --
Harris was a force from the beginning as a freshman on the OU defensive line. He won the Lombardi his junior year, and he was a two-time consensus All-American, garnering unanimous honors in '03.
LB: Derrick Johnson, Texas (2001-04) --
Johnson was a menacing linebacker for the Longhorns, earning consensus All-American honors in '03 and unanimous honors in '04. He was also a three-time, first-team All-Big 12 selection, and won the Butkus (best linebacker) and Nagurski awards as a senior. Johnson finished his career with 458 tackles.
LB: Rocky Calmus, Oklahoma (1998-2001) --
Calmus played a major role in OU's resurgence under Bob Stoops. He won the Butkus in '01 and was a finalist for the Nagurski and Bednarik. A three-time All-Big 12 pick, Calmus led the Sooners in tackles in all three of those seasons.
LB: Teddy Lehman, Oklahoma (2000-03) --
Lehman too won the Butkus, beating out Johnson for the award in '03. He also was Big 12 Defensive Player of the Year, captured the Bednarik, was a unanimous All-American and played in two national championship games.
[+] Enlarge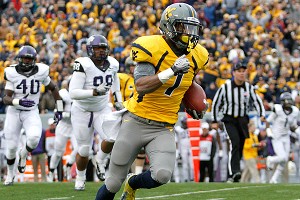 Justin K. Aller/Getty ImagesWest Virginia receiver and returner Tavon Austin had a huge 2012 season.
CB: Terence Newman, Kansas State (1999-2002) --
Newman was a solid player for Bill Snyder his first three seasons, then broke out as a senior. Newman was the Big 12 Defensive Player of the Year, a unanimous All-American and the Thorpe winner, given to college football's top defensive back.
CB: Derrick Strait, Oklahoma (2000-03) --
A four-year starter, Strait finished with a school-record 52 career pass breakups. He also won the Thorpe, and was a unanimous All-American.
S: Roy Williams, Oklahoma (1999-2001) --
Nicknamed "Superman," Williams was the Big 12's most dominating defensive player until Suh came along. He won the Thorpe and Nagurski in '01, and was the Big 12 Defensive Player of the Year and a unanimous All-American the same season. He also famously skied over the Texas offensive line to force the game-clinching interception to earn his moniker.
S: Michael Huff, Texas (2002-05) --
Huff became the first Longhorn to win the Thorpe, and was the leader of the '05 national championship defense. He was also a unanimous All-American that season.
Special teams
K: Mason Crosby, Colorado (2003-06) --
Crosby was three-time, first-team All-Big 12 selection, and twice was a consensus All-American even though he never won the Lou Groza Award, given to the nation's top kicker. He was also the Big 12 Special Teams Player of the Year as a junior, and converted 66 field goals in his career.
P: Quinn Sharp, Oklahoma State (2009-12) --
Sharp became the first three-time All-American in Oklahoma State history, and he earned All-American honors both as a punter and a kicker. He was twice named the Big 12 Special Teams Player of the Year. In his career, he made 50 of 59 field goals, averaged 45.9 yards per punt and missed only one extra point.
KR: Tavon Austin, West Virginia (2012) --
Austin was in the Big 12 only one season, but he was unstoppable that one season. On top of being one of the most dangerous kick returners in the country, Austin had 1,289 yards receiving and 643 rushing, and finished second in the country in all-purpose yards.
PR: Ryan Broyles Oklahoma (2008-11) --
On top of being a prolific punt returner, Broyles was one of the most efficient receivers in college football history. He finished his career with an FBS-record 349 receptions, and was a two-time consensus All-American before a knee injury cut his senior season short.
October, 22, 2012
10/22/12
10:00
AM CT
The Big 12 has named its players of the week, as voted on by a media panel.
OFFENSE: Collin Klein, QB, Kansas State
Klein threw for a career-high 323 yards on 19-of-21 passing to give K-State its fourth consecutive road win over a ranked opponent. He also rushed for four touchdowns and 41 yards, setting the NCAA FBS record for rushing touchdowns by a quarterback in two seasons, with 41. His 47 touchdowns broke Darren Sproles' school record of 45, too. He was the Walter Camp National Player of the Week.
DEFENSE: Arthur Brown, LB, Kansas State
Brown became the first defender to intercept West Virginia QB
Geno Smith
, and did it on a tipped ball in Saturday's win. He had two tackles for loss and finished with eight stops. It was his first interception since sealing a win over Baylor in 2011 and becoming the first defender to intercept Heisman winner Robert Griffin III.
SPECIAL TEAMS: Jaden Oberkrom, K, TCU
Oberkrom drilled all six of his field goal attempts to set the school and Big 12 records in TCU's 56-53 loss to Texas Tech. He made all five extra points and his six kicks were from 32, 41, 32, 45, 42 and 38 yards. The 42-yarder tied the game in the final minute to force overtime, too. His 23 points were a school and Big 12 record for kickers, too. berkrom missed his first kick of the year but is 14-of-15 since.
June, 5, 2012
6/05/12
10:26
AM CT
Yesterday, I
unveiled my list of the best Big 12 seasons of all-time
, but there were plenty of seasons that got left out.
In no particular order, here are the best of the rest:
Colt McCoy, QB, Texas, 2008:
McCoy carried the Longhorns to a BCS bowl win and a win over national title participant and Big 12 champion Oklahoma while throwing for 3,859 yards, 34 touchdowns and just eight interceptions. Most impressive? He completed just under 77 percent of his passes. Crazy.
Jason White, QB, Oklahoma, 2003:
White racked up 3,846 yards passing with 40 touchdowns to just 10 interceptions, and won the Heisman Trophy and Davey O'Brien Award. The Sooners went undefeated in the regular season, but lost in the Big 12 Championship and national title games.
Robert Griffin III, QB, Baylor, 2011:
Griffin did the unthinkable and brought a Heisman Trophy to Baylor, as well as a 10-win season. He threw for 4,293 yards, 37 touchdowns and just six interceptions. He also ran for 699 yards and completed 72.4 percent of his passes.
Darren Sproles, RB, Kansas State, 2003:
Sproles led the nation with 1,986 yards and 16 touchdowns, leading K-State to its only Big 12 title with an upset of No. 1 Oklahoma, soundly beating the unbeatable Sooners, 35-7. Sproles ran for an eye-popping 235 yards and caught three passes for 88 yards, including a 60-yard touchdown.
Justin Blackmon, WR, Oklahoma State, 2010:
Blackmon caught a touchdown pass and topped 100 yards in every game he played all season, winning the Biletnikoff Award (he'd do it again in 2011) and putting together the league's best individual season of 2010. He finished with 1,782 receiving yards, 111 catches and 20 touchdowns.
Graham Harrell, QB, Texas Tech, 2007:
Harrell threw for a country mile and then some, topping 5,700 yards in Texas Tech's pass-happy offense (713 attempts in 2007) under Mike Leach and throwing 48 touchdowns to just 14 interceptions.
Michael Crabtree, WR, Texas Tech, 2007:
Tech had a more memorable season as a team in 2008, but Crabtree's first of two Biletnikoff-winning seasons was better. He finished with a Big 12-record 1,962 receiving yards and 22 touchdowns on 134 catches.
Eric Crouch, QB, Nebraska, 2001:
Crouch carried the Huskers to the national title game in 2001 despite a Big 12 Championship Game loss, throwing for 18 touchdowns and running for 19 more. He rushed for 1,178 yards and threw for 1,115 to win the Heisman Trophy and Davey O'Brien Award.
Troy Davis, RB, Iowa State, 1996:
Davis finished second in the Heisman voting after carrying the ball 402 times for 2,185 yards and winning Big 12 Offensive Player of the Year honors in the league's inaugural season. That's not enough for you? It was his second consecutive 2,000-yard rushing season.
Roy Williams, S, Oklahoma, 2001:
Williams is best known for his "Superman" play that sealed a Red River victory over Texas, but he had 12 tackles for losses and five interceptions that season. He also recovered two fumbles, returning one for a touchdown. Williams revitalized the safety position in the Big 12, bringing some bulk to the position and playing closer to the line of scrimmage. He earned the Nagurski Trophy and Thorpe Award that season.
Chase Daniel, QB, Missouri, 2007:
Daniel took Missouri to the No. 1 ranking entering the Big 12 Championship Game and put Missouri football on the map. He finished with 4,306 yards, 33 touchdowns and 11 interceptions in the best season ever under Gary Pinkel. He also completed 68 percent of his passes and rushed for four scores.
Michael Bishop, QB, Kansas State, 1998:
Bishop carried Kansas State to an undefeated regular season before losses in the Big 12 title game and Alamo Bowl. He threw for 2,844 yards, 23 touchdowns and four interceptions, while also running for 748 yards and 14 touchdowns.