Dallas Colleges:

David Beaty
September, 19, 2014
Sep 19
12:00
PM CT
Texas A&M travels to SMU for a nonconference clash on Saturday, which will be the Mustangs' first game under interim head coach Tom Mason after June Jones resigned from the post on Sept. 8.
Last week, Chris Low took a look at
possible candidates that SMU might consider
as it searches for its next head coach. Two potential candidates are on the Aggies' staff: offensive coordinator/quarterbacks coach Jake Spavital and receivers coach/recruiting coordinator David Beaty.
While it's unclear if either Beaty or Spavital would have interest in the job (or how much interest SMU has in either of them) and there's a long way to go in the coaching search, let's look at each of their coaching backgrounds and what kind of fit they could potentially be.
David Beaty
Experience:
Beaty is in his third year as the Aggies' receivers coach and second as their recruiting coordinator. He also spent time at Rice as an offensive coordinator (under Todd Graham) and receivers coach and at Kansas as a co-offensive coordinator and receivers coach. His roots are in Dallas high schools, though -- he got his coaching start in Garland, Texas, at Naaman Forest High School and coached at four different high schools in the Dallas-Fort Worth Metroplex.
Pros/cons:
Beaty has a reputation as a stellar recruiter. Ask the high school coaches in the Dallas area and they'll tell you he's one of the most respected around and he's a big reason the Aggies have had significant success getting top-flight players out of that fertile area. Having experience at Rice, a private school that plays in a Group of 5 conference, would help at a place like SMU, which falls in that category. The one thing Beaty doesn't have is extensive experience as a coordinator, though he does have some.
Analysis:
SMU hasn't recruited its own area well and Beaty would fix that in a hurry. He would be a good fit and would be able to utilize his strong relationships with the local coaches.
Jake Spavital
Experience:
Spavital is in his second year as the quarterbacks coach at Texas A&M and his first as the sole offensive coordinator for the Aggies. He's young (29) but has stops at Tulsa (2008), Houston (2009), Oklahoma State (2010) and West Virginia (2011-12), though the first three were as a graduate assistant or quality control coach. He was the quarterbacks coach at West Virginia.
Pros/cons:
He has worked with great college quarterbacks (Case Keenum, Brandon Weeden, Geno Smith, Johnny Manziel) and has worked under highly-regarded offensive minds (Gus Malzahn, Dana Holgorsen, Kevin Sumlin) and has worked with and maintains a strong relationship with Kliff Kingsbury. He's highly thought of and the early returns on the job he's doing as A&M's offensive coordinator are good. The primary drawback is his youth and inexperience -- he has only been A&M's offensive coordinator for four games.
Analysis:
Sumlin himself said Spavital "no doubt" has qualities of a future head coach but it might serve him best to gain more experience. Texas A&M is on the rise and if the offense continues to roll like it has, other opportunities will come. If Spavital were to end up at SMU, he would likely be able to get the offense on track quickly. He doesn't have the recruiting reputation that Beaty does but Spavital is considered a good recruiter.
April, 11, 2014
Apr 11
3:00
PM CT
Texas A&M receiver
Mike Evans
went from relative unknown to bonafide star in college football circles and now is preparing for the NFL draft.
With the sophomore departing early, the Aggies hit the recruiting trail to find someone who they hope could be the next Evans, ESPN 300 receiver
Frank Iheanacho
.
The comparisons have been drawn for several reasons. The Houston Westside High School product, like Evans,
was a varsity basketball player first before deciding to join the varsity football team as a senior
and both have impressive size (6-foot-6, 220 pounds) and leaping ability.
We caught up with the U.S. Army All-American to talk about the comparisons and much more.
Q: You recently attended one of Texas A&M's spring football practices and spent some time with coach Kevin Sumlin. How did that go?
[+] Enlarge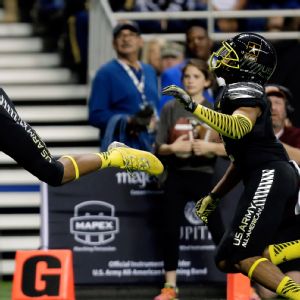 AP Photo/Eric GayFrank Iheanacho could be Texas A&M's replacement for Mike Evans.
Iheanacho:
"It was good. I got to see how practice works, chat it up with all the players and get to learn about the offense. It got me more anxious to get there. [Sumlin and I] were just chatting it up. He told me he can't wait until I get down there to play and practice for them."
Q: How big a factor was Sumlin in your decision to sign with Texas A&M?
Iheanacho:
"He's the type of coach that you can build a relationship with pretty easily. He's cool to talk to. He understands the game and understands where you're coming from so I felt like the connection is easy to make. The vibe that I got from him was good. He's a coach I want to play for."
Q: What was it like for you to go from virtually unknown in football circles to one of the top 100 recruits in the country and receive the accolades and attention that you did?
Iheanacho:
"It was dream come true for me, honestly. I grew up always wanting to be considered one of the best. That's what I worked for. When the moment actually came, it was crazy. I'm still awestruck about everything that happened."
Q: Was it ever overwhelming?
Iheanacho:
"Yeah it was definitely overwhelming. You ask yourself a lot of questions. 'How did this happen?' In my situation, coming on so late, 'Do you deserve to have this role?' You just learn to accept it and appreciate everything that you're given."
Q: I know many who followed your recruitment know your backstory, but for those who don't, summarize your journey to the gridiron
Iheanacho:
"I grew up as a little kid playing basketball and started playing organized in the eighth grade. I was in the AAU circuit and I worked hard every day trying to get my school paid for. That was the goal. I played football in my freshman and sophomore year but I never really took it seriously. It wasn't something I felt was in my future. I decided I was going to go straight to basketball and focus on that. My friends brought me back [to football] my senior year and it just took off from there."
Q: Many people make the comparison between you and Mike Evans because of your paths. How do you react to that?
Iheanacho:
"It's a compliment. He's going to be a great player in my eyes. I'm flattered to have that comparison. At the end of the day, I want people to remember my name and that's what I'm striving for. I want to be a player people look up to and I want to be considered the best."
Q: Did you get to know Mike throughout your recruitment?
Iheanacho:
"Yeah. He's a cool dude. He accepted me from the jump. I actually just talked to him [Thursday]. He had great things to say about the program and how things are going to go."
Q: How helpful is it to have that relationship with someone who has gone down the path you're trying to travel?
Iheanacho:
"It gives me a positive vibe about what I'm doing in life. I listen to him and the No. 1 think he told me is to listen to [receivers] coach [David] Beaty and he'll steer me in the right direction. That's what I plan to do."
Q: Most people call you by your nickname, "Nacho." How often do folks mispronounce your actual last name?
Iheanacho:
(Laughs) "Hundreds of times. But 'Nacho' has been with me since forever."
Q: For those who don't know, how do you say your last name?
Iheanacho:
"Eye-HAN-uh-cho"
Q: What have you been doing during the offseason as you prepare for your arrival in Aggieland this summer?
Iheanacho:
"I've just been getting ready and prepared for the next season. Just working hard and trying to get better at my craft."
Q: Is playing early a goal that you've set?
Iheanacho:
"I set that as a goal. When I come through, I'm going to work hard to achieve that goal."
March, 4, 2014
Mar 4
11:00
AM CT
COLLEGE STATION, Texas — While many eyes in Aggieland are fixed on the quarterback competition and who
Johnny Manziel
's successor will be, another task that carries significant weight at Texas A&M is finding the next big-time receiver.
With
Mike Evans
gone, the Aggies are looking for their next star at the position, one that has seen records broken several times in the last few years.
There is a lot of talent among the Texas A&M receivers, but it is mostly unproven and inexperienced talent. With spring football underway, the Aggies coaches have a chance to discuss and dissect the multitude of openings they have at wide receiver.
[+] Enlarge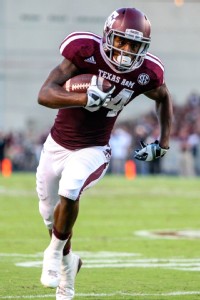 Troy Taormina/USA TODAY SportsMalcome Kennedy is the Aggies' most experienced returning receiver after catching 60 passes for 658 yards and seven scores in 2013.
"One thing that we have now that we didn't have at this position when we got here is that we have an enormous amount of depth," Texas A&M receivers coach David Beaty said. "We have real SEC receivers here. That's something that we've developed over a two-and-a-half, three-year period."
The most productive returning receiver is veteran
Malcome Kennedy
. He is the lone returning starter, having hauled in 60 passes for 658 yards and seven touchdowns last season. Beaty has praised Kennedy's work ethic and leadership before, and Kennedy emerged as a reliable target for Manziel last season.
Now it's about figuring out who the starters will be, which eight receivers will occupy the two-deep and who will separate themselves from the pack. One player most people seem excited to have back in the fold is redshirt freshman
Ricky Seals-Jones
, who sat out most of last season with a knee injury he suffered in the season-opening win over Rice.
"Getting him back healthy is a blessing for us," Beaty said. "The guy's got unlimited potential. We really needed him back. I look for him to make huge waves for us."
Through two practices so far, coaches say the 6-foot-5, 230-pound Seals-Jones doesn't appear to show any ill effects from knee surgery.
"He looks good to me out there," offensive coordinator Jake Spavital said. "He's a big target and he's obviously going to bring a whole other element to what we're trying to do. He can stretch the field vertically, and he's very big and physical on the perimeter."
Perhaps the most exciting name to Aggies fans among the receiver group is one of the newest: five-star recruit
Speedy Noil
. Ranked as the nation's No. 1 athlete prospect in the
2014 ESPN 300
, he is already drawing positive reviews from teammates and coaches in his short time on campus.
Beaty called Noil "the best receiver in the country" in the 2014 recruiting class.
"As explosive as anybody I've ever seen," Beaty said. "Combination of strength, speed and explosiveness. Really smart guy."
One player who could emerge as an option at outside receiver is redshirt freshman
Kyrion Parker
. At 6-foot-2, 190 pounds, Parker has several physical gifts.
"This guy is as talented as any receiver I've ever had," Beaty said. "He's got to grow up and mature, and I've watched him do that before my eyes. He's starting to grow into his own. I look for great things from him in the future. He does things that other people can't do. He's big, he's strong, he's fast, he's got great hand-eye coordination. He can go get the ball deep. He's a better route runner than Mike [Evans] probably was at this point in his career."
There is also an assortment of receivers who received modest playing time last season at varying levels:
LaQuvionte Gonzalez
(21 catches, 240 yards),
Edward Pope
(nine catches, 65 yards) and
JaQuay Williams
(four catches, 71 yards). Any of the three could be factors this fall.
"LaQuvionte Gonzalez grew up a ton this year," Beaty said. "You'd like to redshirt a guy like that, but we weren't able to. He was a guy that benefited from it. ... I think you're going to see him do some great things.
"JaQuay Williams, another really good talent that can do a lot of great things and has come a long way from the time he got here at this time last year. Ed Pope, another guy that I'm looking for to step up and compete. He's got to do a better job of putting on weight and getting really serious about this because there are some real guys here now."
With so many inexperienced receivers and only one real seasoned veteran in Kennedy, head coach Kevin Sumlin said getting all of these players as much work as possible is the most important part of spring for the receiver group.
"Reps, reps, reps," Sumlin said. "Reps right now are as important as anything."
When it comes to figuring out which of the above names are going to emerge as prominent players, Beaty said it's simple to figure out.
"Here's what's going to happen: The serious, committed guys, those guys will rise to the top," Beaty said. "The ones that are here just kind of messing around, those guys will drop to the bottom. There are just too many good players here now."
December, 31, 2013
12/31/13
11:00
AM CT
Spend enough time around him, and it's easy to discover that
Mike Evans
is a man of few words.
[+] Enlarge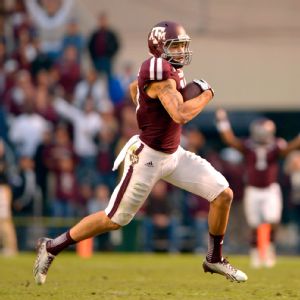 Thomas Campbell/USA TODAY SportsTexas A&M's Mike Evans has emerged as one of college football's best receivers.
Watch him hold court during an interview session with the press. The answers are direct and often short. Evans prefers to let his actions do the talking.
This season, those actions spoke loud and clear as the Texas A&M redshirt sophomore emerged as one of college football's best receivers. There were times when you could make a case for a Heisman Trophy candidate on the Texas A&M roster who was
not
named
Johnny Manziel
. Evans was
that
good for a stretch.
In two of A&M's biggest games, Evans had his biggest performances. Alabama had no answer for him and he hauled in seven passes for 279 yards -- including a 95-yard touchdown -- as a result. Auburn didn't do any better. Evans bettered his receiving totals against the eventual SEC champions, catching 11 balls for 287 yards and four touchdowns.
Even with a finish that wasn't as strong statistically as he'd probably prefer, the 6-foot-5, 225-pound force still put together a record-setting season with 65 catches, 1,322 yards and 12 touchdowns. Evans' yardage total is a Texas A&M single-season record.
During spring practice in April, Evans said he hoped he could do something special in 2013. When asked what would constitute special, he answered with one word.
"Biletnikoff."
He almost made good on that goal, earning a spot at the finalists' table with Oregon State's
Brandin Cooks
(the eventual winner) and Clemson's
Sammy Watkins
.
"He's got exceptional ability because of his size," Texas A&M head coach Kevin Sumlin told reporters on Monday. "I think, as I've said before, the thing that separates him from a lot of people is the fact that he will play as hard without the ball as he plays with the ball, as a blocker, doing things that creates an attitude on the perimeter that we need. He's going to continue to get better."
Whether he gets better this fall in College Station, Texas, or in one of 32 NFL cities will be determined in a matter of time. When the No. 21 Aggies (8-4) meet No. 24 Duke (10-3) in the Chick-Fil-A Bowl tonight, it could be Evans' final game in maroon and white. Like Manziel, Evans is draft-eligible and has until Jan. 15 to decide whether he'll declare for early entry into the 2014 NFL draft.
To this point, Evans is not indicating which way he is leaning. If he chooses to leave school and go pro, he leaves behind a spectacular two-year playing career that includes one of college football's more compelling journeys to the top.
As has been well-documented, Evans didn't come out of high school as a big-time football recruit. Back at Galveston (Texas) Ball High, he was known more for his hardwood exploits than those on the gridiron. He played only one season of varsity football, and that came as a senior. He spent the majority of his high school athletic career starting for Ball High's basketball team.
His decision to go for football as a high school senior was life-changing. A handful of colleges came calling, looking past Evans' raw skill set and focusing on what he did bring to the table: size, speed and work ethic.
"Before he even put any pads on, we were in offseason and basketball season was over with and he came over to the fieldhouse and we got him suited out and it just so happened that we were [speed] testing during that time," said David Suggs, who was Ball's head football coach at the time. "He came out and ran two 4.5 [second 40-yard dashes]."
Evans eventually chose Texas A&M, and the rest is history. He redshirted his first season, and while practicing on the scout team in 2011, he built quite the rapport with the scout-team quarterback at the time, a spry, athletic young man from the Hill Country named Manziel.
That chemistry became stronger as the two entered their redshirt freshman seasons, as both won starting jobs at their respective positions. En route to becoming college football's first freshman Heisman Trophy winner, Manziel made Evans his go-to receiver (or as offensive coordinator and quarterbacks coach Jake Spavital calls Evans, Manziel's "panic guy").
As a result, Evans enjoyed two 1,000-yard receiving seasons. He has 147 career catches for 2,427 yards and 17 touchdowns in his two-year career. And he's done it without saying much.
"He doesn't talk a whole lot," receivers coach David Beaty said. "I'll tell you this: When he gets fired up, he gets fired up. He's a tough kid, and he demands a lot from people around him. He will not stand for people [who] are not success people. If you're a mediocre guy, he's not a fan. You have to be a high-achieving guy."
Beaty called Evans "humble" and "coachable."
"I'll tell you what, you won't find a more humble guy," Beaty said. "And he allows me to coach him, and sometimes that doesn't happen. Sometimes guys push [back]. But Mike's one of those guys that will come up to me, just out of the blue, randomly and say 'Coach, I need you to stay on me. I need to get better than what I am today' and that's refreshing."
November, 12, 2013
11/12/13
3:00
PM CT
COLLEGE STATION, Texas — With Texas A&M locked in a tight battle at Ole Miss at halftime, receivers coach David Beaty went to head coach Kevin Sumlin and said he was going to make a change at one of the inside receiver positions.
Beaty's desire was to insert
Travis Labhart
, a senior who has had one of the more unique journeys among the Aggies, into the lineup. Looking for more production from the 'H' receiver position, Beaty believed Labhart would be the one who could deliver.
"[Sumlin] looked back at me and said, 'He'll be great,' " Beaty recalls. "'Put him in there and let's roll.'"
[+] Enlarge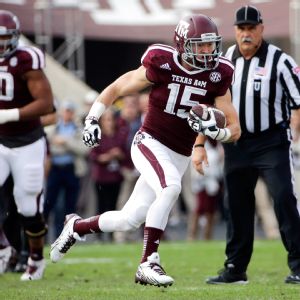 AP Photo/David J. PhillipTravis Labhart, a walk-on who wasn't even on the 105-man roster in 2011, earned a scholarship and is now a starter at wide receiver at Texas A&M.
The rest is history. Labhart hauled in eight receptions that night and finished with a then-career-high 97 yards. He since has become one of the most reliable receiving targets for quarterback
Johnny Manziel
.
In the Aggies' last five games, the 5-foot-9, 182-pound Labhart has 30 receptions, more than sophomore standout
Mike Evans
, the team's leading receiver. The outsized production Evans had early in the season has forced opposing teams to devote more attention to him, opening the middle of the field for others. Labhart has taken advantage.
On Saturday against Mississippi State, he had 102 receiving yards and two touchdowns on six catches in a 51-41 victory. Not bad for a guy who was a walk-on a year ago.
"At this time of year, if you're going to continue to win, you have to have guys that play at a high level that maybe before the year you didn't even talk about," Sumlin said. "Every team, across the board, if you're trying to get to double-digit wins or play at a championship level, very few teams have the same 22 guys across the board in this league at the end of the year, or even the middle of the year.
"He's worked very hard -- [a] non-scholarship player that worked his way into that. Didn't back off once that happened. Continued to play and earn the respect of his teammates. ... So when he went in the game [against Ole Miss], for him to have the type of success he had is a surprise to a lot of people, but not guys on the team, because he practices like that."
Labhart wasn't recruited out of Whitesboro (Texas) High School and initially sought to walk on to the men's basketball team. While he waited for an opportunity to try out in his freshman year, he found a spot on the women's basketball practice squad, which consists of men. He did that for a brief period before deciding to try to walk on to the football team. With encouragement from his high school coach, Eddie Gill, Labhart decided to give it a try.
He was able to find a spot but didn't make the 105-man training camp roster in his first season, which was coach Mike Sherman's final season. Labhart did make it last season, Sumlin's first, and played sparingly. This year, Labhart came in ready to contribute in training camp. He learned every receiver position and started the season as Evans' backup, but his versatility allowed him to become an option at other areas.
He impressed the coaching staff enough to earn a scholarship before the season. He's currently fourth on the team with 33 catches for 442 yards and five touchdowns, but virtually all those numbers have come in the last five games. Labhart started the last two games.
"You always want to be involved with the offense or defense," Labhart said. "You always want to be a guy and not just be someone who sits on the sidelines. This year I really tried to focus on the offseason and put in a lot of work.
"... I started out as a backup to Mike and I knew I wasn't going to get much time there, but you just kind of keep plugging away and luckily I was able to get that [chance] and it's just been a blessing, going out every night and playing your hardest, knowing that you gave your best individual performance to help your team."
A senior, Labhart played his final game at Kyle Field on Saturday. He never imagined that would happen.
"It's a dream come true," Labhart said. I was here for so many games when I was little with my granddad in the stands. I never, in a million years, thought that I would be on Kyle Field, and now I take it for granted because I'm used to it. But when I was little, it was such a big deal. I would have never imagined being out there and just getting to play and contribute to the team."
August, 27, 2013
8/27/13
9:00
AM CT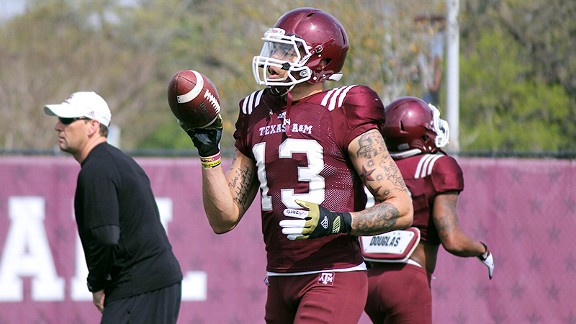 Sam Khan Jr./ESPNAs a redshirt freshman in 2012, Mike Evans led Texas A&M with 82 catches and 1,105 receiving yards.
COLLEGE STATION, Texas — Just like the quarterback for whom he became a favorite target,
Mike Evans
was a relative unknown outside of Aggieland at this time a year ago.
A redshirt freshman without much organized football under his belt -- he played just a year of varsity football at Ball High in Galveston, Texas -- Evans became much more well known to the college football world as
Johnny Manziel
's favorite target in 2012.
This spring, Texas A&M quarterbacks coach Jake Spavital used a unique term to describe what Evans -- who led the Aggies with 82 receptions and 1,105 receiving yards in 2012 -- became to the Heisman Trophy-winning quarterback.
"I call him his 'Panic guy,' " Spavital said. "When you're in a panic, you turn and you find Mike Evans and throw it at him. And he did a lot of that last year."
The 6-foot-5, 230-pound Evans won't surprise anybody this season, as opponents are now well aware of what he can do. Whether it was making a clutch catch to help the Aggies pull out a comeback win at Ole Miss, using his physicality to stiff-arm his way past smaller defensive backs or simply becoming a consistent option for Manziel, the sophomore receiver is looking to build off a strong first season.
And yes, he can get better, according to his coaches. That's not an ideal thought for opposing secondaries.
"Probably the biggest thing for himself [that he can improve] is route running," receivers coach David Beaty said. "Just the art of route running and understanding how to control that big ole body and play with bent knees, his posture being a little bit lower, really being able to use that tool, playing lower and creating more explosiveness."
Beaty would like to see Evans improve near the goal line as well.
"With his 6-5 frame, we need more production from him down by the red zone," Beaty said. "He should be a human red-zone highlight film himself. We need him to step up and do that, along with the rest of the guys -- it's not just going to be Mike. But we've got to be able to throw it up to that big sucker and have him come down with it."
Aside from Evans, there are openings for three starters at receiver because of graduation.
The heir apparent to Ryan Swope, who was the team's second-leading receiver last year and leader in touchdown receptions, is junior
Malcome Kennedy
.
Perhaps best known for making the touchdown catch that gave the Aggies their final points in a 29-21 upset win at No. 1 Alabama, Kennedy is the new starter at Swope's old 'Y' receiver position, which is essentially the slot receiver to the right side of the offensive formation. Kennedy's goals are clear.
"Being a playmaker," he said. "I made a few plays last year, but people only saw a few of them: the Alabama play and a few plays against Missouri. I'm ready to be a go-to guy. The position that I play, the 'Y' for Texas A&M, that's the go-to man."
Senior
Derel Walker
, who had an impressive spring game, has been working as the first-team outside receiver opposite Evans during preseason training camp and could be the starter there. Beaty called Walker the "brightest surprise" of his group since spring. At the other slot position opposite Kennedy, sophomore
Sabian Holmes
has received much of the first-team work in camp after playing part time last season as a true freshman.
And the six freshmen who were part of the Aggies' top-10 recruiting class that signed in February are making their presence felt as well. One in particular that has caught the eye of almost everyone during camp is former Sealy (Texas) High School standout
Ricky Seals-Jones
.
If there's anyone on the Aggies roster that could compare to Evans in body type it's Seals-Jones, whom Evans called "bigger" than him earlier this month. At 6-5 and now 240 pounds, Seals-Jones was an ESPN 300 selection who was ranked as the No. 8 receiver in the country coming out of high school.
"The guy's all muscle," strength and conditioning coach Larry Jackson said. "This guy is 18 years old and he looks like a grown man. Chest, abs, everywhere there are muscles. I just have to make sure for 70, 80, 90 snaps that he can keep rolling."
Head coach Kevin Sumlin said that Seals-Jones, who has practiced a lot as the 'Y' with the second team, will get plenty of playing time.
"He's got real ability," Sumlin said. "He's very athletic, but he's got to learn the nuances of the position. He's seeing a lot of different blitzes; we're throwing things at him. I think with Malcome in there right now, it's giving us some flexibility that he doesn't have to start right away. We can kind of bring him along, which is good with him. But he's definitely going to have a role in our three and four-wide and maybe even some two-wide package, but he's got real talent and he's working on it.
"He's big and he's fast and he's got real good hands."
LaQuvionte Gonzalez
, a quick, versatile weapon out of Cedar Hill, Texas, who was also an ESPN 300 recruit, figures to have a role. So does four-star signee
Ja'Quay Williams
out of Georgia. And the Aggies figure to use more tight ends in their attack this season with the return of senior
Nehemiah Hicks
and the addition of 6-foot-7, 270-pound
Cameron Clear
out of Arizona Western College.
If training camp is any indication, Manziel will have plenty of quality targets in addition to Evans this fall.
March, 30, 2012
3/30/12
4:00
PM CT
Schedule:
Texas A&M opens spring practice on Saturday and will play its Maroon & White spring game on April 28 at 2 p.m. ET. The Aggies will give fans a couple of chance to see open scrimmages prior to the spring game. Fans are invited to the April 14 scrimmage at 11 a.m. and the April 20 scrimmage at 8 p.m.

What's new:
Really, just about everything. The Aggies will begin play in the SEC in 2012, and Kevin Sumlin takes over as head coach after spending the last four seasons as Houston's head coach. Sumlin worked under R.C. Slocum at Texas A&M in 2001 and 2002 and called the Aggies' plays for most of the 2002 season. Sumlin's offensive coordinator and quarterbacks coach will be Kliff Kingsbury, a record-setting quarterback during his time at Texas Tech. Clarence McKinney will coach the running backs and serve as recruiting coordinator, and B.J. Anderson will coach the offensive line. Kingsbury, McKinney and Anderson were all with Sumlin last season at Houston. David Beaty will coach receivers after serving as Kansas' co-offensive coordinator last season. Brian Polian, who was previously at Stanford, will coach tight ends and oversee special teams. Former Marshall head coach Mark Snyder will be the Aggies' defensive coordinator. Snyder was the defensive coordinator at South Florida the past two seasons and also served under Jim Tressel at Ohio State. Marcel Yates will be the co-defensive coordinator and secondary coach after spending the last nine seasons coaching defensive backs at Boise State. Former Texas A&M player Terry Price will coach the defensive line. He was previously on the Ole Miss staff. Matt Wallerstedt will coach the Texas A&M linebackers after serving as associate head coach, defensive coordinator and linebackers coach at Air Force the past two seasons.
On the mend:
Senior running back
Christine Michael
, who tore his left ACL toward the end of last season, is ahead of schedule in his recovery, but the Aggies won't chance it with any contact this spring.
On the move:
Junior
Damontre Moore
, who had 17.5 tackles for loss as the "joker" linebacker in the Aggies' 3-4 scheme last season, is moving to defensive end in their new 4-3 defense. Also, the Aggies won't have running back
Brandon Williams
, who transferred from Oklahoma. Williams is a former five-star recruit, but his appeal to the NCAA to be eligible in 2012 was denied, and he'll have to sit out the season.
Key battle:
With
Ryan Tannehill
taking his talents to the NFL, the Aggies hope to settle on a new quarterback this spring. It could take longer, as nobody has any real experience. Third-year sophomore
Jameill Showers
played in four games last season and threw all of five passes in mop-up duty. He's the "veteran" of the group. Redshirt freshman
Johnny Manziel
might be the most dynamic athlete of the bunch, and Kingsbury also likes the way midterm enrollee
Matt Davis
can move around and make plays. Sophomore
Matt Joeckel
is more of a pocket passer. Kingsbury said all four have their strengths and do different things well, which should make for a close race.
New faces:
Being on campus early and going through spring practice will give Davis a legitimate chance to win the starting quarterback job as a freshman. Defensive back
Kenneth Marshall
of South Houston, Texas, also graduated high school early and will go through the spring. Derel Walker of Trinity Valley Community College was rated among the top junior-college receivers nationally. Cornerback Tremaine Jacobs is another junior-college newcomer who's enrolled and will go through the spring. Jacobs is from Mississippi Gulf Coast Community College.
Breaking out:
Even with Moore moving to defensive end, the Aggies have a chance to make a big splash at linebacker. There's already a buzz surrounding senior
Jonathan Stewart
and his move to middle linebacker. He led the Aggies with 98 total tackles last season, including 55 solo stops. He's had a terrific offseason, and by all accounts, is poised for a big senior season. It only helps that he'll have fellow senior
Sean Porter
playing alongside him at outside linebacker. Porter led the Aggies with 9.5 sacks last season and racked up 17 tackles for loss.
Don't forget about:
One of Sumlin's biggest coups this offseason was convincing star receiver
Ryan Swope
to return for his senior season. Sumlin got a big assist from Kingsbury, who painted an enticing picture of what Swope's role would be in this new offense. Swope was third in the Big 12 last season in both receptions (89) and receiving yards (1,207). He also caught 11 touchdown passes and will be key player in keeping opposing defenses from loading up against the Aggies' running game.
All eyes on:
What will the offense look like? Chances are that it won't be quite as much of an "Air Raid" attack it was in Houston. Sumlin is always going to utilize the passing game, but the strength of this team will be the offensive line. Tackles
Luke Joeckel
and
Jake Matthews
are future pros, and senior
Patrick Lewis
also proved to be a devastating blocker at center after moving over from right guard. The Aggies will lean heavily on their offensive line, which has a chance to be one of the top units in the SEC.