Dallas Colleges:

David Boren
September, 21, 2011
9/21/11
10:30
AM CT
Oklahoma president David Boren released a statement on Tuesday night in response to
the Pac-12's announcement that it would not expand.

"We were not surprised by the Pac 12's decision to not expand at this time. Even though we had decided not to apply for membership this year, we have developed a positive relationship with the leadership of the conference and we have kept them informed of the progress we've been making to gain agreement from the Big 12 for changes which will make the conference more stable in the future. Conference stability has been our first goal and we look forward to achieving that goal through continued membership in the Big 12 Conference."
Oklahoma went out of its way to make it clear that it did not apply for membership for the Pac-12, regardless of whether or not it had the intention to do so.
I wouldn't take the last sentence as an unequivocal commitment to the Big 12, but it would seem now, with no other realistic option, that's where the Sooners are clearly focused.
A wild day, no doubt. Just another one in the shifting landscape (or is it?) of college sports.
September, 19, 2011
9/19/11
5:12
PM CT
The boards of regents from Texas and Oklahoma
both authorized university presidents to act on behalf
of the university at Monday afternoon meetings.
The moves clear the way for the Sooners and Longhorns to apply formally to the Pac-12, with whom they have been undergoing discussions in recent days on how to make the schools' addition to the conference work.

On Sunday, those talks were still a long way from the point at which Pac-12 leadership would be comfortable recommending the move to the league's presidents, a source told ESPN.com's Andy Katz. The proposed expansion would include fellow Big 12 schools Oklahoma State and Texas Tech.
Nothing's official yet, of course, but Texas A&M made this same decision on August 15 before formally withdrawing from the Big 12 on August 31.
Texas's president is Bill Powers. Oklahoma's president is David Boren.
The steps are in place for Oklahoma and Texas to follow the Aggies out the Big 12 door, but like Texas A&M, this is just one important step among many before either school joins a new conference.
September, 15, 2011
9/15/11
5:40
PM CT
The next step in conference realignment might be taken on Monday, if only an informal step.

Oklahoma's board of regents are
scheduled to discuss the university's conference affiliation
at a meeting on Monday.
The school's board of regents has posted the agenda for Monday's meeting. It's a single paragraph that says the board will consider switching conference affiliation, and any legal ramifications of such a move.

The agenda says the regents may discuss the topic behind closed doors and "take any appropriate action."
Oklahoma president David Boren spoke to reporters on Sept. 2, acknowledging that Oklahoma has had contact with multiple conferences.
"I don't really think this is something that's going to linger on beyond two or three weeks, from the outside," Boren told reporters on Sept. 2.
Texas A&M had planned to leave for the SEC last week, but was accepted into the league on the condition that each Big 12 school waive its right to legal action. Several Big 12 schools have yet to officially do so.
"We obviously want stability in our conference relationships. We want partners that are above outstanding, both athletically and academically," Boren said. "A conference that's strong is not only stable, but it's one in which there are multiple relationships, along with sports, between university members."
September, 7, 2011
9/07/11
1:17
PM CT
The
most famous bow tie in Texas
has spoken.
Texas A&M president R. Bowen Loftin released a statement Wednesday morning in response to an SEC statement and reports that Baylor had threatened legal action toward Texas A&M if it left for the SEC.
"We are certainly pleased with the action taken last night by the presidents and chancellors of the Southeastern Conference to unanimously accept Texas A&M as the league's 13th member," Loftin said in the statement. "However, this acceptance is conditional, and we are disappointed in the threats made by one of the Big 12 member institutions to coerce Texas A&M into staying in Big 12 Conference. These actions go against the commitment that was made by this university and the Big 12 on Sept. 2. We are working diligently to resolve any and all issues as outlined by the SEC."
The Big 12 said it waived all legal action in a letter to the SEC on Sept. 2, but that reportedly did not include individual schools. Oklahoma president David Boren admitted to reporters on Sept. 2 that Oklahoma was weighing its options regarding conference affiliation.
Will Baylor cede its suit and allow Texas A&M to go on its way? Or will this be decided in a court somewhere?
We may find out soon.
June, 14, 2010
6/14/10
9:34
PM CT
By
Jeff Caplan
| ESPNDallas.com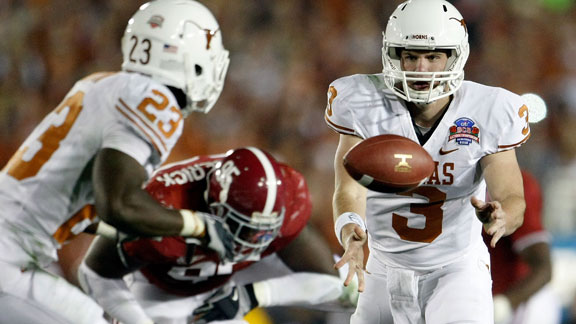 Texas A&M made itself the wild-card in conference realignment maneuverings, flirting with the SEC and threatening to set aside more than 100 years of rivalry with Texas to chart a new future.
But, the mega-TV dollars shoveled at the remaining Big 12 schools to avoid triggering an avalanche of mega-conference formation convinced the Aggies to walk away from the most powerful college football conference in the land.
"Texas A&M is a proud member of the Big 12 Conference and will continue to be affiliated with the conference in the future," A&M president R. Bowen Loftin said in a statement. "As athletic director Bill Byrne and I have stated on numerous occasions, our hope and desire was for the Big 12 to continue. We are committed to the Big 12 and its success today and into the future."
Judging by activity on some Aggie fan sites, there is a contingent of disappointed and angry A&M fans who preferred a move to the SEC rather than compete in the 10-team Big 12.
A spokesperson for Texas Tech said the school's board of regents still plans to meet on Tuesday even though the Red Raiders will continue in the Big 12 conference. Tech was prepared to leave the Big 12 with Texas, Oklahoma and Oklahoma State for the Pac-10 until the 11th hour television rights deal was hammered out. It promises to practically double Tech and the other nine members' annual revenue.
Tech officials will comment on the decision to stay on Tuesday.
In a joint statement, Oklahoma president David Boren and athletic director Joe Castiglione said: "The decision to stay in the Big 12 represents a consensus position which resulted from a collaborative effort with our colleagues in the conference. We value the strong working relationship that has been reaffirmed during this process among the conference members. We intend to work very hard to make the conference as lasting and dynamic as possible."
Texas president Bill Powers Jr., and athletic director DeLoss Dodds will also address the media on Tuesday, likely after the calm night of sleep in more than a week. Texas will reportedly reap up to $25 million between the new TV deal and its own network in the planning stages. Texas, A&M and Oklahoma will reap about $20 million annually in the deal, about $3 million to $6 million more than the other seven schools.
Baylor officials will likely also sleep well tonight. Baylor faced the unsettling proposition of being left out of a major conference if Texas and the others left for the Pac-10.
"Baylor athletics has a bright future and we look forward to continued success with our historic partners in the Big 12 Conference for many years to come," said Baylor Director of Athletics Ian McCaw in a statement. "We have been blessed with extraordinary efforts and leadership from the Board of Regents, President [Ken] Starr, key alumni and friends. We are both humbled and grateful for the tremendous outpouring of support from the Baylor family in recent days."
Contingency plans were under way among the five schools that would have been left out -- Baylor, Kansas, Kansas State, Missouri and Iowa State. Those schools' athletic directors were to gather Monday night in Kansas City, a city that is also at ease because it had just been awarded the lucrative Big 12 basketball tournament through 2014.
One plan on the table was for the remaining five Big 12 schools to absorb some or all of the 10 Mountain West Conference schools and retain the Big 12 name and the automatic BCS bid that would come with it. Now, Kansas and Baylor can rest easy, but the MWC might have other issues to tackle.
With Kansas locked into the Big 12, the Pac-10 will reportedly target Utah as its 12th team. It added Colorado last week. If Utah accepted a potential invite it would reduce the MWC to nine teams just days after it added Boise State to get to 10. The MWC, which has been home to TCU since 2005, is hopeful it will gain BCS standing in two more years once a four-year evaluation period ends.
It's unclear at the moment how the possible loss of Utah would affect the MWC's chances.
What is clear is the Big 12 conference lives on -- at least for 10 teams who might decide to start fresh with a new name.
It appears the only loser -- other than disappointed Pac-10 commissioner Larry Scott -- might be Cowboys owner Jerry Jones. Cowboys Stadium was just awarded the Big 12 football championship game through 2013. But, with 10 teams, the Big 12 likely will not play a title game.
Of course, the Big 12 remain with 12 teams, as contentious as that might be, for at least another year or two. Nebraska is hoping to begin play in the Big Ten in 2011. Next up on the Big 12 agenda is the league's football media days in July in DFW.
That should be just chummy.