Dallas Colleges:

David Cutcliffe
January, 1, 2014
Jan 1
2:00
AM CT
ATLANTA -- They lined up inside the bowels of the Georgia Dome hoping to catch one final glimpse of Johnny Football. One boy wore his No. 2 Texas A&M jersey, shifting nervously from one foot to another as he waited impatiently for his hero's arrival. His father barely noticed, his eyes trained on where the team bus should arrive.
Suddenly a security attendant shouted something inaudible, a pair of doors swung open and a rush of cold air swept inside. The Aggies went by like a blur as they readied for the start of the Chick-fil-A Bowl against Duke on Tuesday night.
"Did you see him?" one Texas A&M fan asked another when all the players had passed.
[+] Enlarge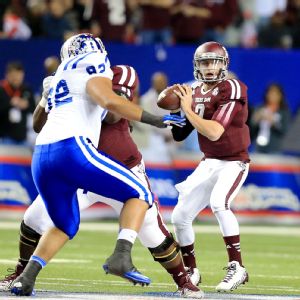 Daniel Shirey/USA TODAY SportsWith all eyes focused on him as usual, Johnny Manziel delivered another virtuoso performance in the Chick-fil-A bowl in possibly his final game at Texas A&M.
"No, did you?" someone responded.
"He must have come in earlier to avoid all this," they decided, shaking their heads in defeat.
Kevin Sumlin was easy to spot. Texas A&M's coach was as dapper as ever in a well-tailored navy blue suit, a baby blue shirt and a pink paisley tie.
Mike Evans
couldn't be missed, either. Texas A&M's unstoppable sophomore receiver stood at an unattainable 6-foot-5, a head taller than most of his teammates.
But
Johnny Manziel
was nowhere to be found. Favorably listed as 6-foot-1, Texas A&M's quarterback instead kept to the middle of the procession, pulled a grey hoodie over his head and turned his face down as he listened to music on a pair of oversized headphones.
It was like he never was there. Some saw him pass by, most didn't. Like a ghost, Manziel reached the locker room without the usual glow of cameras flashing upon his every arrival.
"There he is. You see him?" a Duke fan shouted at his friends in the front row of the Dome a few minutes later, grabbing a buddy by the shoulder as he pointed to Manziel near midfield, now in shorts and a T-shirt as he warmed up, sporting the same headphones he used to block out the world.
If anyone missed Texas A&M's superstar quarterback, all they had to do was look for the hoard of cameras documenting his every move. Hundreds of photographers lined the end zone, snapping shot after shot of what could prove to be Manziel's final game with the Aggies. The NFL could be the next stop for the redshirt sophomore with mind-boggling statistics and breathtaking athleticism. He's done so much in two years at College Station -- some the NCAA would like you to know, some it would like you to forget -- that moving on seems natural.
But if the Chick-fil-A Bowl was indeed Manziel's final hurrah, it felt appropriate.
Two years ago the undersized quarterback won the starting job at Texas A&M to no acclaim. He hit the field to no applause and won fans over with each dazzling play. Not everyone came to his games knowing what he looked like, but everyone left with an impression of Manziel forever burned in their minds. Enough noticed that he won the Heisman Trophy.
Tuesday felt the same way. The nation's focus has been on places like New Orleans, Dallas, Miami and Pasadena, not Atlanta. But Manziel got fans' attention anyways by doing what he's always done -- the impossible. Manziel led a comeback for the ages, bringing the Aggies back from 21 down to beat Duke 52-48.
Manziel accounted for 455 yards and five touchdowns and was named the game's Most Outstanding Player on offense.
"It was an unreal feeling," Manziel said afterwards, not quite dodging questions about the NFL, but somehow avoiding them entirely.
He wanted to talk about the game, and who could blame him? While the Aggies defense was pulverized, failing to make a single stop in the first half, Manziel rallied the troops on the sidelines, grabbing teammates by the collar and even talking up defensive coordinator Mark Snyder -- saying and doing anything he could to end the season a winner.
Offensive tackle
Jake Matthews
had never seen Manziel so riled up.
"It was special to watch, special to be a part of," he said.
Fellow offensive lineman
Cedric Ogbuehi
was just as in awe.
"We forgot how great he is," he said of Manziel. "This game we saw that he is one of the best players in college football history."
After the game, Manziel wasn't the off-the-field diva he's sometimes been portrayed to be. He was reserved, sluggish even. He was getting sick, he said, coughing as he told reporters to keep a safe distance. He didn't know if he had the flu coming on. He slouched and sat on the floor outside the media room, checking his phone as he waited for Duke coach David Cutcliffe to finish up inside.
If he were listening, he would have heard Cutcliffe say how he "spun the ball really well" and just how "special" he was. All that coming from a coach who mentored NFL icon Peyton Manning.
Manziel, for his part, was as understated as ever at the podium, deflecting praise to his offensive linemen and wide receivers. He didn't thump his chest. He didn't bring his trophy into the news conference like his teammate Toney Hurd.
When asked to look back on his career at Texas A&M, he said what he had pretty much all night: that he couldn't believe it.
"It's unreal how things have played out," he said.
He didn't answer any more questions as he walked back to his team's locker room. A reporter asked once again if he'd turn pro, and he didn't answer. He just kept walking, his head down in that familiar zone.
But as he left the locker room, a fan begged him to stop and pose for a picture, and he obliged. He stood still for two shots and smiled before turning down the tunnel and out into the night.
Manziel wasn't a ghost as he left the Georgia Dome early Wednesday morning. He wasn't a blur. He was a legend in full view for the world to see.
After so much talk and so much acclaim the past two years, he left a quiet winner.
December, 31, 2013
12/31/13
12:00
PM CT
It's been a wild ride for both Duke and Texas A&M this season.


The Aggies, with their effervescent quarterback
Johnny Manziel
and their high-flying offense, were so often a thrill to watch, full of touchdowns and big plays, but ultimately not enough wins to compete for an SEC title.
Duke, meanwhile, had what could only be called a dream season when compared to the history of the program. David Cutcliffe was named Bobby Dodd Coach of the Year after leading the Blue Devils to their first 10-win season and a spot in the ACC championship game.
How it will end for both teams depends on who shows up ready to play in the Chick-fil-A Bowl at the Georgia Dome in Atlanta (
ESPN, 8 p.m. ET
).
Here's a quick preview of the game:
Who to watch:
Manziel has been careful not to make any official NFL announcement yet, but all indications point to the redshirt sophomore leaving Texas A&M early to enter the draft. And he might not be alone. Receiver
Mike Evans
, another redshirt sophomore, is a prime candidate to bolt for the pros as well. So get your fill of them while you can because they're arguably the best at their positions in the country. Manziel's talents, by now, speak for themselves. But Evans might be the bigger concern for Duke because at 6-foot-5 and 225 pounds, he's downright unstoppable. Just ask two of the best teams in the SEC, Alabama and Auburn, which combined to allow 566 yards and five touchdowns through the air to him this season.
What to watch:
Don't forget to pay attention to those pesky Blue Devils, though, as wide receiver
Jamison Crowder
and linebacker
Kelby Brown
are ones to watch. But Duke, without suspended leading rusher
Jela Duncan
, is in a pickle. Throwing the ball often will be a temptation, but as quarterback
Anthony Boone
said, it's a fool's errand to try to outduel Manziel because "that doesn't win football games." Instead,
Josh Snead
, Duke's backup tailback who ran for 547 yards this season, will be asked to do more. If the Blue Devils stay balanced on offense, they have a shot against what has been a porous Aggies defense. But if Boone, who has thrown 11 interceptions to 10 touchdowns, is asked to do too much, Duke could be in big trouble.
Why to watch:
Soak it all in because these two programs appear to be headed toward a crossroads. Duke has never had success like this before. How will it respond if its dream season ends with two straight losses? Can the entire coaching staff stay together? Is one player suspension a sign of more to come? And more questions can be asked of Texas A&M, which might shun the idea of rebuilding next season, but with the possibility of Manziel and Evans leaving, it's definitely a matter of hitting the "reset" button. Coach Kevin Sumlin is locked up under a new contract, but with so many NFL head coaches being fired this week, do the pros start beckoning him as well? Whatever the case, Texas A&M and Duke fans should savor the final game of their seasons and hope that next season holds just as much success.
Prediction:
Texas A&M wins it running away from Duke, 48-28. Had the Blue Devils showed better against this season's Heisman Trophy winner,
Jameis Winston
, I might have been swayed to pick otherwise. But Florida State gave Texas A&M the blueprint to moving the ball offensively. Manziel will have his way against the Duke secondary and end his career as an Aggie with a flourish, accounting for a handful of touchdowns that should leave us as in awe of his penchant for making something out of nothing.