Dallas Colleges:

David Snow
January, 19, 2012
1/19/12
3:15
PM CT
If you're one of our most faithful readers, you'll remember we took a look at the ESPNU 150 recruits from the past five years before Signing Day 2011.

You can take check those here:
That was before the 2011 season. Now, our recruitniks have taken it upon themselves to provide a new update for the 2008 class.
You'll need ESPN Insider to see the full updates for each player group, but here's how the Big 12 players have done:
Prospects ranked from 1-25

No. 6 Arthur Brown, LB, Kansas State (via Miami):
Brown committed to Miami (Fla.), where he struggled to see the field in 2008 and 2009. He transferred to Kansas State and was named Big 12 newcomer of the year in 2011 after recording 95 tackles, two sacks and an interception (of Heisman Trophy winner
Robert Griffin III
).
No. 7: Jermie Calhoun, RB, Oklahoma:
Calhoun's career never got off the ground at Oklahoma after he redshirted as a true freshman. He appeared in 16 games and rushed for 242 yards on 56 carries. He tore his ACL early in his sophomore season (2010) and decided to transfer to Football Championship Subdivision program Angelo State University.
No. 11: R.J. Washington, DE, Oklahoma:
Washington has appeared in 25 games (no starts) for the Sooners, and has 20 tackles and 3.5 sacks. His 13 tackles, three sacks and five pass breakups in 2011 are all career highs.
No. 13: Josh Jarboe, WR, Oklahoma:
Jarboe was arrested for bringing a weapon onto his high school campus before enrolling at Oklahoma. His career with the Sooners didn't last long, as he was kicked off the team after a YouTube video emerged with him rapping about guns and violence. Jarboe resurfaced at Troy but couldn't escape the negative headlines and was dismissed in 2009. After a year at Northeast Mississippi junior college, Jarboe returned to the Football Bowl Subdivision ranks at Arkansas State, and had 54 receptions for 730 yards and two touchdowns this season
No. 16: D.J. Grant, WR, Texas:
After redshirting in 2008, Grant suffered season-ending knee injuries in 2009 and 2010. He finally got on the field in 2011 and started six games, finishing the season with 16 receptions for 180 yards and three touchdowns.
No. 17: Dan Buckner, WR, Texas:
Buckner had 50 receptions for 526 yards and six touchdowns in two seasons with Texas. He was arrested on charges of criminal trespassing and resisting arrest in January 2010 and decided to transfer to Arizona. Buckner had 42 catches for 606 yards and two touchdowns this season for the Wildcats.
Prospects ranked 26-50

No. 38: Blaine Gabbert, QB, Missouri:
It was once thought that Gabbert would be redshirted as a freshman in 2008. Instead, he was the third-string quarterback for the Tigers. He is now a starting NFL quarterback, playing for the Jacksonville Jaguars. During his career at Missouri, Gabbert threw for more than 6,800 yards and 40 touchdowns. He left for the NFL after his junior season.
Prospects ranked 51-75

57. Cyrus Gray, RB, Texas A&M:
Gray closed out his junior season with seven consecutive 100-yard rushing performances, and he added two more to that streak to open his senior campaign. He missed the final two games of the Aggies' season, but he closed out his career with 312 yards and five scores in his final two games. He was named to the 2011 All-Big 12 second team, and ran for nearly 3,300 yards and 30 touchdowns in his career.
No. 72: Jameel Owens, WR, Oklahoma:
In two years with the Sooners, Owens caught four passes for 44 yards. He then transferred to Tulsa before the 2010 season, receiving a transfer waiver so he did not have to sit out a season. But he lasted only one season for the Hurricanes, as he was granted a leave of absence during spring drills in 2011 and never returned to the team.
Prospects ranked 76-100

No. 79: David Snow, OL, Texas:
Snow came right in and played as a true freshman. When it was all said and done, he appeared in 51 games, starting 31 at center and both guard positions. He received a Big 12 honorable mention this past season.
No. 84: Stephen Good, OL, Oklahoma:
Good has been an active member of the Sooners' offensive line since he arrived in 2008. He was in the two-deep since day one, playing both guard positions.
No. 91: Derrick Hall, ATH, Texas A&M:
Hall never made it to College Station because he failed to qualify academically. He went on to Navarro Junior College, where he rushed for more than 2,200 yards and 29 touchdowns in two seasons. Hall then signed with Tulsa, but the NCAA ruled him ineligible.
No. 92: Daniel Franklin, ILB, Oklahoma:
Franklin redshirted his freshman season, and has since been a career backup and special-teams player in Norman.
No. 95: DeSean Hales, WR, Texas:
Hales redshirted his freshman season in Austin. Through the next three years, he played in 31 games, catching 13 passes for 87 yards. He has one more season of eligibility.
No. 100: Emmanuel Acho, LB, Texas:
Acho started every game this past season for the Longhorns, leading the team in tackles with 131. He also recorded 19 tackles for loss and three sacks. Acho was named first-team All-Big 12 in 2011, and finished his career with 269 tackles, 40 tackles for loss and eight sacks.
Prospects ranked 101-125

No. 106: Jordan Fields, CB, Texas A&M:
Fields committed to Texas A&M but never signed with the Aggies. He enrolled at Blinn JC (Texas) following high school and has yet to sign with an FBS school.
No. 114: Nolan Brewster, OLB, Texas:
Brewster played in all 13 games as a true freshman, mainly on special teams, and had eight tackles. He had 24 tackles and an interception as a backup safety as a sophomore and then redshirted his junior year after undergoing shoulder surgery. As a senior, Brewster played in Texas' first four games but had to retire from football due to multiple concussions and post-traumatic migraine headaches.
No. 117: Kye Staley, RB, Oklahoma State:
Staley redshirted and then suffered a knee injury that wiped out his 2009 season. He quit the football team and didn't play in 2010 but rejoined the team the following year. He played in 13 games this past season, catching 10 passes for 81 yards and a touchdown.
No. 118: Kendall Wright, ATH, Baylor:
He made an immediate impact as a true freshman, leading the team in catches, yards and touchdowns. He earned second-team All-Big 12 honors his sophomore year, catching 66 balls for 740 yards and four touchdowns. Wright broke school records his junior season, catching 78 passes for 952 yards and seven touchdowns to again earn second team All-Big 12. As a senior, Wright earned several All-American honors after catching 108 passes for 1,663 yards and 14 touchdowns, all school records. He's rated as a potential first-round draft pick in April's NFL draft.
No. 122: Landry Jones, QB, Oklahoma:
Jones will likely shatter every Sooners passing mark after surprisingly deciding to come back for his senior year. He started 10 games his redshirt freshman season after starter Sam Bradford (St. Louis Rams) suffered a season-ending shoulder injury. He set a school freshman record, throwing for 3,198 yards and 26 touchdowns, including a school-record six in one game. He earned All-American honors as a sophomore after throwing for 4,718 yards and 38 touchdowns and led the Big 12 in total offense. Jones' numbers were down a bit his junior season, but he still threw for 4,463 yards and 29 touchdowns.
No. 125: Justin Johnson, RB, Oklahoma:
Johnson's Sooners career was short-lived as he transferred to Abilene Christian following his freshman year. He rushed for 103 yards and had a 100-yard kickoff return for a score as a sophomore but transferred following that season to McMurry, a Division III school. Johnson rushed for 771 yards and eight touchdowns to go with 40 catches for 352 yards and four more scores for the War Hawks as a junior last year.
Prospects ranked 126-150

No. 138: Dravannti Johnson, LB, Texas:
Johnson decided to transfer from Texas last month, having already graduated. The junior defensive end saw limited action, playing in only seven games and registering just four tackles, one for a loss. Johnson's most productive season came in 2010, when he started five games and recorded 23 tackles, two tackles for a loss, one sack and six quarterback pressures. He is expected to transfer to a smaller school for more playing time.
No. 143: Rodrick Davis, DT, Texas A&M:
After two uneventful seasons at Texas A&M, Davis transferred to Fort Scott (Kansas) Community College before transferring again to New Mexico following the 2011 season. Davis played in eight games last season for Fort Scott and recorded 28 tackles. He redshirted in 2008 so he has one year of eligibility remaining and can play this season.
January, 11, 2012
1/11/12
2:00
PM CT
Seven Big 12 players will take part in the East-West Shrine Game on Jan. 21 in St. Petersburg, Fla.
Tysyn Hartman, S, Kansas State
Nicolas Jean-Baptiste, DT, Baylor
Blake Gideon, S, Texas
Dominique Hamilton, DT, Missouri
Steven Johnson, LB, Kansas
Cody Johnson, FB, Texas
David Snow, OL, Texas
Good to hear from each of these guys, who have all been extremely productive over their careers. Traditionally, the Senior Bowl the following week is a more prestigious display, but all seven of these guys will get valuable exposure in front of NFL scouts.
We'll see who takes advantage and improves their draft stock.
You can
see the full roster here
.
December, 16, 2011
12/16/11
3:08
PM CT
Living life blindfolded with one hand tied behind your back is no fun.
Ask Texas' offense.
Already struggling at quarterback, it played the final four games with its top offensive weapons out of the lineup or in it while battling injuries.
[+] Enlarge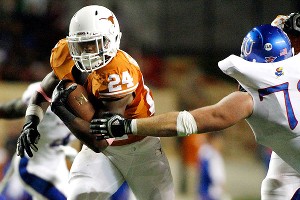 Ray Carlin/Icon SMIWithout Joe Bergeron or Malcolm Brown, the Texas offense lagged at times.
Running back
Fozzy Whittaker
tore his ACL on an ugly play at Missouri with the team's leading rusher, freshman
Malcolm Brown
, already out with turf toe. Fellow freshman
Joe Bergeron
rumbled for 327 yards in wins over Texas Tech and Kansas, but managed just nine more carries the rest of the season with a hamstring injury.
Jaxon Shipley
missed a three-game stretch late in the season, returning for the final two games with a bulky brace on his knee and playing through pain.
"You take Fozzy, the two young backs and Jaxon, that's your oldest senior leader and the heart of your team, and he got about every award at the banquet," coach Mack Brown told reporters on Thursday. "And then you take three of your best freshman stars that were all touching the ball and making a difference in the ballgame, I think it took everybody aback. People will sit and say don't talk about injuries. When it's everybody that's touching the ball it's hard not to talk about them and think about it a little bit."
Texas managed just five points in a loss to Missouri. It fought for all 13 in a loss to Kansas State the following week.
"It's extremely hard when you're playing with new people, when you're in sync with somebody else," said offensive lineman David Snow. "We did chop down some plays, some packages. We have certain packages for certain players."
The biggest loss was the "Wild Fozzy" formation that the Longhorns used to produce six touchdowns by giving Whittaker a direct snap.
Texas should mostly be healthy when it plays Cal in the Holiday Bowl on Dec. 28. It will be without Whittaker, though.
The duo of Brown and Bergeron should be back, and though Shipley's likely to retain his knee brace, he'll be on the field and healthier than he was in an upset win over Texas A&M to close the season.
"He's still limping. He's not 100 percent," Brown said. "He's got that big brace on his leg, but he's out there fighting for balls and diving. He likes to play, he's a fun player, and he just makes plays."
Chastise Brown for making "excuses" if you must, but it's the truth. The Longhorns, after benching Garrett Gilbert in the second game of the season, were relying on inexperience at every skill position, including quarterback where true freshman
David Ash
and sophomore
Case McCoy
shared time. They entered 2011 with one combined pass attempt.
Late in the season, that young talent thinned even further.
At Holiday Bowl, for the first time in almost two months, a Texas offense with a bright future may finally be close to full strength.
November, 23, 2011
11/23/11
10:00
AM CT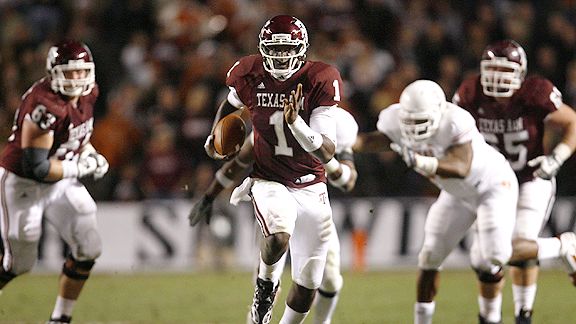 Aaron M. Sprecher/Getty ImagesAfter their 118th meeting, Texas A&M is running away from Texas to the SEC.
Texas says, "Sorry, our schedule's booked up."
Turner Gill says the rivalry belongs in the Big 12.
Thursday night, Texas and Texas A&M will play for the 118th time. Only two rivalries have been played more.
It might be the last time. It will be the last time for the foreseeable future.
On Saturday, Missouri and Kansas will meet for the 119th time. Minnesota and Wisconsin are the only teams that have met on more occasions.
Realignment will claim two more victims upon Missouri and Texas A&M's exits to the SEC: Two of the nation's best rivalries.
"It'll be difficult to ignore. Everybody knows what's out there," Texas A&M coach Mike Sherman said. "It's all part of it. I think there's enough things on the table to motivate them. It's certainly something everybody's aware of."
That includes players. Here's thoughts from a few that grew up around the rivalry think about the rivalries' existence and ending.
Additional reporting by Carter Strickland of
HornsNation
.
What's your best memory in this rivalry, whether you played in the game or watched it?
Ryan Swope, WR, Texas A&M:
Growing up as a Longhorn, I just remember how intense these games were. It didn't matter, the rankings didn't play a factor. Every game was just a battle. It was hard-nosed football. So much tradition involved in the game, and that's the main thing.
Tanner Hawkinson, OT, Kansas:
Most recently, the one in '08 when Todd Reesing hit Kerry Meier at the end to win the game. I was redshirting, but I was at the game and it was just a crazy, crazy game. One of the better games I've witnessed.
There's quite a bit of hatred between the two schools going back to the Civil War and the battles between the Jayhawkers and Missouri. There's just a lot of hatred between the two schools.
T.J. Moe, WR, Missouri:
The one in '07, the big one, was when I started watching because (former MU corner) Carl Gettis was playing and he was my high school teammate. Everybody knows what kind of game that was. That was kind of the start of, when both teams had great seasons, they started calling it the Border Showdown. That was a big game and a fight for No. 1. We got that safety in the end zone on Todd Reesing, and in 2008 they came back and got us, and thats how rivalry's supposed to be, back and forth like that. The '09 game was great, too. We had to win on a last-second field goal.
Are you for or against Texas A&M leaving for the SEC?
Blake Gideon, S, Texas:
Against.
Does it matter that they're leaving?
Gideon:
It doesn't matter to me. This is my last year playing them anyway. It's definitely one of those deals kind of
like Nebraska last year
that we want to send them off the right way. At Missouri we failed to do that this year.
What did you think when you heard it was probably ending?
Hawkinson:
It's something that's gone on for a ton of years now, I'm not even sure how many. Obviously, it's disappointing. I wish it could go on, but we wish them well. It's something I feel like should stay in the Big 12, and they're going to the SEC, so, it's something they're going to just have to deal with if they're not in the Big 12 anymore.
Moe:
I don't have any control over that. As far as players go, I think both sides would love to play each other. I can't speak for the administration. I think the administration over there keeps saying it's done if you're not going to be in the Big 12 anymore, but I'm sure players on both sides would love to continue the rivalry and we hope to do that.
Swope:
There's so much tradition and history involved, it's going to be tough not to see Texas on the schedule, but it's a fun game. We're going to enjoy this one and we want to go out the right way.
Where you're from [Gilmer, Texas], are there a lot of Aggies?
David Snow, OL, Texas:
Let's just be honest — I'm the only one in my top 10 percent that came here. Everybody else is at A&M. Once they went to the dark side, I haven't really stayed in that much contact with them. Changing my phone number and stuff.
Is there more pressure to win because it is the last one?
Snow:
We have a lot of pressure every week to win, hell we're Texas. You don't expect to lose and you don't want to lose.
Would you call it a nasty rivalry?
Snow:
Yeah. I mean certain things happen there. When you hate two people certain cheap shots go on, especially on the other side. Never by us.
What's this rivalry mean to you?
Swope:
It's a very personal game for me. I've got a lot of friends that are graduated from Texas or at Texas right now. Growing up in Austin, growing up a Longhorns fan, it's going to be real personal. My dad graduated from Texas. I have friends that go to school there and friends that are players for the other team.
Hawkinson:
It's a great sense of pride for not only the university, but for the state of Kansas. It'd be a huge win not only for the university, but for the people that live in Kansas.
Moe:
I didn't watch a whole lot of college football growing up, but when I did, it was Missouri-Kansas. It's a pretty special thing. It's been so close. It's almost tied up for the 100-something years we've been playing. It's just fun and something you look forward to. It doesn't matter if either team is bowl-eligible. We might have both gone winless and this game would still be special. It goes back to the Civil War days when it was a lot more serious than it is now.
What will you miss most about it?
Hawkinson:
Getting prepared. The week leading up to it, this week, guys come in to practice and they're already excited. It's kind of an easy week to get pumped up for and practice hard for. Especially going up and playing at Arrowhead, it's a great environment, especially with two teams playing against each other with all the hatred toward each other. All that leading up to the game and one you get to the game, just playing in that atmosphere.
Swope:
All the tradition and the history in this game. It goes back to the Bonfire and how big this game is and how much history it holds. It's one of those things. Everyone pulls tickets for this game. It's on Thanksgiving. It's a very traditional game being played and they've been doing it for so long, I think I'm just going to miss almost everything about the game.
Moe:
If I miss a year of it, that's pretty sad. It's your rival. We had Nebraska, we lost them and we had Kansas. Those were our two big rivals. Now, of course, we'll move to the SEC and we'll kind of have A&M maybe as our new rival or whatever, but I don't know if it's ever going to be the same without Kansas because it has such deep roots, especially the guys on the team from Kansas City. They live in the war zone over there and it's pretty special to them.
I did my best to answer your questions. I've been
more or less banned from speaking about Kansas this year
, so I couldn't have a whole lot of fun.
July, 20, 2011
7/20/11
11:54
AM CT
We'll move on to the cornerbacks today in our position rankings across the Big 12.
Here's what we've covered so far:
This group is subject to more change during the season than perhaps any other position. You never quite know how chemistry will develop, and in these rankings, you really have to rely heavily on experience, similar to quarterbacks. It's not the only factor, but you have to acknowledge that it's a major one.
So, here's how I rank them:
[+] Enlarge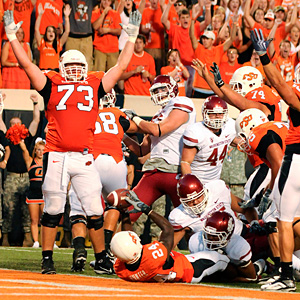 AP Photo/Brody SchmidtOklahoma State's Levy Adcock, 73, is among the Big 12's best returning offensive linemen.
1. Oklahoma State:
This is a no-brainer. The Cowboys broke in four new starters last season, but became a big reason why OSU's offense was one of college football's best. Despite throwing 532 passes, third-most in the Big 12, the group surrendered just 10 sacks. All five starters return, too. Running back Kendall Hunter also rushed for more than 1,500 yards. Right tackle Levy Adcock headlines the unit as the league's best overall lineman.
2. Baylor:
The Bears might be a bit of a surprise here, but Baylor's strong skill-position talents wouldn't look nearly as good without this group, which lost a first-round pick at left tackle in Danny Watkins. However, Philip Blake is one of the league's best centers and four starters return from a line that helped Baylor finish second in the Big 12 last season in yards per carry, just behind Nebraska but nearly a half-yard more than Oklahoma State, the third-place team.
3. Missouri:
The Tigers suffered a big loss in center Tim Barnes, a three-year starter and the offensive line's leader, but they return four starters from last season line and have the most career starts on the line of any team in the Big 12, with 105, which ranks 11th nationally.
4. Texas A&M:
A&M's rising sophomore tackles, Luke Joeckel and Jake Matthews, had to learn on the go last season, but their development should be fun to watch this season on an offensive line blocking for the Big 12's best overall collection of skill-position talents. The line returns four starters, replacing only center Matt Allen.
5. Oklahoma:
The Sooners' goal-line problems last season cost them a game at Texas A&M, but this line was very solid the rest of the season and has plenty of upside. Likely starter Jarvis Jones won't be available until perhaps October, so the Sooners will turn to touted redshirt freshman Daryl Williams at right tackle in the interim. Center Ben Habern and tackle Tyler Evans add a lot of experience.
6. Texas Tech:
Tech boasts one of the Big 12's best guards in Lonnie Edwards, but don't be surprised if Mickey Okafor grabs the Big 12's first-team spot at right tackle by season's end. The Red Raiders return all five starters, and will have to play well to support new faces at every skill position on offense.
7. Kansas:
Four of the Jayhawks' starters are juniors and another is a senior, and for all of KU's struggles last season, it did have some success running the ball in spots, even though its 1,615 total rush yards were the fewest in the Big 12.
James Sims
(742 yards, 9 TDs) returns and KU adds a possible home-run threat in Darrian Miller, but the offensive line returns 97 total starts, 15th-most in college football and second-most in the Big 12. That has to pay off eventually, if not this season.
8. Iowa State:
The Cyclones boast the league's best left tackle, Kelechi Osemele, but center Ben Lamaak is gone and ISU might turn to redshirt freshman Tom Farniok as his replacement. Brayden Burris is solid at right tackle, but sophomore Ethan Tuftee, who has very little experience (just five appearances total), enters fall camp as the starter at right guard.
9. Texas:
No, I don't know how this happens. But it's hard to deny. Run blocking has been a struggle for Texas, and new position coach Stacy Searels will have to change that for the Longhorns, who have kept quiet about any real depth-chart developments throughout the spring and into fall camp. Tray Allen's health is a concern, but Mason Walters played well in 2010 and David Snow has a lot of experience at center with 19 starts and 39 appearances. If this group can't ascend in these rankings during the season, Texas' turnaround from last season 5-7 campaign will not happen. Texas, though, has the fewest career starts in the Big 12, with 36, which ranks 105th nationally.
10. Kansas State:
Kansas State has had the Big 12's leading rusher the past two seasons, but he's gone and so are three offensive linemen, including the unit's best blocker, guard Zach Kendall. Center Wade Weibert and guard Kenneth Mayfield also are gone, leaving gaps in the interior. Senior Zach Hanson joins Manese Foketi and Clyde Aufner on a unit that returns just 42 career starts, second-fewest in the Big 12 and 97th-most in college football.