Dallas Colleges:

DeJon Gomes
May, 2, 2011
5/02/11
9:00
AM CT
The NFL draft has come and gone, and I hope you're all prepared for no more NFL anything for awhile. I know I'm not.
Anyway, here's how the Big 12 shook out over the weekend, with a few thoughts to follow.
First round (8)
Second round (2)
Third round (2)
Fourth round (6)
Fifth round (3)
Sixth round (1)
Seventh round (8)
No. 216: Mikail Baker, CB, Baylor (St. Louis)

No. 227: Scotty McKnight, WR, Colorado (New York Jets)

No. 229: Jonathan Nelson, DB, Oklahoma (St. Louis)

No. 232: Baron Batch, RB, Texas Tech (Pittsburgh)

No. 234: Andrew Gachkar, LB, Missouri (San Diego)

No. 246: Jay Finley, RB, Baylor (Cincinnati)

No. 247: Jeremy Beal, DE, Oklahoma (Denver)

No. 248: Eric Hagg, S, Nebraska (Cleveland)
Here's how the Big 12 teams ranked in terms of total draftees:
1. Nebraska
- 7
2. Baylor
- 4
2. Colorado
- 4
2. Oklahoma
- 4
2. Texas -
4
6. Missouri
- 3
7. Kansas State
-1
7. Oklahoma State
- 1
7. Texas A&M
- 1
7. Texas Tech
- 1
11. Iowa State
- 0
11. Kansas
- 0
And the major conferences (counting where players
actually
played):
SEC
- 38
Pac-12
- 33
Big 12
- 30
Big Ten
- 29
ACC
- 35
Big East
- 22
Texas A&M had just one player drafted, but the Aggies will have plenty next year, including a handful of possible first-rounders. Cyrus Gray, Ryan Tannehill and Jeff Fuller could all go very early in 2012, depending on what happens between now and then.

[+] Enlarge

Matthew Emmons/US PresswireOklahoma defensive end Jeremy Beal was drafted in the seventh round by Denver.

Interesting that Miller went 245 selections before the Big 12's Defensive Player of the Year, according to the media, Jeremy Beal. Also an interesting coincidence? The same team drafted both. I do think Beal will have a productive NFL career, and there's no denying what he did at Oklahoma, but the measurables were never quite there for Beal. What's not measurable? How difficult he is to block. That said, Miller was my vote for the Big 12's Defensive Player of the Year.

Good to see some hard-working, perhaps under-respected guys get drafted. This was an important year for that, considering those left over won't be able to get into NFL minicamps until the lockout ends and won't be able to do anything to further their NFL careers besides work out on their own. I'll have a post later today on some of those snubs. There's no guarantee that late-drafted guys like Baron Batch, Scotty McKnight, Jay Finley or Eric Hagg will catch on in the the pros, but I'd be willing to guarantee they'll do everything in their power to maximize what opportunities they get.

One of the most interesting selections? Mikail Baker. He wasn't invited to the combine, and played just one full season on defense at Baylor after working as a kick returner and a cornerback in 2009 before a season-ending knee injury. You don't see that kind of impressive athleticism at Baylor traditionally.

Let the debate continue: Kendall Hunter vs. DeMarco Murray. Murray getting drafted 40-some spots earlier only intensified that discussion, if you ask me.

Also, what's more impressive from Art Briles? That Baylor had four picks, the most in school history since 1996? Or that despite those four picks, Baylor's returning an even better team than last season, when it ended a 16-year bowl drought?

Colorado's draft, meanwhile? Not exactly a ringing endorsement for Dan Hawkins' coaching job in Boulder.

Alex Henery didn't win the Lou Groza Award, but his fourth-round selection makes him the earliest kicker draft pick since 2006. Will that end the state of Nebraska's blood feud against respectable OSU kicker Dan Bailey, who did win the Lou Groza Award? I doubt it. (Save your emails. For the 100th time, I agree, Nebraska fans. Henery > Bailey.)

A few guys who went way lower than I thought they would. In order of my surprise level: Beal, Gabbert, Amukamara, Hagg, Hunter.

A few guys who went way higher than I thought, in the same order: Aldon Smith, Batch, Gachkar, Baker.
December, 1, 2010
12/01/10
1:00
PM CT
Nebraska's secondary won't see the same
Landry Jones
on Saturday, but Jones won't see the same Nebraska secondary, either.
"Last year when we played him, he was a young quarterback just learning the system and everything," defensive back DeJon Gomes said. "One of the biggest things we took away from that game is he's a competitor and he's going to do the best he can to get his team into a situation to win."
And one more thing.
[+] Enlarge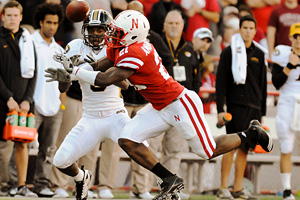 Eric Francis/Getty ImagesPrince Amukamara and the Nebraska secondary have had success against Oklahoma in the past.
"He also likes throwing the ball. That's good for our secondary," Gomes said.
No kidding. Jones has racked up 527 pass attempts in 2010, in part because of Oklahoma's hurry-up offense and in part to find more success as a sophomore passer.
No quarterback in the Big 12 has more than 500, and
Dominique Davis
at Eastern Carolina is the only quarterback in America with more attempts than Oklahoma's Jones.
The Blackshirts picked off Jones five times in Lincoln in 2009 -- including three by departed safety Matt O'Hanlon -- though Huskers coach Bo Pelini tossed a wet blanket on talk of that game having any relevance over a year later.
"It's a different time, different place, different offense, new challenges," Pelini said. "The furthest thing from my mind is what happened in that game last year."
What does matter is what's happened this year. Nebraska has put together the No. 2 pass defense in the country, allowing just 144 yards a game. Jones averages almost 330 a game, good for No. 3 nationally.
"It's going to be an exciting game, especially with them having one of the top offenses in the country and us priding ourself on defense," Gomes said. "It'll be a fun one to watch."
If history repeats itself, it'll be a lot more fun for Huskers fans than Oklahoma fans when it comes to passing the ball. On the way to that No. 2 ranking, the Nebraska secondary has ruined the days of a handful of good quarterbacks. A sampling:
Only Iowa State's
Austen Arnaud
, Oklahoma State's
Brandon Weeden
and
Ryan Tannehill
at Texas A&M managed decent days against the secondary. Part of Weeden's success was in finding receiver
Justin Blackmon
, one of the nation's best, for 135 of his 283 yards and both touchdowns. Only Tannehill got a victory with his success, however moderate (19-29, 172 yards).
Jones has another of the nation's best receivers,
Ryan Broyles
, to throw to, but even Broyles could only manage eight catches for 74 yards in 2009, one of his lowest outputs of the season while healthy.
"They have a trigger man who can get the ball to everybody," Pelini said of Jones. "They stretch the field on you. It's a good challenge for us."
It could be an even bigger challenge for Jones.