Dallas Colleges:

Dennis Franchione
November, 9, 2012
11/09/12
10:56
AM CT
It's that time when we check out news and notes from this week's key SEC game:
The Texas A&M at Alabama matchup is one of the two most efficient offenses in the SEC. The Aggies lead the SEC in highest average points per drive (3.09 / 336 points in 110 offensive drives) with the Tide second at 3.07 (332 in 108) points per drive. The Tide leads the SEC in overall scoring-efficiency percentage (50.9 percent / 55 scoring drives out of 108 total drives) and the Aggies are second at 49.6 percent (60 of 121). In touchdown scoring efficiency, the Aggies lead the SEC at 40.5 percent (49 TD drives out of 121 overall drives) while the Tide are second at 38.9 percent (42 of 108).
Alabama leads the series history, 3-1. It's the first visit to Bryant-Denny Stadium for the Aggies. The teams played in the 1942 and 1968 Cotton Bowls, in 1985 at Legion Field in Birmingham and 1988 in College Station.

Alabama's Jeremy Shelley is the only kicker in the nation not to miss an extra-point (40-40) or field goal (9-9) this season.
The Aggies are 1-10 in games against No. 1 ranked teams, with the lone victory being a 30-26 win over Oklahoma in 2002.
A&M has scored first in every game in 2012, and in 14 straight games dating back to 2011.
Johnny Manziel has already broken A&M's record for quarterback rushing yards in a season (922).
Manziel is the only player in FBS to average at least 10 yards per rush and 10 yards per pass attempt in those situations, and his 11 touchdowns responsible for in those situations are three more than any other FBS player. He has gained 634 rushing yards on scrambles. That is 182 more yards scrambling than Denard Robinson, Braxton Miller and Collin Klein have combined. Manziel has scrambled for 28 first downs this season, including 18 first downs on third down.
Manziel is completing 71.8 percent of his passes on first down this season, one of only six players to complete at least 70 percent of his passes on first down this season (min. 140 attempts).
Alabama is 21-6 against the AP Top 25 during the last four seasons and 12-4 against AP Top 10 teams.
Alabama QB AJ McCarron has gone 204 pass attempts this season and 289 dating back to last season without an interception. Since 2000, he is the only player in FBS with at least 25 career touchdown passes (38) and as few as five interceptions.
The Tide defense averages 5.44 three-and-outs per game and its 45.4 percent rate is second highest in the nation.
The Aggies and Tide have shared three head coaches in their histories -- Bear Bryant (A&M 1954-57; Alabama 1958-82), Gene Stallings (A&M 1965-71; Alabama 1990-96) and Dennis Franchione (A&M 2003-07; Alabama 2001-02).
February, 10, 2012
2/10/12
9:00
AM CT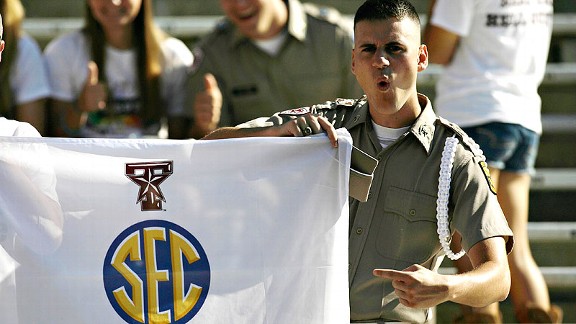 Brett Davis/US PresswireIn the SEC, Texas A&M won't be fuming under the long shadow of former Big 12-mate Texas any longer.
Missouri had
its day on Tuesday
. Today, it's Texas A&M's turn.
The SEC welcomes both schools into the league this coming football season, and consider this our introduction to the Aggies on the SEC blog. We get an assist from Big 12 blogger David Ubben.
Let's get right to it.
Chris Low:
It wasn't a big secret that the SEC wanted to get into the state of Texas, and there were rumblings that the SEC had an offer on the table for both Texas A&M and Oklahoma two summers ago. Did you think it was a foregone conclusion that Texas A&M was going to join the SEC at some point?
David Ubben:
I don't know if I'd call it a foregone conclusion, but nobody in the league was more tired of the often Texas-driven nature of the Big 12 than the Aggies. The SEC, from its perspective, was a way to surpass the Longhorns, too. While I think Missouri's move was more about leaving the Big 12, I think the Aggies really wanted to be in the SEC as much as they wanted to leave the Big 12. If Mizzou had its way, it would probably be in the Big Ten right now. For A&M, there's been an SEC lust for decades. Now, it's happening. The Aggies couldn't be happier. We'll see if that happiness sticks around on game Saturdays in the fall.
CL:
David, my take on this round of expansion for the SEC is that Texas A&M fits culturally a lot better than Missouri. Maybe that's just me, but Texas A&M has the feel of an SEC school with its passion for football. That said, I'm probably one of those rare people who's been to a Texas A&M basketball game in College Station, but never to a football game at Kyle Field. It was back when Bernard King (the other one) was playing for the Aggies, and it was the night before Dennis Franchione left Alabama to take the Texas A&M head football job. I'm sure this will shock you, but nobody was out on press row during the basketball game. Instead, all of the Texas A&M-based media members were on their phones back in the press work room trying to track down the Franchione story. I can assure you that something like that would never happen in the SEC during a hoops game. Well, at least not at Kentucky.
[+] Enlarge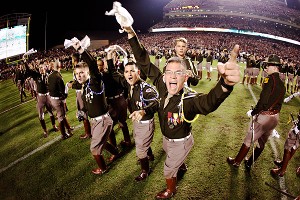 AP Photo/David J. PhillipThe Corps of Cadets made Texas A&M's Kyle Field one of the Big 12's most impressive venues.
DU:
That sounds about right. And you're definitely in the minority on that one. Kyle Field was the best game atmosphere in the Big 12 by far, and it'll be missed. In that sense, it definitely fits in the SEC. I'd agree with you on the cultural aspect. We'll see how the SEC takes to the Aggies Yell Leaders, aka lack of cheerleaders. It's an old joke in the Big 12, but I guarantee a few SEC fans will be in for a rude awakening next season after failing to do their homework before game day. Unlike Mizzou, the Aggies don't have to deal with a big shift in recruiting strategy. They'll have more access to Louisiana, I think. They also play a physical brand of football, unlike Mizzou. What's the biggest challenge facing the Aggies as they leave for a new league?
CL:
Just managing the grind of the SEC and going through those three- and four-game stretches where you're playing Alabama one week, Florida the next, then Auburn and then Arkansas. The Western Division is stronger than it's ever been right now. You're talking about three teams from one division that finished in the top five nationally this past season in the final polls. You can be a pretty decent football team in that division and struggle to win six games. Just ask Mississippi State. Especially with a new head coach and putting in new systems on both sides of the ball, I wonder if this first season for the Aggies will be a rough one. Simply making a bowl game may be an accomplishment. What would be your prediction, David, for the Aggies in Year 1 in the SEC?
DU:
Agreed on that front. I felt bad for Arkansas this year. The Razorbacks were a heck of a lot more than a decent football team and finished third in the division, getting boxed out of the BCS thanks to arbitrary rules. I predict a rough start for the Aggies. I'll give them a break and say 6-6 with a spot safely in the bottom half of the SEC West.
January, 19, 2011
1/19/11
7:57
PM CT
By
Jeff Caplan
| ESPNDallas.com
Texas Tech
will welcome Dennis Franchione back to the college football sidelines on Sept. 3 when the
Red Raiders open the 2011 season
with a home game against
Texas State
, two sources confirmed Wednesday.
Franchione, who sparked the current renaissance at TCU before running into hard times at Alabama and Texas A&M, had been out of coaching since the Aggies let him go after the 2007 season. He was recently hired to take over a Bobcats program poised to step up to Division I-A. Franchione also had a stint at Texas State early in his career when it was known as Southwest Texas State.
The Red Raiders have yet to officially release their 2011 schedule because they had yet to firm up a couple of dates. Tech, however, has
decided not to play
TCU
in Fort Worth, and declined an offer to face the Frogs at Cowboys Stadium. Tech had to dump a non-conference game to make room for the round robin schedule the Big 12 will play next season with 10 teams.
Tech preferred to keep matchups with New Mexico and Nevada. A source said that to bring Texas State to Lubbock, Tech will move its scheduled home game on Sept. 17 against New Mexico to Albuquerque. The Raiders owe the Lobos a game.
October, 2, 2010
10/02/10
3:55
PM CT
By
Jeff Caplan
| ESPNDallas.com
The records keep falling for TCU quarterback Andy Dalton.

The senior's 39-yard fourth-quarter touchdown pass to Jimmy Young gave him a new TCU-record 50 scoring tosses in his career, breaking the Horned Frogs' previous mark of 49 (Max Knake, 1992-95). Dalton and the No. 5 Frogs blanked Colorado State on Saturday, 27-0.

Dalton is already the school's all-time leader in wins as well as holding numerous other career marks.

*The 27-0 win gave Gary Patterson his first road shutout in his 10 seasons as TCU head coach. The previous six shutouts under Patterson came in home games. TCU's last road shutout was a 24-0 win at Navy on Sept. 30, 2000, when Patterson was the Horned Frogs' defensive coordinator under Dennis Franchione.
September, 21, 2010
9/21/10
8:00
AM CT
By
Richard Durrett
| ESPNDallas.com
The second in a series flashing back to memorable moments in the Battle for the Iron Skillet. This season's version kicks off Friday night at SMU's Gerald J. Ford Stadium and will be televised on ESPN.

The Horned Frogs came into the final game of the 1997 season at 0-10. Head coach Pat Sullivan had already resigned but was coaching out the rest of the season.

SMU arrived at Amon Carter Stadium looking for its first bowl game since the death penalty and riding a five-game winning streak.

TCU fell behind by 10 but stormed back behind quarterback Jeff Dover, who came off the bench to pass for two touchdowns and run for another in leading the Horned Frogs to a 21-18 victory.

Horned Frog fans stormed the field following the victory, possibly more stunned than anything else. The win kept a 6-5 SMU team from getting invited to a bowl game.

What's interesting is where the two programs went after that game. TCU ended up hiring Dennis Franchione to replace Sullivan, and Franchione's 1998 team won the Sun Bowl over USC, vaulting the Frogs toward the success that has carried on through Gary Patterson's tenure.

That 1997 season was Mike Cavan's first on the Hilltop, and it was the program's first winning season since the death penalty. But it wasn't something that could be sustained. Cavan's Mustangs went 5-7 the next year and 4-6 and 3-9 after that, resulting in Cavan's departure and the hiring of Phil Bennett. Things didn't get much better until June Jones was hired in 2008 and last season led the program to its first bowl game in 25 years.
September, 8, 2010
9/08/10
7:01
AM CT
By
Jeff Caplan
| ESPNDallas.com
Gary Patterson got the perfect motivational material last weekend when little ole
Jacksonville State
went into Oxford and beat Ole Miss. Jacksonville State hails from the Ohio Valley Conference, the same league that will send
Tennessee Tech
to Fort Worth on Saturday to face No. 4
TCU
.
"We're trying to make sure we're not one of the people they're talking about in upsets," Patterson said. "I told them in the Sunday meeting that we didn't need to be the next Ole Miss."
It would make for the ultimate let-down after TCU defeated then-No. 24
Oregon State
in a nationally televised game at Cowboys Stadium to put the highly anticipated season-opener behind them with an important 'W.'
"I'll be honest with you, I'm concerned about this ballgame," Patterson said. "Historically here, we have not played our best football the second game of the season, especially when it's at home. We got beat by Northwest Louisiana, which was our first home game back in my first year here. If you think that I'm taking any of these games; and if you want to know about memories, I still remember how I felt about that one. I thought I was going to be cleaning my office out that Sunday."
Last year,
Texas State
came to Amon G. Carter Stadium and put up 21 points in a loss, but it was the most points scored on the Frogs until
Utah
scored 28 in a late-season loss to TCU.
Patterson has additional motivation as well. His coaching career got started at Tennessee Tech, back in the mid-1980s with another coach named Dennis Franchione under head coach Gary Darnell.
And then there's the story of Tennessee Tech junior running back
Jocques Crawford
.
"He committed here. He de-committed, then went to KU [Kansas], now he's there," Patterson said. "They keep saying he's a junior. I don't know how he's a junior. He played two years of junior college at Cisco, then he played at Kansas. It's something I'll ask a question about since he left us without a running back. Most things I leave alone."
The Tennessee Tech website does list Crawford as a junior, but also says he has one year of eligibility remaining.
Whatever the case, the TCU defense, which allowed 73 total rushing yards in the opener, will be prepared for Crawford after limiting Oregon State star
Jacquizz Rodgers
to 75 yards on 18 carries. Crawford will try to become just the 21st running back in what will be Patterson's 115th game as head coach to gain 100 yards on the Frogs.