Dallas Colleges:

Deon Broomfield
May, 12, 2014
May 12
4:30
PM CT
Seventeen Big 12 players heard their names called during the 2014
NFL draft
. Many other Big 12 alums will have a chance at the next level as undrafted free agents.
Below is a list of undrafted players who reportedly have agreed to free agent deals. This is not a final list, as teams are still working to sign undrafted free agents. But these are the players we know of so far.

Baylor

Iowa State

Kansas

Kansas State

Oklahoma

Oklahoma State

TCU

Texas

Texas Tech

West Virginia
November, 11, 2013
11/11/13
9:00
AM CT
And then there were three:

1. Baylor (8-0, 5-0 Big 12, last week 1):
We're 11 weeks into the season, and Baylor still leads the Big 12 in total defense, scoring defense and red zone defense. Those numbers aren't a fluke, as Oklahoma found out the hard way.
Ahmad Dixon
is one of the best safeties in the conference;
Eddie Lackey
and
Bryce Hager
are a stout one-two punch at linebacker; and the defensive line has size and speed. The Sooners might not be very good offensively this year. But Baylor made them look downright ridiculous. This is a complete team.
2. Oklahoma State (8-1, 5-1, LW 2):
This will be just the fifth time Oklahoma State has played Texas when both teams have been ranked in the BCS. The Longhorns have won all four such previous meetings. As a program still aspiring to greater heights, this is the kind of game the Cowboys need to win. Texas is banged up. Oklahoma State has the better defense. And as a result of both, the Cowboys are favored in Austin. Some of the more haunting moments in Oklahoma State history have occurred at the hands of the Longhorns. This is a prime opportunity for the Pokes to produce a memorable one.
3. Texas (7-2, 6-0, LW 3):
The Longhorns have depth at running back and defensive tackle. But they no longer have all-conference players at those positions. That's what tailback
Johnathan Gray
and defensive tackle
Chris Whaley
are. Can Texas overcome these additional hits against one of the hotter teams in the Big 12 in Oklahoma State this weekend? If the Horns do, Mack Brown should get votes for Big 12 Coach of the Year.
4. Kansas State (5-4, 3-3, LW 6):
More and more, K-State is beginning to resemble the Baylor of last year. Maybe not in style, but most certainly in efficiency. The Wildcats scored touchdowns on their first five possessions to basically put then-No. 25 Texas Tech away on its home field by the second quarter. Think about this: From the third quarter of the West Virginia game three weeks ago to halftime at Texas Tech, K-State has scored touchdowns on 14 of 22 possessions (not counting kneel downs). That level of touchdown efficiency would even impress Baylor coach Art Briles. Like the Bears last year, K-State could finish this season with a flourish to set up a run back at the Big 12 title in 2014.
5. Oklahoma (7-2, 4-2, LW 4):
The Sooners' quarterback situations have been the envy of the Big 12 dating back to the advent of the Bob Stoops era. No more. OU has major problems at the position, not only for the rest of this season, but beyond. It's difficult to see the Sooners winning a Big 12 championship with
Blake Bell
at quarterback next season. But the fact the Sooners won't let
Trevor Knight
attempt a pass or
Kendal Thompson
step on the field raises red flags, too. OU had no shot of coming back on Baylor with Bell behind center, yet the Sooners still refused to give either one of the other quarterbacks a chance. Stoops is not one to make drastic changes. But if the Sooners don't shake things up offensively, they could easily finish this regular season a disappointing 8-4.
6. Texas Tech (7-3, 4-3, LW 5):
After three straight losses, the unranked Red Raiders find themselves four-touchdown underdogs to Baylor at a neutral site. A month ago, this game looked like it might be for the Big 12 crown. Instead, Tech will be playing to avoid going 1-11 in the month of November over the past three years.
7. West Virginia (4-6, 2-5, LW 7):
The Mountaineers just missed out on landing another marquee home win, falling 47-40 to Texas in overtime. They have to put that behind them. By snagging these next two winnable games against Kansas and Iowa State, West Virginia will go to a bowl. Considering all the pieces the Mountaineers had to replace from last year, that would constitute a solid season for a team in rebuilding mode.
8. TCU (4-6, 2-5, LW 8):
Credit TCU for not throwing in the towel after dropping three straight for the first time in the Gary Patterson era. The Horned Frogs continued to struggle offensively. But despite missing several key players, they gutted out a game-winning, fourth-quarter touchdown drive at Iowa State to keep their slim bowl hopes alive.
9. Iowa State (1-8, 0-6, LW 9):
The Cyclones had yet to win a Big 12 game and were facing an opponent riding a three-game losing streak in a late-morning kickoff. And yet, Jack Trice Stadium was just about full. Cyclone Nation brought it this weekend, even if their team came up another goal-line stand short.
Tweeted
Iowa State defensive back
Deon Broomfield
: "Best fans in nation. Even through a season like this we have a packed stadium. Sorry for the letdown." It's been a rough year to be an Iowa State fan. You can bet the players will fight to reward that loyalty in the form of a Big 12 win before the end of the season.
10. Kansas (2-7, 0-6, LW 10):
The Jayhawks are 118th in scoring offense, 119th in total offense and 120th in 10-plus-yard plays. Kansas' offense is going nowhere as it's currently constructed. It's time for coach Charlie Weis to give freshman quarterback
Montell Cozart
the keys to the offense. Even though the Jayhawks failed to reach the end zone at Oklahoma State, Cozart flashed promise, leading Kansas to 202 yards on the ground and 13 of its 15 first downs.
October, 8, 2013
10/08/13
1:00
PM CT
Thanks for all your questions in today's chat. Here's where you can find the
full transcript
. If you didn't get your question posted, send it
to the mailbag
, and you could see it on the Big 12 blog on Friday afternoon:
Jake Lightning (Temple, TX):
Who do you think will win between Baylor and OU? And what are the chances that that team will end up the season ranked in the top 5?
Jake Trotter:
If I had to pick the game today, I'd pick Baylor. The
Corey Nelson
injury really hurts the OU D, and I just don't see OU outscoring Baylor given how the offense is currently constructed. The winner of that game will have a good chance to be top 5. Top 2? Probably not, but a lot can happen.
Howard (Houston):
What chance do you give
Bryce Petty
and
Lache Seastrunk
making it to the Heisman stage only playing one half each game? Does Art [Briles] really have to put up 100 on people?
Jake Trotter:
The dilemma Baylor has is which guy to push for the Heisman. The two are kinda splitting the vote, which is why you don't see a Baylor player anywhere on these straw polls. But if Baylor were to go 12-0, it would definitely have a guy in NYC. Not sure who that will be yet.
Bill Snyder (Manhattan, KS):
What the heck do I do now? Both of my QBs are turnover machines...
Jake Trotter:
I stick with
Daniel Sams
. Offense has more pop with him in the lineup. You have to remember, he didn't have
Tyler Lockett
or
Tramaine Thompson
for much of the OSU game. If he can limit turnovers, K-State has a chance to be better offensively than they've been with Sams in there.
Josh (Dallas):
I hope OU looks over its game against TTU as much as you do. Wouldn't you think that game should get a little more hype than the game after it considering how even that series has been in the recent past? Also, Baylor and Tech play every year in Dallas, which is as neutral as it comes in college football. Just thought you might like to know.
Jake Trotter:
Baylor and OU are the hot teams, but neither should be overlooking Tech. As I wrote yesterday, if Tech can figure out the QB situation, the pieces are in place for the Raiders to make a run. They haven't looked as impressive as Baylor or to a lesser extent, OU. But the bottom line is, they are 5-0. And they'll have their say when they go to Norman later this month.
Matt (Des Moines):
How does
Mike Davis
get away with that hit on
Deon Broomfield
and making comments that he would do it again with no consequence from Texas or the conference?
Jake Trotter:
Great question. It was so bad, Texas had to send out an email to a few reporters attempting to clarify what was being reported. Problem is, Davis was saying similar things on Twitter.
Danny (Austin):
How does Texas NOT offer the job to Art Briles? He has done more with less. Mack [Brown] has done less with more.
Jake Trotter:
Baylor fans will not like me saying this, but Briles, in my opinion, would be an excellent hire for Texas.
Ben (Chicago):
What are your odds of WVU making a bowl game?
Jake Trotter:
Mountaineers have three wins now. If they can beat Iowa State at home, KU and win one more game, they're in. So I think there's a pretty good chance for it.
Jay (Oklahoma):
How do you feel about Condi Rice being on the selection committee? For me personally, I'd have no problem with it if she were an AD somewhere. It's about her profession, not gender, IMO.
Jake Trotter:
I respect smart people. Rice is a very smart person. So I'm all for it.
Danny (Austin):
If Mack loses by 25 or more this weekend, could you see a circumstance where he'd just leave? What about 35?
Jake Trotter:
In that scenario, I think Mack would just announce in November he would be resigning after the season.
Howard (Houston):
What needs to happen for the Big 12 to get back in the top 2 or 3 in conference rank?
Jake Trotter:
Texas needs to start carrying its weight.
Wes (Sarajevo, Bosnia and Herzegovina):
Is this year's Baylor team the best Big 12 team in history?
Jake Trotter:
Slow down.
Jwild (Dallas):
Who would you take --
Blake Bell
or
J.W. Walsh
?
Jake Trotter:
Bell
Mack Brown (Austin):
With OU's starting LB out, I am going to shock the world and start
Tyrone Swoopes
. OU can't stop a running QB. Just wait.
Jake Trotter:
The way Mack has gushed about
Case McCoy
, I don't see it.
Ryan (Dallas):
Any trade secrets on navigating the Fair and the RRR?
Jake Trotter:
Get to the corn dog booth early.
October, 8, 2013
10/08/13
11:00
AM CT
July, 3, 2011
7/03/11
11:00
AM CT
We'll move on to the safeties today in our position rankings across the Big 12.
Here's what we've covered so far:
The group of safeties across the Big 12 isn't fantastic, without any truly elite groups, but it's decent. There aren't any teams that look really hopeless at the position in the immediate future.
I haven't given it real close examination so far on the positions we haven't covered yet, but this is by far the closest gap between 1-10 of any position so far.
Here's how I ranked them. (Remember, I lumped in nickel backs with linebackers, so Ahmad Dixon and Tony Jefferson won't be found anywhere in this post.)
[+] Enlarge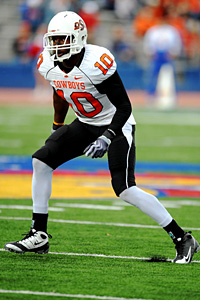 John Rieger/US PRESSWIREOklahoma State's Markelle Martin is the Big 12's best overall safety.
1. Oklahoma State
-- The Cowboys have Markelle Martin, the Big 12's best overall safety who's a big talent but a much better hitter than he is a cover man. Johnny Thomas is solid and both safeties got a lot better as the 2010 season progressed. OSU's depth lands them here, though. Daytawion Lowe could start for a few Big 12 teams and is slightly better than A&M and Texas' reserves, the other two teams with the deepest group of safeties.
2. Texas
-- Blake Gideon takes his share of criticism, a good deal of it fair, but there's a reason he's starting for Texas for a fourth season this fall. He knows what he's doing. Kenny Vaccaro will challenge OSU's Martin, among others, for the title of the Big 12's biggest hitter and Nolan Brewster and Christian Scott are strong reserves at the position. The Longhorns lose a lot at corner, but all the safeties are back from a defense that allowed just over 170 yards a game through the air in conference play last season.
3. Texas A&M
-- The Aggies' Steven Terrell and Trent Hunter are solid, and Hunter is a big playmaker who made 62 stops and picked off two passes last year. Toney Hurd Jr. is the backup and was one of the most impressive freshmen in fall camp last year, joined by Steven Campbell in the rotation.
4. Kansas State
-- Tysyn Hartman has loads of experience and is one of the Wildcats that Bill Snyder loves to rave about. Ty Zimmerman was one of the Big 12's best freshman last year, and picked off three passes. They should be solid again next year, and for as much criticism as K-State's defense faced last year, they were fifth in the Big 12 in pass defense. Logan Dold should be in the rotation, too.
5. Oklahoma
-- Reserve Sam Proctor has starting experience, but Javon Harris and Aaron Colvin enter fall camp as starters. That says plenty about how Bob Stoops and Brent Venables feel about them. In a word: confident. Colvin has the most potential in the group, but the two starters will have to learn on the go. Proctor, a senior, should be able to help. James Haynes will also be in the rotation.
6. Missouri
-- Jasper Simmons is gone, but Missouri's safeties might be a bit underrated in this spot. Kenji Jackson has loads of experience and should be solid, and Tavon Bolden and Matt White are a pair of promising sophomores who should compete at free safety. Kenronte Walker should be in the rotation, too.
7. Texas Tech
-- Injuries were a problem last year for the Tech secondary, but Cody Davis and D.J. Johnson will hold down the traditional safety spots away from the line of scrimmage in new coordinator Chad Glasgow's 4-2-5. The unit gave up lots of big plays in 2010 (151 over 10 yards, 46 over 20, and 25 over 30, all the most in the Big 12), but I'd expect that number to drop under Glasgow if the secondary stays healthy. Davis is the team's leading returning tackler, with 87 stops. Brett Dewhurst and Giorgio Durham should be in the rotation.
8. Kansas
-- Keeston Terry and Bradley McDougald give Kansas a lot of speed and athletic ability at the position, but both of the team's safeties from 2010 graduated and Terry and McDougald are short on experience. Lubbock Smith should add some solid depth to the position.
9. Iowa State
-- Iowa State loses their top playmaker at the position, David Sims, but returns starter Ter'Ran Benton. He'll be helped out by some combination of Jacques Washington, Earl Brooks and Deon Broomfield once the season starts. Iowa State's biggest weakness is on the defensive line, so it's hard to get a good read on how good the safeties really are with such a poor pass rush up front.
10. Baylor
-- This group might move up the list during the year under Phil Bennett, but the two best raw athletes (Ahmad Dixon, Prince Kent) at the position moved to nickel back and linebacker, respectively. The team's leading tackler, Byron Landor, graduated, and that left Mike Hicks as the other starter. He'll be helped out at safety by Sam Holl, Josh Wilson and K.J. Morton. Last year, the Bears ranked last in the Big 12 in pass defense in conference play, giving up over 300 yards a game. That'll have to change or Baylor won't get past seven wins.