Dallas Colleges:

Derrick Mays
February, 13, 2014
Feb 13
7:48
PM CT
The Big 12 added several talented recruits on signing day with at least one member of the ESPN 300 inking with every Big 12 school except Kansas State. Several of those talented freshmen will get the opportunity to make an immediate impact this fall. Here are the top five impact freshman in the Big 12 in 2014:
[+] Enlarge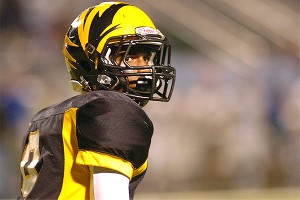 Max Olson/ESPNK.D. Cannon has the skills to force his way into Baylor's receiver rotation as a freshman.
1. Allen Lazard, Iowa State receiver:
The Cyclones are looking for playmakers on offense, and the No. 148 player in the ESPN 300 appears ready to fill that need. Lazard brings terrific size (6-foot-5, 208 pounds), strength and good hands to ISU's offense.
Quenton Bundrage
needs help in the passing game and Lazard has the skills to join
E.J. Bibbs
in providing help in 2014.
"Allen is a guy who could come and make an impact," Cyclones coach Paul Rhoads said. "We're going to give him every opportunity to come in and play his way onto the field as a true freshman. This is a guy who is going to continue to challenge himself, day in and day out, for the rest of his career."
2. Nigel Bethel, Texas Tech cornerback:
The Red Raiders are losing several senior defensive backs including cornerbacks Bruce Jones, Derrick Mays and Olaoluwa Falemi. Yet Bethel could combine with 2013 signee
Justis Nelson
to give the Red Raiders one of the best cornerback duos in the Big 12 over the next few seasons. As one of the best cover cornerbacks in the Class of 2014, Bethel should see the field early. Bethel, the No. 226 player in the ESPN 300, has the speed, ball skills and natural instincts to make a smooth transition to college football.
3. K.D. Cannon, Baylor receiver:
The Bears don't have a major need at receiver but Cannon is an exceptional talent. Cannon, ranked No. 30 overall in the ESPN 300, needs to put on additional weight but he should be able to overcome his slight build thanks to his excellent feet and quickness.
"K.D.'s the smoothest and purest receiver at the high school level I've ever seen," Baylor coach Art Briles said. "When the ball's in his hands, he is as instinctive as anybody I've ever been around."
4. Steven Parker II, Oklahoma safety:
The Sooners were the first team to offer the Jenks (Okla.) standout and remained in hot pursuit until he signed. Their pursuit could pay off as early as this fall. The No. 139 player in the ESPN300, Parker will bring athleticism and versatility to the Sooners secondary.
"He's a guy we desperately needed at safety," OU defensive coordinator Mike Stoops said. "Because he's a guy that brings a different element to the safety position that a lot of players just can't just by his mobility, his skill level, his cover ability. We ask our safeties to do a lot of that and he fits perfectly in to our system."
5. Dalvin Warmack, Kansas State running back:
Warmack should get plenty of opportunities to make an impact for the Wildcats. KSU is looking to replace John Hubert, who carried the load in the backfield for the past three seasons, rushing for 2,965 yards and 28 touchdowns.
With
Jake Waters
under center and Tyler Lockett making plays on the outside, KSU will need someone to help ensure offensive balance. Warmack can help keep defenses honest with his vision, versatility and open-field running. He might not be ready to step in and replace Hubert on an every-down basis but Warmack has the talent to make an immediate impact.
First five out:
Jacob Bragg
, Kansas center;
Dravon Henry
, West Virginia defensive back;
Joe Mixon
, Oklahoma running back;
Kyron Watson
, Kansas linebacker;
Derick Roberson
, Texas defensive end
October, 19, 2013
10/19/13
7:30
PM CT
MORGANTOWN, W.Va. -- With a chance to run the clock out and kick a field goal, Kliff Kingsbury went for the kill instead.
And with a freshman quarterback, no less, in his first career road start.
But in the final minute of the fourth quarter,
Davis Webb
answered his coach's cool confidence with a cool, confident touchdown pass, clinching
Texas Tech's 37-27 win Saturday at West Virginia
.
[+] Enlarge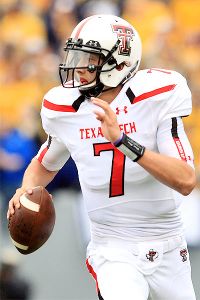 AP Photo/Chris JacksonFreshman quarterback Davis Webb, making his first road start, was 36-of-50 for 462 yards and two touchdowns in the Red Raiders' win over West Virginia.
"We talk about it all the time, fortune favors the bold," Kingsbury said. "We're going to go try win the game.
"We're not going to leave it on anybody else."
Kingsbury's play-to-win attitude has the preseason pick to finish seventh in the league sitting at 7-0. And it has solidified the Red Raiders as legit contenders in a wild, wild Big 12 season heading into next weekend's showdown at Oklahoma.
"That call showed how much trust Coach has in us," said tight end
Jace Amaro
, who hauled in the 10-yard touchdown pass from Webb at the back of the end zone that put the Red Raiders up by two scores with 1:01 to play.
Kingsbury's call especially showed trust in Webb, who has blossomed since losing the starting job in the preseason to freshman walk-on
Baker Mayfield
.
In Webb's first start last week, he broke the Texas Tech freshman passing record in a victory over Iowa State.
In Morgantown, Webb broke the record again.
He completed 36 of 50 passes for 462 yards and two touchdowns to also become the first Texas Tech freshman to throw for more than 400 yards in his first two starts.
"Losing the job really kicked him into overtime as far as determination and work ethic," Kingsbury said of Webb, who, as a freshman, remains off limits to the media. "He has handled himself very well since."
Webb was far from perfect Saturday. And his fumble at the West Virginia 1-yard line in the second quarter completely reversed momentum of the game. The Red Raiders led 13-3 and were primed to make it 20-3. But off a quarterback draw, Webb tried to embody his coach's play-to-win attitude and went for the touchdown instead of sliding. At the goal line, three Mountaineers converged on Webb and popped the ball loose and West Virginia recovered. The Mountaineers answered with a 99-yard touchdown drive, and scored on five straight possessions to take a 27-16 lead in the third quarter.
"That one I was mad about, because we talk about sliding all the time; he's not the most nimble to try and do something like that, either," Kingsbury said. "But he said, 'I got you, Coach. I'll make up for it.' That's the kind of kid he is."
Webb more than made up for the fumble.
And the Texas Tech defense, which was on its heels for two quarters, finally gave him the opportunity to do it.
After the Mountaineers took the 11-point lead, the Red Raider defense allowed just one first down the rest of the way over West Virginia's final five possessions.
"

Losing the job really kicked him into overtime as far as determination and work ethic. He has handled himself very well since.

"

Texas Tech coach Kliff Kingsbury on quarterback Davis Webb.
"West Virginia had a lot of opportunities there (to put the game away)," linebacker
Terrance Bullitt
said. "But we never panicked. We were like, 'Let's go, let's get this.' We knew we were going to stop them. We stepped up as a defense, then the offense stepped up and put the game away."
The drive before Webb's final touchdown pass, West Virginia quarterback
Clint Trickett
completed all three of his passes. But the Mountaineers still went three-and-out, as Texas Tech's Bullitt,
Derrick Mays
and
Bruce Jones
all made sure tackles to force yet another punt.
"We knew if we got that stop, we were going to win the game," said Amaro, who had another monster performance with nine catches for 136 yards and two touchdowns to fuel Texas Tech's comeback.
"We got that stop."
After that stop, the Red Raiders got the ball back with 4:30 still to play. But instead of just sitting on the ball, Tech gunned for first downs. On 3rd-and-6, Webb lofted a pass 27 yards downfield to
Jordan Davis
, who came down with the reception in coverage at the West Virginia 5.
Then three plays later on third-and-goal, Kingsbury called another daring pass. And Webb delivered.
"When we've had to have big drives, Davis has made them," said Kingsbury, who was the first to meet Webb at the hashmarks to celebrate the score. "I'm really proud of how he handled himself in the fourth quarter."
A fourth quarter Texas Tech played to win. And a win that stamped the Red Raiders as Big 12 contenders.
March, 30, 2012
3/30/12
2:00
PM CT
Got a chance to catch up with Red Raiders coach Tommy Tuberville this week, and if you missed it earlier this week, here's a look at a couple stories from that conversation:
He had plenty more to say, though.
[+] Enlarge

AP Photo/Eric GayTexas Tech coach Tommy Tuberville came away encouraged with spring practice despite having to deal with numerous injuries.

Texas Tech and Oklahoma State are the Big 12's only teams without indoor facilities, so Tuberville readily admits the Red Raiders roll the dice every year with weather when they start spring. This year, Tech began practice on Feb. 17, before any other Big 12 team. They only missed two practices, and made up the time before last Saturday's spring game. Tech is already finished with spring practice, but Kansas State hasn't even started.

You know football teams have 22 starters, right? Texas Tech was missing six to seven starters this spring from injuries suffered during the season. Nobody got beat up last year like Tech did. Mizzou was a distant second. Oklahoma had big-impact injuries (Ryan Broyles, Dominique Whaley), but had nowhere near the volume Tech did.

Texas Tech has hauled in top 25 recruiting classes in each of the past two years, two of the best in school history. But for the players even in the 2011 class, it's easy to forget most are entering their first spring. Tuberville thought this spring was really valuable for guys like DL Delvon Simmons, LB Branden Jackson, DE Kindred Evans, QB Michael Brewer, RB Kenny Williams and OL Le'Raven Clark. "They didn't know what to expect but that's where you can get better. That's where you work on a lot of fundamental techniques, so that was the main objective, trying to bring up the level of the young guys on the team," Tuberville said. "Some ended up playing, but we didn't have a lot of time to spend with them on fundamentals because of game planning in the fall."

Tuberville loved what he saw from juco transfer Rashad Fortenberry out of Mississippi. "He's going to be a real solid left tackle behind LaAdrian Waddle, and that was a big concern with him coming out of junior college," Tuberville said. "He had a very good spring, but I think we really readied ourselves there in terms of depth on the offensive line."

Looking for leadership? Tuberville feels like he identified it during the last 15 practices. Defensively, S Terrance Bullitt, S D.J. Johnson, S Cody Davis and DE Kerry Hyder emerged this spring. For the offense, Tuberville saw leadership out of offensive linemen Waddle and Deveric Gallington.

There was plenty of hype around Brewer at quarterback this spring, and Tuberville loves what he's seen from the apparent heir to the Red Raider QB throne. "He's got the ability and the luxury of playing behind [Seth] Doege and learning from him and how he handles himself and how he's worked through adversity. Seth's been a very good coach," Tuberville said. "He's got a lot of room for improvement, but the main thing is his leadership and his knowledge of the offense were much, much better this spring."

The offense had a rough spring at times, but Tuberville pointed to his reliance on a lot of different players and combinations at receiver and on the offensive line that produced some short-term struggles he hopes are long-term advantages. "We've got so many receivers that we're looking at," Tuberville said. "There wasn't one day that we had the same guys playing the same position at the same time, so timing was off a little bit, but that's a luxury for us." Among the receivers who made great strides during the spring: Javon Bell, Tyson Williams and Derek Edwards.

Art Kaufman is Texas Tech's fourth defensive coordinator in four years, but Tuberville says his scheme isn't much different from the 4-2-5 Texas Tech ran under Chad Glasgow in 2011. "We're pretty much running our same things, we just changed a little of our philosophy and some of our techniques that we're playing in the secondary and at linebacker," he said.

From my estimation, Texas Tech may have the best special teams duo of any squad (outside of do-everything Quinn Sharp at Oklahoma State) in the Big 12 next year. New kicker Ryan Bustin "picked up right where Donnie Carona left off." Tuberville estimates he made 90-95 percent of his kicks in game action this spring. Punter Ryan Erxleben averaged about 48 yards on his eight punts in the spring game, and Tuberville called it some of the best punting he'd ever seen. "I think Ryan has finally bought into the situation that golfers and basketball players and a lot of skill guys finally come to the conclusion of, 'I've gotta get stronger.' A lot of kickers and punters don't believe that," Tuberville said. "They believe in more flexibility, but Ryan's bought into the fact that he's got to get his leg stronger and in the last eight or nine months, he's worked on that, and I'll tell you, he had a really good spring."

Tuberville was disappointed in his secondary for good reason in 2011, but likes what the unit showed during the spring, especially after moving receiver Cornelius Douglas to defense and keeping him there. "We're much better with him and Eugene Neboh and Derrick Mays who, I think, is making a lot of progress. We still don't have the depth we need at defensive line," Tuberville said. "It's a work in progress, but we've got two more coming in from the high school ranks."
March, 7, 2012
3/07/12
2:00
PM CT
We're moving on with our 2011 postseason position rankings. Today, it's time for cornerbacks. If you missed it,
here's how I ranked them in the preseason
.
Here are the other position rankings we've done so far:
Depth is somewhat of a factor here, but I weighted it heavily toward the top two starters at the position.
[+] Enlarge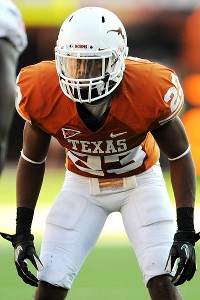 John Albright/Icon SMICarrington Byndom went up against some of the Big 12's top receivers and held his own.
1. Texas
— The Longhorns duo of
Carrington Byndom
and
Quandre Diggs
were by far the league's best at limiting the big play. Both are physical. Both return. Beware, Big 12 offenses. In just their first year as starters, they helped the Longhorns lead the league in pass defense. Diggs, a true freshman, led the team with four interceptions. Until the regular-season finale against Baylor, Texas and Alabama were the only teams that hadn't given up a touchdown pass longer than 20 yards. Obviously, that's way, way more impressive in the Big 12.
2. Kansas State
— K-State overachieved in a lot of ways this year, and perhaps nowhere more than at cornerback. Juco transfer
Nigel Malone
led the league with seven interceptions. Known entity
David Garrett
was even more solid, making 88 tackles and 6.5 tackles for loss. I ranked this unit 10th in the Big 12 before the season. They finished second. I was wrong.
3. Oklahoma
— The Sooners' corners were good, but not great, and underachieved slightly.
Jamell Fleming
and
Demontre Hurst
are supremely talented, but were susceptible to big plays this year. Granted, everybody in the Big 12 was, but the Sooners ranked fourth in pass defense. Fleming broke up 10 passes and intercepted two more. Hurst broke up 11 and had an interception.
4. Oklahoma State
— At times, Oklahoma State's
Brodrick Brown
was a legitimate shutdown corner.
Justin Gilbert
turned in a solid effort in his first year as a starter, which was much more important after a season-ending injury to
Devin Hedgepeth
in September. Gilbert picked off five passes, second-most in the Big 12.
5. Iowa State
—
Leonard Johnson
was quietly an NFL prospect that put together a huge year. He was a big reason for ISU's upset of No. 2 Oklahoma State, and helped shut down
Justin Blackmon
. He finished with 71 tackles, eight pass breakups and a pick.
Jeremy Reeves
added two picks and seven pass breakups.
6. Missouri
—
E.J. Gaines
led the Big 12 with 16 pass breakups, and the Tigers ranked fifth in the Big 12 in pass defense. Fellow first-year starter
Kip Edwards
added a pick and three pass breakups.
7. Texas A&M
— The team's top corner,
Coryell Judie
, was hampered by a hamstring injury all season, but production is production. It wasn't there for Judie, one of the league's top corners in 2010.
Terrence Frederick
had a good year with 13 pass breakups and a pick, but the Aggies were susceptible through the air all year.
Lionel Smith
and
Dustin Harris
filled in well in Judie's absence, but not well enough. A&M finished eighth in pass defense and helped five QBs set career highs for passing yardage in 2011.
8. Baylor
—
K.J. Morton
played well down the stretch for Baylor, but the Bears defense left a lot to be desired almost everywhere. They finished last in the Big 12 in pass defense, giving up over 290 yards a game. Morton picked off four passes and broke up six more. All four of his picks came in the final three games of 2011.
Chance Casey
broke up six passes and made 48 stops.
9. Texas Tech
— How's this for irony? The Red Raiders actually finished second in the Big 12 in pass defense. It doesn't matter much.
Tre' Porter
had the only interception for a cornerback all season, and broke up two passes. Injuries were a problem all season.
Cornelius Douglas
,
Derrick Mays
,
Jarvis Phillips
and
Sawyer Vest
filled the unit, but Tech faced 61 fewer pass attempts than Kansas and 111 fewer than the next team in the Big 12. That's what happens when you can't stop the run. Doesn't mean the corners played well.
10. Kansas
—
Greg Brown
picked off two passes and broke up three more.
Isiah Barfield
made 35 tackles and broke up five passes. The Jayhawks ranked ninth in the Big 12 in pass defense. They didn't get much of a pass rush to help the corners, but the corners were very poor in 2011.