Dallas Colleges:

Dominique Hamilton
January, 11, 2012
1/11/12
2:00
PM CT
Seven Big 12 players will take part in the East-West Shrine Game on Jan. 21 in St. Petersburg, Fla.
Tysyn Hartman, S, Kansas State
Nicolas Jean-Baptiste, DT, Baylor
Blake Gideon, S, Texas
Dominique Hamilton, DT, Missouri
Steven Johnson, LB, Kansas
Cody Johnson, FB, Texas
David Snow, OL, Texas
Good to hear from each of these guys, who have all been extremely productive over their careers. Traditionally, the Senior Bowl the following week is a more prestigious display, but all seven of these guys will get valuable exposure in front of NFL scouts.
We'll see who takes advantage and improves their draft stock.
You can
see the full roster here
.
December, 13, 2011
12/13/11
7:48
PM CT
The season has come and gone, and
brought with it an All-Big 12 team
. But where do these guys come from? How easy is it for a no-name recruit to earn all-conference first-team honors?
We took a
look at the offense earlier today
.
Now, let's examine the All-Big 12 defense and see who surprises us.
You'll need ESPN Insider

to see each player's recruiting page from back in the day, but I excerpted a bit of what the scouts had to say about each player coming out of high school.
DE:
Frank Alexander, Oklahoma
Was the nation's No. 41 defensive end and graded out at 77 by ESPN. Was also recruited by Auburn and Tulane. Scouts take: Alexander is a high school tight end / defensive end. He has good hands and good speed, but projects best as a defensive end in college. He has the frame to bulk up and play either position and has good size in general for a high school prospect. Right now his strength is rushing the passer.
DT:
Dominique Hamilton, Missouri
Was the nation's No. 22 defensive tackle in 2007 and was recruited by Arizona State, Oklahoma State and Texas A&M. Graded out at a 78. Scouts take: Hamilton is a big, physical presence on the interior of the defensive line. He has good size for a high school prospect and the potential to develop into a physical beast at the college level. You would really classify him at this stage as a bit raw. He plays with a bullying style and not much technique. He is capable of coming off the ball and knocking blockers back.
DE:
Alex Okafor, Texas
Okafor was No. 149 on the 2009 ESPNU 150, and was the nation's No. 12 defensive end. Was also recruited by Oklahoma, Nebraska and LSU. Scouts take: Okafor is a tall wiry defender with a high motor. He needs to get into a college weight program and add some bulk, but for a tall lean kid he displays the ability to play with good leverage. He has a solid get-off and can come out of his stance, keep his knees bent, and on contact generate power from his lower body.
DE:
Jamie Blatnick, Oklahoma State
Was the nation's No. 105 defensive end and graded out at 71. He was also recruited by Texas Tech, TCU and Duke. Scouts take: Blatnick is an effort guy on the football field. He will probably fit best as a six or seven technique in college or add bulk and play defensive tackle. He has a good get-off and charges up-field hard. He does an adequate job of using his hands, but needs to be more consistent coming off the ball and shooting them to create separation.
LB:
Sean Porter, Texas A&M
Porter was the nation's No. 70 outside linebacker and was originally committed to Houston. He was also recruited by Oklahoma State and Kansas. He graded out at 76. Scouts take: Porter is a good-looking athlete with great upside when projecting for the next level. He is tall, high-cut and layered with good muscle tone. Lean frame with plenty of room to add great bulk while maintaining speed and quickness. Very active and athletic 'backer who can run and is light on his feet. Mirrors ball carriers well, changes direction and transitions smoothly.
LB:
Jake Knott, Iowa State
Knott was the nation's No. 114 linebacker, and graded out at 74 by ESPN. He was also recruited by Army, Iowa and Northern Illinois. Scouts take: Knott is a great football player who will make any roster better at the next level. This is a kid who is not going to blow you away at a combine with blazing speed and agility, but he gets it done on both sides of the ball and is a tough, instinctive, productive football player. Is tall, well-built and should continue to pack on good bulk.
LB:
Emmanuel Acho, Texas
Acho was the nation's No. 9 linebacker and No. 100 on the ESPNU 150 in 2008. He was also recruited by Nebraska, LSU and Michigan. He graded out at an 81. Scouts take: Acho is a very productive outside linebacker who flashes all the tools to be successful. Possesses the size, speed and athletic ability to disrupt an offense on any given play. Displays very good feet that are extremely light for a linebacker with his stature. This allows him to play better in space and in coverage, which is why he will probably remain on the outside in college.
NB:
Tony Jefferson, Oklahoma
Jefferson was the nation's No. 4 athlete and No. 21 on the 2010 ESPNU 150. He was a four-star recruit and graded out at an 84. He was also recruited by Arizona, UCLA, USC and Florida. Scouts take: There may not be a more fast-twitched athlete in this class -- period. Jefferson has rare burst and acceleration between the white lines and has the ability to be playmaker on both sides of the ball in college. He lacks ideal height at linebacker but is very compact, tightly-built and his striking explosiveness allows him to play much bigger. Pursues to the football like he was shot out of a cannon.
CB:
Nigel Malone, Kansas State
Malone was a juco recruit and not rated by ESPN.
CB:
Carrington Byndom, Texas
Byndom was the nation's No. 10 cornerback and No. 122 on the 2010 ESPNU 150. He was a four-star recruit that graded out at an 81. He was also recruited by LSU, Oklahoma, Missouri and Oklahoma State. Scouts take: Byndom is a very instinctive defensive back with excellent deep coverage skills and range. While we could see programs recruiting him as strictly a corner, he has all the physical and mental tools that project high as a free safety. Has a taller, rangier frame and its that great length that allows him to be so effective breaking up passes as a deep centerfielder.
S:
Kenny Vaccaro, Texas
Vaccaro was the nation's No. 42 safety and graded out at a 78. He was also recruited by USC, Florida, LSU and Oklahoma. Scouts take: Vaccaro flies around and makes plays as a safety. He looks the part, tall and stout in stature, he plays like he looks. Really flies around the secondary and attacks the line of scrimmage with ferocity. Instinctive player that reads the run then breaks to the ball with velocity and aggressiveness. Has made many big hits on the blitz and on inside-out contain. Needs to come under a little bit more control; sometimes overruns ball carrier or misses tackle.
S:
Markelle Martin, Oklahoma State
Martin was the nation's No. 15 safety and graded out at a 79. He was also recruited by Oklahoma, Texas A&M, Texas and Kansas State. Scouts take: Martin possesses excellent size, range and toughness at his safety position. He will break off the hash over sideline routes and the next play step down and make a physical hit near the line of scrimmage. He is very versatile and well rounded in all facets. His greatest attribute might be his savvy diagnosing skills. He expertly reads the quarterback and underneath routes.
Gotta say, most of these scouting reports were pretty spot-on for the defense, but there weren't very many small-time recruits that crashed onto the defensive list.
December, 9, 2011
12/09/11
4:30
PM CT
Editor's Note: Tune into the "AT&T ESPN All America Team Show" on Saturday (ABC, 1:30 p.m. ET) to see who ESPN's writers and experts selected.
It's been a fun season across the Big 12, with a few big names who didn't play as well as we thought, and lots of unknowns who became household names by the end of the season.
I'll offer my comments below, but here's our All-Big 12 team for 2011.
OFFENSE
[+] Enlarge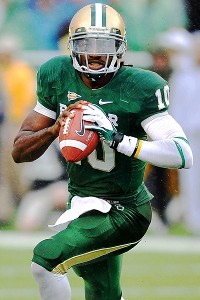 Jerome Miron/US PresswireThe heroics of Robert Griffin III got Baylor to 9-3 and made him a Heisman Trophy finalist.
QB:
Robert Griffin III
, Baylor
All-purpose:
Collin Klein
, QB, Kansas State
RB:
Terrance Ganaway
, Baylor
RB:
Henry Josey
, Missouri
FB:
Trey Millard
, Oklahoma
WR:
Kendall Wright
, Baylor
WR:
Justin Blackmon
, Oklahoma State
WR:
Ryan Broyles
, Oklahoma
TE:
Michael Egnew
, Missouri
C:
Grant Garner, Oklahoma State
OL:
Kelechi Osemele, Iowa State
OL:
Levy Adcock, Oklahoma State
OL:
Gabe Ikard, Oklahoma
OL:
Luke Joeckel, Texas A&M
DEFENSE
DE:
Frank Alexander, Oklahoma
DT:
Dominique Hamilton, Missouri
DE:
Alex Okafor, Texas
DE:
Jamie Blatnick, Oklahoma State
LB:
Sean Porter, Texas A&M
LB:
Jake Knott, Iowa State
LB:
Emmanuel Acho, Texas
NB:
Tony Jefferson, Oklahoma
CB:
Nigel Malone, Kansas State
CB:
Carrington Byndom, Texas
S:
Kenny Vaccaro, Texas
S:
Markelle Martin, Oklahoma State
SPECIALISTS
P:
Quinn Sharp, Oklahoma State
PK:
Randy Bullock, Texas A&M
PR:
Dustin Harris, Texas A&M
KR:
Tyler Lockett, Kansas State
Finally, a few notes and explanations:
I loved the media's idea to craft an all-purpose spot to accomodate Collin Klein. The Big Ten did the same for Michigan's Denard Robinson last season. I followed suit, and did so on the defensive side of the ball with a nickel-back spot for Oklahoma's Tony Jefferson. Two players that missed first-team designation by the coaches, but clearly deserve to be recognized.

Additionally, I prefer the teams to reflect the Big 12 style of play, so the nickel back fits. Each team doesn't have 11 players, but there were deserving linebackers. The same with Egnew and Millard. Does every team use a fullback or a tight end? No, but both are standout performers. They'd rotate in anyway, just as Jefferson would in a theoretical package.

Tough call to leave Philip Blake from Baylor off my team, but Garner's been better. Blake is very, very close, though.

Hated to leave off Brodrick Brown and E.J. Gaines, but I went with a more traditional two corners and two safeties, rather than four corners like the media's team.

Steven Johnson and Arthur Brown would have been right behind my three linebackers. That race was probably closer than at any other position, except maybe cornerback. Difficult to leave either of those guys off my first team, but the three on the team were better. I gave Brown my Newcomer of the Year nod, though.

I don't like going with three defensive ends and one defensive tackle, but there wasn't a defensive tackle who deserved the honor more than Okafor, my third defensive end. Okafor was a defensive tackle last year anyway, so that's close enough, right? He moved from tackle to end before spring practice earlier this year. In the Big 12, an additional pass rusher is necessary, too, right?

I made a similar move with my offensive line. Went tackle-heavy, but the guards didn't have quite as many standouts.
November, 21, 2011
11/21/11
2:19
PM CT
Time to name a few superlatives from across the Big 12 this weekend.
Best offensive player:
Robert Griffin III, QB, Baylor.
Griffin had another legendary performance with 479 yards passing and 72 yards rushing, throwing for four touchdowns. The 479 yards were a school record and Griffin set the single-season record for passing with two games and a bowl game still left on the schedule. For his efforts, he was named the Walter Camp National Player of the Year Award.
Best defensive player
:
Jackson Jeffcoat, DE, Texas
. Jeffcoat had a pair of sacks and made 3.5 tackles for loss with a pass breakup in a 17-13 loss to Kansas State. Never easy to do against K-State, who doesn't throw much and has a quarterback that's always tough to bring down.
Best game:
Baylor 45, Oklahoma 38
. This one went down to the final possession and two second-half comebacks. Lots of points and lots of fun. Polish it off with a field storming, and you've got yourself a classic. The dramatic finish gives the Bears' win an edge of the shocker in Ames.
Honorable mention:
Iowa State 47, Oklahoma State 41 (2 OT)
Best play:
Griffin to Terrance Williams for a game-winning 34-yard touchdown pass
. Griffin drifted to his left after escaping pressure in the pocket, and saw Williams in the back corner of the end zone, one-on-one. He threw across his body for Williams as he was hit, and queued up one of the craziest nights in Baylor history.
Honorable mention:
Dominique Hamilton tipping a game-sealing interception to Michael Sam.
Most immaculate reception:
Griffin to Tevin Reese's hands and head to Kendall Wright for an 87-yard touchdown
. This was a must-see play and one of the craziest we've ever seen. The big play tied the game in the third quarter, too. It was supposed to be a run play, but RG3 checked out and
Terrance Ganaway
went in motion. Wright was following coaches' advice to simply play fast, and the deflected ball ended up hitting him in stride.
Best speech:
Paul Rhoads, Iowa State
. Rhoads
delivered another beauty to his team after it upset Oklahoma State
to reach bowl eligibility. He even included a nod to his original classic, professing his pride in the privilege of being the head Cyclone.
Best halftime show:
Oklahoma and Baylor's bands
. I enjoy a little Party Rock only if it's dusted in irony. But two team bands
combining for a choreographed flash mob?
(OU gets in on the party at about 1:45 mark.) I can get behind that. It got the crowd going, too.
Honorable mention:
Texas A&M's
Block T featuring the entire Corps of Cadets
for the first time since 1956.
Funniest quote:
Michael Sam, DE, Missouri.
After intercepting
Seth Doege
to essentially seal the game, Sam remembered a piece of coaching from his acting head coach, defensive coordinator Dave Steckel. "I could hear his voice in the back of my head saying 'Get your a-- down, Michael Sam,'" he said.
Second-funniest quote:
Sam
. What happened on that game-changing play? "I was trying to hit the s--- out of the quarterback," Sam said. "He threw the ball, and then I just dropped back, and Dominique (Hamilton) batted it up." A banner day for Sam and voice recorders in Columbia on Saturday.
November, 19, 2011
11/19/11
10:30
PM CT
Missouri fought complex emotions before Saturday's game, facing a Senior Day without its head coach, Gary Pinkel, who was serving a one-week suspension after a drunk driving arrest earlier in the week.


An emotional day became one of the Tigers' most memorable, though, after both sides of the ball took turns winning the game,
31-27
, for Mizzou against Texas Tech.
James Franklin
carried the Tigers on a 10-play, 89-yard drive to take their first lead of the day. On the drive, he was 2-3 with a pair of completions to
Marcus Lucas
for 35 yards. He also ran five times for 39 yards, finished by the nine-yard touchdown run to put the Tigers ahead.
The defense allowed Texas Tech to reach the red zone before defensive end Michael Sam intercepted a
Seth Doege
pass tipped by defensive tackle Dominique Hamilton.
Just like that, Texas Tech's forgettable season takes another bruise and Missouri reaches bowl eligibility for the eighth consecutive season. Pinkel's perhaps the biggest reason for that streak, but on this day, he had to watch from home, though his wife, Vicki Pinkel, was in attendance.
Franklin accounted for 324 yards of offense (172 passing, 152 rushing) and four touchdowns (2 passing, 2 rushing) and keeps progressing as both a runner, a passer and a quarterback that knows when to be them.
Texas Tech has just one game left to reach a bowl of its own, a showdown with Baylor next week at Cowboys Stadium in Arlington, Texas. The year began with promise -- a 4-0 record and a top 25 ranking after upsetting Oklahoma -- but a solid performance on Saturday wasn't enough for the win.
This was no blowout like the Red Raiders endured the past three weeks, but it counts the same. For Texas Tech, it might be even more painful after leading for almost the entire game.
A 27-17 lead entering the fourth quarter turned to a 31-27 loss and a frustrated, quiet flight home with the season hinging on 60 minutes next Saturday.