Dallas Colleges:

Duane Akina
March, 12, 2014
3/12/14
9:00
AM CT
This week, we're taking a closer look at the members of the new Texas coaching staff under Charlie Strong. The third part of our two-a-days series focuses on two defensive coaches who followed Strong from Louisville, and what they'll bring to their respective position groups.
Vance Bedford
Defensive coordinator/secondary
When Duane Akina announced in January that he wasn't returning for a 14th season at Texas, the response from Longhorns fans and ex-players was understandable disappointment. He was, after all, the coach who helped make Texas "DBU." Akina, who's now coaching at Stanford, embraced that tradition like nobody else.
But when it comes to pride and passion for Longhorns defense backs, Bedford might be the perfect successor. He played cornerback at UT from 1977-81 and developed into a starter and a captain.
Get Bedford talking about Texas' legacy in the secondary and he'll go full-on historian, even mentioning that he caught up with two former "DBU" members -- Johnnie Johnson and William Graham -- while recruiting their sons at a recent junior day.
"'DBU' started with those guys. Raymond Clayborn, Johnnie Johnson, William Graham, Derrick Hatchett, Glenn Blackwood, Ricky Churchman, that's when it started," Bedford said. "Fred Akers came here and turned things around, said we're going to play man-to-man, and almost every guy I played with went to the NFL.
Jerry Gray
, Mossy Cade, Craig Curry, Fred Acorn, Jitter Fields; the list goes on and on and on."
Mack Brown and Akina kept it going, producing 14 All-Big 12 defensive backs and 11 who played in the NFL last season. They made sure today's players knew and respected those DBs who came before them.
Bedford intends to keep that tradition going. This means an awful lot to him.
"We're not just 'DBU,'" he said. "We want to make it Linebacker U and D-Line U, whatever it takes to get the best players in the state of Texas to come here and get this program back to the top where it belongs."
He felt like he'd won the lottery when he found out he was coming home to Texas, and it's easy to see Bedford is excited about selling and signing the next generation of Texas defensive backs.
"This is
the
place to live in the state of Texas, just like this university is the best university in this state," Bedford said. "Why would you not want to live in Austin, Texas, and go to the University of Texas? I just don't know who would do something else."
Brian Jean-Mary
Linebackers/recruiting coordinator
Believe it or not, Jean-Mary has more ties to the state of Texas than even he might've realized.
He played linebacker at Appalachian State for the legendary Jerry Moore, a Texas native who played at Baylor and was head coach at Texas Tech.
His defensive coordinator there was Ruffin McNeill, who went on to coach at Texas Tech for 10 years before becoming head coach at ECU. Jean-Mary's position coach when he arrived at App State was George Edwards, who later coached linebackers for the
Dallas Cowboys
and is now the Vikings' defensive coordinator.
And his roommate and best friend during those college years?
Dexter Coakley
, the future three-time Pro Bowler for the Cowboys.
So, yes, he's picked up some knowledge about this state along the way thanks to those friendships.
"It almost feels like I was born and raised here," Jean-Mary said.
A self-described college football junkie, Jean-Mary said following Strong and Bedford to Texas was a no-brainer because he understood the magnitude of coming to a program like this one.
He's proud of what he accomplished in four years at Louisville. Jean-Mary knows he left a program that's build to succeed in 2014 and beyond. But coaching at Texas -- and staying with Strong -- was too good to turn down.
"At the end of the day, you only get so many opportunities to really coach at a tradition-rich school like this and feel like you can take your next step in your career as an individual coach, but also helping a team take the next step as a program," he said.
Jean-Mary inherits a group of linebackers that could return every contributor from 2013, though five of those players --
Jordan Hicks
,
Steve Edmond
,
Dalton Santos
,
Tevin Jackson
and
Timothy Cole
-- are recovering from injuries. He likes this group's potential and depth once everyone gets healthy, and his expectations are simple.
"We all come from the same school of defense: We want to have smart, tough and dependable guys," Jean-Mary said. "We're not going to be too complex, but we do want to have guys who can handle different situations."
And whatever situations Jean-Mary finds himself in at Texas, he's glad he has more than few Texans he can call for advice.
August, 26, 2013
8/26/13
6:00
PM CT
AUSTIN, Texas -- The talent on Texas' roster is supposed to be on par with Alabama.
Seriously.
[+] Enlarge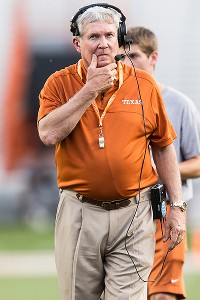 Cal Sport Media/AP ImagesTexas coach Mack Brown and his staff have some things to prove this fall.
Both schools have a total of 57 players on their 2013 rosters who earned four-star ratings from ESPN as recruits.
Thanks in large part to its recent No. 1-ranked class, Alabama has 40 players who received ESPN 150 honors in high school. Texas has 35.
Perhaps that gives some perspective on just what the Longhorns' coaching staff is working with entering this season. The cupboard is indeed stocked full.
The depth chart Texas is expected to release on Monday morning will be stuffed with experienced talent, most of whom were big-name recruits.
The coaching staff Mack Brown revamped after 2010 is entering its third season together. This group is responsible for recruiting more than 70 percent of the current 85-man roster, if we include the 2011 class those new coaches kept intact after arriving in Austin.
Make no mistake: These are the kids Brown and his staff wanted, the kids who were brought in to turn this program around.
They've brought together all the ingredients, but the recipe keeps changing. What exactly are Brown and his coaches cooking up for 2013?
We'll find out soon, but having that talent base in place has Texas fans dreaming of a Big 12 championship and a trip to the Fiesta Bowl -- or better. Brown has said all summer that this program is about to be real good again and go on a championship run. Now, it's on his staff to deliver.
Their coaching could mean the difference between that conference title and another 9-win season. They're working with essentially the same talent they had last season, losing only four major contributors from 2012. How much more can they get out of this group?
After two seasons of ups and downs, each of Brown's assistants has something to prove. Major Applewhite is entering his first season as play-caller. Defensive coordinator Manny Diaz wouldn't be back if many UT fans had their druthers. Even the revered Duane Akina has problems to solve with his safeties.
But this is the staff Brown hand-picked, and he's praised the fact that, with the exception of Bryan Harsin's departure, there is strong continuity in having nine of the same coaches working together for a third year.
"I think the coaches that came in two years ago understand Texas better now than they did two years ago," Brown said at the start of fall camp. "It's a different place. It's a unique place."
The expectations they must navigate through are high, sometimes unfairly so. If Texas, with its 19 returning starters and its best depth in years, isn't great, the finger-pointing will start with the coaches. Especially if, for the third year in a row, they're badly outcoached by Bob Stoops and Oklahoma.
That's the burden of the job, especially in a season when Texas' roster looks so good on paper and the rest of the Big 12 isn't looking all that scary.
That Texas was voted the preseason No. 4 team by conference media says plenty about what the rest of the league thinks of the Longhorns. Yeah, sure, UT a loaded roster. So what? They always have that. What are they going to do with it?
That ranking doesn't mean a thing one week from now, but still, the implicit message was clear. Texas isn't the preseason league favorite because too many folks don't believe it will be better coached than Oklahoma State, Oklahoma or TCU -- no matter how many games those teams combined to lose (14) in 2012 or how much talent Brown has on campus.
Five days from now, Brown, his coaches and all his once-touted players begin a season that could drastically change those perceptions.
"As I've said before," Brown said, "we have to shut up and play, shut up and coach."
August, 8, 2013
8/08/13
3:00
PM CT
AUSTIN, Texas -- One year ago,
Adrian Phillips
had a bum shoulder. Now he has a chip on his shoulder.
Much was expected of the Texas free safety as a junior, and in hindsight that might've been unfair. Now that he's a senior, he has only one chance to make up for a season that was a disappointment.
"I really had to go deep inside myself," Phillips said, "and say, 'Look, forget everything that has happened. Only look ahead.'"
[+] Enlarge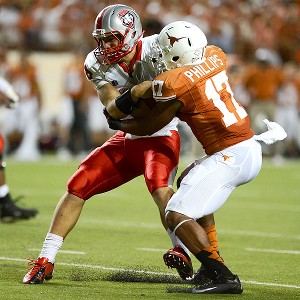 Cal Sport Media via AP ImagesDespite struggling with a shoulder injury from the outset, Texas safety Adrian Phillips still finished third on the team in tackles.
Look back, though, and it's easy to see this wasn't entirely his fault. Phillips missed spring practices and fall camp last year while recovering from shoulder surgery that was supposed to sideline him up to six months. So yes, when he was thrust right back into the starting lineup for Texas' opener against Wyoming, he was playing hurt.
He downplayed the pain early last season, perhaps because Phillips had exceedingly high expectations for himself. This was the year he planned to make a name for himself, to win awards and make All-Big 12 teams and prove he's one of the next great members of "DBU."
There was only one problem, and a rather glaring one: Tackling. Missing the hard-hitting days of fall practice proved more problematic than he'd anticipated.
Phillips unwittingly became somewhat of a whipping boy for a Texas secondary that struggled far too often to make stops in the open field. And he couldn't fathom why.
"You can watch film from my freshman year of me hitting bigger guys than I've ever hit before and taking them to the ground. That's why it was hard for me to understand," Phillips said. "Everybody knew I wasn't that player. The fact I was playing that way, they couldn't figure out what was wrong.
"I couldn't figure out what was wrong. If I knew, I would've fixed it."
Texas secondary coach Duane Akina searched for solutions and tried starting
Josh Turner
and
Mykkele Thompson
at free safety, but Akins didn't give up on Phillips either.
The dissatisfying season did end on a good note, with interceptions in Texas' final two regular season games. Phillips still finished third on the team in tackles with 72.
"What turned it around for me was, I just went back to the basics," he said. "Make contact, run your feet, wrap up. Don't worry about trying to do too much or trying to get on a highlight tape. Just make contact, run your feet, wrap up."
He did his best to not let the criticism from Longhorns fans get to him, but there's no doubt the trials shook his confidence at times. When you've come this far yet have no answer for what's wrong with your game, that's only natural.
"If you doubt yourself, that's when problems happen," Phillips said. "Of course, when you hear that criticism it'll make you mad, but you never want to use that as doubt. Once you do that, you're going to lose from the start. You remember what happened and make it better for the next year."
Akina didn't need to tell the members of his secondary that their play wasn't up to the "DBU" standard. The ups and downs of 2012 were motivation enough.
"No matter if you're coming off a great season or a horrible season, it's never going to be good enough," Phillips said. "Coach Akina always wants to raise the bar. That's why he's the best coach in America right now."
Phillips is raising his own expectations too. He says he's now 100 percent healthy for the first time in a long time, and a full workload in spring practices and summer lifting undoubtedly helped.
He's grateful his teammates had his back last season when he struggled, and he's especially appreciative that Akina still believes he can emerge as a top-flight safety. He's ready to reward his coach's faith.
"He stayed on our side," Philips said. "A lot of credit goes to him, because he helped us in our time of need. We are going to get that changed this year."
April, 2, 2012
4/02/12
2:00
PM CT
AUSTIN, Texas -- Texas has a well-earned reputation as the nation's "DBU," a proverbial factory of NFL defensive backs.
Even so, when three NFL-caliber corners leave a team, like they did at Texas before the 2011 season, doubts will surface.
Can you replace Aaron Williams' versatility? What about Curtis Brown's cover skills and Chykie Brown's knack for being in the right place for the big play at the right time?
[+] Enlarge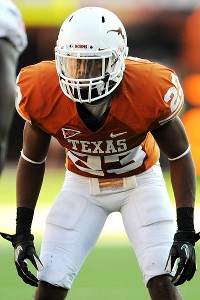 John Albright/Icon SMICarrington Byndom is part of an experienced Texas backfield.
New defensive coordinator Manny Diaz looked down his depth chart and saw a true freshman,
Quandre Diggs
, and a little-used sophomore in
Carrington Byndom
.
By season's end, though, the duo transformed one of the Longhorns' biggest question marks -- and after a 5-7 season in 2010, they had plenty -- into arguably its biggest strength.
"Both of them are both very bright," coach Mack Brown said. "They made an easy transition to the field. Both of them were in very good high school programs."
Diggs showcased his fearlessness early in the spring. He went head-to-head with -- and held his own against -- the team's top and more experienced receivers while he should have been in high school. The contact did not faze the former high school running back.
"Quandre was tough," Brown said. "He got knocked around a lot."
Meanwhile, Brown pointed to Byndom's outstanding athletic ability for his early success. Byndom had the option to play college baseball, but elected to stick to football.
"Carrington has gotten tougher every minute he's been here," Brown said, adding that he was a "very good athlete."
By fall, both were entrenched as starters.
Diggs finished the season with four interceptions, more than all but one freshman in college football (
Bryce Callahan
of Rice). The league's coaches named him the Big 12's top defensive freshman and Diggs was named a freshman All-American. He landed a spot on the All-Big 12 second team, too.
Byndom, a first-year starter, landed a nod as a first-team All-Big 12 talent and a key cog in a defense that topped the conference in total defense for a fifth consecutive season. He picked off two passes and tied Diggs with a team-high 15, earning the team's defensive player of the week honors on four occasions.
Notes KC Joyner of Football Outsiders:
His 6.2 yards per attempt (YPA) allowed total was better than the YPA marks posted by Alabama Crimson Tide cornerback Dre Kirkpatrick (6.6) and LSU Tigers cornerback Morris Claiborne (7.5), two coverage specialists who will likely end up selected in the first round of the 2012 NFL draft.
DBU, indeed.
The Longhorns also were the only team in college football to not allow a touchdown pass for 20 yards or longer before the season finale against Heisman winner
Robert Griffin III
and receiving champ
Kendall Wright
.
"They were very responsible," Brown said. "That was one of our biggest question marks sitting there in the spring and in the fall. And I thought you have to give a lot of credit to Manny and to [defensive backs coach] Duane [Akina] for devising a scheme that took pressure off of them as well.
"We didn't play near as much man and didn't put them in as many one-on-one situations, and then because of their confidence you see the play that Carrington made at A&M probably changed that game."
Byndom swung the momentum for the burnt orange in the final chapter of a heated rivalry with the in-state Aggies before they left for the SEC.
Trailing 16-7 at halftime, Byndom stepped in front of a
Ryan Tannehill
pass early in the third quarter, returning it 58 yards for a touchdown, silencing a rabid Kyle Field crowd and igniting a second-half comeback for the ages.
Brown saw plenty out of both corners in 2011, but they were young and inexperienced. What happens now?
Big 12 receivers, beware.
January, 17, 2011
1/17/11
4:00
PM CT
Texas coach Mack Brown has hired former UT great Jerry Gray, a 23-year veteran of the NFL as a player and coach, as the assistant head coach and will oversee the Longhorns' defensive backs, it was announced Monday.
Gray spent nine seasons as a player in the NFL and 14 years as an assistant coach, including five as a defensive coordinator.
In a related move, defensive backs coach Duane Akina has resigned to accept a similar role at the University of Arizona, Brown confirmed Monday. Akina spent 14 years coaching at Arizona before joining UT in 2001.
Click here for more.