Dallas Colleges:

Dutch Meyer
September, 12, 2012
9/12/12
9:45
AM CT
Who's up, and who's down after Week 2? Glad you asked. Time to check the Big 12 stock report.

Rising: Kansas' ballhawking skills
The Jayhawks forced a grand total of 18 turnovers last season, the lowest amount in the entire Big 12. That total ranked 91st nationally, too. This year? Kansas is just 1-1, but they've seen big improvement in that category. KU has already forced eight turnovers through just two games. That ranks second nationally, and the only team ahead of the Jayhawks is SMU, who forced zero turnovers against Baylor in Week 1, but forced 10 (!!) last week against Stephen F. Austin.

Falling: Oklahoma State's ballhawking skills
The Cowboys led the nation with 44 takeaways last year, but in last week's 59-38 loss to Arizona, the Cowboys were held without a single takeaway, something that hadn't happened at Oklahoma State since a win at Kansas back in 2010. That gives Oklahoma State just two takeaways through two games. The one silver lining for the Pokes: They had just three turnovers at this time last year.

Rising: Texas QB David Ash's accuracy
Ash completed just 56.6 percent of his passes as a true freshman last season, including eight interceptions to just four touchdown passes. That ranked ninth in the Big 12. This year, it's been a different story for the sophomore. He's completed 73.5 percent of his passes for three touchdowns and no interceptions, adding a 49-yard touchdown run last week. Among QBs with at least 15 attempts, only West Virginia's
Geno Smith
has completed a higher percentage of passes, and Ash is one of just three Big 12 starting QBs without an interception.

Falling: Wins records for coaches
Last week, Gary Patterson notched his 110th career win, passing Dutch Meyer's half-century old record as the school's all-time wins leader. This week, it's time to make more history. If Texas knocks off Ole Miss in Oxford, Mack Brown will pass Ohio State's Jim Tressel for 13th all-time among coaches, with 230 wins. With three more wins, he'll pass Bob Stoops and Bill Snyder's mentor, Hayden Fry, on the all-time list. If Texas finishes with 11 wins this year, Brown will be tied with another Ohio State legend who made an less than sanctimonious exit: Woody Hayes.

Rising: Big 12 offenses ... again.
Two of them have played just one game, but the Big 12 enters Week 3 with three of the nation's top four offenses. Oklahoma State leads the nation with 659 yards a game, and West Virginia is right behind the Cowboys, with 655 total yards. Sitting in fourth: Baylor, who racked up 59 points and 613 yards in a win over SMU.
Meanwhile, when it comes to scoring offenses, the Big 12 has seven teams in the top 11. The entire league average is nearly 50 points a game, but West Virginia (69), Oklahoma State (61), Baylor (59), TCU (56), Kansas State (51.5), Texas Tech (51) and Oklahoma (46.5) are all among the nation's highest-scoring offenses.

Falling: Oklahoma's pass protection
The Sooners gave up just 11 sacks last season, good for seventh-fewest nationally and tied with Stanford. Only Texas A&M gave up fewer in the Big 12. This year, though? Oklahoma's already given up six sacks through two games. Part of it is the offensive line, and Jones has hung onto the ball a little too long at times, too. Still, that number has to be a bit alarming for the crimson and cream. It's going to get tougher in the Big 12.
July, 9, 2012
7/09/12
10:30
AM CT
We're looking at coaches this week on ESPN.com. It's a big subject, sure. In our blog network, we'll be breaking it down each day to smaller topics.
Today, a simple question: What would a program look like without the winningest coach in program history? Which coaches had the biggest impact?
Here's how it breaks down for each program in the Big 12 (all-time record in parentheses):
[+] Enlarge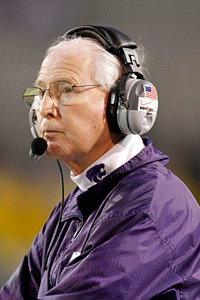 Brett Davis/US PresswireKansas State's winning percentage plummets without Bill Snyder.
BAYLOR: 524-530-44 (.497)
Winningest coach: Grant Teaff: 128-105-6
Wins without winningest coach: 396
IOWA STATE: 500-594-24 (.458)
Winningest coach: Dan McCarney: 56-85
Wins without winningest coach: 444
KANSAS: 572-560-58 (.505)
Winningest coach: A.R. Kennedy: 52-9-4
Wins without winningest coach: 520
KANSAS STATE: 475-612-41 (.439)
Winningest coach: Bill Snyder: 159-83-1
Wins without winningest coach: 316
OKLAHOMA: 821-307-44 (.718)
Winningest coach: Barry Switzer: 157-29-4
Wins without winningest coach: 664
OKLAHOMA STATE: 530-523-47 (.503)
Winningest coach: Pat Jones: 62-60-3 (Mike Gundy needs three wins to tie Jones)
Wins without winningest coach: 468
TEXAS: 858-330-33 (.716)
Winningest coach: Darrell Royal: 167-47-5
Wins without winningest coach: 691
TCU: 593-514-57 (.534)
Winningest coach: Dutch Meyer: 109-79-13 (Gary Patterson is tied at 109-30.)
Wins without winningest coach: 484
TEXAS TECH: 524-405-32 (.562)
Winningest coach: Mike Leach: 84-43
Wins without winningest coach: 440
WEST VIRGINIA: 701-457-45 (.601)
Winningest coach: Don Nehlen: 149-93-4
Wins without winningest coach: 552
That's a wide variance of wins. It's clear that no man means more to his school than Bill Snyder does to Kansas State. The program has a rather depressing .358 winning percentage if you remove Snyder's win from the equation. He took two seasons to get Kansas State from a perennial doormat to a team above .500. Snyder then went on a historic run that included a Big 12 title in 2003 and two BCS bowl bids.
Don't ever doubt why some consider what Snyder has done in Manhattan as the single greatest coaching job in the history of the game. Snyder's career win percentage at Kansas State is .656, almost double what the program's overall win percentage is. No other coach comes close to those numbers. There's a reason why many of the nation's coaches are often in awe of Snyder and why he is so respected.
The biggest surprise for me was the relative dominance of West Virginia compared to the rest of the Big 12. That .601 win percentage is behind only Texas and Oklahoma over the course of the program's history. And you wonder why folks are so excited about their entrance into the league?
Looking elsewhere, Texas Tech's decision to fire Mike Leach looks worse and worse while the Mike Gundy hire at Oklahoma State looks better and better. Gundy is three wins from passing Pat Jones as the school's biggest all-time winner. He did so in just 89 games while Jones needed 125 matches to reach 62 victories.
Conversely, how about the job Gary Patterson has done at TCU? Sure, the schedule is different, but he's suffered the same amount of losses as Gundy with 50 more wins. He's also reached 109 wins in 62 fewer games than Dutch Meyer.
We're living in the age of some great, great coaches in this league. History shows us that.
December, 22, 2011
12/22/11
1:16
AM CT
Casey Pachall highlighted a record-setting game with a 42-yard touchdown pass to Skye Dawson with 4:26 left to lift TCU (No. 18 ESPN/USA Today, No. 16 AP) to a 31-24 victory against Louisiana Tech in the San Diego County Credit Union Poinsettia Bowl.


December, 21, 2011
12/21/11
10:59
PM CT
This one isn't going to win Best in Show. Four turnovers. Costly penalties (should you really be getting 12-men-in-the-huddle penalties in the 13th game of the year?). At times, neither really looked the part of a conference champion. But credit TCU for overcoming a lethargic start and credit Louisiana Tech for scrapping and pushing the No. 18 team in the land.
Here's how it all went down
in San Diego:


How the game was won
: With the teams locked at 24-24, TCU got the ball at its own 31 with 6:24 left in the game. Unlike in their previous scoring drive that tied the game (read on), quarterback
Casey Pachall
moved the Horned Frogs 69 yards in just 1:58, connecting with
Skye Dawson
on a 42-yard scoring strike. The defense forced a three-and-out on the ensuing drive and the offense was able to run out the final 3:33.
Turning point
: Trailing 24-17, TCU put together its longest drive of the season -- an 18-play, 72-yard march that sucked up 9 minutes, 21 seconds of clock. The Frogs converted two fourth-and-1s and picked up a pass-interference call in the end zone, setting up
Luke Shivers
' 1-yard touchdown run to tie the game at 24-24.
Stat of the game
: 100 percent — TCU's fourth-down conversion rate. The Horned Frogs were bad on third down — just 2-of-11 until late in the game — but they kept two scoring drives alive by converting all three fourth-and-1s.
Player(s) of the game
: TCU's offensive line did a fantastic job keeping Pachall sack-free and holding off one of the better pass rushes in the country. It helped the Horned Frogs to 190 yards on the ground and on the final drive that ran out the clock, the line looked like it had worn down the Bulldogs' defensive front.
Unsung hero
: Pachall's barber. Not too many quarterbacks can pull off the shaved writing in the hair.
What it means
: TCU closes out its Mountain West Conference tenure with a sixth consecutive win for the conference in the Poinsettia Bowl. Coach Gary Patterson picks up his 109th career victory at TCU, tying Dutch Meyer for most wins in school history. TCU is now 6-1 in its past seven bowl games.