Dallas Colleges:

Dylan Haines
September, 8, 2014
Sep 8
10:00
AM CT
AUSTIN, Texas -- A perfect quarter, it was not. But it came pretty darn close.
BYU embarrassed Texas once again, this time by a 41-6 score, thanks in large part to a third-quarter run no team could've overcome. This was a perfect storm in all three phases of the game.
[+] Enlarge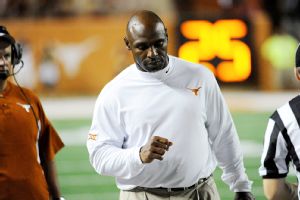 Brendan Maloney/USA TODAY SportsBYU handed Texas' Charlie Strong the worst quarter of his coaching career.
In 26 plays, the Cougars' offense collected 199 yards, including 138 on the ground. They racked up 13 first downs and faced third down just twice. Their quarterback,
Taysom Hill
, accounted for 129 total yards and three scores for a near-perfect single-quarter QBR of 99.3.
A 6-0 nailbiter turned into a 34-0 thrashing in less than 11 game minutes.
The 28-point swing was one of the first things Texas coach Charlie Strong brought up in his postgame opening statement. In the past 10 years, a Strong-led defense had never allowed 28 in one quarter.
"You can't do that if you think you're going to play great defense," he said.
BYU went into halftime and made no more than three offensive adjustments, coach Bronco Mendenhall said afterward. They didn't need to tweak much. They just needed to unleash Hill.
He drove the Cougars 75 yards in three minutes to start the second half, then dropped the jaws of 90,000-plus when he hurdled diving Texas safety
Dylan Haines
at the end of a 30-yard touchdown scramble. Texas had roughed him up in the first half, but Hill wasn't touched on his first score to go up 13-0.
After
Marcus Johnson
was stuffed at his own 11-yard line on the ensuing kickoff, Texas promptly went three-and-out. BYU's offense came back went 55 yards in five plays, highlighted by
Jordan Leslie
's diving, juggling 27-yard snag in between a pair of Texas defensive backs.
Adam Hine
found the end zone on a strong stiff-arm and an 8-yard run to make it 20-0.
Texas' offense returned to brutal field position again, this time at the 7-yard line after a holding penalty. Another three-and-out. The Longhorns' first two drives of the second half produced minus-3 yards on six snaps.
William Russ
' punt didn't cross midfield, and Mitch Juergens returned it to the Texas 29. Hill capped a quick seven-play drive with a 2-yard run in which he put his shoulder down and snuck around five Texas defenders. 27-0.
Can't get much worse than that, right? Just before Texas could push the panic button, Johnson got stripped on the kickoff return. BYU recovered at the Longhorns' 24-yard line.
"Even though you play short field, it doesn't matter," Strong said afterward. "Get into third down and just make a play."
But Texas' defense couldn't force third down. BYU was back on the goal line after a 12-yard pass, and Hill put the nail in the coffin with 4:33 left in the quarter, on a 1-yard keeper. 34-0. Ballgame.
Almost 50 percent of BYU's total yards Saturday came in one swift barrage. A run game held to 2.7 yards per carry the rest of the night cranked out 7.7 per rush in the quarter.
"There is no reason for it," Strong said. "You have to play better defense than that."
There are a handful of logical excuses -- field position, defensive busts, the takeaway, poor adjustments, tempo, confidence -- but another stands out: Hill is simply a phenomenal talent with a knack for burning Bevo.
"There are just some sheer athleticism things that aren't coachable," Mendenhall said.
When Hill scored to open the half, Texas needed to bounce back in a big way. It's about adversity, Strong said, and how a team handles heightened stakes. The Longhorns failed on that front in their first loss of the new coach's tenure.
"We started the game off really hard. It was the third quarter that got us," linebacker
Jordan Hicks
said. "Whatever it was, I'm not sure. We'll have to look at it."
That should make for one unpleasant film session. But as Texas players were reminded Saturday, after the worst quarter of Strong's head coaching career, what matters is how they respond.
August, 25, 2014
Aug 25
7:15
PM CT
AUSTIN, Texas -- Charlie Strong and his coaches won't be the only new guy running out the tunnel for the
Texas Longhorns
on Saturday night. There are many more fresh faces Longhorn fans will soon get to know. Get ready for some surprises.
Strong did not release a depth chart Monday -- he'll do so later this week -- but based on what he and his players have said throughout fall camp, it's clear Texas will be relying on some players that even the recruiting junkies don't know much about. A primer on 10 players to watch as Texas opens the Strong era on Saturday against North Texas:
Safety Jason Hall
: The freshman safety from South Grand Prairie High in Dallas was a three-star recruit who's exceeded all expectations for both his talent and age. He has ideal size at 6-foot-2 and 207 pounds and has earned rave reviews from Strong and his fellow DBs in recent weeks. "Jason understands the game," linebacker
Jordan Hicks
said Monday. "You can see his confidence. He's one of those young guys who you can expect to play well in games. He's going to be a great player." Hall is still battling for a starting safety job and Strong wants a decision mid-week on who will start.
Receiver Ty Templin:
Not your typical walk-on. "He's always kind of stood out in everybody's mind for a while," quarterback
David Ash
said. "Every conversation I remember, going back for years, was, 'You know, that Ty Templin kid, he's
good
somehow.'" Ash says the 6-foot, 180-pound sophomore is a reliable pass-catcher who isn't afraid to go over the middle. With
Jaxon Shipley
(hamstring) day-to-day and
Daje Johnson
suspended, Templin has a real chance to break into the starting lineup for the opener.
Safety Dylan Haines:
We
profiled Haines during fall camp
, and the walk-on hasn't lost any momentum after wowing his coaches and teammates with a spring-game interception and a strong showing in summer workouts. "Dylan was probably the biggest shock of the spring," Hicks said. "He came on and he came on strong." While he and Hall will continue to battle, the safe bet is that both will see plenty of action in the opener and beyond.
Receiver Jacorey Warrick:
After playing mop-up minutes last season as a true freshman, "Petey" Warrick has consistently been talked up as a receiver on the rise. "He's a little guy, but he's really quick, really fast, nice hands, got stronger," cornerback
Quandre Diggs
said. "He's made some strides." He's a 5-foot-11 speedster in the slot who should see the field a lot, especially if Shipley is unavailable.
Defensive tackle Hassan Ridgeway:
The sophomore who Strong calls "The Green Mile" will be Texas' top defensive tackle off the bench and is finally buying in. Defensive end
Cedric Reed
says the big man put on 50 pounds last year and "all he could do was sleep." Not true this fall. "He looks good, physically. He looks like a monster," Reed said. "He's really taking the game serious, eating right, in the playbook, really dedicated himself to this defense. I think he'll be a breakout player this year."
Offensive tackle Marcus Hutchins:
The fourth-year player has yet to achieve much at Texas and has moved around between the offensive and defensive line. But he seems to be getting offensive line coach Joe Wickline's attention as a potential left tackle. The 6-foot-5, 278-pound lineman might get the call Saturday to fill in for
Desmond Harrison
, who's suspended for at least one game. You could also see redshirt freshman
Darius James
in this role, too.
Receivers Armanti Foreman, Lorenzo Joe:
Of the five members of Texas' true freshman receiver class, these two put themselves in the best position to play immediately. Foreman has the explosiveness and quickness to turn a short pass into a big play. He's a game-breaker if Texas can get him in space. Joe is more of a possession receiver at 6-foot-2, but he provides sneaky athleticism and is surprisingly polished for a guy who played QB in high school last year. They'll get thrown in the mix on Saturday at some point.
Punter William Russ:
The big question mark that not enough people talk about. Strong praised the fifth-year senior for having done "an unbelievable job" in fall practice. "He's one of those guys, he has a strong leg now. He may boom one 60 and the next one may go 20," Strong said. "He's got to get a little more consistency." There will be just as much scrutiny on
Nick Rose
, who gets his first shot at place-kicking duties after being the kickoff specialist for two years.
April, 21, 2014
Apr 21
9:00
AM CT
AUSTIN, Texas -- Texas finished its first spring under new coach Charlie Strong with its annual Orange-White spring game on Saturday. The two-hour scrimmage was won by Texas' first-team offense 38-14, and while
Tyrone Swoopes
' up-and-down showing stole most of the attention, here are a few more takeaways from the Longhorns' spring finale:
[+] Enlarge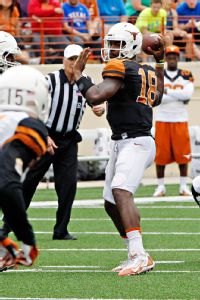 AP Photo/Michael ThomasTyrone Swoopes should improve as he gains confidence.
Best offensive performance:
With only one other scholarship back available, you knew
Malcolm Brown
was in for a big workload. He kicked off his critical senior season with a solid day, picking up 82 yards and a touchdown on 20 carries and adding 26 yards and another score on two screen passes. Texas will need
Johnathan Gray
(torn Achilles) healthy and
Joe Bergeron
(academics) back if this run game is going to lead the way, but Brown could be poised for an All-Big 12 caliber season if he stays healthy.
Best defensive performance:
Strong didn't need to watch any film to know who stood out on his defense on Saturday. Defensive tackle
Malcom Brown
was a "handful," in his eyes, and that was obvious to everyone in attendance. The junior lineman racked up five tackles, one tackle for loss and a quarterback hurry, and he spent plenty of time in the backfield. "When he wants to play," Strong said, "he can create a lot of havoc and can make plays."
Best debut:
Not many candidates for this, since Texas had just three early enrollees, so let's give a little love to a walk-on.
Dylan Haines
is a name most Longhorns fans had never heard entering Saturday, but the defensive back stole the show in the first quarter by intercepting Swoopes' overthrown first pass attempt and returning it 23 yards. Haines, a second-year scout team player in 2013, was rewarded for his big play with reps on Texas' first-team defense.
Notable play:
Swoopes' best play of the day was his last. He took a low snap midway through the fourth quarter, faked a handoff and hurled a deep ball to
Jaxon Shipley
, fitting it in perfectly between defensive backs
Chevoski Collins
and
Adrian Colbert
. Shipley pulled it down over his shoulder for a 44-yard touchdown, giving Swoopes plenty to smile about after a frustrating start to the day. The pass was by far the best Swoopes has thrown in his first year of action and, to some extent, an encouraging sign he's not afraid to take shots downfield.
Developing storyline:
Texas has a chance to have one of the Big 12's better offensive lines this fall under the guidance of Joe Wickline, but this summer and fall camp will be critical toward fortifying that line and establishing needed depth. The mammoth
Desmond Harrison
must continue to develop at left tackle after a rough 2013 season.
Kennedy Estelle
and the injured
Kent Perkins
can become some of UT's best linemen in time. And the battle at right guard, between
Taylor Doyle
and
Rami Hammad
, isn't over. Wickline will start his five best, and that five should reveal itself over the next few months.
Biggest question answered:
Is Swoopes the heir apparent at quarterback for Texas? He showed flashes in the spring game, particularly in the second half, but he never faced a first-team defense Saturday and his play early on served as a reminder why a redshirt would have been the right move last fall. Shawn Watson is encouraged by his potential and still has plenty to teach him this summer and beyond. Swoopes has raw tools and will get better as he gets more confident, but his coaches and fans should stay patient.
Quotable:
"When you look at the level of concern, you look at today and you go out and say defensively you would like to play a lot better and get stops and make sure you don't allow teams to just consistently drive the football on you. Then on offense it is all about executing, but that is going to come with focus and with preparation. What happens is that the players understand what we are looking for and what we are all about. So once we understand that, things are going to get much better because they believe in the system. When they trust and believe in the system, then we are always going to have a chance." -- Strong