Dallas Colleges:

Dylan Sumner-Gardner
March, 7, 2014
Mar 7
3:00
PM CT
COLLEGE STATION, Texas -- Texas A&M's defense struggled across the board in 2013, and the Aggies can use all the help, and depth, they can get in order to improve in 2014.
That is probably more true at safety than any other position. It's a spot the Aggies have found challenges when trying to maintain or add talent and depth, with the latest hurdle coming recently as spring practice opened.
The loss of safety
Kameron Miles
,
whom the Aggies announced officially on Thursday had been dismissed from the team for unspecified reasons
, isn't cause for panic because as head coach Kevin Sumlin pointed out, Miles didn't see the field at all last season.
[+] Enlarge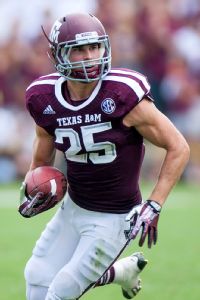 Juan DeLeon/Icon SMIClay Honeycutt is one of the returning players Texas A&M hopes will fill the open safety positions.
But it is cause for concern at position of need for the Aggies. This is one of the biggest challenges facing new Texas A&M secondary coach Terry Joseph this spring.
Safety is certainly a position where they need to see on-field improvement, both from the 2013 contributors who are returning this season (
Clay Honeycutt
,
Howard Matthews
and
Floyd Raven
) and the new bodies that could step in.
So while Miles -- an ESPN 300 recruit who signed in the 2013 class -- didn't play (he redshirted after missing all of preseason training camp recovering from a knee injury), he certainly was a candidate to do so this season. Losing him is impactful, especially considering his potential and the rough end to Class of 2014 recruiting at the position.
Texas A&M had an ESPN 300 safety committed to them for months in
Dylan Sumner-Gardner
, but he switched his commitment to Boise State in early January after former secondary coach Marcel Yates left his post in Aggieland to accept the defensive coordinator position at Boise State. Even before Sumner-Gardner's switch, the Aggies were still trying to add another safety to the 2014 recruiting class.
The loss made finding a safety even more urgent in the class. The Aggies long recruited ESPN 300 safety
Steven Parker II
(who signed with Oklahoma) and made a late run at ESPN 300 safety
Mattrell McGraw
(who signed with Oregon), not to mention other ESPN 300 prospects whom they recruited earlier in the process but decided on other programs.
The Aggies were able to land a safety late in the 2014 recruiting cycle when three-star athlete
Donovan Wilson
(Shreveport, La./Woodlawn) committed four days before national signing day and inked a letter of intent with the Aggies. He will enroll at Texas A&M for the fall semester, but whether he will be able to have an impact this fall is unknown until he arrives on campus.
Texas A&M has commitments from two elite safeties in the 2015 recruiting class in ESPN Junior 300 prospects
Justin Dunning
and
Larry Pryor Jr
., but that has no bearing on this fall.
What is known is that the Aggies need the three who played the most last season to improve and for others to contribute. One name Sumlin mentioned on Thursday was junior safety
Devonta Burns
, a 6-foot, 214-pounder who contributed mostly on special teams last season.
"Devonta Burns is having a really, really good camp," Sumlin said. "He's been around here a long time and really was a good special teams player for us from game three, four, five, on. It's about time for him to start showing up and he has. You've got three guys back there [Honeycutt, Matthews and Raven] who have played a lot, not always well, but have played and are experienced and need to step up. I think Devonta is right in the mix with the other three guys."
The Aggies also have the services of 6-3, 213-pound sophomore
Jonathan Wiggins
, a 2013 signee who saw most of his time on special teams last season. Beyond him, the options consist of mostly walk-ons such as
Sam Moeller
(last year's 12th Man) or perhaps even someone like
Shane Huhn
, a transfer from UTEP who sat out last season per NCAA transfer rules.
Another potential option is using the secondary's best player, senior cornerback
Deshazor Everett
, at safety. Everett has flip-flopped between cornerback and safety before, including on certain occasions last season when the Aggies needed the help. However, it appears that Everett is working exclusively at cornerback, and Sumlin said he doesn't anticipate that changing, at least "Not right now."
Everett said last week that he has seen improvement from the safety returnees, especially Matthews.
"He's a different player now," Everett said of Matthews. "He's not lagging around or doing it his way. He's playing hard, he's going hard every play, he's being vocal. That's what we need at the back end from the safeties, because they have to communicate to everybody on the defense. He's definitely changed."
"Floyd is definitely understanding the defense more, and Clay has always been a smart player. With the new coaching change and the way we're running it, it's set up so that you can always make plays and always be in the right position, and that's what we're looking forward to."
The Aggies' secondary also have new blood in the form of Joseph, the former Nebraska secondary coach. The reviews for Joseph have been positive thus far, including from defensive coordinator Mark Snyder, who called Joseph a "technician" and "fundamentalist."
Everett also has noticed his new position coach's impact thus far.
"He's a real vocal coach and he wants you to do it exactly the way he wants you to do it, and there's no other way about it," Everett said. "If you're not going to do it his way, you're not going to play, so you have to adjust to that and you have to go out there and do it his way."
If Joseph has it his way, there will be more answers than questions at safety come August. Fortunately for the Aggies, three weeks remain in spring practice to find some.
December, 29, 2013
12/29/13
10:30
AM CT
ORLANDO, Fla. -- There are many topics of conversation among prospects playing in the 2014 Under Armour All-America Game. One of them centers around the past two Heisman Trophy winners.
On Saturday, upon checking in for the prestigious game, a number of prospects weighed in on a hot topic involving Texas A&M's
Johnny Manziel
and Florida State's
Jameis Winston
.
If they had to choose between the two, who would the players take as their college quarterback? Here are their responses:
[+] Enlarge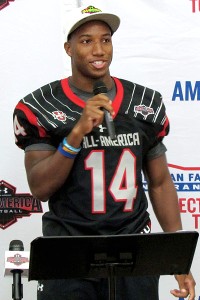 Courtesy of IntersportNo. 9 overall prospect Marlon Humphrey likes how Johnny Manziel makes others around him better.
Five-star cornerback Marlon Humphrey (Hoover, Al./Hoover High)
: Ah man, I think I'm going to have to go with Johnny Manziel. I just feel like he kind of made a team out of nothing. Jameis Winston is a great quarterback too, but he doesn't have the scrambling skills that Manziel has. This year, you could tell that his teams defense wasn't that good, the players around him weren't as good, but he kept making his team better. He's has the fight in him I would want on my team.
Florida commit and No. 20-ranked Dalvin Cook (Miami/Central High)
: I would say Jameis Winston. He's really a pure quarterback, and I think he sets up things more for a running back than Johnny Manziel does.
Auburn running back commit Racean Thomas (Oxford, Al./Oxford High)
: I would probably pick Jameis Winston. The reason behind that is because he is more of a leader for a young quarterback, and I think he can make his team a more mature team. I really think he would be a great quarterback to play with.
Florida wide receiver commit and No. 28 Ermon Lane (Homestead, Fla./Homestead Senior High)
: Whew, I don't know. I think Jameis Winston. I look at how both of them played as a freshman, and I like how Jameis Winston leads his team. He is also more pro-ready than Manziel.
Texas defensive end commit and No. 78-overall Derick Roberson (San Antonio, Texas/William J. Brennan High)
: I guess I would say Johnny Manziel. I like how he plays with his swagger and confidence the most, so I would probably say him.
Notre Dame commit and No. 76-ranked Tyler Luatua (la Mirada, Calif./La Mirada High)
: I would take Manziel just because of the way he plays. If he doesn't have a wide receiver open, he can make plays himself. He can get the ball to his players if and when he wants to, but can also do it on his own when he needs to.
No. 38 overall John Smith (Long Beach, Calif./Long Beach Polytechnic High School)
: That's a hard one. As of right now, I would go with Jameis Winston. Overall, he's a great player. I think Winston has an awesome football IQ. Johnny had his year too, but I think Winston is just a great player. Outstanding.
Dylan Sumner-Gardner
: Jameis Winston, man. I feel comfortable with Jameis Winston as my quarterback because he's smart and accurate. Johnny is accurate too, but Johnny is Johnny. How he runs around, people may get nervous. I would just feel more comfortable with Jameis as my quarterback.
No. 22 overall Laurence Jones (Monroe, La./Neville High)
: That's a hard one right there. Let me think ... maybe Johnny Manziel because I don't think I've ever seen a white boy get down like that. It would have to be Johnny Manziel.
Penn State wide receiver commit Chris Godwin (Middletown, De./Middletown High)
: I think Jameis Winston. I think overall he's a better passer. I want a quarterback back there that can get me the ball on a consistent basis, but Johnny Manziel is a great player, too. I'm actually a big fan of both of them.
Five-star and Virginia defensive tackle commit Andrew Brown (Chesapeake, VA
Oscar Frommel Smith High)
: Dang, that's a good question, man. I would go with Jameis Winston. His leadership qualities, coming in as a freshman and doing the things he is doing is definitely uncommon. It just foreshadows what he is going to do in the future, too. He's already established a great foundation for himself, and I would definitely take him in the future.
Maryland commit Will Ulmer (Washington, D.C./Saint John's High)
: I'm going with Johnny Manziel. I think he's more dynamic, and more of a game-changer. Jameis Winston is a great quarterback too, but you have to think about all the dudes he has around him at FSU -- all the great receivers and good running backs. I would go with Manziel because if you put him on the Florida State team, or a stacked team like that, it would be a scary sight.