Dallas Colleges:

Earl Campbell
September, 23, 2014
9/23/14
1:30
PM CT
While Billy Sims took in an Oklahoma practice this preseason, another Red River legend came to his mind whenever he watched freshman
Samaje Perine
.
"The strength, the power, the way he ran over people, it kept reminding me of Earl Campbell back in the day," said Sims, who the Heisman Trophy for the Sooners in 1978, a year after Campbell won it at Texas in 1977.
Perine is no Earl Campbell yet.
But he's off to an Earl Campbell-like start to his career.
[+] Enlarge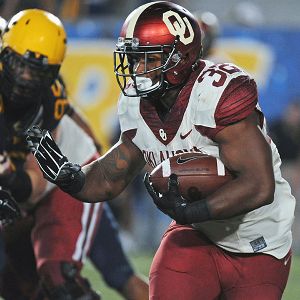 Tyler Evert/Associated PressOklahoma freshman Samaje Perine is leading the Big 12 in rushing with 419 yards and five touchdowns this season.
The 5-foot-11, 243-pound "Tank" -- though "Optimus Perine" is his preferred nickname -- came a yard away from rushing for his weight, finishing with 242 yards and four touchdowns in Oklahoma's
45-33 victory
at West Virginia over the weekend.
Perhaps just as impressive, Perine carried the ball 34 times and afterward looked like as if he had done nothing more than taken a light morning jog.
"He works so hard with his conditioning and training," coach Bob Stoops said. "He's a guy that can handle all those carries. At the end of the game he wasn't all that taxed. I saw him get on the bus and he looked great. He's exceptional in his conditioning and his strength. He's physically gifted that way."
Like Campbell used to do to opposing defenses in the 1970s, Perine wore the West Virginia defenders down as they bounced off him like pingpong balls. While the Mountaineers' resolve to tackle him began to wane in the second half, Perine seemed to get stronger, as he finished with 84 of his rushing yards in the fourth quarter.
"He was able to sustain it for four quarters," West Virginia coach Dana Holgorsen said. "That tells you what kind of shape he's in."
The emergence of Perine, who now leads the Big 12 with 419 rushing yards and five touchdowns, has left the Oklahoma offense in great shape, too, heading into the heart of the schedule. After the open week this weekend, the Sooners face three of the toughest front sevens in the league in TCU, Texas and Kansas State. But this Oklahoma rushing offense is beginning to smack of the Barry Switzer days when the Sooners could run right through opponents when they wanted to.
"I was glad to see the ground-and-pound game," Sims said. "Let the big guys up front eat and the backs do their thing."
The big guys up front ate well again after the game, too, courtesy of Perine. Showing he doesn't just have physical maturity, Perine ordered pizzas for the entire offensive line Sunday.
"We were watching film, and he just walked right in and set the boxes of pizza down and walked out," center
Ty Darlington
said. "That's who he is."
Though Perine was one of the major storylines in college football over the weekend, he wasn't even the most highly touted running back in Oklahoma's signing class.
Joe Mixon
, suspended for the year for an altercation before the season, was viewed as the gem of the recruiting class, with offers from every major program in the country. Perine, who hailed from the Austin, Texas, suburb of Pflugerville, didn't even receive an offer from Campbell's Longhorns as he recovered from a knee injury his junior year and barely averaged double-digit carries his senior season for Hendrickson High School.
The Sooners, however, always felt Perine was a unique talent.
"He's a very special player," Stoops said. "We felt that all along in the recruiting process. We loved him. Physically, he's so powerful and strong. He's also got great vision, great speed. He's got hands."
While Sims invoked Campbell to describe Perine, Stoops didn't hesitate to compare Perine's immediate impact to other great runners to pass through Norman in recent years like Quentin Griffin and
Adrian Peterson
.
"Samaje, his performance the other night, was as good as any of those in one game," Stoops said. "I believe he'll continue to add on to it. He's a similar player like that. He's unusual in that his size and power are different than maybe anyone else we've had.
"We'll see if he can continue to build on it."
Sims, however, is a believer that will happen.
"After watching him in practice, what he's doing now, it doesn't surprise me," Sims said. "Oklahoma is known for great running backs. He has the potential to be the next."
August, 5, 2014
8/05/14
3:00
PM CT
Determining the greatest individual performances for ESPN.com's new series
The Season
was, in all honestly, not too difficult for many FBS schools.

Picking Oklahoma State's best, for example, could not have been easier. Same with Baylor and Texas Tech. But Texas presented a bit of a challenge.
After much research and debate, Vince Young's 2005 campaign was ultimately selected to represent the Longhorns. In fact, Young's national championship year earned the No. 6 spot in the 16-man bracket to determine the very best of The Season.
But there were a handful of other Texas players legitimately worthy of consideration. Was VY the right choice? Be sure to vote in this poll, especially if you disagree.
A rundown of the résumés for a few more Longhorns we debated for The Season:
RB Earl Campbell, 1977:
Won the Heisman Trophy after rushing for 1,744 yards (breaking UT and Southwest Conference records) and 18 touchdowns. Campbell led the Longhorns to a perfect 11-0 regular season and was All-America in every sense, leading the NCAA in rushing, scoring and all-purpose yards. He eclipsed 100 rushing yards in 10 games and put up 222 yards and three scores in the regular-season finale against Texas A&M. The Tyler Rose had the superior career, but was this season by itself better than Young's best?
RB Ricky Williams, 1998:
Won the Heisman Trophy and set 21 NCAA records by dashing for 2,124 yards and 27 TDs. Williams led the nation in rushing for a second straight season, broke Tony Dorsett's 22-year-old NCAA all-time rushing record with 6,279 career yards and became the first two-time winner of the Doak Walker Award -- all in Mack Brown's first season at Texas. He snapped Nebraska's 47-game home win streak with a 150-yard performance and became the first to surpass 300 rushing yards twice in one season.
QB Colt McCoy, 2008:
He guided Texas to the BCS title game in 2009, but McCoy's 2008 campaign was more impressive, especially statistically. The Heisman Trophy runner-up threw for 3,859 yards and 34 TDs with just eight INTs and completed an NCAA-record 76.7 percent of his passes. He also led the Longhorns in rushing (561 yards, 11 TDs) and broke Young's single-season record for total yardage along with school records for passing yards, TDs and passer rating. Texas went 12-1 and capped McCoy's junior year with a win over Ohio State in the Fiesta Bowl.
QB James Street, 1969:
The numbers would not wow today's audience, but Street was a big-time playmaker who led Texas to a perfect season and a national championship. He finished with 699 passing yards and three TDs plus 412 yards and five rushing TDs, but he won't be remembered for those stats. He'll go down in Longhorn lore for his fourth-down pass completion to seal No. 1 Texas' comeback victory over No. 2 Arkansas in the Game of the Century. He went on to beat No. 9 Notre Dame for the title and went 20-0 as Texas' starting quarterback.
January, 4, 2013
1/04/13
6:56
PM CT
ARLINGTON, Texas – Texas A&M's
Johnny Manziel
is the eighth Heisman Trophy winner to play in the Cotton Bowl immediately after receiving college football's highest individual honor.
A quick look at the Cotton Bowl performances of Johnny Football's Heisman predecessors:
1949 – SMU's Doak Walker:
The hometown kid did it a little bit of everything during SMU's 21-13 win over Oregon. Walker rushed for 66 yards and the game's first touchdown on 14 carries, threw for 79 yards on 6-of-10 passing and boomed a 79-yard punt off a quick kick that pinned Oregon at the Ducks' 1.
1963 – Navy's Roger Staubach:
The No. 1 vs. No. 2 matchup turned into a lopsided loss for Staubach's second-ranked Midshipmen, with Texas rolling to a 28-6 rout to clinch the Longhorns' first national title. Staubach completed 21-of-31 passes for 228 yards, but he was picked off once and was under siege all day. Staubach was credited with minus-47 yards on 12 rushing attempts, although he did score Navy's lone touchdown on a 2-yard run.
1978 – Texas' Earl Campbell:
The undefeated, top-ranked Longhorns got blown out by Notre Dame, 38-10, despite 116 yards on 29 carries by the Tyler Rose. Texas, committed six turnovers, fell behind 24-3 midway through the second quarter.
1985 – Boston College's Doug Flutie:
Flutie tied a Cotton Bowl record with three touchdown passes in BC's 45-28 win over Houston, including a 63-yard bomb to future Cowboys receiver Kelvin Martin, but it wasn't an especially pretty performance. Flutie completed only 13-of-37 passes for 180 yards and was picked off twice.
1986 – Auburn's Bo Jackson:
Bo don't know Cotton Bowl success. Actually, Jackson put up nice numbers against the Wrecking Crew, rushing for 129 yards and a touchdown on 31 carries and catching a 73-yard touchdown pass. But the Aggies blew out Auburn, 36-16.
1988 – Notre Dame's Tim Brown:
Two years later, the Aggies ruined another Heisman winner's finale. Brown caught six balls for 105 yards and a touchdown, but his score on the opening series was the only time the Fighting Irish reached the end zone during a 35-10 loss to A&M.
1998 – Texas' Ricky Williams:
Williams, wearing No. 37 to honor the deceased Doak Walker, capped his college career with a dominant performance. He rushed for 203 yards and two touchdowns on 30 carries. His first score was a 37-yard run.
February, 25, 2012
2/25/12
9:01
PM CT
I'm thinkin' of something orange. Something orange. Give up? It's an orange.
October, 4, 2010
10/04/10
2:07
PM CT
By
Gregg Found, ESPN's Stats & Information Department
Let's take a trip back in a Longhorn time machine to October 15, 2000 -- the last time Texas was unranked in the AP Poll ...
Then:
Mack Brown was 3 years into his head coaching tenure at Texas, with a 21-10 record and outranked in tenure by several of his Big 12 colleagues, including Texas A&M's R.C. Slocum, Iowa State's Dan McCarney and Missouri's Larry Smith.
Now:
Mack Brown is 13 years into his head coaching tenure at Texas, with a 131-29 record and the longest tenure in the Big 12.
Then:
Will Muschamp was just six years out of college and was the defensive coordinator of the Division II
Valdosta State Blazers
.
Now:
Will Muschamp is the Texas defensive coordinator and head coach in waiting.
Then:
Texas fell out of the poll even though it beat Colorado 28-14 the day before.
Now:
Texas fell out of the poll after losing to Oklahoma 28-20 the day before.
Then:
Garrett Gilbert
was 9 years old.
Now:
Garrett Gilbert is 19 years old and Texas' starting quarterback.
Then:
Major Applewhite was one of two main Texas quarterbacks.
Now:
Major Applewhite is assistant head coach and running backs coach at Texas after becoming the youngest coordinator in FBS in 2007 when he coached the offense at Alabama.
Then:
Chris Simms was one of two main Texas quarterbacks.
Now:
Chris Simms is an NFL free agent quarterback after spending the 2009 season with the Denver Broncos.
Then:
Shaun Rogers and Casey Hampton were a pair of defensive tackles for Mack Brown's Texas team.
Now:
Shaun Rogers and Casey Hampton are both 10-year NFL veteran defensive tackles playing in the AFC North, combining for eight Pro Bowl selections and 44.5 sacks in their careers.
Then:
Oklahoma beat Texas 63-14 in the Red River Rivalry behind six Rush TD from Quentin Griffin.
Now:
Oklahoma beat Texas 28-20 in the Red River Rivalry behind two Rush TD from
DeMarco Murray
.
Then:
Oklahoma was 6-0, on its way to an undefeated season and national title.
Now:
Oklahoma is 5-0, eyeing an undefeated season and national title.
Then:
Purdue, Oregon State, Minnesota, Georgia and Notre Dame were ranked in the AP Top 25.
Now:
Those teams are a combined 8-15 this season.
Then:
Alabama, Boise State, Auburn, LSU and Michigan State were not ranked in the AP Top 25.
Now: Those teams are a combined 24-0 this season.
Then:
The Big 12 was still forming its own identity. It was its fifth year as a conference, having recently added four Texas schools from the Southwest Conference to the existing Big 8 to form a new conference.
Now:
The Big 12 will soon form a new identity. It will lose two members when Colorado leaves for the Pac-10 and Nebraska leaves for the Big Ten.
Then:
Texas had three national titles, one Big 12 Title and two Heisman Trophy winners (Earl Campbell and Ricky Williams).
Now:
Texas has four national titles, three Big 12 Titles and the same number of Heisman Trophy winners (despite the recent Reggie Bush-Vince Young controversy).
Then:
The Longhorn Sports Network was nowhere to be found.
Now:
The Longhorn Sports Network is broadcasting Texas football and Texas basketball coverage on both television and radio, and could expand to become the first of its kind -- a broadly distributed sports network created by and focused on one university.
Then:
Bo Pelini was in his first year as the linebackers coach of the Green Bay Packers.
Now:
Bo Pelini is the coach of Texas' next opponent, No. 7 Nebraska.
Then:
The State Fair of Texas (during which the Red River Rivalry was played) unveiled the Millennium Quilt -- Texas Then and Now.
Now:
The State Fair of Texas (during which the Red River Rivalry was played) featured the Eli Young Band, Collective Soul and fried beer.
December, 7, 2009
12/07/09
5:58
PM CT
By
Jeff Caplan
| ESPNDallas.com
Colt McCoy will become the first Texas player to make two trips to New York as a Heisman Trophy finalist.

However, Alabama running back Mark Ingram might be the favorite now after he impressed in the SEC title game while McCoy's uneven showing in the Big 12 squeaker might dip him into underdog status just one game after his otherwordly performance at Texas A&M seemed to surge him in front.

Other finalists who will make the trip to New York for Saturday night's announcement from the Nokia Theatre in Times Square are Stanford RB Toby Gerhart, Nebraska DT Ndamukong Suh and Florida QB Tim Tebow.

Suh was unbelievable in Nebraska's 13-12 loss and would become the first defensive player to win the award since Charles Woodson. Tim Tebow, looking for his second Heisman in three years, likely won 't get it after his Gators were swamped by the Tide.

For McCoy, it's really a case of bad timing. He had a phenomenal junior season, but Oklahoma's equally stellar quarterback Sam Bradford garnered more votes. Had McCoy put up last season's numbers this season, he'd be the runaway winner.

After Saturday, he'll likely have to settle for a shot at winning the BCS national championship.

If McCoy should pull the upset and win it, he'll become the first Texas quarterback to take home the Heisman. Running backs Ricky Williams (1998) and Earl Campbell are the school's other Heisman winners (1977).