Dallas Colleges:

Edward Pope
September, 27, 2014
Sep 27
7:46
PM CT
ARLINGTON, Texas -- In a thrilling finish, No. 6 Texas A&M rallied to claim a
35-28 overtime win
over Arkansas on Saturday at AT&T Stadium, a win that came after the Aggies were down by as many as 14 points in the fourth quarter. Let's take a look at how it went down:


How the game was won:
The Aggies stopped Arkansas running back
Alex Collins
on a fourth-and-1 in the first overtime, getting a stop when they had to have it. Texas A&M had to scratch and claw after being harassed by Arkansas' defense all day, but it was able to escape by the skin of its teeth thanks to huge fourth-quarter touchdown passes by
Kenny Hill
(an 86-yarder to
Edward Pope
and a 59-yarder to
Joshua Reynolds
) that turned a 14-point deficit to a tie ballgame and eventually set up overtime. Hill threw a 25-yard strike to
Malcome Kennedy
to start overtime, and the defense did the rest to secure the win in OT, piggybacking a strong fourth-quarter effort the Aggies gave to keep the Razorbacks from extending the lead.
Gameball goes to:
Hill. He had his struggles, from errant throws, including an interception and had to weather the storm as the Aggies looked out of sorts offensively for much of the day. But he made the big throws when the Aggies had to have them late in the game and led the come-from-behind victory. He finished with 386 passing yards and four touchdowns on 21-of-41 passing.
What it means:
Texas A&M's playoff hopes and high ranking are safe for now, but it has a lot of work to do. Arkansas exploited many of the Aggies' flaws today. The Razorbacks (3-2, 0-2 SEC), meanwhile, are as improved as advertised. Bret Bielema's bunch has to feel sick after this one, leading by two scores (and having a chance to go up three when a penalty nullified the score). They had control of the game but let it slip away. The SEC West is on alert though, as Arkansas is a pushover no longer.
Playoff implication:
The Aggies' hopes remain alive as they move to 5-0 (2-0 in the SEC).
What's next:
Another huge test for Texas A&M at No. 14 Mississippi State in Starkville a week from today.
Dak Prescott
and Co. are coming off an open date following their landmark win at LSU on Sept. 20.
September, 22, 2014
Sep 22
2:00
PM CT
DALLAS — One of the most asked questions by Texas A&M fans after the Aggies' 38-10 win over Rice on Sept. 13 surrounded the health of true freshman receiver
Speedy Noil
. When a five-star recruit who comes in with the kind of hype and expectation that Noil did gets injured, the concern is understandable.
Noil, who was carted off the sideline during the Rice game, missed the Aggies' most recent victory -- a 58-6 rout of SMU -- because of an undisclosed injury and his status for Texas A&M's upcoming game against Arkansas isn't yet publicly known. But if Saturday's game was any evidence, he can take all the time he needs.
[+] Enlarge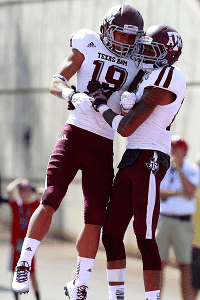 Tim Heitman/USA TODAY SportsSophomore receiver Jeremy Tabuyo, No. 19, had a breakout game for Texas A&M last Saturday.
The Aggies have plenty of receiver depth.
Without their starting "X" receiver, the Aggies were just fine in the passing game as seven different receivers (and one running back) caught passes in the win and a few lesser-known names stepped into the spotlight. Case in point:
Jeremy Tabuyo
.
The true sophomore from Hawaii made the most of his opportunity, catching two passes and turning them into catch-and-run touchdowns, evading SMU tacklers to the tune of a 30-yard score and a 50-yard score. They were the first two touchdowns of his career.
"It was pretty big for me, just to get my confidence level up," Tabuyo said Saturday. "Today was a good day for me."
Boone Niederhofer
, a walk-on receiver who won a spot in the two-deep during preseason training camp, also had a solid day against the Mustangs, catching six passes for 73 yards. Only senior
Malcome Kennedy
(six catches, 73 yards) had as many catches as Niederhofer last Saturday.
That's life in the Aggie receiving corps these days. Starting quarterback
Kenny Hill
is not discriminatory when distributing the football and it showed from his first start of the season, when he connected with 12 different players -- eight receivers, one tight end and three running backs. A dozen receivers and tight ends have recorded at least one catch this season.
"Our receiver position is good but we play all of them," coach Kevin Sumlin said Saturday. "They like playing. Just like running back. Our guys understand that to play the way we play, in an uptempo style and try to get as many plays as we can, those guys are running like crazy. So we have to be eight deep to play games. I think right now we're pretty close to that."
Kennedy leads the team with 30 catches this season, but after him no other Aggie has more than 16 receptions. Six Texas A&M receivers (Kennedy, Noil, Niederhofer,
Joshua Reynolds
,
Ricky Seals-Jones
and
Edward Pope
) all have double-digit catches this year.
So the Aggies' quest to going eight deep at the receiver position is closer to coming to fruition. They continue to recruit the position at a high level (the decommitment of 2015 ESPN 300 prospect Damarkus Lodge notwithstanding) and if they continue to haul in talent at the pace they have in recent recruiting classes, the Aggie quarterbacks will continue to enjoy the numerous options afforded them.
Does anybody have more wide receivers in the country to throw to than Hill? When the question was posed to him Saturday, Hill took a deep breath, allowed a sly smile to emerge and answered definitively.
"No," Hill said. "Nobody in the country has more receivers than we do."
March, 4, 2014
Mar 4
11:00
AM CT
COLLEGE STATION, Texas — While many eyes in Aggieland are fixed on the quarterback competition and who
Johnny Manziel
's successor will be, another task that carries significant weight at Texas A&M is finding the next big-time receiver.
With
Mike Evans
gone, the Aggies are looking for their next star at the position, one that has seen records broken several times in the last few years.
There is a lot of talent among the Texas A&M receivers, but it is mostly unproven and inexperienced talent. With spring football underway, the Aggies coaches have a chance to discuss and dissect the multitude of openings they have at wide receiver.
[+] Enlarge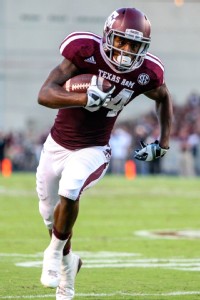 Troy Taormina/USA TODAY SportsMalcome Kennedy is the Aggies' most experienced returning receiver after catching 60 passes for 658 yards and seven scores in 2013.
"One thing that we have now that we didn't have at this position when we got here is that we have an enormous amount of depth," Texas A&M receivers coach David Beaty said. "We have real SEC receivers here. That's something that we've developed over a two-and-a-half, three-year period."
The most productive returning receiver is veteran
Malcome Kennedy
. He is the lone returning starter, having hauled in 60 passes for 658 yards and seven touchdowns last season. Beaty has praised Kennedy's work ethic and leadership before, and Kennedy emerged as a reliable target for Manziel last season.
Now it's about figuring out who the starters will be, which eight receivers will occupy the two-deep and who will separate themselves from the pack. One player most people seem excited to have back in the fold is redshirt freshman
Ricky Seals-Jones
, who sat out most of last season with a knee injury he suffered in the season-opening win over Rice.
"Getting him back healthy is a blessing for us," Beaty said. "The guy's got unlimited potential. We really needed him back. I look for him to make huge waves for us."
Through two practices so far, coaches say the 6-foot-5, 230-pound Seals-Jones doesn't appear to show any ill effects from knee surgery.
"He looks good to me out there," offensive coordinator Jake Spavital said. "He's a big target and he's obviously going to bring a whole other element to what we're trying to do. He can stretch the field vertically, and he's very big and physical on the perimeter."
Perhaps the most exciting name to Aggies fans among the receiver group is one of the newest: five-star recruit
Speedy Noil
. Ranked as the nation's No. 1 athlete prospect in the
2014 ESPN 300
, he is already drawing positive reviews from teammates and coaches in his short time on campus.
Beaty called Noil "the best receiver in the country" in the 2014 recruiting class.
"As explosive as anybody I've ever seen," Beaty said. "Combination of strength, speed and explosiveness. Really smart guy."
One player who could emerge as an option at outside receiver is redshirt freshman
Kyrion Parker
. At 6-foot-2, 190 pounds, Parker has several physical gifts.
"This guy is as talented as any receiver I've ever had," Beaty said. "He's got to grow up and mature, and I've watched him do that before my eyes. He's starting to grow into his own. I look for great things from him in the future. He does things that other people can't do. He's big, he's strong, he's fast, he's got great hand-eye coordination. He can go get the ball deep. He's a better route runner than Mike [Evans] probably was at this point in his career."
There is also an assortment of receivers who received modest playing time last season at varying levels:
LaQuvionte Gonzalez
(21 catches, 240 yards),
Edward Pope
(nine catches, 65 yards) and
JaQuay Williams
(four catches, 71 yards). Any of the three could be factors this fall.
"LaQuvionte Gonzalez grew up a ton this year," Beaty said. "You'd like to redshirt a guy like that, but we weren't able to. He was a guy that benefited from it. ... I think you're going to see him do some great things.
"JaQuay Williams, another really good talent that can do a lot of great things and has come a long way from the time he got here at this time last year. Ed Pope, another guy that I'm looking for to step up and compete. He's got to do a better job of putting on weight and getting really serious about this because there are some real guys here now."
With so many inexperienced receivers and only one real seasoned veteran in Kennedy, head coach Kevin Sumlin said getting all of these players as much work as possible is the most important part of spring for the receiver group.
"Reps, reps, reps," Sumlin said. "Reps right now are as important as anything."
When it comes to figuring out which of the above names are going to emerge as prominent players, Beaty said it's simple to figure out.
"Here's what's going to happen: The serious, committed guys, those guys will rise to the top," Beaty said. "The ones that are here just kind of messing around, those guys will drop to the bottom. There are just too many good players here now."
February, 17, 2014
Feb 17
9:00
AM CT
Editor's note: This is the first part of a weeklong series looking at five position battles to watch in spring practice, which begins Feb. 28 for Texas A&M.
In each of the last three seasons, one of Texas A&M's receivers exited after rewriting the record books.
In 2011, Jeff Fuller put his name atop the list several A&M receiving categories: single-season receptions, receiving yards and touchdown catches, and he established career records in all three.
In 2012, it was Ryan Swope. He left Aggieland as the school's career leader in catches and receiving yards and was its single-season leader in both categories.
After 2013,
Mike Evans
declared for early entry into the NFL draft and left the Aggies having broken Swope's single-season mark in both single-season receiving yards and single-game receiving yards, and he tied Fuller for the single-season record for touchdown receptions.
As 2014 approaches, the Aggies will be looking for their next great receiver. When spring practice begins later this month, competition begins for the right to be the go-to guy in the wide-open Aggies offense.
[+] Enlarge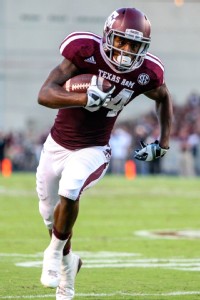 Troy Taormina/USA TODAY SportsWith 60 receptions for 658 yards and seven touchdowns, Malcome Kennedy is Texas A&M's leading returning receiver by far.
The simple question: Who is replacing Evans? The answer is not as easy to discover.
There will be fierce competiton this spring at the outside receiver positions. Sophomores
Edward Pope
and
JaQuay Williams
each return after playing a backup role at outside receiver last season. There is also a redshirt freshman,
Kyrion Parker
, who could quickly become a factor.
Pope had nine catches for 65 yards last season -- including the memorable reception at the end of
Johnny Manziel
's Houdini act to escape a sack attempt by Alabama's
Jeoffrey Pagan
on Sept. 14 -- and appeared in nine games last season. Williams had four catches for 71 yards and a touchdown while playing in 10 games last season.
A key figure to watch will be
Ricky Seals-Jones
. The Aggies had high hopes for his freshman season, but those were derailed by a knee injury that cut his season short. He showed a brief glimpse of his ability with a 71-yard touchdown catch in the season-opening win against Rice and did enough in preseason training camp to earn practice time with the first team. If not for the injury, Seals-Jones appeared poised to be a contributor last season.
Much of his practice time was spent as an inside receiver last fall, though he did get some experience lining up outside, too. At 6-foot-5 and 225 pounds, he has size similar to that of Evans, so he would make sense as the potential option at Evans' old position should the Aggies choose to go that way. But he appears versatile enough to line up anywhere. If the Aggies like the matchup problems he gives defenses, he could be again seeing time as an inside receiver. Where he lines up and how often will be worth watching in the spring.
Most of the other Aggies' young receivers on campus, including
LaQuvionte Gonzalez
,
Jeremy Tabuyo
, freshman
Speedy Noil
and junior
Sabian Holmes
, all appear to be inside receiver types, so it's unlikely any of them will take Evans' place on the field.
When it comes to production,
Malcome Kennedy
, a veteran who spent his time as an inside receiver last season, is the returning statistical leader among the Aggies' receivers. After a 60-catch, 658-yard season in which he caught seven touchdowns, it stands to reason he could see an increase in production, but does that also mean he'll become the go-to guy in the offense next season while remaining an inside receiver?
In addition to Noil, an incoming freshman already on campus, junior college transfer
Joshua Reynolds
(also a mid-term enrollee), 6-foot-7 receiver
Frank Iheanacho
and 5-foot-8 prospect
Jamal Jeffery
will also join the fray in 2014. Iheanacho and Jeffery won't be on campus until the summer, but Reynolds will get a chance to prove if he's worthy of early playing time when the Aggies begin spring practice.
In this offense, it's sometimes difficult to know who will emerge. Nobody had
Travis Labhart
on their radar at this time last year -- especially after he broke his collarbone in spring practice -- yet the former walk-on wound up being a key member of the receiving corps with 51 receptions for 626 yards and eight touchdowns while filling in at all four receiver spots in the offense.
The position battles at all four receiver spots -- not just Evans' outside receiver spot -- will be among the intriguing things to watch when the Aggies begin spring drills at the end of the month.
February, 11, 2014
Feb 11
1:30
PM CT
Now that
Johnny Manziel
is gone, the offseason spotlight at Texas A&M is shining brightly on a young receiver looking to put a season-ending knee injury in his first year in College Station behind him:
Spotlight:
Ricky Seals-Jones
, 6-foot-5, 225 pounds, redshirt freshman
[+] Enlarge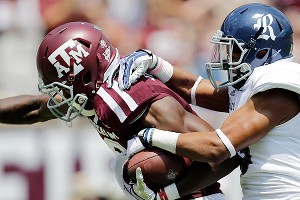 AP Photo/Eric GayRicky Seals-Jones had this 71-yard touchdown catch against Rice, but an injury eventually netted him a redshirt in 2013..
2013 summary:
A knee injury forced Seals-Jones to miss most of the season. He played in only two games and ended up redshirting. However, he caught three passes for 84 yards, including a 71-yard touchdown against Rice in Week 1.
The skinny:
Seals-Jones was the Aggies' top signee a year ago and figured to play a role in Texas A&M's offense during his first year in College Station. However, his knee injury early in the year wrapped up his first year on campus before it could truly get started. With Manziel gone and top receiving target
Mike Evans
also departing, the Aggies are looking for consistent playmakers to fill those voids. Finding a top-flight, go-to wide receiver also would be very nice with the Aggies also breaking in a new quarterback in 2014. With his size, athleticism and speed, Seals-Jones could be that guy, but it's unknown if he'll work inside or outside. He played at both spots during preseason practice last year, and his 71-yard touchdown against the Owls came while he was lined up inside. That might not matter at all, but what will matter is if Seals-Jones can make an immediate impact in Kevin Sumlin's high-flying offense. Just looking at him, you'd think he'll make some sort of noise, no matter where he lines up. He's a physical mismatch waiting to happen with cornerbacks and will give linebackers fits on the inside and over the middle with his speed. With
Malcome Kennedy
being the lone returning starting receiver, the Aggies will definitely need help at that position. Kennedy is a fine option after catching 60 passes for 658 yards and seven touchdowns last season, but he won't be able to do it all himself. Youngsters
LaQuvionte Gonzalez
,
Edward Pope
,
Jeremy Tabuyo
and
JaQuay Williams
will all push for time, and so should highly touted freshman
Speedy Noil
, who was the nation's No. 1-rated athlete in in the 2014 recruiting class. There are options at A&M, but Seals-Jones might have the most upside right now.
Past spotlights:
January, 23, 2014
Jan 23
5:00
PM CT
While quarterback
Johnny Manziel
dominated the headlines in his brief, two-year career at Texas A&M, he had a lot of help on offense.
One of the most important weapons Manziel had at his disposal was receiver
Mike Evans
.
[+] Enlarge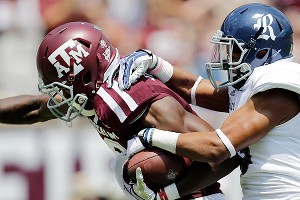 AP Photo/Eric GayRicky Seals-Jones has the size and speed to take over as the Aggies' top playmaker at receiver.
The pair came to Aggieland in the same recruiting class, redshirted the same season and built a strong rapport as scout-team players in their first season.
Once they hit the field together in 2012 as redshirt freshmen, Evans quickly became Manziel's go-to receiver.
In two seasons, Evans caught 151 passes for 2,499 and 12 touchdowns. In 2013, he emerged as one of the nation's best receivers with a school-record 1,394 yards and 12 touchdowns, which earned him a spot at the finalists' table for the Biletnikoff Award.
But like Manziel, Evans declared for early entry into the NFL draft. That brings us to our next item on the Texas A&M offseason to-do list, which is finding the next No. 1 receiver.
Because of the way the Aggies have recruited the last two seasons, they will have no shortage of options at the position. In addition to the receivers who were already on campus, the Aggies signed six receivers in the 2013 recruiting class and in the 2014 class, four prospects will wind up at receiver.
And it won't just be Evans' production that needs to be filled. The Aggies are saying goodbye to three starters as two others (
Travis Labhart
and
Derel Walker
) were seniors.
Malcome Kennedy
(60 receptions, 658 yards, seven touchdowns) is the lone returning starter and returning statistical leader in each major receiving category.
As an inside receiver who became a reliable target for Manziel, it stands to reason that Kennedy will see more opportunities. But who replaces Evans at outside receiver?
Ricky Seals-Jones
, the Aggies' top-ranked recruit in the 2013 class, is an intriguing option, though it isn't necessarily a guarantee that he lines up outside. During preseason training camp last season, Seals-Jones received practice time at both inside receiver and outside receiver and made his biggest play of the season, a 71-yard touchdown reception against Rice, as an inside receiver.
He missed most of the season with a knee injury, but no matter where he lines up, he figures to play a prominent role in the offense in 2014 and could be a prime candidate to be a go-to guy with his size (6-foot-5, 240) and speed.
Several young receivers played in 2013 and will compete for the chance to start in 2014, such as
LaQuvionte Gonzalez
,
Ja'Quay Williams
,
Jeremy Tabuyo
and
Edward Pope
, all of whom were freshmen last season.
Sabian Holmes
, who will be a junior, and redshirt freshman
Kyrion Parker
could also be factors in the offense next season.
A lot of eyes will be on the offensive gem of the 2014 recruiting class though: ESPN 300 five-star athlete
Speedy Noil
. A high school quarterback at New Orleans Edna Karr, Noil is ranked as the No. 1 athlete in the country and will play receiver for the Aggies. Noil began classes earlier this month and will participate in spring football, giving the country's No. 7 overall player a head start when it comes to finding himself on the field in 2014.
October, 25, 2013
10/25/13
11:45
AM CT
COLLEGE STATION, Texas — The words "youth" and "inexperience" are frequently used to describe the Texas A&M defense this season.
The struggles are significant. The Aggies rank near the bottom of the FBS in most defensive statistical categories. According to ESPN Stats & Information, the five teams that have allowed more yards per game than the Aggies -- New Mexico State, Idaho, California, Nevada and Indiana -- have a combined record of 8-27.
Texas A&M is fortunate enough to have a 5-2 record (2-2 in the SEC). It certainly helps to have one of the nation's most high-powered offenses and a reigning Heisman Trophy winner at quarterback (
Johnny Manziel
).
For defensive coordinator Mark Snyder and his staff, it has been a challenge from the start of the season. Suspensions, injuries and ineffectiveness are all to blame.
The Aggies currently have 11 freshmen in their defensive two-deep depth chart. Two true freshmen (defensive tackle
Isaiah Golden
and linebacker
Darian Claiborne
) are starting. The four defensive line first-team spots include Golden and two sophomores. At linebacker, a former receiver who moved to linebacker this offseason (
Nate Askew
) is the starter at strongside linebacker. Of the seven linebackers on the Aggies' two-deep, only one (
Steven Jenkins
) started a full season at the position before this year.
Head coach Kevin Sumlin's first signing class that was completely under his watch had 32 members, 18 of whom were on defense. Of those 18, a dozen have already played this season.
But how did the Aggies get to this point, playing this many freshmen and newcomers? There are some juniors and seniors on the field, but there aren't nearly as many as there were a year ago when the Aggies went 11-2 in their debut season in the SEC.
In 2012, the Aggies were fortunate to have the benefit of some good leaders on defense and others who were productive. At linebacker, Sean Porter and Jonathan Stewart both provided leadership and production. Along the defensive line, Spencer Nealy made the move from defensive end to defensive tackle effectively despite not having the ideal size for the position. Steven Terrell was a steady and heady player at free safety. All four of those players were seniors and part of the 2009 recruiting class. So was Dustin Harris, who didn't always start but played plenty at cornerback and was the team's primary punt returner.
One defensive player still remains from that 2009 class: defensive tackle
Kirby Ennis
, who started last season and this year but suffered a season-ending knee injury on Sept. 28 against Arkansas. But last year's A&M starting defense was more than half made up of what turned out to be a solid recruiting class on the defensive side of the ball.
So to understand why A&M is in the position it is now, take a look at the recruiting classes on defense since then:
In 2010, the Aggies signed seven defensive players and two more that were offensive players but eventually moved to defense. Defensive end Damontre Moore turned out to be a star, but declared for early entry into the 2013 NFL draft with a year of eligibility remaining. For a team that's lacking in its pass rush (only three FBS teams have fewer sacks than Texas A&M's seven this season) a guy like that could help. Of the remainders in that class, three are starting: Toney Hurd Jr. at nickel back, Gavin Stansbury at defensive end and Askew, who was recruited and spent his first three years at receiver, at strongside linebacker. Two others (defensive tackle Ivan Robinson and quarterback Clay Honeycutt, who's now a reserve safety) are playing but not starting. Nehemiah Hicks was considered to be either a defensive end or tight end and became a tight end. The other two players in the defensive class are no longer on the team.
The 2011 class -- the final class signed by former head coach Mike Sherman -- brought 13 defensive players. Deshazor Everett, a cornerback with ability to play safety, is currently the defense's best player. Safeties Howard Matthews and Floyd Raven and linebacker Steven Jenkins also emerged as starters out of that group. One of the big fish landed late in that class, defensive end Brandon Alexander, has rarely played. He's now getting some playing time at tight end. Linebacker Donnie Baggs entered this season as the starting middle linebacker but is now a reserve. Tyrell Taylor is rotating at defensive end. The rest of the group hasn't made any impact at all. Five players in that group are no longer with the program.
The 2012 class, the first one Sumlin signed after essentially two months on the job, had some holdovers that committed to the program under Sherman. It is a mixed bag. Four of those players are starting as either true sophomores (Julien Obioha at defensive end, Alonzo Williams at defensive tackle and De'Vante Harris at cornerback) or in one case, a senior (cornerback Tramain Jacobs, who was a junior college transfer). Defensive end Tyrone Taylor, brother of Tyrell, gets some playing time at defensive end. Edward Pope, who was a receiver/defensive back, is playing receiver for the Aggies. A car accident took away one member from that class -- defensive tackle Polo Manukainiu, who died in a crash in July and is being honored by the team every week this season. A spinal injury took away another member, linebacker Michael Richardson, who played as a freshman. He had successful surgery and was fortunate to not suffer any major physical issues, but is no longer playing football. Defensive back Kenneth Marshall, though on the team, was not part of the 105-man roster during preseason training camp. Linebacker Jordan Richmond transferred to Navarro College in the offseason and one player in the class, defensive tackle Edmund Ray, never made it to campus because of qualifying issues.
September, 16, 2013
9/16/13
3:00
PM CT
If only
Johnny Manziel
could have played defense.
Well, I guess he could have, considering Texas coach Mack Brown recruited him as a safety coming out of high school. Oh, what a show it would have been if Johnny Football went from schooling Alabama's defense with his arm and legs to intercepting one of
AJ McCarron
's passes.
But that's for PlayStation enthusiasts. In real life, Manziel did everything he could have to give the Aggies a second consecutive victory over a No. 1-ranked Alabama team. Instead, we're left applauding him for arguably the best performance in a loss to date.
[+] Enlarge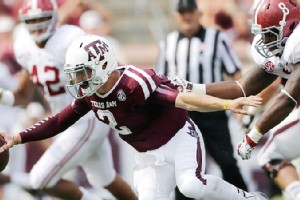 AP Photo/David J. PhillipJohnny Manziel kept escaping Alabama's grasp, and perhaps he escaped the criticism that followed him throughout the offseason.
Yes, Manziel's ill-timed interceptions helped Alabama pull off the 49-42 victory in College Station, Texas, on Saturday, but when you look at how Manziel brought his team back and was probably a converted onside kick away from sending Saturday's shootout into overtime, you can't help but be impressed with just how good Manziel is.
His Heisman Trophy should have been enough. But after a controversial offseason, we felt we needed to see more. Manziel
made sure we did
.
We bashed Manziel for his offseason escapades. From hanging with Drake, chillin' with LeBron, golfing in paradise and getting wrapped up in an autograph-signing controversy, we didn't think Manziel had enough focus to duplicate his record-breaking 2012 performance. We expected more fizzle in his encore.
Boy, were we wrong. For having so much fun off the field, it's clear that when Manziel was around the football during the offseason and in fall camp, he was as focused as ever. He's grown as a passer and game manager. That actually might say more about him than anything. He really can mix business with pleasure and excel at both.
In the biggest game of his career, all Manziel did was throw for a school-record 464 yards with five touchdowns. He ran for another 98 yards. The 562 yards of total offense he registered against Alabama rank second all-time in SEC history.
When Alabama took what we all thought was a commanding 35-14 lead after
Vinnie Sunseri
intercepted Manziel and took his pass 73 yards to the house in the third quarter, Manziel shrugged and the Aggies drove 58 yards to make it 35-21. He then opened the fourth quarter with a four-play, 80-yard touchdown drive to make cut Alabama's lead to 42-28. Following a
T.J. Yeldon
fumble, Manziel hit
Mike Evans
for a 95-yard touchdown pass to make it 42-35.
After Manziel again drove down the field for a scoring drive to cut Alabama's lead to seven with 15 seconds remaining, he needed an onside kick to go his way. It didn't, but imagine if it did.
When we thought the pressure of the big game -- some dubbed as the new Game of the Century -- would get to him, he got to Alabama. And when Manziel had every opportunity to gloat and show up his opponent when the Aggies took an early 14-0 lead, he didn't. The taunting that tainted his short-lived debut in Week 1 was nowhere to be found.
Actually, it was Yeldon who was flagged for doing Manziel's patented money sign celebration and adding the infamous double throat slash.
For once, Manziel didn't play the role of villain. He just made play after play. He even had an Eli Manning-David Tyree moment when he somehow slipped out of
Jeoffrey Pagan
's attempted bear hug and heaved an errant pass off his back foot into traffic on third-and-8 that somehow found the mitts of wide receiver
Edward Pope
for a 12-yard gain.
But this wasn't just any 12-yard gain. The play began at Alabama's 34-yard line, but Manziel flamboyantly scampered around to avoid Pagan's sack before launching his pass from A&M's own 40 in front of four Tide defenders rushing toward him.
If that isn't the play of the year, it will only be because of some other wacky play Manziel makes later this season.
Manziel didn't win the game on Saturday, but he had to have won over many of the people saying he wasn't focused enough for another magical season.
So bring on the tweets, Johnny. Take a short trip to Toronto. Spend a night in Austin, Texas. It clearly isn't getting in the way of that thing called football.
May, 6, 2013
5/06/13
4:00
PM CT
2012 record:
11-2
2012 conference record:
6-2 (tied for second, West Division)
Returning starters:
Offense: 6; defense: 6; kicker/punter: 1

Top returners
QB
Johnny Manziel
, RB
Ben Malena
, OT
Jake Matthews
, WR
Mike Evans
, DT
Kirby Ennis
, OLB
Steven Jenkins
, CB
Deshazor Everett
, S
Howard Matthews
Key losses
LT
Luke Joeckel
, C
Patrick Lewis
, WR
Ryan Swope
, DE
Damontre Moore
, OLB
Sean Porter
, MLB
Johnathan Stewart
, FS
Steven Terrell
2012 statistical leaders (*returners)
Rushing:
Johnny Manziel* (1,409 yards)
Passing:
Johnny Manziel* (3,706)
Receiving:
Mike Evans* (1,105)
Tackles:
Damontre Moore (85)
Sacks:
Damontre Moore (12.5)
Interceptions:
Deshazor Everett* and Steven Terrell (2)
Spring answers
1. Johnny Football:
The Aggies are in the rare position of returning the previous season's Heisman Trophy winner. Heading into his sophomore season, Texas A&M is hoping that quarterback Johnny Manziel can be even better than he was a season ago. This will be his second year in the offense and for quarterbacks who have played in this system, year two is typically a season in which they progress significantly as passers. That's one of Manziel's primary goals, even though he'll still run when the time calls for it. As long as he's healthy and playing well, things bode well for the Aggies.
2. Experienced secondary:
Last season, the defensive backfield was young and inexperienced. This fall, there are still young players back there, but it is the most experienced unit on the Aggies' defense. Three of the four starters in the secondary from the AT&T Cotton Bowl are back: Deshazor Everett,
De'Vante Harris
and Howard Matthews. Junior
Floyd Raven
has moved from cornerback to free safety and appears to have the skill set (range and tackling prowess) to fit into the position well.
3. Loaded backfield:
The Aggies have four good options in their offensive backfield for Manziel to hand off or throw to. Starting running back Ben Malena returns, as does
Trey Williams
, who returned kicks and received carries as a true freshman. Add to the mix a pair of transfer backs who sat out last season,
Brandon Williams
(Oklahoma) and
Tra Carson
(Oregon) and the Aggies have a quartet that gives them a multitude of options.
Fall questions
PODCAST
Texas A&M coach Kevin Sumlin talks about the improvements being made to Kyle Field, what those improvements will to for the program, the success of last year, Johnny Manziel's offseason and the expectations for the Aggies in 2013.

Listen

1. Front seven:
The Aggies are looking for someone to replace the production that third-round NFL draft pick Damontre Moore brought last season. Moore led the team in tackles, tackles for loss and sacks a year ago. Also, with two senior leaders gone from linebacker (Sean Porter and Jonathan Stewart) Texas A&M not only has to replace the bodies but also the leadership. Because of injuries, the Aggies were thin up front in the spring but when all their key players return in the fall, it will ease at least some of those concerns. Keep an eye on names like defensive end
Julien Obioha
(who started opposite Moore last year), defensive tackle
Alonzo Williams
and linebacker
Donnie Baggs
as players who have a chance to see their contributions increase significantly this year.
2. New receivers:
Only one starting receiver returns from last year's squad: Mike Evans. Four of the top six players in receiving yardage are no longer on the roster, including second-leading receiver Ryan Swope. So who will Johnny Manziel throw to? Keep an eye on guys like
Malcome Kennedy
, who caught a fourth-quarter touchdown against Alabama last season,
Derel Walker
, who had a strong spring game,
Edward Pope
, who was a star on the scout team when he redshirted last year and a host of recruits from the 2013 class like
Ja'Quay Williams
and ESPN 150 duo
Ricky Seals-Jones
and
Sebastian LaRue
. Developing other reliable pass-catching options is critical, so keep an eye on how they use the tight ends with newcomer
Cameron Clear
(6-foot-7, 270 pounds) on campus.
3. Kicking game:
One player who fans kept a close eye on this spring was kicker
Taylor Bertolet
. In his redshirt freshman season, the strong-legged kicker struggled with consistency, hitting just 13-of-22 field goal attempts and missing seven point-after attempts. With a new special-teams coordinator (Jeff Banks) who has college punting and kicking experience around to guide him, the Aggies are looking for an improvement from Bertolet this fall. Also the Aggies are working in a new punter,
Drew Kaser
, who takes the reins after senior
Ryan Epperson
graduated.
January, 31, 2012
1/31/12
12:21
PM CT
The big day is so, so close. National signing day will get started bright and early Wednesday morning, but it's time to take a look at where the Big 12 teams sit with one day left before players can officially sign.
This will change quickly in the next couple days, but here's how they look before things get real crazy. Here's
how the rankings looked two weeks ago, when we last updated the Big 12 scorecard.
This scorecard is written in pencil. Tomorrow, players will sign in ink.
1. Texas Longhorns
National ranking:
No. 3
Total commits:
27
ESPNU 150 commits:
11
Key commits
: RB
Johnathan Gray
, DT
Malcom Brown
, WR
Cayleb Jones
, QB
Connor Brewer
Latest news:
Texas recently added the nation's No. 1 inside linebacker, former Tennessee commit Dalton Santos. That may help its national ranking, which fell from No. 2 to No. 3 since our last update. The Longhorns also added No. 14 ATH Daje Johnson, a former TCU commit. Both were ESPNU 150 prospects. Texas also added defensive end Bryce Cottrell, who had previously been committed to Oregon.
2. Oklahoma Sooners
National ranking:
No. 10
Total commits:
20
ESPNU 150 commits:
5
Key commits:
RB
Alex Ross
, WR
Sterling Shepard
, WR Durron Neal, OL Ty Darlington, WR Trey Metoyer
Latest news:
Oklahoma surpassed Texas A&M since our last update, and added Sam Grant, the nation's No. 18 TE. David Smith, the nation's No. 124 ATH, also joined the fold for the Sooners. One of the nation's top juco offensive tackles, Will Latu also pledged to Oklahoma and could make an immediate impact. Oklahoma swiped Zack Sanchez on Monday, a cornerback who had been committed to Baylor since July.
3. Texas A&M Aggies
National ranking:
No. 12
Total commits:
22
ESPNU 150 commits:
5
Key commits:
OLB
Jordan Richmond
, RB
Trey Williams
, ATH
Bralon Addison
, QB
Matt Davis
Latest news:
The nation's No. 33 defensive end,
Polo Manukainiu
, became a late addition to the Aggies' class, and the nation's No. 30 safety, Edward Pope, also gave new coach Kevin Sumlin a commitment.
4. Texas Tech Red Raiders
National ranking:
No. 17
Total commits:
26
ESPNU 150 commits:
3
Key commits:
WR
Reginald Davis
, WR Dominique Wheeler, OT
Michael Starts
, QB Clayton Nicholas
Latest news:
The Red Raiders added juco cornerback Ola Falemi to their class, but look out for Tuberville on signing day. Switches on the big day are no surprises with him at Tech.
5. Baylor Bears
Total commits
: 22
ESPNU 150 commits
: 0
Key commits
: ATH
Corey Coleman
, OT Kyle Fuller, DT Javonte Magee, OLB Brian Nance
Latest news:
Baylor swiped Kansas QB commit Seth Russell, No. 47 nationally at the position, to make a big wave across the Big 12. It also grabbed cornerback Patrick Levels out of Dallas. Nance and Magee both pledged to Baylor after the new year.
6. Missouri Tigers
Total commits:
18
ESPNU 150 commits:
1
Key commits:
OG Evan Boehm, QB Maty Mauk, ILB Donavin Newsom, OLB Torey Boozer
Latest news:
Missouri may be in the lead in the DGB sweepstakes after hosting the nation's No. 1 receiver on a visit on the final weekend of the recruiting season. The nation's No. 105 ATH John Gibson and No. 151 DT, Harold Brantley, are the latest additions to Mizzou's class.
7. Oklahoma State Cowboys
Total commits:
21
ESPNU 150 commits:
1
Key commits:
TE
Dominic Ramacher
, OLB
Jeremiah Tshimanga
, OT Michael Wilson, QB Wes Lunt
Latest news:
OSU has added five commits since our last update, including Wilson, the nation's No. 22 offensive tackle. Receiver Chance Allen (No. 141) joins the squad as well. CB Kevin Peterson came to OSU after originally committing to Oklahoma. OSU also added receiver Jhajuan Seales. Juco offensive tackle Chris Grishby committed on Jan. 22.
8. Iowa State Cyclones
Total commits:
21
ESPNU 150 commits:
0
Key commits:
OT Daniel Burton, WR P.J. Harris, WR
Quan West
, ATH Damien Lawry
Latest news:
The Cyclones have two fewer commits than the last time we checked in, but added Devlyn Cousin, the nation's No. 154 defensive tackle.
9. Kansas State Wildcats
Total commits
: 18
ESPNU 150 commits
: 0
Key commits:
WR
Vernon Vaughn
, DT Travis Britz, RB Jarvis Leverett, QB Tavarius Bender
Latest news:
Kansas State added five commitments in the last two weeks, highlighted by Demonte Hood, the nation's No. 111 DT. RB Charles Jones is headed to Manhattan via Louisiana, too. S Donovan Starks is coming from Crosby, Texas, and receiver Judah Jones is a Wildcat after wrapping his high school career at power Evangel Christian in Louisiana. OT Ellwood Clement gave K-State five juco players in this class, low by Bill Snyder's standards.
10. Kansas Jayhawks
Total commits:
18
ESPNU 150 commits:
0
Key commits:
TE Jordan Smith, OG Brian Beckmann, S Gregg Allen, DT Tyler Holmes
Latest news:
New coach Charlie Weis has added four commits since our last update. QB Seth Russell, the team's top commit, is gone, but the Jayhawks have the QB spot settled for the next three years with transfers Dayne Crist and Jake Heaps. Greg Allen (No. 89 safety) is the top new addition, and Charles Brooks gives the class a second tight end. The Jayhawks also added a pair of juco defensive tackles that figure to have immediate impacts, Chaquil Reed and Jordan Tavai.