Dallas Colleges:

Elijah Johnson
February, 6, 2013
2/06/13
11:58
PM CT
It left Kansas fans disgusted, TCU fans dumbstruck, and Horned Frogs coach Trent Johnson wandering among court-storming students, offering high-fives and twirling around and looking like a man who had no idea what to do next.
It was the biggest upset of the season. It was also the weirdest.
Wipe your eyes as many times as you like. It happened. The previously 9-12
TCU Horned Frogs
, losers of their previous eight games, owners of the 330th-ranked efficiency offense in the country prior to Wednesday night, really did upset the No. 5-ranked
Kansas Jayhawks
62-55 in Fort Worth
-- the first win over a top-five team in program history.
The obvious question is:
How?
How does a team so good, so routinely effective both at home and on the road, lose to such a dismal outfit like TCU?
Here's where the weirdness comes in: Kansas shot just 29.5 percent from the field -- 18-of-61 -- and just 3-of-22 from beyond the arc.
Ben McLemore
, the man who saved Kansas from a home upset to Iowa State with a 33-point, 10-for-12 night Jan. 9, went just 6-of-16 from the field and 0-of-6 from 3.
Jeff Withey
was effective but rarely touched the ball. Reserve guard
Naadir Tharpe
attempted a borderline-shocking 15 field goals -- Tharpe should
never
shoot the ball 15 times -- and made just two of them. And then there was
Elijah Johnson
, who, already firmly ensconced in Bill Self's doghouse, continued not only his shooting slump but his streak of poor decision-making and ill-timed turnovers.
[+] Enlarge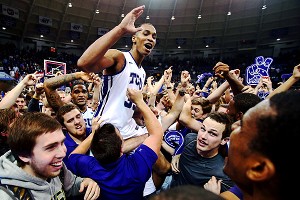 Kevin Jairaj/USA TODAY SportsGarlon Green gets the hero treatment after his game-high 20 points in the upset of Kansas.
It would be unfair to place all the blame for the loss at the Jayhawks' feet, to ignore what TCU did well in its own right. So: The Horned Frogs drew 29 fouls and shot 38 free throws, not all of which were the product of the Jayhawks' last-ditch attempts at a comeback. Johnson's team -- who you don't know, but which includes guys with awesome names like
Nate Butler Lind
,
Connell Crossland
,
Adrick McKinney
,
Garlon Green
and
Kyan Anderson
, and that's just the starters -- made enough of those free throws down the stretch to maintain a lead. It also took care of the ball when it needed to, grabbed timely rebounds, and got stops. Kansas doesn't shoot 30 percent in an empty gym.
Even so, you couldn't watch this game and not come away more willing to indict Kansas than praise TCU. I mean, good for the Horned Frogs -- this is a rare moment in the sun for a program with almost no historical relevance whatsoever, and it should be enjoyed as such. But it was Kansas that failed to pressure the Horned Frogs well enough to generate easy points; it was Kansas that squandered mini-run after mini-run, and flung brick after increasingly forlorn brick into the unforgiving iron.
All the while, TCU fans -- who were possibly out-attended by Kansas fans -- had no idea what to do. At one point, the ESPNU cameras showed the Horned Frogs cheerleaders jumping around and cheering seemingly at random, and while cheer groups do that all the time, I
joked
that it was probably because they hadn't drilled for the possibility of actually, you know, cheering. It felt that way: TCU fans mustered a "T-C-U, T-C-U" midway through the second half, but mostly they just seemed to sit there and do their best to process the weirdness happening in front of them.
Then they stormed the court.
That's when Johnson, in a move reminiscent of the classic clip of NC State coach Jim Valvano, started to walk off the court, then thought better of it, then offered a few high-fives to onrushing fans -- he, like the rest of the arena, looked like he had no idea what to make of anything happened around him.
Understandably so. It was that big -- and that weird -- of an upset.
January, 5, 2013
1/05/13
10:30
AM CT
As conference play begins this week, it has become pretty obvious that Kansas is best team in the Big 12. Again.
But who comes next?
Baylor, Oklahoma State, Kansas State and Iowa State all have solid squads with somewhat similar resumes. Ranking those four schools -- and the rest of the league -- isn't easy, but here's how I see things as we near the season's midway point.

1. Kansas.
While most other schools open Big 12 play this week, the Jayhawks will host a Temple squad on Sunday that defeated previously unbeaten Syracuse last month. Point guards
Elijah Johnson
and
Naadir Tharpe
combine to average 8.1 assists.
2. Oklahoma State.
The Cowboys appeared to have Gonzaga beaten on New Year's Eve in Stillwater before the Zags battled back for a 69-68 victory. Still, the Cowboys -- who got 23 points from
Marcus Smart
-- should be encouraged by their gutsy performance.
3. Baylor.
The Bears have looked much better their past two outings, drubbing BYU at home before falling by seven points against a very strong Gonzaga squad in Spokane, Wash. They can't afford to lose home games against lesser foes. That includes Texas, which visits Waco on Saturday still without point guard Myck Kabongo.
4. Iowa State.
The Cyclones are off until their Big 12 opener at Kansas on Jan. 9.
Will Clyburn
and
Tyrus McGee
are averaging a combined 27.5 points.
Melvin Ejim
leads the team with 9.2 rebounds. It's not absurd to say that Iowa State could finish as high as second in this league.
5. Kansas State.
The Wildcats are playing hard for their new coach, Bruce Weber. But it's not always pretty. K-State has looked mediocre since it defeated Florida Dec. 22 in Kansas City. Weber's squad is good defensively while ranking 21st in the country in rebounds per game. But K-State has trouble scoring.
6. Texas.
Freshman point guard
Javan Felix
hasn't been all that bad in replacement of suspended sophomore Kabongo. Felix averages 6.5 assists. The Longhorns (8-5) have some serious work to do in conference play if they hope to keep their streak of 14 consecutive NCAA appearances alive.
7. Oklahoma.
The Sooners are good enough to sneak up and beat anyone in this conference. But to contend for a postseason berth, Oklahoma needs to win some games on the road. It all starts Saturday with a tilt against West Virginia in Morgantown.
8. West Virginia.
The Big 12's most disappointing team can't afford to lose Saturday's home game against Oklahoma. Transfers
Juwan Staten
and
Aaric Murray
combine to average only 21.8 points.
9. Texas Tech.
The Red Raiders will hit the road for the first time this season for Saturday's game against TCU in Fort Worth. Texas Tech (7-4) is getting 15.2 points per game from
Jaye Crockett
.
10. TCU.
Saturday's home game against Texas Tech may be the best chance TCU will have at a conference win all season. Sophomore guard
Kyan Anderson
has been the Horned Frogs' steadiest player, with 13 points per game.
October, 18, 2012
10/18/12
4:00
PM CT
Here are five storylines I look forward to following in the Big 12 this season.
What I can't wait to see:
How will Kansas replace Thomas Robinson?

I know the Jayhawks have the goods to make a run at their ninth consecutive Big 12 title.
Jeff Withey
proved his worth in last season's run to the Final Four. He's one of the top interior defenders in America. And he has spent a lot of time working on his mid-range game. He should be a different player this season.
Highly touted recruit
Perry Ellis
joins the fold. I think
Elijah Johnson
can carry the program. And
Ben McLemore
is a projected lottery pick on some boards. Losing Tyshawn Taylor and Thomas Robinson will hurt, but it's not as though Bill Self hasn't replaced top-notch talent in the past.
Robinson, however, was an emotional leader for the team as much as he was its top player a season ago. There were moments in which the Jayhawks appeared to be on the brink of collapse and he simply willed them to a victory. I think that's the one question facing this team. Who's that guy right now? Perhaps it's Withey or Johnson. But someone clearly has to assume that role early, especially with so many young players in the mix. A failure to identify a player in that vital position could prove detrimental in Big 12 play.
What is Oklahoma State's ceiling?
Oklahoma State should challenge Kansas and Baylor for the Big 12 title. "Should" is the key word. But the Cowboys will fulfill their potential only if they find a way to play disciplined basketball, a challenge for the program last season.
It just didn't make sense for a program with this talent (
Le'Bryan Nash
,
Markel Brown
) to struggle the way it did last season (15-18, 7-11 Big 12). Freshman
Marcus Smart
has been listed as one of the top young point guards in America. If he can bring Oklahoma State's talented contributors together and teach them to man up on defense, Travis Ford could have a special year with this program. That, however, is the biggest "if" in the Big 12.
How will Bruce Weber and Bob Huggins fare in the Big 12?
The league welcomes Kansas State's Bruce Weber and West Virginia's Bob Huggins to the mix this season. Both coaches found success in their former leagues (Big Ten and Big East, respectively). And I think they have the talent to make a great first impression (though Huggins coached at Kansas State, so he has been in the Big 12 before) in 2012-13.
Rodney McGruder
and
Jordan Henriquez
give Weber the building blocks for a successful debut. Weber scored solid recruits at Illinois, but he couldn't meet expectations after the program's Final Four run. The expectations at Kansas State should be more modest, which should allow Weber to coach comfortably and challenge for a spot in the top tier of the league.
Huggins might have a sleeper in West Virginia. The Mountaineers are all over the board on preseason projections. But
Deniz Kilicli
and a heap of impact transfers (
Juwan Staten
,
Aaric Murray
and
Matt Humphrey
) form a nucleus that could surprise the conference in 2012-13.
Last place goes to TCU or Texas Tech?
Both teams are hurting. Texas Tech lost Billy Gillispie during a highly publicized offseason mess. And according to players, that's what they wanted. But even with him, Texas Tech's chances of escaping the bottom of the league were slim with only six scholarship players returning from last season's 8-23 squad. Trent Johnson introduces TCU to the league in what could be a very humbling debut. Johnson just doesn't have a lot of talent on the roster. He'll certainly take his lumps early. He already has added some pieces that will be available for the future. But for both TCU and Texas Tech, 2012-13 will be a tough season.
Can Baylor put it all together and upset Kansas?
Baylor is America's "on paper" team. On paper, last season, the Bears looked like national championship contenders with Quincy Miller, Perry Jones and Quincy Acy. They were good. But various challenges throughout the season brought criticism to Waco. Even though they reached the Elite Eight, the Bears didn't seem to come together until March. In 2012-13, Scott Drew has a roster that can challenge Kansas for the Big 12 title. He has one of the best backcourts in America (
Pierre Jackson
,
Brady Heslip
,
Deuce Bello
,
Gary Franklin
and
A.J. Walton
) and he's bringing in one of the top freshmen in the country in
Isaiah Austin
. If he can get this group to play to its strengths, Baylor will be the Jayhawks' toughest challenger for the Big 12 crown. The potential, once again, is very high. But seeing is believing with the Bears.
April, 2, 2012
4/02/12
12:00
PM CT
NEW ORLEANS -- Iowa State and Baylor have played each of the participants in Monday night's NCAA championship game between Kentucky and Kansas. Here is a breakdown of each team by the head coach of each program as well as a player.
IOWA STATE HEAD COACH FRED HOIBERG

You've got the two elite shot-blockers in the country in
[Jeff] Withey
and
Anthony Davis
. The big thing for Kansas is their transition game. They're so good at getting out and running. Against Kentucky, if you're setting up in the half court every time down the floor, you're going to be grinding it out against that length and athleticism. It's going to be very difficult to score. From Kansas' standpoint, the more they attack, they better off they'll be. They've got players capable of doing that with
[Tyshawn] Taylor
and
[Elijah] Johnson
spacing the floor. I really think they need to attack before Kentucky gets a chance to set up in that half-court defense where they're so effective. For Kentucky, Anthony Davis can do so many things. He's expanded his game as the season has gone on. You have to be so selective on when you try to take it at him, because when he blocks a shot, it usually leads to a layup on the other end.
When Kentucky is in their transition game, you're not going to stop them, so the other thing Kansas has to do a good job of is taking care of the basketball. They've got to limit their turnovers and get up quality shots, and try to get Kentucky into a half-court game going back the other way, which is pretty tough to do. When Kentucky is hitting shots, they're almost unbeatable. It starts with
[Marquis] Teague
. If he can get that thing out there and beat everyone in transition, everyone collapses in. That's how they get all those lobs. If you can take away those highlight plays by Kentucky, that hurts their mojo a little bit. But they're so fast and explosive, that's very difficult to do.
With Kansas, Bill [Self] has done as good of a coaching job as anyone in the country this year. You look at what they lost, with the Morris twins and [Brady] Morningstar and [Tyrel] Reed ... Bill still found a way to build his new guys up and to get them to play with so much confidence. That's a testament to Bill and his staff. Bill is as good as there is in this business. It's fun to compete against him, and it's great to have him in our league. Tyshawn is the key to their team. He's what makes them go. He gets it up and down the floor so quickly. You've got to do your best to stay in front of him. They're using a lot of pick-and-roll in their offense. Tyshawn has handled that very well and shown he can make the right decisions. They're so precise in their offense. I think they've got a shot. Don't ever count out Bill Self. Every time they look like they're down and out, they find a way to come back. If Kentucky is hitting their shots, there just isn't much you can do. But if they're having an off night, and Kansas is hitting their shots, they have a very good chance to win.
IOWA STATE GUARD SCOTT CHRISTOPHERSON

[The Wildcats] have great length at pretty much every position. Even if they don't call out a screen quick enough, they can just switch everything because they [have] such a great help side on their defense. They can cover up minor mistakes. When we played them,
[Darius] Miller
played really well. Teague played really well. He hit some outside shots. When those two and
[Doron] Lamb
are hitting their outside shots -- combined with their inside game -- they're pretty much impossible to stop. On defense, they have guys that are good perimeter defenders, but more than anything, even if you are able to get by them, they have such good length, even on the help side. ... You're just not used to playing against guys like Anthony Davis and
[Michael Kidd-]Gilchrist
and Jones -- guys that can just come from the weak side out of nowhere and get your shots. We shot the ball very poorly from 3 because we had never seen length like that. At times you're actually able to get into the paint on them. I'm not saying they're not good perimeter defenders, because they are. But it's not like they're impossible to get by.
The problem is that you have to expend so much energy getting by them, and then you've got Anthony Davis waiting for you at the rim -- it poses a lot of problems. If you've got a guy on the low block that can really be physical, it will certainly help. Kansas will be able to utilize
Thomas Robinson,
because he's physical and very strong. I'm sure Kansas is hoping he'll be able to get some easy baskets inside and maybe draw some fouls on Kentucky's big guys. The biggest thing is just getting the ball moved from one side of the court to the other. If you come down and just have it sit on one side and try to break Kentucky down that way, with their length, you're not going to be very successful. I would try to drive the ball into the paint and kick it out as many times as I could. But I'd get as many paint touches as I could and get the defense distorted as much as possible. And if you can get out in transition and get some easy buckets, that will help your confidence, too. Kansas has always been very good in transition.
With Kansas, we were able to do a good job of mixing up our post defenses on Robinson. Defensively, we played about as well as anyone did against them in both of our games. You're going to have to rebound and be physical with them. Defensively they're always in position. They're very well-coached, very disciplined. You just have to be very sharp and solid. You can't try to be a hero against them. You have to make simple plays and play very hard. I think Kentucky's length makes them a little bit better defensively, just because they've got guys like Kidd-Gilchrist that can guard the 4-man or the point guard. But Kansas, year-in-and-year-out, is the best team in the Big 12 defensively. Withey has come a really long way. He does a good job of doing what he does. He blocks shots, runs the court, rebounds, finishes around the rim. To me, the difference in the game is going to be who wins between Doron Lamb and Darius Miller, and Elijah Johnson and
Travis Releford
. And Tyshawn Taylor has to outplay Teague. Johnson is a really good defender. And when he's able to stretch the defense with his perimeter shot, it does a lot of things for Kansas. When you have to close out long on him, it gives Robinson so much more room to work on the inside.
BAYLOR HEAD COACH SCOTT DREW

You have to score in transition if you want to have any shot of beating Kentucky. You can't just hope to score in the half court against them. They're so good defensively. You have to get easy ones when you can. When you can't, you really have to make them work on the defensive end. Kansas will do that. But you also have to get some easy ones, and Kansas has always done a great job of pushing it. If Kansas is scoring and not turning it over, that means Kentucky isn't getting out and running. And if Kentucky isn't getting out and running, Kansas has a chance. Sometimes people make the mistake of saying, 'OK, we want to slow it down and play a half-court game against Kentucky.' That means they never push it and get easy buckets. I don't know if you can score enough to beat them if you slow it down.
Juniors and seniors don't want to go home. Kansas is very good, but out of almost all of the good tournament teams, they've had the most experience. They start all juniors and seniors, and juniors like Releford and Withey are four-year guys. They're starting three fourth-year guys and two true juniors. That's a veteran group. The more experienced at something, the better you are at what you do. They've been there, done that. It may mean more to them because they've been there three or four years. So they have the experience, but they also have that mental toughness. Winning a national championship may mean more to them than it does a freshman.
When Withey is on, Kansas goes to another level. You know what you're going to get night in and night out from Tyshawn and Thomas. But if you had Withey knocking down shots and rebounding and scoring, they're on another level. In their two wins against us, he was the difference. Tyshawn Taylor is probably the main key, though. If you keep Tyshawn from getting it in the paint, and if you can keep him from creating for others ... you can guard Thomas Robinson if you don't give him angles and just play solidly behind him. And Withey, if he doesn't catch it deep, I don't know how bad he's going to hurt you. But the reason Robinson is able to get angles, and the reason Withey is able to catch it deep is because of Tyshawn's ability to get into the paint. He's as good with his first step and at blowing by defenders as any point guard in the country.
BAYLOR GUARD BRADY HESLIP

[Kentucky's] athleticism can be overwhelming, even to us. They've got five guys that can handle the ball. Their outlet passes are so impressive. One second after they rebound, the ball is at half court. They get out in transition so quick. They can all handle it. It makes things easy for them. Defensively, Anthony Davis gets a lot of attention for blocking shots, but the guys on the perimeter really pressure the ball. I was watching yesterday, and Louisville would dribble around for 15 or 20 seconds because they were having so much trouble getting it into the paint and getting Kentucky in foul trouble.
Teague can guard. He's fast. Tyshawn Taylor is probably a little stronger than him. Lamb is strong. Kidd-Gilchrist can defend 1 through 4. Jones is so physical, and then Davis has that great length. You've got to do a good job of answering their runs and hope to get some easy baskets. When you try to slow it down, on defense they can really stop you. They forced us into taking bad shots, and they forced us into turnovers. Those result in the first pass of their transition offense. They run the floor and convert it, and get to the free throw line.
Kansas is an amazing team with all of their pieces. They've got strong guys that are athletic and physical. They play well and they defend. Kentucky, statistically, is the best defensive team. But Kansas on defense is ridiculous. They rotate like a machine. They've got Withey blocking shots. Releford is a great defender, and so are Taylor and Johnson. Those guys are relentless on defense, and they can get out and run, too. It should be an up-and-down game. Taylor is the key for them. At this time of year, you've got to have a great point guard to still be playing. He does a great job of scoring and making things happen, because he's so athletic. Once he gets going, that's a tough freight train to stop. He does a great job of getting into the paint. If he gets into the paint against Kentucky and guys help out, he can throw lobs to Robinson and Withey. I think it could be a good game. Kansas is too good of a team and Bill Self is too good of a coach to let it get out of hand. It'll be a close game.