Dallas Colleges:

Elvis Fisher
September, 7, 2011
9/07/11
12:30
PM CT
Let's take a little look around the markets across the Big 12 after one week of games.
Rising: All of Baylor's everything
With Friday night's win over No. 14 TCU, Baylor jumped from a team that didn't receive a single vote in either poll to begin the season, to No. 20 in the media poll and No. 26 in the coaches poll. Who says moving games to Friday nights is a bad idea? It paid off huge for Baylor. After the win, quarterback
Robert Griffin III
made the short trip up I-35 to Cowboys Stadium for an appearance on "College GameDay" Saturday morning. The Bears were also named the Fiesta Bowl's national team of the week. Is there a hotter team after Week 1? And how much of that fire would be doused if the Bears had played on Saturday afternoon?
Falling: Missouri's outlook
Maybe more than it should, but the Tigers were unimpressive offensively, even if the blame for it fell too heavily on first-time starter
James Franklin
's shoulders at quarterback. But the fact remains: Missouri's offense isn't very explosive, and won't be more explosive with the loss of its biggest home-run hitter,
Kendial Lawrence
. Lawrence raced for a pair of 80-yard touchdown runs against Texas Tech last year. He broke his fibula on Saturday, and the Tigers will be without defensive end Jacquies Smith, linebacker Will Ebner, left tackle Elvis Fisher, center Travis Ruth and wide receiver
Jerrell Jackson
when they play Arizona State on Friday. All were starters.
Rising: Darrin Moore
I'm not going to use the "M-C" word about the Texas Tech senior who was a junior college transfer, but was Saturday night the beginning of something huge? I wouldn't rule it out. How many players in the country can rack up 12 catches, 221 yards and a touchdown against anyone? Yeah, it was against Texas State, but
Justin Blackmon
had eight catches for 125 yards and three touchdowns against Washington State last year. At 6-foot-4, and 214 pounds, keep an eye on Moore.
Falling: Skepticism around Texas' return to prominence
Count me among those that is starting to become a believer. I don't think BYU will be as good as I thought they'd be this offseason, but I'm starting to come around on the Longhorns this year. I thought
they'd have more success running the ball than most people thought
, but the emergence of
Jaxon Shipley
is a huge deal for them, and gives
Garrett Gilbert
even more help. So, here's my pledge, Texas: Beat BYU, and you're in my top 25. Blow them out? In my top 20.
August, 29, 2011
8/29/11
10:51
AM CT
Oh, yes.
It is game week
.
Today is Monday, which means we'll kick off our weekly power rankings and continue doing so each week throughout the season.
1. Oklahoma:
The Sooners are clearly the class of the Big 12 but will have to start proving it early with a hyped trip to Tallahassee to face a Florida State team that yours truly thinks is a bit overrated. Saturday, though?
Landry Jones
and
Ryan Broyles
will open the season at home against an underrated Tulsa team that won more games in 2010 than Florida State but will
travel to Norman perhaps without its top playmaker,
Damaris Johnson
.
G.J. Kinne
is great, but he'll have to be spectacular for the Golden Hurricane to be a serious threat.
2. Oklahoma State:
The Cowboys gave college football fans a treat with the return of
Brandon Weeden
and
Justin Blackmon
, who will kick off their encore seasons against Louisiana-Lafayette, a
team that spawned Weeden's trust in Blackmon originally last season.
The opener should be a snoozer, but next week's rematch of the Alamo Bowl against Arizona could produce big fireworks on a Thursday night national broadcast.
3. Texas A&M:
This is an absolute coin flip. Until the teams meet on Sept. 24, I'll probably flip OSU and A&M depending on who was more impressive the previous week. The Aggies will have the best chance to impress with a Sunday nighter against an underrated SMU team coming to Kyle Field with a crowd that could get a huge boost from the prospect of a future in the SEC,
which might be announced later this week.
4. Missouri:
We'll get our first real look at
James Franklin
when the Tigers suit up against Miami (Ohio). After struggling early in spring camp during his competition with Tyler Gabbert, Franklin has only gotten better. This week will be big for the Tigers' offensive line, which has to find a suitable replacement for stalwart left tackle Elvis Fisher, a 40-game starter who will miss the season with a torn patellar tendon. The Tigers' first big test is just six days from Saturday, when they travel to Tempe, Ariz.,to play Arizona State.
5. Baylor:
Baylor's new-look defense will get a pretty good test from TCU. The Bears are the Big 12's lone team matched up with a ranked opponent in Week 1. A win against the defending Rose Bowl champs with the nation's eyes watching a Friday night ESPN broadcast could be a big coming-out party for Art Briles and
Robert Griffin III
on a national scale.
6. Texas:
obody knows
what to expect from the Longhorns
, but we might find out who'll be starting at quarterback for the Horns later today. The defense, which has led the Big 12 in total defense the past four seasons, should still be stout in spite of a young secondary, but an amorphous offseason depth chart will take shape this week.
7. Texas Tech:
There are a lot of new faces on the field for the Red Raiders, but Year 2 under Tommy Tuberville will probably get off to a yawn-worthy start with FCS Texas State heading to Lubbock for the opener. Tech is a bit of a wild card that might be as good as the league's fourth-best team. This is probably as low on the power rankings as you'll see the Red Raiders all season.
8. Kansas State:
The Wildcats caught a break with Arthur Brown and
Bryce Brown
being
given limited immunity by the NCAA and avoiding eligbility issues from the mess at Miami
, but we'll finally get a chance to see K-State's hyped transfers take the field. Arthur Brown emerged as one of the defense's top playmakers during the spring, but what will Bryce Brown have to offer? And has
Collin Klein
improved enough as a passer to help the Wildcats claw into the next tier of Big 12 teams?
9. Iowa State:
The Cyclones might be better than this, but they're going to have to prove it. No one above them in the power rankings finished with a worse record last season. The Big 12 had only one team (Kansas) that finished with a record worse than 5-7. New quarterback
Steele Jantz
, replacing three-year starter Austen Arnaud, should be fun to watch.
10. Kansas:
Improvement is the name of the game for the Jayhawks, who dropped a game to an FCS team in Week 1 last year. It's doubtful we'll see a repeat against McNeese State this time around, but how much better will Kansas be? We'll get a better sense when the Jayhawks tangle with an underrated Northern Illinois team in Week 2 and ACC foe Georgia Tech the next week.
July, 19, 2011
7/19/11
3:56
PM CT
The Big 12 has released its All-Big 12 preseason team as voted on by the media, including yours truly.
Here's my ballot
, for reference.
And here's the preseason team, in all its glory.
OFFENSE
QB:
Landry Jones
, Oklahoma
RB:
Cyrus Gray
, Texas A&M
RB:
Bryce Brown
, Kansas State
RB:
Roy Finch
, Oklahoma
WR:
Justin Blackmon
, Oklahoma State
WR:
Ryan Broyles
, Oklahoma
TE:
Michael Egnew
, Missouri
OL:
Levy Adcock, Oklahoma State
OL:
Kelechi Osemele, Iowa State
C:
Ben Habern, Oklahoma
OL:
Lonnie Edwards, Texas Tech
OL:
Luke Joeckel, Texas A&M
DEFENSE
DL:
Brad Madison, Missouri
DL:
Ronnell Lewis, Oklahoma
DL:
Kheeston Randall, Texas
DL:
Frank Alexander, Oklahoma
LB:
Travis Lewis, Oklahoma
LB:
Jake Knott, Iowa State
LB:
Keenan Robinson, Texas
DB:
Coryell Judie, Texas A&M
DB:
Markelle Martin, Oklahoma State
DB:
Blake Gideon, Texas
DB:
Demontre Hurst, Oklahoma
SPECIALISTS

K:
Grant Ressel, Missouri
P:
Quinn Sharp, Oklahoma State
KR:
Coryell Judie, Texas A&M
PR:
Ryan Broyles, Oklahoma
AWARDS
Offensive Player of the Year:
Justin Blackmon, WR, OSU
Defensive Player of the Year:
Travis Lewis, LB, Oklahoma
Newcomer of the Year:
Malcolm Brown
, RB, Texas
Selections by team:
Oklahoma (9), Oklahoma State (4), Texas A&M (4), Missouri (3), Texas (3), Iowa State (2), Kansas State (1)
And a few thoughts:
Generally, I agree with most of the selections. Nothing was really shocking. Brandon Weeden vs. Landry Jones is pretty close to a coin flip, and let's not act surprised that the quarterback from the bigger program got the nod. Perception is reality, even if the numbers are so, so close. Jones has the Heisman hype coming into the season, certainly more than Weeden, based on little more than the possibility his team runs the table.
Running back is going to get a lot of attention, but let's not get riled up. This is going to sound bad, but believe me when I say I don't mean it to: Bryce Brown's selection is more an indictment of the returning talent at running back in the Big 12 than an endorsement of the hype surrounding Brown, who isn't even the clear-cut starter at K-State just yet. Here's what I wrote when I posted my ballot earlier this month. "The second running back spot is near impossible. Just about anyone might get it on the official vote when its revealed by the Big 12. You could realistically make a convincing case for James Sims, Eric Stephens, Joe Randle, Roy Finch and even newcomers like Malcolm Brown, Bryce Brown or Oklahoma's Brandon Williams. And that's the first team!" Well, there you go. For the record, I voted for Christine Michael, and still feel good about it.
Finch and Brown tied for votes, giving the Big 12 three running backs. There weren't three spots on the ballot. And it also explains how Malcolm Brown got Newcomer of the Year and Bryce Brown got first-team All-Big 12 running back, despite both being newcomers. It's a little confusing, I suppose, and maybe not everyone did it, but my guess is a lot of ballots had Finch as the first-team running back and Malcolm Brown as the Newcomer of the Year. Not all that surprising.
I originally had Luke Joeckel on my ballot, but took him off for Missouri's Elvis Fisher. I think Joeckel will end up being better, and maybe even by the end of this year, but right now, Fisher is the better lineman, and that's how I define the ballot. Perhaps others see it differently. There's no concrete rubric for this.
I'm not very surprised to see Ronnell Lewis and Blake Gideon grab spots on the team, though I voted for Tony Jerod-Eddie and Trent Hunter in those spots on my ballot. Second safety and defensive line were pretty tough for me to fill out. Neither spot is very deep in this league, and both Lewis and Gideon have two of the biggest names, which matters in a media vote.
Quite a huge gap between Oklahoma and the rest of the league. The Sooners had a lot of guys on my ballot that were close, but five more selections than anyone else in the league? That's impressive, and if ballot deadlines had been after Jamell Fleming's reinstatement, Oklahoma might have had 10 guys on the team. My ballot had Oklahoma State leading the way with seven selections, followed by Texas A&M with six and Oklahoma with five. My ballot also only had six teams represented. The media's Bryce Brown vote put Kansas State on the board, making it seven teams represented on the official team.
July, 18, 2011
7/18/11
3:36
PM CT
A week from today, college football will feel oh-so-close. The Big 12 will kick off its media days, slimmed down to two days with its new 10-team configuration, instead of 12 teams over three days like it's been in the past.
[+] Enlarge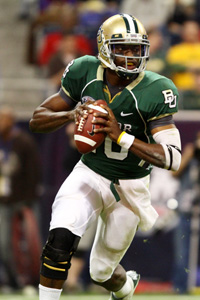 Thomas Campbell/US PresswireBaylor's Robert Griffin III will be attending Big 12 media days after missing last year's event.
I'll be there for every second of the action, with plenty of stories and videos, just like last year. Here's a look at
what we had for you every day
at media days last year.
You can expect more of that, and here's who we'll be dealing with here in Dallas.
Monday, July 25
Baylor
Oklahoma State
Missouri
Jacquies Smith, DE

Kenji Jackson, S

Elvis Fisher, OL

T.J. Moe, WR
Texas
Emmanuel Acho, LB

Keenan Robinson, LB

Blake Gideon, S

Fozzy Whittaker, RB
Texas A&M
Tuesday, July 26
Kansas
Steven Johnson, LB

Tim Biere, TE

Jeremiah Hatch, OL
Iowa State
Kansas State
Oklahoma
Texas Tech
I've got a lot of thoughts about this lineup:
Texas' quarterbacks haven't spoken to the media since the Thanksgiving Day loss to Texas A&M, and that streak won't end next week. Not that it necessarily should, at least not at this event. For better or worse, bringing a quarterback to media days implies a certain amount of confidence in said player, and every indication we got during the spring is that this race is wide open. Last year, Texas Tech brought both Steven Sheffield and Taylor Potts, and Mack Brown raised eyebrows when he brought his first-year starter, Garrett Gilbert, to media days before fall camp and before his first-ever start. He won't be making a return trip in 2011.

Kansas State's contingent is rather telling. If Bill Snyder was trying to temper the hype surrounding Arthur Brown, he wouldn't bring the transfer who has never played a game for Kansas State to Dallas. But Brown is coming, and his brother, running back Bryce Brown, isn't. That's plenty telling. As is Collin Klein's presence. It's not like Kansas State is starved for marketable talents. Cornerback David Garrett would fit in nicely, but he won't be coming. It's not explicit, but Klein will enter fall camp with the lead in the quarterback race, but Snyder has to feel good about him at this point. Bryce Brown's role on this team is still a bit unclear with Robert Rose and John Hubert still competing with him for carries, but I'm still feeling very good about making Arthur Brown my pick for Big 12 Newcomer of the Year. Except for Texas Tech quarterback Seth Doege, he's the only player in the entire league to come to Big 12 Media Days without at least a season of starting experience, and Doege at least has one start on his resume.

Serious, serious star power in Oklahoma and Oklahoma State's crews. Some of the biggest names in college football will be heading down to Dallas from just up north across the state line. Landry Jones will be making his first trip this year, as will Justin Blackmon. Weeden, Lewis and Broyles all attended in 2010. Another good bunch from A&M this year, too.

Glad to see Iowa State bring Kelechi Osemele to Dallas. He's a quiet star in this league who's been one of its best linemen for a couple seasons now. He'll finally get a bit more exposure in his first trip to media days. I'm a little surprised to see ISU bring Darius Darks, though, instead of Darius Reynolds, who Paul Rhoads went out of his way to praise this spring. That said, Darks is a solid choice as a co-captain and a contributor for three seasons heading into 2011, vs. Reynolds, a high-profile juco transfer who only emerged as a major contributor in 2010 after a quiet 2009.

Baylor's Robert Griffin III is back on Baylor's wagon after sitting out last year's media days to give the cameras and notepads a chance to get to know his teammates (and avoid about 4,000 questions about his knee, which was clearly fine last season).