Dallas Colleges:

Eric Crouch
June, 5, 2012
6/05/12
10:26
AM CT
Yesterday, I
unveiled my list of the best Big 12 seasons of all-time
, but there were plenty of seasons that got left out.
In no particular order, here are the best of the rest:
Colt McCoy, QB, Texas, 2008:
McCoy carried the Longhorns to a BCS bowl win and a win over national title participant and Big 12 champion Oklahoma while throwing for 3,859 yards, 34 touchdowns and just eight interceptions. Most impressive? He completed just under 77 percent of his passes. Crazy.
Jason White, QB, Oklahoma, 2003:
White racked up 3,846 yards passing with 40 touchdowns to just 10 interceptions, and won the Heisman Trophy and Davey O'Brien Award. The Sooners went undefeated in the regular season, but lost in the Big 12 Championship and national title games.
Robert Griffin III, QB, Baylor, 2011:
Griffin did the unthinkable and brought a Heisman Trophy to Baylor, as well as a 10-win season. He threw for 4,293 yards, 37 touchdowns and just six interceptions. He also ran for 699 yards and completed 72.4 percent of his passes.
Darren Sproles, RB, Kansas State, 2003:
Sproles led the nation with 1,986 yards and 16 touchdowns, leading K-State to its only Big 12 title with an upset of No. 1 Oklahoma, soundly beating the unbeatable Sooners, 35-7. Sproles ran for an eye-popping 235 yards and caught three passes for 88 yards, including a 60-yard touchdown.
Justin Blackmon, WR, Oklahoma State, 2010:
Blackmon caught a touchdown pass and topped 100 yards in every game he played all season, winning the Biletnikoff Award (he'd do it again in 2011) and putting together the league's best individual season of 2010. He finished with 1,782 receiving yards, 111 catches and 20 touchdowns.
Graham Harrell, QB, Texas Tech, 2007:
Harrell threw for a country mile and then some, topping 5,700 yards in Texas Tech's pass-happy offense (713 attempts in 2007) under Mike Leach and throwing 48 touchdowns to just 14 interceptions.
Michael Crabtree, WR, Texas Tech, 2007:
Tech had a more memorable season as a team in 2008, but Crabtree's first of two Biletnikoff-winning seasons was better. He finished with a Big 12-record 1,962 receiving yards and 22 touchdowns on 134 catches.
Eric Crouch, QB, Nebraska, 2001:
Crouch carried the Huskers to the national title game in 2001 despite a Big 12 Championship Game loss, throwing for 18 touchdowns and running for 19 more. He rushed for 1,178 yards and threw for 1,115 to win the Heisman Trophy and Davey O'Brien Award.
Troy Davis, RB, Iowa State, 1996:
Davis finished second in the Heisman voting after carrying the ball 402 times for 2,185 yards and winning Big 12 Offensive Player of the Year honors in the league's inaugural season. That's not enough for you? It was his second consecutive 2,000-yard rushing season.
Roy Williams, S, Oklahoma, 2001:
Williams is best known for his "Superman" play that sealed a Red River victory over Texas, but he had 12 tackles for losses and five interceptions that season. He also recovered two fumbles, returning one for a touchdown. Williams revitalized the safety position in the Big 12, bringing some bulk to the position and playing closer to the line of scrimmage. He earned the Nagurski Trophy and Thorpe Award that season.
Chase Daniel, QB, Missouri, 2007:
Daniel took Missouri to the No. 1 ranking entering the Big 12 Championship Game and put Missouri football on the map. He finished with 4,306 yards, 33 touchdowns and 11 interceptions in the best season ever under Gary Pinkel. He also completed 68 percent of his passes and rushed for four scores.
Michael Bishop, QB, Kansas State, 1998:
Bishop carried Kansas State to an undefeated regular season before losses in the Big 12 title game and Alamo Bowl. He threw for 2,844 yards, 23 touchdowns and four interceptions, while also running for 748 yards and 14 touchdowns.
April, 17, 2012
4/17/12
12:56
PM CT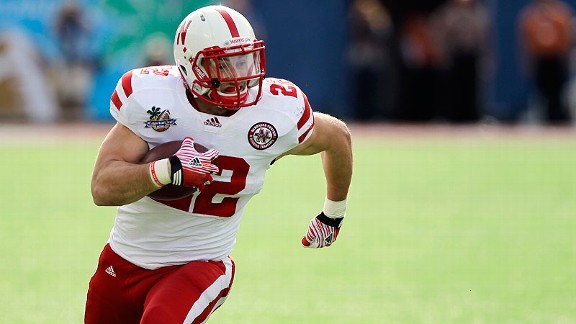 AP Photo/John RaouxRex Burkhead may not be flashy but he's one of the Big Ten's most consistent and valuable players.
Even if the weather had cooperated Saturday, Nebraska running back
Rex Burkhead
wouldn't have received much work in the spring game.
Burkhead, a Plano product, has nothing to prove to his coaches, to his teammates or to the tens of thousands of Huskers fans who would have been in attendance. If there's one player who doesn't cause angst in that football-crazed state, it's Burkhead, who earned first-team All-Big Ten honors (coaches and media) last fall after rushing for 1,357 yards and 15 touchdowns. While Bennett and I could do a poll on Nebraska's most popular player, I think we'd be wasting our time and yours. The guy they call "Superman" would win in a landslide.
But Burkhead's name doesn't resonate nationally like it does in Nebraska or within the Big Ten footprint. It's puzzling for those who watch him play, like the Omaha World-Herald's Lee Barfknecht, who recently wrote about
Burkhead's uphill climb for Heisman Trophy consideration
. It's a topic I've been asked about several times on Nebraska radio stations in recent months, and one that will continue to be explored as the 2012 season approaches.
Barfknecht makes a convincing case for Burkhead, calling him "the most valuable offensive weapon at Nebraska since quarterback Eric Crouch did it all in 2001 while winning the Heisman." Anyone who watches Burkhead can appreciate his approach to the game, his consistent performances and his value to Nebraska's offense. He's also a
star off of the field
.
He has shown versatility, durability and reliability throughout his career.
But that's part of the problem, at least when it comes to national perception.
From Barfknecht's story:
His Heisman problem is that in today's Look-At-Me Generation, guys like him don't get many looks. ... Others will argue that Burkhead won't have the sexy plays -- those signature "Heisman moments" -- of other candidates. His long runs at Nebraska have been 34 yards as a freshman, 33 yards as a sophomore and 52 yards as a junior. As for 100-yard games, he has 10 in his career with a best of 170 yards last season at Wyoming.
This is an unfortunate truth about the Heisman race. It's a national award in every sense, and national name recognition is invaluable. Being an elite player is only part of the way to gain serious consideration.
[+] Enlarge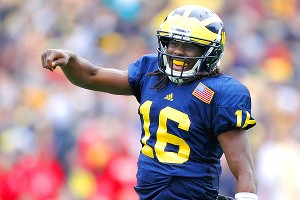 Gregory Shamus/Getty ImagesBurkhead may need some Denard Robinson-type games to garner some national attention.
It helps to be on a nationally elite team, as Crouch was in 2001. It helps to have a signature moment replayed over and over on "ESPN College GameDay" or "SportsCenter." It helps to be known as exciting or explosive. It helps to have a huge performance in a game that resonates around the country. It helps to have a unique back story, or a catchy nickname.
Michigan quarterback
Denard Robinson
reflects many of these qualities. He hasn't been as consistent as Burkhead, or Wisconsin running back
Montee Ball
, a Heisman Trophy finalist in 2011. But Robinson's name resonates nationally. President Obama
knows who he is
. Every Heisman voter knows who he is and what he can do. They've probably seen his past two performances against Notre Dame. They've definitely seen his electrifying runs. They know about the shoelaces. The 15 interceptions he threw last year? Meh.
It's why Robinson still could be the Big Ten's top Heisman candidate entering the 2012 season. If not, he's 1A next to Ball. Robinson undoubtedly will be at or near the top of the Heisman watch lists if he delivers a big performance in Michigan's opener against Alabama.
Ball should have less trouble getting noticed this season than he did in 2011. Despite impressive performances from the get-go, he was overshadowed by teammate
Russell Wilson
. Only when Ball began closing in on Barry Sanders' NCAA single-season touchdowns record did he start gaining traction for the Heisman. While he finished a distant fourth in the Heisman voting, he became a name voters know entering this year's race.
Is there hope for Burkhead? Sure. He needs to announce himself early in the season. Nebraska's nonconference schedule lacks national appeal, but Burkhead can make a statement with a big performance in the Big Ten opener against Wisconsin. He'll need to outshine Ball that night in Lincoln. It wouldn't hurt to follow it up the next week with a big game at Ohio State.
He also would benefit if Nebraska gives the nation reason to pay attention. This isn't the Nebraska program Crouch starred for, and while
the Huksers are talking big
, they're not regarded as a national player. That might have to change for Burkhead to get the recognition he deserves.
"He's one of the top running backs in the country," quarterback
Taylor Martinez
said.
No one will dispute that in Big Ten country.
But to take flight nationally in the 2012 Heisman race, Superman needs a boost.