Dallas Colleges:

Eric Morris
April, 16, 2014
Apr 16
10:30
AM CT
LUBBOCK, Texas -- Few assistants in college football have soared up the coaching ladder faster than
Texas Tech
offensive coordinator Eric Morris.
The 28-year-old Morris, who was a key receiver on Mike Leach's 11-win team at Texas Tech in 2008, finished his playing career with 184 receptions. After coaching stints at Houston under Kevin Sumlin and Washington State under Leach, Morris returned to his alma mater last year to be Kliff Kingsbury's inside receivers coach and co-offensive coordinator. This offseason after Sonny Cumbie bolted for a job at TCU, Kingsbury (who is the primary playcaller) promoted Morris to offensive coordinator and coach of the entire receiving corps.
Morris took time to chat with ESPN.com on a range of topics, including the similarities and differences between Kingsbury and Leach, how Kingsbury has grown as a coach over his first year and the benefits and challenges of Texas Tech having such a young staff:
You've coached with Kliff, you've coached with Leach, how would you compare and contrast the two?
[+] Enlarge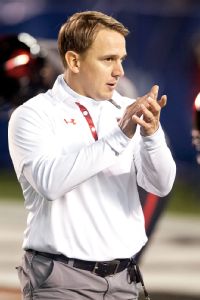 Orlando Ramirez/Icon SMIEric Morris sees several advantages in coming back to coach at his alma mater.
Morris:
You know, I think coach Leach is, for lack of a better term, really set in his ways, which has really been a positive thing. He really believes in what he does. You're not adding and trying to game plan every week. You just have this certain amount of set plays and you get really good at them and that's what you do, and the quarterback has to trust them. Whereas Kliff likes to cater a little bit more to the athletes he has. He likes to sit in there with the whiteboard and think of things, different formations, motions, but he still keeps the quarterbacks' reads pretty much similar for the most part. Kliff does a great job finding, catering to the athletes on his team, finding a way to get them the ball in space. Those are two things, but they're really similar as far as running the organization day-to-day. Mike is a really late guy, he'll stay up all hours of the night. Kliff is a really early guy, he'll be up here at 4 a.m. pretty much every single morning. That's a little bit of a difference. Kliff's dad with his military background and coaching background, what surprised me so far, [is the] discipline and the way he runs a tight ship with the players. And they really respect that. But Coach Leach did the same thing.
Where has Kliff really found his stride as a coach? Where has he improved over the last year?
Morris:
He's always been really good with the players. The players love him, he relates really well to them. Him sitting in a team meeting is like cake to him. The kids really understand where he's coming from. He uses young terminology, which they appreciate. I would say outside of that, learning how to deal with the media with the instant success with people in and out. With interviews, he's night and day better from last year speaking in public. He does a great job handling all the girls that want to take photos with him, that want to take selfies with him. He definitely has a lot of patience, he's not the most patient guy I've ever known, but he's learned how to have patience.
So he's gotten better dealing with the donors and the dinners and those things?
Morris:
Night and day. When we go speak at recruiting dinners or with a lot of our donors, he's a lot more relaxed, comfortable, himself up there. And just comfortable in his own skin and not trying to impress all these guys. Just being himself, which is good.
This has been written about before, but with five Texas Tech alums on the coaching staff (Kingsbury, Morris, Trey Haverty, Mike Smith and Kevin Curtis), what benefit does that give you guys?
Morris:
Yeah, absolutely. It means a little more to us to put on the Double T and represent that. We've put in so many hours, blood, sweat, tears in the uniform. So that symbol and putting on that uniform means more to us, because we are so much more vested in it. One, I think it helps as far as recruiting, people see that, the energy, the passion we have for this place. And two, I think it helps with our current players. It's funny we'll be in an academic meeting, and they'll say, 'Oh, I have Dr. Timmons,' and I'll go, 'I had Dr. Timmons six years ago in the same anatomy class.' We can relate to them. We passed all the classes. We know what to do and what not to do around town, on campus, with our academic staff. We can just relate on a different level.
[+] Enlarge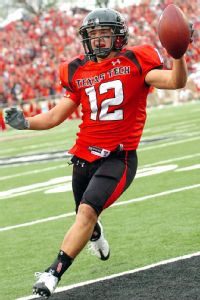 AP Photo/Lubbock Avalanche-Journal/John A. BowersmithEric Morris was a key receiver for Texas Tech in 2008.
Because most of you all on this staff are relatively young, how do you balance connecting to the kids with still being authority figures to them?
Morris:
The worst thing ever is if you mistake our kindness for weakness. It's definitely a case where we have to pull on the reins a little bit more at times. And Coach does an incredible job of really teaching these guys about how to be respectful to women, to people that are trying to help this program, to donors, to people that serve us food at the training table and things of that nature. And if they don't, there's punishment for it. He's done an awesome job of not letting things go, even though they have excuses. If they mess up, there's going to be a cost to pay. That's one thing they know, and you can ask any player right now, if they're not going to class, if they're not doing the right things, then there's going to be a price to pay.
What's one thing about Kliff that's interesting that people don't know about him?
Morris:
Well, he's a health freak. He eats extremely healthy. I lived with him for a couple years when we were at Houston and usually you'd hear the cereal bowl get filled at 3:45 a.m. He'd eat cereal every morning, then go work out. And then protein and all of his shakes and supplements that he takes. Then snacks nuts and little snacks throughout the day. Then you'd go to lunch and it's always grilled chicken, some kind of salad, something like that. He works hard at it and he's pretty disciplined. That's really impressive to me, how he stays on the straight and narrow with that.
I think his way of relieving stress is working out. But it has been funny. Because Coach Leach used to always call me late to ask questions about the program. And this semester, Kliff has started to do that. You can tell he's up late at night, thinking about the program. And so I'm getting more phone calls at night again asking hypothetical questions and recruiting questions, 'What do you think we need to do here? Do you think I was too hard on them? Do you think I should have called that play?' It's definitely on his mind 24/7, he's definitely infatuated about making this place really good. I think still there's a doubt in people's mind and there's a lot of people we lost to last year that Kliff -- I don't think he'll ever stop until he gets to the top of this thing. And so losing always pushes him. He hates to lose, and that drives him every single day, to see these kids be successful and win a lot of football games at Texas Tech.
February, 20, 2014
Feb 20
9:00
AM CT
Every school in the Big 12 turned to the junior college ranks to help fill its 2014 recruiting class. While some of those signees won't arrive until the summer, several junior college players are already preparing to make an impression during spring football. Here's a look at five Big 12 junior college signees to keep an eye on this spring.
Baylor guard
Jarell Broxton
: Departed All-American
Cyril Richardson
was an anchor of the offensive line for several seasons in Waco, Texas. Broxton could step in to help replace the All-Big 12 guard. At 6-foot-5 and 326 pounds, Broxton brings superb size and athleticism to the Bears. The No. 32 player in the ESPN JC 50 has the talent to make an immediate impact and the opportunity with Richardson's departure.

"We think he can play either inside or possibly outside," coach Art Briles said. "He's athletic, powerful and is a guy who is going to come in here this spring and compete to get on the field."
Kansas State defensive back
Danzel McDaniel
: The Wildcats have
Dante Barnett
as the lone returning starter in the secondary and McDaniel has the versatility to fill one of those spots. At 6-1, 205 pounds, McDaniel can play several different positions in the secondary and brings good coverage skills combined with a physical mindset.
The No. 45 player in the ESPN JC 50, McDaniel should start making an impact this spring as the Wildcats start to understand how to use his versatility to help slow Big 12 offenses. He has the talent to bring an upgrade in size to the cornerback position or an upgrade in coverage skills to the safety spot. It's just a matter of finding the right fit.
Oklahoma State receiver
Tyreek Hill
: Speed. Speed. Speed. That's what Hill will bring to the Cowboys. It is going to be tough for OSU to replace
Josh Stewart
, who seemed to make game-changing play after game-changing play during his final two seasons.
Hill has the speed and big play ability to change games, just as Stewart did. Yet, the Cowboys' roster is littered with potential playmakers including redshirt freshman
Ra'Shaad Samples
. This spring will be Hill's chance to show he can step in as a playmaker at the receiver spot, even with other talented options on campus.
"He has been very successful when he has the ball in his hands," OSU coach Mike Gundy said of Hill. "I don't think it's any secret for all of us, certainly from a coaching standpoint, if you have a player that can make plays then he has to touch the football."
Texas Tech receiver
Devin Lauderdale
: The Red Raiders need playmakers to help offset the loss of tight end
Jace Amaro
and receiver
Eric Ward
. Lauderdale, who initially signed with the Red Raiders in 2013, joins the program after one season at Navarro (Texas) junior college.
Lauderdale should play immediately and this spring will be the Red Raiders' first opportunity to figure out what the 5-11, 170-pound receiver can do best. Don't be surprised if Lauderdale ensures himself a key role in Kliff Kingsbury's attack before summer.
"Fast. Fast. Fast," Texas Tech receivers coach Eric Morris said. "Has big play potential any time the ball in his hands."
West Virginia quarterback
Skyler Howard
: The search for Geno Smith's replacement continues. And Howard has as good a chance as anyone to step into that role this fall. Spring football provides Howard the chance to show Mountaineers coach Dana Holgorsen that he can run the WVU offense with efficiency after he watched his offense struggle at various times during 2013. If Howard hopes to insert his name into the quarterback race it will start in the spring.
"Howard is here and is studying hard, is throwing with the guys and is here a lot," Holgorsen said. "The film supports what we think he can be. The good news is that his idol is
Russell Wilson
, and that's good for a number of obvious reasons. He believes that he's got the skill set to be able to be successful. I'm really excited about coaching him."
August, 20, 2013
8/20/13
6:30
PM CT
Baker Mayfield
was passed up by countless college recruiters during his senior year of high school. Now the true freshman walk-on likely will be a Big 12 starting quarterback.
His precipitous rise at Texas Tech became perhaps the most surprising fall camp storyline in the league this month. Mayfield and true freshman
Davis Webb
split snaps in practice while expected starter
Michael Brewer
is sidelined with a back injury.
[+] Enlarge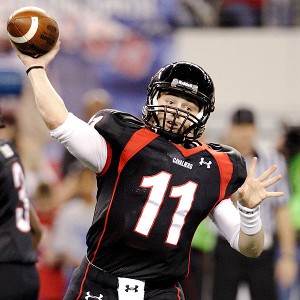 AP Photo/Tony GutierrezTrue freshman Baker Mayfield is trying to go from walk-on to starter.
Texas Tech coach Kliff Kingsbury has called Brewer's injury a "day-to-day" issue, but the starting quarterback for Tech's season opener at SMU on Thursday is
expected to be the walk-on
.
In a few short weeks Mayfield has gone from unheralded newcomer to Tech's first freshman starting quarterback in nearly 30 years. Even his own high school coach never could have seen that coming.
"I don't know what I expected, to be honest," Lake Travis High School coach Hank Carter said Monday. "But Baker is a player. He's a competitor. Baker has gotten an opportunity here, and that's what it's all about. He has a chance here to make the most of it, and it sounds like that's what he's doing."
The 6-foot-2, 220-pound freshman starred at powerhouse Lake Travis in Austin, Texas, and had a 25-2 record in his two season as a starter. He threw for 6,255 yards and 67 touchdowns in two years, but that wasn't enough to warrant serious attention from recruiters.
In fact, Carter summed up the process Mayfield endured to end up at Texas Tech with two words: bad luck.
He received offers from Washington State after his junior year, but before he could visit the Cougars accepted a commitment from another quarterback. Same thing happened with Rice.
"The rest of that spring, he had probably 20 to 25 big-time Division I programs looking at him and coming back to look again," Carter said. "For whatever reason, the big guys just didn't pull the trigger after that."
Mayfield had offers from FAU and New Mexico but put all his hopes on landing an offer from TCU. That never came, and the Frogs ended up signing Temple (Texas) quarterback
Zach Allen
. So Mayfield looked into his options as a walk-on.
The decision, Carter said, came down to Texas Tech or Texas. He chose the Red Raiders because of his relationship with Eric Morris, who left Washington State to join Kingsbury's staff, and the fact that Tech's offense better resembled what he ran at Lake Travis.
"Even though I love those guys on the Tech coaching staff, I wasn't real fired up that he was going to a place where there was going to be a redshirt sophomore as the probable starter and another scholarship kid in the same class as Baker," Carter said.
Webb, a graduate of Prosper (Texas) High, also had the advantage of enrolling early and participating in spring practices. Tech's post-spring depth chart listed Brewer "or" Webb as the starter.
But Mayfield made a strong push. Being quarterback No. 1 at Lake Travis, a school that won five straight state championships from 2007 to 2011, gave him a proper education in handling expectations and pressure.
"I think it's a pretty neat story. I hope Baker goes in there and he's able to show and give them confidence that he can get it done," Carter said. "We have all the confidence in the world in him. He's a great kid, such a smart and tough competitor. That would be the thing I'd say about Baker. He welcomes the underdog role and he always has."
Mayfield was a late bloomer who stood 5-5 when he began his freshman year, but he had an arm, a knack for leadership and plenty of energy.
"We always said, 'Man, if that Baker Mayfield ever hits a growing spurt, he'd be something else,'" Carter said. "And then one day he did."
Still, this situation is bittersweet for Carter and his coaching staff. Mayfield's near-unprecedented opportunity arose only because Brewer, his predecessor and friend at Lake Travis, is injured.
"It's exciting, but I've got two kids in this thing," Carter said. "I'm disappointed for Michael because he's worked so hard when he's been there. College fans can be kind of flavor of the week, but I'm sure the coaching staff would want Michael to get back.
"I think the prospects of looking at two true freshman quarterbacks going to SMU is not something they'd be real fired up about."
Seeing Mayfield earn the start at SMU is an exciting for Carter, though. His first start will come against another Lake Travis legend:
Garrett Gilbert
.
His former coach knew Mayfield was going to have a difficult task in beating Webb for the starting job, but he was alwasys confident Mayfield could pull this off and make some history.
"If it's a matter of who's going to pick up the system quicker and handle the big stage, he's been in those situations before," Carter said. "I know it's not the same thing, but heck, he doesn't know any different. He'll jump in there and compete."
December, 19, 2012
12/19/12
3:00
PM CT
The silly season can get dizzying at times. We'll update this if necessary, but here's where the Big 12 coaching carousel has currently landed after a few big spins.
BAYLOR
No changes.
Head coach Art Briles was reportedly contacted by Arkansas and Texas Tech, but signed a new extension with Baylor and hasn't expressed interest in any jobs or admitted to any interviews.
IOWA STATE
No changes.
Head coach Paul Rhoads reportedly drew interest from Wisconsin, but Rhoads went on the record this week to say he has no interest in replacing Bret Bielema in Madison.
KANSAS
KANSAS STATE
OKLAHOMA
Co-offensive coordinator Josh Heupel was a candidate for the Louisiana Tech opening last week, but reportedly turned down the job. The Bulldogs eventually hired Skip Holtz to replace Sonny Dykes.
Co-offensive coordinator Jay Norvell has also reportedly drawn interest from other schools, but it sounds like he's staying at Oklahoma.
OKLAHOMA STATE
Offensive coordinator Todd Monken left to become the head coach at Southern Miss.
Head coach Mike Gundy reportedly interviewed with both Tennessee and Arkansas and some local reports even indicated that he had accepted the Arkansas job, but they ultimately proved to be false. Gundy has since gone on record saying there's "no question" he'll be the Cowboys' head coach in 2013.
Defensive coordinator Bill Young on if he'll return next season or retire: "I don't know, I don't know," Young told The Oklahoman. "I'm going to think about it."
TEXAS
Co-offensive coordinator Bryan Harsin left to become the head coach at Arkansas State.
Co-offensive coordinator Major Applewhite replaces Harsin as the playcaller and will coach quarterbacks now. Texas plans to replace him as running backs coach after the season ends.
Receivers coach Darrell Wyatt was promoted to co-offensive coordinator.
Defensive coordinator Manny Diaz reportedly interviewed with Florida International, but removed himself from consideration and will stay at Texas.
TCU
No changes.
Head coach Gary Patterson was reportedly a leading candidate to replace John L. Smith at Arkansas, but there were no reports of interviews or significant contact between the two parties.
TEXAS TECH
Head coach Tommy Tuberville left to become the head coach at Cincinnati.
Offensive coordinator Neal Brown left to become the offensive coordinator at Kentucky on Mark Stoops' staff.
Texas A&M offensive coordinator Kliff Kingsbury accepted an offer to replace Tuberville as Tech's head coach.
Ex-Red Raiders Kevin Curtis and Eric Morris will join Kingsbury's staff. Curtis told reporters he will likely coach the cornerbacks. Morris' role on the staff is still undetermined. He previously coached inside receivers for Mike Leach at Washington State.
WEST VIRGINIA
Dana Holgorsen relieved cornerbacks coach Daron Roberts of his duties and moved co-defensive coordinator Keith Patterson to defensive playcaller, replacing co-defensive coordinator Joe DeForest as playcaller. DeForest is still on staff.
Graduate assistant Andrew McGee (who led the Big 12 in interceptions at Oklahoma State in 2010, with five) will coach cornerbacks heading into the bowl game, but WVU will find a permanent replacement after the season.