April, 19, 2011
4/19/11
2:51
PM CT
The Bell Helicopter Armed Forces Bowl will be played at SMU's Gerald Ford Stadium for the second straight season when the ninth annual game is played Dec. 30 on ESPN.

The game was moved to SMU because of renovations to TCU's Amon G. Carter Stadium, which is again the case. The game is schedule to return to Fort Worth in 2012, TCU athletic director Chris Del Conte said.

Last year's game -- Army defeated SMU, 16-14 -- draw an SMU-record crowd of 36,742.

"We are excited to serve as the host of the Bell Helicopter Armed Forces Bowl for the second straight year," SMU AD Steve Orsini said in a statement.
November, 18, 2010
11/18/10
3:09
PM CT
By
Jeff Caplan
| ESPNDallas.com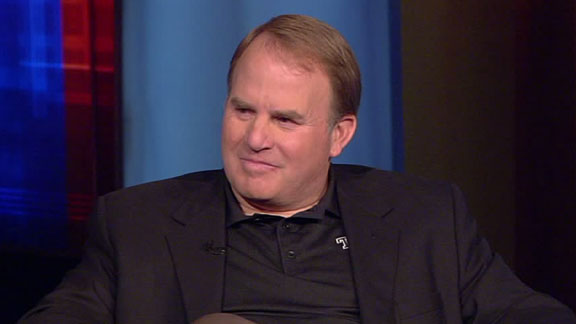 Gary Patterson, coach of the third-ranked
TCU Horned Frogs
, will be at ESPN's studios in Bristol, Conn., Friday before heading to Chicago for an on-set appearance at GameDay outside Wrigley Field.
"You won't see me beat my chest," Patterson said during his Tuesday media luncheon. "I'll state the case of what TCU has to offer; the culmination of what we've done the last six years. Sometimes that gets lost."
Here's a sampling of Patterson's scheduled live appearances on the ESPN family of networks Friday:
8:15 a.m. - Mike and Mike (ESPN2 and ESPN Radio).
Click here for the podcast
10:20 a.m. - First Take (ESPN2).
Click to here to watch.
10:45 a.m. - The Herd (ESPNU and ESPN Radio)
2:10 p.m. - SportsCenter (ESPNews)
2:30 p.m. - College Football Live (ESPN)
3:15 p.m. - Jumps on with Galloway & Company on ESPN 103.3 FM.
Click here for the podcast
3:30 p.m. -
ESPNDallas.com chat replay
.
Some of Patterson's other interviews will air on SportsNation and radio shows hosted by Scott Van Pelt, Doug Gottlieb and Freddie Coleman. There will also be spots with local ESPN outlets and Web sites.
GameDay is taking place at Wrigley Field as the Chicago Cubs' home will host the Northwestern and Illinois football game. Patterson will appear Saturday on the GameDay set at 9:20 a.m.
November, 17, 2010
11/17/10
4:09
PM CT
The No. 3
TCU Horned Frogs
have a bye this week, but coach Gary Patterson will be playing an important road game Friday in Bristol, Conn.
That's the home of the sprawling ESPN campus where Patterson will make it a full day of radio and television appearances to campaign for his team's BCS and national championship game worthiness. TCU put itself in a perilous situation with Saturday's 40-35 win over
San Diego State
.
The win wasn't big enough and No. 4
Boise State
closed the gap. Now the Broncos are in position to leap the Frogs if they win their final three games. TCU has just one game left at woeful
New Mexico
after Thanksgiving, a game that will do little to improve their BCS standing.
If Boise passes the Frogs, TCU would still be in contention for a BCS game, but could also be left out all together.
So, Patterson will join just about every show the ESPN family of channels has on the air.
His day will start at 8:45 a.m. in Bristol with the Mike and Mike Show, which can be heard locally on ESPN Radio 103.3 FM, and seen on ESPN2. Then Patterson will make radio stops on the Colin Cowherd Show (airs noon-2 p.m. locally), the Scott Van Pelt Show and the Doug Gottlieb Show.
He'll also make TV appearances on First Take, SportsNation, College Football Live and SportsCenter.
Patterson's day will conclude at 5:30 p.m., and it just might prove to be more tiresome than a game-week work day.
September, 21, 2010
9/21/10
4:25
PM CT
By
Jeff Caplan
| ESPNDallas.com
Gary Patterson, the 10th-year coach of the No. 4
TCU Horned Frogs
has never been afraid to use the words of others to fire up his own team. He did it just last week with
Baylor
quarterback
Robert Griffin III
, who had some rather innocent comments about the Frogs being a step above Baylor's previous conquest, Buffalo.
Patterson took exception to being just one step above the aforementioned Buffalo.
Now, Patterson isn't quite getting what June Jones, the resurrector of
SMU
pigskin, is laying down about Friday's Battle for the Iron Skillet at SMU's Gerald J. Ford Stadium (7 p.m., ESPN).
"It's the second week in a row we're playing somebody, and I guess having a ranking to you, it's a statement game for those people," Patterson said. "June's done a good job with words. I didn't quite understand the intent of the meaning. In one sense, he said it's not any bigger game for him, but it could be a statement game for the program. So, is it not a big game or is it a big game or what exactly is it?
Here's what Jones said to reporters at SMU's practice Monday morning: "You've got a chance to make a statement on national TV. At the same time, our next two conference games [Rice and Tulsa] after this one are something that we're trying to stay focused on."
That wasn't all Patterson nit-picked.
Jones also said: "We're going to play hard. We'll have fun. They [TCU] will come in here and try to embarrass us physically. Hopefully, our kids will rise up and play hard."
Patterson will insist forever that he's not out to embarrass anybody or rack up style points against anyone. Hey, he remembers 2005 when SMU handed TCU a loss in week 2, as it turned out, its lone loss of the season.
So, Patterson retorted: "I saw something on TV and read it where it was we were coming over to humiliate 'em. We're coming over to win by one point. SMU is a good football team. It's always a war. It's especially always a war when we play over at Ford Stadium. It's not going to be any different than that. So, I understand the challenge to get more people in the stands and get everybody fired up. But, the bottom line to it is we're just trying to go win a ballgame."
Later during Patterson's weekly Tuesday press conference, he said that as far as he's concerned, he and Jones are good friends.
Let's hope the game is as good as the coaches' banter.
September, 1, 2010
9/01/10
1:00
AM CT
By
Jeff Caplan
| ESPNDallas.com
The
TCU Horned Frogs
enter the 2010 season boasting the program's highest preseason rankings -- No. 6 in the Associated Press poll and No. 7 in the coaches poll -- after reaching unprecedented heights last season in playing in the BCS Fiesta Bowl.
The Frogs couldn't finish the job against fellow BCS-buster
Boise State
, but it only whet their appetite for more. TCU wants a shot at a national title. To have a chance they know they'll have to sweep their 12-game regular season that starts Saturday night at Cowboys Stadium against No. 24
Oregon State
.
PODCAST
ESPN college football analyst Kirk Herbstreit joins GAC to announce that he is ready for the start of another season and gives his pick for the TCU-Oregon State game.

Listen

The Frog file:
2009 record:
12-1 (lost to Boise State in Fiesta Bowl, 17-10)
Starters returning:
19
Offensive starters returning:
9
Defensive starters returning:
7
Special teams returning:
3
Key offensive returners:
QB
Andy Dalton
(needs one win to pass Sammy Baugh for most wins by a TCU quarterback); T Marcus Cannon (preseason All-American, ranked by ESPN's Mel Kiper Jr., as third-best OT in 2011 NFL Draft); C Jake Kirkpatrick (preseason All-American); WR
Jeremy Kerley
(team-high 44 receptions for 532 yards last season); WR
Jimmy Young
(115 career receptions are eighth all-time at TCU).
Will be missed:
T Marshall Newhouse; RB Joseph Turner.
Key defensive returners:
NT Kelly Griffin (became first true freshman in 2007 to start under Gary Patterson); DT Cory Grant (All-MWC last season, first as starter); DE Wayne Daniels (on Lombardi Trophy watch list, all-MWC last season); LB Tank Carder (preseason All-American, top returning tackler); FS Tejay Johnson (preseason All-American, tied for team lead in '09 with three interceptions).
Will be missed:
DE
Jerry Hughes
; LB
Daryl Washington
; CB Rafael Priest; CB Nick Sanders
Key special teams returners:
PK Ross Evans (first-team all-MWC, 15-of-18 FGs last season); KR/PR Jeremy Kerley (Four total kicks returned for touchdowns last season).
On the rise:
WR
Antoine Hicks
(scored 10 touchdowns on 32 touches last season); RBs
Ed Wesley
and
Matthew Tucker
(Both rushed for more than 600 yards and averaged better than 6.0 yards a carry last season); DE Stansly Maponga (could become only redsirt freshman to earn starting job for opener); CB Greg McCoy (4.32 speed, had two interceptions last season and an 81-yard kickoff return for touchdown).
Toughest schedule stretch:
Oct. 16 vs. BYU; Oct. 23 vs. Air Force; Oct. 30 at UNLV; Nov. 6 at Utah.
By the numbers:
27:
Seniors (tied for the lead nationally with Louisville)
12:
Wins needed by 2010 seniors to become the winningest class in TCU history (a new mark has been set in each of the last two seasons)
110:
Wins by Gary Patterson, to 38 losses, since Gary Patterson arrived as defensive coordinator in 1998 (10th year as head coach).
August, 18, 2010
8/18/10
4:17
PM CT
By
Jeff Caplan
| ESPNDallas.com
Now that it appears
BYU
's escape from the Moutain West Conference will happen,
TCU
must carefully evaluate its future -- and perhaps it shouldn't include the MWC.
The biggest problem the MWC faces moving forward is the low-revenue television arrangement it created on its low-visibility The Mtn., a network which came about because of MWC frustration with weekday football scheduling on ESPN.
TCU fans surely remember those odd Tuesday night kickoffs. Of course, actually locating The Mtn., might provoke more frustration.
Without
Utah
and BYU in the league after this season, the MWC is down to eight teams, and it could be seven if
Boise State
, added this summer to start competing in 2011, opts to return to the WAC.
TCU athletic director Chris Del Conte might be on the phone right now with Boise State athletic director Gene Bleymaier to discuss a WAC strategy. Why? The WAC has television agreements with ESPN for football and basketball. If Boise State went back to the WAC, TCU, if invited, could follow as that league's 10th football team.
Such a revised WAC would include Boise State, TCU and
Hawaii
, three programs that have played in recent BCS bowl games.
If Boise State decides to stay in the MWC, the league would have to raid, likely, Conference USA for two more teams, but no matter what, its bid to become a BCS automatic qualifier is dead. Even so, an argument could be made that TCU would have an easier path to the BCS in a revamped and weakened MWC than in a stronger WAC.
But, considering its automatic qualifer hopes are history, coupled with the MWC's poor television situation, it's hard to see how the MWC is a better deal than going back to the WAC and playing games on ESPN again. TCU's new national prestige could likely keep it off the field on Tuesday nights.
August, 4, 2010
8/04/10
9:00
AM CT
By
Josh Davis
| ESPNDallas.com
FORT WORTH, Texas -- Oregon State football coach Mike Riley said he's ready for a trip to Texas that will have him visiting old friend and TCU coach Gary Patterson, though their teams will be anything but friendly Sept. 4 in the 2010 Cowboys Classic between the Beavers and Frogs. Here are some of Riley's thoughts on the game:

On making the deal to play in Texas...
"This was a deal when it came up, where I'm not sure football-wise for the Beavers it was real smart, but it was a tremendous challenge that was put out there, and we appreciate the work that went into forming it. And we're just excited about the opportunity for our team to play TCU, who we've looked at a lot and have a lot of respect for, and to play in Cowboys Stadium, which will be a chance of a lifetime for our players."

On the Texas-raised Rodgers brothers returning to their home state...
"It's kind of a sidebar to this thing, we've always wanted to have a game in Texas before Jacquizz and James [Rodgers] graduated, and this came up as a unique opportunity to do that. So that's obviously not the main reason, but it's fun for us to do that for these two fine young men. I always say, they've obviously impacted our football here at Oregon State, but they've also impacted our lives. They are two of the finest young men I have ever been around... They've represented their state of Texas very well."

On TCU's development from a defense-first team to a balanced approach...
"That's what happens in the development of a program. I think a guy comes in with an expertise of what he does, but Gary [Patterson] is a head coach and has developed an overall program, and he has a good picture of what an overall program is all about... There's no better example of the rise of a real program in all ways, from the character of the program to the quality of the football, it's something that takes a lot of time to get in place. TCU, through the work of Gary and his staff, have placed themselves nationally into a tremendous picture."
August, 4, 2010
8/04/10
8:00
AM CT
By
Josh Davis
| ESPNDallas.com
FORT WORTH, Texas -- On a conference call to promote the 2010 Cowboys Classic at Cowboys Stadium, TCU coach Gary Patterson talked about his opponent in the Sept. 4 opener, the Oregon State Beavers, as well as a number of other topics. Here were his thoughts before the Frogs begin practice Thursday:

On Oregon State as a team...
"They have a lot of good players coming back, I've been watching them since about March. And I've been an admirer, being a defensive guy, of what they've been able to do defensively in the Pac-10 and tried to model some of the stuff that we do."

On misconceptions of Oregon State...
"The disadvantage is that maybe there is a perception out there that [Oregon State] is unknown, and maybe they're not as good a football team as a lot of people are giving them credit for. I can tell you right now, having watched them, if there's a better defensive tackle in the nation, and a linebacker and corner, than I'd like to see them."

On facing a largely untested quarterback in sophomore Ryan Katz
"We've gone back and we've watched any mop-up work that Katz played in, as well as the bowl game against BYU, anything where we could watch his motion. He's very athletic. So we try to study as much as we can possibly study to understand how maybe they would change their offense or how they would do things. But y'know, you've got to go play. First games are always interesting anyway."

On being in a nationally broadcast game...
"In this ballgame I always tell people, being on TV is great, if you win. So the hard part about being friends [with Oregon State coach Mike Riley] is they don't let us tie anymore. The thing I would say is, I think the team that wins ends up with a great jump start, because I think around the nation both teams are respected for what they've been able to get accomplished. And I think it won't hurt the other team either, because I think [the pollsters] understand the quality of competition is going to be unbelievable."
August, 4, 2010
8/04/10
7:00
AM CT
By
Josh Davis
| ESPNDallas.com
FORT WORTH, Texas --With one month and counting until their teams meet at Cowboys Stadium, TCU's Gary Patterson and Oregon State's Mike Riley were in good spirits on a conference call Tuesday, trading compliments for each program's most valuable player.

Oregon State running back Jacquizz Rodgers and TCU quarterback Andy Dalton are both hoping to contend for the Heisman trophy this year, and both Texas-bred standouts will have to overcome a major obstacle in the Cowboys Classic on Sept. 4.

For Rodgers, it's TCU's rangy linebacking corps. For Dalton, it's disruptive Beavers' defensive tackle Stephen Paea. But the veterans will be ready for whatever according to their coaches.

"Young quarterbacks ask people to do things, and old quarterbacks demand people do things," Patterson said. "Finally we've gotten to the point in the last two years that [Dalton] demands."

Meanwhile, Riley said Rodgers, who was born in Richmond, Texas, near Houston was proud of his Texan background and excited for a homecoming.

"It is an important game, in a lot of ways," Riley said. "But as far as what [Jacquizz] will do, he'll do the same as he always does, which is get as ready as he can to play."

The coach went on to say Rodgers "takes great pride in what he does."

Jacquizz Rodgers, along with older brother and Beavers receiver James, attended Lamar Consolidated High School. The brothers are the top offensive threats for the Beavers, which will be led by a new quarterback, sophomore Ryan Katz.

Oregon State's young signal caller might have Riley more nervous than usual entering a season-opener. The Beavers coach said "there was nothing like having a quarterback who has been there," like the Horned Frogs' Dalton.

"You're talking about a guy that first of all, has the production and the resume to stand out," Riley said. "He has... leadership quailities, and is also the product of a program that Gary [Patterson] has worked hard at, and I admire the work that he's done."

Patterson said the Katy product's intangibles and how he handles himself off the field set Dalton apart.

"The team comes first [with Dalton,]" said Patterson. "And all the personal accolades will come with winning, and I think he understands that."
June, 15, 2010
6/15/10
12:15
PM CT
By
Jeff Caplan
| ESPNDallas.com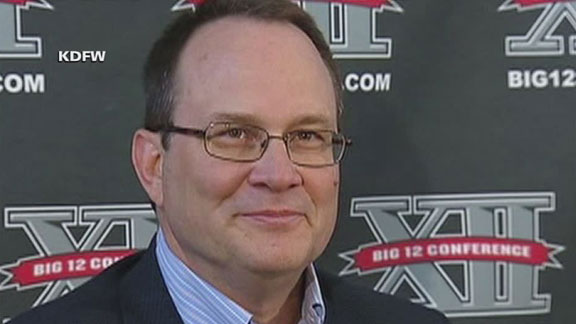 Big 12 commissioner Dan Beebe conducted a 45-minute teleconference Tuesday morning to discuss issues surrounding the survival of the 10-team Big 12 Conference.
At the moment, nine teams have committed to the league. Texas Tech is the lone school that has not, but is expected to once its board of regents meet this afternoon.
Beebe concluded the teleconference by saying: "We've landed in a good place, not just for the Big 12, but for all collegiate athletics, in my opinion."
Here are a few points of interest:
*Beebe said the Big 12 did not extend its current television deal or agree to a future deal, but rather was given indications by networks and analysts of future: "We had extremely strong verification, based on analysis by our consultants and others, and media companies themselves, that we are in a tremendous position to execute future agreements that will put our member institutions on par with any in the country, so based on that and that information and that verification, I think that solidified in a lot of our member institutions' minds the future of the conference."
Also on the TV front, Fox is not in position to begin televising a national over-the-air game of the week. The Big 12's current deal with ESPN/ABC continues through 2015-16: "During negotiations for the future of that in 2015, we will consider any of the competitors. I had a great relationship with the Fox broadcast people through my association with the BCS when they had the BCS contract. We love the ABC and Disney family, but we understand and are appreciate, even hopeful, of competitors being in the marketplace when our rights become due. And certainly, the projection is that there's a high level of interest, not only by Fox and ABC, but by other media companies for broadcast rights as we go forward. We're very excited that that level of interest will drive the rights fees up like it did in the recent ACC negotiations."
*The Big 12 will not look to expand because the member schools appear to like the 10-team format that would produce a nine-game conference football schedule and an 18-game round-robin schedule in basketball, which allows a team like Kansas to visit all the conference teams each year: "The 10 that are remaining, now that we have it, there are a lot of positive feelings about having 10...We're not looking to expand at all and certainly we wouldn't look to expand with any institutions that are in our geographic five-state area now. So, we're very comfortable with where we are. There's no interest in having an expansion review at this point and I don't think it's going to come in the future."
*The Big 12 will likely not look into staging a football championship game: "We can petition, I know my colleagues would support having less than 12 members and still having a championship. I'm not sure if we're going to do that or not. I think there's a lot of benefits to having the nine-game schedule scheduling out to that weekend in December where you can get a lot of exposure and also not have the potential to knock off a team that could be headed to the national championship in a championship game. We'll have some meetings coming up to decide how we want to structure it."
*On whether the conference would seek a new name, Beebe said he didn't know and wouldn't speculate before discussing with the conference members.
February, 12, 2010
2/12/10
11:33
AM CT
Next season's football game between Texas A&M and Oklahoma State has been moved up to Thursday, Sept. 30, and will be broadcast on ESPN.

Kickoff will be 6:30 p.m. at Stillwater, Okla. The game originally had been scheduled for Saturday, Oct. 2.

"We look forward to the matchup with Oklahoma State and we appreciate ESPN and the Big 12 Conference moving the game to Thursday night for prime time," Texas A&M coach Mike Sherman said in a statement. "The Big 12 South is one of the strongest divisions in all of college football and it is appropriate to highlight these matchups on a national scale."

It will be the Aggies' second Thursday ESPN game of the 2010 season. A&M also will play at Texas at 7 p.m. on Thanksgiving night (Nov. 25).
December, 30, 2009
12/30/09
8:36
PM CT
By
Richard Durrett
| ESPNDallas.com
ESPN has made its decision on the new broadcast crew for the Alamo Bowl after taking Craig James off the broadcast will all of the Mike Leach stuff going on.

Here's the staff:

Play-by-play: Mike Patrick

Analyst: Bob Davie

Sidelines: Heather Cox