Dallas Colleges:

Fresno State Bulldogs
December, 24, 2012
12/24/12
11:04
PM CT
SMU pulled off the upset in Honolulu, and the Mustangs made it look fairly easy. Coach June Jones escaped his old stomping grounds with a
43-10 victory
over Fresno State to win the Sheraton Hawai'i Bowl. Here's how it went down:


It was over when
:
Margus Hunt
sacked
Derek Carr
on third-and-24 for a safety early in the second quarter. A little more than five minutes later,
Zach Line
rushed for an 8-yard touchdown to give the Mustangs a 19-0 lead, which was more than enough Monday.
Game ball goes to
: Hunt, SMU's 6-foot-8, 280-pound defensive end, went out with a bang in the first half alone, recording three sacks and two forced fumbles, and notching the second-quarter safety.
Stat of the game
:
Hayden Greenbauer
notched an 83-yard pick-six with 1:14 to go, putting an exclamation point on the night for SMU. The score gave the Mustangs eight interception returns for a touchdown this season, tying last year's Southern Miss team for the NCAA single-season record.
Unsung hero of the game
: SMU's defense held Fresno State to more than 30 points below its season average, and it made the Bulldogs one-dimensional early, outrushing them by a 169-to-minus-24 margin.
What it means
: SMU put on arguably its most complete performance of the season and won its final two games to finish above .500, at 7-6. Now, it preps -- for this moment, at least -- to take its football program to the Big East next season. Fresno State, meanwhile, saw its five-game winning streak snapped in a four-turnover performance.
December, 24, 2012
12/24/12
12:15
PM CT
Three keys for tonight's Sheraton Hawai'i Bowl matchup between SMU and Fresno State:
1. SMU can't fall behind early
: When the Mustangs are off, they are off. Of their six losses, four have been by at least 20 points, with two coming by 35 or more. Against Tulsa in the regular-season finale, SMU jumped out to a 21-0 lead and hung on for a 35-27 lead to become bowl-eligible. That same Golden Hurricane outfit topped Fresno State earlier in the season by one, despite the Bulldogs finishing three games better than the Mustangs.
2. Protecting the QB
: SMU's
Garrett Gilbert
has been able to improvise with his feet all season long, but he will need his line to step up Monday night against a Fresno State pass rush that has notched 35 sacks on the season, good for 11th nationally. The Mustangs, meanwhile, have just 17 sacks on the season and will need to turn it up considerably against a quarterback as efficient as the Bulldogs'
Derek Carr
, who averages 311 passing yards per game.
3. Watch the running backs
. For all the talk about the big-play capability of Fresno State's and SMU's offenses, both teams boast 1,000-yard rushers in
Robbie Rouse
(1,468 yards, 12 TDs) and
Zach Line
(1,207 yards, 12 TDs), respectively. The question is: Who will stop who first? SMU is 24th nationally against the run, while Fresno State is 73rd.
December, 24, 2012
12/24/12
11:58
AM CT
SMU (6-6, 5-3 Conference USA) vs. Fresno State (9-3, 5-1 Mountain West)


Who to watch
: Fresno State's
Phillip Thomas
was the school's first-ever unanimous All-American following a nation-best eight-pick season, which set the Mountain West Conference single-season record. Thomas returned three of those picks for scores (a school record), and he led the Bulldogs with 82 total tackles and 12 tackles for loss, while tying for the team lead with four forced fumbles, adding four sacks and one fumble recovery. The fifth-year senior from Bakersfield, Calif., has recovered from a leg injury that forced him to redshirt last season and now has more interceptions than 29 teams. Simply put, Thomas is a ball hawk whom SMU must be aware of at all times.
What to watch
: Both defenses. While both offenses are capable of big chunk plays -- Fresno State boasts the nation's No. 12 scoring offense -- the other side of the ball has put each team in great scoring position throughout the season. You already know about Thomas, but his nine takeaways account for barely a quarter of the Bulldogs' 33 forced turnovers this season. SMU? The same number, though the Mustangs have lost it 21 times this season, five more than Fresno State. The Bulldogs are No. 5 in turnover margin; the Mustangs are No. 12. Whichever defense makes more big plays is the one most likely to walk away with the victory, as SMU is minus-10 in the turnover category in its six losses this season.
Why to watch
:
Derek Carr
, brother of former NFL No. 1 draft pick David Carr, has been phenomenal under center all season for Fresno State, completing better than 68 percent of his passes for 3,742 yards with 36 touchdowns and just five interceptions. Casual fans will also recognize the man under center for SMU as
Garrett Gilbert
, who is best known for his relief act of Colt McCoy in the 2010 BCS National Championship, and has 21 total touchdowns while netting nearly 3,000 yards of offense.
Prediction
: Fresno State 35, SMU 24. The Bulldogs enter this game riding a five-game winning streak. The Mustangs had to win their regular-season finale over Tulsa just to extend their season. Fresno State does a better job of protecting the ball and has the more productive quarterback.
December, 2, 2012
12/02/12
9:23
PM CT
Fresno State Bulldogs (9-3) vs. SMU Mustangs (6-6)
Dec. 24, 8 p.m., Honolulu (ESPN)

Fresno State take by Pac-12 blogger Kevin Gemmell:
In one season, head coach Tim DeRuyter has reversed the fortunes of the Bulldogs, taking over a 4-9 squad and transforming it into a 9-3 unit. The backfield of quarterback
Derek Carr
and running back
Robbie Rouse
has been potent. Carr is completing 68.1 percent of his throws with 36 touchdowns to just five interceptions. He's been especially sharp on third downs, completing 66 percent of his throws with nine touchdowns and one interception. Rouse has crossed the 1,000-yard rushing mark for the third straight season (1,468) and has accounted for 14 touchdowns (12 on the ground).
But, perhaps DeRuyter's biggest influence has been on the defensive side of the ball, where the Bulldogs were 107th in scoring defense last season before his arrival, yielding 35.15 points per game. This season Fresno State ranks 27th, allowing 22.25 points per game.
---
SMU take by RecruitingNation's David Helman:
It hasn't been bad month for SMU coach June Jones.

The Mustangs ended Jones' fifth season in Dallas by winning four of their final six games, capped off by an upset of Conference USA West Division champion Tulsa to earn bowl eligibility. The reward is a trip back to Jones' old stomping grounds at Hawaii, where he led the Warriors to a 76-41 record from 1999-2007, not to mention an undefeated regular season in 2007.
Fans will no doubt recognize SMU triggerman
Garrett Gilbert
from his previous stint at Texas. Gilbert hasn't enjoyed the same success typically associated with Jones-coached quarterbacks. The junior completed just 53.1 percent of his passes on the year for 2,720 yards, 14 touchdowns and 13 interceptions.
While Jones' Hawaii teams often used running backs as an afterthought, the Mustangs lean heavily on
Zach Line
. The senior finished 2012 with 1,207 yards -- just 17 behind his total from 2011 -- and 12 touchdowns. Line's 46 career rushing touchdowns puts him just one behind
Eric Dickerson
as the program's all-time leader, and he sits 336 yards away from Dickerson's career rushing total of 4,450 -- good enough for No. 2 in SMU history.
November, 21, 2010
11/21/10
7:38
PM CT
By
Jeff Caplan
| ESPNDallas.com
The
TCU Horned Frogs
remained No. 3 in the
latest BCS rankings
released Sunday evening. After a bye week, they'll finish up the regular season Saturday at woeful
New Mexico
.
It could also be the week that No. 4
Boise State
(10-0), which made up ground on the Frogs (11-0) after another blowout win -- 51-0 over
Fresno State
-- pass the Frogs. Boise plays at No. 19
Nevada
on Friday night on ESPN.
The points gap between TCU (.8995) and Boise (.8860) is now razor thin. If the Broncos defeat the Wolf Pack handily it is widely presumed that Boise will overtake the Frogs at the No. 3 spot next Sunday. The Broncos finish the regular season at home Dec. 4 against
Utah State
.
Of course, both non-AQ schools continue to hold out hope that either No. 1
Oregon
(10-0) or No. 2
Auburn
(11-0) or both slip. The Tigers still must play at No. 11
Alabama
on Friday and then against No. 18
South Carolina
in the SEC Championship. The Ducks play at home against No. 21
Arizona
on Friday and at
Oregon State
in the Civil War on Dec. 4.
November, 13, 2010
11/13/10
7:19
PM CT
By
Jeff Caplan
| ESPNDallas.com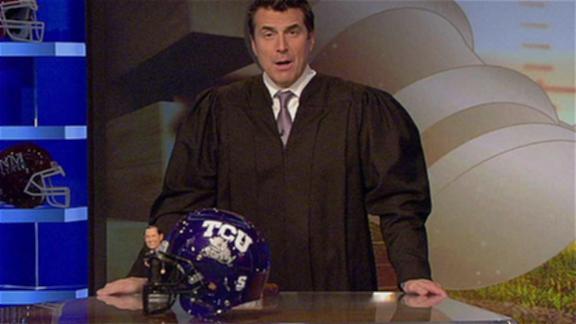 TCU
coach Gary Patterson preaches winning by one. In theory, that's great. But this is the unapologetic BCS, and now the third-ranked Frogs must wait anxiously to see if a five-point win over the unranked
San Diego State Aztecs
-- 40-35 after leading 34-14 at halftime -- will be enough to stay ahead of No. 4
Boise State
when the BCS rankings are released Sunday.
The stakes are incredibly high as TCU (11-0, 7-0 Mountain West Conference) heads into a bye week with one regular-season game remaining at woeful
New Mexico
after Thanksgiving. Boise State on Friday throttled
Idaho
, 52-14, and if the Broncos only close the gap on TCU, they still have three games remaining (vs.
Fresno State
, at No. 21
Nevada
, vs.
Utah State
) to thrust their high-powered offense and stingy defense upon the voters.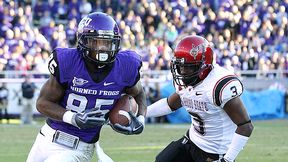 Matthew Emmons/US PresswireJeremy Kerley and TCU head into a bye week filled with BCS uncertainty.
The question now is if the polls will punish the Frogs -- who fell behind the juiced Aztecs (7-3, 4-2) 14-0 in the opening six minutes only to score 34 unanswered points -- for winning at home by a slim margin when the line was set at four touchdowns. TCU mostly dominated the stats and had possession twice as long. But, if the polls follow similar logic, TCU could be in trouble.
Remember back when TCU beat SMU by 17, but didn't show great and fell a spot in the AP Top 25 poll (which is not part of the BCS formula). Two weeks ago, riding a wave of impressive conference blowouts, the Frogs jumped Boise despite the Broncos routing their WAC opponents.
TCU widened the gap on Boise and were widely hailed as title-game worthy after their 47-7 road demolition of then-No. 5
Utah
.
But, the Utes did the Frogs no favors Saturday, getting blasted at hapless
Notre Dame
and perhaps cementing the belief that Utah was overrated, as well as denting the MWC's credibility as a menacing conference.
What does it mean if TCU drops behind Boise? Everything. The highest-ranked non-automatic qualifier is first in line for an automatic BCS berth -- this year into the Rose Bowl -- and remains on the doorstep of a possible national championship game appearance if, seemingly, No. 1
Oregon
, slim winners over
California
Saturday night, or controvery-ridden No. 2
Auburn
, big winners earlier in the day over
Georgia
, lose in their final games.
If TCU were to fall behind Boise, there is little time now to make another move.
The second-highest ranked non-AQ might find itself out of the BCS mix entirely, needing an at-large bid to get in, but knowing that the major conference's non-champions could fill the three precious spots remaining.
Yes, it will be a nervous 24 hours for the Frogs, who will find out if they were truly victorious on Saturday.
October, 12, 2010
10/12/10
12:11
PM CT
By
Jeff Caplan
| ESPNDallas.com
Well, well, well, look who's coming to town. The independent-bound
BYU Cougars
will visit Fort Worth on Saturday afternoon to face the No. 4
TCU Horned Frogs
for the last time in maybe, well, forever.
And if intense Horned Frogs coach Gary Patterson has any say in this one, the Cougars won't forget it for a long, long time.
The Cougars, struggling at 2-4 (1-1 in the Mountain West Conference), will walk into a cauldron at Amon G. Carter Stadium as they contiue their farewell tour before bailing out of the conference to begin an uncertain future as a college football independent. Color Patterson skeptical.
During fall camp, when rumors of BYU's thinking became public, Patterson had this to say: "You've got to be careful what you wish for. If you're BYU, you better be careful what you wish for. It's not my job to worry about what
Utah
(headed to the Pac-10) does, what BYU does, but I can tell you this: If you think being an independent is an easier way to get to a national championship, you're kidding yourself. Why would anybody vote them a Notre Dame exemption? How would they play anybody?"
BYU has lined up home-and-home games with the
Texas Longhorns
and today the Cougars finalized a series to continue its rivalry with Utah for at least two years. BYU will fill out the schedule with WAC teams. For 2011, the Cougars have 10 games lined up, five in 2012 and three in 2013, so there is plenty of scheduling work to be done.
Could TCU show up on one of those future schedules?
"No," Patterson muttered.
With Utah and BYU leaving the conference, and
Boise State
,
Fresno State
and
Nevada
coming in, it's unclear how the changes might affect the Mountain West's attempt to gain automatic-qualifier status into the BCS, but the majority opinion seems to think it will take a knock.
"We're going to see if these were the right decisions. Nobody knows. It's just like when you buy a house or switch jobs; you don't know if it's the right decision," Patterson said back in August. "The key to this whole story is all the people that made these decisions, we'll find out if they're university is better off because of all the things that have happened."
Of course, TCU could be mapping out its own course for the future as rumors of a potential move to the Big East Conference persist. Neither the Big East, with its all-important automatic-qualifier status, nor TCU has gone out of its way to quell those rumors either.
For now, one last BYU-TCU battle should be a physical and emotional scrap. The Cougars know TCU (6-0), with its BCS hopes intact, are ready for this one on multiple levels.
September, 28, 2010
9/28/10
10:13
PM CT
By
Jeff Caplan
| ESPNDallas.com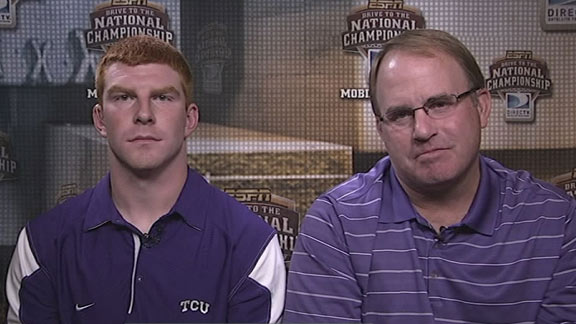 If Tuesday's
report in the New York Post
suggesting TCU is on the Big East's radar caught Horned Frogs football coach Gary Patterson by surprise, perhaps he's had his nose buried in playbooks.
"Surprised," Patterson said via text message. "I have been working on CSU."
OK then. During football season, Patterson is a here-and-now guy and that means full-time preparations for Saturday's Mountain West opener at Colorado State. But, what if in a few years the conference opener was at Syracuse or UConn or Pittsburgh or West Virginia or Louisville? And what if the end game was an automatic bid to a BCS game? Should TCU be intrigued?
"Don't know!" Patterson typed. "Too busy to think about it right now!"
The man TCU pays to know, athletic director Chris Del Conte, did not return a phone message.
Right now, Patterson knows he can't afford to lose. One loss and the No. 5 Frogs won't be going to any BCS game. That's not the case for teams in the six major conferences that have automatic access to BCS games and millions of dollars in revenue annually.
But, does the Big East make sense for TCU? At first it would seem the Big East makes no sense logistically for sports other than football. But, that argument loses steam when you consider the new Mountain West once Utah and BYU leave and Boise State, Fresno State and Nevada come in.
"Travel is about the same," Patterson noted, and it is.
The bottom line is it might not be safe for TCU to hold out for an invite to the new Big 12 with 10 teams. And, who knows when the next major conference shakeup occurs and where it will shuffle schools. As TCU knows well, there are no guarantees.
The real winner in a move to the Big East might just be the men's basketball program, the one underachieving sport at TCU. The Big East is a college powerhouse and it could open all kinds of recruiting avenues, not to mention bringing in nationally ranked programs to Daniel-Meyer Coliseum every week, including Pitt and its coach, TCU's own Jamie Dixon.
For those concerned about TCU's baseball program, the Big East boasts a 12-team league. What's so special about MWC baseball again?
According to the report, everything is preliminary. Even so, it is intriguing.
August, 20, 2010
8/20/10
12:10
PM CT
By
Jeff Caplan
| ESPNDallas.com
UPDATE:
The Mountain West Conference issued this
brief statement on its blog
at 1:06 p.m., regarding the Thursday meeting between officials from the Mountain West Conference and Conference USA:
"Followed up on various media reports regarding a potential Mountain West Conference-Conference USA merger, and confirmed that representatives of both leagues did indeed meet yesterday in Colorado Springs. Included were Commissioner Craig Thompson, Commissioner Britton Banowsky (who have a long-standing personal and professional relationship), and a couple MWC Athletics Directors. The informal gathering, which was previously scheduled, covered a wide range of topics, including concepts regarding television, scheduling and the BCS. Yet another example of the Mountain West's ongoing strategic thinking on a number of fronts, as the league continues to position itself in the national landscape."
***
So the Mountain West Conference and Conference USA have apparently put their two brains together and are talking a one-game showdown -- champion vs. champion -- with the winner being granted an automatic BCS berth.
First question:
On the surface, it seems ludicrous, so why would the BCS agree to give an automatic bid to a non-automatic-qualifying conference team every year?
Answer:
They won't (in my opinion, but let's continue...). Conference USA hasn't sniffed a BCS berth since long-departed Louisville in 2004 and Tulane a dozen years ago. Last season, unranked East Carolina knocked off No. 18 Houston in the C-USA championship game. East Carolina went to the Liberty Bowl and lost to unranked Arkansas, 20-17, and finished with a 9-5 record. Houston came to Fort Worth and got shellacked by unranked Air Force, 47-20, in the Armed Forces Bowl to finish 10-4. Since the 2006 season, no C-USA team has finished with fewer than three losses. In three of those four seasons, the league's best team had four losses. Can you imagine the national outrage had 9-4 East Carolina actually played its way into the BCS by upsetting TCU in a one-game bonanza?
That's reason enough to end this conversation right here, right now ... but, having said that, the one reason the BCS might bend and agree to such a scenario would be to avoid the embarrassment of last season when it had to deal with two BCS-busters and threw TCU and Boise State into the Fiesta Bowl to eat their own. A MWC vs. C-USA playoff would lump 23 teams (assuming today's count for the 2011 season of 11 teams in the MWC and 12 in C-USA -- things can change quickly, like, say Houston switching sides, but the numbers would stay the same) together and immediately lop off 22. No longer would the BCS have to worry about two teams messing things up.
Second question:
This is a no-brainer for C-USA, which has never sent a team to a BCS game, but why would the superior MWC want any part of this?
Answer:
Last year, TCU and Boise State both crashed the BCS, but two years ago, undefeated Boise State was left to play one-loss TCU in the Poinsettia Bowl. Would Boise have taken a one-game playoff against the C-USA champ for a shot to play on the big-money stage? Of course. What if TCU and Boise both go undefeated this season? One scenario: Boise gets the BCS bid and unbeaten TCU is invited to the Las Vegas Bowl. Gary Patterson has worked too hard to elevate TCU to a national platform to just give unproven C-USA a ticket to the BCS gates, but in the current system, Patterson might figure he has a better shot each year to win his conference and then win one more against the C-USA champ to ensure getting into the BCS rather than depend on BCS calculations to determine his team's fate.
Also, this would eliminate the undefeated-or-forget-it situation that now exists in the non-automatic-qualifer conferences, easing pressure on TCU and Boise State and the others to sweep their non-conference schedules, typically highlighted by two to three tough matchups against major-conference schools (TCU plays Oregon State and Baylor this season; Boise plays Virginia Tech and Oregon State). A loss in September wouldn't end all BCS hope as it does now.
The MWC and C-USA are also looking toward the future. Although the superconference model didn't come to fruition this summer, nobody is shortsighted enough to believe the Big 12 is stable and the Big Ten and SEC won't seek to expand. When and if superconferences emerge, schools in the MWC and C-USA won't hold their breath for an invite, and that includes TCU. Arranging this championship game would possibly ensure a spot in the BCS when the landscape again changes.
Third question:
Would such a championship game generate more money for the two conferences?
Answer:
How much is debatable. Surely, ESPN would pay for an elimination game, but it certainly wouldn't rank up there with, say, the attractiveness and popularity of the SEC championship game. And, revenue generated from a championship game would seemingly have to be split among the 23 teams, further watering down the profit margin.
Alternate solution:
Merge. Let's say the Mountain West bids farewell to New Mexico, Wyoming and San Diego State (WAC, anyone?) and moves forward with eight -- TCU, BYU, Boise, Air Force, Colorado State, Fresno State, Nevada and UNLV -- and invites four from C-USA -- Houston, Memphis, Tulsa and maybe Southern Miss for a 12-team conference with a championship game. That's not bad football to take to ESPN and other networks to hammer out a more lucrative TV deal than either conference has now. It's also a stonger product than either can currently take to the BCS for eventual automatic inclusion.
August, 18, 2010
8/18/10
1:22
AM CT
By
Jeff Caplan
| ESPNDallas.com
If
BYU
follows
Utah
out of the Mountain Western Conference, leaving the league considerably weakened with eight teams spread out between San Diego, Laramie, Wyo., and, of course, Fort Worth.
BYU will reportedly become an independent in football and join the WAC in all other sports after this season. BYU left the WAC in 1998 as one of the founders of the MWC.
With Utah's departure to the Pac-10 and BYU's apparent independent streak, the MWC is now in full scramble mode, reduced to eight teams after this season. The MWC would figure to want to beef up to 10 teams as it strives to gain entrance into college football's pearly gates as a BCS automatic qualifier. The MWC, two years into a four-year BCS evaluation period, believed it had bolstered its chances when it added
Boise State
two months ago as its 10th team. Boise State has the option to return to the WAC without penalty -- a nightmare scenario for the MWC -- but because of the chance to gain automatic-qualifier status in two years, we'll assume, for now, that Boise sticks.
So which conferences will the MWC be forced to poach? The primary league on notice is Conference USA with the WAC also in the cross-hairs.
The two most successful programs in the WAC are
Nevada
and
Fresno State
. However, ESPN.com's Andy Katz reports that
Nevada and Fresno State, approached by the MWC on Tuesday, have agreed to stay in the WAC
.
Fragile C-USA offers more possibilities, and more regional ones from TCU's perspective, starting with
Houston
,
Tulsa
and
Memphis
.
UTEP
would figure to be down the line with
SMU
, even with its resurgent football program under June Jones, figuring in as a longshot.
Just two months removed from the uncertainty of the wild conference realignment ride, suddenly, it appears, the MWC finds itself on the clock.
December, 24, 2009
12/24/09
9:22
AM CT
By
Richard Durrett
| ESPNDallas.com
TCU hasn't even left Fort Worth for Glendale, Ariz., yet and the No. 4 team in the BCS standings is already winning. Why? The Mountain West Conference has put together a solid bowl resume and it's not even Christmas yet.

Wyoming, a pretty big underdog, beat Fresno State in overtime in the New Mexico Bowl. BYU trounced Oregon State in the Las Vegas Bowl and Utah beat California by 10 in the Poinsettia Bowl on Wednesday.

Air Force will play Houston in Fort Worth in the Armed Forces Bowl to give the MWC a chance to go 4-0 before TCU takes the field against Boise State on Jan. 4.

But since TCU got wins over all three of the MWC teams that won bowl games, it makes the Frogs' look even better.