Dallas Colleges:

Gabe Lynn
January, 7, 2014
Jan 7
10:00
AM CT
Redshirt freshman quarterback
Trevor Knight
played the game of his career and the Sooners defense made key plays in key moments as Oklahoma knocked off Alabama 45-31 in the Allstate Sugar Bowl on Jan. 2. Here's a closer look, after a re-watch of the game, at five key plays that helped OU pull off the upset.
Safety Gabe Lynn's interception in the first quarter
The Sooners brought four pass rushers against Alabama quarterback
AJ McCarron
, who made a horrible decision, throwing into triple coverage despite not being pressured. The Crimson Tide had single coverage on every other receiver, making McCarron's decision even worse. He essentially threw the ball as if he didn't see that Lynn was sitting in center field to attack any deep throw.
Lynn, reading McCarron's eyes, made the easy interception. It was a key play for the Sooners as it came right after Knight threw an interception on OU's first possession, and it prevented the Crimson Tide from jumping out to a two-touchdown lead.
Knight's 45-yard touchdown to Lacoltan Bester in the first quarter
[+] Enlarge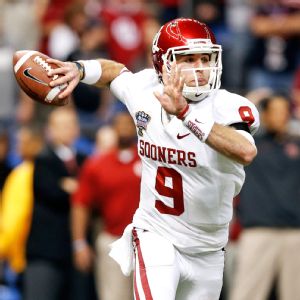 Derick E. Hingle/USA TODAY SportsTrevor Knight made several great throws in the upset of Alabama.
An exceptional play by everyone involved. Terrific protection from the offensive line, a great read and throw from Knight and superb athleticism from Bester to turn a 20-yard pass into a 45-yard touchdown.
It started with a play-action pass off a zone-read fake. OU only had two receivers running routes, with
Sterling Shepard
providing a safety net option after the fake. Without a perfect throw from Knight, this would not have been a touchdown. It was accurate with zip, allowing Bester to gather it in and turn upfield. Bester's stutter step provided just enough room to dive in for the score. The most underrated aspect of the touchdown was the confidence from Heupel to call a pass on the first offensive play after Knight's interception.
The fact coach Bob Stoops sought out Knight to congratulate him after the play speaks volumes about the importance of the touchdown. It was at that point the Sooners realized Knight had brought his "A" game and they would be able to take advantage of the Crimson Tide's focus on OU's ground attack.
Knight's 43-yard beauty to Jalen Saunders in the second quarter
Alabama defensive back
Deion Belue
gave Saunders' a 10-yard cushion before the snap, and still was beaten deep. This is where having NFL-caliber players on your roster pays off.
Play action helped get Saunders one-on-one against Belue, who bit on Saunders' double move. Knight delivered a perfect throw over the outside shoulder, where only Saunders could make a play on it. The senior receiver made a superb, over-the-shoulder catch while keeping one foot in bounds for the touchdown. Saunders' combination of quickness and acceleration was simply too much for Belue on the play.
Cornerback Zack Sanchez's interception
[+] Enlarge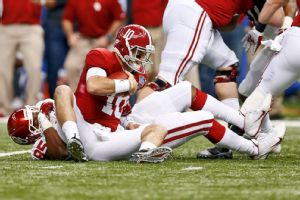 Derick E. Hingle/USA TODAY SportsThe Sooners were able to confuse AJ McCarron on occasion with their pass rush.
Defensive coordinator Mike Stoops deserves the credit for this one. Dime back
Kass Everett
and Lynn both blitzed on the play, but neither player appeared to be blitzing until six seconds remained on the play clock, and McCarron didn't have time to change the play. OU rushed seven defenders, leaving its secondary in one-on-one situations.
Everett, who was five yards behind the line of scrimmage when the ball was snapped, was in McCarron's face when the Bama quarterback threw the ball. Sanchez, knowing the blitz was on, jumped the hot route for the interception in front of
Amari Cooper
, who stopped his route for some reason. Alabama actually picked up the blitz well, but OU just brought too many defenders to block. Sanchez made a great play and Cooper didn't.
Geneo Grissom's touchdown to seal the game
Cyrus Kouandjio
is probably still waking up in the middle of the night from nightmares of trying to block Sooners linebacker
Eric Striker
. The sophomore blew past the All-SEC left tackle to force a fumble by McCarron that was scooped up by Grissom and returned eight yards for a touchdown.
The play is notable because it was a mirror representation of the key to OU's win. The Sooners were able to get pressure on McCarron while rushing four defenders. Striker got to McCarron less than three seconds after the snap and defensive end
Charles Tapper
, after a stunt, drove his man back into McCarron's face, preventing him from stepping up into the pocket to avoid Striker. Both players won their individual battles and the result was the game-sealing touchdown.
December, 31, 2013
12/31/13
10:00
AM CT
Oklahoma players have no illusions about the nation's perception of their chances to win the Allstate Sugar Bowl.


Finding someone outside the Sooner state who is picking OU to beat Alabama is like finding someone who had heard of
Champion Baptist College
before Monday night.
OU enters the game as clear underdogs and several Sooners have been asked by classmates if they are scared to play Alabama. That's right, scared … and they aren't happy about it.
"If you ask any guy that question, you'll get a sour response from anyone," guard
Bronson Irwin
said. "If you say yes to that question, you're probably in the wrong sport. This is top-level football. If you're scared of anyone, you're already beaten in my mind. A lot of this game is mental and a lot of the games are won before you start."
Ask any Sooner about the Crimson Tide and their mouths fill with praise and respect for the two-time defending BCS champions. Yet they're sick of people acting like they don't belong on the same field as the SEC power.
"They're a great team and they have been a great team for the last few years," senior safety
Gabe Lynn
said. "It's going to be a good challenge but, yeah, we're kind of sick of being overlooked."
Maybe the Sooners are sick of being the underdog because it's a role they've played several times this season, much more than a program with Oklahoma's tradition is accustomed to. With a lackluster passing game and injury-filled season, many questioned OU's chances in several games this season.
"We've kept the same attitude all year long," quarterback
Trevor Knight
said. "We've battled injuries, we've battled adversity, but we've always found people to step up and perform and continue making plays. People got down on us at times during the year, but here we are, a 10-win team going to the Sugar Bowl against a great Alabama team. In our locker room, we've had that attitude all year long that the next guy has to step up and make plays."
OU lost fullback
Trey Millard
, defensive tackle
Jordan Phillips
and linebacker
Corey Nelson
during the season. Several starters, including All-Big 12 cornerback
Aaron Colvin
, missed games and/or played with injuries this season. Those injury woes have led to doubts that OU could win 10 games and earn a BCS berth.
Yet that's exactly what the Sooners did.
"It builds hunger," Colvin said of the doubters. "We've been going through that a lot this year. A lot of the teams we've played we've been ruled out. With Oklahoma State I'm pretty positive that everybody picked us to lose that game. We don't really get affected by that. I think we enjoy that a little bit, being the underdog and having us against everybody else."
Funny thing is, it's not like this has never happened before. Florida lost to Louisville in last year's Sugar Bowl and Alabama was upset by Utah in 2009 when the nation expected those SEC squads to roll in New Orleans.
The Sooners hope to make it three times in six years an underdog has upset an SEC power in the Sugar Bowl.
"It's one of those things where it's a bowl game and anything can happen," All-Big 12 center
Gabe Ikard
said. "It comes down to preparation, who prepares better, who practices better leading up to the game and who executes better on the field. SEC vs. Big 12 doesn't matter. It's one game. Anything can happen in one game.
"If we go out there and play well it's going to be a good game for us. We're excited for the opportunity. We realize that a lot of people are doubting us and deservedly so. Alabama has been the king of college football and they deserve all of that respect. It's up to us to go down there and play them well and go get a Sugar Bowl victory."
And prove doubters wrong. Again.
December, 2, 2013
12/02/13
2:30
PM CT
NORMAN, Okla. —
Aaron Colvin
told us things would be different.
Before the season began, the Oklahoma senior cornerback was asked to name a breakout star for the Sooners, and he responded with an unlikely candidate:
Gabe Lynn
.
Lynn, a senior defensive back, has bounced around the secondary and battled inconsistency during his career, playing cornerback, nickelback and safety in his five seasons in Norman. He's finally found a home at safety as a senior, a consistent presence on the Sooners defense.
[+] Enlarge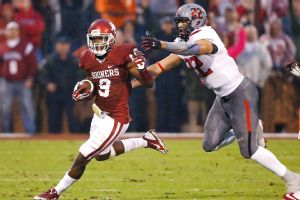 AP Photo/Sue OgrockiAfter playing cornerback and nickelback throughout his career, Gabe Lynn has found a home at safety during his senior season.
"Gabe is our anchor," Colvin said.
Lynn's play in OU's 41-31 victory over Kansas State is an example of the value he's brought to the Sooners defense in 2013. He set the tone early in the Nov. 23 victory, tackling Wildcats running back
John Hubert
for a 6-yard loss, then sacking quarterback
Jake Waters
on third down to end KSU's first drive to help the Sooners hold a 7-0 first-quarter lead.
The Tulsa, Okla., native has turned up his play in OU's last few games, recording 11 tackles and two sacks in the Sooners' back-to-back wins over KSU and Iowa State after their blowout loss to Baylor on Nov. 7.
As injuries have hit the rest of the defense, Lynn has played the role of experienced veteran. He leads the team with three interceptions and has 46 tackles, ranking fifth on the team. One of four returning starters from last year's defense, Lynn's move to safety has allowed him to use his physical mindset to his advantage while limiting the one-on-one coverage responsibilities that led to his struggles as a underclassman.
"The position Coach Mike [Stoops] has put him in has allowed him to go out and there and really play to his strong suit," Colvin said. "Gabe has always been real physical, always liked to hit. With the position he's at now, he's being able to showcase that."
Lynn had his ups-and-downs as a sophomore cornerback, becoming the scapegoat for a lot of the Sooners' defensive struggles due in part to lofty expectations based on his status as an elite recruit in the Class of 2009. As a junior he moved to nickelback and showed remarkable improvement. As a senior, he's proven to be more trustworthy than at any time during his career, and his leadership has been critical for a young defense.
"He has really made a conscious effort to be more of a playmaker and be a guy that you rely on," defensive coordinator Mike Stoops said. "... The trust and the reliability has really grown all season."
Colvin has dealt with various injuries this season, missing two games, and senior linebacker
Corey Nelson
was lost for the season in October. Those injuries have left Lynn as the lone senior to start all 11 games, making his leadership role even more valuable.
"He's a guy that when Aaron [Colvin] is not in, we really look to," Stoops said.
His mentorship role has also helped redshirt freshman cornerback
Zack Sanchez
hold up well during his first season as a starter. Sanchez has had moments when he's excelled, such as his 74-yard interception return for a touchdown against KSU, and moments when he's been picked on, such as his bad outing against Texas Tech. Through it all, Lynn, who had his own struggles against the Red Raiders as a sophomore, been there to relate with Sanchez and help him forget the past and move on to the next play.
"Gabe has been that big brother to always help me when I'm down," Sanchez said.
Heading into OU's Bedlam battle with Oklahoma State on Saturday, the Sooners defense will be counting on Lynn to continue his dependable play against a Cowboys offense that has beaten teams on the ground and through the air.
"It is really important to him to play well," Stoops said. "I am really pleased with his development."
November, 18, 2013
11/18/13
10:00
AM CT
After stumbling out of the blocks, which has been the norm this season, Oklahoma finally got on track in the second half and dominated Iowa State in the Sooners' 48-10 win Saturday. OU scored 45 unanswered points in the win.
[+] Enlarge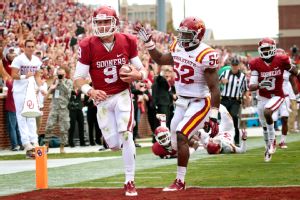 Brett Deering/Getty ImagesTrevor Knight's ability to break down Iowa State with his legs opened up Oklahoma's offense.
Dual-threat running game averages 12.55 ypc:
Quarterback
Trevor Knight
had 10 carries for 123 yards and running back
Damien Williams
had 10 carries for 128 yards and two touchdowns as the Sooners used the dual threat of quarterback and running back to perfection. The duo combined to average 12.55 yards per carry. Williams and Knight are the first pair of 100-yard rushers at OU since 2008 against Missouri. It's a clear sign of how OU's offense has evolved this season and could continue to evolve with a running threat such as Knight behind center.
ISU's 2.5 yards per play on third down:
Mike Stoops defense was dominant on third down, allowing just 35 yards on 14 third-down plays while holding ISU to 5 of 14 third down conversions.
Frank Shannon
,
Gabe Lynn
and
Eric Striker
each recorded sacks and safety
Quentin Hayes
grabbed his interception on third-down plays. OU's defense stepped up in those clutch moments on Saturday.
OU's 212-yard margin in the third quarter:
The Sooners gained 231 yards in the third quarter compared to the Cyclones' 19 yards as OU pulled away after halftime.
Brennan Clay
had a 63-yard touchdown run and Williams added a 69-yard touchdown run as OU put the game away by averaging 14.93 yards per carry during the third quarter. OU came out of the locker room with a different focus and execution, allowing it to impose its will on ISU in the final half.
OU's pass defense expected points added:
The Sooners pass defense finished with 7.38 expected points added, an ESPN metric which essentially means that OU's pass defense contributed 7.38 points to the win. They rallied after ending the first quarter at minus-3.14 expected points added. They added 2.39 points in the second quarter, 3.35 points in the third and capped it off by adding 4.79 points in the fourth. Playing without All-Big 12 cornerback
Aaron Colvin
, the Sooners' secondary was solid with
Cortez Johnson
and
Stanvon Taylor
each playing well in Colvin's absence.
OU's 3.73 points per drive:
The Sooners averaged 3.73 points per drive against the Cyclones, including a game-high six points per drive in the third quarter. OU is averaging 2.21 points per drive this season and the Big 12 average is 2.06. Florida State leads the nation with a 3.84 points per drive average. It was the second-most points per drive for the OU offense this season behind its 4.64 average against Tulsa. Seeing OU's offense be so prolific with Knight, a redshirt freshman, behind center could be an encouraging sign for the future.
October, 26, 2013
10/26/13
11:06
PM CT
NORMAN, Okla. -- Texas Tech tight end
Jace Amaro
was simply trying to help his team.
He ended up doing more damage than good.
Amaro's fumble late in the second quarter was one of two Texas Tech turnovers that directly lead to Oklahoma touchdowns in the Sooners' 38-30 win over the Red Raiders at Oklahoma Memorial Stadium on Saturday.
[+] Enlarge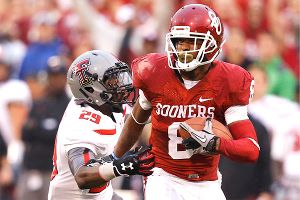 AP Photo/Sue OgrockiJalen Saunders scored one of his touchdowns following a takeaway by OU's defense.
"I fumbled for the first time ever in the biggest game I've ever played," Amaro said. "It was a 14-point swing because they score on that 76-yard (
Blake Bell
to
Jalen Saunders
) pass on the next play and I put a lot of that on myself."
Sooners defensive end
Charles Tapper
forced the fumble as Amaro was battling for extra yardage. OU also got an interception from safety
Gabe Lynn
at the start of the fourth quarter with OU clinging to a four-point lead. The Sooners capitalized following both plays with touchdowns by Saunders and
Damien Williams
respectively.
"That's huge," TTU coach Kliff Kingsbury said. "You cannot come into this stadium, against this team, with these coaches and those athletes, and do that. We knew coming in that we couldn't have the turnovers but we didn't take care of business."
The Tech turnovers helped the Sooners overcome a creative and aggressive game plan from Kingsbury. A fake punt, a halfback pass, an onside kick, the Ninja formation, it was all on display -- and successful -- for the Red Raiders who were trying to remain unbeaten.
Yet, the Sooners consistently came up with key defensive plays when they needed them.
"We hadn't seen that in a couple of weeks but we've always had faith in them," Lynn said of the offense turning the miscues into touchdowns. "I'm proud of them, running game, passing game, we made some huge plays on offense."
Lynn's interception was the only time the Sooners' defense stopped the Red Raiders from scoring in the second half before Tech's final drive of the game. Tech opened the second half with 17 points on three drives before Lynn picked off a tipped pass and the Sooners' offense took the field with a seven-play, 58-yard drive to take a 35-24 lead on a three-yard touchdown run by Williams.
"It was very important because they have a great offense and we know they like to hurry up and get after it," Williams said. "Whenever they [the defense] gave us a chance to get back on the field, we knew we had to capitalize and that's exactly what we did."
The Sooners' defense was far from perfect, allowing 460 yards on 79 plays (5.8 yards per play) including 388 passing yards. However, OU held Tech to 5 of 14 third down conversion attempts and forced all three of the Red Raiders' turnovers in its own territory.
"They got stops when they had to get stops," center
Gabe Ikard
said of OU's defense. "I thought besides a fumble early we [the offense] took care of [the ball]. The ball is everything in this game, for them to get key turnovers in key spots really helped us out, gave us momentum and we capitalized on them."
And that, ultimately, was the difference.
September, 25, 2013
9/25/13
4:00
PM CT
On Saturday, Oklahoma will make its first trip to Notre Dame Stadium in 14 years. The Irish won that 1999 contest, 34-30, and have won eight others against the Sooners, as they hold a 9-1 all-time mark in the series. Last season's game turned on several big Notre Dame plays on both sides of the ball, lifting the Irish to a 30-13 road win and an 8-0 record.
What will happen this time around? We turn to Big 12 reporter Brandon Chatmon and Notre Dame reporter Matt Fortuna to preview this weekend's tilt in South Bend, Ind.
Matt
: Brandon,
Blake Bell
earned the noble distinction last year of becoming the first player to rush for a touchdown against Notre Dame. That was eight games into the Irish's season, and this year they have already given up two scores on the ground. Obviously, Bell has a lot more on his plate this time around. And he is making his first career road start, in a stadium where the Irish have won 10 straight games. What can Notre Dame's defense expect to see from Bell on Saturday?
Brandon
: The Irish will actually have to account for the possibility they will see No. 10 throw the ball when he's behind center. Notre Dame will have to be prepare for Bell to test its secondary with his arm more than his feet, and he showed he might be a better passer than people think in his first start against Tulsa. Undoubtedly, the windows will shrink against ND but the fact remains that the Irish will have to prepare for Bell, who could test them with his arm and feet, unlike their preparations for
Landry Jones
, who doesn't put fear into the heart of any defense with his legs. The overriding question in Norman is: how have the Irish changed in the trenches after manhandling OU in Norman last season? Can they do that again?
Matt
: The depth of Notre Dame's defensive line took some hits this offseason -- first with the transfer of
Eddie Vanderdoes
to UCLA, then with the ACL tear suffered by
Tony Springmann
. Still, the front-line guys remain very dangerous, though the numbers have not exactly depicted that through four games. The Irish's opponents have done a good job of establishing a quick-strike passing game, effectively negating the strengths of the Irish's defensive linemen. A mobile quarterback like Bell will likely present more challenges Saturday, and it us up to the Irish to continue to adjust. The other side is a bit of a mystery as well. Notre Dame has struggled to establish much of a run game so far, but its offensive line has done a tremendous job of keeping
Tommy Rees
standing up straight through four games, and the offense has again limited the turnovers. Rees and this year's group of running backs just don't pose the kind of threat that Everett Golson and last year's backfield did, so it's hard to imagine the Irish running to set up the deep pass in the same way they were able to last year, when they connected with
Chris Brown
for a game-changing 50-yard strike in the fourth quarter. They may have more weapons at receiver this year, though. How does Oklahoma's pass coverage match up with
TJ Jones
,
DaVaris Daniels
and company?
Brandon
: Well, Matt, the Sooners' secondary would like to think it's ready for the challenge against Rees and Notre Dame's receivers. All-Big 12 cornerback
Aaron Colvin
won't be a concern, but the rest of the secondary is somewhat untested. Senior
Gabe Lynn
is starting at safety, a new position, after spending his first three seasons at nickelback and corner, and he has played well. OU's three new starters, nickelback
Julian Wilson
, cornerback
Zack Sanchez
and safety
Quentin Hayes
, have looked good but haven't yet played a quarterback who will capitalize on their mistakes. That said, the OU secondary, without question, is faster and better in coverage than the 2012 version. Whether it will it hold up mentally in a hostile environment is the unanswered question, so I can't wait to see how it all plays out. Anyway, who do you like this weekend?
Matt
: Notre Dame's defense played its best game Saturday, responding to Brian Kelly's mid-week challenge. But I'm just not sure it has completely turned the corner yet. I think the Irish are getting Oklahoma at a more opportune time, as Bell is making just his second start and the Sooners have yet to really be tested. But I have not seen enough so far that makes me believe Notre Dame will be able to handle everything Oklahoma will throw at it offensively. Oklahoma has had one more week to prepare, and I sense a bit of wounded pride coming from the Sooners after the Irish out-muscled them late last year and, eventually, ended up ruining the their BCS-bowl hopes. How do you see this one unfolding?
Brandon
: I think everything falls on the shoulders of the quarterbacks. Rees is much more experienced than Bell and I have a feeling that's going to show itself on Saturday as the Irish make Bell uncomfortable in the pocket and force a couple of mental mistakes from the junior during his first road start. OU's defense will hold up and play well, giving the Sooners the chance to remain in the game no matter what happens offensively. But turnovers will be the difference and ND will win the turnover battle and win a close, hard-fought game at home.
September, 23, 2013
9/23/13
4:15
PM CT
NORMAN, Okla. -- Is Oklahoma a BCS title contender? Or a pretender?
Those questions will start to get answered on Saturday when the Sooners visit South Bend, Ind., to take on Notre Dame.
[+] Enlarge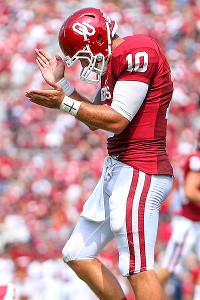 Kevin Jairaj/USA TODAY SportsIf Blake Bell can help the Sooners control tempo and execute in the red zone, OU's chance of winning at Notre Dame increases.
Turnovers, third down efficiency and sacks are obvious statistics that point to the eventual winner. But here are five overlooked stats to keep on eye on if the Sooners hope to knock off the Fighting Irish.
Rush attempts:
OU will want to establish the running game and be much more balanced than it was during its 30-13 loss to ND in Norman last season. The Sooners passed the ball 52 times and ran 24 times in that defeat.
Why it matters:
If OU's rushing attempts surpass 35, that likely means the Sooners are having success on the ground, particularly on first down. Four- or five-yard gains on first down will increase the chances of second down rushes. One- or two-yard gains will not. If the Sooners can run the ball, their odds of winning increase significantly.
Tackles for loss:
The Sooners need to play the majority of the game on Notre Dame's side of the line of scrimmage. OU had two tackles for loss against the Fighting Irish in 2012 as Notre Dame was never really taken out of its comfort level despite starting a redshirt freshman quarterback in Everett Golson.
Why it matters:
Mike Stoops' defense has been much more aggressive this season with more blitzing and a one-gap scheme along the defensive line. Those moves were made to get more penetration into opponent's backfield. If OU has five or more tackles for loss on Saturday, that's a great sign. If not, its defense could be losing the battle in the trenches.
Tackles recorded by Sooners' linebackers:
OU's leading tacklers after three games are
Corey Nelson
and
Frank Shannon
. Last season, the Sooners' leading tacklers were safeties Tony Jefferson and Javon Harris. Jefferson and cornerback
Aaron Colvin
combined for 21 tackles in OU's loss to ND last year, a sign that the defensive line and linebackers were subpar at best.
Why it matters:
Nelson and Shannon have played extremely well, along with pass rush specialist
Eric Striker
. If Nelson and Shannon are making plays sideline-to-sideline and Striker is getting pressure on ND quarterback
Tommy Rees
, the Sooners defense will have the chance to dominate the game. If OU safeties
Gabe Lynn
and
Quentin Hayes
are making the majority of the tackles, that means Nelson and Shannon aren't stepping up their game against the run or pass.
Red zone efficiency:
People often talk about how the Irish came into OU's house and dominated the Sooners in their last meeting. OU was 1 of 5 in the red zone in that loss, a negative state in a game that was tied 13-13 with just under 12 minutes left in regulation. Clearly, the Sooners weren't that far away from leaving Memorial Stadium with a win. Worse yet, they were 1 of 3 in goal-to-go situations that evening.
Why it matters:
Scoring points and capitalizing on opportunities decide games, particularly games between two quality opponents. The Sooners can't expect to win if they make consistent trips into the red zone and don't come away with points like they did in 2012.
Blake Bell
scored OU's lone touchdown last season, so the Sooners should be able to come up with ways to use Bell's skill set to make things harder on ND's defense. OU was 4 of 7 in the red zone and 3 of 4 on goal-to-go situations against Tulsa on Sept. 14 -- Bell's lone start this season -- but they'll need to be even more efficient against the Irish.
Time of possession:
There are several games where time of possession is irrelevant in this era of college football. This game will not be one of them. ND won the time of possession battle in 2012, as the Irish generally controlled the pace of the game.
Why it matters:
If OU can control the ball and maintain possession, it'll help take the crowd out of the game, potentially making things a lot easier in Bell's first collegiate road start. Obviously, if the Sooners can score five touchdowns on drives of two minutes or less to start the game, they'll take it. But the much more realistic scenario is to try to control the pace of the game by maintaining possession, much like the Irish did a year ago.
September, 9, 2013
9/09/13
3:30
PM CT
One thing the Big 12 is not is dull. Here's a recap of the wild weekend it was in the conference:
Team of the week:
Baylor. The Bears completely dismantled a Buffalo team that hung tough with Ohio State last weekend. There was no hanging tough in Waco for the Bulls, who were chased out of town with a 70-13 shellacking. During one unreal 11-minute stretch, Baylor racked up 576 yards of offense while averaging 12.5 yards a play. The Bears also scored touchdowns on their first eight drives, and probably would have scored a ninth had they not run out of time in the first half. Baylor has won six straight dating back to last season.
Disappointment of the week:
Texas. First, the Longhorns lost 40-21 to BYU. Then, they lost defensive coordinator Manny Diaz, who was fired Sunday and replaced with Greg Robinson. Mack Brown said at the beginning of August he was confident this would be his best team since 2009. If the Longhorns aren't careful, it could be his worst. Texas has at least a half-dozen losable games left on the schedule, including this weekend's meeting with emerging Ole Miss.
[+] Enlarge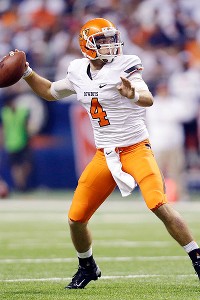 AP Photo/Eric GayJ.W. Walsh had a record day for Oklahoma State.
Big (offensive) man on campus:
J.W. Walsh
. The Oklahoma State sophomore answered many questions about his passing prowess in a 56-35 win over UTSA that wasn't nearly as close as the final score. Walsh set an Oklahoma State single-game completion percentage record by connecting on 24 of 27 passes. He found four different receivers for touchdowns and rushed one in on his own. Even though he's known for his wheels, Walsh now has the 17
th
-best passing EPA (expected points added) in college football.
Big (defensive) man on campus:
Gabe Lynn
. The Oklahoma safety has been maligned in the past for giving up huge plays in the pass, notably in the 2011 home loss to Texas Tech. But Saturday against West Virginia, the former cornerback was delivering the huge plays from his new position. In the third quarter, Lynn intercepted Mountaineers QB
Paul Millard
, then later scooped up a fumble and returned it 27 yards. The two turnovers killed West Virginia drives and helped keep the Mountaineers at bay even while the Oklahoma offense struggled.
Special-teams player of the week:
Tramaine Thompson
. The veteran playmaker showed why the Wildcats have one of the most dangerous return units in the country. Thompson's 94-yard kickoff return to begin the second half put an underrated Louisiana Lafayette away. The return duo of Thompson and
Tyler Lockett
remains one of the best in the country.
Play of the week:
The last time a Kansas wide receiver caught a touchdown pass,
Justin McCay
was still playing for Oklahoma. McCay, now a Jayhawk, vowed to end that ignominious streak, which dated back to Oct. 22, 2011. In the second quarter against South Dakota, McCoy hauled in a 5-yard pass from quarterback
Jake Heaps
at the back of the end zone that put Kansas ahead for good while ending the streak for good, too.
Stat of the week:
According to ESPN Stats & Information, Baylor already has 16 touchdown drives of two minutes or less, which leads the nation. Oregon has 15. No other program is in double digits. The Ducks led the FBS last year with 45 such drives. Baylor is on pace this season for 104.
Quote of the week:
"I haven't even gotten out of the game. … I'd like to watch the video." -- Texas coach Mack Brown, when asked after the BYU game whether Manny Diaz would remain his defensive coordinator. Brown fired Diaz the next day.
August, 20, 2013
8/20/13
5:00
PM CT
When Oklahoma State cornerback
Justin Gilbert
lines up against Big 12 offenses this season, he'll carry with him some rare experiences. During his college career, the senior has intercepted two Pro Bowl quarterbacks, held his own in one-on-one battles with a receiver who was a top-10 NFL draft pick and won 31 games in three seasons.
In the Big 12, experience is a important trait -- in a player and an entire defense.
"Experience is invaluable," OSU defensive coordinator Glenn Spencer said. "You can't coach that, you can't recruit that, it just comes from guys being in the battles."
Gilbert -- who intercepted Robert Griffin III and Andrew Luck as a sophomore and battled Justin Blackmon in practice during his first two seasons in Stillwater -- is one of seven returning starters on the Cowboys' defense, a trend that is seen across the league.
Seven of the Big 12's defenses return at least half their starters in 2013. That, along with six different squads naming new quarterbacks, sets up an ideal scenario for the conference's defensive coordinators. At Texas Tech, the Red Raiders return seven defensive starters, giving new defensive coordinator Matt Wallerstedt peace of mind as he approaches his first year trying to stop the explosive offenses in the conference.
"All those guys have played a lot of ball here and been in a lot of these different environments," Wallerstedt said. "These guys have played some ball together, and I think that's the big thing."
Quite simply, it's impossible for a Big 12 defender to know what he is up against until he's experienced it firsthand.
[+] Enlarge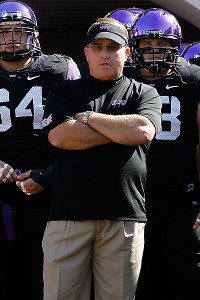 Tom Pennington/Getty Images"The biggest difference between a younger defense and an older defense is an older defense can be more multiple because they can get lined up and do more things," TCU's Gary Patterson said.
"I didn't really understand how fast it was until I got out there," Oklahoma senior safety
Gabe Lynn
said. "Once you get out there, get your first plays, you understand. I'm used to it. It's my third year playing, I'm familiar with a lot of the different teams, different offenses."
Several new faces at quarterback and a general lack of returning star power across the league promise to give the Big 12's defenses the clear experience advantage this fall.
Still, "That doesn't mean you're guaranteed success," Spencer said.
For one thing, the league average was 29.4 points allowed per game, 418.5 yards allowed per game and 5.74 yards per play allowed by Big 12 defenses. Thus, it's not like Big 12 defenders are returning after having dominated their offensive counterparts in 2012.
Secondly, experience only goes so far. Talent overcomes experience on a regular basis. For example, TCU defensive end
Devonte Fields
had 10 sacks and led the league with 18.5 tackles for loss as a freshman. He enters this season as the Big 12's preseason defensive player of the year as a sophomore.
Yet experience still has value. The conference has become known for its up-tempo attacks, which can put Big 12 defenses on their heels.
"It's stressful," Wallerstedt said. "Everybody is spreading the field now with a lot of different looks. Things are changing every year and creating a game of space, where you have to have guys making plays in open-field tackle situations and when the ball is in the air. You're trying to disguise as much as you can to keep the quarterback guessing."
Being able to turn to veteran defenders can make adjustments much easier while a team is in the middle of an onslaught of offensive attacks.
"Those guys are more adept to adjust quicker, understand what the issues are during a game," Spencer said. "On our side of the ball it's all about doing what you do and trying to force the issue but also reacting to the things you get. A more experienced team is able to work through issues on the sideline between drives, maybe some things they haven't shown before. Those are some things that just come with experience."
TCU brings back nine starters on a defense that led the conference in allowing 323.9 yards per game and 4.92 yards per play and ranked second with 22.6 points per game. Head coach Gary Patterson sees the clear value in having an experienced defense at his disposal against up-tempo offenses.
"Older players are used to tempo," Patterson said. "The biggest difference between a younger defense and an older defense is an older defense can be more multiple because they can get lined up and do more things. Younger defenses, you're trying to get lined up and play defense. That's harder to do. You've got to be able to fight back. If you can't fight back, it's a long day."
As Patterson notes, being ready is half the battle. Lynn is one of four returning starters on OU's defense, and he's already trying to prepare his younger teammates for the up-tempo attacks they will see this fall.
"We have a lot of freshmen," Lynn said. "And I try to relay to them how important it is to get the calls and get lined up. You have to be prepared and be ready to play."
It's hard to believe that inexperience would keep Baylor, OSU, West Virginia, OU and Texas Tech, up-tempo offenses that finished in the top half of the conference in offensive yards a year ago, from having success in 2013.
Yet experience will matter in the Big 12 this season.
"I said from the start I am fortunate to be taking over with that [experience returning]," said Spencer, who is entering his first season as the Cowboys' defensive coordinator. "Does that guarantee success? No. But it's better than the alternative."
Staff writer Jake Trotter contributed to this report.
August, 2, 2012
8/02/12
3:52
PM CT
As Oklahoma kicks off football practice this week, here are five storylines to watch this preseason:
1.
How does Whaley look in pads?
The injury to Ryan Broyles overshadowed the impact of the loss of
Dominique Whaley
, who suffered a season-ending ankle injury midway through the 2012 season. Whaley has been cleared to practice, but even Bob Stoops admitted the Sooners won't know how Whaley will handle cutting and contact until the team practices in pads. The Sooners have other options at running back, but Whaley is the most proven of any of them.
2.
How will the offensive adjust to life without Habern?
[+] Enlarge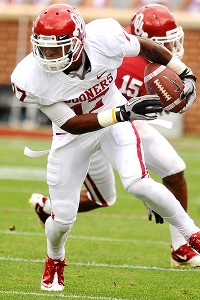 Mark D. Smith/US PresswireFreshman receiver Trey Metoyer is already penciled in as an opening-day starter for the Sooners.
Stoops said this week that the offensive line will be ready to deal with the loss of center
Ben Habern
, who has
given up football
because of issues with his neck and back. The Sooners made a seamless transition for six games without Habern last season, sliding
Gabe Ikard
to center, and inserting
Adam Shead
in at guard. The Sooners shouldn't miss much of a beat without Habern, but the line is a lot thinner than it was a week ago. Others like guard
Bronson Irwin
must step up.
3.
Does
Trey Metoyer
build off his spring?
Other than
Landry Jones
, Metoyer was OU's best offensive playmaker of the spring. Can the freshman phenom keep it going? By all accounts, Metoyer has busted it over the summer. So there's little reason to doubt he won't lock down a starting job before September.
4.
Which other newcomer receivers will emerge?
With
Jaz Reynolds
and
Trey Franks
expected to serve long suspensions, and Kameel Jackson still working on academics, OU will need wideouts other than Metoyer to emerge.
Durron Neal
has been slowed by a knee injury this summer,
LaColtan Bester
just got to campus and
Courtney Gardner
was unable to qualify. That leaves freshman slot receiver
Sterling Shepard
as the most likely to step into a prominent role. Shepard has wowed his teammates with his work ethic this summer.
5.
Will the secondary regain some of its swagger?
The confidence of the defensive backfield was shaken the second half of the season following porous performances against Texas Tech and Baylor. The group even dropped its "Sharks" nickname. But the return of Mike Stoops has the secondary primed for a bounce-back season. A change of scenery could do wonders for
Javon Harris
and
Gabe Lynn
, who both figure to open the season in the starting lineup. If they hold up, the secondary could be awesome, with stars
Tony Jefferson
,
Aaron Colvin
and
Demontre Hurst
manning the rest of the unit.