Dallas Colleges:

Garrick Williams
September, 28, 2011
9/28/11
2:45
PM CT
For Texas A&M, the season's start has to feel somewhat familiar.
Undefeated in nonconference play.
PODCAST
College Football Insider: Brandon Leone of TexAgs discusses A&M's loss to OSU, Ryan Tannehill's second-half struggles, the game against Arkansas and the move to the SEC.

Listen

A big first half lead against Oklahoma State evaporates, morphing into a heartbreaking loss.
"I don't think I've ever experienced anything like that in my entire coaching career," Texas A&M coach Mike Sherman said. "We didn't handle it well. We weren't engaged. They picked the tempo up, went right down the field on us and scored. We didn't respond well. We didn't play very well."
That's over, and Texas A&M is headed to Dallas-Fort Worth to take on Arkansas, where it lost the second of three games last year in its 3-3 start.
This team?
It's different than last year.
At least one Aggie doesn't need me to tell them that, either.
"That was a tough loss," said senior quarterback
Ryan Tannehill
. "I don't think we'll have a 3-game losing streak again. We have a different team with a lot of veterans. This won't affect us the same way it did last year mentally. We'll be able to fight through it."
[+] Enlarge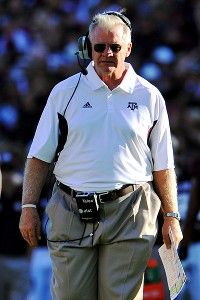 Patrick Green/Icon SMI Mike Sherman's Aggies carried a 20-3 lead into halftime against Oklahoma State before losing 30-29. "We didn't handle it well. We weren't engaged," Sherman said.
He's not pumping sunshine over a dark week in College Station. This team doesn't have two freshmen bookending the offensive line. It isn't coming off a six-win season. It didn't need fourth-quarter magic to erase a double-digit deficit and escape an early-season loss to Florida International. It isn't breaking in a new defense and riding the talents of one freakish athlete with a bum ankle to disrupt defenses. There's no quarterback with a bum shoulder causing awkward suggestions he be benched.
Forget senior quarterback curses
. The story in College Station this week, with apologies to the SEC, is senior leadership from a group of players that have contributed for three seasons now.
"We need everybody. Something happened Saturday in the third quarter that really got to us as a whole unit," said linebacker Garrick Williams. "That's just something that we can't do. We're going to be on guys this week in practice and try to get everyone very attentive to detail."
So far, it's worked. The seniors have set a tone.
"Our guys showed up today with resolve. No one was cutting up," said defensive coordinator Tim DeRuyter. "We realized we had an opportunity and we let it slip. The great thing about this game when you have games left is on Saturday we have another chance to show what we really are all about as a defense."
This is a team that learned how to win over the second half of last season, when it did it six consecutive times in conference play to win a hard-earned share of the Big 12 South before eventually moving to the only division in football that's more difficult: The SEC West.
But for now, they're just in the division-less Big 12.
And they're just a team that, for one quarter, played badly. There's no maturing left to be done. Only playing. And Texas A&M will get that opportunity on Saturday.
August, 15, 2011
8/15/11
11:01
AM CT
COLLEGE STATION, Texas -- There's only so much you can take from a 90-minute workout without pads, but here are a couple quick thoughts and observations from Sunday afternoon's workout inside the indoor facility at Texas A&M.

I'll be there this morning for a live scrimmage with pads, too.
Last year, when I visited College Station in the preseason, it was pretty obvious during team work that Jerrod Johnson had a ways to go before he was back to the same player he was in 2009. He obviously never quite got there. This year? Not the case. All the usual suspects looked great. Ryan Tannehill was as good as you'd expect, Jeff Fuller looked great, and Christine Michael showed some nice explosiveness and lateral movement. Cyrus Gray is limited after suffering a minor hamstring injury on the first day of camp, but he's expected to be 100 percent for the season opener against SMU on Sept. 4.
Every time I've come to a practice at College Station, I've been impressed with what Jameill Showers had to offer as a backup quarterback, and Sunday was no different. It's a limited sample size, sure, but he throws an outstanding ball, and he made good decisions throughout Sunday's workout in team drills.
An offseason arrest didn't put Damontre Moore in the good graces of the coaching staff, and as a result, the possible star had spent the first week of camp working primarily with the third and fourth groups, according to other A&M reporters who had attended earlier practices. On Sunday, however, he was back working with the first team at the Joker position. A good sign for his future, no doubt. The sophomore may have struggled off the field during the offseason, but remember: Von Miller infamously wasn't the personification of a leader early in his career, and left as one of the program's all-time greats -- on and off the field. There's plenty of time for Moore to shore up his act.

PODCAST
Ian Fitzsimmons joins Ben and Skin to update us on Texas A&M's tryst with the SEC.

Listen

Inside linebacker is a primary concern for the Aggies this fall camp, especially after they got a preview of a grim future without Michael Hodges this year when Hodges missed the majority of the Cotton Bowl with a knee injury. Garrick Williams is one of the defense's leaders and a returning starter at one of the two spots in the 3-4 scheme, but Donnie Baggs and Jonathan Stewart have been earning lots of time together with the first team -- and without Williams. Coach Mike Sherman's explanation for the approach: "I always like to see guys with the first group, because that's when you get to evaluate them. When you're with the second group, you're going up against the second group of offense. So let's see how they do against the first group guys, so it's really a more accurate evaluation of where they stand. They could be killers in the second group but go to the first group and it's a little bit more challenging, so I want to see them against the better competition."
Sherman says he's still trying to sort out who his starter will be, but I like the approach to throw them in with the first-team and see who outperforms the other. Stewart is the more experienced player, but Baggs, a true freshman, has obviously impressed enough to even be in this position. Sherman expects the position to be more solidified early next week.
Sherman played it coy when asked about a "rumor" that Texas A&M's coaches met with university president R. Bowen Loftin about the possibility of a move to the SEC. "Rumors? Really? Are you saying it's a rumor? I don't comment on rumors," he said. "You led with a rumor, so..." A poor choice of words, sure, but a fruitless line of questioning, no doubt, regardless of word choice.
Safety Trent Hunter did discuss the prospect of the SEC, but only that the team has been told not to discuss it. "Our coaches made a point on the first day. Don't talk about it, don't tweet about it, don't Facebook about it," Hunter said, adding that it hasn't been difficult to focus on the field while rumors swirled. "It's not anything that's going to affect us playing SMU on that first week."
Today's scrimmage will be live with plenty of hitting, Sherman says. Should be exciting. I'll have some notes and stats up on the blog later.
August, 9, 2011
8/09/11
10:00
AM CT
Moving on in our rankings of the top 10 at each position in the Big 12 entering 2011.
[+] Enlarge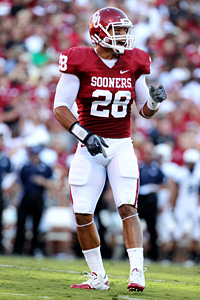 Matthew Emmons/US PresswireOklahoma's Travis Lewis is among the Big 12's top linebackers entering the season.
Here are the top 10s you've missed so far:
The Big 12 is really, really strong at linebacker, just as it is at receiver. Running back and defensive line are two of the Big 12's weakest positions, but linebacker might prove to be a true strength by season's end.
If you're curious, here's
how I ranked the units by team.
We might even see big, young talents like Corey Nelson, Tom Wort, Arthur Brown, Jordan Hicks and Huldon Tharp fight for spots on this list by season's end, but overall inexperience keeps them off for now.
Here are the top 10.
1. Travis Lewis, Oklahoma:
Lewis took home the Big 12's preseason Defensive Player of the Year Award (as much as someone can take home an award with no actual hardware, anyway), but he'll be the easy favorite for the award entering the season. Of
my postseason top 25 Big 12 players
, Lewis is the only returning defensive player. He's made 100 tackles in each of his first three seasons at Oklahoma, and eschewed the NFL draft to try and win a title at Oklahoma.
2. Jake Knott, Iowa State:
Knott doesn't get the national pub of some other guys on this list, but he should. In just his first year as a starter, Knott made 130 tackles, the most of any returning Big 12 starter. Just a junior, Knott should make even more improvement in 2011.
3. Keenan Robinson, Texas:
Robinson has all the physical tools, and should be set loose in new coordinator Manny Diaz's aggressive scheme. Robinson made 106 tackles in 2010, but look for his sack totals (two in 2010) to get a big boost from spending more time in offensive backfields.
4. Shaun Lewis, Oklahoma State:
Lewis exploded into the Big 12 fan's consciousness as a true freshman in 2010, sharing Big 12 Defensive Freshman of the Year honors with Oklahoma's Tony Jefferson after making 58 tackles with eight tackles for loss, despite not officially being a starter until the second half of the season. He's a bit faster than you might expect him to be at 5-foot-11 and 220 pounds, but he should be due for a big encore.
5. Emmanuel Acho, Texas:
Acho joins Robinson in one of the best linebacker groups in the league, and will likely be a team captain alongside his fellow linebacker. Acho made 81 tackles to rank second on the team, and added 10.5 tackles for loss and 3.5 sacks for an underrated Texas defense in 2010.
6. Zaviar Gooden, Missouri:
Gooden is easily the fastest guy out of this group, and should be due for a breakout year on the national stage if Missouri gets the ball rolling with
James Franklin
at quarterback and becomes a top 25 mainstay. He tied for the team lead in tackles last season (84, 49 solo) during his first year as a starter, and could see that number jump as a junior in 2011.
7. A.J. Klein, Iowa State:
As little respect nationally as Klein's teammate, Knott, gets, Klein gets even less. Which is a shame. Klein, like Knott, was a first-year starter but became one of just 11 players in the Big 12 with more than 100 tackles. Was that number (111, 49 solo) aided by a weak defensive line? Sure, but somebody made those stops. And it was Klein. He'll get plenty more chances to further prove himself.
8. Garrick Williams, Texas A&M:
Williams returns as one of the leaders of the Wrecking Crew after making 112 tackles in 2011, including five tackles for loss and a forced fumble. The Aggies need him to play well at inside linebacker in Tim DeRuyter's 3-4 scheme, if for no other reason than because of the uncertainty and likely inexperience at the inside linebacker spot.
9. Elliot Coffey, Baylor:
Coffey should be one of the lynchpins of a maturing Baylor defense with lots of work to do under new coordinator Phil Bennett. Though there's no formal depth chart just yet, Art Briles admitted that if anyone has solidified a starting spot, it's Coffey. The 6-foot, 230-pounder made 61 tackles (34 solo) and 4.5 tackles for loss as a junior in 2010.
10. Steven Johnson, Kansas:
Johnson emerged out of a good group of linebackers last season to lead the team in tackles, with 95 stops (62 solo). He loses fellow linebackers Justin Springer and Drew Dudley, but will get help with the return of Huldon Tharp. Johnson was a former walk-on, but in his first year as a starter in 2010, rewarded the Jayhawks' decision to put him on scholarship.
Just missed:
Will Ebner, Missouri; Sean Porter, Texas A&M
July, 2, 2011
7/02/11
11:00
AM CT
We've taken a look at the Big 12 offensive skill positions in our position rankings, and we'll circle back along to the lines eventually. For now, though, we'll flip to the defensive side of the ball, starting with linebackers.
There's a lot of turnover in this space, and the bottom half was pretty hard to sort out. We haven't seen a lot of these new faces on the field for extended periods of time, so it's somewhat of a crapshoot. I don't feel like there's a wide gap between teams 7-10, and each of those squads have at least one linebacker who could be due for a huge year and shoot them up this list.
I see Nos. 1-3 possibly being great, with dropoffs before the No. 4 and No. 7 teams.
Also, if you missed them, here are the other position rankings we've done so far.
So, without further ado, here's how I ranked the linebackers. (Nickel backs are included in this list, hybrid DE/LBs will be with defensive lines)
[+] Enlarge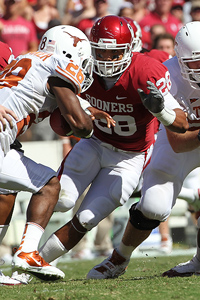 Matthew Emmons/US PresswireOklahoma's Travis Lewis is the Big 12's top returning defender.
1. Oklahoma
-- The Sooners boast the Big 12's top returning defender in Travis Lewis, who has notched at least 100 tackles in each of the past three seasons, and he'll be joined by the Big 12's co-Defensive Freshman of the Year, Tony Jefferson. Tom Wort and Corey Nelson are both loaded with potential, and will fill out the rotation, after the starter at middle linebacker, Austin Box, died on May 19.
2. Iowa State
-- The Cyclones boast two of the Big 12's best in Jake Knott and A.J. Klein, who combined for more tackles than any two teammates in the Big 12 last season. They had 241 stops, and, after healing from a broken leg suffered midseason last year, Matt Tau'fo'ou should join them at middle linebacker.
3. Texas
-- Texas' offense may be lacking, but the defense will be strong once again, led by two others likely to earn spots as some of the Big 12's best. Keenan Robinson and Emmanuel Acho were Texas' top two tacklers last year with 187 stops, and return as likely captains come fall camp. Texas' depth chart is wide open, but look for former blue-chip recruit Jordan Hicks to emerge as another star this year, despite being forced to sit out spring camp with a broken foot. Dravannti Johnson played some defensive end last year at the Buck position for the Longhorns, but may find his way back to linebacker. Tevin Jackson was ineligible last year, but he's ready for 2011, and could make an impact.
4. Oklahoma State
-- The Cowboys "Star" linebacker is occupied by co-Defensive Freshman of the Year Shaun Lewis, and sophomore Caleb Lavey is charged with replacing Orie Lemon, the leader of last year's defense. Oklahoma State has questions on the weak side, but LeRon Furr and Chris Dinkins will compete next fall.
Kris Catlin
could be a factor, too.
5. Texas A&M
-- The Aggies must replace their leading tackler, Michael Hodges, and don't have a clear replacement heading into fall camp. The good news: They've got two others with lots of experience in the linebacking corps that look like budding stars. Garrick Williams should be one of the defense's leaders and Sean Porter returns after making 74 tackles last year to rank third on the team.
6. Missouri
-- The Tigers have lots of experience at middle linebacker, where a pair of seniors (albeit frequently injured seniors) Will Ebner and Luke Lambert will be on the field a lot. One of the Big 12's most exciting players, junior Zaviar Gooden, will hold down the weakside and perhaps become a household name by season's end. Sophomores Andrew Wilson and Donovan Bonner, who missed all of last season with a knee injury, will likely compete for strongside duties in fall camp. Andrew Gachkar, the team's leading tackler, is gone, but here's guessing Gooden emerges as the defense's top playmaker.
7. Kansas
-- The Jayhawks linebackers were solid last year, and could be pretty good again, despite losing Drew Dudley and Justin Springer, two of the team's top four tacklers. Steven Johnson, the team's leading tackler in 2010, is back and he'll be joined by possible star Huldon Tharp, who missed all of last season with a leg injury. Fellow sophomore Darius Willis earned a starting role after spring.
8. Kansas State
-- K-State's front seven struggled last year, but will get a big boost from Arthur Brown. One man won't be enough to totally fix the Wildcats rush defense problems, though. K-State gave up 26 more yards on the ground per game than any other team in the Big 12 (more than 231 per game) but Brown may be playing in a 4-3 next fall rather than the 4-2-5 the Wildcats have employed since Snyder's return. Alex Hrebec, Emmanuel Lamur, Tre Walker and Blake Slaughter will likely fill the rotation along with Brown.
9. Baylor
-- Baylor's defensive depth chart, like Texas', is a bit amorphous after bringing in a new coordinator, but Elliot Coffey figures to be the Bears biggest playmaker at linebacker. Chris McAllister should be solid and Ahmad Dixon is promising at nickelback, too. Brody Trahan is a great story, but him
going from third-string quarterback to starting linebacker
isn't a ringing endorsement for Baylor's depth at the position.
10. Texas Tech
-- Tech will be moving to a 4-2-5 this year under new coordinator Chad Glasgow, and could rise up this list, but the Red Raiders lose a lot of talent from last season's team, which ran the 3-4. Bront Bird and Brian Duncan are both gone, and youth will be a big factor with this group. Cqulin Hubert's outstanding potential is matched by his more outstanding first name, and freshman
Blake Dees
showed promise after arriving early this spring. They'll likely be the rotation at middle linebacker spot alongside Daniel Cobb and Zach Winbush. Terrance Bullitt could be a playmaker at his new safety spot, listed as a strong safety but with plans to spend lots of time near the line of scrimmage, a la nickelback.
April, 26, 2011
4/26/11
1:05
PM CT
The ninth in our series looking at the strongest and weakest position for each team in the Big 12: The Texas A&M Aggies.

Strongest position: Skill positions
Key returnees:
QB
Ryan Tannehill
, WR
Jeff Fuller
, RB
Cyrus Gray
, RB
Christine Michael
, WR
Ryan Swope
, WR
Uzoma Nwachukwu
, WR
Kenric McNeal
Key losses:
None
Analysis:
You can't pick one position out of this group, really. The Aggies have two of the Big 12's best running backs, both with two years of solid experience in the Big 12.
The same is true of the receiving corps, which is deep and experienced with lots of ability to make sure Tannehill's first full season starting (he was 5-1 in six starts last year) goes well.
In that group of receivers is plenty of balance. Jeff Fuller's size (6-foot-4, 215 pounds) makes him one of the best red zone targets in college football, and he caught 12 touchdowns last year. Ryan Swope and Kenric McNeal are some of the league's toughest covers in the slot and Uzoma Nwachukwu is a more balanced receiver with a lot to prove after an underwhelming sophomore year.
Cyrus Gray and Christine Michael are both balanced backs, but Gray's biggest asset is his speed, and Michael is the more powerful back. They complement each other well and could both flirt with 1,000 yards this year. Gray brings a seven-game streak of at least 100 yards rushing into 2011, racked up against defenses like Nebraska, Oklahoma and LSU to close the 2010 season.
The Aggies' backup plan if Tannehill goes down isn't very attractive, with no experience behind him, but he should be among the Big 12's best at the position this year.
Best of all, the offensive line brings back four starters. The Aggies should be among the Big 12's best offenses and defenses, but the biggest asset is its depth and experience at all the skill positions.
Weakest position: Linebacker
Key returnees:
Garrick Williams, Sean Porter, Damontre Moore, Kyle Mangan
Key losses:
Von Miller, Michael Hodges
Analysis
: For the Aggies, linebacker is more of a question mark than a true weakness, but they'll need good players to blossom into great ones if they want to build on last season's strong finish.
Make no mistake, Von Miller and Michael Hodges are huge losses. Miller was the Big 12's best defender last year, and Hodges led the team in tackles, with 115. We already got a preview of what happened to Texas A&M's defense without Hodges in the Cotton Bowl. He went down early with a knee injury and the Aggies fell apart, giving up 41 points to an LSU offense that averaged fewer than 30 last season, ranking ninth in the SEC. It wasn't pretty.
Damontre Moore, at the pivotal Joker position,
showed lots of potential last year when Miller was slowed early
in the season with an ankle injury, but he was still just a freshman. He'll have to grow up and be counted on for much more as a sophomore this year.
Garrick Williams made 112 tackles last year and should be one of the defense's leaders. Sean Porter may play a bit of the Joker position, but he'll grab another linebacker spot in the Aggies' 3-4 after starting last season and making 74 tackles, third-most on the team.
Replacing Hodges isn't entirely settled yet, but someone will have to step in and be solid in the middle of the defense. Jonathan Stewart and Kyle Mangan played some last year, and freshman Donnie Baggs was in the rotation this spring as well.
More spring superlatives:
January, 27, 2011
1/27/11
10:09
AM CT
Signing day is exactly a week from Wednesday, and it's time to take a look at who needs what in its 2011 class.
Some schools have addressed these needs with their current class. Some haven't. Others are still trying.
Here's our look at the South, after running down the
Big 12 North
earlier this morning.

BAYLOR
Defensive tackle:
The Bears are loaded on offense and have a ton coming back, but anyone who watched Baylor in 2010 knows the big problems are on defense, starting with the front four. Phil Taylor is headed to the NFL and Nicolas Jean-Baptiste will be a senior next year. Reserve Chris Buford is gone, too. The Bears need to fill out some depth up front to avoid a repeat of their Texas Bowl debacle defending the run against Illinois.
Punter
: Derek Epperson was rock solid as a four-year starter for the Bears, averaging near 44 yards a punt for his past three seasons. He's gone now, and the Bears will need a replacement. The good news is Baylor's offense with
Robert Griffin III
doesn't make the position nearly as important as it used to be.

OKLAHOMA
Receiver:
Ryan Broyles
, a senior, and
Kenny Stills
look ready for big years in 2011, but senior
Cameron Kenney
is gone.
Trey Franks
,
Dejuan Miller
and
Joe Powell
could contribute in 2011, but beyond that, another big-time threat across from Stills would certainly help. One of the Sooners' top 2011 commits, Trey Metoyer, could become that player.
Safety:
Both starters, Quinton Carter and Jonathan Nelson, have graduated, and the Sooners will try to replace them with Sam Proctor, who has started plenty of games, and Javon Harris. The Sooners are pretty well-stocked about everywhere, but more depth in the secondary is always welcome.

OKLAHOMA STATE
Defensive line:
Three of the Cowboys' four starters are gone, and it's always necessary to fill in some depth behind them. Shane Jarka, Chris Donaldson and Ugo Chinasa all had good years in 2010.
Offensive line:
Oklahoma State brings back all five starters for 2011, but four will be seniors. That means replacing them in 2012, which will be a lot easier if those replacements don't end up being true freshmen. Oklahoma State kept offensive line coach Joe Wickline, a candidate for the same job at Texas, and his development of the line last year with four new starters was a big reason for the Cowboys' success. He'll need to do it again in 2012.

TEXAS
Running back:
Fozzy Whittaker
and
Cody Johnson
will both be seniors in 2011, and Tre Newton's career is over because of issues with concussions. Texas would be well-served if its top 2011 commit, Malcolm Brown, can come in and be effective immediately as a true freshman.
Cornerback:
Aaron Williams left early. Curtis and Chykie Brown graduated. Texas needs help at corner and will have big problems in the near future if they don't get it.
Linebacker:
Emmanuel Acho and Keenan Robinson will be seniors in 2011, and Dustin Earnest and Jared Norton already graduated. New talent behind them will help prevent a drop-off in 2012 after Acho and Robinson split.

TEXAS A&M
Kicker:
Randy Bullock will be a senior in 2011, but Texas A&M is already hoping his spot is filled by incoming freshman Taylor Bertolet, the nation's No. 2 kicker who won the Under Armour All-American game with a last-second field goal earlier this month.
Linebacker:
Michael Hodges and Von Miller have graduated, and Garrick Williams will follow them in 2011. The Wrecking Crew was pretty stout for most of 2010, but filling those holes in a four-linebacker front will be key in ensuring things stay that way.

TEXAS TECH
Secondary:
LaRon Moore and Franklin Mitchem are gone, so Texas Tech will be breaking in some new blood in the secondary for new coordinator Chad Glasgow and cornerbacks coach Otis Mounds. Freshmen cornerbacks Jarvis Phillips and Tre Porter made plays in 2010, but they also allowed offenses to make a few of their own. Stopping that will be a big step in Texas Tech getting things rolling under Tommy Tuberville.
Receiver:
Texas Tech already needs to replace
Detron Lewis
and
Lyle Leong
, and
Tramain Swindall
and
Jacoby Franks
will follow suit after 2011.
Alex Torres
was hampered by a back injury all year, but the Red Raiders will need some depth around him at receiver to keep the offense humming.
January, 7, 2011
1/07/11
11:31
PM CT
By
Scott Noll
| ESPNDallas.com
The 75th Cotton Bowl between Texas A&M and LSU featured quite a few Dallas-Fort Worth area high school products. Here's how they fared:

TEXAS A&M AGGIES

RB Cyrus Gray (DeSoto): 20 carries for 100 yards (7th straight game 100+). Also completed a 14-yard pass and caught another for 9 yards. With 109 total yards, Gray became the second player in A&M history to surpass 5,000 yards in career all-purpose yardage (5,023) -- joining Darren Lewis (5,138 yards from 1987-90).

WR Jeff Fuller (McKinney Boyd): 7 catches for 83 yards. Finished tied with Ryan Swope for the team lead with a school-record 72 receptions this season. He also surpassed the 1,000-yard mark for the season -- the first in Texas A&M history.

WR Uzoma Nwachukwu (Allen): 4 catches for 38 yards, 2 TDs.

TE Hutson Prioleau (FW All Saints): 1 catch for 0 yards.

LB Von Miller (DeSoto): 6.5 total sackles, 1 sack, 3 tackles for loss.

LB Garrick Williams (DeSoto): 10.5 total tackles.

DE Tony Jerod-Eddie (DeSoto): 1.5 total tackles.

DB Steven Terrell (Allen): 2 total tackles.

LSU TIGERS

CB Ron Brooks (Irv. MacArthur): 4 total tackles, 1 tackle for loss.
December, 7, 2010
12/07/10
2:10
PM CT
The story of Texas A&M's 2010 season will always be told in two parts. There was the frustrating start with close losses to Oklahoma State and Arkansas before "The Year" could pick up any real momentum. Then came the blowout loss to Missouri that gave fans reason to believe there was no real reason to believe.

Then, of course, is the streak that 2010 will ultimately be remembered for. Texas A&M finished its season with six consecutive Big 12 wins to finish 9-3 and land in the Cotton Bowl for the first time since 2004. That streak is the longest for the Aggies since its last Big 12 title which was in 1998.
The early stumbles cost the Aggies a chance at the Big 12 South title, but it knocked off top 10 opponents Oklahoma and Nebraska down the stretch to get inside the top 20. Three goal-line stops against the Sooners and allowing just six points against Nebraska keyed off talk of the return of the "Wrecking Crew" and the Aggies left the field to chants of "Wrecking Crew" after both big wins.
Offensive MVP: Cyrus Gray, RB.
Talk about
Ryan Tannehill
and
Jeff Fuller
all you'd like. Gray is the biggest reason for the winning streak.
Christine Michael
went down with a broken leg in midseason, but Gray finished the season with six games of at least 100 yards rushing, including over 200 yards of offense against a stingy Nebraska defense and 223 yards rushing against Texas. During that six-game stretch, Gray averaged 6.3 yards per carry.
Defensive MVP: Von Miller, LB/DE.
Miller, like the Aggies, got off to a slow start, too. His came because of an ankle injury, but Miller was one of the league's most productive defenders in Big 12 play, making a late surge into the conversation for Big 12 Defensive Player of the Year. He didn't have a tackle for loss or a sack in his first four games, but finished with 14.5 TFLs and 9.5 sacks, tied for the Big 12 lead.
Turning point: The switch from Jerrod Johnson to Ryan Tannehill.
I'll stress, this isn't the only thing that helped the Aggies rip off six consecutive wins, but it was one of the reasons why. Johnson didn't look like himself after offseason shoulder surgery, but Tannehill got some time at quarterback against Kansas, and took over the starting gig against Texas Tech. In that game, he set a school record with 449 passing yards and didn't give the job back.
What's next:
Tannehill's experience this year will carry over to next year, but the Aggies have to hope he doesn't fall victim to the Texas A&M senior quarterback curse as Johnson and Reggie McNeal did, among others before them. The defense made big strides under Tim DeRuyter, and though Miller, linebacker Michael Hodges and defensive tackle Lucas Patterson will be gone next year, the Aggies should still have a solid senior class with Tannehill, safety Trent Hunter and linebacker Garrick Williams. Freshman Damontre Moore will fill Miller's role and could be a breakout star in 2011, too.