Dallas Colleges:

Gavin Stansbury
November, 19, 2013
Nov 19
3:30
PM CT
COLLEGE STATION, Texas -- When it comes to the presence schools have in their respective home states, few are stronger than LSU in the state of Louisiana.
The Tigers' success, conference affiliation and game day atmosphere are just a few of the unique advantages for natives of the Pelican State.
[+] Enlarge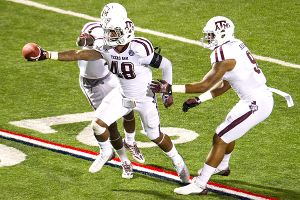 Michael Chang/Getty ImagesTexas A&M freshman Darian Claiborne (48) took over the middle linebacker job before the fourth game of the season.
Port Allen (Louisiana) High School head coach Guy Blanchard vividly remembers the emotions of one of his players,
Darian Claiborne
, when LSU took a tough loss early in 2012.
"When Darian was in January of his junior year (of high school) and LSU lost the national championship game to Alabama, you would have thought his best friend died the next day at school," Blanchard said. "He was a big LSU fan. You can't grow up in Southeast Louisiana and not have some kind of attachment or an eye on the prize, however you want to say it, [to LSU]."
Claiborne, a true freshman, is now the starting middle linebacker for No. 12 Texas A&M, which heads to Death Valley on Saturday to play No. 22 LSU. But Port Allen is fewer than seven miles from the LSU campus, so it's understandable how he could have envisioned a future with the Bayou Bengals.
But Texas A&M's staff developed a strong relationship with Claiborne, a three-star prospect. Furthermore, the Aggies made a strong impression and made it clear they wanted him while LSU didn't officially extend an offer. The Aggies' diligence paid off because Claiborne has played a key part on the A&M defense.
In recent years, Texas A&M has had success recruiting the state of Louisiana. Texas is and will continue to be the home base for Texas A&M recruiting for good reason -- it's fertile recruiting ground that most colleges attempt to pick from, because of the vast number of players and caliber of talent the state produces. But Louisiana is also known for producing high-caliber recruits as well and head coach Kevin Sumlin has made sure to make "The Boot" part of his recruiting footprint.
Currently, the Aggies have nine players that are from Louisiana on the roster and all of them are on the Aggies' two deep. Some of them have been recruited by the current staff, others are holdovers from the previous staff, but all of them currently contribute on the field.
All nine are defensive players and five of them are regular starters: Claiborne, defensive back
Deshazor Everett
, defensive ends
Julien Obioha
, safety Floyd Raven and defensive end
Gavin Stansbury
. The others have played key roles: true freshman cornerback
Noel Ellis
has seen significant time in recent weeks and is the Aggies' future at the nickel cornerback position. Cornerback
Tramain Jacobs
started six games this season while the Aggies' dealt with injuries in the secondary and has been a reliable rotation player among the cornerbacks. True freshman linebacker
Shaan Washington
has found his way onto the field in a special teams capacity but also saw time at linebacker early in the year and defensive tackle
Ivan Robinson
has been a part of the rotation at his position when healthy.
[+] Enlarge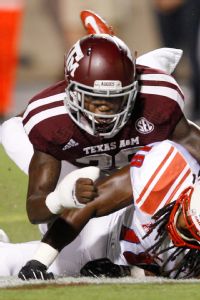 AP Photo/Bob LeveyDeshazor Everett, another Louisiana native, was recruited my Mike Sherman's staff but has been the Aggies' most reliable defensive back.
There's no doubt the Aggies have received bang for their buck with the "Louisianimals," the term former Texas A&M center Patrick Lewis coined for his fellow Louisiana products last season. Claiborne and Everett have been arguably the Aggies' best defensive players this season. Everett has done whatever the Texas A&M coaches have asked, whether it's playing safety while Raven was injured or going back to his traditional position of cornerback, while playing with a broken thumb early in the year. Claiborne got the starting job at middle linebacker -- which is not his traditional position -- before the fourth game of the season and hasn't let go of it.
Stansbury has emerged as a playmaker while Obioha and Raven have each been a steady presence at their respective positions.
Even when he was at Houston, where the Cougars put their primary focus on their own city, Sumlin's staff would travel across the border to recruit talent out of Louisiana. But in the SEC it's a different story, because the caliber of player Texas A&M is searching for is often the same that LSU is trying to keep in state.
With the Tigers being
the
signature program in Louisiana, it makes it all the more difficult to pull a kid out of the state when LSU wants him.
The Aggies are experiencing that in their early SEC years. In this recruiting cycle, the Aggies are going after some of Louisiana's finest, like ESPN 300 athlete
Speedy Noil
and ESPN 300 defensive end
Gerald Willis III
. The Aggies are also trying to make inroads with the top 2015 prospects from the state, like receiver
Tyron Johnson
.
All have LSU offers and the battle for Noil and Willis III has been hotly contested and will be until signing day approaches.
But the Aggies have found success in recruiting prospects from the state that might have been overlooked or not as heavily pursued. If those players continue to play like Claiborne, the in-state powerhouse will start taking notice.
"Yeah, we've run across them at times," said LSU coach Les Miles of seeing A&M recruiting in Louisiana. "We recognize some of the [players] that they have there, and we wish them the very best. It's an opportunity to play in this league, and we're for that."
November, 8, 2013
Nov 8
4:00
PM CT
COLLEGE STATION, Texas -- Perhaps the most telling sign of how poor Texas A&M's pass rush was in the first half of the season came when the Aggies finally found one.
Two weeks ago, when the Aggies hosted Vanderbilt, they came up with seven sacks in a 56-24 win over the Commodores.
[+] Enlarge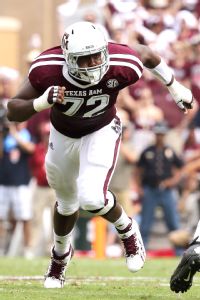 Matthew Emmons/USA TODAY SportsWith three talented quarterbacks remaining on the Aggies' scheduled, they will need Gavin Stansbury and the pass rush to continue its quick development.
The telling part was that the seven sacks that day matched what A&M had produced in the first seven games
combined
.
Last week against UTEP, the Aggies picked up two more sacks in a 57-7 victory. Suddenly, a team that struggled to get near the quarterback is showing signs of being able to do it with consistency.
"We've been able to turn it up a little bit," head coach Kevin Sumlin said.
One of the key figures in the Aggies' recent improvement is junior defensive end
Gavin Stansbury
. In the last two weeks, Stansbury has been a force, picking up a combined 16 tackles and three sacks, two of which came against Vanderbilt.
Defensive coordinator Mark Snyder felt like that game could be a turning point for Stansbury.
"He's got a different look in his eye," Snyder said. "He comes in here to meetings and he's bouncing around, having a game like that is really going to be good for his confidence too. Everybody needs that game."
The Aggies were efficient at getting to the quarterback last season behind the strength of defensive end Damontre Moore, who led the team with 12.5 sacks. Moore declared for early entry into the 2013 NFL draft and is now with the New York Giants.
Moore's departure left a void in the production, and throughout the season, the Aggies have rotated players in and out of the lineup, with the primary three being Stansbury, sophomore
Julien Obioha
and true freshman
Daeshon Hall
. Each has had their ups and downs this season, but Stansbury's strong play as of late has been noticeable.
Hall and Obioha have also both picked up tackles for losses in each of the last two games, so it seems like the defensive ends are finding their groove.
Sumlin points out that just because the Aggies weren't racking up sacks, it doesn't mean they weren't getting a pass rush. They were struggling in other areas as well.
"I think early in the year, we had guys get loose, but because we were taking some other chances, we had no contain on the other side," Sumlin said. "So the quarterback flushes out the back door. Or we've got pressure here and we didn't hold our gaps in the middle and the quarterback just runs up the field. So the pressure has been there but the quarterback has escaped a bunch in the first part of the year.
"I think we've been a lot more sound in what we're doing and guys understand that 'Hey, just running to the quarterback isn't going to get it. These guys have a plan too.' They're going to take off and go somewhere. You need to maintain your gap structure, even in the pass rush. And I think that's really, really helped us."
Stansbury started the season off on a bad note, missing the first two games after being suspended for violating athletic department rules and regulations. He said he has played that much harder to "make up for it" and that he's working on continuing to develop. His three sacks are currently tied for the team lead.
"My thing is, I feel like I'm getting better but I need to improve every week," Stansbury said. "It's not a satisfying thing but it's getting better every week."
Stansbury said the intensity has been dialed up and that has led to the defensive line's resurgence.
"Emotion and effort," he said. "Swarming to the ball. Just trying to get there. Everybody's playing with intensity and going off each other."
The No. 15 Aggies will have to continue that if they hope to keep having success when they host Mississippi State on Saturday at Kyle Field. They'll face a talented dual-threat quarterback in
Dak Prescott
.
As for Stansbury, much like Moore a year ago, Snyder thinks things might finally be clicking for his new star pass-rusher.
"I don't remember what game it was for Damontre last year but he had one of those games ... where he kind of turned it on and the ball started rolling for him," Snyder said. "Hopefully the same thing happens for Gavin."
November, 3, 2013
Nov 3
1:45
PM CT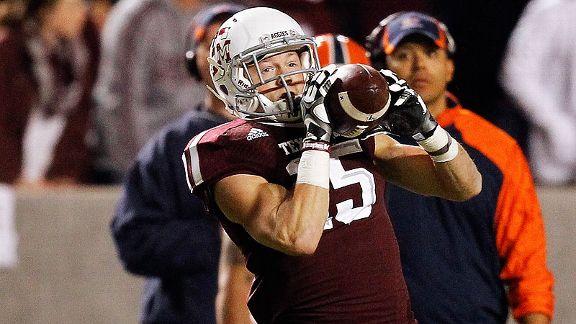 COLLEGE STATION, Texas -- Texas A&M coach Kevin Sumlin has a saying that is echoed by his players, especially at this time of the season.
"It's about us."
The message is clear and self-explanatory. And if the Aggies are going to do what they hope to -- win out the remainder of the season -- Sumlin wants them to take heed of those three words.
[+] Enlarge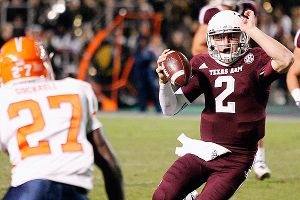 Bob Levey/Getty ImagesTexas A&M signal-caller Johnny Manziel threw four more touchdown passes on Saturday night. He now has 26 TD passes on the season, matching his total from 2012.
On Saturday night, in a
57-7 win over UTEP
at Kyle Field, it was all about the Aggies, who took care of business by dominating a beaten-up team. What's interesting is that No. 12 A&M (7-2) has the same record as it did at this time a season ago. The feelings are different, but that's partially because last season the Aggies exceeded expectations. Few outside of this town expected them to do much better than 6-6 or 7-5 in their first season in the SEC. This season, the bar was set so high that the same record at the same point seems almost pedestrian.
And while their own preseason goals -- an SEC championship and a run at a BCS national championship -- are out the window, there are still things left for Texas A&M to play for. If the Aggies win the remainder of their games, who knows? They might just sneak their way into their first BCS bowl since 1998.
The final three-game stretch is a challenging one. The Aggies host Mississippi State next weekend, then are off the following week before the difficulty level ramps up with trips to LSU and Missouri to close out the season. Both of those teams are still playing for a chance to go to Atlanta to play in the SEC title game, and in order to knock them off in their respective stadiums, the Aggies will have to put together a complete game, for four quarters -- something they really haven't done yet this season.
But in the past two weeks, in a
56-24 victory over Vanderbilt
and on Saturday in the blowout win over UTEP, the Aggies have begun inching closer to playing that type of game. Throughout the first seven games, the defense was mostly poor while the offense carried the load. Special teams had issues, too, as the Aggies battled an inconsistent situation at place-kicker before moving
Josh Lambo
into the role, one that he has taken and run with.
The past two weeks, the Aggies defense has performed admirably. It had probably its best all-around performance against the Commodores, and on Saturday, against a much weaker opponent, the Aggies really only had one bad drive on defense, the nine-play, 73-yard touchdown drive that gave the Miners an early 7-2 lead.
UTEP, which came into the game without starting quarterback
Jameill Showers
(shoulder injury), couldn't move the ball with consistency against A&M when the Aggies began to rack up points. On top of that, A&M's defense was ball-hawking in the second stanza, coming up with three turnovers. The offense turned those into 21 points and blew the game open. UTEP finished with just 198 total yards, and life was understandably difficult with backup
Blaire Sullivan
running the offense. Still, this is an Aggies defense that had trouble stopping virtually everybody earlier this season.
"We've been having great practices the last few weeks," junior defensive end
Gavin Stansbury
said. "Also, I think it has to do with confidence. You have to have confidence in yourself and in your team to have a great game."
While the defense has stepped up its efforts the last two weeks, the offense has had its hiccups. Last week it was bitten by the turnover bug, giving the ball away four times. On Saturday against the Miners, the Aggies seemed out of sync in the first quarter. Quarterback
Johnny Manziel
and receiver
Mike Evans
couldn't get on the same page, though opportunities were there. The Aggies punted twice in the first quarter -- a rarity for them in any single frame.
What began as a snoozer with Texas A&M's offense sputtering turned into a rout with an explosive second quarter by the Aggies, who outscored UTEP 27-0 in the second quarter to take a commanding 36-7 halftime lead. From there, no doubt remained of the outcome as Manziel led two more scoring drives in the third quarter before calling it a night, after throwing for four touchdowns and running for two, including an impressive 49-yarder that looked like the 2012 version of Manziel.
The A&M special teams started well, meanwhile, blocking a punt that led to a safety and giving the Aggies an early 2-0 lead. But the unit had its issues, too. Punter
Drew Kaser
, who serves as the holder on point-after-touchdown kicks and field goals, bobbled a snap, which left a point off the board. Freshman
LaQuvionte Gonzalez
also muffed a punt in the second half, though the game was well in hand.
Those are issues that have to be rectified if the Aggies hope to close out the final three-game stretch with three wins. They still haven't put a good performance from all three phases together on one night, though they might be inching closer to doing so.
"It's hard to say, when you win 57-7, to say that you didn't play a complete game," Sumlin said. "As a coach, there's some positives there. Our guys understand that we can be better than we were tonight."
October, 27, 2013
Oct 27
8:00
AM CT
COLLEGE STATION, Texas -- Texas A&M bounced back from last week's loss with a 56-24 win over Vanderbilt on Saturday at Kyle Field. Plenty of good performances from the Aggies so it's hard to hand out just three helmet stickers, but we'll give it a shot.

The defense:
Taking a little copout here, but it's hard to single out one performance from the Aggies' defense. The unit has taken a ton of criticism, much of it justified, throughout this season. Yes, they were playing against a freshman quarterback who was making his first start, but considering the struggles this year, any positive performance is something to talk about. Junior defensive end
Gavin Stansbury
had two sacks and nine tackles. Safety
Howard Matthews
had a team-high 14 tackles, a tackle for loss and an interception return for a touchdown that changed the momentum early in the second half. Linebacker
Steven Jenkins
had an impressive day (eight tackles, a sack, two tackles for loss). The Aggies finished with seven sacks and held Vanderbilt to 95 rushing yards.
Johnny Manziel:
Have to give him one after fighting through a right shoulder injury to put together a stellar performance. He was 25-of-35 for 305 yards and four touchdowns with an interception. He was sacked twice but avoided falling on the injured shoulder and made smart decisions, carrying the ball just four times. Other than the pick, which was perhaps forced into coverage, it's hard to ask for much more from Johnny Football.
Trey Williams:
The sophomore running back is beginning to look like the best back this team has. He ran for 65 yards and a touchdown on just six carries (10.8 average), caught a pass for 19 yards and finished with 102 all-purpose yards. He might not be as proficient in pass protection as someone like
Ben Malena
, but he's definitely improved in that area since last year and his speed and elusiveness is hard to match.
October, 26, 2013
Oct 26
6:27
PM CT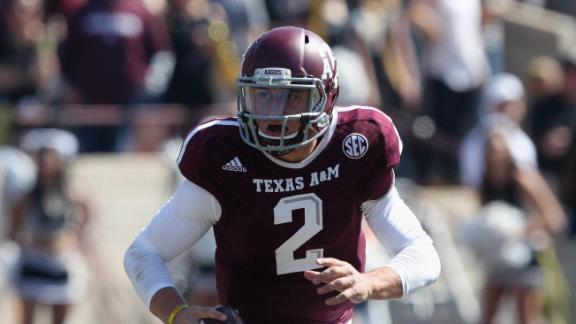 COLLEGE STATION, Texas -- Just like it has been all season, the attention going into Saturday was on Texas A&M quarterback
Johnny Manziel
.
Was he going to play, or would he sit? How was his shoulder? As he often has this year, Johnny provided a lot of drama.
But the real story from the Aggies' 56-24 win over Vanderbilt at Kyle Field was the performance of the A&M defense. A unit that came into the game ranked 118th in total defense, and was in the bottom 20 nationally in most major defensive statistical categories, put together what was easily one of its best performances of the season.
[+] Enlarge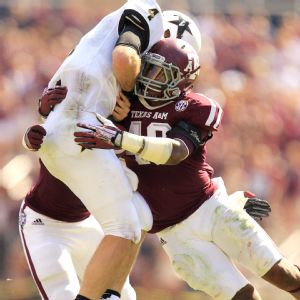 Thomas Campbell/USA TODAY SportsTexas A&M turned Darian Claiborne and its pass rush loose, which resulted in seven sacks against Vanderbilt.
Sure, Vanderbilt was playing with a backup quarterback (freshman
Patton Robinette
made his first start in place of injured
Austyn Carta-Samuels
), but honestly, that mattered little. This is an A&M defense that struggles to stop virtually everybody. The Aggies allowed 306 rushing yards to Rice. They allowed 240 to FCS opponent Sam Houston State.
After taking a gut punch from Auburn last week to the tune of 45 points and 615 yards (379 rushing), any positive sign is acceptable at this point.
"We need an example to show us how we should play, and now we have an example," sophomore defensive end
Julien Obioha
said. "We can always go back to the Vandy tape. This type of production we expect from the defense, and this is the standard that we expect from our defense. So, it was good to have a game like this."
There was an energy there that didn't seem to exist consistently in recent weeks for the Aggies' D.
Howard Matthews
(14 tackles, one interception return for a touchdown) played probably his best game of the season. The pass rush was relentless, led by
Gavin Stansbury
's two sacks, and the 12 tackles for loss. The unit matched its season total for sacks with seven against the Commodores and held an opponent to under 100 yards rushing for just the second time this season. It finally looked like the unit defensive coordinator Mark Snyder envisioned he'd have coming into the season.
"I dialed it up," Snyder said of what generated the consistent pass rush. "We pressured a lot more than we have pressured because we finally could. We felt like we finally got to the point where all the pieces were in place. We had practiced together, and I felt comfortable calling some pressures because everybody knew where they were supposed to be."
Much of that came from a few noteworthy personnel moves. True freshman cornerback
Noel Ellis
got plenty of time in place of
Toney Hurd Jr.
at nickel cornerback. Junior linebacker
Donnie Baggs
, who hasn't started since Sept. 14 against Alabama, got the starting nod at strongside linebacker. True freshman defensive end
Daeshon Hall
didn't start but saw heavy playing time rotating with starting ends Stansbury and Obioha. Starting defensive tackle
Alonzo Williams
missed the game with a foot injury, and junior
Ivan Robinson
replaced him.
The Commodores' best weapon -- receiver
Jordan Matthews
-- had a solid day (eight catches, 92 yards), but his longest reception was 21 yards. The biggest play came from
Jonathan Krause
on a 44-yard reception in the first half. Matthews, to his credit, became the SEC's career receiving yards leader with 3,172.
If the Aggies can build on this performance, the outlook for the rest of the season is bright.
Although the defense showed well, most eyes were on Manziel in the early going. For a guy with an injured throwing shoulder, it sure didn't seem to affect him. He completed his first 10 passes and led the Aggies to four consecutive touchdown drives to start the game.
Coach Kevin Sumlin was tight-lipped about Manziel's status all week leading up to the game, calling the Heisman Trophy winner "hopeful." He never budged from that statement but said Saturday that he wasn't playing coy and that Manziel was truly a game-time decision as he tried to recover from the shoulder injury he suffered last week.
Manziel began throwing Wednesday and participated in 11-on-11 drills Friday and even woke up Saturday with soreness. But he said there was no keeping him off the field.
"In my mind, I was always going to play," Manziel said. "It would take a lot to keep me off the field and away from these guys. They count on me, and they expect me to be there."
He completed 25 of 35 passes for 305 yards and four touchdowns with one interception. He ran much less than he usually does because it wasn't in the game plan, mostly to protect him from further injury.
Although Manziel was able to make every throw necessary to put the Aggies' offense in the right position, he got plenty of support from the running game as the Aggies combined for 189 yards, led by
Trey Williams
' 65 and
Brandon Williams
' 61.
It was far from a clean win. The Aggies committed five turnovers and allowed the game to get closer than it had to in the first half. But it's something they can build off of as they approach the homestretch.
"It's been a little frustrating as of late with some games a little closer than we wanted," Manziel said. "We felt we've played pretty good all around, but we just need to continue to get better. That's the thing. We're not where we were last year in every aspect of our game, but we have a coaching staff that won't quit until we're where we need to be."
October, 25, 2013
Oct 25
11:45
AM CT
COLLEGE STATION, Texas — The words "youth" and "inexperience" are frequently used to describe the Texas A&M defense this season.
The struggles are significant. The Aggies rank near the bottom of the FBS in most defensive statistical categories. According to ESPN Stats & Information, the five teams that have allowed more yards per game than the Aggies -- New Mexico State, Idaho, California, Nevada and Indiana -- have a combined record of 8-27.
Texas A&M is fortunate enough to have a 5-2 record (2-2 in the SEC). It certainly helps to have one of the nation's most high-powered offenses and a reigning Heisman Trophy winner at quarterback (
Johnny Manziel
).
For defensive coordinator Mark Snyder and his staff, it has been a challenge from the start of the season. Suspensions, injuries and ineffectiveness are all to blame.
The Aggies currently have 11 freshmen in their defensive two-deep depth chart. Two true freshmen (defensive tackle
Isaiah Golden
and linebacker
Darian Claiborne
) are starting. The four defensive line first-team spots include Golden and two sophomores. At linebacker, a former receiver who moved to linebacker this offseason (
Nate Askew
) is the starter at strongside linebacker. Of the seven linebackers on the Aggies' two-deep, only one (
Steven Jenkins
) started a full season at the position before this year.
Head coach Kevin Sumlin's first signing class that was completely under his watch had 32 members, 18 of whom were on defense. Of those 18, a dozen have already played this season.
But how did the Aggies get to this point, playing this many freshmen and newcomers? There are some juniors and seniors on the field, but there aren't nearly as many as there were a year ago when the Aggies went 11-2 in their debut season in the SEC.
In 2012, the Aggies were fortunate to have the benefit of some good leaders on defense and others who were productive. At linebacker, Sean Porter and Jonathan Stewart both provided leadership and production. Along the defensive line, Spencer Nealy made the move from defensive end to defensive tackle effectively despite not having the ideal size for the position. Steven Terrell was a steady and heady player at free safety. All four of those players were seniors and part of the 2009 recruiting class. So was Dustin Harris, who didn't always start but played plenty at cornerback and was the team's primary punt returner.
One defensive player still remains from that 2009 class: defensive tackle
Kirby Ennis
, who started last season and this year but suffered a season-ending knee injury on Sept. 28 against Arkansas. But last year's A&M starting defense was more than half made up of what turned out to be a solid recruiting class on the defensive side of the ball.
So to understand why A&M is in the position it is now, take a look at the recruiting classes on defense since then:
In 2010, the Aggies signed seven defensive players and two more that were offensive players but eventually moved to defense. Defensive end Damontre Moore turned out to be a star, but declared for early entry into the 2013 NFL draft with a year of eligibility remaining. For a team that's lacking in its pass rush (only three FBS teams have fewer sacks than Texas A&M's seven this season) a guy like that could help. Of the remainders in that class, three are starting: Toney Hurd Jr. at nickel back, Gavin Stansbury at defensive end and Askew, who was recruited and spent his first three years at receiver, at strongside linebacker. Two others (defensive tackle Ivan Robinson and quarterback Clay Honeycutt, who's now a reserve safety) are playing but not starting. Nehemiah Hicks was considered to be either a defensive end or tight end and became a tight end. The other two players in the defensive class are no longer on the team.
The 2011 class -- the final class signed by former head coach Mike Sherman -- brought 13 defensive players. Deshazor Everett, a cornerback with ability to play safety, is currently the defense's best player. Safeties Howard Matthews and Floyd Raven and linebacker Steven Jenkins also emerged as starters out of that group. One of the big fish landed late in that class, defensive end Brandon Alexander, has rarely played. He's now getting some playing time at tight end. Linebacker Donnie Baggs entered this season as the starting middle linebacker but is now a reserve. Tyrell Taylor is rotating at defensive end. The rest of the group hasn't made any impact at all. Five players in that group are no longer with the program.
The 2012 class, the first one Sumlin signed after essentially two months on the job, had some holdovers that committed to the program under Sherman. It is a mixed bag. Four of those players are starting as either true sophomores (Julien Obioha at defensive end, Alonzo Williams at defensive tackle and De'Vante Harris at cornerback) or in one case, a senior (cornerback Tramain Jacobs, who was a junior college transfer). Defensive end Tyrone Taylor, brother of Tyrell, gets some playing time at defensive end. Edward Pope, who was a receiver/defensive back, is playing receiver for the Aggies. A car accident took away one member from that class -- defensive tackle Polo Manukainiu, who died in a crash in July and is being honored by the team every week this season. A spinal injury took away another member, linebacker Michael Richardson, who played as a freshman. He had successful surgery and was fortunate to not suffer any major physical issues, but is no longer playing football. Defensive back Kenneth Marshall, though on the team, was not part of the 105-man roster during preseason training camp. Linebacker Jordan Richmond transferred to Navarro College in the offseason and one player in the class, defensive tackle Edmund Ray, never made it to campus because of qualifying issues.
September, 16, 2013
Sep 16
2:00
PM CT
COLLEGE STATION, Texas — Coming into the season, there were plenty of questions about Texas A&M's defense.
It didn't seem much different from the circumstances a year ago. Defensive coordinator Mark Snyder even said, on the first day of preseason training camp, that the challenges were "exactly the same."
By the end of 2012 the results were positive, with the Aggies performing much better on defense than many expected. If they're to do the same in 2013, they still have a long way to go. The Aggies statistically are among the worst defenses in the nation after a 49-42 loss to No. 1 Alabama on Saturday at Kyle Field.
"We're going to learn a lot of lessons come Monday when we watch this film," Snyder said. "Lots of lessons."
They had better, because on Saturday, once Alabama got its footing, it seemed able to do whatever it pleased. The Crimson Tide finished with 568 offensive yards -- 334 passing and 234 rushing. After forcing a punt on Alabama's first drive of the game, the Aggies allowed four consecutive touchdown drives, all of which covered 75 yards or more. In the second half, the Tide had three drives of 65 yards or longer, two that turned into touchdowns and another where the Aggies forced a turnover near the goal line.
[+] Enlarge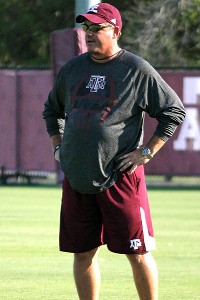 Sam Khan/ESPN.comMark Snyder's Texas A&M defense yielded 568 yards to Alabama on Saturday and gave up too many big plays.
One thing that stuck out to Snyder was how many big plays the Tide hit on. More than half of Alabama's yards (280) came on plays that gained 15 yards or more. Alabama had 11 such plays in the game.
"We knew it was going to be a day of big plays," Snyder said. "And I'm sure when I go back and look at the film, if you count up the number of big plays and subtract that yardage, you have a pretty good day. That's something we're going to have to learn from."
The Aggies generated virtually no pressure against Alabama quarterback
AJ McCarron
. He was never sacked and the Aggies only recorded one quarterback hurry as a team, by defensive tackle
Kirby Ennis
. Pressure was one of the Aggies' strong suits last year behind the efforts of defensive end Damontre Moore, who now plays for the New York Giants.
"You can't let a great quarterback like AJ McCarron not even get hit or pressured at all," sophomore defensive end
Julien Obioha
said. "They ran a lot of play action, which doesn't help the defensive line get any pressure, but we've got to come up with a way to get pressure on the quarterback. He can't sit there all day. He's too good."
Senior defensive back
Toney Hurd Jr
. detailed the struggles of the secondary, which allowed a 44-yard touchdown pass on a fleaflicker and a 51-yard catch-and-run touchdown in the first half to
Kenny Bell
.
"First and foremost, hat's off to AJ McCarron and their offensive coordinator [Doug Nussmeier]," Hurd said. "They dialed up some great plays. In the back end, I feel like sometimes we had bad eyes. Sometimes we just didn't trust our keys and techniques and they got us on a few big plays. But I'm sure on Monday we'll get back to work and get those things figured out."
Defending the run wasn't much better for the Aggies and that's been a consistent problem through three games. A&M yielded 6.3 yards per rush attempt on Saturday and it marked the third consecutive game that the Aggies have allowed at least 200 rushing yards.
In their first two games, the Aggies were missing starters at defensive end (
Gavin Stansbury
), linebacker (
Steven Jenkins
) and cornerback (
De'Vante Harris
) because of suspensions. All three returned to the lineup against Alabama, but it didn't stem A&M's struggles.
"Give Alabama credit," Snyder said. "They did a nice job; they had some nice wrinkles. It's hard if you haven't been playing and you haven't seen them to kind of adjust to them. But that's no excuse. We have our guys back and we just have to play better, period."
As it stands currently, the Aggies rank 112th nationally in total defense (489 yards allowed per game), 111th in yards allowed per play (6.92), 115th in run defense (260 yards per game) and 81st on allowing third-down conversions (44 percent).
It's worth noting that the Aggies have a lot of youth and inexperience on the field after graduating key players and suffering a key injury (safety
Floyd Raven
). True freshman linebacker
Jordan Mastrogiovanni
made his first start Saturday; junior safety
Clay Honeycutt
was making only his second career start. There are 11 true freshmen on A&M's defensive two-deep roster. Growing pains are a part of the deal.
But they'll have to grow up quickly. A&M players and coaches spoke on Saturday of their lofty goals still being intact despite one loss. But the defense must improve significantly for them to have a chance at fulfilling those goals.
Snyder believes his unit has that opportunity.
"I told the kids, 'I know what it looks like and we've got a chance to be good,' " Snyder said. "I thought last year as the season went on, we learned [how to minimize big plays]. Our big-play numbers came down and we started playing better defense. So for us today, it was a matter of big plays on our side of the ball and allowed them to get into a groove running the ball once they got the lead."
September, 14, 2013
Sep 14
11:12
PM CT
COLLEGE STATION, Texas — There was no plan for
Johnny Manziel
to speak to the media on Saturday.
In fact, win or lose,
Texas A&M
officials made it clear before the game that the Heisman Trophy winner would not be available for postgame interviews. Earlier this week, coach Kevin Sumlin noted that Manziel's family and attorneys advised him not to speak publicly this week.
[+] Enlarge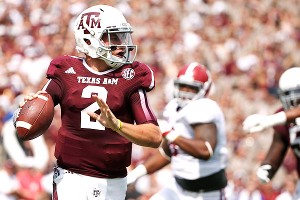 Scott Halleran/Getty ImagesJohnny Manziel produced more than 500 yards but admitted there were a couple of throws he wished he could take back.
But Manziel wasn't going to be told no. He approached Sumlin and Texas A&M associate athletic director for media relations Alan Cannon and said he was going to speak. When Cannon mentioned the objections from Manziel's parents and lawyers, Manziel said, according to Cannon, "My team didn't quit on me, so I'm not quitting on them."
The No. 6 Aggies showed no quit in their 49-42 loss to No. 1
Alabama
on Saturday at Kyle Field in one of the most highly anticipated games in school history. What they did show is that they're a good team with a lot of flaws that still need ironing out.
The message from Manziel, who played brilliantly for much of the day but had a couple of throws he'd like to have back, was that the Aggies had to keep playing -- both on Saturday and moving forward.
"My initial reaction is that I'm just proud of these guys," said Manziel, who threw for 464 yards and five touchdowns and ran for 98 yards. "I kept telling them that no matter what point in the game it was, we were never out of it. Didn't matter what [Alabama] did. I told the offense that going into it, that no matter what happened on the defensive side of the ball, no matter what happened on special teams, we felt like we could come out and score points. So I was proud initially more than anything else, proud of the way they kept fighting until the very end. I mean, we're a young team. That's impressive to me."
The Aggies (2-1) were down by as many as 21 points in the third quarter after taking a 14-0 lead in the first quarter. Alabama roared back with 35 unanswered points and used its power running game and efficient passing attack behind
AJ McCarron
to eat up yardage and extend drives to score points while keeping the Aggies' offense on the sideline.
The biggest flaw seen on Saturday was on defense. The Aggies' front seven was hammered by the Alabama offensive line -- a unit that struggled in its season opener against Virginia Tech -- to the tune of 234 rushing yards and 6.3 yards per carry, led by
T.J. Yeldon
's 149-yard effort. McCarron was rarely pressured in the passing game and wasn't sacked a single time; only one player on the Aggies defense,
Kirby Ennis
, recorded a quarterback hurry. There were big plays given up in the passing game as well, as the Tide threw for 334 yards.
"We've got to get some things shored up in our front defensively," Sumlin said. "We're playing a lot of young guys in there. [Gavin] Stansbury was back and [Steven] Jenkins was back [from suspensions], so they were a little rusty. We didn't have
Isaiah Golden
today because of the tragedy [involving the death of a family member] earlier this week. That put a lot of pressure on Hardreck [Walker] to handle that type of stuff with Kirby. We just have to get those guys in a routine, a steady routine and a rotation and shore some things up up front."
Mike Evans
, who already was considered one of the country's better receivers, made his case to be considered among
the
best after catching seven passes for a school-record 279 yards and a touchdown. He beat man-to-man coverage consistently, ran good routes and was an asset for Manziel when scrambling.
"I couldn't be prouder of him," Manziel said. "Last night in the hotel, me and him, we're roommates, and we were just talking about how the game was going to play out. I knew he was going to come out and play really well."
Manziel wasn't perfect. A fade pass to Ja'Quay Williams in the end zone was intercepted by
Cyrus Jones
in the second quarter ("We probably could have run a better route," Sumlin said). He tried to squeeze a pass in to
Travis Labhart
early in the third quarter but it was tipped by Alabama defensive back
Jarrick Williams
and intercepted by
Vinnie Sunseri
, who returned it 73 yards for a touchdown.
[+] Enlarge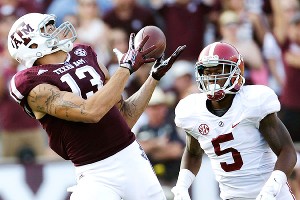 AP Photo/David J. PhillipMike Evans set a school record with 279 receiving yards, including this 95-yard touchdown.
"I had a couple throws that I want to have back, two in particular," Manziel said. "Coach Sumlin always says there's no regrets. Leave it all out on the field. I think that's what we all did. I know I did."
But he was, like the Aggies, still very good. He set the single-game school record for passing yards and put up the second-most total offensive yards in a game (562), second only to his own total (576) against Louisiana Tech last year.
He made what many would call an ill-advised throw in the second quarter after magically evading a sack while in the grasp of Alabama defensive end
Jeoffrey Pagan
, heaving a jump ball 40 yards downfield while falling backward. The ball wound up in the hands of a leaping
Edward Pope
for a first down that sent the crowd into a frenzy. The gain was only 12 yards; Manziel retreated back far to evade pressure.
At some point, it seems it might just be worth chalking it up to a little Manziel magic, since he has seemingly found an uncanny ability to make jaw-dropping plays of the sort each week. It's part of what captivated the college football world en route to his Heisman Trophy last year.
For those who said Manziel's eventful and sometimes tumultuous offseason would come back to haunt him when the games started this year, none of that seemed to be a factor. Though there were some mistakes made on the field, Manziel's play is hard to criticize, especially against the team that was No. 1 in the country last season in total defense. Manziel said afterward that it wasn't a factor.
But for all the flash, the bottom line was that Manziel and the Aggies fell short of their goal on Saturday. They were beaten by a better team.
The disappointment could be heard in the voices of the players afterward; they wanted Saturday's win badly. But with nine games to go in their season, they feel that what they want -- an SEC West title, SEC title and BCS title game berth -- is still within reach; it's just more difficult to obtain now that they're 0-1 in SEC play.
But if the Aggies are still serious about pursuing those goals, there's still much work to do.
"Just got to go game by game," Manziel said. "Just like last year, continue to get better, week by week, and the result was what happened in the Cotton Bowl. For us this wasn't the end of our season. This wasn't the Super Bowl. This wasn't the last game of the season.
"Alabama lost a game last year and still went on to win a national championship. They lost to
LSU
the year before and still went on to win the national championship. Our season isn't over. Anything can happen. This is college football. Some of the craziest things happen every week. So you never know. All we can do is take care of ourselves, take care of what's in this locker room and continue to get better as a team."
September, 12, 2013
Sep 12
10:03
AM CT
COLLEGE STATION, Texas — When Texas A&M went into Tuscaloosa, Ala., and upset No. 1 Alabama last November, the Aggies' offense, and specifically quarterback
Johnny Manziel
, were lauded for their efforts in taking down the Crimson Tide.
Often overlooked was the play of Texas A&M's defense, which was integral in the Aggies' ability to jump out to the 20-0 lead that paved the way for the eventual 29-24 victory at Bryant-Denny Stadium.
While nobody would confuse the Aggies' defensive efforts with that of the 1985 Chicago Bears that November day, A&M was opportunistic and effective.
On the first three drives of the game, the Aggies held the Crimson Tide to two three-and-outs and a turnover. The offense capitalized by scoring after each of those defensive stops to take the commanding three-score lead.
Turnovers were key for the Aggies throughout the game. They came up with three, the most the Crimson Tide committed since a 2011 season opener vs. Kent State, when Alabama committed five. Quarterback
AJ McCarron
hadn't thrown an interception in 2012 going into the game and threw two against the Aggies.
In several ways, the Aggies' ability to come up with stops and turnovers at key times was representative of what the unit accomplished as whole last season under defensive coordinator Mark Snyder. The defense came into the 2012 season with questions about depth and competitiveness in a line-of-scrimmage league like the SEC.
Those questions were answered resoundingly as the Aggies ranked highly in several key categories in 2012. They had the nation's 26th-best scoring defense (21.8 points per game) and one of the best third-down defenses, allowing conversions just 32.4 percent of the time (16th nationally, fourth in the SEC).
They were No. 1 in the SEC and No. 5 in the country on third-and-5 or fewer yards (44.6 percent conversion rate).
[+] Enlarge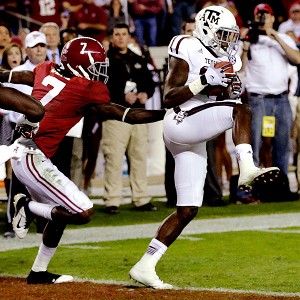 AP Photo/Dave MartinDeshazor Everett, whose interception against Alabama last year clinched the victory, expects the Aggies defense to keep getting better.
This season, with six key defensive players serving suspensions for part or all of the season opener against Rice and four more serving penalties for all or part of the second game against Sam Houston State, the numbers have taken a dip. On third down, the Aggies are tied for 73rd in the country, allowing a 39.4 percent conversion rate. On 3rd-and-5 or fewer yards, the Aggies are in the middle of the pack (59th, 52.9 percent conversion rate).
The Aggies are averaging 6.16 yards allowed per play, up from 5.22 last year.
Having almost the full complement of defensive players, including the return of starting linebacker
Steven Jenkins
, starting cornerback
De'Vante Harris
and starting defensive end
Gavin Stansbury
, should help the Aggies' defensive efforts.
"It'll be interesting once the game gets started," Snyder said. "They've got to knock a little bit of rust off. We've got a couple days here of practice first to get some of the rust knocked off. It was really good [Monday] to have our first unit out there together. It was very, very pleasing to see."
Starting safety
Floyd Raven Sr.
(collarbone) will miss the game because of his injury, and starting defensive end
Julien Obioha
's status is up in the air also. Cornerback
Deshazor Everett
said the country hasn't seen the Aggies' "real defense" yet.
"We can only progress, so I'm not going to say they've seen the real defense," Everett said. "But we have to get better, and we'll keep getting better, and this week of practice is crucial. But as a whole defense, we'll keep progressing and getting better."
Though the Aggies were able to intercept McCarron in the last meeting, Snyder said he expects the quarterback to be poised and confident coming into Saturday's game.
"He is a leader," Snyder said. "He runs their offense. He knows where his checkdowns are and obviously he is a great leader for them, because they have won a lot of football games. He drives that engine. He's the guy that's driving the car. And you can see his poise and patience, and it's hard to get him rattled. And if you do get him rattled a little bit, he has the ability to go over and sit down and get unrattled and come back out and play in his game. That's what I see in him."
The players know the national perception is that it's easy to move the ball on the Aggies, and because of the evidence presented by Rice (306 rushing yards) and Sam Houston State (240), it's hard to argue that, extenuating circumstances notwithstanding. But the players know the way to change what people think is by improving their play, starting Saturday.
"Yes. I think everyone looks at it that way," Everett said. "You can look at what a defense does well and what a defense doesn't do well, and you go off of that basically and see where you want to attack and what their weaknesses are. That's what we're trying to improve on, what our weaknesses are."
September, 6, 2013
Sep 6
10:42
AM CT
COLLEGE STATION, Texas -- The statistics weren't pretty.
Rice compiled 509 offensive yards, 306 of which were chewed up on the ground, against Texas A&M in its season opener. The most important stat -- the score, 52-31 in favor of the Aggies -- was what mattered in the end but with a defense that was gutted by suspensions and filled with newcomers playing for the first time, it provided for some early growing pains for Texas A&M defensive coordinator Mark Snyder.
Of the 16 true freshmen that saw the field in the Aggies' opener, 11 were defensive players. That doesn't include yet another newcomer, junior college transfer linebacker
Tommy Sanders
, meaning a dozen defensive players who appeared on Saturday were newcomers.
[+] Enlarge
Thomas Campbell/USA TODAY SportsTexas A&M freshman corner Alex Sezer got some much-needed game experience against Rice.
"They all had goods and bads, all the guys that played," Snyder said. "You could tell, pregame, over at the hotel there was a little bit of nervousness. You can imagine being 18 and being in front of all those people."
The Aggies have FCS opponent Sam Houston State this week, but they still won't have their full arsenal of defensive players. Cornerback
De'Vante Harris
, linebacker
Steven Jenkins
and defensive end
Gavin Stansbury
-- all three of whom are starters -- will miss the game while serving the second of a two-game suspension for violating athletic department rules. Cornerback
Deshazor Everett
will miss the first half because he was ejected for targeting in the second half of the Rice win and, by rule, must sit out the first half of this game as a result. Freshman defensive end
Daeshon Hall
will also miss the first half after being ejected in the second half for throwing a punch at Rice player.
While the Aggies are heavily favored and the losses are unlikely to keep Texas A&M from winning this week, it does pose an interesting dilemma for Snyder and his staff moving forward. The first time the full complement of defensive players will be available for the Aggies will be Sept. 14, for the showdown against Alabama.
"The good thing is we're going to be fresh, that's for sure," Snyder joked. "We're going to be injury-free and we're going to be fresh."
Snyder noted that the advantage for Alabama in that regard might not be as significant since the Crimson Tide have an open date this weekend, so they'll only have one more game under their belts than the Aggies' suspended players do come next weekend. Those players are still practicing -- with the second-team -- and getting repetitions in the meantime.
There were some short-term struggles with so many new bodies on the field, even in play-calling. Snyder said he couldn't "get in a rhythm," calling plays because of how many new pieces and moving parts there were.
"[Rice] came out and showed us some things that we had not seen and not having a veteran group, I can't call timeout and run out on the field and say 'Hey, they're getting in diamond formation and running three levels, or they're getting three out into the flat weak,'" Snyder said. "Those are things that we had to get adjusted."
Snyder was encouraged by how much better the defense performed in the second half, making adjustments and responding to the coaching given at halftime. The unit came up with two turnovers and didn't allow the Owls to score in the first three series of the third quarter. Snyder looks as the growing pains and the game experience that freshmen like linebacker
Darian Claiborne
, cornerback Alex Sezer and a host of others received as an advantage down the road.
"We're building depth right now for our future, for the rest of this season," Snyder said. "So what might be hurting us right now, in the future is going to help us. We've got to live with that and we've got to deal with that."